2.42" inch OLED Display RGB SSD1309 12864 SPI Serial Port for Arduino C51
2.42" inch OLED Display RGB SSD1309 12864 SPI Serial Port for Arduino C51
SKU:030526LV
Regular price
$23.99
guarantee

Quality checked

Special gift cards

Special gift cards

Free return

Within 60 days

Consultancy

86-0755-85201155
Features:

This is a 2.42 inch OLED display module of 128x64 resolution in which the emissive electroluminescent layer is a film of organic compound that emits light in response to an electric current.

Working without backlight, the OLED display module could give out light by itself.

In low ambient light conditions such as a dark room, an OLED screen can achieve a higher contrast ratio than an LCD.

OLED display module also has a much faster response time than an LCD.
The display with small dimension is suitable for MP3, function cellphone, smart health device, etc.

The seventh pin CS signal is leaded by default; If you do not need it, you can solder R18, then CS signal is directly grounded.

SPI communication or I2C communication can be switched by configuring three resistors R3 R4 R5.
As for IIC communication, it is necessary to move the resistor on R4 to R3, and R5 is soldered with 0 ohm resistor.

Product Introduction:
Size:2.42 inches
Resolution:128*64
Power supply voltage: 3.3V
Color: Green/White/Blue/Yellow

SPI Interface Definition:
GND:power ground
VCC:power positive
SCL:clock wire
SDA:data wire
RES:reset wire
DC:data/command
CS:chip selection

Package Include:
1 x 2.42" inch OLED Display SSD1309 128x64 SPI Serial Port for Arduino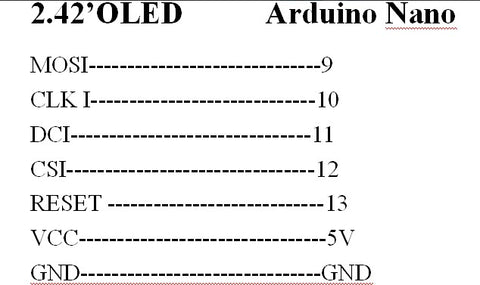 Purchasing & Delivery
Before you make your purchase, it's helpful to know the measurements of the area you plan to place the furniture. You should also measure any doorways and hallways through which the furniture will pass to get to its final destination.

Picking up at the store
Shopify Shop requires that all products are properly inspected BEFORE you take it home to insure there are no surprises. Our team is happy to open all packages and will assist in the inspection process. We will then reseal packages for safe transport. We encourage all customers to bring furniture pads or blankets to protect the items during transport as well as rope or tie downs. Shopify Shop will not be responsible for damage that occurs after leaving the store or during transit. It is the purchaser's responsibility to make sure the correct items are picked up and in good condition.

Delivery
Customers are able to pick the next available delivery day that best fits their schedule. However, to route stops as efficiently as possible, Shopify Shop will provide the time frame. Customers will not be able to choose a time. You will be notified in advance of your scheduled time frame. Please make sure that a responsible adult (18 years or older) will be home at that time.
In preparation for your delivery, please remove existing furniture, pictures, mirrors, accessories, etc. to prevent damages. Also insure that the area where you would like your furniture placed is clear of any old furniture and any other items that may obstruct the passageway of the delivery team. Shopify Shop will deliver, assemble, and set-up your new furniture purchase and remove all packing materials from your home. Our delivery crews are not permitted to move your existing furniture or other household items. Delivery personnel will attempt to deliver the purchased items in a safe and controlled manner but will not attempt to place furniture if they feel it will result in damage to the product or your home. Delivery personnel are unable to remove doors, hoist furniture or carry furniture up more than 3 flights of stairs. An elevator must be available for deliveries to the 4th floor and above.
Other Customers also buy:
Translation missing: en.products.product.regular_price

$5.99

{"id":1779531972666,"title":"2.42\" inch OLED Display RGB SSD1309 12864 SPI Serial Port for Arduino C51","handle":"2-42-inch-12864-oled-display-module-iic-i2c-spi-serial-for-arduino-c51-stm32-green-white-blue-yellow","description":"\u003cp\u003e\u003cstrong\u003eFeatures:\u003c\/strong\u003e\u003cbr\u003e\u003cbr\u003eThis is a 2.42 inch OLED display module of 128x64 resolution in which the emissive electroluminescent layer is a film of organic compound that emits light in response to an electric current.\u003cbr\u003e\u003cbr\u003eWorking without backlight, the OLED display module could give out light by itself.\u003cbr\u003e\u003cbr\u003eIn low ambient light conditions such as a dark room, an OLED screen can achieve a higher contrast ratio than an LCD.\u003cbr\u003e\u003cbr\u003eOLED display module also has a much faster response time than an LCD.\u003cbr\u003eThe display with small dimension is suitable for MP3, function cellphone, smart health device, etc.\u003cbr\u003e\u003cbr\u003eThe seventh pin CS signal is leaded by default; If you do not need it, you can solder R18, then CS signal is directly grounded.\u003cbr\u003e\u003cbr\u003e\u003cspan class=\"tlid-translation translation\" lang=\"en\"\u003e\u003cspan title=\"\" class=\"\"\u003eSPI communication or I2C communication can be switched by configuring three resistors R3 R4 R5\u003c\/span\u003e.\u003c\/span\u003e\u003c\/p\u003e\n\u003cp\u003e\u003cspan class=\"tlid-translation translation\" lang=\"en\"\u003e\u003cspan title=\"\" class=\"\"\u003eAs for IIC communication, it is necessary to move the resistor on R4 to R3, and R5 is soldered with 0 ohm resistor.\u003c\/span\u003e\u003c\/span\u003e\u003c\/p\u003e\n\u003cp\u003e\u003cbr\u003e\u003cstrong\u003eProduct Introduction:\u003c\/strong\u003e\u003cbr\u003eSize:2.42 inches\u003cbr\u003eResolution:128*64\u003cbr\u003e\u003cspan class=\"tlid-translation translation\" lang=\"en\"\u003e\u003cspan title=\"\" class=\"\"\u003ePower supply voltage: 3.3V\u003c\/span\u003e\u003c\/span\u003e\u003cbr\u003eColor: Green\/White\/Blue\/Yellow\u003c\/p\u003e\n\u003cp\u003e\u003cbr\u003e\u003cstrong\u003eSPI Interface Definition:\u003c\/strong\u003e\u003cbr\u003eGND:power ground\u003cbr\u003eVCC:power positive\u003cbr\u003eSCL:clock wire\u003cbr\u003eSDA:data wire\u003cbr\u003eRES:reset wire\u003cbr\u003eDC:data\/command\u003cbr\u003eCS:chip selection\u003cbr\u003e \u003cbr\u003ePackage Include:\u003cbr\u003e1 x 2.42\" inch OLED Display SSD1309 128x64 SPI Serial Port for Arduino\u003c\/p\u003e\n\u003cp\u003e\u003cimg alt=\"\" src=\"https:\/\/cdn.shopifycdn.net\/s\/files\/1\/0122\/7558\/0986\/files\/1_545c360e-a985-4732-8263-7cae3a9df6d8_480x480.jpg?v=1670383132\"\u003e\u003c\/p\u003e","published_at":"2018-07-31T09:12:37+08:00","created_at":"2018-07-31T09:24:44+08:00","vendor":"diymore","type":"LED Display Module","tags":["Arduino","Display","OLED","STM32"],"price":2399,"price_min":2399,"price_max":2399,"available":true,"price_varies":false,"compare_at_price":null,"compare_at_price_min":0,"compare_at_price_max":0,"compare_at_price_varies":false,"variants":[{"id":17060396367930,"title":"Green","option1":"Green","option2":null,"option3":null,"sku":"030526LV","requires_shipping":true,"taxable":false,"featured_image":{"id":14505363570759,"product_id":1779531972666,"position":3,"created_at":"2020-05-05T11:26:25+08:00","updated_at":"2020-05-05T11:27:05+08:00","alt":"2.42 Inch 12864 Oled Display Module Iic I2C Spi Serial For Arduino C51 Stm32 Green\/white\/blue\/yellow","width":1000,"height":1000,"src":"\/\/www.diymore.cc\/cdn\/shop\/products\/030526LV_10_308.jpg?v=1588649225","variant_ids":[17060396367930]},"available":true,"name":"2.42\" inch OLED Display RGB SSD1309 12864 SPI Serial Port for Arduino C51 - Green","public_title":"Green","options":["Green"],"price":2399,"weight":27,"compare_at_price":null,"inventory_management":null,"barcode":"","featured_media":{"alt":"2.42 Inch 12864 Oled Display Module Iic I2C Spi Serial For Arduino C51 Stm32 Green\/white\/blue\/yellow","id":6678547103815,"position":3,"preview_image":{"aspect_ratio":1.0,"height":1000,"width":1000,"src":"\/\/www.diymore.cc\/cdn\/shop\/products\/030526LV_10_308.jpg?v=1588649225"}},"requires_selling_plan":false,"selling_plan_allocations":[]},{"id":17060396433466,"title":"White","option1":"White","option2":null,"option3":null,"sku":"030526BA","requires_shipping":true,"taxable":false,"featured_image":{"id":14505363669063,"product_id":1779531972666,"position":4,"created_at":"2020-05-05T11:26:29+08:00","updated_at":"2020-05-05T11:27:05+08:00","alt":"2.42 Inch 12864 Oled Display Module Iic I2C Spi Serial For Arduino C51 Stm32 Green\/white\/blue\/yellow","width":1000,"height":1000,"src":"\/\/www.diymore.cc\/cdn\/shop\/products\/030526BA_2_286.jpg?v=1588649225","variant_ids":[17060396433466]},"available":true,"name":"2.42\" inch OLED Display RGB SSD1309 12864 SPI Serial Port for Arduino C51 - White","public_title":"White","options":["White"],"price":2399,"weight":27,"compare_at_price":null,"inventory_management":null,"barcode":"","featured_media":{"alt":"2.42 Inch 12864 Oled Display Module Iic I2C Spi Serial For Arduino C51 Stm32 Green\/white\/blue\/yellow","id":6678547202119,"position":4,"preview_image":{"aspect_ratio":1.0,"height":1000,"width":1000,"src":"\/\/www.diymore.cc\/cdn\/shop\/products\/030526BA_2_286.jpg?v=1588649225"}},"requires_selling_plan":false,"selling_plan_allocations":[]},{"id":17060396531770,"title":"Blue","option1":"Blue","option2":null,"option3":null,"sku":"030526LA","requires_shipping":true,"taxable":false,"featured_image":{"id":14505364029511,"product_id":1779531972666,"position":6,"created_at":"2020-05-05T11:26:36+08:00","updated_at":"2020-05-05T11:27:05+08:00","alt":"2.42 Inch 12864 Oled Display Module Iic I2C Spi Serial For Arduino C51 Stm32 Green\/white\/blue\/yellow","width":1000,"height":1000,"src":"\/\/www.diymore.cc\/cdn\/shop\/products\/030526LA_10_435.jpg?v=1588649225","variant_ids":[17060396531770]},"available":true,"name":"2.42\" inch OLED Display RGB SSD1309 12864 SPI Serial Port for Arduino C51 - Blue","public_title":"Blue","options":["Blue"],"price":2399,"weight":27,"compare_at_price":null,"inventory_management":null,"barcode":"","featured_media":{"alt":"2.42 Inch 12864 Oled Display Module Iic I2C Spi Serial For Arduino C51 Stm32 Green\/white\/blue\/yellow","id":6678547595335,"position":6,"preview_image":{"aspect_ratio":1.0,"height":1000,"width":1000,"src":"\/\/www.diymore.cc\/cdn\/shop\/products\/030526LA_10_435.jpg?v=1588649225"}},"requires_selling_plan":false,"selling_plan_allocations":[]},{"id":17060396597306,"title":"Yellow","option1":"Yellow","option2":null,"option3":null,"sku":"030526HU","requires_shipping":true,"taxable":false,"featured_image":{"id":14505364455495,"product_id":1779531972666,"position":9,"created_at":"2020-05-05T11:26:47+08:00","updated_at":"2020-05-05T11:27:05+08:00","alt":"2.42 Inch 12864 Oled Display Module Iic I2C Spi Serial For Arduino C51 Stm32 Green\/white\/blue\/yellow","width":1000,"height":1000,"src":"\/\/www.diymore.cc\/cdn\/shop\/products\/030526HU_10_123.jpg?v=1588649225","variant_ids":[17060396597306]},"available":true,"name":"2.42\" inch OLED Display RGB SSD1309 12864 SPI Serial Port for Arduino C51 - Yellow","public_title":"Yellow","options":["Yellow"],"price":2399,"weight":27,"compare_at_price":null,"inventory_management":null,"barcode":"","featured_media":{"alt":"2.42 Inch 12864 Oled Display Module Iic I2C Spi Serial For Arduino C51 Stm32 Green\/white\/blue\/yellow","id":6678547988551,"position":9,"preview_image":{"aspect_ratio":1.0,"height":1000,"width":1000,"src":"\/\/www.diymore.cc\/cdn\/shop\/products\/030526HU_10_123.jpg?v=1588649225"}},"requires_selling_plan":false,"selling_plan_allocations":[]}],"images":["\/\/www.diymore.cc\/cdn\/shop\/products\/030526LV_1_991.jpg?v=1588649225","\/\/www.diymore.cc\/cdn\/shop\/products\/030526LV_8_840.jpg?v=1588649225","\/\/www.diymore.cc\/cdn\/shop\/products\/030526LV_10_308.jpg?v=1588649225","\/\/www.diymore.cc\/cdn\/shop\/products\/030526BA_2_286.jpg?v=1588649225","\/\/www.diymore.cc\/cdn\/shop\/products\/030526BA_7_198.jpg?v=1588649225","\/\/www.diymore.cc\/cdn\/shop\/products\/030526LA_10_435.jpg?v=1588649225","\/\/www.diymore.cc\/cdn\/shop\/products\/030526LA_2_681.jpg?v=1588649225","\/\/www.diymore.cc\/cdn\/shop\/products\/030526LA_9_845.jpg?v=1588649225","\/\/www.diymore.cc\/cdn\/shop\/products\/030526HU_10_123.jpg?v=1588649225","\/\/www.diymore.cc\/cdn\/shop\/products\/030526HU_4_407.jpg?v=1588649225","\/\/www.diymore.cc\/cdn\/shop\/products\/030526BA_18_630.jpg?v=1588649225","\/\/www.diymore.cc\/cdn\/shop\/products\/030526HU_3_206.jpg?v=1588649225","\/\/www.diymore.cc\/cdn\/shop\/products\/030526HU_12_837.jpg?v=1588649225","\/\/www.diymore.cc\/cdn\/shop\/products\/030526HU_19_147.jpg?v=1588649225"],"featured_image":"\/\/www.diymore.cc\/cdn\/shop\/products\/030526LV_1_991.jpg?v=1588649225","options":["Color"],"media":[{"alt":"2.42 Inch 12864 Oled Display Module Iic I2C Spi Serial For Arduino C51 Stm32 Green\/white\/blue\/yellow","id":6678546972743,"position":1,"preview_image":{"aspect_ratio":1.0,"height":1000,"width":1000,"src":"\/\/www.diymore.cc\/cdn\/shop\/products\/030526LV_1_991.jpg?v=1588649225"},"aspect_ratio":1.0,"height":1000,"media_type":"image","src":"\/\/www.diymore.cc\/cdn\/shop\/products\/030526LV_1_991.jpg?v=1588649225","width":1000},{"alt":"2.42 Inch 12864 Oled Display Module Iic I2C Spi Serial For Arduino C51 Stm32 Green\/white\/blue\/yellow","id":6678547005511,"position":2,"preview_image":{"aspect_ratio":1.0,"height":1000,"width":1000,"src":"\/\/www.diymore.cc\/cdn\/shop\/products\/030526LV_8_840.jpg?v=1588649225"},"aspect_ratio":1.0,"height":1000,"media_type":"image","src":"\/\/www.diymore.cc\/cdn\/shop\/products\/030526LV_8_840.jpg?v=1588649225","width":1000},{"alt":"2.42 Inch 12864 Oled Display Module Iic I2C Spi Serial For Arduino C51 Stm32 Green\/white\/blue\/yellow","id":6678547103815,"position":3,"preview_image":{"aspect_ratio":1.0,"height":1000,"width":1000,"src":"\/\/www.diymore.cc\/cdn\/shop\/products\/030526LV_10_308.jpg?v=1588649225"},"aspect_ratio":1.0,"height":1000,"media_type":"image","src":"\/\/www.diymore.cc\/cdn\/shop\/products\/030526LV_10_308.jpg?v=1588649225","width":1000},{"alt":"2.42 Inch 12864 Oled Display Module Iic I2C Spi Serial For Arduino C51 Stm32 Green\/white\/blue\/yellow","id":6678547202119,"position":4,"preview_image":{"aspect_ratio":1.0,"height":1000,"width":1000,"src":"\/\/www.diymore.cc\/cdn\/shop\/products\/030526BA_2_286.jpg?v=1588649225"},"aspect_ratio":1.0,"height":1000,"media_type":"image","src":"\/\/www.diymore.cc\/cdn\/shop\/products\/030526BA_2_286.jpg?v=1588649225","width":1000},{"alt":"2.42 Inch 12864 Oled Display Module Iic I2C Spi Serial For Arduino C51 Stm32 Green\/white\/blue\/yellow","id":6678547497031,"position":5,"preview_image":{"aspect_ratio":1.0,"height":1000,"width":1000,"src":"\/\/www.diymore.cc\/cdn\/shop\/products\/030526BA_7_198.jpg?v=1588649225"},"aspect_ratio":1.0,"height":1000,"media_type":"image","src":"\/\/www.diymore.cc\/cdn\/shop\/products\/030526BA_7_198.jpg?v=1588649225","width":1000},{"alt":"2.42 Inch 12864 Oled Display Module Iic I2C Spi Serial For Arduino C51 Stm32 Green\/white\/blue\/yellow","id":6678547595335,"position":6,"preview_image":{"aspect_ratio":1.0,"height":1000,"width":1000,"src":"\/\/www.diymore.cc\/cdn\/shop\/products\/030526LA_10_435.jpg?v=1588649225"},"aspect_ratio":1.0,"height":1000,"media_type":"image","src":"\/\/www.diymore.cc\/cdn\/shop\/products\/030526LA_10_435.jpg?v=1588649225","width":1000},{"alt":"2.42 Inch 12864 Oled Display Module Iic I2C Spi Serial For Arduino C51 Stm32 Green\/white\/blue\/yellow","id":6678547726407,"position":7,"preview_image":{"aspect_ratio":1.0,"height":1000,"width":1000,"src":"\/\/www.diymore.cc\/cdn\/shop\/products\/030526LA_2_681.jpg?v=1588649225"},"aspect_ratio":1.0,"height":1000,"media_type":"image","src":"\/\/www.diymore.cc\/cdn\/shop\/products\/030526LA_2_681.jpg?v=1588649225","width":1000},{"alt":"2.42 Inch 12864 Oled Display Module Iic I2C Spi Serial For Arduino C51 Stm32 Green\/white\/blue\/yellow","id":6678547923015,"position":8,"preview_image":{"aspect_ratio":1.0,"height":1000,"width":1000,"src":"\/\/www.diymore.cc\/cdn\/shop\/products\/030526LA_9_845.jpg?v=1588649225"},"aspect_ratio":1.0,"height":1000,"media_type":"image","src":"\/\/www.diymore.cc\/cdn\/shop\/products\/030526LA_9_845.jpg?v=1588649225","width":1000},{"alt":"2.42 Inch 12864 Oled Display Module Iic I2C Spi Serial For Arduino C51 Stm32 Green\/white\/blue\/yellow","id":6678547988551,"position":9,"preview_image":{"aspect_ratio":1.0,"height":1000,"width":1000,"src":"\/\/www.diymore.cc\/cdn\/shop\/products\/030526HU_10_123.jpg?v=1588649225"},"aspect_ratio":1.0,"height":1000,"media_type":"image","src":"\/\/www.diymore.cc\/cdn\/shop\/products\/030526HU_10_123.jpg?v=1588649225","width":1000},{"alt":"2.42 Inch 12864 Oled Display Module Iic I2C Spi Serial For Arduino C51 Stm32 Green\/white\/blue\/yellow","id":6678548086855,"position":10,"preview_image":{"aspect_ratio":1.0,"height":1000,"width":1000,"src":"\/\/www.diymore.cc\/cdn\/shop\/products\/030526HU_4_407.jpg?v=1588649225"},"aspect_ratio":1.0,"height":1000,"media_type":"image","src":"\/\/www.diymore.cc\/cdn\/shop\/products\/030526HU_4_407.jpg?v=1588649225","width":1000},{"alt":"2.42 Inch 12864 Oled Display Module Iic I2C Spi Serial For Arduino C51 Stm32 Green\/white\/blue\/yellow","id":6678548217927,"position":11,"preview_image":{"aspect_ratio":1.0,"height":1000,"width":1000,"src":"\/\/www.diymore.cc\/cdn\/shop\/products\/030526BA_18_630.jpg?v=1588649225"},"aspect_ratio":1.0,"height":1000,"media_type":"image","src":"\/\/www.diymore.cc\/cdn\/shop\/products\/030526BA_18_630.jpg?v=1588649225","width":1000},{"alt":"2.42 Inch 12864 Oled Display Module Iic I2C Spi Serial For Arduino C51 Stm32 Green\/white\/blue\/yellow","id":6678548316231,"position":12,"preview_image":{"aspect_ratio":1.0,"height":1000,"width":1000,"src":"\/\/www.diymore.cc\/cdn\/shop\/products\/030526HU_3_206.jpg?v=1588649225"},"aspect_ratio":1.0,"height":1000,"media_type":"image","src":"\/\/www.diymore.cc\/cdn\/shop\/products\/030526HU_3_206.jpg?v=1588649225","width":1000},{"alt":"2.42 Inch 12864 Oled Display Module Iic I2C Spi Serial For Arduino C51 Stm32 Green\/white\/blue\/yellow","id":6678548414535,"position":13,"preview_image":{"aspect_ratio":1.0,"height":1000,"width":1000,"src":"\/\/www.diymore.cc\/cdn\/shop\/products\/030526HU_12_837.jpg?v=1588649225"},"aspect_ratio":1.0,"height":1000,"media_type":"image","src":"\/\/www.diymore.cc\/cdn\/shop\/products\/030526HU_12_837.jpg?v=1588649225","width":1000},{"alt":"2.42 Inch 12864 Oled Display Module Iic I2C Spi Serial For Arduino C51 Stm32 Green\/white\/blue\/yellow","id":6678548447303,"position":14,"preview_image":{"aspect_ratio":1.0,"height":1000,"width":1000,"src":"\/\/www.diymore.cc\/cdn\/shop\/products\/030526HU_19_147.jpg?v=1588649225"},"aspect_ratio":1.0,"height":1000,"media_type":"image","src":"\/\/www.diymore.cc\/cdn\/shop\/products\/030526HU_19_147.jpg?v=1588649225","width":1000}],"requires_selling_plan":false,"selling_plan_groups":[],"content":"\u003cp\u003e\u003cstrong\u003eFeatures:\u003c\/strong\u003e\u003cbr\u003e\u003cbr\u003eThis is a 2.42 inch OLED display module of 128x64 resolution in which the emissive electroluminescent layer is a film of organic compound that emits light in response to an electric current.\u003cbr\u003e\u003cbr\u003eWorking without backlight, the OLED display module could give out light by itself.\u003cbr\u003e\u003cbr\u003eIn low ambient light conditions such as a dark room, an OLED screen can achieve a higher contrast ratio than an LCD.\u003cbr\u003e\u003cbr\u003eOLED display module also has a much faster response time than an LCD.\u003cbr\u003eThe display with small dimension is suitable for MP3, function cellphone, smart health device, etc.\u003cbr\u003e\u003cbr\u003eThe seventh pin CS signal is leaded by default; If you do not need it, you can solder R18, then CS signal is directly grounded.\u003cbr\u003e\u003cbr\u003e\u003cspan class=\"tlid-translation translation\" lang=\"en\"\u003e\u003cspan title=\"\" class=\"\"\u003eSPI communication or I2C communication can be switched by configuring three resistors R3 R4 R5\u003c\/span\u003e.\u003c\/span\u003e\u003c\/p\u003e\n\u003cp\u003e\u003cspan class=\"tlid-translation translation\" lang=\"en\"\u003e\u003cspan title=\"\" class=\"\"\u003eAs for IIC communication, it is necessary to move the resistor on R4 to R3, and R5 is soldered with 0 ohm resistor.\u003c\/span\u003e\u003c\/span\u003e\u003c\/p\u003e\n\u003cp\u003e\u003cbr\u003e\u003cstrong\u003eProduct Introduction:\u003c\/strong\u003e\u003cbr\u003eSize:2.42 inches\u003cbr\u003eResolution:128*64\u003cbr\u003e\u003cspan class=\"tlid-translation translation\" lang=\"en\"\u003e\u003cspan title=\"\" class=\"\"\u003ePower supply voltage: 3.3V\u003c\/span\u003e\u003c\/span\u003e\u003cbr\u003eColor: Green\/White\/Blue\/Yellow\u003c\/p\u003e\n\u003cp\u003e\u003cbr\u003e\u003cstrong\u003eSPI Interface Definition:\u003c\/strong\u003e\u003cbr\u003eGND:power ground\u003cbr\u003eVCC:power positive\u003cbr\u003eSCL:clock wire\u003cbr\u003eSDA:data wire\u003cbr\u003eRES:reset wire\u003cbr\u003eDC:data\/command\u003cbr\u003eCS:chip selection\u003cbr\u003e \u003cbr\u003ePackage Include:\u003cbr\u003e1 x 2.42\" inch OLED Display SSD1309 128x64 SPI Serial Port for Arduino\u003c\/p\u003e\n\u003cp\u003e\u003cimg alt=\"\" src=\"https:\/\/cdn.shopifycdn.net\/s\/files\/1\/0122\/7558\/0986\/files\/1_545c360e-a985-4732-8263-7cae3a9df6d8_480x480.jpg?v=1670383132\"\u003e\u003c\/p\u003e"}

Translation missing: en.products.product.regular_price

$5.99

{"id":1779531972666,"title":"2.42\" inch OLED Display RGB SSD1309 12864 SPI Serial Port for Arduino C51","handle":"2-42-inch-12864-oled-display-module-iic-i2c-spi-serial-for-arduino-c51-stm32-green-white-blue-yellow","description":"\u003cp\u003e\u003cstrong\u003eFeatures:\u003c\/strong\u003e\u003cbr\u003e\u003cbr\u003eThis is a 2.42 inch OLED display module of 128x64 resolution in which the emissive electroluminescent layer is a film of organic compound that emits light in response to an electric current.\u003cbr\u003e\u003cbr\u003eWorking without backlight, the OLED display module could give out light by itself.\u003cbr\u003e\u003cbr\u003eIn low ambient light conditions such as a dark room, an OLED screen can achieve a higher contrast ratio than an LCD.\u003cbr\u003e\u003cbr\u003eOLED display module also has a much faster response time than an LCD.\u003cbr\u003eThe display with small dimension is suitable for MP3, function cellphone, smart health device, etc.\u003cbr\u003e\u003cbr\u003eThe seventh pin CS signal is leaded by default; If you do not need it, you can solder R18, then CS signal is directly grounded.\u003cbr\u003e\u003cbr\u003e\u003cspan class=\"tlid-translation translation\" lang=\"en\"\u003e\u003cspan title=\"\" class=\"\"\u003eSPI communication or I2C communication can be switched by configuring three resistors R3 R4 R5\u003c\/span\u003e.\u003c\/span\u003e\u003c\/p\u003e\n\u003cp\u003e\u003cspan class=\"tlid-translation translation\" lang=\"en\"\u003e\u003cspan title=\"\" class=\"\"\u003eAs for IIC communication, it is necessary to move the resistor on R4 to R3, and R5 is soldered with 0 ohm resistor.\u003c\/span\u003e\u003c\/span\u003e\u003c\/p\u003e\n\u003cp\u003e\u003cbr\u003e\u003cstrong\u003eProduct Introduction:\u003c\/strong\u003e\u003cbr\u003eSize:2.42 inches\u003cbr\u003eResolution:128*64\u003cbr\u003e\u003cspan class=\"tlid-translation translation\" lang=\"en\"\u003e\u003cspan title=\"\" class=\"\"\u003ePower supply voltage: 3.3V\u003c\/span\u003e\u003c\/span\u003e\u003cbr\u003eColor: Green\/White\/Blue\/Yellow\u003c\/p\u003e\n\u003cp\u003e\u003cbr\u003e\u003cstrong\u003eSPI Interface Definition:\u003c\/strong\u003e\u003cbr\u003eGND:power ground\u003cbr\u003eVCC:power positive\u003cbr\u003eSCL:clock wire\u003cbr\u003eSDA:data wire\u003cbr\u003eRES:reset wire\u003cbr\u003eDC:data\/command\u003cbr\u003eCS:chip selection\u003cbr\u003e \u003cbr\u003ePackage Include:\u003cbr\u003e1 x 2.42\" inch OLED Display SSD1309 128x64 SPI Serial Port for Arduino\u003c\/p\u003e\n\u003cp\u003e\u003cimg alt=\"\" src=\"https:\/\/cdn.shopifycdn.net\/s\/files\/1\/0122\/7558\/0986\/files\/1_545c360e-a985-4732-8263-7cae3a9df6d8_480x480.jpg?v=1670383132\"\u003e\u003c\/p\u003e","published_at":"2018-07-31T09:12:37+08:00","created_at":"2018-07-31T09:24:44+08:00","vendor":"diymore","type":"LED Display Module","tags":["Arduino","Display","OLED","STM32"],"price":2399,"price_min":2399,"price_max":2399,"available":true,"price_varies":false,"compare_at_price":null,"compare_at_price_min":0,"compare_at_price_max":0,"compare_at_price_varies":false,"variants":[{"id":17060396367930,"title":"Green","option1":"Green","option2":null,"option3":null,"sku":"030526LV","requires_shipping":true,"taxable":false,"featured_image":{"id":14505363570759,"product_id":1779531972666,"position":3,"created_at":"2020-05-05T11:26:25+08:00","updated_at":"2020-05-05T11:27:05+08:00","alt":"2.42 Inch 12864 Oled Display Module Iic I2C Spi Serial For Arduino C51 Stm32 Green\/white\/blue\/yellow","width":1000,"height":1000,"src":"\/\/www.diymore.cc\/cdn\/shop\/products\/030526LV_10_308.jpg?v=1588649225","variant_ids":[17060396367930]},"available":true,"name":"2.42\" inch OLED Display RGB SSD1309 12864 SPI Serial Port for Arduino C51 - Green","public_title":"Green","options":["Green"],"price":2399,"weight":27,"compare_at_price":null,"inventory_management":null,"barcode":"","featured_media":{"alt":"2.42 Inch 12864 Oled Display Module Iic I2C Spi Serial For Arduino C51 Stm32 Green\/white\/blue\/yellow","id":6678547103815,"position":3,"preview_image":{"aspect_ratio":1.0,"height":1000,"width":1000,"src":"\/\/www.diymore.cc\/cdn\/shop\/products\/030526LV_10_308.jpg?v=1588649225"}},"requires_selling_plan":false,"selling_plan_allocations":[]},{"id":17060396433466,"title":"White","option1":"White","option2":null,"option3":null,"sku":"030526BA","requires_shipping":true,"taxable":false,"featured_image":{"id":14505363669063,"product_id":1779531972666,"position":4,"created_at":"2020-05-05T11:26:29+08:00","updated_at":"2020-05-05T11:27:05+08:00","alt":"2.42 Inch 12864 Oled Display Module Iic I2C Spi Serial For Arduino C51 Stm32 Green\/white\/blue\/yellow","width":1000,"height":1000,"src":"\/\/www.diymore.cc\/cdn\/shop\/products\/030526BA_2_286.jpg?v=1588649225","variant_ids":[17060396433466]},"available":true,"name":"2.42\" inch OLED Display RGB SSD1309 12864 SPI Serial Port for Arduino C51 - White","public_title":"White","options":["White"],"price":2399,"weight":27,"compare_at_price":null,"inventory_management":null,"barcode":"","featured_media":{"alt":"2.42 Inch 12864 Oled Display Module Iic I2C Spi Serial For Arduino C51 Stm32 Green\/white\/blue\/yellow","id":6678547202119,"position":4,"preview_image":{"aspect_ratio":1.0,"height":1000,"width":1000,"src":"\/\/www.diymore.cc\/cdn\/shop\/products\/030526BA_2_286.jpg?v=1588649225"}},"requires_selling_plan":false,"selling_plan_allocations":[]},{"id":17060396531770,"title":"Blue","option1":"Blue","option2":null,"option3":null,"sku":"030526LA","requires_shipping":true,"taxable":false,"featured_image":{"id":14505364029511,"product_id":1779531972666,"position":6,"created_at":"2020-05-05T11:26:36+08:00","updated_at":"2020-05-05T11:27:05+08:00","alt":"2.42 Inch 12864 Oled Display Module Iic I2C Spi Serial For Arduino C51 Stm32 Green\/white\/blue\/yellow","width":1000,"height":1000,"src":"\/\/www.diymore.cc\/cdn\/shop\/products\/030526LA_10_435.jpg?v=1588649225","variant_ids":[17060396531770]},"available":true,"name":"2.42\" inch OLED Display RGB SSD1309 12864 SPI Serial Port for Arduino C51 - Blue","public_title":"Blue","options":["Blue"],"price":2399,"weight":27,"compare_at_price":null,"inventory_management":null,"barcode":"","featured_media":{"alt":"2.42 Inch 12864 Oled Display Module Iic I2C Spi Serial For Arduino C51 Stm32 Green\/white\/blue\/yellow","id":6678547595335,"position":6,"preview_image":{"aspect_ratio":1.0,"height":1000,"width":1000,"src":"\/\/www.diymore.cc\/cdn\/shop\/products\/030526LA_10_435.jpg?v=1588649225"}},"requires_selling_plan":false,"selling_plan_allocations":[]},{"id":17060396597306,"title":"Yellow","option1":"Yellow","option2":null,"option3":null,"sku":"030526HU","requires_shipping":true,"taxable":false,"featured_image":{"id":14505364455495,"product_id":1779531972666,"position":9,"created_at":"2020-05-05T11:26:47+08:00","updated_at":"2020-05-05T11:27:05+08:00","alt":"2.42 Inch 12864 Oled Display Module Iic I2C Spi Serial For Arduino C51 Stm32 Green\/white\/blue\/yellow","width":1000,"height":1000,"src":"\/\/www.diymore.cc\/cdn\/shop\/products\/030526HU_10_123.jpg?v=1588649225","variant_ids":[17060396597306]},"available":true,"name":"2.42\" inch OLED Display RGB SSD1309 12864 SPI Serial Port for Arduino C51 - Yellow","public_title":"Yellow","options":["Yellow"],"price":2399,"weight":27,"compare_at_price":null,"inventory_management":null,"barcode":"","featured_media":{"alt":"2.42 Inch 12864 Oled Display Module Iic I2C Spi Serial For Arduino C51 Stm32 Green\/white\/blue\/yellow","id":6678547988551,"position":9,"preview_image":{"aspect_ratio":1.0,"height":1000,"width":1000,"src":"\/\/www.diymore.cc\/cdn\/shop\/products\/030526HU_10_123.jpg?v=1588649225"}},"requires_selling_plan":false,"selling_plan_allocations":[]}],"images":["\/\/www.diymore.cc\/cdn\/shop\/products\/030526LV_1_991.jpg?v=1588649225","\/\/www.diymore.cc\/cdn\/shop\/products\/030526LV_8_840.jpg?v=1588649225","\/\/www.diymore.cc\/cdn\/shop\/products\/030526LV_10_308.jpg?v=1588649225","\/\/www.diymore.cc\/cdn\/shop\/products\/030526BA_2_286.jpg?v=1588649225","\/\/www.diymore.cc\/cdn\/shop\/products\/030526BA_7_198.jpg?v=1588649225","\/\/www.diymore.cc\/cdn\/shop\/products\/030526LA_10_435.jpg?v=1588649225","\/\/www.diymore.cc\/cdn\/shop\/products\/030526LA_2_681.jpg?v=1588649225","\/\/www.diymore.cc\/cdn\/shop\/products\/030526LA_9_845.jpg?v=1588649225","\/\/www.diymore.cc\/cdn\/shop\/products\/030526HU_10_123.jpg?v=1588649225","\/\/www.diymore.cc\/cdn\/shop\/products\/030526HU_4_407.jpg?v=1588649225","\/\/www.diymore.cc\/cdn\/shop\/products\/030526BA_18_630.jpg?v=1588649225","\/\/www.diymore.cc\/cdn\/shop\/products\/030526HU_3_206.jpg?v=1588649225","\/\/www.diymore.cc\/cdn\/shop\/products\/030526HU_12_837.jpg?v=1588649225","\/\/www.diymore.cc\/cdn\/shop\/products\/030526HU_19_147.jpg?v=1588649225"],"featured_image":"\/\/www.diymore.cc\/cdn\/shop\/products\/030526LV_1_991.jpg?v=1588649225","options":["Color"],"media":[{"alt":"2.42 Inch 12864 Oled Display Module Iic I2C Spi Serial For Arduino C51 Stm32 Green\/white\/blue\/yellow","id":6678546972743,"position":1,"preview_image":{"aspect_ratio":1.0,"height":1000,"width":1000,"src":"\/\/www.diymore.cc\/cdn\/shop\/products\/030526LV_1_991.jpg?v=1588649225"},"aspect_ratio":1.0,"height":1000,"media_type":"image","src":"\/\/www.diymore.cc\/cdn\/shop\/products\/030526LV_1_991.jpg?v=1588649225","width":1000},{"alt":"2.42 Inch 12864 Oled Display Module Iic I2C Spi Serial For Arduino C51 Stm32 Green\/white\/blue\/yellow","id":6678547005511,"position":2,"preview_image":{"aspect_ratio":1.0,"height":1000,"width":1000,"src":"\/\/www.diymore.cc\/cdn\/shop\/products\/030526LV_8_840.jpg?v=1588649225"},"aspect_ratio":1.0,"height":1000,"media_type":"image","src":"\/\/www.diymore.cc\/cdn\/shop\/products\/030526LV_8_840.jpg?v=1588649225","width":1000},{"alt":"2.42 Inch 12864 Oled Display Module Iic I2C Spi Serial For Arduino C51 Stm32 Green\/white\/blue\/yellow","id":6678547103815,"position":3,"preview_image":{"aspect_ratio":1.0,"height":1000,"width":1000,"src":"\/\/www.diymore.cc\/cdn\/shop\/products\/030526LV_10_308.jpg?v=1588649225"},"aspect_ratio":1.0,"height":1000,"media_type":"image","src":"\/\/www.diymore.cc\/cdn\/shop\/products\/030526LV_10_308.jpg?v=1588649225","width":1000},{"alt":"2.42 Inch 12864 Oled Display Module Iic I2C Spi Serial For Arduino C51 Stm32 Green\/white\/blue\/yellow","id":6678547202119,"position":4,"preview_image":{"aspect_ratio":1.0,"height":1000,"width":1000,"src":"\/\/www.diymore.cc\/cdn\/shop\/products\/030526BA_2_286.jpg?v=1588649225"},"aspect_ratio":1.0,"height":1000,"media_type":"image","src":"\/\/www.diymore.cc\/cdn\/shop\/products\/030526BA_2_286.jpg?v=1588649225","width":1000},{"alt":"2.42 Inch 12864 Oled Display Module Iic I2C Spi Serial For Arduino C51 Stm32 Green\/white\/blue\/yellow","id":6678547497031,"position":5,"preview_image":{"aspect_ratio":1.0,"height":1000,"width":1000,"src":"\/\/www.diymore.cc\/cdn\/shop\/products\/030526BA_7_198.jpg?v=1588649225"},"aspect_ratio":1.0,"height":1000,"media_type":"image","src":"\/\/www.diymore.cc\/cdn\/shop\/products\/030526BA_7_198.jpg?v=1588649225","width":1000},{"alt":"2.42 Inch 12864 Oled Display Module Iic I2C Spi Serial For Arduino C51 Stm32 Green\/white\/blue\/yellow","id":6678547595335,"position":6,"preview_image":{"aspect_ratio":1.0,"height":1000,"width":1000,"src":"\/\/www.diymore.cc\/cdn\/shop\/products\/030526LA_10_435.jpg?v=1588649225"},"aspect_ratio":1.0,"height":1000,"media_type":"image","src":"\/\/www.diymore.cc\/cdn\/shop\/products\/030526LA_10_435.jpg?v=1588649225","width":1000},{"alt":"2.42 Inch 12864 Oled Display Module Iic I2C Spi Serial For Arduino C51 Stm32 Green\/white\/blue\/yellow","id":6678547726407,"position":7,"preview_image":{"aspect_ratio":1.0,"height":1000,"width":1000,"src":"\/\/www.diymore.cc\/cdn\/shop\/products\/030526LA_2_681.jpg?v=1588649225"},"aspect_ratio":1.0,"height":1000,"media_type":"image","src":"\/\/www.diymore.cc\/cdn\/shop\/products\/030526LA_2_681.jpg?v=1588649225","width":1000},{"alt":"2.42 Inch 12864 Oled Display Module Iic I2C Spi Serial For Arduino C51 Stm32 Green\/white\/blue\/yellow","id":6678547923015,"position":8,"preview_image":{"aspect_ratio":1.0,"height":1000,"width":1000,"src":"\/\/www.diymore.cc\/cdn\/shop\/products\/030526LA_9_845.jpg?v=1588649225"},"aspect_ratio":1.0,"height":1000,"media_type":"image","src":"\/\/www.diymore.cc\/cdn\/shop\/products\/030526LA_9_845.jpg?v=1588649225","width":1000},{"alt":"2.42 Inch 12864 Oled Display Module Iic I2C Spi Serial For Arduino C51 Stm32 Green\/white\/blue\/yellow","id":6678547988551,"position":9,"preview_image":{"aspect_ratio":1.0,"height":1000,"width":1000,"src":"\/\/www.diymore.cc\/cdn\/shop\/products\/030526HU_10_123.jpg?v=1588649225"},"aspect_ratio":1.0,"height":1000,"media_type":"image","src":"\/\/www.diymore.cc\/cdn\/shop\/products\/030526HU_10_123.jpg?v=1588649225","width":1000},{"alt":"2.42 Inch 12864 Oled Display Module Iic I2C Spi Serial For Arduino C51 Stm32 Green\/white\/blue\/yellow","id":6678548086855,"position":10,"preview_image":{"aspect_ratio":1.0,"height":1000,"width":1000,"src":"\/\/www.diymore.cc\/cdn\/shop\/products\/030526HU_4_407.jpg?v=1588649225"},"aspect_ratio":1.0,"height":1000,"media_type":"image","src":"\/\/www.diymore.cc\/cdn\/shop\/products\/030526HU_4_407.jpg?v=1588649225","width":1000},{"alt":"2.42 Inch 12864 Oled Display Module Iic I2C Spi Serial For Arduino C51 Stm32 Green\/white\/blue\/yellow","id":6678548217927,"position":11,"preview_image":{"aspect_ratio":1.0,"height":1000,"width":1000,"src":"\/\/www.diymore.cc\/cdn\/shop\/products\/030526BA_18_630.jpg?v=1588649225"},"aspect_ratio":1.0,"height":1000,"media_type":"image","src":"\/\/www.diymore.cc\/cdn\/shop\/products\/030526BA_18_630.jpg?v=1588649225","width":1000},{"alt":"2.42 Inch 12864 Oled Display Module Iic I2C Spi Serial For Arduino C51 Stm32 Green\/white\/blue\/yellow","id":6678548316231,"position":12,"preview_image":{"aspect_ratio":1.0,"height":1000,"width":1000,"src":"\/\/www.diymore.cc\/cdn\/shop\/products\/030526HU_3_206.jpg?v=1588649225"},"aspect_ratio":1.0,"height":1000,"media_type":"image","src":"\/\/www.diymore.cc\/cdn\/shop\/products\/030526HU_3_206.jpg?v=1588649225","width":1000},{"alt":"2.42 Inch 12864 Oled Display Module Iic I2C Spi Serial For Arduino C51 Stm32 Green\/white\/blue\/yellow","id":6678548414535,"position":13,"preview_image":{"aspect_ratio":1.0,"height":1000,"width":1000,"src":"\/\/www.diymore.cc\/cdn\/shop\/products\/030526HU_12_837.jpg?v=1588649225"},"aspect_ratio":1.0,"height":1000,"media_type":"image","src":"\/\/www.diymore.cc\/cdn\/shop\/products\/030526HU_12_837.jpg?v=1588649225","width":1000},{"alt":"2.42 Inch 12864 Oled Display Module Iic I2C Spi Serial For Arduino C51 Stm32 Green\/white\/blue\/yellow","id":6678548447303,"position":14,"preview_image":{"aspect_ratio":1.0,"height":1000,"width":1000,"src":"\/\/www.diymore.cc\/cdn\/shop\/products\/030526HU_19_147.jpg?v=1588649225"},"aspect_ratio":1.0,"height":1000,"media_type":"image","src":"\/\/www.diymore.cc\/cdn\/shop\/products\/030526HU_19_147.jpg?v=1588649225","width":1000}],"requires_selling_plan":false,"selling_plan_groups":[],"content":"\u003cp\u003e\u003cstrong\u003eFeatures:\u003c\/strong\u003e\u003cbr\u003e\u003cbr\u003eThis is a 2.42 inch OLED display module of 128x64 resolution in which the emissive electroluminescent layer is a film of organic compound that emits light in response to an electric current.\u003cbr\u003e\u003cbr\u003eWorking without backlight, the OLED display module could give out light by itself.\u003cbr\u003e\u003cbr\u003eIn low ambient light conditions such as a dark room, an OLED screen can achieve a higher contrast ratio than an LCD.\u003cbr\u003e\u003cbr\u003eOLED display module also has a much faster response time than an LCD.\u003cbr\u003eThe display with small dimension is suitable for MP3, function cellphone, smart health device, etc.\u003cbr\u003e\u003cbr\u003eThe seventh pin CS signal is leaded by default; If you do not need it, you can solder R18, then CS signal is directly grounded.\u003cbr\u003e\u003cbr\u003e\u003cspan class=\"tlid-translation translation\" lang=\"en\"\u003e\u003cspan title=\"\" class=\"\"\u003eSPI communication or I2C communication can be switched by configuring three resistors R3 R4 R5\u003c\/span\u003e.\u003c\/span\u003e\u003c\/p\u003e\n\u003cp\u003e\u003cspan class=\"tlid-translation translation\" lang=\"en\"\u003e\u003cspan title=\"\" class=\"\"\u003eAs for IIC communication, it is necessary to move the resistor on R4 to R3, and R5 is soldered with 0 ohm resistor.\u003c\/span\u003e\u003c\/span\u003e\u003c\/p\u003e\n\u003cp\u003e\u003cbr\u003e\u003cstrong\u003eProduct Introduction:\u003c\/strong\u003e\u003cbr\u003eSize:2.42 inches\u003cbr\u003eResolution:128*64\u003cbr\u003e\u003cspan class=\"tlid-translation translation\" lang=\"en\"\u003e\u003cspan title=\"\" class=\"\"\u003ePower supply voltage: 3.3V\u003c\/span\u003e\u003c\/span\u003e\u003cbr\u003eColor: Green\/White\/Blue\/Yellow\u003c\/p\u003e\n\u003cp\u003e\u003cbr\u003e\u003cstrong\u003eSPI Interface Definition:\u003c\/strong\u003e\u003cbr\u003eGND:power ground\u003cbr\u003eVCC:power positive\u003cbr\u003eSCL:clock wire\u003cbr\u003eSDA:data wire\u003cbr\u003eRES:reset wire\u003cbr\u003eDC:data\/command\u003cbr\u003eCS:chip selection\u003cbr\u003e \u003cbr\u003ePackage Include:\u003cbr\u003e1 x 2.42\" inch OLED Display SSD1309 128x64 SPI Serial Port for Arduino\u003c\/p\u003e\n\u003cp\u003e\u003cimg alt=\"\" src=\"https:\/\/cdn.shopifycdn.net\/s\/files\/1\/0122\/7558\/0986\/files\/1_545c360e-a985-4732-8263-7cae3a9df6d8_480x480.jpg?v=1670383132\"\u003e\u003c\/p\u003e"}

Translation missing: en.products.product.regular_price

$7.99

{"id":1779531972666,"title":"2.42\" inch OLED Display RGB SSD1309 12864 SPI Serial Port for Arduino C51","handle":"2-42-inch-12864-oled-display-module-iic-i2c-spi-serial-for-arduino-c51-stm32-green-white-blue-yellow","description":"\u003cp\u003e\u003cstrong\u003eFeatures:\u003c\/strong\u003e\u003cbr\u003e\u003cbr\u003eThis is a 2.42 inch OLED display module of 128x64 resolution in which the emissive electroluminescent layer is a film of organic compound that emits light in response to an electric current.\u003cbr\u003e\u003cbr\u003eWorking without backlight, the OLED display module could give out light by itself.\u003cbr\u003e\u003cbr\u003eIn low ambient light conditions such as a dark room, an OLED screen can achieve a higher contrast ratio than an LCD.\u003cbr\u003e\u003cbr\u003eOLED display module also has a much faster response time than an LCD.\u003cbr\u003eThe display with small dimension is suitable for MP3, function cellphone, smart health device, etc.\u003cbr\u003e\u003cbr\u003eThe seventh pin CS signal is leaded by default; If you do not need it, you can solder R18, then CS signal is directly grounded.\u003cbr\u003e\u003cbr\u003e\u003cspan class=\"tlid-translation translation\" lang=\"en\"\u003e\u003cspan title=\"\" class=\"\"\u003eSPI communication or I2C communication can be switched by configuring three resistors R3 R4 R5\u003c\/span\u003e.\u003c\/span\u003e\u003c\/p\u003e\n\u003cp\u003e\u003cspan class=\"tlid-translation translation\" lang=\"en\"\u003e\u003cspan title=\"\" class=\"\"\u003eAs for IIC communication, it is necessary to move the resistor on R4 to R3, and R5 is soldered with 0 ohm resistor.\u003c\/span\u003e\u003c\/span\u003e\u003c\/p\u003e\n\u003cp\u003e\u003cbr\u003e\u003cstrong\u003eProduct Introduction:\u003c\/strong\u003e\u003cbr\u003eSize:2.42 inches\u003cbr\u003eResolution:128*64\u003cbr\u003e\u003cspan class=\"tlid-translation translation\" lang=\"en\"\u003e\u003cspan title=\"\" class=\"\"\u003ePower supply voltage: 3.3V\u003c\/span\u003e\u003c\/span\u003e\u003cbr\u003eColor: Green\/White\/Blue\/Yellow\u003c\/p\u003e\n\u003cp\u003e\u003cbr\u003e\u003cstrong\u003eSPI Interface Definition:\u003c\/strong\u003e\u003cbr\u003eGND:power ground\u003cbr\u003eVCC:power positive\u003cbr\u003eSCL:clock wire\u003cbr\u003eSDA:data wire\u003cbr\u003eRES:reset wire\u003cbr\u003eDC:data\/command\u003cbr\u003eCS:chip selection\u003cbr\u003e \u003cbr\u003ePackage Include:\u003cbr\u003e1 x 2.42\" inch OLED Display SSD1309 128x64 SPI Serial Port for Arduino\u003c\/p\u003e\n\u003cp\u003e\u003cimg alt=\"\" src=\"https:\/\/cdn.shopifycdn.net\/s\/files\/1\/0122\/7558\/0986\/files\/1_545c360e-a985-4732-8263-7cae3a9df6d8_480x480.jpg?v=1670383132\"\u003e\u003c\/p\u003e","published_at":"2018-07-31T09:12:37+08:00","created_at":"2018-07-31T09:24:44+08:00","vendor":"diymore","type":"LED Display Module","tags":["Arduino","Display","OLED","STM32"],"price":2399,"price_min":2399,"price_max":2399,"available":true,"price_varies":false,"compare_at_price":null,"compare_at_price_min":0,"compare_at_price_max":0,"compare_at_price_varies":false,"variants":[{"id":17060396367930,"title":"Green","option1":"Green","option2":null,"option3":null,"sku":"030526LV","requires_shipping":true,"taxable":false,"featured_image":{"id":14505363570759,"product_id":1779531972666,"position":3,"created_at":"2020-05-05T11:26:25+08:00","updated_at":"2020-05-05T11:27:05+08:00","alt":"2.42 Inch 12864 Oled Display Module Iic I2C Spi Serial For Arduino C51 Stm32 Green\/white\/blue\/yellow","width":1000,"height":1000,"src":"\/\/www.diymore.cc\/cdn\/shop\/products\/030526LV_10_308.jpg?v=1588649225","variant_ids":[17060396367930]},"available":true,"name":"2.42\" inch OLED Display RGB SSD1309 12864 SPI Serial Port for Arduino C51 - Green","public_title":"Green","options":["Green"],"price":2399,"weight":27,"compare_at_price":null,"inventory_management":null,"barcode":"","featured_media":{"alt":"2.42 Inch 12864 Oled Display Module Iic I2C Spi Serial For Arduino C51 Stm32 Green\/white\/blue\/yellow","id":6678547103815,"position":3,"preview_image":{"aspect_ratio":1.0,"height":1000,"width":1000,"src":"\/\/www.diymore.cc\/cdn\/shop\/products\/030526LV_10_308.jpg?v=1588649225"}},"requires_selling_plan":false,"selling_plan_allocations":[]},{"id":17060396433466,"title":"White","option1":"White","option2":null,"option3":null,"sku":"030526BA","requires_shipping":true,"taxable":false,"featured_image":{"id":14505363669063,"product_id":1779531972666,"position":4,"created_at":"2020-05-05T11:26:29+08:00","updated_at":"2020-05-05T11:27:05+08:00","alt":"2.42 Inch 12864 Oled Display Module Iic I2C Spi Serial For Arduino C51 Stm32 Green\/white\/blue\/yellow","width":1000,"height":1000,"src":"\/\/www.diymore.cc\/cdn\/shop\/products\/030526BA_2_286.jpg?v=1588649225","variant_ids":[17060396433466]},"available":true,"name":"2.42\" inch OLED Display RGB SSD1309 12864 SPI Serial Port for Arduino C51 - White","public_title":"White","options":["White"],"price":2399,"weight":27,"compare_at_price":null,"inventory_management":null,"barcode":"","featured_media":{"alt":"2.42 Inch 12864 Oled Display Module Iic I2C Spi Serial For Arduino C51 Stm32 Green\/white\/blue\/yellow","id":6678547202119,"position":4,"preview_image":{"aspect_ratio":1.0,"height":1000,"width":1000,"src":"\/\/www.diymore.cc\/cdn\/shop\/products\/030526BA_2_286.jpg?v=1588649225"}},"requires_selling_plan":false,"selling_plan_allocations":[]},{"id":17060396531770,"title":"Blue","option1":"Blue","option2":null,"option3":null,"sku":"030526LA","requires_shipping":true,"taxable":false,"featured_image":{"id":14505364029511,"product_id":1779531972666,"position":6,"created_at":"2020-05-05T11:26:36+08:00","updated_at":"2020-05-05T11:27:05+08:00","alt":"2.42 Inch 12864 Oled Display Module Iic I2C Spi Serial For Arduino C51 Stm32 Green\/white\/blue\/yellow","width":1000,"height":1000,"src":"\/\/www.diymore.cc\/cdn\/shop\/products\/030526LA_10_435.jpg?v=1588649225","variant_ids":[17060396531770]},"available":true,"name":"2.42\" inch OLED Display RGB SSD1309 12864 SPI Serial Port for Arduino C51 - Blue","public_title":"Blue","options":["Blue"],"price":2399,"weight":27,"compare_at_price":null,"inventory_management":null,"barcode":"","featured_media":{"alt":"2.42 Inch 12864 Oled Display Module Iic I2C Spi Serial For Arduino C51 Stm32 Green\/white\/blue\/yellow","id":6678547595335,"position":6,"preview_image":{"aspect_ratio":1.0,"height":1000,"width":1000,"src":"\/\/www.diymore.cc\/cdn\/shop\/products\/030526LA_10_435.jpg?v=1588649225"}},"requires_selling_plan":false,"selling_plan_allocations":[]},{"id":17060396597306,"title":"Yellow","option1":"Yellow","option2":null,"option3":null,"sku":"030526HU","requires_shipping":true,"taxable":false,"featured_image":{"id":14505364455495,"product_id":1779531972666,"position":9,"created_at":"2020-05-05T11:26:47+08:00","updated_at":"2020-05-05T11:27:05+08:00","alt":"2.42 Inch 12864 Oled Display Module Iic I2C Spi Serial For Arduino C51 Stm32 Green\/white\/blue\/yellow","width":1000,"height":1000,"src":"\/\/www.diymore.cc\/cdn\/shop\/products\/030526HU_10_123.jpg?v=1588649225","variant_ids":[17060396597306]},"available":true,"name":"2.42\" inch OLED Display RGB SSD1309 12864 SPI Serial Port for Arduino C51 - Yellow","public_title":"Yellow","options":["Yellow"],"price":2399,"weight":27,"compare_at_price":null,"inventory_management":null,"barcode":"","featured_media":{"alt":"2.42 Inch 12864 Oled Display Module Iic I2C Spi Serial For Arduino C51 Stm32 Green\/white\/blue\/yellow","id":6678547988551,"position":9,"preview_image":{"aspect_ratio":1.0,"height":1000,"width":1000,"src":"\/\/www.diymore.cc\/cdn\/shop\/products\/030526HU_10_123.jpg?v=1588649225"}},"requires_selling_plan":false,"selling_plan_allocations":[]}],"images":["\/\/www.diymore.cc\/cdn\/shop\/products\/030526LV_1_991.jpg?v=1588649225","\/\/www.diymore.cc\/cdn\/shop\/products\/030526LV_8_840.jpg?v=1588649225","\/\/www.diymore.cc\/cdn\/shop\/products\/030526LV_10_308.jpg?v=1588649225","\/\/www.diymore.cc\/cdn\/shop\/products\/030526BA_2_286.jpg?v=1588649225","\/\/www.diymore.cc\/cdn\/shop\/products\/030526BA_7_198.jpg?v=1588649225","\/\/www.diymore.cc\/cdn\/shop\/products\/030526LA_10_435.jpg?v=1588649225","\/\/www.diymore.cc\/cdn\/shop\/products\/030526LA_2_681.jpg?v=1588649225","\/\/www.diymore.cc\/cdn\/shop\/products\/030526LA_9_845.jpg?v=1588649225","\/\/www.diymore.cc\/cdn\/shop\/products\/030526HU_10_123.jpg?v=1588649225","\/\/www.diymore.cc\/cdn\/shop\/products\/030526HU_4_407.jpg?v=1588649225","\/\/www.diymore.cc\/cdn\/shop\/products\/030526BA_18_630.jpg?v=1588649225","\/\/www.diymore.cc\/cdn\/shop\/products\/030526HU_3_206.jpg?v=1588649225","\/\/www.diymore.cc\/cdn\/shop\/products\/030526HU_12_837.jpg?v=1588649225","\/\/www.diymore.cc\/cdn\/shop\/products\/030526HU_19_147.jpg?v=1588649225"],"featured_image":"\/\/www.diymore.cc\/cdn\/shop\/products\/030526LV_1_991.jpg?v=1588649225","options":["Color"],"media":[{"alt":"2.42 Inch 12864 Oled Display Module Iic I2C Spi Serial For Arduino C51 Stm32 Green\/white\/blue\/yellow","id":6678546972743,"position":1,"preview_image":{"aspect_ratio":1.0,"height":1000,"width":1000,"src":"\/\/www.diymore.cc\/cdn\/shop\/products\/030526LV_1_991.jpg?v=1588649225"},"aspect_ratio":1.0,"height":1000,"media_type":"image","src":"\/\/www.diymore.cc\/cdn\/shop\/products\/030526LV_1_991.jpg?v=1588649225","width":1000},{"alt":"2.42 Inch 12864 Oled Display Module Iic I2C Spi Serial For Arduino C51 Stm32 Green\/white\/blue\/yellow","id":6678547005511,"position":2,"preview_image":{"aspect_ratio":1.0,"height":1000,"width":1000,"src":"\/\/www.diymore.cc\/cdn\/shop\/products\/030526LV_8_840.jpg?v=1588649225"},"aspect_ratio":1.0,"height":1000,"media_type":"image","src":"\/\/www.diymore.cc\/cdn\/shop\/products\/030526LV_8_840.jpg?v=1588649225","width":1000},{"alt":"2.42 Inch 12864 Oled Display Module Iic I2C Spi Serial For Arduino C51 Stm32 Green\/white\/blue\/yellow","id":6678547103815,"position":3,"preview_image":{"aspect_ratio":1.0,"height":1000,"width":1000,"src":"\/\/www.diymore.cc\/cdn\/shop\/products\/030526LV_10_308.jpg?v=1588649225"},"aspect_ratio":1.0,"height":1000,"media_type":"image","src":"\/\/www.diymore.cc\/cdn\/shop\/products\/030526LV_10_308.jpg?v=1588649225","width":1000},{"alt":"2.42 Inch 12864 Oled Display Module Iic I2C Spi Serial For Arduino C51 Stm32 Green\/white\/blue\/yellow","id":6678547202119,"position":4,"preview_image":{"aspect_ratio":1.0,"height":1000,"width":1000,"src":"\/\/www.diymore.cc\/cdn\/shop\/products\/030526BA_2_286.jpg?v=1588649225"},"aspect_ratio":1.0,"height":1000,"media_type":"image","src":"\/\/www.diymore.cc\/cdn\/shop\/products\/030526BA_2_286.jpg?v=1588649225","width":1000},{"alt":"2.42 Inch 12864 Oled Display Module Iic I2C Spi Serial For Arduino C51 Stm32 Green\/white\/blue\/yellow","id":6678547497031,"position":5,"preview_image":{"aspect_ratio":1.0,"height":1000,"width":1000,"src":"\/\/www.diymore.cc\/cdn\/shop\/products\/030526BA_7_198.jpg?v=1588649225"},"aspect_ratio":1.0,"height":1000,"media_type":"image","src":"\/\/www.diymore.cc\/cdn\/shop\/products\/030526BA_7_198.jpg?v=1588649225","width":1000},{"alt":"2.42 Inch 12864 Oled Display Module Iic I2C Spi Serial For Arduino C51 Stm32 Green\/white\/blue\/yellow","id":6678547595335,"position":6,"preview_image":{"aspect_ratio":1.0,"height":1000,"width":1000,"src":"\/\/www.diymore.cc\/cdn\/shop\/products\/030526LA_10_435.jpg?v=1588649225"},"aspect_ratio":1.0,"height":1000,"media_type":"image","src":"\/\/www.diymore.cc\/cdn\/shop\/products\/030526LA_10_435.jpg?v=1588649225","width":1000},{"alt":"2.42 Inch 12864 Oled Display Module Iic I2C Spi Serial For Arduino C51 Stm32 Green\/white\/blue\/yellow","id":6678547726407,"position":7,"preview_image":{"aspect_ratio":1.0,"height":1000,"width":1000,"src":"\/\/www.diymore.cc\/cdn\/shop\/products\/030526LA_2_681.jpg?v=1588649225"},"aspect_ratio":1.0,"height":1000,"media_type":"image","src":"\/\/www.diymore.cc\/cdn\/shop\/products\/030526LA_2_681.jpg?v=1588649225","width":1000},{"alt":"2.42 Inch 12864 Oled Display Module Iic I2C Spi Serial For Arduino C51 Stm32 Green\/white\/blue\/yellow","id":6678547923015,"position":8,"preview_image":{"aspect_ratio":1.0,"height":1000,"width":1000,"src":"\/\/www.diymore.cc\/cdn\/shop\/products\/030526LA_9_845.jpg?v=1588649225"},"aspect_ratio":1.0,"height":1000,"media_type":"image","src":"\/\/www.diymore.cc\/cdn\/shop\/products\/030526LA_9_845.jpg?v=1588649225","width":1000},{"alt":"2.42 Inch 12864 Oled Display Module Iic I2C Spi Serial For Arduino C51 Stm32 Green\/white\/blue\/yellow","id":6678547988551,"position":9,"preview_image":{"aspect_ratio":1.0,"height":1000,"width":1000,"src":"\/\/www.diymore.cc\/cdn\/shop\/products\/030526HU_10_123.jpg?v=1588649225"},"aspect_ratio":1.0,"height":1000,"media_type":"image","src":"\/\/www.diymore.cc\/cdn\/shop\/products\/030526HU_10_123.jpg?v=1588649225","width":1000},{"alt":"2.42 Inch 12864 Oled Display Module Iic I2C Spi Serial For Arduino C51 Stm32 Green\/white\/blue\/yellow","id":6678548086855,"position":10,"preview_image":{"aspect_ratio":1.0,"height":1000,"width":1000,"src":"\/\/www.diymore.cc\/cdn\/shop\/products\/030526HU_4_407.jpg?v=1588649225"},"aspect_ratio":1.0,"height":1000,"media_type":"image","src":"\/\/www.diymore.cc\/cdn\/shop\/products\/030526HU_4_407.jpg?v=1588649225","width":1000},{"alt":"2.42 Inch 12864 Oled Display Module Iic I2C Spi Serial For Arduino C51 Stm32 Green\/white\/blue\/yellow","id":6678548217927,"position":11,"preview_image":{"aspect_ratio":1.0,"height":1000,"width":1000,"src":"\/\/www.diymore.cc\/cdn\/shop\/products\/030526BA_18_630.jpg?v=1588649225"},"aspect_ratio":1.0,"height":1000,"media_type":"image","src":"\/\/www.diymore.cc\/cdn\/shop\/products\/030526BA_18_630.jpg?v=1588649225","width":1000},{"alt":"2.42 Inch 12864 Oled Display Module Iic I2C Spi Serial For Arduino C51 Stm32 Green\/white\/blue\/yellow","id":6678548316231,"position":12,"preview_image":{"aspect_ratio":1.0,"height":1000,"width":1000,"src":"\/\/www.diymore.cc\/cdn\/shop\/products\/030526HU_3_206.jpg?v=1588649225"},"aspect_ratio":1.0,"height":1000,"media_type":"image","src":"\/\/www.diymore.cc\/cdn\/shop\/products\/030526HU_3_206.jpg?v=1588649225","width":1000},{"alt":"2.42 Inch 12864 Oled Display Module Iic I2C Spi Serial For Arduino C51 Stm32 Green\/white\/blue\/yellow","id":6678548414535,"position":13,"preview_image":{"aspect_ratio":1.0,"height":1000,"width":1000,"src":"\/\/www.diymore.cc\/cdn\/shop\/products\/030526HU_12_837.jpg?v=1588649225"},"aspect_ratio":1.0,"height":1000,"media_type":"image","src":"\/\/www.diymore.cc\/cdn\/shop\/products\/030526HU_12_837.jpg?v=1588649225","width":1000},{"alt":"2.42 Inch 12864 Oled Display Module Iic I2C Spi Serial For Arduino C51 Stm32 Green\/white\/blue\/yellow","id":6678548447303,"position":14,"preview_image":{"aspect_ratio":1.0,"height":1000,"width":1000,"src":"\/\/www.diymore.cc\/cdn\/shop\/products\/030526HU_19_147.jpg?v=1588649225"},"aspect_ratio":1.0,"height":1000,"media_type":"image","src":"\/\/www.diymore.cc\/cdn\/shop\/products\/030526HU_19_147.jpg?v=1588649225","width":1000}],"requires_selling_plan":false,"selling_plan_groups":[],"content":"\u003cp\u003e\u003cstrong\u003eFeatures:\u003c\/strong\u003e\u003cbr\u003e\u003cbr\u003eThis is a 2.42 inch OLED display module of 128x64 resolution in which the emissive electroluminescent layer is a film of organic compound that emits light in response to an electric current.\u003cbr\u003e\u003cbr\u003eWorking without backlight, the OLED display module could give out light by itself.\u003cbr\u003e\u003cbr\u003eIn low ambient light conditions such as a dark room, an OLED screen can achieve a higher contrast ratio than an LCD.\u003cbr\u003e\u003cbr\u003eOLED display module also has a much faster response time than an LCD.\u003cbr\u003eThe display with small dimension is suitable for MP3, function cellphone, smart health device, etc.\u003cbr\u003e\u003cbr\u003eThe seventh pin CS signal is leaded by default; If you do not need it, you can solder R18, then CS signal is directly grounded.\u003cbr\u003e\u003cbr\u003e\u003cspan class=\"tlid-translation translation\" lang=\"en\"\u003e\u003cspan title=\"\" class=\"\"\u003eSPI communication or I2C communication can be switched by configuring three resistors R3 R4 R5\u003c\/span\u003e.\u003c\/span\u003e\u003c\/p\u003e\n\u003cp\u003e\u003cspan class=\"tlid-translation translation\" lang=\"en\"\u003e\u003cspan title=\"\" class=\"\"\u003eAs for IIC communication, it is necessary to move the resistor on R4 to R3, and R5 is soldered with 0 ohm resistor.\u003c\/span\u003e\u003c\/span\u003e\u003c\/p\u003e\n\u003cp\u003e\u003cbr\u003e\u003cstrong\u003eProduct Introduction:\u003c\/strong\u003e\u003cbr\u003eSize:2.42 inches\u003cbr\u003eResolution:128*64\u003cbr\u003e\u003cspan class=\"tlid-translation translation\" lang=\"en\"\u003e\u003cspan title=\"\" class=\"\"\u003ePower supply voltage: 3.3V\u003c\/span\u003e\u003c\/span\u003e\u003cbr\u003eColor: Green\/White\/Blue\/Yellow\u003c\/p\u003e\n\u003cp\u003e\u003cbr\u003e\u003cstrong\u003eSPI Interface Definition:\u003c\/strong\u003e\u003cbr\u003eGND:power ground\u003cbr\u003eVCC:power positive\u003cbr\u003eSCL:clock wire\u003cbr\u003eSDA:data wire\u003cbr\u003eRES:reset wire\u003cbr\u003eDC:data\/command\u003cbr\u003eCS:chip selection\u003cbr\u003e \u003cbr\u003ePackage Include:\u003cbr\u003e1 x 2.42\" inch OLED Display SSD1309 128x64 SPI Serial Port for Arduino\u003c\/p\u003e\n\u003cp\u003e\u003cimg alt=\"\" src=\"https:\/\/cdn.shopifycdn.net\/s\/files\/1\/0122\/7558\/0986\/files\/1_545c360e-a985-4732-8263-7cae3a9df6d8_480x480.jpg?v=1670383132\"\u003e\u003c\/p\u003e"}

Translation missing: en.products.product.regular_price

$9.99

{"id":1779531972666,"title":"2.42\" inch OLED Display RGB SSD1309 12864 SPI Serial Port for Arduino C51","handle":"2-42-inch-12864-oled-display-module-iic-i2c-spi-serial-for-arduino-c51-stm32-green-white-blue-yellow","description":"\u003cp\u003e\u003cstrong\u003eFeatures:\u003c\/strong\u003e\u003cbr\u003e\u003cbr\u003eThis is a 2.42 inch OLED display module of 128x64 resolution in which the emissive electroluminescent layer is a film of organic compound that emits light in response to an electric current.\u003cbr\u003e\u003cbr\u003eWorking without backlight, the OLED display module could give out light by itself.\u003cbr\u003e\u003cbr\u003eIn low ambient light conditions such as a dark room, an OLED screen can achieve a higher contrast ratio than an LCD.\u003cbr\u003e\u003cbr\u003eOLED display module also has a much faster response time than an LCD.\u003cbr\u003eThe display with small dimension is suitable for MP3, function cellphone, smart health device, etc.\u003cbr\u003e\u003cbr\u003eThe seventh pin CS signal is leaded by default; If you do not need it, you can solder R18, then CS signal is directly grounded.\u003cbr\u003e\u003cbr\u003e\u003cspan class=\"tlid-translation translation\" lang=\"en\"\u003e\u003cspan title=\"\" class=\"\"\u003eSPI communication or I2C communication can be switched by configuring three resistors R3 R4 R5\u003c\/span\u003e.\u003c\/span\u003e\u003c\/p\u003e\n\u003cp\u003e\u003cspan class=\"tlid-translation translation\" lang=\"en\"\u003e\u003cspan title=\"\" class=\"\"\u003eAs for IIC communication, it is necessary to move the resistor on R4 to R3, and R5 is soldered with 0 ohm resistor.\u003c\/span\u003e\u003c\/span\u003e\u003c\/p\u003e\n\u003cp\u003e\u003cbr\u003e\u003cstrong\u003eProduct Introduction:\u003c\/strong\u003e\u003cbr\u003eSize:2.42 inches\u003cbr\u003eResolution:128*64\u003cbr\u003e\u003cspan class=\"tlid-translation translation\" lang=\"en\"\u003e\u003cspan title=\"\" class=\"\"\u003ePower supply voltage: 3.3V\u003c\/span\u003e\u003c\/span\u003e\u003cbr\u003eColor: Green\/White\/Blue\/Yellow\u003c\/p\u003e\n\u003cp\u003e\u003cbr\u003e\u003cstrong\u003eSPI Interface Definition:\u003c\/strong\u003e\u003cbr\u003eGND:power ground\u003cbr\u003eVCC:power positive\u003cbr\u003eSCL:clock wire\u003cbr\u003eSDA:data wire\u003cbr\u003eRES:reset wire\u003cbr\u003eDC:data\/command\u003cbr\u003eCS:chip selection\u003cbr\u003e \u003cbr\u003ePackage Include:\u003cbr\u003e1 x 2.42\" inch OLED Display SSD1309 128x64 SPI Serial Port for Arduino\u003c\/p\u003e\n\u003cp\u003e\u003cimg alt=\"\" src=\"https:\/\/cdn.shopifycdn.net\/s\/files\/1\/0122\/7558\/0986\/files\/1_545c360e-a985-4732-8263-7cae3a9df6d8_480x480.jpg?v=1670383132\"\u003e\u003c\/p\u003e","published_at":"2018-07-31T09:12:37+08:00","created_at":"2018-07-31T09:24:44+08:00","vendor":"diymore","type":"LED Display Module","tags":["Arduino","Display","OLED","STM32"],"price":2399,"price_min":2399,"price_max":2399,"available":true,"price_varies":false,"compare_at_price":null,"compare_at_price_min":0,"compare_at_price_max":0,"compare_at_price_varies":false,"variants":[{"id":17060396367930,"title":"Green","option1":"Green","option2":null,"option3":null,"sku":"030526LV","requires_shipping":true,"taxable":false,"featured_image":{"id":14505363570759,"product_id":1779531972666,"position":3,"created_at":"2020-05-05T11:26:25+08:00","updated_at":"2020-05-05T11:27:05+08:00","alt":"2.42 Inch 12864 Oled Display Module Iic I2C Spi Serial For Arduino C51 Stm32 Green\/white\/blue\/yellow","width":1000,"height":1000,"src":"\/\/www.diymore.cc\/cdn\/shop\/products\/030526LV_10_308.jpg?v=1588649225","variant_ids":[17060396367930]},"available":true,"name":"2.42\" inch OLED Display RGB SSD1309 12864 SPI Serial Port for Arduino C51 - Green","public_title":"Green","options":["Green"],"price":2399,"weight":27,"compare_at_price":null,"inventory_management":null,"barcode":"","featured_media":{"alt":"2.42 Inch 12864 Oled Display Module Iic I2C Spi Serial For Arduino C51 Stm32 Green\/white\/blue\/yellow","id":6678547103815,"position":3,"preview_image":{"aspect_ratio":1.0,"height":1000,"width":1000,"src":"\/\/www.diymore.cc\/cdn\/shop\/products\/030526LV_10_308.jpg?v=1588649225"}},"requires_selling_plan":false,"selling_plan_allocations":[]},{"id":17060396433466,"title":"White","option1":"White","option2":null,"option3":null,"sku":"030526BA","requires_shipping":true,"taxable":false,"featured_image":{"id":14505363669063,"product_id":1779531972666,"position":4,"created_at":"2020-05-05T11:26:29+08:00","updated_at":"2020-05-05T11:27:05+08:00","alt":"2.42 Inch 12864 Oled Display Module Iic I2C Spi Serial For Arduino C51 Stm32 Green\/white\/blue\/yellow","width":1000,"height":1000,"src":"\/\/www.diymore.cc\/cdn\/shop\/products\/030526BA_2_286.jpg?v=1588649225","variant_ids":[17060396433466]},"available":true,"name":"2.42\" inch OLED Display RGB SSD1309 12864 SPI Serial Port for Arduino C51 - White","public_title":"White","options":["White"],"price":2399,"weight":27,"compare_at_price":null,"inventory_management":null,"barcode":"","featured_media":{"alt":"2.42 Inch 12864 Oled Display Module Iic I2C Spi Serial For Arduino C51 Stm32 Green\/white\/blue\/yellow","id":6678547202119,"position":4,"preview_image":{"aspect_ratio":1.0,"height":1000,"width":1000,"src":"\/\/www.diymore.cc\/cdn\/shop\/products\/030526BA_2_286.jpg?v=1588649225"}},"requires_selling_plan":false,"selling_plan_allocations":[]},{"id":17060396531770,"title":"Blue","option1":"Blue","option2":null,"option3":null,"sku":"030526LA","requires_shipping":true,"taxable":false,"featured_image":{"id":14505364029511,"product_id":1779531972666,"position":6,"created_at":"2020-05-05T11:26:36+08:00","updated_at":"2020-05-05T11:27:05+08:00","alt":"2.42 Inch 12864 Oled Display Module Iic I2C Spi Serial For Arduino C51 Stm32 Green\/white\/blue\/yellow","width":1000,"height":1000,"src":"\/\/www.diymore.cc\/cdn\/shop\/products\/030526LA_10_435.jpg?v=1588649225","variant_ids":[17060396531770]},"available":true,"name":"2.42\" inch OLED Display RGB SSD1309 12864 SPI Serial Port for Arduino C51 - Blue","public_title":"Blue","options":["Blue"],"price":2399,"weight":27,"compare_at_price":null,"inventory_management":null,"barcode":"","featured_media":{"alt":"2.42 Inch 12864 Oled Display Module Iic I2C Spi Serial For Arduino C51 Stm32 Green\/white\/blue\/yellow","id":6678547595335,"position":6,"preview_image":{"aspect_ratio":1.0,"height":1000,"width":1000,"src":"\/\/www.diymore.cc\/cdn\/shop\/products\/030526LA_10_435.jpg?v=1588649225"}},"requires_selling_plan":false,"selling_plan_allocations":[]},{"id":17060396597306,"title":"Yellow","option1":"Yellow","option2":null,"option3":null,"sku":"030526HU","requires_shipping":true,"taxable":false,"featured_image":{"id":14505364455495,"product_id":1779531972666,"position":9,"created_at":"2020-05-05T11:26:47+08:00","updated_at":"2020-05-05T11:27:05+08:00","alt":"2.42 Inch 12864 Oled Display Module Iic I2C Spi Serial For Arduino C51 Stm32 Green\/white\/blue\/yellow","width":1000,"height":1000,"src":"\/\/www.diymore.cc\/cdn\/shop\/products\/030526HU_10_123.jpg?v=1588649225","variant_ids":[17060396597306]},"available":true,"name":"2.42\" inch OLED Display RGB SSD1309 12864 SPI Serial Port for Arduino C51 - Yellow","public_title":"Yellow","options":["Yellow"],"price":2399,"weight":27,"compare_at_price":null,"inventory_management":null,"barcode":"","featured_media":{"alt":"2.42 Inch 12864 Oled Display Module Iic I2C Spi Serial For Arduino C51 Stm32 Green\/white\/blue\/yellow","id":6678547988551,"position":9,"preview_image":{"aspect_ratio":1.0,"height":1000,"width":1000,"src":"\/\/www.diymore.cc\/cdn\/shop\/products\/030526HU_10_123.jpg?v=1588649225"}},"requires_selling_plan":false,"selling_plan_allocations":[]}],"images":["\/\/www.diymore.cc\/cdn\/shop\/products\/030526LV_1_991.jpg?v=1588649225","\/\/www.diymore.cc\/cdn\/shop\/products\/030526LV_8_840.jpg?v=1588649225","\/\/www.diymore.cc\/cdn\/shop\/products\/030526LV_10_308.jpg?v=1588649225","\/\/www.diymore.cc\/cdn\/shop\/products\/030526BA_2_286.jpg?v=1588649225","\/\/www.diymore.cc\/cdn\/shop\/products\/030526BA_7_198.jpg?v=1588649225","\/\/www.diymore.cc\/cdn\/shop\/products\/030526LA_10_435.jpg?v=1588649225","\/\/www.diymore.cc\/cdn\/shop\/products\/030526LA_2_681.jpg?v=1588649225","\/\/www.diymore.cc\/cdn\/shop\/products\/030526LA_9_845.jpg?v=1588649225","\/\/www.diymore.cc\/cdn\/shop\/products\/030526HU_10_123.jpg?v=1588649225","\/\/www.diymore.cc\/cdn\/shop\/products\/030526HU_4_407.jpg?v=1588649225","\/\/www.diymore.cc\/cdn\/shop\/products\/030526BA_18_630.jpg?v=1588649225","\/\/www.diymore.cc\/cdn\/shop\/products\/030526HU_3_206.jpg?v=1588649225","\/\/www.diymore.cc\/cdn\/shop\/products\/030526HU_12_837.jpg?v=1588649225","\/\/www.diymore.cc\/cdn\/shop\/products\/030526HU_19_147.jpg?v=1588649225"],"featured_image":"\/\/www.diymore.cc\/cdn\/shop\/products\/030526LV_1_991.jpg?v=1588649225","options":["Color"],"media":[{"alt":"2.42 Inch 12864 Oled Display Module Iic I2C Spi Serial For Arduino C51 Stm32 Green\/white\/blue\/yellow","id":6678546972743,"position":1,"preview_image":{"aspect_ratio":1.0,"height":1000,"width":1000,"src":"\/\/www.diymore.cc\/cdn\/shop\/products\/030526LV_1_991.jpg?v=1588649225"},"aspect_ratio":1.0,"height":1000,"media_type":"image","src":"\/\/www.diymore.cc\/cdn\/shop\/products\/030526LV_1_991.jpg?v=1588649225","width":1000},{"alt":"2.42 Inch 12864 Oled Display Module Iic I2C Spi Serial For Arduino C51 Stm32 Green\/white\/blue\/yellow","id":6678547005511,"position":2,"preview_image":{"aspect_ratio":1.0,"height":1000,"width":1000,"src":"\/\/www.diymore.cc\/cdn\/shop\/products\/030526LV_8_840.jpg?v=1588649225"},"aspect_ratio":1.0,"height":1000,"media_type":"image","src":"\/\/www.diymore.cc\/cdn\/shop\/products\/030526LV_8_840.jpg?v=1588649225","width":1000},{"alt":"2.42 Inch 12864 Oled Display Module Iic I2C Spi Serial For Arduino C51 Stm32 Green\/white\/blue\/yellow","id":6678547103815,"position":3,"preview_image":{"aspect_ratio":1.0,"height":1000,"width":1000,"src":"\/\/www.diymore.cc\/cdn\/shop\/products\/030526LV_10_308.jpg?v=1588649225"},"aspect_ratio":1.0,"height":1000,"media_type":"image","src":"\/\/www.diymore.cc\/cdn\/shop\/products\/030526LV_10_308.jpg?v=1588649225","width":1000},{"alt":"2.42 Inch 12864 Oled Display Module Iic I2C Spi Serial For Arduino C51 Stm32 Green\/white\/blue\/yellow","id":6678547202119,"position":4,"preview_image":{"aspect_ratio":1.0,"height":1000,"width":1000,"src":"\/\/www.diymore.cc\/cdn\/shop\/products\/030526BA_2_286.jpg?v=1588649225"},"aspect_ratio":1.0,"height":1000,"media_type":"image","src":"\/\/www.diymore.cc\/cdn\/shop\/products\/030526BA_2_286.jpg?v=1588649225","width":1000},{"alt":"2.42 Inch 12864 Oled Display Module Iic I2C Spi Serial For Arduino C51 Stm32 Green\/white\/blue\/yellow","id":6678547497031,"position":5,"preview_image":{"aspect_ratio":1.0,"height":1000,"width":1000,"src":"\/\/www.diymore.cc\/cdn\/shop\/products\/030526BA_7_198.jpg?v=1588649225"},"aspect_ratio":1.0,"height":1000,"media_type":"image","src":"\/\/www.diymore.cc\/cdn\/shop\/products\/030526BA_7_198.jpg?v=1588649225","width":1000},{"alt":"2.42 Inch 12864 Oled Display Module Iic I2C Spi Serial For Arduino C51 Stm32 Green\/white\/blue\/yellow","id":6678547595335,"position":6,"preview_image":{"aspect_ratio":1.0,"height":1000,"width":1000,"src":"\/\/www.diymore.cc\/cdn\/shop\/products\/030526LA_10_435.jpg?v=1588649225"},"aspect_ratio":1.0,"height":1000,"media_type":"image","src":"\/\/www.diymore.cc\/cdn\/shop\/products\/030526LA_10_435.jpg?v=1588649225","width":1000},{"alt":"2.42 Inch 12864 Oled Display Module Iic I2C Spi Serial For Arduino C51 Stm32 Green\/white\/blue\/yellow","id":6678547726407,"position":7,"preview_image":{"aspect_ratio":1.0,"height":1000,"width":1000,"src":"\/\/www.diymore.cc\/cdn\/shop\/products\/030526LA_2_681.jpg?v=1588649225"},"aspect_ratio":1.0,"height":1000,"media_type":"image","src":"\/\/www.diymore.cc\/cdn\/shop\/products\/030526LA_2_681.jpg?v=1588649225","width":1000},{"alt":"2.42 Inch 12864 Oled Display Module Iic I2C Spi Serial For Arduino C51 Stm32 Green\/white\/blue\/yellow","id":6678547923015,"position":8,"preview_image":{"aspect_ratio":1.0,"height":1000,"width":1000,"src":"\/\/www.diymore.cc\/cdn\/shop\/products\/030526LA_9_845.jpg?v=1588649225"},"aspect_ratio":1.0,"height":1000,"media_type":"image","src":"\/\/www.diymore.cc\/cdn\/shop\/products\/030526LA_9_845.jpg?v=1588649225","width":1000},{"alt":"2.42 Inch 12864 Oled Display Module Iic I2C Spi Serial For Arduino C51 Stm32 Green\/white\/blue\/yellow","id":6678547988551,"position":9,"preview_image":{"aspect_ratio":1.0,"height":1000,"width":1000,"src":"\/\/www.diymore.cc\/cdn\/shop\/products\/030526HU_10_123.jpg?v=1588649225"},"aspect_ratio":1.0,"height":1000,"media_type":"image","src":"\/\/www.diymore.cc\/cdn\/shop\/products\/030526HU_10_123.jpg?v=1588649225","width":1000},{"alt":"2.42 Inch 12864 Oled Display Module Iic I2C Spi Serial For Arduino C51 Stm32 Green\/white\/blue\/yellow","id":6678548086855,"position":10,"preview_image":{"aspect_ratio":1.0,"height":1000,"width":1000,"src":"\/\/www.diymore.cc\/cdn\/shop\/products\/030526HU_4_407.jpg?v=1588649225"},"aspect_ratio":1.0,"height":1000,"media_type":"image","src":"\/\/www.diymore.cc\/cdn\/shop\/products\/030526HU_4_407.jpg?v=1588649225","width":1000},{"alt":"2.42 Inch 12864 Oled Display Module Iic I2C Spi Serial For Arduino C51 Stm32 Green\/white\/blue\/yellow","id":6678548217927,"position":11,"preview_image":{"aspect_ratio":1.0,"height":1000,"width":1000,"src":"\/\/www.diymore.cc\/cdn\/shop\/products\/030526BA_18_630.jpg?v=1588649225"},"aspect_ratio":1.0,"height":1000,"media_type":"image","src":"\/\/www.diymore.cc\/cdn\/shop\/products\/030526BA_18_630.jpg?v=1588649225","width":1000},{"alt":"2.42 Inch 12864 Oled Display Module Iic I2C Spi Serial For Arduino C51 Stm32 Green\/white\/blue\/yellow","id":6678548316231,"position":12,"preview_image":{"aspect_ratio":1.0,"height":1000,"width":1000,"src":"\/\/www.diymore.cc\/cdn\/shop\/products\/030526HU_3_206.jpg?v=1588649225"},"aspect_ratio":1.0,"height":1000,"media_type":"image","src":"\/\/www.diymore.cc\/cdn\/shop\/products\/030526HU_3_206.jpg?v=1588649225","width":1000},{"alt":"2.42 Inch 12864 Oled Display Module Iic I2C Spi Serial For Arduino C51 Stm32 Green\/white\/blue\/yellow","id":6678548414535,"position":13,"preview_image":{"aspect_ratio":1.0,"height":1000,"width":1000,"src":"\/\/www.diymore.cc\/cdn\/shop\/products\/030526HU_12_837.jpg?v=1588649225"},"aspect_ratio":1.0,"height":1000,"media_type":"image","src":"\/\/www.diymore.cc\/cdn\/shop\/products\/030526HU_12_837.jpg?v=1588649225","width":1000},{"alt":"2.42 Inch 12864 Oled Display Module Iic I2C Spi Serial For Arduino C51 Stm32 Green\/white\/blue\/yellow","id":6678548447303,"position":14,"preview_image":{"aspect_ratio":1.0,"height":1000,"width":1000,"src":"\/\/www.diymore.cc\/cdn\/shop\/products\/030526HU_19_147.jpg?v=1588649225"},"aspect_ratio":1.0,"height":1000,"media_type":"image","src":"\/\/www.diymore.cc\/cdn\/shop\/products\/030526HU_19_147.jpg?v=1588649225","width":1000}],"requires_selling_plan":false,"selling_plan_groups":[],"content":"\u003cp\u003e\u003cstrong\u003eFeatures:\u003c\/strong\u003e\u003cbr\u003e\u003cbr\u003eThis is a 2.42 inch OLED display module of 128x64 resolution in which the emissive electroluminescent layer is a film of organic compound that emits light in response to an electric current.\u003cbr\u003e\u003cbr\u003eWorking without backlight, the OLED display module could give out light by itself.\u003cbr\u003e\u003cbr\u003eIn low ambient light conditions such as a dark room, an OLED screen can achieve a higher contrast ratio than an LCD.\u003cbr\u003e\u003cbr\u003eOLED display module also has a much faster response time than an LCD.\u003cbr\u003eThe display with small dimension is suitable for MP3, function cellphone, smart health device, etc.\u003cbr\u003e\u003cbr\u003eThe seventh pin CS signal is leaded by default; If you do not need it, you can solder R18, then CS signal is directly grounded.\u003cbr\u003e\u003cbr\u003e\u003cspan class=\"tlid-translation translation\" lang=\"en\"\u003e\u003cspan title=\"\" class=\"\"\u003eSPI communication or I2C communication can be switched by configuring three resistors R3 R4 R5\u003c\/span\u003e.\u003c\/span\u003e\u003c\/p\u003e\n\u003cp\u003e\u003cspan class=\"tlid-translation translation\" lang=\"en\"\u003e\u003cspan title=\"\" class=\"\"\u003eAs for IIC communication, it is necessary to move the resistor on R4 to R3, and R5 is soldered with 0 ohm resistor.\u003c\/span\u003e\u003c\/span\u003e\u003c\/p\u003e\n\u003cp\u003e\u003cbr\u003e\u003cstrong\u003eProduct Introduction:\u003c\/strong\u003e\u003cbr\u003eSize:2.42 inches\u003cbr\u003eResolution:128*64\u003cbr\u003e\u003cspan class=\"tlid-translation translation\" lang=\"en\"\u003e\u003cspan title=\"\" class=\"\"\u003ePower supply voltage: 3.3V\u003c\/span\u003e\u003c\/span\u003e\u003cbr\u003eColor: Green\/White\/Blue\/Yellow\u003c\/p\u003e\n\u003cp\u003e\u003cbr\u003e\u003cstrong\u003eSPI Interface Definition:\u003c\/strong\u003e\u003cbr\u003eGND:power ground\u003cbr\u003eVCC:power positive\u003cbr\u003eSCL:clock wire\u003cbr\u003eSDA:data wire\u003cbr\u003eRES:reset wire\u003cbr\u003eDC:data\/command\u003cbr\u003eCS:chip selection\u003cbr\u003e \u003cbr\u003ePackage Include:\u003cbr\u003e1 x 2.42\" inch OLED Display SSD1309 128x64 SPI Serial Port for Arduino\u003c\/p\u003e\n\u003cp\u003e\u003cimg alt=\"\" src=\"https:\/\/cdn.shopifycdn.net\/s\/files\/1\/0122\/7558\/0986\/files\/1_545c360e-a985-4732-8263-7cae3a9df6d8_480x480.jpg?v=1670383132\"\u003e\u003c\/p\u003e"}

Translation missing: en.products.product.regular_price

$5.99

{"id":1779531972666,"title":"2.42\" inch OLED Display RGB SSD1309 12864 SPI Serial Port for Arduino C51","handle":"2-42-inch-12864-oled-display-module-iic-i2c-spi-serial-for-arduino-c51-stm32-green-white-blue-yellow","description":"\u003cp\u003e\u003cstrong\u003eFeatures:\u003c\/strong\u003e\u003cbr\u003e\u003cbr\u003eThis is a 2.42 inch OLED display module of 128x64 resolution in which the emissive electroluminescent layer is a film of organic compound that emits light in response to an electric current.\u003cbr\u003e\u003cbr\u003eWorking without backlight, the OLED display module could give out light by itself.\u003cbr\u003e\u003cbr\u003eIn low ambient light conditions such as a dark room, an OLED screen can achieve a higher contrast ratio than an LCD.\u003cbr\u003e\u003cbr\u003eOLED display module also has a much faster response time than an LCD.\u003cbr\u003eThe display with small dimension is suitable for MP3, function cellphone, smart health device, etc.\u003cbr\u003e\u003cbr\u003eThe seventh pin CS signal is leaded by default; If you do not need it, you can solder R18, then CS signal is directly grounded.\u003cbr\u003e\u003cbr\u003e\u003cspan class=\"tlid-translation translation\" lang=\"en\"\u003e\u003cspan title=\"\" class=\"\"\u003eSPI communication or I2C communication can be switched by configuring three resistors R3 R4 R5\u003c\/span\u003e.\u003c\/span\u003e\u003c\/p\u003e\n\u003cp\u003e\u003cspan class=\"tlid-translation translation\" lang=\"en\"\u003e\u003cspan title=\"\" class=\"\"\u003eAs for IIC communication, it is necessary to move the resistor on R4 to R3, and R5 is soldered with 0 ohm resistor.\u003c\/span\u003e\u003c\/span\u003e\u003c\/p\u003e\n\u003cp\u003e\u003cbr\u003e\u003cstrong\u003eProduct Introduction:\u003c\/strong\u003e\u003cbr\u003eSize:2.42 inches\u003cbr\u003eResolution:128*64\u003cbr\u003e\u003cspan class=\"tlid-translation translation\" lang=\"en\"\u003e\u003cspan title=\"\" class=\"\"\u003ePower supply voltage: 3.3V\u003c\/span\u003e\u003c\/span\u003e\u003cbr\u003eColor: Green\/White\/Blue\/Yellow\u003c\/p\u003e\n\u003cp\u003e\u003cbr\u003e\u003cstrong\u003eSPI Interface Definition:\u003c\/strong\u003e\u003cbr\u003eGND:power ground\u003cbr\u003eVCC:power positive\u003cbr\u003eSCL:clock wire\u003cbr\u003eSDA:data wire\u003cbr\u003eRES:reset wire\u003cbr\u003eDC:data\/command\u003cbr\u003eCS:chip selection\u003cbr\u003e \u003cbr\u003ePackage Include:\u003cbr\u003e1 x 2.42\" inch OLED Display SSD1309 128x64 SPI Serial Port for Arduino\u003c\/p\u003e\n\u003cp\u003e\u003cimg alt=\"\" src=\"https:\/\/cdn.shopifycdn.net\/s\/files\/1\/0122\/7558\/0986\/files\/1_545c360e-a985-4732-8263-7cae3a9df6d8_480x480.jpg?v=1670383132\"\u003e\u003c\/p\u003e","published_at":"2018-07-31T09:12:37+08:00","created_at":"2018-07-31T09:24:44+08:00","vendor":"diymore","type":"LED Display Module","tags":["Arduino","Display","OLED","STM32"],"price":2399,"price_min":2399,"price_max":2399,"available":true,"price_varies":false,"compare_at_price":null,"compare_at_price_min":0,"compare_at_price_max":0,"compare_at_price_varies":false,"variants":[{"id":17060396367930,"title":"Green","option1":"Green","option2":null,"option3":null,"sku":"030526LV","requires_shipping":true,"taxable":false,"featured_image":{"id":14505363570759,"product_id":1779531972666,"position":3,"created_at":"2020-05-05T11:26:25+08:00","updated_at":"2020-05-05T11:27:05+08:00","alt":"2.42 Inch 12864 Oled Display Module Iic I2C Spi Serial For Arduino C51 Stm32 Green\/white\/blue\/yellow","width":1000,"height":1000,"src":"\/\/www.diymore.cc\/cdn\/shop\/products\/030526LV_10_308.jpg?v=1588649225","variant_ids":[17060396367930]},"available":true,"name":"2.42\" inch OLED Display RGB SSD1309 12864 SPI Serial Port for Arduino C51 - Green","public_title":"Green","options":["Green"],"price":2399,"weight":27,"compare_at_price":null,"inventory_management":null,"barcode":"","featured_media":{"alt":"2.42 Inch 12864 Oled Display Module Iic I2C Spi Serial For Arduino C51 Stm32 Green\/white\/blue\/yellow","id":6678547103815,"position":3,"preview_image":{"aspect_ratio":1.0,"height":1000,"width":1000,"src":"\/\/www.diymore.cc\/cdn\/shop\/products\/030526LV_10_308.jpg?v=1588649225"}},"requires_selling_plan":false,"selling_plan_allocations":[]},{"id":17060396433466,"title":"White","option1":"White","option2":null,"option3":null,"sku":"030526BA","requires_shipping":true,"taxable":false,"featured_image":{"id":14505363669063,"product_id":1779531972666,"position":4,"created_at":"2020-05-05T11:26:29+08:00","updated_at":"2020-05-05T11:27:05+08:00","alt":"2.42 Inch 12864 Oled Display Module Iic I2C Spi Serial For Arduino C51 Stm32 Green\/white\/blue\/yellow","width":1000,"height":1000,"src":"\/\/www.diymore.cc\/cdn\/shop\/products\/030526BA_2_286.jpg?v=1588649225","variant_ids":[17060396433466]},"available":true,"name":"2.42\" inch OLED Display RGB SSD1309 12864 SPI Serial Port for Arduino C51 - White","public_title":"White","options":["White"],"price":2399,"weight":27,"compare_at_price":null,"inventory_management":null,"barcode":"","featured_media":{"alt":"2.42 Inch 12864 Oled Display Module Iic I2C Spi Serial For Arduino C51 Stm32 Green\/white\/blue\/yellow","id":6678547202119,"position":4,"preview_image":{"aspect_ratio":1.0,"height":1000,"width":1000,"src":"\/\/www.diymore.cc\/cdn\/shop\/products\/030526BA_2_286.jpg?v=1588649225"}},"requires_selling_plan":false,"selling_plan_allocations":[]},{"id":17060396531770,"title":"Blue","option1":"Blue","option2":null,"option3":null,"sku":"030526LA","requires_shipping":true,"taxable":false,"featured_image":{"id":14505364029511,"product_id":1779531972666,"position":6,"created_at":"2020-05-05T11:26:36+08:00","updated_at":"2020-05-05T11:27:05+08:00","alt":"2.42 Inch 12864 Oled Display Module Iic I2C Spi Serial For Arduino C51 Stm32 Green\/white\/blue\/yellow","width":1000,"height":1000,"src":"\/\/www.diymore.cc\/cdn\/shop\/products\/030526LA_10_435.jpg?v=1588649225","variant_ids":[17060396531770]},"available":true,"name":"2.42\" inch OLED Display RGB SSD1309 12864 SPI Serial Port for Arduino C51 - Blue","public_title":"Blue","options":["Blue"],"price":2399,"weight":27,"compare_at_price":null,"inventory_management":null,"barcode":"","featured_media":{"alt":"2.42 Inch 12864 Oled Display Module Iic I2C Spi Serial For Arduino C51 Stm32 Green\/white\/blue\/yellow","id":6678547595335,"position":6,"preview_image":{"aspect_ratio":1.0,"height":1000,"width":1000,"src":"\/\/www.diymore.cc\/cdn\/shop\/products\/030526LA_10_435.jpg?v=1588649225"}},"requires_selling_plan":false,"selling_plan_allocations":[]},{"id":17060396597306,"title":"Yellow","option1":"Yellow","option2":null,"option3":null,"sku":"030526HU","requires_shipping":true,"taxable":false,"featured_image":{"id":14505364455495,"product_id":1779531972666,"position":9,"created_at":"2020-05-05T11:26:47+08:00","updated_at":"2020-05-05T11:27:05+08:00","alt":"2.42 Inch 12864 Oled Display Module Iic I2C Spi Serial For Arduino C51 Stm32 Green\/white\/blue\/yellow","width":1000,"height":1000,"src":"\/\/www.diymore.cc\/cdn\/shop\/products\/030526HU_10_123.jpg?v=1588649225","variant_ids":[17060396597306]},"available":true,"name":"2.42\" inch OLED Display RGB SSD1309 12864 SPI Serial Port for Arduino C51 - Yellow","public_title":"Yellow","options":["Yellow"],"price":2399,"weight":27,"compare_at_price":null,"inventory_management":null,"barcode":"","featured_media":{"alt":"2.42 Inch 12864 Oled Display Module Iic I2C Spi Serial For Arduino C51 Stm32 Green\/white\/blue\/yellow","id":6678547988551,"position":9,"preview_image":{"aspect_ratio":1.0,"height":1000,"width":1000,"src":"\/\/www.diymore.cc\/cdn\/shop\/products\/030526HU_10_123.jpg?v=1588649225"}},"requires_selling_plan":false,"selling_plan_allocations":[]}],"images":["\/\/www.diymore.cc\/cdn\/shop\/products\/030526LV_1_991.jpg?v=1588649225","\/\/www.diymore.cc\/cdn\/shop\/products\/030526LV_8_840.jpg?v=1588649225","\/\/www.diymore.cc\/cdn\/shop\/products\/030526LV_10_308.jpg?v=1588649225","\/\/www.diymore.cc\/cdn\/shop\/products\/030526BA_2_286.jpg?v=1588649225","\/\/www.diymore.cc\/cdn\/shop\/products\/030526BA_7_198.jpg?v=1588649225","\/\/www.diymore.cc\/cdn\/shop\/products\/030526LA_10_435.jpg?v=1588649225","\/\/www.diymore.cc\/cdn\/shop\/products\/030526LA_2_681.jpg?v=1588649225","\/\/www.diymore.cc\/cdn\/shop\/products\/030526LA_9_845.jpg?v=1588649225","\/\/www.diymore.cc\/cdn\/shop\/products\/030526HU_10_123.jpg?v=1588649225","\/\/www.diymore.cc\/cdn\/shop\/products\/030526HU_4_407.jpg?v=1588649225","\/\/www.diymore.cc\/cdn\/shop\/products\/030526BA_18_630.jpg?v=1588649225","\/\/www.diymore.cc\/cdn\/shop\/products\/030526HU_3_206.jpg?v=1588649225","\/\/www.diymore.cc\/cdn\/shop\/products\/030526HU_12_837.jpg?v=1588649225","\/\/www.diymore.cc\/cdn\/shop\/products\/030526HU_19_147.jpg?v=1588649225"],"featured_image":"\/\/www.diymore.cc\/cdn\/shop\/products\/030526LV_1_991.jpg?v=1588649225","options":["Color"],"media":[{"alt":"2.42 Inch 12864 Oled Display Module Iic I2C Spi Serial For Arduino C51 Stm32 Green\/white\/blue\/yellow","id":6678546972743,"position":1,"preview_image":{"aspect_ratio":1.0,"height":1000,"width":1000,"src":"\/\/www.diymore.cc\/cdn\/shop\/products\/030526LV_1_991.jpg?v=1588649225"},"aspect_ratio":1.0,"height":1000,"media_type":"image","src":"\/\/www.diymore.cc\/cdn\/shop\/products\/030526LV_1_991.jpg?v=1588649225","width":1000},{"alt":"2.42 Inch 12864 Oled Display Module Iic I2C Spi Serial For Arduino C51 Stm32 Green\/white\/blue\/yellow","id":6678547005511,"position":2,"preview_image":{"aspect_ratio":1.0,"height":1000,"width":1000,"src":"\/\/www.diymore.cc\/cdn\/shop\/products\/030526LV_8_840.jpg?v=1588649225"},"aspect_ratio":1.0,"height":1000,"media_type":"image","src":"\/\/www.diymore.cc\/cdn\/shop\/products\/030526LV_8_840.jpg?v=1588649225","width":1000},{"alt":"2.42 Inch 12864 Oled Display Module Iic I2C Spi Serial For Arduino C51 Stm32 Green\/white\/blue\/yellow","id":6678547103815,"position":3,"preview_image":{"aspect_ratio":1.0,"height":1000,"width":1000,"src":"\/\/www.diymore.cc\/cdn\/shop\/products\/030526LV_10_308.jpg?v=1588649225"},"aspect_ratio":1.0,"height":1000,"media_type":"image","src":"\/\/www.diymore.cc\/cdn\/shop\/products\/030526LV_10_308.jpg?v=1588649225","width":1000},{"alt":"2.42 Inch 12864 Oled Display Module Iic I2C Spi Serial For Arduino C51 Stm32 Green\/white\/blue\/yellow","id":6678547202119,"position":4,"preview_image":{"aspect_ratio":1.0,"height":1000,"width":1000,"src":"\/\/www.diymore.cc\/cdn\/shop\/products\/030526BA_2_286.jpg?v=1588649225"},"aspect_ratio":1.0,"height":1000,"media_type":"image","src":"\/\/www.diymore.cc\/cdn\/shop\/products\/030526BA_2_286.jpg?v=1588649225","width":1000},{"alt":"2.42 Inch 12864 Oled Display Module Iic I2C Spi Serial For Arduino C51 Stm32 Green\/white\/blue\/yellow","id":6678547497031,"position":5,"preview_image":{"aspect_ratio":1.0,"height":1000,"width":1000,"src":"\/\/www.diymore.cc\/cdn\/shop\/products\/030526BA_7_198.jpg?v=1588649225"},"aspect_ratio":1.0,"height":1000,"media_type":"image","src":"\/\/www.diymore.cc\/cdn\/shop\/products\/030526BA_7_198.jpg?v=1588649225","width":1000},{"alt":"2.42 Inch 12864 Oled Display Module Iic I2C Spi Serial For Arduino C51 Stm32 Green\/white\/blue\/yellow","id":6678547595335,"position":6,"preview_image":{"aspect_ratio":1.0,"height":1000,"width":1000,"src":"\/\/www.diymore.cc\/cdn\/shop\/products\/030526LA_10_435.jpg?v=1588649225"},"aspect_ratio":1.0,"height":1000,"media_type":"image","src":"\/\/www.diymore.cc\/cdn\/shop\/products\/030526LA_10_435.jpg?v=1588649225","width":1000},{"alt":"2.42 Inch 12864 Oled Display Module Iic I2C Spi Serial For Arduino C51 Stm32 Green\/white\/blue\/yellow","id":6678547726407,"position":7,"preview_image":{"aspect_ratio":1.0,"height":1000,"width":1000,"src":"\/\/www.diymore.cc\/cdn\/shop\/products\/030526LA_2_681.jpg?v=1588649225"},"aspect_ratio":1.0,"height":1000,"media_type":"image","src":"\/\/www.diymore.cc\/cdn\/shop\/products\/030526LA_2_681.jpg?v=1588649225","width":1000},{"alt":"2.42 Inch 12864 Oled Display Module Iic I2C Spi Serial For Arduino C51 Stm32 Green\/white\/blue\/yellow","id":6678547923015,"position":8,"preview_image":{"aspect_ratio":1.0,"height":1000,"width":1000,"src":"\/\/www.diymore.cc\/cdn\/shop\/products\/030526LA_9_845.jpg?v=1588649225"},"aspect_ratio":1.0,"height":1000,"media_type":"image","src":"\/\/www.diymore.cc\/cdn\/shop\/products\/030526LA_9_845.jpg?v=1588649225","width":1000},{"alt":"2.42 Inch 12864 Oled Display Module Iic I2C Spi Serial For Arduino C51 Stm32 Green\/white\/blue\/yellow","id":6678547988551,"position":9,"preview_image":{"aspect_ratio":1.0,"height":1000,"width":1000,"src":"\/\/www.diymore.cc\/cdn\/shop\/products\/030526HU_10_123.jpg?v=1588649225"},"aspect_ratio":1.0,"height":1000,"media_type":"image","src":"\/\/www.diymore.cc\/cdn\/shop\/products\/030526HU_10_123.jpg?v=1588649225","width":1000},{"alt":"2.42 Inch 12864 Oled Display Module Iic I2C Spi Serial For Arduino C51 Stm32 Green\/white\/blue\/yellow","id":6678548086855,"position":10,"preview_image":{"aspect_ratio":1.0,"height":1000,"width":1000,"src":"\/\/www.diymore.cc\/cdn\/shop\/products\/030526HU_4_407.jpg?v=1588649225"},"aspect_ratio":1.0,"height":1000,"media_type":"image","src":"\/\/www.diymore.cc\/cdn\/shop\/products\/030526HU_4_407.jpg?v=1588649225","width":1000},{"alt":"2.42 Inch 12864 Oled Display Module Iic I2C Spi Serial For Arduino C51 Stm32 Green\/white\/blue\/yellow","id":6678548217927,"position":11,"preview_image":{"aspect_ratio":1.0,"height":1000,"width":1000,"src":"\/\/www.diymore.cc\/cdn\/shop\/products\/030526BA_18_630.jpg?v=1588649225"},"aspect_ratio":1.0,"height":1000,"media_type":"image","src":"\/\/www.diymore.cc\/cdn\/shop\/products\/030526BA_18_630.jpg?v=1588649225","width":1000},{"alt":"2.42 Inch 12864 Oled Display Module Iic I2C Spi Serial For Arduino C51 Stm32 Green\/white\/blue\/yellow","id":6678548316231,"position":12,"preview_image":{"aspect_ratio":1.0,"height":1000,"width":1000,"src":"\/\/www.diymore.cc\/cdn\/shop\/products\/030526HU_3_206.jpg?v=1588649225"},"aspect_ratio":1.0,"height":1000,"media_type":"image","src":"\/\/www.diymore.cc\/cdn\/shop\/products\/030526HU_3_206.jpg?v=1588649225","width":1000},{"alt":"2.42 Inch 12864 Oled Display Module Iic I2C Spi Serial For Arduino C51 Stm32 Green\/white\/blue\/yellow","id":6678548414535,"position":13,"preview_image":{"aspect_ratio":1.0,"height":1000,"width":1000,"src":"\/\/www.diymore.cc\/cdn\/shop\/products\/030526HU_12_837.jpg?v=1588649225"},"aspect_ratio":1.0,"height":1000,"media_type":"image","src":"\/\/www.diymore.cc\/cdn\/shop\/products\/030526HU_12_837.jpg?v=1588649225","width":1000},{"alt":"2.42 Inch 12864 Oled Display Module Iic I2C Spi Serial For Arduino C51 Stm32 Green\/white\/blue\/yellow","id":6678548447303,"position":14,"preview_image":{"aspect_ratio":1.0,"height":1000,"width":1000,"src":"\/\/www.diymore.cc\/cdn\/shop\/products\/030526HU_19_147.jpg?v=1588649225"},"aspect_ratio":1.0,"height":1000,"media_type":"image","src":"\/\/www.diymore.cc\/cdn\/shop\/products\/030526HU_19_147.jpg?v=1588649225","width":1000}],"requires_selling_plan":false,"selling_plan_groups":[],"content":"\u003cp\u003e\u003cstrong\u003eFeatures:\u003c\/strong\u003e\u003cbr\u003e\u003cbr\u003eThis is a 2.42 inch OLED display module of 128x64 resolution in which the emissive electroluminescent layer is a film of organic compound that emits light in response to an electric current.\u003cbr\u003e\u003cbr\u003eWorking without backlight, the OLED display module could give out light by itself.\u003cbr\u003e\u003cbr\u003eIn low ambient light conditions such as a dark room, an OLED screen can achieve a higher contrast ratio than an LCD.\u003cbr\u003e\u003cbr\u003eOLED display module also has a much faster response time than an LCD.\u003cbr\u003eThe display with small dimension is suitable for MP3, function cellphone, smart health device, etc.\u003cbr\u003e\u003cbr\u003eThe seventh pin CS signal is leaded by default; If you do not need it, you can solder R18, then CS signal is directly grounded.\u003cbr\u003e\u003cbr\u003e\u003cspan class=\"tlid-translation translation\" lang=\"en\"\u003e\u003cspan title=\"\" class=\"\"\u003eSPI communication or I2C communication can be switched by configuring three resistors R3 R4 R5\u003c\/span\u003e.\u003c\/span\u003e\u003c\/p\u003e\n\u003cp\u003e\u003cspan class=\"tlid-translation translation\" lang=\"en\"\u003e\u003cspan title=\"\" class=\"\"\u003eAs for IIC communication, it is necessary to move the resistor on R4 to R3, and R5 is soldered with 0 ohm resistor.\u003c\/span\u003e\u003c\/span\u003e\u003c\/p\u003e\n\u003cp\u003e\u003cbr\u003e\u003cstrong\u003eProduct Introduction:\u003c\/strong\u003e\u003cbr\u003eSize:2.42 inches\u003cbr\u003eResolution:128*64\u003cbr\u003e\u003cspan class=\"tlid-translation translation\" lang=\"en\"\u003e\u003cspan title=\"\" class=\"\"\u003ePower supply voltage: 3.3V\u003c\/span\u003e\u003c\/span\u003e\u003cbr\u003eColor: Green\/White\/Blue\/Yellow\u003c\/p\u003e\n\u003cp\u003e\u003cbr\u003e\u003cstrong\u003eSPI Interface Definition:\u003c\/strong\u003e\u003cbr\u003eGND:power ground\u003cbr\u003eVCC:power positive\u003cbr\u003eSCL:clock wire\u003cbr\u003eSDA:data wire\u003cbr\u003eRES:reset wire\u003cbr\u003eDC:data\/command\u003cbr\u003eCS:chip selection\u003cbr\u003e \u003cbr\u003ePackage Include:\u003cbr\u003e1 x 2.42\" inch OLED Display SSD1309 128x64 SPI Serial Port for Arduino\u003c\/p\u003e\n\u003cp\u003e\u003cimg alt=\"\" src=\"https:\/\/cdn.shopifycdn.net\/s\/files\/1\/0122\/7558\/0986\/files\/1_545c360e-a985-4732-8263-7cae3a9df6d8_480x480.jpg?v=1670383132\"\u003e\u003c\/p\u003e"}