ESP32-WROOM-32U ESP32-DevKitC Module Core Board ESP32 Development Board
ESP32-WROOM-32U ESP32-DevKitC Module Core Board ESP32 Development Board
SKU:XF0016
Regular price
$7.99
guarantee

Quality checked

Special gift cards

Special gift cards

Free return

Within 60 days

Consultancy

86-0755-85201155
ESP32-DevKitC V4 Getting Started Guide
​please contact us for the instructions if you need . 
This guide shows how to start using the ESP32-DevKitC V4 development board. For description of other versions of ESP32-DevKitC check ESP32 Hardware Reference.
What You Need
ESP32-DevKitC V4 board
USB A / micro USB B cable
Computer running Windows, Linux, or macOS
You can skip the introduction sections and go directly to Section Start Application Development.
Overview
ESP32-DevKitC V4 is a small-sized ESP32-based development board produced by Espres-sif. Most of the I/O pins are broken out to the pin headers on both sides for easy interfacing. Developers can either connect peripherals with jumper wires or mount ESP32-DevKitC V4 on a breadboard.
To cover a wide range of user requirements, the following versions of ESP32-DevKitC V4 are available:
different ESP32 modules
ESP32-WROOM-32
ESP32-WROOM-32D
ESP32-WROOM-32U
ESP32-SOLO-1
ESP32-WROVER
ESP32-WROVER-B
ESP32-WROVER-I
ESP32-WROVER-B (IPEX)
male or female pin headers.
For details please refer to Espre-ssif Product Ordering Information.
Functional Description
The following figure and the table below describe the key components, interfaces and controls of the ESP32-DevKitC V4 board.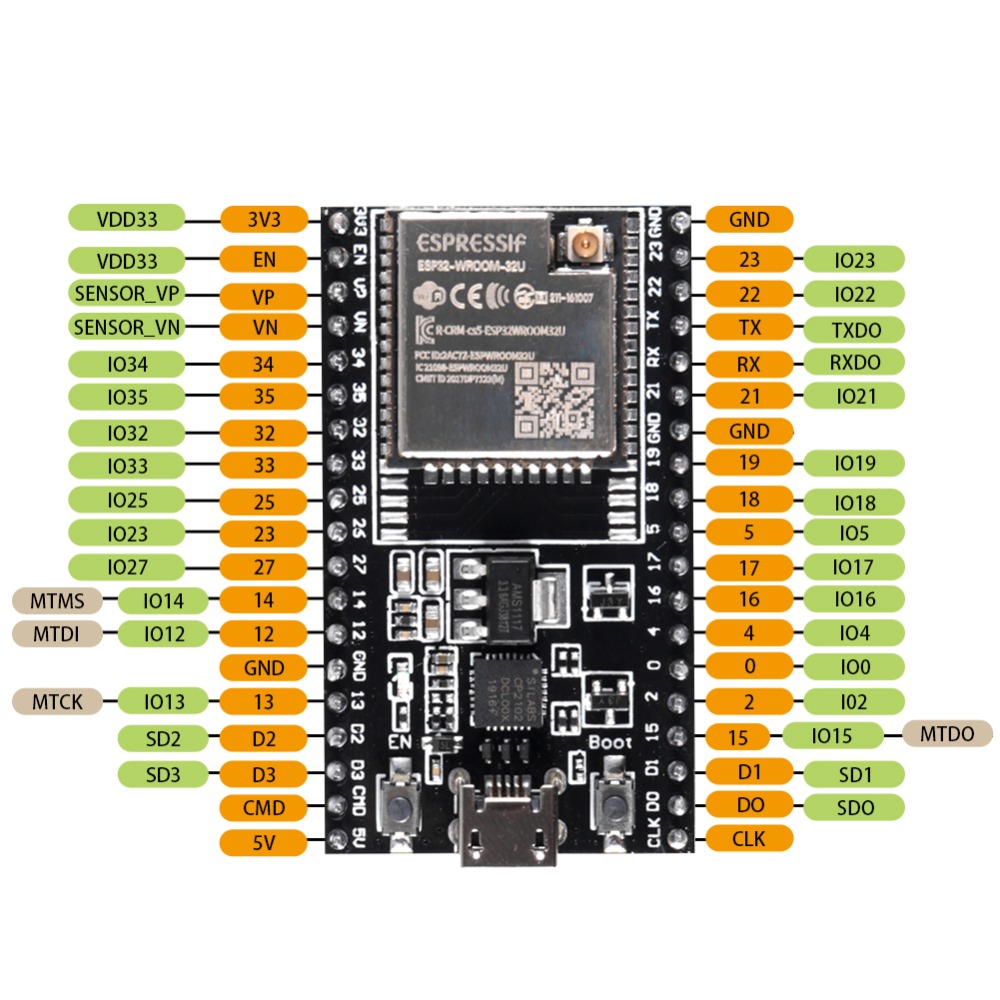 Purchasing & Delivery
Before you make your purchase, it's helpful to know the measurements of the area you plan to place the furniture. You should also measure any doorways and hallways through which the furniture will pass to get to its final destination.

Picking up at the store
Shopify Shop requires that all products are properly inspected BEFORE you take it home to insure there are no surprises. Our team is happy to open all packages and will assist in the inspection process. We will then reseal packages for safe transport. We encourage all customers to bring furniture pads or blankets to protect the items during transport as well as rope or tie downs. Shopify Shop will not be responsible for damage that occurs after leaving the store or during transit. It is the purchaser's responsibility to make sure the correct items are picked up and in good condition.

Delivery
Customers are able to pick the next available delivery day that best fits their schedule. However, to route stops as efficiently as possible, Shopify Shop will provide the time frame. Customers will not be able to choose a time. You will be notified in advance of your scheduled time frame. Please make sure that a responsible adult (18 years or older) will be home at that time.
In preparation for your delivery, please remove existing furniture, pictures, mirrors, accessories, etc. to prevent damages. Also insure that the area where you would like your furniture placed is clear of any old furniture and any other items that may obstruct the passageway of the delivery team. Shopify Shop will deliver, assemble, and set-up your new furniture purchase and remove all packing materials from your home. Our delivery crews are not permitted to move your existing furniture or other household items. Delivery personnel will attempt to deliver the purchased items in a safe and controlled manner but will not attempt to place furniture if they feel it will result in damage to the product or your home. Delivery personnel are unable to remove doors, hoist furniture or carry furniture up more than 3 flights of stairs. An elevator must be available for deliveries to the 4th floor and above.
Other Customers also buy:
Translation missing: en.products.product.regular_price

$3.83

{"id":6949788516552,"title":"ESP32-WROOM-32U ESP32-DevKitC Module Core Board ESP32 Development Board","handle":"esp32-wroom-32u-esp32-devkitc-module-core-board-esp32-development-board","description":"\u003cdiv class=\"row\" data-mce-fragment=\"1\"\u003e\n\u003cdiv class=\"col-17 col-offset-3\" data-mce-fragment=\"1\"\u003e\n\u003cdiv id=\"widget-text-12\" class=\"widget widget-text\" data-mce-fragment=\"1\"\u003e\n\u003cdiv data-mce-fragment=\"1\"\u003e\n\u003cdiv data-mce-fragment=\"1\"\u003e\n\u003cp align=\"left\" data-mce-fragment=\"1\"\u003e\u003cspan data-mce-fragment=\"1\"\u003e \u003c\/span\u003e\u003c\/p\u003e\n\u003cp align=\"left\" data-mce-fragment=\"1\"\u003e\u003cspan data-mce-fragment=\"1\"\u003eESP32-DevKitC V4 Getting Started Guide\u003c\/span\u003e\u003c\/p\u003e\n\u003cp align=\"left\" data-mce-fragment=\"1\"\u003e\u003cspan data-mce-fragment=\"1\"\u003e​\u003cstrong data-mce-fragment=\"1\"\u003eplease contact us for the instructions if you need . \u003c\/strong\u003e\u003c\/span\u003e\u003c\/p\u003e\n\u003cp align=\"left\" data-mce-fragment=\"1\"\u003e\u003cspan data-mce-fragment=\"1\"\u003eThis guide shows how to start using the ESP32-DevKitC V4 development board. For description of other versions of ESP32-DevKitC check ESP32 Hardware Reference.\u003c\/span\u003e\u003c\/p\u003e\n\u003cp align=\"left\" data-mce-fragment=\"1\"\u003e\u003cspan data-mce-fragment=\"1\"\u003e \u003c\/span\u003e\u003c\/p\u003e\n\u003cp align=\"left\" data-mce-fragment=\"1\"\u003e\u003cspan data-mce-fragment=\"1\"\u003eWhat You Need\u003c\/span\u003e\u003c\/p\u003e\n\u003cp align=\"left\" data-mce-fragment=\"1\"\u003e\u003cspan data-mce-fragment=\"1\"\u003eESP32-DevKitC V4 board\u003c\/span\u003e\u003c\/p\u003e\n\u003cp align=\"left\" data-mce-fragment=\"1\"\u003e\u003cspan data-mce-fragment=\"1\"\u003eUSB A \/ micro USB B cable\u003c\/span\u003e\u003c\/p\u003e\n\u003cp align=\"left\" data-mce-fragment=\"1\"\u003e\u003cspan data-mce-fragment=\"1\"\u003eComputer running Windows, Linux, or macOS\u003c\/span\u003e\u003c\/p\u003e\n\u003cp align=\"left\" data-mce-fragment=\"1\"\u003e\u003cspan data-mce-fragment=\"1\"\u003eYou can skip the introduction sections and go directly to Section Start Application Development.\u003c\/span\u003e\u003c\/p\u003e\n\u003cp align=\"left\" data-mce-fragment=\"1\"\u003e\u003cspan data-mce-fragment=\"1\"\u003e \u003c\/span\u003e\u003c\/p\u003e\n\u003cp align=\"left\" data-mce-fragment=\"1\"\u003e\u003cspan data-mce-fragment=\"1\"\u003eOverview\u003c\/span\u003e\u003c\/p\u003e\n\u003cp align=\"left\" data-mce-fragment=\"1\"\u003e\u003cspan data-mce-fragment=\"1\"\u003eESP32-DevKitC V4 is a small-sized ESP32-based development board produced by Espres-sif. Most of the I\/O pins are broken out to the pin headers on both sides for easy interfacing. Developers can either connect peripherals with jumper wires or mount ESP32-DevKitC V4 on a breadboard.\u003c\/span\u003e\u003c\/p\u003e\n\u003cp align=\"left\" data-mce-fragment=\"1\"\u003e\u003cspan data-mce-fragment=\"1\"\u003e \u003c\/span\u003e\u003c\/p\u003e\n\u003cp align=\"left\" data-mce-fragment=\"1\"\u003e\u003cspan data-mce-fragment=\"1\"\u003eTo cover a wide range of user requirements, the following versions of ESP32-DevKitC V4 are available:\u003c\/span\u003e\u003c\/p\u003e\n\u003cp align=\"left\" data-mce-fragment=\"1\"\u003e\u003cspan data-mce-fragment=\"1\"\u003e \u003c\/span\u003e\u003c\/p\u003e\n\u003cp align=\"left\" data-mce-fragment=\"1\"\u003e\u003cspan data-mce-fragment=\"1\"\u003edifferent ESP32 modules\u003c\/span\u003e\u003c\/p\u003e\n\u003cp align=\"left\" data-mce-fragment=\"1\"\u003e\u003cspan data-mce-fragment=\"1\"\u003eESP32-WROOM-32\u003c\/span\u003e\u003c\/p\u003e\n\u003cp align=\"left\" data-mce-fragment=\"1\"\u003e\u003cspan data-mce-fragment=\"1\"\u003eESP32-WROOM-32D\u003c\/span\u003e\u003c\/p\u003e\n\u003cp align=\"left\" data-mce-fragment=\"1\"\u003e\u003cspan data-mce-fragment=\"1\"\u003eESP32-WROOM-32U\u003c\/span\u003e\u003c\/p\u003e\n\u003cp align=\"left\" data-mce-fragment=\"1\"\u003e\u003cspan data-mce-fragment=\"1\"\u003eESP32-SOLO-1\u003c\/span\u003e\u003c\/p\u003e\n\u003cp align=\"left\" data-mce-fragment=\"1\"\u003e\u003cspan data-mce-fragment=\"1\"\u003eESP32-WROVER\u003c\/span\u003e\u003c\/p\u003e\n\u003cp align=\"left\" data-mce-fragment=\"1\"\u003e\u003cspan data-mce-fragment=\"1\"\u003eESP32-WROVER-B\u003c\/span\u003e\u003c\/p\u003e\n\u003cp align=\"left\" data-mce-fragment=\"1\"\u003e\u003cspan data-mce-fragment=\"1\"\u003eESP32-WROVER-I\u003c\/span\u003e\u003c\/p\u003e\n\u003cp align=\"left\" data-mce-fragment=\"1\"\u003e\u003cspan data-mce-fragment=\"1\"\u003eESP32-WROVER-B (IPEX)\u003c\/span\u003e\u003c\/p\u003e\n\u003cp align=\"left\" data-mce-fragment=\"1\"\u003e\u003cspan data-mce-fragment=\"1\"\u003emale or female pin headers.\u003c\/span\u003e\u003c\/p\u003e\n\u003cp align=\"left\" data-mce-fragment=\"1\"\u003e\u003cspan data-mce-fragment=\"1\"\u003e \u003c\/span\u003e\u003c\/p\u003e\n\u003cp align=\"left\" data-mce-fragment=\"1\"\u003e\u003cspan data-mce-fragment=\"1\"\u003eFor details please refer to Espre-ssif Product Ordering Information.\u003c\/span\u003e\u003c\/p\u003e\n\u003cp align=\"left\" data-mce-fragment=\"1\"\u003e\u003cspan data-mce-fragment=\"1\"\u003eFunctional Description\u003c\/span\u003e\u003c\/p\u003e\n\u003cp align=\"left\" data-mce-fragment=\"1\"\u003e\u003cspan data-mce-fragment=\"1\"\u003eThe following figure and the table below describe the key components, interfaces and controls of the ESP32-DevKitC V4 board.\u003c\/span\u003e\u003c\/p\u003e\n\u003cp align=\"left\" data-mce-fragment=\"1\"\u003e\u003cspan data-mce-fragment=\"1\"\u003e \u003c\/span\u003e\u003c\/p\u003e\n\u003cp align=\"left\" data-mce-fragment=\"1\"\u003e\u003cspan data-mce-fragment=\"1\"\u003e\u003cimg src=\"https:\/\/pg-cdn-a2.datacaciques.com\/00\/MTU5MzA\/20\/07\/08\/85io615a3lmmi76r\/7984a82cc75f27f4.jpg\" data-mce-fragment=\"1\" data-mce-src=\"https:\/\/pg-cdn-a2.datacaciques.com\/00\/MTU5MzA\/20\/07\/08\/85io615a3lmmi76r\/7984a82cc75f27f4.jpg\"\u003e\u003c\/span\u003e\u003c\/p\u003e\n\u003c\/div\u003e\n\u003c\/div\u003e\n\u003c\/div\u003e\n\u003c\/div\u003e\n\u003c\/div\u003e","published_at":"2021-07-13T12:17:38+08:00","created_at":"2021-07-13T12:17:34+08:00","vendor":"DIYMORE","type":"","tags":[],"price":799,"price_min":799,"price_max":799,"available":true,"price_varies":false,"compare_at_price":null,"compare_at_price_min":0,"compare_at_price_max":0,"compare_at_price_varies":false,"variants":[{"id":40524386926792,"title":"WROOM-32U","option1":"WROOM-32U","option2":null,"option3":null,"sku":"XF0016","requires_shipping":true,"taxable":false,"featured_image":null,"available":true,"name":"ESP32-WROOM-32U ESP32-DevKitC Module Core Board ESP32 Development Board - WROOM-32U","public_title":"WROOM-32U","options":["WROOM-32U"],"price":799,"weight":0,"compare_at_price":null,"inventory_management":"shopify","barcode":"","requires_selling_plan":false,"selling_plan_allocations":[]}],"images":["\/\/www.diymore.cc\/cdn\/shop\/products\/4_1d629cd0-43f9-4239-91f2-70e66c416cf3.jpg?v=1626149857","\/\/www.diymore.cc\/cdn\/shop\/products\/5_b63b0bcc-0361-498f-9c3b-50283fa0e338.jpg?v=1626149857","\/\/www.diymore.cc\/cdn\/shop\/products\/1_41f0f3a5-70a3-4578-b8fc-9918462f518b.jpg?v=1626149859","\/\/www.diymore.cc\/cdn\/shop\/products\/2_7ff21344-8749-4eac-82d6-06507d2e290b.jpg?v=1626149859","\/\/www.diymore.cc\/cdn\/shop\/products\/3_6d60a279-1691-4ef0-932f-696c410af1a2.jpg?v=1626149859","\/\/www.diymore.cc\/cdn\/shop\/products\/6_6d039a5b-6b3d-4b96-a0a1-44c7a64dda13.jpg?v=1626149859","\/\/www.diymore.cc\/cdn\/shop\/products\/7_44d21c5a-efb7-4e74-bc73-b70c6705ab08.jpg?v=1626149859","\/\/www.diymore.cc\/cdn\/shop\/products\/8_209fe027-fdd6-48b4-82b2-96c1689078ac.jpg?v=1626149859"],"featured_image":"\/\/www.diymore.cc\/cdn\/shop\/products\/4_1d629cd0-43f9-4239-91f2-70e66c416cf3.jpg?v=1626149857","options":["Title"],"media":[{"alt":null,"id":22676194590920,"position":1,"preview_image":{"aspect_ratio":1.0,"height":1000,"width":1000,"src":"\/\/www.diymore.cc\/cdn\/shop\/products\/4_1d629cd0-43f9-4239-91f2-70e66c416cf3.jpg?v=1626149857"},"aspect_ratio":1.0,"height":1000,"media_type":"image","src":"\/\/www.diymore.cc\/cdn\/shop\/products\/4_1d629cd0-43f9-4239-91f2-70e66c416cf3.jpg?v=1626149857","width":1000},{"alt":null,"id":22676194623688,"position":2,"preview_image":{"aspect_ratio":1.0,"height":1000,"width":1000,"src":"\/\/www.diymore.cc\/cdn\/shop\/products\/5_b63b0bcc-0361-498f-9c3b-50283fa0e338.jpg?v=1626149857"},"aspect_ratio":1.0,"height":1000,"media_type":"image","src":"\/\/www.diymore.cc\/cdn\/shop\/products\/5_b63b0bcc-0361-498f-9c3b-50283fa0e338.jpg?v=1626149857","width":1000},{"alt":null,"id":22676194656456,"position":3,"preview_image":{"aspect_ratio":1.0,"height":1000,"width":1000,"src":"\/\/www.diymore.cc\/cdn\/shop\/products\/1_41f0f3a5-70a3-4578-b8fc-9918462f518b.jpg?v=1626149859"},"aspect_ratio":1.0,"height":1000,"media_type":"image","src":"\/\/www.diymore.cc\/cdn\/shop\/products\/1_41f0f3a5-70a3-4578-b8fc-9918462f518b.jpg?v=1626149859","width":1000},{"alt":null,"id":22676194689224,"position":4,"preview_image":{"aspect_ratio":1.0,"height":1000,"width":1000,"src":"\/\/www.diymore.cc\/cdn\/shop\/products\/2_7ff21344-8749-4eac-82d6-06507d2e290b.jpg?v=1626149859"},"aspect_ratio":1.0,"height":1000,"media_type":"image","src":"\/\/www.diymore.cc\/cdn\/shop\/products\/2_7ff21344-8749-4eac-82d6-06507d2e290b.jpg?v=1626149859","width":1000},{"alt":null,"id":22676194721992,"position":5,"preview_image":{"aspect_ratio":1.0,"height":1000,"width":1000,"src":"\/\/www.diymore.cc\/cdn\/shop\/products\/3_6d60a279-1691-4ef0-932f-696c410af1a2.jpg?v=1626149859"},"aspect_ratio":1.0,"height":1000,"media_type":"image","src":"\/\/www.diymore.cc\/cdn\/shop\/products\/3_6d60a279-1691-4ef0-932f-696c410af1a2.jpg?v=1626149859","width":1000},{"alt":null,"id":22676194754760,"position":6,"preview_image":{"aspect_ratio":1.0,"height":1000,"width":1000,"src":"\/\/www.diymore.cc\/cdn\/shop\/products\/6_6d039a5b-6b3d-4b96-a0a1-44c7a64dda13.jpg?v=1626149859"},"aspect_ratio":1.0,"height":1000,"media_type":"image","src":"\/\/www.diymore.cc\/cdn\/shop\/products\/6_6d039a5b-6b3d-4b96-a0a1-44c7a64dda13.jpg?v=1626149859","width":1000},{"alt":null,"id":22676194787528,"position":7,"preview_image":{"aspect_ratio":1.0,"height":1000,"width":1000,"src":"\/\/www.diymore.cc\/cdn\/shop\/products\/7_44d21c5a-efb7-4e74-bc73-b70c6705ab08.jpg?v=1626149859"},"aspect_ratio":1.0,"height":1000,"media_type":"image","src":"\/\/www.diymore.cc\/cdn\/shop\/products\/7_44d21c5a-efb7-4e74-bc73-b70c6705ab08.jpg?v=1626149859","width":1000},{"alt":null,"id":22676194820296,"position":8,"preview_image":{"aspect_ratio":1.0,"height":1000,"width":1000,"src":"\/\/www.diymore.cc\/cdn\/shop\/products\/8_209fe027-fdd6-48b4-82b2-96c1689078ac.jpg?v=1626149859"},"aspect_ratio":1.0,"height":1000,"media_type":"image","src":"\/\/www.diymore.cc\/cdn\/shop\/products\/8_209fe027-fdd6-48b4-82b2-96c1689078ac.jpg?v=1626149859","width":1000}],"requires_selling_plan":false,"selling_plan_groups":[],"content":"\u003cdiv class=\"row\" data-mce-fragment=\"1\"\u003e\n\u003cdiv class=\"col-17 col-offset-3\" data-mce-fragment=\"1\"\u003e\n\u003cdiv id=\"widget-text-12\" class=\"widget widget-text\" data-mce-fragment=\"1\"\u003e\n\u003cdiv data-mce-fragment=\"1\"\u003e\n\u003cdiv data-mce-fragment=\"1\"\u003e\n\u003cp align=\"left\" data-mce-fragment=\"1\"\u003e\u003cspan data-mce-fragment=\"1\"\u003e \u003c\/span\u003e\u003c\/p\u003e\n\u003cp align=\"left\" data-mce-fragment=\"1\"\u003e\u003cspan data-mce-fragment=\"1\"\u003eESP32-DevKitC V4 Getting Started Guide\u003c\/span\u003e\u003c\/p\u003e\n\u003cp align=\"left\" data-mce-fragment=\"1\"\u003e\u003cspan data-mce-fragment=\"1\"\u003e​\u003cstrong data-mce-fragment=\"1\"\u003eplease contact us for the instructions if you need . \u003c\/strong\u003e\u003c\/span\u003e\u003c\/p\u003e\n\u003cp align=\"left\" data-mce-fragment=\"1\"\u003e\u003cspan data-mce-fragment=\"1\"\u003eThis guide shows how to start using the ESP32-DevKitC V4 development board. For description of other versions of ESP32-DevKitC check ESP32 Hardware Reference.\u003c\/span\u003e\u003c\/p\u003e\n\u003cp align=\"left\" data-mce-fragment=\"1\"\u003e\u003cspan data-mce-fragment=\"1\"\u003e \u003c\/span\u003e\u003c\/p\u003e\n\u003cp align=\"left\" data-mce-fragment=\"1\"\u003e\u003cspan data-mce-fragment=\"1\"\u003eWhat You Need\u003c\/span\u003e\u003c\/p\u003e\n\u003cp align=\"left\" data-mce-fragment=\"1\"\u003e\u003cspan data-mce-fragment=\"1\"\u003eESP32-DevKitC V4 board\u003c\/span\u003e\u003c\/p\u003e\n\u003cp align=\"left\" data-mce-fragment=\"1\"\u003e\u003cspan data-mce-fragment=\"1\"\u003eUSB A \/ micro USB B cable\u003c\/span\u003e\u003c\/p\u003e\n\u003cp align=\"left\" data-mce-fragment=\"1\"\u003e\u003cspan data-mce-fragment=\"1\"\u003eComputer running Windows, Linux, or macOS\u003c\/span\u003e\u003c\/p\u003e\n\u003cp align=\"left\" data-mce-fragment=\"1\"\u003e\u003cspan data-mce-fragment=\"1\"\u003eYou can skip the introduction sections and go directly to Section Start Application Development.\u003c\/span\u003e\u003c\/p\u003e\n\u003cp align=\"left\" data-mce-fragment=\"1\"\u003e\u003cspan data-mce-fragment=\"1\"\u003e \u003c\/span\u003e\u003c\/p\u003e\n\u003cp align=\"left\" data-mce-fragment=\"1\"\u003e\u003cspan data-mce-fragment=\"1\"\u003eOverview\u003c\/span\u003e\u003c\/p\u003e\n\u003cp align=\"left\" data-mce-fragment=\"1\"\u003e\u003cspan data-mce-fragment=\"1\"\u003eESP32-DevKitC V4 is a small-sized ESP32-based development board produced by Espres-sif. Most of the I\/O pins are broken out to the pin headers on both sides for easy interfacing. Developers can either connect peripherals with jumper wires or mount ESP32-DevKitC V4 on a breadboard.\u003c\/span\u003e\u003c\/p\u003e\n\u003cp align=\"left\" data-mce-fragment=\"1\"\u003e\u003cspan data-mce-fragment=\"1\"\u003e \u003c\/span\u003e\u003c\/p\u003e\n\u003cp align=\"left\" data-mce-fragment=\"1\"\u003e\u003cspan data-mce-fragment=\"1\"\u003eTo cover a wide range of user requirements, the following versions of ESP32-DevKitC V4 are available:\u003c\/span\u003e\u003c\/p\u003e\n\u003cp align=\"left\" data-mce-fragment=\"1\"\u003e\u003cspan data-mce-fragment=\"1\"\u003e \u003c\/span\u003e\u003c\/p\u003e\n\u003cp align=\"left\" data-mce-fragment=\"1\"\u003e\u003cspan data-mce-fragment=\"1\"\u003edifferent ESP32 modules\u003c\/span\u003e\u003c\/p\u003e\n\u003cp align=\"left\" data-mce-fragment=\"1\"\u003e\u003cspan data-mce-fragment=\"1\"\u003eESP32-WROOM-32\u003c\/span\u003e\u003c\/p\u003e\n\u003cp align=\"left\" data-mce-fragment=\"1\"\u003e\u003cspan data-mce-fragment=\"1\"\u003eESP32-WROOM-32D\u003c\/span\u003e\u003c\/p\u003e\n\u003cp align=\"left\" data-mce-fragment=\"1\"\u003e\u003cspan data-mce-fragment=\"1\"\u003eESP32-WROOM-32U\u003c\/span\u003e\u003c\/p\u003e\n\u003cp align=\"left\" data-mce-fragment=\"1\"\u003e\u003cspan data-mce-fragment=\"1\"\u003eESP32-SOLO-1\u003c\/span\u003e\u003c\/p\u003e\n\u003cp align=\"left\" data-mce-fragment=\"1\"\u003e\u003cspan data-mce-fragment=\"1\"\u003eESP32-WROVER\u003c\/span\u003e\u003c\/p\u003e\n\u003cp align=\"left\" data-mce-fragment=\"1\"\u003e\u003cspan data-mce-fragment=\"1\"\u003eESP32-WROVER-B\u003c\/span\u003e\u003c\/p\u003e\n\u003cp align=\"left\" data-mce-fragment=\"1\"\u003e\u003cspan data-mce-fragment=\"1\"\u003eESP32-WROVER-I\u003c\/span\u003e\u003c\/p\u003e\n\u003cp align=\"left\" data-mce-fragment=\"1\"\u003e\u003cspan data-mce-fragment=\"1\"\u003eESP32-WROVER-B (IPEX)\u003c\/span\u003e\u003c\/p\u003e\n\u003cp align=\"left\" data-mce-fragment=\"1\"\u003e\u003cspan data-mce-fragment=\"1\"\u003emale or female pin headers.\u003c\/span\u003e\u003c\/p\u003e\n\u003cp align=\"left\" data-mce-fragment=\"1\"\u003e\u003cspan data-mce-fragment=\"1\"\u003e \u003c\/span\u003e\u003c\/p\u003e\n\u003cp align=\"left\" data-mce-fragment=\"1\"\u003e\u003cspan data-mce-fragment=\"1\"\u003eFor details please refer to Espre-ssif Product Ordering Information.\u003c\/span\u003e\u003c\/p\u003e\n\u003cp align=\"left\" data-mce-fragment=\"1\"\u003e\u003cspan data-mce-fragment=\"1\"\u003eFunctional Description\u003c\/span\u003e\u003c\/p\u003e\n\u003cp align=\"left\" data-mce-fragment=\"1\"\u003e\u003cspan data-mce-fragment=\"1\"\u003eThe following figure and the table below describe the key components, interfaces and controls of the ESP32-DevKitC V4 board.\u003c\/span\u003e\u003c\/p\u003e\n\u003cp align=\"left\" data-mce-fragment=\"1\"\u003e\u003cspan data-mce-fragment=\"1\"\u003e \u003c\/span\u003e\u003c\/p\u003e\n\u003cp align=\"left\" data-mce-fragment=\"1\"\u003e\u003cspan data-mce-fragment=\"1\"\u003e\u003cimg src=\"https:\/\/pg-cdn-a2.datacaciques.com\/00\/MTU5MzA\/20\/07\/08\/85io615a3lmmi76r\/7984a82cc75f27f4.jpg\" data-mce-fragment=\"1\" data-mce-src=\"https:\/\/pg-cdn-a2.datacaciques.com\/00\/MTU5MzA\/20\/07\/08\/85io615a3lmmi76r\/7984a82cc75f27f4.jpg\"\u003e\u003c\/span\u003e\u003c\/p\u003e\n\u003c\/div\u003e\n\u003c\/div\u003e\n\u003c\/div\u003e\n\u003c\/div\u003e\n\u003c\/div\u003e"}

Translation missing: en.products.product.regular_price

$8.00

{"id":6949788516552,"title":"ESP32-WROOM-32U ESP32-DevKitC Module Core Board ESP32 Development Board","handle":"esp32-wroom-32u-esp32-devkitc-module-core-board-esp32-development-board","description":"\u003cdiv class=\"row\" data-mce-fragment=\"1\"\u003e\n\u003cdiv class=\"col-17 col-offset-3\" data-mce-fragment=\"1\"\u003e\n\u003cdiv id=\"widget-text-12\" class=\"widget widget-text\" data-mce-fragment=\"1\"\u003e\n\u003cdiv data-mce-fragment=\"1\"\u003e\n\u003cdiv data-mce-fragment=\"1\"\u003e\n\u003cp align=\"left\" data-mce-fragment=\"1\"\u003e\u003cspan data-mce-fragment=\"1\"\u003e \u003c\/span\u003e\u003c\/p\u003e\n\u003cp align=\"left\" data-mce-fragment=\"1\"\u003e\u003cspan data-mce-fragment=\"1\"\u003eESP32-DevKitC V4 Getting Started Guide\u003c\/span\u003e\u003c\/p\u003e\n\u003cp align=\"left\" data-mce-fragment=\"1\"\u003e\u003cspan data-mce-fragment=\"1\"\u003e​\u003cstrong data-mce-fragment=\"1\"\u003eplease contact us for the instructions if you need . \u003c\/strong\u003e\u003c\/span\u003e\u003c\/p\u003e\n\u003cp align=\"left\" data-mce-fragment=\"1\"\u003e\u003cspan data-mce-fragment=\"1\"\u003eThis guide shows how to start using the ESP32-DevKitC V4 development board. For description of other versions of ESP32-DevKitC check ESP32 Hardware Reference.\u003c\/span\u003e\u003c\/p\u003e\n\u003cp align=\"left\" data-mce-fragment=\"1\"\u003e\u003cspan data-mce-fragment=\"1\"\u003e \u003c\/span\u003e\u003c\/p\u003e\n\u003cp align=\"left\" data-mce-fragment=\"1\"\u003e\u003cspan data-mce-fragment=\"1\"\u003eWhat You Need\u003c\/span\u003e\u003c\/p\u003e\n\u003cp align=\"left\" data-mce-fragment=\"1\"\u003e\u003cspan data-mce-fragment=\"1\"\u003eESP32-DevKitC V4 board\u003c\/span\u003e\u003c\/p\u003e\n\u003cp align=\"left\" data-mce-fragment=\"1\"\u003e\u003cspan data-mce-fragment=\"1\"\u003eUSB A \/ micro USB B cable\u003c\/span\u003e\u003c\/p\u003e\n\u003cp align=\"left\" data-mce-fragment=\"1\"\u003e\u003cspan data-mce-fragment=\"1\"\u003eComputer running Windows, Linux, or macOS\u003c\/span\u003e\u003c\/p\u003e\n\u003cp align=\"left\" data-mce-fragment=\"1\"\u003e\u003cspan data-mce-fragment=\"1\"\u003eYou can skip the introduction sections and go directly to Section Start Application Development.\u003c\/span\u003e\u003c\/p\u003e\n\u003cp align=\"left\" data-mce-fragment=\"1\"\u003e\u003cspan data-mce-fragment=\"1\"\u003e \u003c\/span\u003e\u003c\/p\u003e\n\u003cp align=\"left\" data-mce-fragment=\"1\"\u003e\u003cspan data-mce-fragment=\"1\"\u003eOverview\u003c\/span\u003e\u003c\/p\u003e\n\u003cp align=\"left\" data-mce-fragment=\"1\"\u003e\u003cspan data-mce-fragment=\"1\"\u003eESP32-DevKitC V4 is a small-sized ESP32-based development board produced by Espres-sif. Most of the I\/O pins are broken out to the pin headers on both sides for easy interfacing. Developers can either connect peripherals with jumper wires or mount ESP32-DevKitC V4 on a breadboard.\u003c\/span\u003e\u003c\/p\u003e\n\u003cp align=\"left\" data-mce-fragment=\"1\"\u003e\u003cspan data-mce-fragment=\"1\"\u003e \u003c\/span\u003e\u003c\/p\u003e\n\u003cp align=\"left\" data-mce-fragment=\"1\"\u003e\u003cspan data-mce-fragment=\"1\"\u003eTo cover a wide range of user requirements, the following versions of ESP32-DevKitC V4 are available:\u003c\/span\u003e\u003c\/p\u003e\n\u003cp align=\"left\" data-mce-fragment=\"1\"\u003e\u003cspan data-mce-fragment=\"1\"\u003e \u003c\/span\u003e\u003c\/p\u003e\n\u003cp align=\"left\" data-mce-fragment=\"1\"\u003e\u003cspan data-mce-fragment=\"1\"\u003edifferent ESP32 modules\u003c\/span\u003e\u003c\/p\u003e\n\u003cp align=\"left\" data-mce-fragment=\"1\"\u003e\u003cspan data-mce-fragment=\"1\"\u003eESP32-WROOM-32\u003c\/span\u003e\u003c\/p\u003e\n\u003cp align=\"left\" data-mce-fragment=\"1\"\u003e\u003cspan data-mce-fragment=\"1\"\u003eESP32-WROOM-32D\u003c\/span\u003e\u003c\/p\u003e\n\u003cp align=\"left\" data-mce-fragment=\"1\"\u003e\u003cspan data-mce-fragment=\"1\"\u003eESP32-WROOM-32U\u003c\/span\u003e\u003c\/p\u003e\n\u003cp align=\"left\" data-mce-fragment=\"1\"\u003e\u003cspan data-mce-fragment=\"1\"\u003eESP32-SOLO-1\u003c\/span\u003e\u003c\/p\u003e\n\u003cp align=\"left\" data-mce-fragment=\"1\"\u003e\u003cspan data-mce-fragment=\"1\"\u003eESP32-WROVER\u003c\/span\u003e\u003c\/p\u003e\n\u003cp align=\"left\" data-mce-fragment=\"1\"\u003e\u003cspan data-mce-fragment=\"1\"\u003eESP32-WROVER-B\u003c\/span\u003e\u003c\/p\u003e\n\u003cp align=\"left\" data-mce-fragment=\"1\"\u003e\u003cspan data-mce-fragment=\"1\"\u003eESP32-WROVER-I\u003c\/span\u003e\u003c\/p\u003e\n\u003cp align=\"left\" data-mce-fragment=\"1\"\u003e\u003cspan data-mce-fragment=\"1\"\u003eESP32-WROVER-B (IPEX)\u003c\/span\u003e\u003c\/p\u003e\n\u003cp align=\"left\" data-mce-fragment=\"1\"\u003e\u003cspan data-mce-fragment=\"1\"\u003emale or female pin headers.\u003c\/span\u003e\u003c\/p\u003e\n\u003cp align=\"left\" data-mce-fragment=\"1\"\u003e\u003cspan data-mce-fragment=\"1\"\u003e \u003c\/span\u003e\u003c\/p\u003e\n\u003cp align=\"left\" data-mce-fragment=\"1\"\u003e\u003cspan data-mce-fragment=\"1\"\u003eFor details please refer to Espre-ssif Product Ordering Information.\u003c\/span\u003e\u003c\/p\u003e\n\u003cp align=\"left\" data-mce-fragment=\"1\"\u003e\u003cspan data-mce-fragment=\"1\"\u003eFunctional Description\u003c\/span\u003e\u003c\/p\u003e\n\u003cp align=\"left\" data-mce-fragment=\"1\"\u003e\u003cspan data-mce-fragment=\"1\"\u003eThe following figure and the table below describe the key components, interfaces and controls of the ESP32-DevKitC V4 board.\u003c\/span\u003e\u003c\/p\u003e\n\u003cp align=\"left\" data-mce-fragment=\"1\"\u003e\u003cspan data-mce-fragment=\"1\"\u003e \u003c\/span\u003e\u003c\/p\u003e\n\u003cp align=\"left\" data-mce-fragment=\"1\"\u003e\u003cspan data-mce-fragment=\"1\"\u003e\u003cimg src=\"https:\/\/pg-cdn-a2.datacaciques.com\/00\/MTU5MzA\/20\/07\/08\/85io615a3lmmi76r\/7984a82cc75f27f4.jpg\" data-mce-fragment=\"1\" data-mce-src=\"https:\/\/pg-cdn-a2.datacaciques.com\/00\/MTU5MzA\/20\/07\/08\/85io615a3lmmi76r\/7984a82cc75f27f4.jpg\"\u003e\u003c\/span\u003e\u003c\/p\u003e\n\u003c\/div\u003e\n\u003c\/div\u003e\n\u003c\/div\u003e\n\u003c\/div\u003e\n\u003c\/div\u003e","published_at":"2021-07-13T12:17:38+08:00","created_at":"2021-07-13T12:17:34+08:00","vendor":"DIYMORE","type":"","tags":[],"price":799,"price_min":799,"price_max":799,"available":true,"price_varies":false,"compare_at_price":null,"compare_at_price_min":0,"compare_at_price_max":0,"compare_at_price_varies":false,"variants":[{"id":40524386926792,"title":"WROOM-32U","option1":"WROOM-32U","option2":null,"option3":null,"sku":"XF0016","requires_shipping":true,"taxable":false,"featured_image":null,"available":true,"name":"ESP32-WROOM-32U ESP32-DevKitC Module Core Board ESP32 Development Board - WROOM-32U","public_title":"WROOM-32U","options":["WROOM-32U"],"price":799,"weight":0,"compare_at_price":null,"inventory_management":"shopify","barcode":"","requires_selling_plan":false,"selling_plan_allocations":[]}],"images":["\/\/www.diymore.cc\/cdn\/shop\/products\/4_1d629cd0-43f9-4239-91f2-70e66c416cf3.jpg?v=1626149857","\/\/www.diymore.cc\/cdn\/shop\/products\/5_b63b0bcc-0361-498f-9c3b-50283fa0e338.jpg?v=1626149857","\/\/www.diymore.cc\/cdn\/shop\/products\/1_41f0f3a5-70a3-4578-b8fc-9918462f518b.jpg?v=1626149859","\/\/www.diymore.cc\/cdn\/shop\/products\/2_7ff21344-8749-4eac-82d6-06507d2e290b.jpg?v=1626149859","\/\/www.diymore.cc\/cdn\/shop\/products\/3_6d60a279-1691-4ef0-932f-696c410af1a2.jpg?v=1626149859","\/\/www.diymore.cc\/cdn\/shop\/products\/6_6d039a5b-6b3d-4b96-a0a1-44c7a64dda13.jpg?v=1626149859","\/\/www.diymore.cc\/cdn\/shop\/products\/7_44d21c5a-efb7-4e74-bc73-b70c6705ab08.jpg?v=1626149859","\/\/www.diymore.cc\/cdn\/shop\/products\/8_209fe027-fdd6-48b4-82b2-96c1689078ac.jpg?v=1626149859"],"featured_image":"\/\/www.diymore.cc\/cdn\/shop\/products\/4_1d629cd0-43f9-4239-91f2-70e66c416cf3.jpg?v=1626149857","options":["Title"],"media":[{"alt":null,"id":22676194590920,"position":1,"preview_image":{"aspect_ratio":1.0,"height":1000,"width":1000,"src":"\/\/www.diymore.cc\/cdn\/shop\/products\/4_1d629cd0-43f9-4239-91f2-70e66c416cf3.jpg?v=1626149857"},"aspect_ratio":1.0,"height":1000,"media_type":"image","src":"\/\/www.diymore.cc\/cdn\/shop\/products\/4_1d629cd0-43f9-4239-91f2-70e66c416cf3.jpg?v=1626149857","width":1000},{"alt":null,"id":22676194623688,"position":2,"preview_image":{"aspect_ratio":1.0,"height":1000,"width":1000,"src":"\/\/www.diymore.cc\/cdn\/shop\/products\/5_b63b0bcc-0361-498f-9c3b-50283fa0e338.jpg?v=1626149857"},"aspect_ratio":1.0,"height":1000,"media_type":"image","src":"\/\/www.diymore.cc\/cdn\/shop\/products\/5_b63b0bcc-0361-498f-9c3b-50283fa0e338.jpg?v=1626149857","width":1000},{"alt":null,"id":22676194656456,"position":3,"preview_image":{"aspect_ratio":1.0,"height":1000,"width":1000,"src":"\/\/www.diymore.cc\/cdn\/shop\/products\/1_41f0f3a5-70a3-4578-b8fc-9918462f518b.jpg?v=1626149859"},"aspect_ratio":1.0,"height":1000,"media_type":"image","src":"\/\/www.diymore.cc\/cdn\/shop\/products\/1_41f0f3a5-70a3-4578-b8fc-9918462f518b.jpg?v=1626149859","width":1000},{"alt":null,"id":22676194689224,"position":4,"preview_image":{"aspect_ratio":1.0,"height":1000,"width":1000,"src":"\/\/www.diymore.cc\/cdn\/shop\/products\/2_7ff21344-8749-4eac-82d6-06507d2e290b.jpg?v=1626149859"},"aspect_ratio":1.0,"height":1000,"media_type":"image","src":"\/\/www.diymore.cc\/cdn\/shop\/products\/2_7ff21344-8749-4eac-82d6-06507d2e290b.jpg?v=1626149859","width":1000},{"alt":null,"id":22676194721992,"position":5,"preview_image":{"aspect_ratio":1.0,"height":1000,"width":1000,"src":"\/\/www.diymore.cc\/cdn\/shop\/products\/3_6d60a279-1691-4ef0-932f-696c410af1a2.jpg?v=1626149859"},"aspect_ratio":1.0,"height":1000,"media_type":"image","src":"\/\/www.diymore.cc\/cdn\/shop\/products\/3_6d60a279-1691-4ef0-932f-696c410af1a2.jpg?v=1626149859","width":1000},{"alt":null,"id":22676194754760,"position":6,"preview_image":{"aspect_ratio":1.0,"height":1000,"width":1000,"src":"\/\/www.diymore.cc\/cdn\/shop\/products\/6_6d039a5b-6b3d-4b96-a0a1-44c7a64dda13.jpg?v=1626149859"},"aspect_ratio":1.0,"height":1000,"media_type":"image","src":"\/\/www.diymore.cc\/cdn\/shop\/products\/6_6d039a5b-6b3d-4b96-a0a1-44c7a64dda13.jpg?v=1626149859","width":1000},{"alt":null,"id":22676194787528,"position":7,"preview_image":{"aspect_ratio":1.0,"height":1000,"width":1000,"src":"\/\/www.diymore.cc\/cdn\/shop\/products\/7_44d21c5a-efb7-4e74-bc73-b70c6705ab08.jpg?v=1626149859"},"aspect_ratio":1.0,"height":1000,"media_type":"image","src":"\/\/www.diymore.cc\/cdn\/shop\/products\/7_44d21c5a-efb7-4e74-bc73-b70c6705ab08.jpg?v=1626149859","width":1000},{"alt":null,"id":22676194820296,"position":8,"preview_image":{"aspect_ratio":1.0,"height":1000,"width":1000,"src":"\/\/www.diymore.cc\/cdn\/shop\/products\/8_209fe027-fdd6-48b4-82b2-96c1689078ac.jpg?v=1626149859"},"aspect_ratio":1.0,"height":1000,"media_type":"image","src":"\/\/www.diymore.cc\/cdn\/shop\/products\/8_209fe027-fdd6-48b4-82b2-96c1689078ac.jpg?v=1626149859","width":1000}],"requires_selling_plan":false,"selling_plan_groups":[],"content":"\u003cdiv class=\"row\" data-mce-fragment=\"1\"\u003e\n\u003cdiv class=\"col-17 col-offset-3\" data-mce-fragment=\"1\"\u003e\n\u003cdiv id=\"widget-text-12\" class=\"widget widget-text\" data-mce-fragment=\"1\"\u003e\n\u003cdiv data-mce-fragment=\"1\"\u003e\n\u003cdiv data-mce-fragment=\"1\"\u003e\n\u003cp align=\"left\" data-mce-fragment=\"1\"\u003e\u003cspan data-mce-fragment=\"1\"\u003e \u003c\/span\u003e\u003c\/p\u003e\n\u003cp align=\"left\" data-mce-fragment=\"1\"\u003e\u003cspan data-mce-fragment=\"1\"\u003eESP32-DevKitC V4 Getting Started Guide\u003c\/span\u003e\u003c\/p\u003e\n\u003cp align=\"left\" data-mce-fragment=\"1\"\u003e\u003cspan data-mce-fragment=\"1\"\u003e​\u003cstrong data-mce-fragment=\"1\"\u003eplease contact us for the instructions if you need . \u003c\/strong\u003e\u003c\/span\u003e\u003c\/p\u003e\n\u003cp align=\"left\" data-mce-fragment=\"1\"\u003e\u003cspan data-mce-fragment=\"1\"\u003eThis guide shows how to start using the ESP32-DevKitC V4 development board. For description of other versions of ESP32-DevKitC check ESP32 Hardware Reference.\u003c\/span\u003e\u003c\/p\u003e\n\u003cp align=\"left\" data-mce-fragment=\"1\"\u003e\u003cspan data-mce-fragment=\"1\"\u003e \u003c\/span\u003e\u003c\/p\u003e\n\u003cp align=\"left\" data-mce-fragment=\"1\"\u003e\u003cspan data-mce-fragment=\"1\"\u003eWhat You Need\u003c\/span\u003e\u003c\/p\u003e\n\u003cp align=\"left\" data-mce-fragment=\"1\"\u003e\u003cspan data-mce-fragment=\"1\"\u003eESP32-DevKitC V4 board\u003c\/span\u003e\u003c\/p\u003e\n\u003cp align=\"left\" data-mce-fragment=\"1\"\u003e\u003cspan data-mce-fragment=\"1\"\u003eUSB A \/ micro USB B cable\u003c\/span\u003e\u003c\/p\u003e\n\u003cp align=\"left\" data-mce-fragment=\"1\"\u003e\u003cspan data-mce-fragment=\"1\"\u003eComputer running Windows, Linux, or macOS\u003c\/span\u003e\u003c\/p\u003e\n\u003cp align=\"left\" data-mce-fragment=\"1\"\u003e\u003cspan data-mce-fragment=\"1\"\u003eYou can skip the introduction sections and go directly to Section Start Application Development.\u003c\/span\u003e\u003c\/p\u003e\n\u003cp align=\"left\" data-mce-fragment=\"1\"\u003e\u003cspan data-mce-fragment=\"1\"\u003e \u003c\/span\u003e\u003c\/p\u003e\n\u003cp align=\"left\" data-mce-fragment=\"1\"\u003e\u003cspan data-mce-fragment=\"1\"\u003eOverview\u003c\/span\u003e\u003c\/p\u003e\n\u003cp align=\"left\" data-mce-fragment=\"1\"\u003e\u003cspan data-mce-fragment=\"1\"\u003eESP32-DevKitC V4 is a small-sized ESP32-based development board produced by Espres-sif. Most of the I\/O pins are broken out to the pin headers on both sides for easy interfacing. Developers can either connect peripherals with jumper wires or mount ESP32-DevKitC V4 on a breadboard.\u003c\/span\u003e\u003c\/p\u003e\n\u003cp align=\"left\" data-mce-fragment=\"1\"\u003e\u003cspan data-mce-fragment=\"1\"\u003e \u003c\/span\u003e\u003c\/p\u003e\n\u003cp align=\"left\" data-mce-fragment=\"1\"\u003e\u003cspan data-mce-fragment=\"1\"\u003eTo cover a wide range of user requirements, the following versions of ESP32-DevKitC V4 are available:\u003c\/span\u003e\u003c\/p\u003e\n\u003cp align=\"left\" data-mce-fragment=\"1\"\u003e\u003cspan data-mce-fragment=\"1\"\u003e \u003c\/span\u003e\u003c\/p\u003e\n\u003cp align=\"left\" data-mce-fragment=\"1\"\u003e\u003cspan data-mce-fragment=\"1\"\u003edifferent ESP32 modules\u003c\/span\u003e\u003c\/p\u003e\n\u003cp align=\"left\" data-mce-fragment=\"1\"\u003e\u003cspan data-mce-fragment=\"1\"\u003eESP32-WROOM-32\u003c\/span\u003e\u003c\/p\u003e\n\u003cp align=\"left\" data-mce-fragment=\"1\"\u003e\u003cspan data-mce-fragment=\"1\"\u003eESP32-WROOM-32D\u003c\/span\u003e\u003c\/p\u003e\n\u003cp align=\"left\" data-mce-fragment=\"1\"\u003e\u003cspan data-mce-fragment=\"1\"\u003eESP32-WROOM-32U\u003c\/span\u003e\u003c\/p\u003e\n\u003cp align=\"left\" data-mce-fragment=\"1\"\u003e\u003cspan data-mce-fragment=\"1\"\u003eESP32-SOLO-1\u003c\/span\u003e\u003c\/p\u003e\n\u003cp align=\"left\" data-mce-fragment=\"1\"\u003e\u003cspan data-mce-fragment=\"1\"\u003eESP32-WROVER\u003c\/span\u003e\u003c\/p\u003e\n\u003cp align=\"left\" data-mce-fragment=\"1\"\u003e\u003cspan data-mce-fragment=\"1\"\u003eESP32-WROVER-B\u003c\/span\u003e\u003c\/p\u003e\n\u003cp align=\"left\" data-mce-fragment=\"1\"\u003e\u003cspan data-mce-fragment=\"1\"\u003eESP32-WROVER-I\u003c\/span\u003e\u003c\/p\u003e\n\u003cp align=\"left\" data-mce-fragment=\"1\"\u003e\u003cspan data-mce-fragment=\"1\"\u003eESP32-WROVER-B (IPEX)\u003c\/span\u003e\u003c\/p\u003e\n\u003cp align=\"left\" data-mce-fragment=\"1\"\u003e\u003cspan data-mce-fragment=\"1\"\u003emale or female pin headers.\u003c\/span\u003e\u003c\/p\u003e\n\u003cp align=\"left\" data-mce-fragment=\"1\"\u003e\u003cspan data-mce-fragment=\"1\"\u003e \u003c\/span\u003e\u003c\/p\u003e\n\u003cp align=\"left\" data-mce-fragment=\"1\"\u003e\u003cspan data-mce-fragment=\"1\"\u003eFor details please refer to Espre-ssif Product Ordering Information.\u003c\/span\u003e\u003c\/p\u003e\n\u003cp align=\"left\" data-mce-fragment=\"1\"\u003e\u003cspan data-mce-fragment=\"1\"\u003eFunctional Description\u003c\/span\u003e\u003c\/p\u003e\n\u003cp align=\"left\" data-mce-fragment=\"1\"\u003e\u003cspan data-mce-fragment=\"1\"\u003eThe following figure and the table below describe the key components, interfaces and controls of the ESP32-DevKitC V4 board.\u003c\/span\u003e\u003c\/p\u003e\n\u003cp align=\"left\" data-mce-fragment=\"1\"\u003e\u003cspan data-mce-fragment=\"1\"\u003e \u003c\/span\u003e\u003c\/p\u003e\n\u003cp align=\"left\" data-mce-fragment=\"1\"\u003e\u003cspan data-mce-fragment=\"1\"\u003e\u003cimg src=\"https:\/\/pg-cdn-a2.datacaciques.com\/00\/MTU5MzA\/20\/07\/08\/85io615a3lmmi76r\/7984a82cc75f27f4.jpg\" data-mce-fragment=\"1\" data-mce-src=\"https:\/\/pg-cdn-a2.datacaciques.com\/00\/MTU5MzA\/20\/07\/08\/85io615a3lmmi76r\/7984a82cc75f27f4.jpg\"\u003e\u003c\/span\u003e\u003c\/p\u003e\n\u003c\/div\u003e\n\u003c\/div\u003e\n\u003c\/div\u003e\n\u003c\/div\u003e\n\u003c\/div\u003e"}

Translation missing: en.products.product.regular_price

$9.99

{"id":6949788516552,"title":"ESP32-WROOM-32U ESP32-DevKitC Module Core Board ESP32 Development Board","handle":"esp32-wroom-32u-esp32-devkitc-module-core-board-esp32-development-board","description":"\u003cdiv class=\"row\" data-mce-fragment=\"1\"\u003e\n\u003cdiv class=\"col-17 col-offset-3\" data-mce-fragment=\"1\"\u003e\n\u003cdiv id=\"widget-text-12\" class=\"widget widget-text\" data-mce-fragment=\"1\"\u003e\n\u003cdiv data-mce-fragment=\"1\"\u003e\n\u003cdiv data-mce-fragment=\"1\"\u003e\n\u003cp align=\"left\" data-mce-fragment=\"1\"\u003e\u003cspan data-mce-fragment=\"1\"\u003e \u003c\/span\u003e\u003c\/p\u003e\n\u003cp align=\"left\" data-mce-fragment=\"1\"\u003e\u003cspan data-mce-fragment=\"1\"\u003eESP32-DevKitC V4 Getting Started Guide\u003c\/span\u003e\u003c\/p\u003e\n\u003cp align=\"left\" data-mce-fragment=\"1\"\u003e\u003cspan data-mce-fragment=\"1\"\u003e​\u003cstrong data-mce-fragment=\"1\"\u003eplease contact us for the instructions if you need . \u003c\/strong\u003e\u003c\/span\u003e\u003c\/p\u003e\n\u003cp align=\"left\" data-mce-fragment=\"1\"\u003e\u003cspan data-mce-fragment=\"1\"\u003eThis guide shows how to start using the ESP32-DevKitC V4 development board. For description of other versions of ESP32-DevKitC check ESP32 Hardware Reference.\u003c\/span\u003e\u003c\/p\u003e\n\u003cp align=\"left\" data-mce-fragment=\"1\"\u003e\u003cspan data-mce-fragment=\"1\"\u003e \u003c\/span\u003e\u003c\/p\u003e\n\u003cp align=\"left\" data-mce-fragment=\"1\"\u003e\u003cspan data-mce-fragment=\"1\"\u003eWhat You Need\u003c\/span\u003e\u003c\/p\u003e\n\u003cp align=\"left\" data-mce-fragment=\"1\"\u003e\u003cspan data-mce-fragment=\"1\"\u003eESP32-DevKitC V4 board\u003c\/span\u003e\u003c\/p\u003e\n\u003cp align=\"left\" data-mce-fragment=\"1\"\u003e\u003cspan data-mce-fragment=\"1\"\u003eUSB A \/ micro USB B cable\u003c\/span\u003e\u003c\/p\u003e\n\u003cp align=\"left\" data-mce-fragment=\"1\"\u003e\u003cspan data-mce-fragment=\"1\"\u003eComputer running Windows, Linux, or macOS\u003c\/span\u003e\u003c\/p\u003e\n\u003cp align=\"left\" data-mce-fragment=\"1\"\u003e\u003cspan data-mce-fragment=\"1\"\u003eYou can skip the introduction sections and go directly to Section Start Application Development.\u003c\/span\u003e\u003c\/p\u003e\n\u003cp align=\"left\" data-mce-fragment=\"1\"\u003e\u003cspan data-mce-fragment=\"1\"\u003e \u003c\/span\u003e\u003c\/p\u003e\n\u003cp align=\"left\" data-mce-fragment=\"1\"\u003e\u003cspan data-mce-fragment=\"1\"\u003eOverview\u003c\/span\u003e\u003c\/p\u003e\n\u003cp align=\"left\" data-mce-fragment=\"1\"\u003e\u003cspan data-mce-fragment=\"1\"\u003eESP32-DevKitC V4 is a small-sized ESP32-based development board produced by Espres-sif. Most of the I\/O pins are broken out to the pin headers on both sides for easy interfacing. Developers can either connect peripherals with jumper wires or mount ESP32-DevKitC V4 on a breadboard.\u003c\/span\u003e\u003c\/p\u003e\n\u003cp align=\"left\" data-mce-fragment=\"1\"\u003e\u003cspan data-mce-fragment=\"1\"\u003e \u003c\/span\u003e\u003c\/p\u003e\n\u003cp align=\"left\" data-mce-fragment=\"1\"\u003e\u003cspan data-mce-fragment=\"1\"\u003eTo cover a wide range of user requirements, the following versions of ESP32-DevKitC V4 are available:\u003c\/span\u003e\u003c\/p\u003e\n\u003cp align=\"left\" data-mce-fragment=\"1\"\u003e\u003cspan data-mce-fragment=\"1\"\u003e \u003c\/span\u003e\u003c\/p\u003e\n\u003cp align=\"left\" data-mce-fragment=\"1\"\u003e\u003cspan data-mce-fragment=\"1\"\u003edifferent ESP32 modules\u003c\/span\u003e\u003c\/p\u003e\n\u003cp align=\"left\" data-mce-fragment=\"1\"\u003e\u003cspan data-mce-fragment=\"1\"\u003eESP32-WROOM-32\u003c\/span\u003e\u003c\/p\u003e\n\u003cp align=\"left\" data-mce-fragment=\"1\"\u003e\u003cspan data-mce-fragment=\"1\"\u003eESP32-WROOM-32D\u003c\/span\u003e\u003c\/p\u003e\n\u003cp align=\"left\" data-mce-fragment=\"1\"\u003e\u003cspan data-mce-fragment=\"1\"\u003eESP32-WROOM-32U\u003c\/span\u003e\u003c\/p\u003e\n\u003cp align=\"left\" data-mce-fragment=\"1\"\u003e\u003cspan data-mce-fragment=\"1\"\u003eESP32-SOLO-1\u003c\/span\u003e\u003c\/p\u003e\n\u003cp align=\"left\" data-mce-fragment=\"1\"\u003e\u003cspan data-mce-fragment=\"1\"\u003eESP32-WROVER\u003c\/span\u003e\u003c\/p\u003e\n\u003cp align=\"left\" data-mce-fragment=\"1\"\u003e\u003cspan data-mce-fragment=\"1\"\u003eESP32-WROVER-B\u003c\/span\u003e\u003c\/p\u003e\n\u003cp align=\"left\" data-mce-fragment=\"1\"\u003e\u003cspan data-mce-fragment=\"1\"\u003eESP32-WROVER-I\u003c\/span\u003e\u003c\/p\u003e\n\u003cp align=\"left\" data-mce-fragment=\"1\"\u003e\u003cspan data-mce-fragment=\"1\"\u003eESP32-WROVER-B (IPEX)\u003c\/span\u003e\u003c\/p\u003e\n\u003cp align=\"left\" data-mce-fragment=\"1\"\u003e\u003cspan data-mce-fragment=\"1\"\u003emale or female pin headers.\u003c\/span\u003e\u003c\/p\u003e\n\u003cp align=\"left\" data-mce-fragment=\"1\"\u003e\u003cspan data-mce-fragment=\"1\"\u003e \u003c\/span\u003e\u003c\/p\u003e\n\u003cp align=\"left\" data-mce-fragment=\"1\"\u003e\u003cspan data-mce-fragment=\"1\"\u003eFor details please refer to Espre-ssif Product Ordering Information.\u003c\/span\u003e\u003c\/p\u003e\n\u003cp align=\"left\" data-mce-fragment=\"1\"\u003e\u003cspan data-mce-fragment=\"1\"\u003eFunctional Description\u003c\/span\u003e\u003c\/p\u003e\n\u003cp align=\"left\" data-mce-fragment=\"1\"\u003e\u003cspan data-mce-fragment=\"1\"\u003eThe following figure and the table below describe the key components, interfaces and controls of the ESP32-DevKitC V4 board.\u003c\/span\u003e\u003c\/p\u003e\n\u003cp align=\"left\" data-mce-fragment=\"1\"\u003e\u003cspan data-mce-fragment=\"1\"\u003e \u003c\/span\u003e\u003c\/p\u003e\n\u003cp align=\"left\" data-mce-fragment=\"1\"\u003e\u003cspan data-mce-fragment=\"1\"\u003e\u003cimg src=\"https:\/\/pg-cdn-a2.datacaciques.com\/00\/MTU5MzA\/20\/07\/08\/85io615a3lmmi76r\/7984a82cc75f27f4.jpg\" data-mce-fragment=\"1\" data-mce-src=\"https:\/\/pg-cdn-a2.datacaciques.com\/00\/MTU5MzA\/20\/07\/08\/85io615a3lmmi76r\/7984a82cc75f27f4.jpg\"\u003e\u003c\/span\u003e\u003c\/p\u003e\n\u003c\/div\u003e\n\u003c\/div\u003e\n\u003c\/div\u003e\n\u003c\/div\u003e\n\u003c\/div\u003e","published_at":"2021-07-13T12:17:38+08:00","created_at":"2021-07-13T12:17:34+08:00","vendor":"DIYMORE","type":"","tags":[],"price":799,"price_min":799,"price_max":799,"available":true,"price_varies":false,"compare_at_price":null,"compare_at_price_min":0,"compare_at_price_max":0,"compare_at_price_varies":false,"variants":[{"id":40524386926792,"title":"WROOM-32U","option1":"WROOM-32U","option2":null,"option3":null,"sku":"XF0016","requires_shipping":true,"taxable":false,"featured_image":null,"available":true,"name":"ESP32-WROOM-32U ESP32-DevKitC Module Core Board ESP32 Development Board - WROOM-32U","public_title":"WROOM-32U","options":["WROOM-32U"],"price":799,"weight":0,"compare_at_price":null,"inventory_management":"shopify","barcode":"","requires_selling_plan":false,"selling_plan_allocations":[]}],"images":["\/\/www.diymore.cc\/cdn\/shop\/products\/4_1d629cd0-43f9-4239-91f2-70e66c416cf3.jpg?v=1626149857","\/\/www.diymore.cc\/cdn\/shop\/products\/5_b63b0bcc-0361-498f-9c3b-50283fa0e338.jpg?v=1626149857","\/\/www.diymore.cc\/cdn\/shop\/products\/1_41f0f3a5-70a3-4578-b8fc-9918462f518b.jpg?v=1626149859","\/\/www.diymore.cc\/cdn\/shop\/products\/2_7ff21344-8749-4eac-82d6-06507d2e290b.jpg?v=1626149859","\/\/www.diymore.cc\/cdn\/shop\/products\/3_6d60a279-1691-4ef0-932f-696c410af1a2.jpg?v=1626149859","\/\/www.diymore.cc\/cdn\/shop\/products\/6_6d039a5b-6b3d-4b96-a0a1-44c7a64dda13.jpg?v=1626149859","\/\/www.diymore.cc\/cdn\/shop\/products\/7_44d21c5a-efb7-4e74-bc73-b70c6705ab08.jpg?v=1626149859","\/\/www.diymore.cc\/cdn\/shop\/products\/8_209fe027-fdd6-48b4-82b2-96c1689078ac.jpg?v=1626149859"],"featured_image":"\/\/www.diymore.cc\/cdn\/shop\/products\/4_1d629cd0-43f9-4239-91f2-70e66c416cf3.jpg?v=1626149857","options":["Title"],"media":[{"alt":null,"id":22676194590920,"position":1,"preview_image":{"aspect_ratio":1.0,"height":1000,"width":1000,"src":"\/\/www.diymore.cc\/cdn\/shop\/products\/4_1d629cd0-43f9-4239-91f2-70e66c416cf3.jpg?v=1626149857"},"aspect_ratio":1.0,"height":1000,"media_type":"image","src":"\/\/www.diymore.cc\/cdn\/shop\/products\/4_1d629cd0-43f9-4239-91f2-70e66c416cf3.jpg?v=1626149857","width":1000},{"alt":null,"id":22676194623688,"position":2,"preview_image":{"aspect_ratio":1.0,"height":1000,"width":1000,"src":"\/\/www.diymore.cc\/cdn\/shop\/products\/5_b63b0bcc-0361-498f-9c3b-50283fa0e338.jpg?v=1626149857"},"aspect_ratio":1.0,"height":1000,"media_type":"image","src":"\/\/www.diymore.cc\/cdn\/shop\/products\/5_b63b0bcc-0361-498f-9c3b-50283fa0e338.jpg?v=1626149857","width":1000},{"alt":null,"id":22676194656456,"position":3,"preview_image":{"aspect_ratio":1.0,"height":1000,"width":1000,"src":"\/\/www.diymore.cc\/cdn\/shop\/products\/1_41f0f3a5-70a3-4578-b8fc-9918462f518b.jpg?v=1626149859"},"aspect_ratio":1.0,"height":1000,"media_type":"image","src":"\/\/www.diymore.cc\/cdn\/shop\/products\/1_41f0f3a5-70a3-4578-b8fc-9918462f518b.jpg?v=1626149859","width":1000},{"alt":null,"id":22676194689224,"position":4,"preview_image":{"aspect_ratio":1.0,"height":1000,"width":1000,"src":"\/\/www.diymore.cc\/cdn\/shop\/products\/2_7ff21344-8749-4eac-82d6-06507d2e290b.jpg?v=1626149859"},"aspect_ratio":1.0,"height":1000,"media_type":"image","src":"\/\/www.diymore.cc\/cdn\/shop\/products\/2_7ff21344-8749-4eac-82d6-06507d2e290b.jpg?v=1626149859","width":1000},{"alt":null,"id":22676194721992,"position":5,"preview_image":{"aspect_ratio":1.0,"height":1000,"width":1000,"src":"\/\/www.diymore.cc\/cdn\/shop\/products\/3_6d60a279-1691-4ef0-932f-696c410af1a2.jpg?v=1626149859"},"aspect_ratio":1.0,"height":1000,"media_type":"image","src":"\/\/www.diymore.cc\/cdn\/shop\/products\/3_6d60a279-1691-4ef0-932f-696c410af1a2.jpg?v=1626149859","width":1000},{"alt":null,"id":22676194754760,"position":6,"preview_image":{"aspect_ratio":1.0,"height":1000,"width":1000,"src":"\/\/www.diymore.cc\/cdn\/shop\/products\/6_6d039a5b-6b3d-4b96-a0a1-44c7a64dda13.jpg?v=1626149859"},"aspect_ratio":1.0,"height":1000,"media_type":"image","src":"\/\/www.diymore.cc\/cdn\/shop\/products\/6_6d039a5b-6b3d-4b96-a0a1-44c7a64dda13.jpg?v=1626149859","width":1000},{"alt":null,"id":22676194787528,"position":7,"preview_image":{"aspect_ratio":1.0,"height":1000,"width":1000,"src":"\/\/www.diymore.cc\/cdn\/shop\/products\/7_44d21c5a-efb7-4e74-bc73-b70c6705ab08.jpg?v=1626149859"},"aspect_ratio":1.0,"height":1000,"media_type":"image","src":"\/\/www.diymore.cc\/cdn\/shop\/products\/7_44d21c5a-efb7-4e74-bc73-b70c6705ab08.jpg?v=1626149859","width":1000},{"alt":null,"id":22676194820296,"position":8,"preview_image":{"aspect_ratio":1.0,"height":1000,"width":1000,"src":"\/\/www.diymore.cc\/cdn\/shop\/products\/8_209fe027-fdd6-48b4-82b2-96c1689078ac.jpg?v=1626149859"},"aspect_ratio":1.0,"height":1000,"media_type":"image","src":"\/\/www.diymore.cc\/cdn\/shop\/products\/8_209fe027-fdd6-48b4-82b2-96c1689078ac.jpg?v=1626149859","width":1000}],"requires_selling_plan":false,"selling_plan_groups":[],"content":"\u003cdiv class=\"row\" data-mce-fragment=\"1\"\u003e\n\u003cdiv class=\"col-17 col-offset-3\" data-mce-fragment=\"1\"\u003e\n\u003cdiv id=\"widget-text-12\" class=\"widget widget-text\" data-mce-fragment=\"1\"\u003e\n\u003cdiv data-mce-fragment=\"1\"\u003e\n\u003cdiv data-mce-fragment=\"1\"\u003e\n\u003cp align=\"left\" data-mce-fragment=\"1\"\u003e\u003cspan data-mce-fragment=\"1\"\u003e \u003c\/span\u003e\u003c\/p\u003e\n\u003cp align=\"left\" data-mce-fragment=\"1\"\u003e\u003cspan data-mce-fragment=\"1\"\u003eESP32-DevKitC V4 Getting Started Guide\u003c\/span\u003e\u003c\/p\u003e\n\u003cp align=\"left\" data-mce-fragment=\"1\"\u003e\u003cspan data-mce-fragment=\"1\"\u003e​\u003cstrong data-mce-fragment=\"1\"\u003eplease contact us for the instructions if you need . \u003c\/strong\u003e\u003c\/span\u003e\u003c\/p\u003e\n\u003cp align=\"left\" data-mce-fragment=\"1\"\u003e\u003cspan data-mce-fragment=\"1\"\u003eThis guide shows how to start using the ESP32-DevKitC V4 development board. For description of other versions of ESP32-DevKitC check ESP32 Hardware Reference.\u003c\/span\u003e\u003c\/p\u003e\n\u003cp align=\"left\" data-mce-fragment=\"1\"\u003e\u003cspan data-mce-fragment=\"1\"\u003e \u003c\/span\u003e\u003c\/p\u003e\n\u003cp align=\"left\" data-mce-fragment=\"1\"\u003e\u003cspan data-mce-fragment=\"1\"\u003eWhat You Need\u003c\/span\u003e\u003c\/p\u003e\n\u003cp align=\"left\" data-mce-fragment=\"1\"\u003e\u003cspan data-mce-fragment=\"1\"\u003eESP32-DevKitC V4 board\u003c\/span\u003e\u003c\/p\u003e\n\u003cp align=\"left\" data-mce-fragment=\"1\"\u003e\u003cspan data-mce-fragment=\"1\"\u003eUSB A \/ micro USB B cable\u003c\/span\u003e\u003c\/p\u003e\n\u003cp align=\"left\" data-mce-fragment=\"1\"\u003e\u003cspan data-mce-fragment=\"1\"\u003eComputer running Windows, Linux, or macOS\u003c\/span\u003e\u003c\/p\u003e\n\u003cp align=\"left\" data-mce-fragment=\"1\"\u003e\u003cspan data-mce-fragment=\"1\"\u003eYou can skip the introduction sections and go directly to Section Start Application Development.\u003c\/span\u003e\u003c\/p\u003e\n\u003cp align=\"left\" data-mce-fragment=\"1\"\u003e\u003cspan data-mce-fragment=\"1\"\u003e \u003c\/span\u003e\u003c\/p\u003e\n\u003cp align=\"left\" data-mce-fragment=\"1\"\u003e\u003cspan data-mce-fragment=\"1\"\u003eOverview\u003c\/span\u003e\u003c\/p\u003e\n\u003cp align=\"left\" data-mce-fragment=\"1\"\u003e\u003cspan data-mce-fragment=\"1\"\u003eESP32-DevKitC V4 is a small-sized ESP32-based development board produced by Espres-sif. Most of the I\/O pins are broken out to the pin headers on both sides for easy interfacing. Developers can either connect peripherals with jumper wires or mount ESP32-DevKitC V4 on a breadboard.\u003c\/span\u003e\u003c\/p\u003e\n\u003cp align=\"left\" data-mce-fragment=\"1\"\u003e\u003cspan data-mce-fragment=\"1\"\u003e \u003c\/span\u003e\u003c\/p\u003e\n\u003cp align=\"left\" data-mce-fragment=\"1\"\u003e\u003cspan data-mce-fragment=\"1\"\u003eTo cover a wide range of user requirements, the following versions of ESP32-DevKitC V4 are available:\u003c\/span\u003e\u003c\/p\u003e\n\u003cp align=\"left\" data-mce-fragment=\"1\"\u003e\u003cspan data-mce-fragment=\"1\"\u003e \u003c\/span\u003e\u003c\/p\u003e\n\u003cp align=\"left\" data-mce-fragment=\"1\"\u003e\u003cspan data-mce-fragment=\"1\"\u003edifferent ESP32 modules\u003c\/span\u003e\u003c\/p\u003e\n\u003cp align=\"left\" data-mce-fragment=\"1\"\u003e\u003cspan data-mce-fragment=\"1\"\u003eESP32-WROOM-32\u003c\/span\u003e\u003c\/p\u003e\n\u003cp align=\"left\" data-mce-fragment=\"1\"\u003e\u003cspan data-mce-fragment=\"1\"\u003eESP32-WROOM-32D\u003c\/span\u003e\u003c\/p\u003e\n\u003cp align=\"left\" data-mce-fragment=\"1\"\u003e\u003cspan data-mce-fragment=\"1\"\u003eESP32-WROOM-32U\u003c\/span\u003e\u003c\/p\u003e\n\u003cp align=\"left\" data-mce-fragment=\"1\"\u003e\u003cspan data-mce-fragment=\"1\"\u003eESP32-SOLO-1\u003c\/span\u003e\u003c\/p\u003e\n\u003cp align=\"left\" data-mce-fragment=\"1\"\u003e\u003cspan data-mce-fragment=\"1\"\u003eESP32-WROVER\u003c\/span\u003e\u003c\/p\u003e\n\u003cp align=\"left\" data-mce-fragment=\"1\"\u003e\u003cspan data-mce-fragment=\"1\"\u003eESP32-WROVER-B\u003c\/span\u003e\u003c\/p\u003e\n\u003cp align=\"left\" data-mce-fragment=\"1\"\u003e\u003cspan data-mce-fragment=\"1\"\u003eESP32-WROVER-I\u003c\/span\u003e\u003c\/p\u003e\n\u003cp align=\"left\" data-mce-fragment=\"1\"\u003e\u003cspan data-mce-fragment=\"1\"\u003eESP32-WROVER-B (IPEX)\u003c\/span\u003e\u003c\/p\u003e\n\u003cp align=\"left\" data-mce-fragment=\"1\"\u003e\u003cspan data-mce-fragment=\"1\"\u003emale or female pin headers.\u003c\/span\u003e\u003c\/p\u003e\n\u003cp align=\"left\" data-mce-fragment=\"1\"\u003e\u003cspan data-mce-fragment=\"1\"\u003e \u003c\/span\u003e\u003c\/p\u003e\n\u003cp align=\"left\" data-mce-fragment=\"1\"\u003e\u003cspan data-mce-fragment=\"1\"\u003eFor details please refer to Espre-ssif Product Ordering Information.\u003c\/span\u003e\u003c\/p\u003e\n\u003cp align=\"left\" data-mce-fragment=\"1\"\u003e\u003cspan data-mce-fragment=\"1\"\u003eFunctional Description\u003c\/span\u003e\u003c\/p\u003e\n\u003cp align=\"left\" data-mce-fragment=\"1\"\u003e\u003cspan data-mce-fragment=\"1\"\u003eThe following figure and the table below describe the key components, interfaces and controls of the ESP32-DevKitC V4 board.\u003c\/span\u003e\u003c\/p\u003e\n\u003cp align=\"left\" data-mce-fragment=\"1\"\u003e\u003cspan data-mce-fragment=\"1\"\u003e \u003c\/span\u003e\u003c\/p\u003e\n\u003cp align=\"left\" data-mce-fragment=\"1\"\u003e\u003cspan data-mce-fragment=\"1\"\u003e\u003cimg src=\"https:\/\/pg-cdn-a2.datacaciques.com\/00\/MTU5MzA\/20\/07\/08\/85io615a3lmmi76r\/7984a82cc75f27f4.jpg\" data-mce-fragment=\"1\" data-mce-src=\"https:\/\/pg-cdn-a2.datacaciques.com\/00\/MTU5MzA\/20\/07\/08\/85io615a3lmmi76r\/7984a82cc75f27f4.jpg\"\u003e\u003c\/span\u003e\u003c\/p\u003e\n\u003c\/div\u003e\n\u003c\/div\u003e\n\u003c\/div\u003e\n\u003c\/div\u003e\n\u003c\/div\u003e"}

Translation missing: en.products.product.regular_price

$11.99

{"id":6949788516552,"title":"ESP32-WROOM-32U ESP32-DevKitC Module Core Board ESP32 Development Board","handle":"esp32-wroom-32u-esp32-devkitc-module-core-board-esp32-development-board","description":"\u003cdiv class=\"row\" data-mce-fragment=\"1\"\u003e\n\u003cdiv class=\"col-17 col-offset-3\" data-mce-fragment=\"1\"\u003e\n\u003cdiv id=\"widget-text-12\" class=\"widget widget-text\" data-mce-fragment=\"1\"\u003e\n\u003cdiv data-mce-fragment=\"1\"\u003e\n\u003cdiv data-mce-fragment=\"1\"\u003e\n\u003cp align=\"left\" data-mce-fragment=\"1\"\u003e\u003cspan data-mce-fragment=\"1\"\u003e \u003c\/span\u003e\u003c\/p\u003e\n\u003cp align=\"left\" data-mce-fragment=\"1\"\u003e\u003cspan data-mce-fragment=\"1\"\u003eESP32-DevKitC V4 Getting Started Guide\u003c\/span\u003e\u003c\/p\u003e\n\u003cp align=\"left\" data-mce-fragment=\"1\"\u003e\u003cspan data-mce-fragment=\"1\"\u003e​\u003cstrong data-mce-fragment=\"1\"\u003eplease contact us for the instructions if you need . \u003c\/strong\u003e\u003c\/span\u003e\u003c\/p\u003e\n\u003cp align=\"left\" data-mce-fragment=\"1\"\u003e\u003cspan data-mce-fragment=\"1\"\u003eThis guide shows how to start using the ESP32-DevKitC V4 development board. For description of other versions of ESP32-DevKitC check ESP32 Hardware Reference.\u003c\/span\u003e\u003c\/p\u003e\n\u003cp align=\"left\" data-mce-fragment=\"1\"\u003e\u003cspan data-mce-fragment=\"1\"\u003e \u003c\/span\u003e\u003c\/p\u003e\n\u003cp align=\"left\" data-mce-fragment=\"1\"\u003e\u003cspan data-mce-fragment=\"1\"\u003eWhat You Need\u003c\/span\u003e\u003c\/p\u003e\n\u003cp align=\"left\" data-mce-fragment=\"1\"\u003e\u003cspan data-mce-fragment=\"1\"\u003eESP32-DevKitC V4 board\u003c\/span\u003e\u003c\/p\u003e\n\u003cp align=\"left\" data-mce-fragment=\"1\"\u003e\u003cspan data-mce-fragment=\"1\"\u003eUSB A \/ micro USB B cable\u003c\/span\u003e\u003c\/p\u003e\n\u003cp align=\"left\" data-mce-fragment=\"1\"\u003e\u003cspan data-mce-fragment=\"1\"\u003eComputer running Windows, Linux, or macOS\u003c\/span\u003e\u003c\/p\u003e\n\u003cp align=\"left\" data-mce-fragment=\"1\"\u003e\u003cspan data-mce-fragment=\"1\"\u003eYou can skip the introduction sections and go directly to Section Start Application Development.\u003c\/span\u003e\u003c\/p\u003e\n\u003cp align=\"left\" data-mce-fragment=\"1\"\u003e\u003cspan data-mce-fragment=\"1\"\u003e \u003c\/span\u003e\u003c\/p\u003e\n\u003cp align=\"left\" data-mce-fragment=\"1\"\u003e\u003cspan data-mce-fragment=\"1\"\u003eOverview\u003c\/span\u003e\u003c\/p\u003e\n\u003cp align=\"left\" data-mce-fragment=\"1\"\u003e\u003cspan data-mce-fragment=\"1\"\u003eESP32-DevKitC V4 is a small-sized ESP32-based development board produced by Espres-sif. Most of the I\/O pins are broken out to the pin headers on both sides for easy interfacing. Developers can either connect peripherals with jumper wires or mount ESP32-DevKitC V4 on a breadboard.\u003c\/span\u003e\u003c\/p\u003e\n\u003cp align=\"left\" data-mce-fragment=\"1\"\u003e\u003cspan data-mce-fragment=\"1\"\u003e \u003c\/span\u003e\u003c\/p\u003e\n\u003cp align=\"left\" data-mce-fragment=\"1\"\u003e\u003cspan data-mce-fragment=\"1\"\u003eTo cover a wide range of user requirements, the following versions of ESP32-DevKitC V4 are available:\u003c\/span\u003e\u003c\/p\u003e\n\u003cp align=\"left\" data-mce-fragment=\"1\"\u003e\u003cspan data-mce-fragment=\"1\"\u003e \u003c\/span\u003e\u003c\/p\u003e\n\u003cp align=\"left\" data-mce-fragment=\"1\"\u003e\u003cspan data-mce-fragment=\"1\"\u003edifferent ESP32 modules\u003c\/span\u003e\u003c\/p\u003e\n\u003cp align=\"left\" data-mce-fragment=\"1\"\u003e\u003cspan data-mce-fragment=\"1\"\u003eESP32-WROOM-32\u003c\/span\u003e\u003c\/p\u003e\n\u003cp align=\"left\" data-mce-fragment=\"1\"\u003e\u003cspan data-mce-fragment=\"1\"\u003eESP32-WROOM-32D\u003c\/span\u003e\u003c\/p\u003e\n\u003cp align=\"left\" data-mce-fragment=\"1\"\u003e\u003cspan data-mce-fragment=\"1\"\u003eESP32-WROOM-32U\u003c\/span\u003e\u003c\/p\u003e\n\u003cp align=\"left\" data-mce-fragment=\"1\"\u003e\u003cspan data-mce-fragment=\"1\"\u003eESP32-SOLO-1\u003c\/span\u003e\u003c\/p\u003e\n\u003cp align=\"left\" data-mce-fragment=\"1\"\u003e\u003cspan data-mce-fragment=\"1\"\u003eESP32-WROVER\u003c\/span\u003e\u003c\/p\u003e\n\u003cp align=\"left\" data-mce-fragment=\"1\"\u003e\u003cspan data-mce-fragment=\"1\"\u003eESP32-WROVER-B\u003c\/span\u003e\u003c\/p\u003e\n\u003cp align=\"left\" data-mce-fragment=\"1\"\u003e\u003cspan data-mce-fragment=\"1\"\u003eESP32-WROVER-I\u003c\/span\u003e\u003c\/p\u003e\n\u003cp align=\"left\" data-mce-fragment=\"1\"\u003e\u003cspan data-mce-fragment=\"1\"\u003eESP32-WROVER-B (IPEX)\u003c\/span\u003e\u003c\/p\u003e\n\u003cp align=\"left\" data-mce-fragment=\"1\"\u003e\u003cspan data-mce-fragment=\"1\"\u003emale or female pin headers.\u003c\/span\u003e\u003c\/p\u003e\n\u003cp align=\"left\" data-mce-fragment=\"1\"\u003e\u003cspan data-mce-fragment=\"1\"\u003e \u003c\/span\u003e\u003c\/p\u003e\n\u003cp align=\"left\" data-mce-fragment=\"1\"\u003e\u003cspan data-mce-fragment=\"1\"\u003eFor details please refer to Espre-ssif Product Ordering Information.\u003c\/span\u003e\u003c\/p\u003e\n\u003cp align=\"left\" data-mce-fragment=\"1\"\u003e\u003cspan data-mce-fragment=\"1\"\u003eFunctional Description\u003c\/span\u003e\u003c\/p\u003e\n\u003cp align=\"left\" data-mce-fragment=\"1\"\u003e\u003cspan data-mce-fragment=\"1\"\u003eThe following figure and the table below describe the key components, interfaces and controls of the ESP32-DevKitC V4 board.\u003c\/span\u003e\u003c\/p\u003e\n\u003cp align=\"left\" data-mce-fragment=\"1\"\u003e\u003cspan data-mce-fragment=\"1\"\u003e \u003c\/span\u003e\u003c\/p\u003e\n\u003cp align=\"left\" data-mce-fragment=\"1\"\u003e\u003cspan data-mce-fragment=\"1\"\u003e\u003cimg src=\"https:\/\/pg-cdn-a2.datacaciques.com\/00\/MTU5MzA\/20\/07\/08\/85io615a3lmmi76r\/7984a82cc75f27f4.jpg\" data-mce-fragment=\"1\" data-mce-src=\"https:\/\/pg-cdn-a2.datacaciques.com\/00\/MTU5MzA\/20\/07\/08\/85io615a3lmmi76r\/7984a82cc75f27f4.jpg\"\u003e\u003c\/span\u003e\u003c\/p\u003e\n\u003c\/div\u003e\n\u003c\/div\u003e\n\u003c\/div\u003e\n\u003c\/div\u003e\n\u003c\/div\u003e","published_at":"2021-07-13T12:17:38+08:00","created_at":"2021-07-13T12:17:34+08:00","vendor":"DIYMORE","type":"","tags":[],"price":799,"price_min":799,"price_max":799,"available":true,"price_varies":false,"compare_at_price":null,"compare_at_price_min":0,"compare_at_price_max":0,"compare_at_price_varies":false,"variants":[{"id":40524386926792,"title":"WROOM-32U","option1":"WROOM-32U","option2":null,"option3":null,"sku":"XF0016","requires_shipping":true,"taxable":false,"featured_image":null,"available":true,"name":"ESP32-WROOM-32U ESP32-DevKitC Module Core Board ESP32 Development Board - WROOM-32U","public_title":"WROOM-32U","options":["WROOM-32U"],"price":799,"weight":0,"compare_at_price":null,"inventory_management":"shopify","barcode":"","requires_selling_plan":false,"selling_plan_allocations":[]}],"images":["\/\/www.diymore.cc\/cdn\/shop\/products\/4_1d629cd0-43f9-4239-91f2-70e66c416cf3.jpg?v=1626149857","\/\/www.diymore.cc\/cdn\/shop\/products\/5_b63b0bcc-0361-498f-9c3b-50283fa0e338.jpg?v=1626149857","\/\/www.diymore.cc\/cdn\/shop\/products\/1_41f0f3a5-70a3-4578-b8fc-9918462f518b.jpg?v=1626149859","\/\/www.diymore.cc\/cdn\/shop\/products\/2_7ff21344-8749-4eac-82d6-06507d2e290b.jpg?v=1626149859","\/\/www.diymore.cc\/cdn\/shop\/products\/3_6d60a279-1691-4ef0-932f-696c410af1a2.jpg?v=1626149859","\/\/www.diymore.cc\/cdn\/shop\/products\/6_6d039a5b-6b3d-4b96-a0a1-44c7a64dda13.jpg?v=1626149859","\/\/www.diymore.cc\/cdn\/shop\/products\/7_44d21c5a-efb7-4e74-bc73-b70c6705ab08.jpg?v=1626149859","\/\/www.diymore.cc\/cdn\/shop\/products\/8_209fe027-fdd6-48b4-82b2-96c1689078ac.jpg?v=1626149859"],"featured_image":"\/\/www.diymore.cc\/cdn\/shop\/products\/4_1d629cd0-43f9-4239-91f2-70e66c416cf3.jpg?v=1626149857","options":["Title"],"media":[{"alt":null,"id":22676194590920,"position":1,"preview_image":{"aspect_ratio":1.0,"height":1000,"width":1000,"src":"\/\/www.diymore.cc\/cdn\/shop\/products\/4_1d629cd0-43f9-4239-91f2-70e66c416cf3.jpg?v=1626149857"},"aspect_ratio":1.0,"height":1000,"media_type":"image","src":"\/\/www.diymore.cc\/cdn\/shop\/products\/4_1d629cd0-43f9-4239-91f2-70e66c416cf3.jpg?v=1626149857","width":1000},{"alt":null,"id":22676194623688,"position":2,"preview_image":{"aspect_ratio":1.0,"height":1000,"width":1000,"src":"\/\/www.diymore.cc\/cdn\/shop\/products\/5_b63b0bcc-0361-498f-9c3b-50283fa0e338.jpg?v=1626149857"},"aspect_ratio":1.0,"height":1000,"media_type":"image","src":"\/\/www.diymore.cc\/cdn\/shop\/products\/5_b63b0bcc-0361-498f-9c3b-50283fa0e338.jpg?v=1626149857","width":1000},{"alt":null,"id":22676194656456,"position":3,"preview_image":{"aspect_ratio":1.0,"height":1000,"width":1000,"src":"\/\/www.diymore.cc\/cdn\/shop\/products\/1_41f0f3a5-70a3-4578-b8fc-9918462f518b.jpg?v=1626149859"},"aspect_ratio":1.0,"height":1000,"media_type":"image","src":"\/\/www.diymore.cc\/cdn\/shop\/products\/1_41f0f3a5-70a3-4578-b8fc-9918462f518b.jpg?v=1626149859","width":1000},{"alt":null,"id":22676194689224,"position":4,"preview_image":{"aspect_ratio":1.0,"height":1000,"width":1000,"src":"\/\/www.diymore.cc\/cdn\/shop\/products\/2_7ff21344-8749-4eac-82d6-06507d2e290b.jpg?v=1626149859"},"aspect_ratio":1.0,"height":1000,"media_type":"image","src":"\/\/www.diymore.cc\/cdn\/shop\/products\/2_7ff21344-8749-4eac-82d6-06507d2e290b.jpg?v=1626149859","width":1000},{"alt":null,"id":22676194721992,"position":5,"preview_image":{"aspect_ratio":1.0,"height":1000,"width":1000,"src":"\/\/www.diymore.cc\/cdn\/shop\/products\/3_6d60a279-1691-4ef0-932f-696c410af1a2.jpg?v=1626149859"},"aspect_ratio":1.0,"height":1000,"media_type":"image","src":"\/\/www.diymore.cc\/cdn\/shop\/products\/3_6d60a279-1691-4ef0-932f-696c410af1a2.jpg?v=1626149859","width":1000},{"alt":null,"id":22676194754760,"position":6,"preview_image":{"aspect_ratio":1.0,"height":1000,"width":1000,"src":"\/\/www.diymore.cc\/cdn\/shop\/products\/6_6d039a5b-6b3d-4b96-a0a1-44c7a64dda13.jpg?v=1626149859"},"aspect_ratio":1.0,"height":1000,"media_type":"image","src":"\/\/www.diymore.cc\/cdn\/shop\/products\/6_6d039a5b-6b3d-4b96-a0a1-44c7a64dda13.jpg?v=1626149859","width":1000},{"alt":null,"id":22676194787528,"position":7,"preview_image":{"aspect_ratio":1.0,"height":1000,"width":1000,"src":"\/\/www.diymore.cc\/cdn\/shop\/products\/7_44d21c5a-efb7-4e74-bc73-b70c6705ab08.jpg?v=1626149859"},"aspect_ratio":1.0,"height":1000,"media_type":"image","src":"\/\/www.diymore.cc\/cdn\/shop\/products\/7_44d21c5a-efb7-4e74-bc73-b70c6705ab08.jpg?v=1626149859","width":1000},{"alt":null,"id":22676194820296,"position":8,"preview_image":{"aspect_ratio":1.0,"height":1000,"width":1000,"src":"\/\/www.diymore.cc\/cdn\/shop\/products\/8_209fe027-fdd6-48b4-82b2-96c1689078ac.jpg?v=1626149859"},"aspect_ratio":1.0,"height":1000,"media_type":"image","src":"\/\/www.diymore.cc\/cdn\/shop\/products\/8_209fe027-fdd6-48b4-82b2-96c1689078ac.jpg?v=1626149859","width":1000}],"requires_selling_plan":false,"selling_plan_groups":[],"content":"\u003cdiv class=\"row\" data-mce-fragment=\"1\"\u003e\n\u003cdiv class=\"col-17 col-offset-3\" data-mce-fragment=\"1\"\u003e\n\u003cdiv id=\"widget-text-12\" class=\"widget widget-text\" data-mce-fragment=\"1\"\u003e\n\u003cdiv data-mce-fragment=\"1\"\u003e\n\u003cdiv data-mce-fragment=\"1\"\u003e\n\u003cp align=\"left\" data-mce-fragment=\"1\"\u003e\u003cspan data-mce-fragment=\"1\"\u003e \u003c\/span\u003e\u003c\/p\u003e\n\u003cp align=\"left\" data-mce-fragment=\"1\"\u003e\u003cspan data-mce-fragment=\"1\"\u003eESP32-DevKitC V4 Getting Started Guide\u003c\/span\u003e\u003c\/p\u003e\n\u003cp align=\"left\" data-mce-fragment=\"1\"\u003e\u003cspan data-mce-fragment=\"1\"\u003e​\u003cstrong data-mce-fragment=\"1\"\u003eplease contact us for the instructions if you need . \u003c\/strong\u003e\u003c\/span\u003e\u003c\/p\u003e\n\u003cp align=\"left\" data-mce-fragment=\"1\"\u003e\u003cspan data-mce-fragment=\"1\"\u003eThis guide shows how to start using the ESP32-DevKitC V4 development board. For description of other versions of ESP32-DevKitC check ESP32 Hardware Reference.\u003c\/span\u003e\u003c\/p\u003e\n\u003cp align=\"left\" data-mce-fragment=\"1\"\u003e\u003cspan data-mce-fragment=\"1\"\u003e \u003c\/span\u003e\u003c\/p\u003e\n\u003cp align=\"left\" data-mce-fragment=\"1\"\u003e\u003cspan data-mce-fragment=\"1\"\u003eWhat You Need\u003c\/span\u003e\u003c\/p\u003e\n\u003cp align=\"left\" data-mce-fragment=\"1\"\u003e\u003cspan data-mce-fragment=\"1\"\u003eESP32-DevKitC V4 board\u003c\/span\u003e\u003c\/p\u003e\n\u003cp align=\"left\" data-mce-fragment=\"1\"\u003e\u003cspan data-mce-fragment=\"1\"\u003eUSB A \/ micro USB B cable\u003c\/span\u003e\u003c\/p\u003e\n\u003cp align=\"left\" data-mce-fragment=\"1\"\u003e\u003cspan data-mce-fragment=\"1\"\u003eComputer running Windows, Linux, or macOS\u003c\/span\u003e\u003c\/p\u003e\n\u003cp align=\"left\" data-mce-fragment=\"1\"\u003e\u003cspan data-mce-fragment=\"1\"\u003eYou can skip the introduction sections and go directly to Section Start Application Development.\u003c\/span\u003e\u003c\/p\u003e\n\u003cp align=\"left\" data-mce-fragment=\"1\"\u003e\u003cspan data-mce-fragment=\"1\"\u003e \u003c\/span\u003e\u003c\/p\u003e\n\u003cp align=\"left\" data-mce-fragment=\"1\"\u003e\u003cspan data-mce-fragment=\"1\"\u003eOverview\u003c\/span\u003e\u003c\/p\u003e\n\u003cp align=\"left\" data-mce-fragment=\"1\"\u003e\u003cspan data-mce-fragment=\"1\"\u003eESP32-DevKitC V4 is a small-sized ESP32-based development board produced by Espres-sif. Most of the I\/O pins are broken out to the pin headers on both sides for easy interfacing. Developers can either connect peripherals with jumper wires or mount ESP32-DevKitC V4 on a breadboard.\u003c\/span\u003e\u003c\/p\u003e\n\u003cp align=\"left\" data-mce-fragment=\"1\"\u003e\u003cspan data-mce-fragment=\"1\"\u003e \u003c\/span\u003e\u003c\/p\u003e\n\u003cp align=\"left\" data-mce-fragment=\"1\"\u003e\u003cspan data-mce-fragment=\"1\"\u003eTo cover a wide range of user requirements, the following versions of ESP32-DevKitC V4 are available:\u003c\/span\u003e\u003c\/p\u003e\n\u003cp align=\"left\" data-mce-fragment=\"1\"\u003e\u003cspan data-mce-fragment=\"1\"\u003e \u003c\/span\u003e\u003c\/p\u003e\n\u003cp align=\"left\" data-mce-fragment=\"1\"\u003e\u003cspan data-mce-fragment=\"1\"\u003edifferent ESP32 modules\u003c\/span\u003e\u003c\/p\u003e\n\u003cp align=\"left\" data-mce-fragment=\"1\"\u003e\u003cspan data-mce-fragment=\"1\"\u003eESP32-WROOM-32\u003c\/span\u003e\u003c\/p\u003e\n\u003cp align=\"left\" data-mce-fragment=\"1\"\u003e\u003cspan data-mce-fragment=\"1\"\u003eESP32-WROOM-32D\u003c\/span\u003e\u003c\/p\u003e\n\u003cp align=\"left\" data-mce-fragment=\"1\"\u003e\u003cspan data-mce-fragment=\"1\"\u003eESP32-WROOM-32U\u003c\/span\u003e\u003c\/p\u003e\n\u003cp align=\"left\" data-mce-fragment=\"1\"\u003e\u003cspan data-mce-fragment=\"1\"\u003eESP32-SOLO-1\u003c\/span\u003e\u003c\/p\u003e\n\u003cp align=\"left\" data-mce-fragment=\"1\"\u003e\u003cspan data-mce-fragment=\"1\"\u003eESP32-WROVER\u003c\/span\u003e\u003c\/p\u003e\n\u003cp align=\"left\" data-mce-fragment=\"1\"\u003e\u003cspan data-mce-fragment=\"1\"\u003eESP32-WROVER-B\u003c\/span\u003e\u003c\/p\u003e\n\u003cp align=\"left\" data-mce-fragment=\"1\"\u003e\u003cspan data-mce-fragment=\"1\"\u003eESP32-WROVER-I\u003c\/span\u003e\u003c\/p\u003e\n\u003cp align=\"left\" data-mce-fragment=\"1\"\u003e\u003cspan data-mce-fragment=\"1\"\u003eESP32-WROVER-B (IPEX)\u003c\/span\u003e\u003c\/p\u003e\n\u003cp align=\"left\" data-mce-fragment=\"1\"\u003e\u003cspan data-mce-fragment=\"1\"\u003emale or female pin headers.\u003c\/span\u003e\u003c\/p\u003e\n\u003cp align=\"left\" data-mce-fragment=\"1\"\u003e\u003cspan data-mce-fragment=\"1\"\u003e \u003c\/span\u003e\u003c\/p\u003e\n\u003cp align=\"left\" data-mce-fragment=\"1\"\u003e\u003cspan data-mce-fragment=\"1\"\u003eFor details please refer to Espre-ssif Product Ordering Information.\u003c\/span\u003e\u003c\/p\u003e\n\u003cp align=\"left\" data-mce-fragment=\"1\"\u003e\u003cspan data-mce-fragment=\"1\"\u003eFunctional Description\u003c\/span\u003e\u003c\/p\u003e\n\u003cp align=\"left\" data-mce-fragment=\"1\"\u003e\u003cspan data-mce-fragment=\"1\"\u003eThe following figure and the table below describe the key components, interfaces and controls of the ESP32-DevKitC V4 board.\u003c\/span\u003e\u003c\/p\u003e\n\u003cp align=\"left\" data-mce-fragment=\"1\"\u003e\u003cspan data-mce-fragment=\"1\"\u003e \u003c\/span\u003e\u003c\/p\u003e\n\u003cp align=\"left\" data-mce-fragment=\"1\"\u003e\u003cspan data-mce-fragment=\"1\"\u003e\u003cimg src=\"https:\/\/pg-cdn-a2.datacaciques.com\/00\/MTU5MzA\/20\/07\/08\/85io615a3lmmi76r\/7984a82cc75f27f4.jpg\" data-mce-fragment=\"1\" data-mce-src=\"https:\/\/pg-cdn-a2.datacaciques.com\/00\/MTU5MzA\/20\/07\/08\/85io615a3lmmi76r\/7984a82cc75f27f4.jpg\"\u003e\u003c\/span\u003e\u003c\/p\u003e\n\u003c\/div\u003e\n\u003c\/div\u003e\n\u003c\/div\u003e\n\u003c\/div\u003e\n\u003c\/div\u003e"}

Translation missing: en.products.product.regular_price

$3.56

{"id":6949788516552,"title":"ESP32-WROOM-32U ESP32-DevKitC Module Core Board ESP32 Development Board","handle":"esp32-wroom-32u-esp32-devkitc-module-core-board-esp32-development-board","description":"\u003cdiv class=\"row\" data-mce-fragment=\"1\"\u003e\n\u003cdiv class=\"col-17 col-offset-3\" data-mce-fragment=\"1\"\u003e\n\u003cdiv id=\"widget-text-12\" class=\"widget widget-text\" data-mce-fragment=\"1\"\u003e\n\u003cdiv data-mce-fragment=\"1\"\u003e\n\u003cdiv data-mce-fragment=\"1\"\u003e\n\u003cp align=\"left\" data-mce-fragment=\"1\"\u003e\u003cspan data-mce-fragment=\"1\"\u003e \u003c\/span\u003e\u003c\/p\u003e\n\u003cp align=\"left\" data-mce-fragment=\"1\"\u003e\u003cspan data-mce-fragment=\"1\"\u003eESP32-DevKitC V4 Getting Started Guide\u003c\/span\u003e\u003c\/p\u003e\n\u003cp align=\"left\" data-mce-fragment=\"1\"\u003e\u003cspan data-mce-fragment=\"1\"\u003e​\u003cstrong data-mce-fragment=\"1\"\u003eplease contact us for the instructions if you need . \u003c\/strong\u003e\u003c\/span\u003e\u003c\/p\u003e\n\u003cp align=\"left\" data-mce-fragment=\"1\"\u003e\u003cspan data-mce-fragment=\"1\"\u003eThis guide shows how to start using the ESP32-DevKitC V4 development board. For description of other versions of ESP32-DevKitC check ESP32 Hardware Reference.\u003c\/span\u003e\u003c\/p\u003e\n\u003cp align=\"left\" data-mce-fragment=\"1\"\u003e\u003cspan data-mce-fragment=\"1\"\u003e \u003c\/span\u003e\u003c\/p\u003e\n\u003cp align=\"left\" data-mce-fragment=\"1\"\u003e\u003cspan data-mce-fragment=\"1\"\u003eWhat You Need\u003c\/span\u003e\u003c\/p\u003e\n\u003cp align=\"left\" data-mce-fragment=\"1\"\u003e\u003cspan data-mce-fragment=\"1\"\u003eESP32-DevKitC V4 board\u003c\/span\u003e\u003c\/p\u003e\n\u003cp align=\"left\" data-mce-fragment=\"1\"\u003e\u003cspan data-mce-fragment=\"1\"\u003eUSB A \/ micro USB B cable\u003c\/span\u003e\u003c\/p\u003e\n\u003cp align=\"left\" data-mce-fragment=\"1\"\u003e\u003cspan data-mce-fragment=\"1\"\u003eComputer running Windows, Linux, or macOS\u003c\/span\u003e\u003c\/p\u003e\n\u003cp align=\"left\" data-mce-fragment=\"1\"\u003e\u003cspan data-mce-fragment=\"1\"\u003eYou can skip the introduction sections and go directly to Section Start Application Development.\u003c\/span\u003e\u003c\/p\u003e\n\u003cp align=\"left\" data-mce-fragment=\"1\"\u003e\u003cspan data-mce-fragment=\"1\"\u003e \u003c\/span\u003e\u003c\/p\u003e\n\u003cp align=\"left\" data-mce-fragment=\"1\"\u003e\u003cspan data-mce-fragment=\"1\"\u003eOverview\u003c\/span\u003e\u003c\/p\u003e\n\u003cp align=\"left\" data-mce-fragment=\"1\"\u003e\u003cspan data-mce-fragment=\"1\"\u003eESP32-DevKitC V4 is a small-sized ESP32-based development board produced by Espres-sif. Most of the I\/O pins are broken out to the pin headers on both sides for easy interfacing. Developers can either connect peripherals with jumper wires or mount ESP32-DevKitC V4 on a breadboard.\u003c\/span\u003e\u003c\/p\u003e\n\u003cp align=\"left\" data-mce-fragment=\"1\"\u003e\u003cspan data-mce-fragment=\"1\"\u003e \u003c\/span\u003e\u003c\/p\u003e\n\u003cp align=\"left\" data-mce-fragment=\"1\"\u003e\u003cspan data-mce-fragment=\"1\"\u003eTo cover a wide range of user requirements, the following versions of ESP32-DevKitC V4 are available:\u003c\/span\u003e\u003c\/p\u003e\n\u003cp align=\"left\" data-mce-fragment=\"1\"\u003e\u003cspan data-mce-fragment=\"1\"\u003e \u003c\/span\u003e\u003c\/p\u003e\n\u003cp align=\"left\" data-mce-fragment=\"1\"\u003e\u003cspan data-mce-fragment=\"1\"\u003edifferent ESP32 modules\u003c\/span\u003e\u003c\/p\u003e\n\u003cp align=\"left\" data-mce-fragment=\"1\"\u003e\u003cspan data-mce-fragment=\"1\"\u003eESP32-WROOM-32\u003c\/span\u003e\u003c\/p\u003e\n\u003cp align=\"left\" data-mce-fragment=\"1\"\u003e\u003cspan data-mce-fragment=\"1\"\u003eESP32-WROOM-32D\u003c\/span\u003e\u003c\/p\u003e\n\u003cp align=\"left\" data-mce-fragment=\"1\"\u003e\u003cspan data-mce-fragment=\"1\"\u003eESP32-WROOM-32U\u003c\/span\u003e\u003c\/p\u003e\n\u003cp align=\"left\" data-mce-fragment=\"1\"\u003e\u003cspan data-mce-fragment=\"1\"\u003eESP32-SOLO-1\u003c\/span\u003e\u003c\/p\u003e\n\u003cp align=\"left\" data-mce-fragment=\"1\"\u003e\u003cspan data-mce-fragment=\"1\"\u003eESP32-WROVER\u003c\/span\u003e\u003c\/p\u003e\n\u003cp align=\"left\" data-mce-fragment=\"1\"\u003e\u003cspan data-mce-fragment=\"1\"\u003eESP32-WROVER-B\u003c\/span\u003e\u003c\/p\u003e\n\u003cp align=\"left\" data-mce-fragment=\"1\"\u003e\u003cspan data-mce-fragment=\"1\"\u003eESP32-WROVER-I\u003c\/span\u003e\u003c\/p\u003e\n\u003cp align=\"left\" data-mce-fragment=\"1\"\u003e\u003cspan data-mce-fragment=\"1\"\u003eESP32-WROVER-B (IPEX)\u003c\/span\u003e\u003c\/p\u003e\n\u003cp align=\"left\" data-mce-fragment=\"1\"\u003e\u003cspan data-mce-fragment=\"1\"\u003emale or female pin headers.\u003c\/span\u003e\u003c\/p\u003e\n\u003cp align=\"left\" data-mce-fragment=\"1\"\u003e\u003cspan data-mce-fragment=\"1\"\u003e \u003c\/span\u003e\u003c\/p\u003e\n\u003cp align=\"left\" data-mce-fragment=\"1\"\u003e\u003cspan data-mce-fragment=\"1\"\u003eFor details please refer to Espre-ssif Product Ordering Information.\u003c\/span\u003e\u003c\/p\u003e\n\u003cp align=\"left\" data-mce-fragment=\"1\"\u003e\u003cspan data-mce-fragment=\"1\"\u003eFunctional Description\u003c\/span\u003e\u003c\/p\u003e\n\u003cp align=\"left\" data-mce-fragment=\"1\"\u003e\u003cspan data-mce-fragment=\"1\"\u003eThe following figure and the table below describe the key components, interfaces and controls of the ESP32-DevKitC V4 board.\u003c\/span\u003e\u003c\/p\u003e\n\u003cp align=\"left\" data-mce-fragment=\"1\"\u003e\u003cspan data-mce-fragment=\"1\"\u003e \u003c\/span\u003e\u003c\/p\u003e\n\u003cp align=\"left\" data-mce-fragment=\"1\"\u003e\u003cspan data-mce-fragment=\"1\"\u003e\u003cimg src=\"https:\/\/pg-cdn-a2.datacaciques.com\/00\/MTU5MzA\/20\/07\/08\/85io615a3lmmi76r\/7984a82cc75f27f4.jpg\" data-mce-fragment=\"1\" data-mce-src=\"https:\/\/pg-cdn-a2.datacaciques.com\/00\/MTU5MzA\/20\/07\/08\/85io615a3lmmi76r\/7984a82cc75f27f4.jpg\"\u003e\u003c\/span\u003e\u003c\/p\u003e\n\u003c\/div\u003e\n\u003c\/div\u003e\n\u003c\/div\u003e\n\u003c\/div\u003e\n\u003c\/div\u003e","published_at":"2021-07-13T12:17:38+08:00","created_at":"2021-07-13T12:17:34+08:00","vendor":"DIYMORE","type":"","tags":[],"price":799,"price_min":799,"price_max":799,"available":true,"price_varies":false,"compare_at_price":null,"compare_at_price_min":0,"compare_at_price_max":0,"compare_at_price_varies":false,"variants":[{"id":40524386926792,"title":"WROOM-32U","option1":"WROOM-32U","option2":null,"option3":null,"sku":"XF0016","requires_shipping":true,"taxable":false,"featured_image":null,"available":true,"name":"ESP32-WROOM-32U ESP32-DevKitC Module Core Board ESP32 Development Board - WROOM-32U","public_title":"WROOM-32U","options":["WROOM-32U"],"price":799,"weight":0,"compare_at_price":null,"inventory_management":"shopify","barcode":"","requires_selling_plan":false,"selling_plan_allocations":[]}],"images":["\/\/www.diymore.cc\/cdn\/shop\/products\/4_1d629cd0-43f9-4239-91f2-70e66c416cf3.jpg?v=1626149857","\/\/www.diymore.cc\/cdn\/shop\/products\/5_b63b0bcc-0361-498f-9c3b-50283fa0e338.jpg?v=1626149857","\/\/www.diymore.cc\/cdn\/shop\/products\/1_41f0f3a5-70a3-4578-b8fc-9918462f518b.jpg?v=1626149859","\/\/www.diymore.cc\/cdn\/shop\/products\/2_7ff21344-8749-4eac-82d6-06507d2e290b.jpg?v=1626149859","\/\/www.diymore.cc\/cdn\/shop\/products\/3_6d60a279-1691-4ef0-932f-696c410af1a2.jpg?v=1626149859","\/\/www.diymore.cc\/cdn\/shop\/products\/6_6d039a5b-6b3d-4b96-a0a1-44c7a64dda13.jpg?v=1626149859","\/\/www.diymore.cc\/cdn\/shop\/products\/7_44d21c5a-efb7-4e74-bc73-b70c6705ab08.jpg?v=1626149859","\/\/www.diymore.cc\/cdn\/shop\/products\/8_209fe027-fdd6-48b4-82b2-96c1689078ac.jpg?v=1626149859"],"featured_image":"\/\/www.diymore.cc\/cdn\/shop\/products\/4_1d629cd0-43f9-4239-91f2-70e66c416cf3.jpg?v=1626149857","options":["Title"],"media":[{"alt":null,"id":22676194590920,"position":1,"preview_image":{"aspect_ratio":1.0,"height":1000,"width":1000,"src":"\/\/www.diymore.cc\/cdn\/shop\/products\/4_1d629cd0-43f9-4239-91f2-70e66c416cf3.jpg?v=1626149857"},"aspect_ratio":1.0,"height":1000,"media_type":"image","src":"\/\/www.diymore.cc\/cdn\/shop\/products\/4_1d629cd0-43f9-4239-91f2-70e66c416cf3.jpg?v=1626149857","width":1000},{"alt":null,"id":22676194623688,"position":2,"preview_image":{"aspect_ratio":1.0,"height":1000,"width":1000,"src":"\/\/www.diymore.cc\/cdn\/shop\/products\/5_b63b0bcc-0361-498f-9c3b-50283fa0e338.jpg?v=1626149857"},"aspect_ratio":1.0,"height":1000,"media_type":"image","src":"\/\/www.diymore.cc\/cdn\/shop\/products\/5_b63b0bcc-0361-498f-9c3b-50283fa0e338.jpg?v=1626149857","width":1000},{"alt":null,"id":22676194656456,"position":3,"preview_image":{"aspect_ratio":1.0,"height":1000,"width":1000,"src":"\/\/www.diymore.cc\/cdn\/shop\/products\/1_41f0f3a5-70a3-4578-b8fc-9918462f518b.jpg?v=1626149859"},"aspect_ratio":1.0,"height":1000,"media_type":"image","src":"\/\/www.diymore.cc\/cdn\/shop\/products\/1_41f0f3a5-70a3-4578-b8fc-9918462f518b.jpg?v=1626149859","width":1000},{"alt":null,"id":22676194689224,"position":4,"preview_image":{"aspect_ratio":1.0,"height":1000,"width":1000,"src":"\/\/www.diymore.cc\/cdn\/shop\/products\/2_7ff21344-8749-4eac-82d6-06507d2e290b.jpg?v=1626149859"},"aspect_ratio":1.0,"height":1000,"media_type":"image","src":"\/\/www.diymore.cc\/cdn\/shop\/products\/2_7ff21344-8749-4eac-82d6-06507d2e290b.jpg?v=1626149859","width":1000},{"alt":null,"id":22676194721992,"position":5,"preview_image":{"aspect_ratio":1.0,"height":1000,"width":1000,"src":"\/\/www.diymore.cc\/cdn\/shop\/products\/3_6d60a279-1691-4ef0-932f-696c410af1a2.jpg?v=1626149859"},"aspect_ratio":1.0,"height":1000,"media_type":"image","src":"\/\/www.diymore.cc\/cdn\/shop\/products\/3_6d60a279-1691-4ef0-932f-696c410af1a2.jpg?v=1626149859","width":1000},{"alt":null,"id":22676194754760,"position":6,"preview_image":{"aspect_ratio":1.0,"height":1000,"width":1000,"src":"\/\/www.diymore.cc\/cdn\/shop\/products\/6_6d039a5b-6b3d-4b96-a0a1-44c7a64dda13.jpg?v=1626149859"},"aspect_ratio":1.0,"height":1000,"media_type":"image","src":"\/\/www.diymore.cc\/cdn\/shop\/products\/6_6d039a5b-6b3d-4b96-a0a1-44c7a64dda13.jpg?v=1626149859","width":1000},{"alt":null,"id":22676194787528,"position":7,"preview_image":{"aspect_ratio":1.0,"height":1000,"width":1000,"src":"\/\/www.diymore.cc\/cdn\/shop\/products\/7_44d21c5a-efb7-4e74-bc73-b70c6705ab08.jpg?v=1626149859"},"aspect_ratio":1.0,"height":1000,"media_type":"image","src":"\/\/www.diymore.cc\/cdn\/shop\/products\/7_44d21c5a-efb7-4e74-bc73-b70c6705ab08.jpg?v=1626149859","width":1000},{"alt":null,"id":22676194820296,"position":8,"preview_image":{"aspect_ratio":1.0,"height":1000,"width":1000,"src":"\/\/www.diymore.cc\/cdn\/shop\/products\/8_209fe027-fdd6-48b4-82b2-96c1689078ac.jpg?v=1626149859"},"aspect_ratio":1.0,"height":1000,"media_type":"image","src":"\/\/www.diymore.cc\/cdn\/shop\/products\/8_209fe027-fdd6-48b4-82b2-96c1689078ac.jpg?v=1626149859","width":1000}],"requires_selling_plan":false,"selling_plan_groups":[],"content":"\u003cdiv class=\"row\" data-mce-fragment=\"1\"\u003e\n\u003cdiv class=\"col-17 col-offset-3\" data-mce-fragment=\"1\"\u003e\n\u003cdiv id=\"widget-text-12\" class=\"widget widget-text\" data-mce-fragment=\"1\"\u003e\n\u003cdiv data-mce-fragment=\"1\"\u003e\n\u003cdiv data-mce-fragment=\"1\"\u003e\n\u003cp align=\"left\" data-mce-fragment=\"1\"\u003e\u003cspan data-mce-fragment=\"1\"\u003e \u003c\/span\u003e\u003c\/p\u003e\n\u003cp align=\"left\" data-mce-fragment=\"1\"\u003e\u003cspan data-mce-fragment=\"1\"\u003eESP32-DevKitC V4 Getting Started Guide\u003c\/span\u003e\u003c\/p\u003e\n\u003cp align=\"left\" data-mce-fragment=\"1\"\u003e\u003cspan data-mce-fragment=\"1\"\u003e​\u003cstrong data-mce-fragment=\"1\"\u003eplease contact us for the instructions if you need . \u003c\/strong\u003e\u003c\/span\u003e\u003c\/p\u003e\n\u003cp align=\"left\" data-mce-fragment=\"1\"\u003e\u003cspan data-mce-fragment=\"1\"\u003eThis guide shows how to start using the ESP32-DevKitC V4 development board. For description of other versions of ESP32-DevKitC check ESP32 Hardware Reference.\u003c\/span\u003e\u003c\/p\u003e\n\u003cp align=\"left\" data-mce-fragment=\"1\"\u003e\u003cspan data-mce-fragment=\"1\"\u003e \u003c\/span\u003e\u003c\/p\u003e\n\u003cp align=\"left\" data-mce-fragment=\"1\"\u003e\u003cspan data-mce-fragment=\"1\"\u003eWhat You Need\u003c\/span\u003e\u003c\/p\u003e\n\u003cp align=\"left\" data-mce-fragment=\"1\"\u003e\u003cspan data-mce-fragment=\"1\"\u003eESP32-DevKitC V4 board\u003c\/span\u003e\u003c\/p\u003e\n\u003cp align=\"left\" data-mce-fragment=\"1\"\u003e\u003cspan data-mce-fragment=\"1\"\u003eUSB A \/ micro USB B cable\u003c\/span\u003e\u003c\/p\u003e\n\u003cp align=\"left\" data-mce-fragment=\"1\"\u003e\u003cspan data-mce-fragment=\"1\"\u003eComputer running Windows, Linux, or macOS\u003c\/span\u003e\u003c\/p\u003e\n\u003cp align=\"left\" data-mce-fragment=\"1\"\u003e\u003cspan data-mce-fragment=\"1\"\u003eYou can skip the introduction sections and go directly to Section Start Application Development.\u003c\/span\u003e\u003c\/p\u003e\n\u003cp align=\"left\" data-mce-fragment=\"1\"\u003e\u003cspan data-mce-fragment=\"1\"\u003e \u003c\/span\u003e\u003c\/p\u003e\n\u003cp align=\"left\" data-mce-fragment=\"1\"\u003e\u003cspan data-mce-fragment=\"1\"\u003eOverview\u003c\/span\u003e\u003c\/p\u003e\n\u003cp align=\"left\" data-mce-fragment=\"1\"\u003e\u003cspan data-mce-fragment=\"1\"\u003eESP32-DevKitC V4 is a small-sized ESP32-based development board produced by Espres-sif. Most of the I\/O pins are broken out to the pin headers on both sides for easy interfacing. Developers can either connect peripherals with jumper wires or mount ESP32-DevKitC V4 on a breadboard.\u003c\/span\u003e\u003c\/p\u003e\n\u003cp align=\"left\" data-mce-fragment=\"1\"\u003e\u003cspan data-mce-fragment=\"1\"\u003e \u003c\/span\u003e\u003c\/p\u003e\n\u003cp align=\"left\" data-mce-fragment=\"1\"\u003e\u003cspan data-mce-fragment=\"1\"\u003eTo cover a wide range of user requirements, the following versions of ESP32-DevKitC V4 are available:\u003c\/span\u003e\u003c\/p\u003e\n\u003cp align=\"left\" data-mce-fragment=\"1\"\u003e\u003cspan data-mce-fragment=\"1\"\u003e \u003c\/span\u003e\u003c\/p\u003e\n\u003cp align=\"left\" data-mce-fragment=\"1\"\u003e\u003cspan data-mce-fragment=\"1\"\u003edifferent ESP32 modules\u003c\/span\u003e\u003c\/p\u003e\n\u003cp align=\"left\" data-mce-fragment=\"1\"\u003e\u003cspan data-mce-fragment=\"1\"\u003eESP32-WROOM-32\u003c\/span\u003e\u003c\/p\u003e\n\u003cp align=\"left\" data-mce-fragment=\"1\"\u003e\u003cspan data-mce-fragment=\"1\"\u003eESP32-WROOM-32D\u003c\/span\u003e\u003c\/p\u003e\n\u003cp align=\"left\" data-mce-fragment=\"1\"\u003e\u003cspan data-mce-fragment=\"1\"\u003eESP32-WROOM-32U\u003c\/span\u003e\u003c\/p\u003e\n\u003cp align=\"left\" data-mce-fragment=\"1\"\u003e\u003cspan data-mce-fragment=\"1\"\u003eESP32-SOLO-1\u003c\/span\u003e\u003c\/p\u003e\n\u003cp align=\"left\" data-mce-fragment=\"1\"\u003e\u003cspan data-mce-fragment=\"1\"\u003eESP32-WROVER\u003c\/span\u003e\u003c\/p\u003e\n\u003cp align=\"left\" data-mce-fragment=\"1\"\u003e\u003cspan data-mce-fragment=\"1\"\u003eESP32-WROVER-B\u003c\/span\u003e\u003c\/p\u003e\n\u003cp align=\"left\" data-mce-fragment=\"1\"\u003e\u003cspan data-mce-fragment=\"1\"\u003eESP32-WROVER-I\u003c\/span\u003e\u003c\/p\u003e\n\u003cp align=\"left\" data-mce-fragment=\"1\"\u003e\u003cspan data-mce-fragment=\"1\"\u003eESP32-WROVER-B (IPEX)\u003c\/span\u003e\u003c\/p\u003e\n\u003cp align=\"left\" data-mce-fragment=\"1\"\u003e\u003cspan data-mce-fragment=\"1\"\u003emale or female pin headers.\u003c\/span\u003e\u003c\/p\u003e\n\u003cp align=\"left\" data-mce-fragment=\"1\"\u003e\u003cspan data-mce-fragment=\"1\"\u003e \u003c\/span\u003e\u003c\/p\u003e\n\u003cp align=\"left\" data-mce-fragment=\"1\"\u003e\u003cspan data-mce-fragment=\"1\"\u003eFor details please refer to Espre-ssif Product Ordering Information.\u003c\/span\u003e\u003c\/p\u003e\n\u003cp align=\"left\" data-mce-fragment=\"1\"\u003e\u003cspan data-mce-fragment=\"1\"\u003eFunctional Description\u003c\/span\u003e\u003c\/p\u003e\n\u003cp align=\"left\" data-mce-fragment=\"1\"\u003e\u003cspan data-mce-fragment=\"1\"\u003eThe following figure and the table below describe the key components, interfaces and controls of the ESP32-DevKitC V4 board.\u003c\/span\u003e\u003c\/p\u003e\n\u003cp align=\"left\" data-mce-fragment=\"1\"\u003e\u003cspan data-mce-fragment=\"1\"\u003e \u003c\/span\u003e\u003c\/p\u003e\n\u003cp align=\"left\" data-mce-fragment=\"1\"\u003e\u003cspan data-mce-fragment=\"1\"\u003e\u003cimg src=\"https:\/\/pg-cdn-a2.datacaciques.com\/00\/MTU5MzA\/20\/07\/08\/85io615a3lmmi76r\/7984a82cc75f27f4.jpg\" data-mce-fragment=\"1\" data-mce-src=\"https:\/\/pg-cdn-a2.datacaciques.com\/00\/MTU5MzA\/20\/07\/08\/85io615a3lmmi76r\/7984a82cc75f27f4.jpg\"\u003e\u003c\/span\u003e\u003c\/p\u003e\n\u003c\/div\u003e\n\u003c\/div\u003e\n\u003c\/div\u003e\n\u003c\/div\u003e\n\u003c\/div\u003e"}