1.2V Ni-MH Battery Controller Solar Jar Light Control Board Solar Ceramic Light
1.2V Ni-MH Battery Controller Solar Jar Light Control Board Solar Ceramic Light
SKU:XH0022
Regular price
$4.99
guarantee

Quality checked

Special gift cards

Special gift cards

Free return

Within 60 days

Consultancy

86-0755-85201155
Mini solar jar light circuit control board. Suitable for solar lawn lights, solar ceramic lights, solar landscape lights, and other solar products for circuit control.

It can be connected with 1.2V Ni-MH battery and 2V solar panel.

This is a can be assembled into a mason lamp jar/lawn lamp/wall

Lamp/post lamp/string lamp/Christmas lamp/sunlight lamp/fluorescent lamp/

Advertising lights/night lights, etc. various shapes of solar landscape

Light control circuit board, various lamps assembled with this circuit board

Has been exported to all parts of the world.

This circuit board has a small area requirement for solar panels,

LED drive efficiency is high, and the lighting time is long.

line

There is a toggle switch on the board, you can choose to emit white light or seven

Color, white light with high brightness, colorful lights with rich colors, Look beautiful

!
Solar panel: 2V /≤150mA

Battery specification: 1.2V rechargeable battery

Battery capacity: ≥600mAH

LED current: about 10mA

Circuit board size: 25mm long and 15mm wide

Wiring instructions:

S+ connected to solar anode

S- connect solar negative

B+ connects battery positive

B- connect battery negative

Solar ceramic light jar light lawn light circuit control board

Comes with two LED lamp beads

(1 high-brightness white light + 1 colorful changing color light)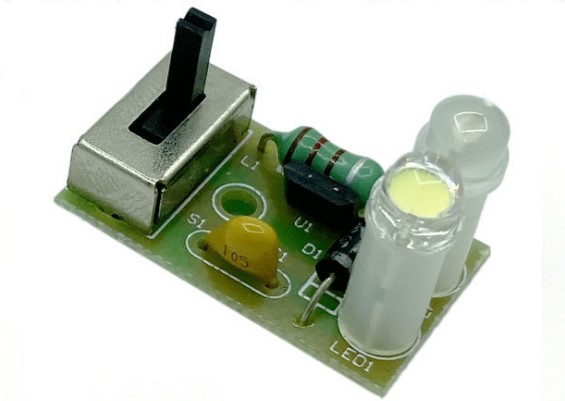 Built-in three-level switch (white light file + color light file + off file)

Suitable for connecting 1.2V Ni-MH battery and 2V solar panel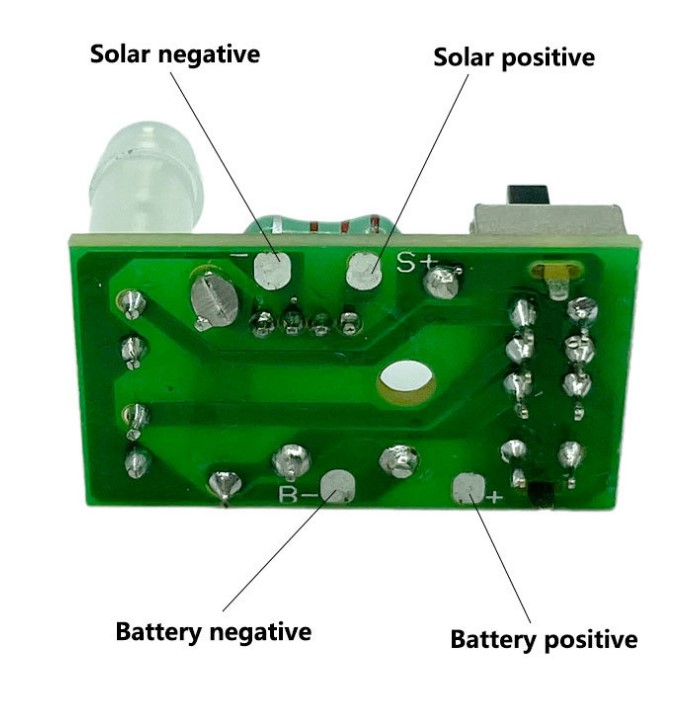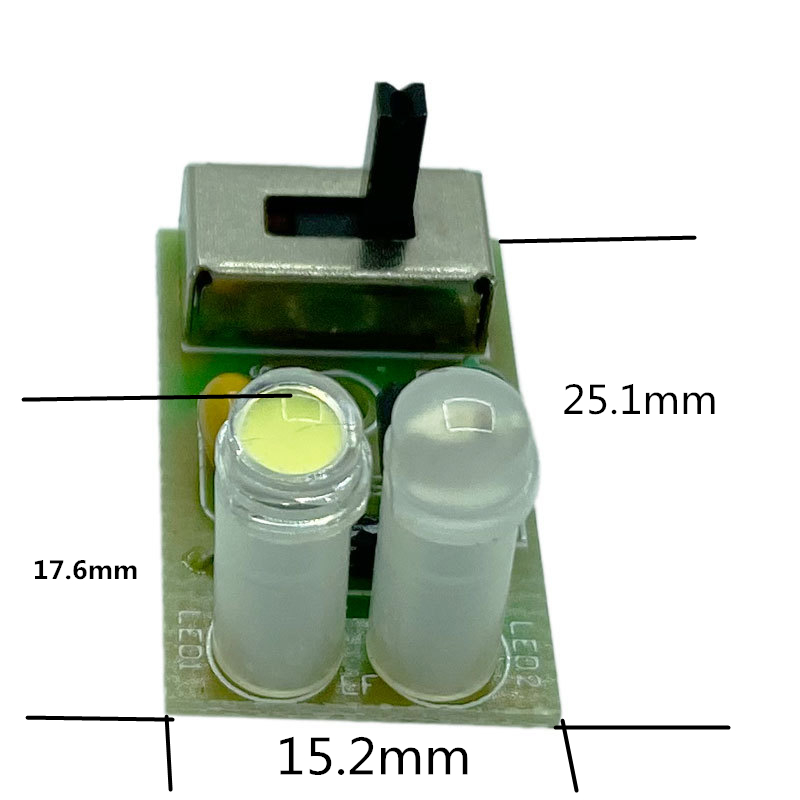 1x 1.2V Ni-MH Battery Controller Solar Jar Light Control Board Solar Ceramic Light
Purchasing & Delivery
Before you make your purchase, it's helpful to know the measurements of the area you plan to place the furniture. You should also measure any doorways and hallways through which the furniture will pass to get to its final destination.

Picking up at the store
Shopify Shop requires that all products are properly inspected BEFORE you take it home to insure there are no surprises. Our team is happy to open all packages and will assist in the inspection process. We will then reseal packages for safe transport. We encourage all customers to bring furniture pads or blankets to protect the items during transport as well as rope or tie downs. Shopify Shop will not be responsible for damage that occurs after leaving the store or during transit. It is the purchaser's responsibility to make sure the correct items are picked up and in good condition.

Delivery
Customers are able to pick the next available delivery day that best fits their schedule. However, to route stops as efficiently as possible, Shopify Shop will provide the time frame. Customers will not be able to choose a time. You will be notified in advance of your scheduled time frame. Please make sure that a responsible adult (18 years or older) will be home at that time.
In preparation for your delivery, please remove existing furniture, pictures, mirrors, accessories, etc. to prevent damages. Also insure that the area where you would like your furniture placed is clear of any old furniture and any other items that may obstruct the passageway of the delivery team. Shopify Shop will deliver, assemble, and set-up your new furniture purchase and remove all packing materials from your home. Our delivery crews are not permitted to move your existing furniture or other household items. Delivery personnel will attempt to deliver the purchased items in a safe and controlled manner but will not attempt to place furniture if they feel it will result in damage to the product or your home. Delivery personnel are unable to remove doors, hoist furniture or carry furniture up more than 3 flights of stairs. An elevator must be available for deliveries to the 4th floor and above.
Other Customers also buy:
{"id":6030532051144,"title":"1.2V Ni-MH Battery Controller Solar Jar Light Control Board Solar Ceramic Light","handle":"1-2v-ni-mh-battery-controller-solar-jar-light-control-board-solar-ceramic-light","description":"\u003cdiv\u003e\u003cspan\u003e\u003cstrong\u003e\u003cspan lang=\"en\"\u003e\u003cspan title=\"\"\u003eDescription:\u003c\/span\u003e\u003c\/span\u003e\u003c\/strong\u003e\u003c\/span\u003e\u003c\/div\u003e\n\u003cdiv\u003e\n\u003cul\u003e\n\u003cli\u003e\u003cspan lang=\"en\"\u003e\u003cspan title=\"\"\u003eMini solar jar light circuit control board. Suitable for solar lawn lights, solar ceramic lights, solar landscape lights, and other solar products for circuit control.\u003c\/span\u003e\u003c\/span\u003e\u003c\/li\u003e\n\u003cli\u003e\u003cspan lang=\"en\"\u003e\u003cspan title=\"\"\u003eIt can be connected with 1.2V Ni-MH battery and 2V solar panel.\u003c\/span\u003e\u003c\/span\u003e\u003c\/li\u003e\n\u003cli\u003e\u003cspan lang=\"en\"\u003e\u003cspan title=\"\"\u003eThis is a can be assembled into a mason lamp jar\/lawn lamp\/wall\u003c\/span\u003e\u003c\/span\u003e\u003c\/li\u003e\n\u003cli\u003e\u003cspan lang=\"en\"\u003e\u003cspan title=\"\"\u003eLamp\/post lamp\/string lamp\/Christmas lamp\/sunlight lamp\/fluorescent lamp\/\u003c\/span\u003e\u003c\/span\u003e\u003c\/li\u003e\n\u003cli\u003e\u003cspan lang=\"en\"\u003e\u003cspan title=\"\"\u003eAdvertising lights\/night lights, etc. various shapes of solar landscape\u003c\/span\u003e\u003c\/span\u003e\u003c\/li\u003e\n\u003cli\u003e\u003cspan lang=\"en\"\u003e\u003cspan title=\"\"\u003eLight control circuit board, various lamps assembled with this circuit board\u003c\/span\u003e\u003c\/span\u003e\u003c\/li\u003e\n\u003cli\u003e\u003cspan lang=\"en\"\u003e\u003cspan title=\"\"\u003eHas been exported to all parts of the world.\u003c\/span\u003e\u003c\/span\u003e\u003c\/li\u003e\n\u003cli\u003e\u003cspan lang=\"en\"\u003e\u003cspan title=\"\"\u003eThis circuit board has a small area requirement for solar panels,\u003c\/span\u003e\u003c\/span\u003e\u003c\/li\u003e\n\u003cli\u003e\u003cspan lang=\"en\"\u003e\u003cspan title=\"\"\u003eLED drive efficiency is high, and the lighting time is long.\u003c\/span\u003e \u003cspan title=\"\"\u003eline\u003c\/span\u003e\u003c\/span\u003e\u003c\/li\u003e\n\u003cli\u003e\u003cspan lang=\"en\"\u003e\u003cspan title=\"\"\u003eThere is a toggle switch on the board, you can choose to emit white light or seven\u003c\/span\u003e\u003c\/span\u003e\u003c\/li\u003e\n\u003cli\u003e\u003cspan lang=\"en\"\u003e\u003cspan title=\"\"\u003eColor, white light with high brightness, colorful lights with rich colors, Look beautiful\u003c\/span\u003e\u003cspan title=\"\"\u003e!\u003c\/span\u003e\u003c\/span\u003e\u003c\/li\u003e\n\u003c\/ul\u003e\n\u003c\/div\u003e\n\u003cdiv\u003e\u003cspan\u003e\u003cstrong\u003e\u003cspan lang=\"en\"\u003e\u003cspan title=\"\"\u003eTechnical Parameters:\u003c\/span\u003e\u003c\/span\u003e\u003c\/strong\u003e\u003c\/span\u003e\u003c\/div\u003e\n\u003cdiv\u003e\n\u003cdiv\u003e\n\u003cdiv tabindex=\"0\"\u003e\n\u003cul\u003e\n\u003cli\u003e\u003cspan\u003e\u003cspan lang=\"en\"\u003e\u003cspan title=\"\"\u003eSolar panel: 2V \/≤150mA\u003c\/span\u003e\u003c\/span\u003e\u003c\/span\u003e\u003c\/li\u003e\n\u003cli\u003e\u003cspan\u003e\u003cspan lang=\"en\"\u003e\u003cspan title=\"\"\u003eBattery specification: 1.2V rechargeable battery\u003c\/span\u003e\u003c\/span\u003e\u003c\/span\u003e\u003c\/li\u003e\n\u003cli\u003e\u003cspan\u003e\u003cspan lang=\"en\"\u003e\u003cspan title=\"\"\u003eBattery capacity: ≥600mAH\u003c\/span\u003e\u003c\/span\u003e\u003c\/span\u003e\u003c\/li\u003e\n\u003cli\u003e\u003cspan\u003e\u003cspan lang=\"en\"\u003e\u003cspan title=\"\"\u003eLED current: about 10mA\u003c\/span\u003e\u003c\/span\u003e\u003c\/span\u003e\u003c\/li\u003e\n\u003cli\u003e\u003cspan\u003e\u003cspan lang=\"en\"\u003e\u003cspan title=\"\"\u003eCircuit board size: 25mm long and 15mm wide\u003c\/span\u003e\u003c\/span\u003e\u003c\/span\u003e\u003c\/li\u003e\n\u003cli\u003e\u003cspan\u003e\u003cspan lang=\"en\"\u003e\u003cspan title=\"\"\u003eWiring instructions:\u003c\/span\u003e\u003c\/span\u003e\u003c\/span\u003e\u003c\/li\u003e\n\u003cli\u003e\u003cspan\u003e\u003cspan lang=\"en\"\u003e\u003cspan title=\"\"\u003eS+ connected to solar anode\u003c\/span\u003e\u003c\/span\u003e\u003c\/span\u003e\u003c\/li\u003e\n\u003cli\u003e\u003cspan\u003e\u003cspan lang=\"en\"\u003e\u003cspan title=\"\"\u003eS- connect solar negative\u003c\/span\u003e\u003c\/span\u003e\u003c\/span\u003e\u003c\/li\u003e\n\u003cli\u003e\u003cspan\u003e\u003cspan lang=\"en\"\u003e\u003cspan title=\"\"\u003eB+ connects battery positive\u003c\/span\u003e\u003c\/span\u003e\u003c\/span\u003e\u003c\/li\u003e\n\u003cli\u003e\u003cspan\u003e\u003cspan lang=\"en\"\u003e\u003cspan title=\"\"\u003eB- connect battery negative\u003c\/span\u003e\u003c\/span\u003e\u003c\/span\u003e\u003c\/li\u003e\n\u003cli\u003e\u003cspan\u003e\u003cspan lang=\"en\"\u003e\u003cspan title=\"\"\u003eSolar ceramic light jar light lawn light circuit control board\u003c\/span\u003e\u003c\/span\u003e\u003c\/span\u003e\u003c\/li\u003e\n\u003cli\u003e\u003cspan\u003e\u003cspan lang=\"en\"\u003e\u003cspan title=\"\"\u003eComes with two LED lamp beads\u003c\/span\u003e\u003c\/span\u003e\u003c\/span\u003e\u003c\/li\u003e\n\u003cli\u003e\u003cspan\u003e\u003cspan lang=\"en\"\u003e\u003cspan title=\"\"\u003e(1 high-brightness white light + 1 colorful changing color light)\u003c\/span\u003e\u003c\/span\u003e\u003c\/span\u003e\u003c\/li\u003e\n\u003c\/ul\u003e\n\u003cspan\u003e\u003cspan lang=\"en\"\u003e\u003c\/span\u003e\u003c\/span\u003e\n\u003c\/div\u003e\n\u003c\/div\u003e\n\u003cdiv\u003e\n\u003cdiv\u003e\u003cspan\u003e\u003cimg src=\"https:\/\/pg-cdn-a2.datacaciques.com\/00\/NDAy\/20\/10\/28\/x64nrb7dn4u6z62s\/39c5d6c570315a92.jpg\"\u003e\u003c\/span\u003e\u003c\/div\u003e\n\u003cdiv\u003e\n\u003cul\u003e\n\u003cli\u003e\u003cspan lang=\"en\"\u003e\u003cspan title=\"\"\u003eBuilt-in three-level switch (white light file + color light file + off file)\u003c\/span\u003e\u003c\/span\u003e\u003c\/li\u003e\n\u003cli\u003e\u003cspan lang=\"en\"\u003e\u003cspan title=\"\"\u003eSuitable for connecting 1.2V Ni-MH battery and 2V solar panel\u003c\/span\u003e\u003c\/span\u003e\u003c\/li\u003e\n\u003c\/ul\u003e\n\u003c\/div\u003e\n\u003cdiv\u003e\u003cspan lang=\"en\"\u003e\u003cspan title=\"\"\u003e\u003cimg src=\"https:\/\/pg-cdn-a2.datacaciques.com\/00\/NDAy\/20\/10\/28\/x64nrb7dn4u6z62s\/bf3e671abf41c5fe.jpg\"\u003e\u003c\/span\u003e\u003c\/span\u003e\u003c\/div\u003e\n\u003cdiv\u003e\u003cspan lang=\"en\"\u003e\u003cspan title=\"\"\u003e\u003cimg src=\"https:\/\/pg-cdn-a2.datacaciques.com\/00\/NDAy\/20\/10\/28\/x64nrb7dn4u6z62s\/2a7821a95f75a92d.jpg\"\u003e\u003c\/span\u003e\u003c\/span\u003e\u003c\/div\u003e\n\u003cdiv\u003e\u003cspan\u003e\u003cstrong\u003e\u003cspan lang=\"en\"\u003e\u003cspan title=\"\"\u003ePackage Include:\u003c\/span\u003e\u003c\/span\u003e\u003c\/strong\u003e\u003c\/span\u003e\u003c\/div\u003e\n\u003cdiv\u003e\n\u003cul\u003e\n\u003cli\u003e\u003cspan lang=\"en\"\u003e\u003cspan title=\"\"\u003e1x 1.2V Ni-MH Battery Controller Solar Jar Light Control Board Solar Ceramic Light\u003c\/span\u003e\u003c\/span\u003e\u003c\/li\u003e\n\u003c\/ul\u003e\n\u003c\/div\u003e\n\u003c\/div\u003e\n\u003c\/div\u003e","published_at":"2020-10-29T17:34:02+08:00","created_at":"2020-10-29T17:34:00+08:00","vendor":"DIYMORE","type":"","tags":[],"price":499,"price_min":499,"price_max":1599,"available":true,"price_varies":true,"compare_at_price":null,"compare_at_price_min":0,"compare_at_price_max":0,"compare_at_price_varies":false,"variants":[{"id":37266674221256,"title":"1PCS","option1":"1PCS","option2":null,"option3":null,"sku":"XH0022","requires_shipping":true,"taxable":false,"featured_image":null,"available":true,"name":"1.2V Ni-MH Battery Controller Solar Jar Light Control Board Solar Ceramic Light - 1PCS","public_title":"1PCS","options":["1PCS"],"price":499,"weight":0,"compare_at_price":null,"inventory_management":"shopify","barcode":"","requires_selling_plan":false,"selling_plan_allocations":[],"quantity_rule":{"min":1,"max":null,"increment":1}},{"id":37266674254024,"title":"5PCS","option1":"5PCS","option2":null,"option3":null,"sku":"XH00225","requires_shipping":true,"taxable":false,"featured_image":null,"available":true,"name":"1.2V Ni-MH Battery Controller Solar Jar Light Control Board Solar Ceramic Light - 5PCS","public_title":"5PCS","options":["5PCS"],"price":999,"weight":0,"compare_at_price":null,"inventory_management":"shopify","barcode":"","requires_selling_plan":false,"selling_plan_allocations":[],"quantity_rule":{"min":1,"max":null,"increment":1}},{"id":37266674286792,"title":"10PCS","option1":"10PCS","option2":null,"option3":null,"sku":"XH002210","requires_shipping":true,"taxable":false,"featured_image":null,"available":true,"name":"1.2V Ni-MH Battery Controller Solar Jar Light Control Board Solar Ceramic Light - 10PCS","public_title":"10PCS","options":["10PCS"],"price":1599,"weight":0,"compare_at_price":null,"inventory_management":"shopify","barcode":"","requires_selling_plan":false,"selling_plan_allocations":[],"quantity_rule":{"min":1,"max":null,"increment":1}}],"images":["\/\/cdn.shopify.com\/s\/files\/1\/0122\/7558\/0986\/products\/1_86a548f4-87e2-47cc-ad41-e77a681f15a5.jpg?v=1603964045","\/\/cdn.shopify.com\/s\/files\/1\/0122\/7558\/0986\/products\/5_4cb42758-c0a3-4154-bca7-c1cc8377e200.jpg?v=1603964045","\/\/cdn.shopify.com\/s\/files\/1\/0122\/7558\/0986\/products\/3_7d67ed02-3d07-4614-85bd-55474a3efe65.jpg?v=1603964046","\/\/cdn.shopify.com\/s\/files\/1\/0122\/7558\/0986\/products\/6_8c9e9301-425b-4ed2-b041-a97ded3a8ae3.jpg?v=1603964046","\/\/cdn.shopify.com\/s\/files\/1\/0122\/7558\/0986\/products\/f7d7c897f798fc44c391847188c3ac79_2ecf89f3-e3b7-4db1-9880-978e90d2c297.jpg?v=1603964046"],"featured_image":"\/\/cdn.shopify.com\/s\/files\/1\/0122\/7558\/0986\/products\/1_86a548f4-87e2-47cc-ad41-e77a681f15a5.jpg?v=1603964045","options":["Quantity"],"media":[{"alt":null,"id":14582443114696,"position":1,"preview_image":{"aspect_ratio":1.0,"height":1000,"width":1000,"src":"https:\/\/cdn.shopify.com\/s\/files\/1\/0122\/7558\/0986\/products\/1_86a548f4-87e2-47cc-ad41-e77a681f15a5.jpg?v=1603964045"},"aspect_ratio":1.0,"height":1000,"media_type":"image","src":"https:\/\/cdn.shopify.com\/s\/files\/1\/0122\/7558\/0986\/products\/1_86a548f4-87e2-47cc-ad41-e77a681f15a5.jpg?v=1603964045","width":1000},{"alt":null,"id":14582443147464,"position":2,"preview_image":{"aspect_ratio":1.0,"height":1000,"width":1000,"src":"https:\/\/cdn.shopify.com\/s\/files\/1\/0122\/7558\/0986\/products\/5_4cb42758-c0a3-4154-bca7-c1cc8377e200.jpg?v=1603964045"},"aspect_ratio":1.0,"height":1000,"media_type":"image","src":"https:\/\/cdn.shopify.com\/s\/files\/1\/0122\/7558\/0986\/products\/5_4cb42758-c0a3-4154-bca7-c1cc8377e200.jpg?v=1603964045","width":1000},{"alt":null,"id":14582443180232,"position":3,"preview_image":{"aspect_ratio":1.0,"height":1000,"width":1000,"src":"https:\/\/cdn.shopify.com\/s\/files\/1\/0122\/7558\/0986\/products\/3_7d67ed02-3d07-4614-85bd-55474a3efe65.jpg?v=1603964046"},"aspect_ratio":1.0,"height":1000,"media_type":"image","src":"https:\/\/cdn.shopify.com\/s\/files\/1\/0122\/7558\/0986\/products\/3_7d67ed02-3d07-4614-85bd-55474a3efe65.jpg?v=1603964046","width":1000},{"alt":null,"id":14582443213000,"position":4,"preview_image":{"aspect_ratio":1.0,"height":1000,"width":1000,"src":"https:\/\/cdn.shopify.com\/s\/files\/1\/0122\/7558\/0986\/products\/6_8c9e9301-425b-4ed2-b041-a97ded3a8ae3.jpg?v=1603964046"},"aspect_ratio":1.0,"height":1000,"media_type":"image","src":"https:\/\/cdn.shopify.com\/s\/files\/1\/0122\/7558\/0986\/products\/6_8c9e9301-425b-4ed2-b041-a97ded3a8ae3.jpg?v=1603964046","width":1000},{"alt":null,"id":14582443245768,"position":5,"preview_image":{"aspect_ratio":1.0,"height":1000,"width":1000,"src":"https:\/\/cdn.shopify.com\/s\/files\/1\/0122\/7558\/0986\/products\/f7d7c897f798fc44c391847188c3ac79_2ecf89f3-e3b7-4db1-9880-978e90d2c297.jpg?v=1603964046"},"aspect_ratio":1.0,"height":1000,"media_type":"image","src":"https:\/\/cdn.shopify.com\/s\/files\/1\/0122\/7558\/0986\/products\/f7d7c897f798fc44c391847188c3ac79_2ecf89f3-e3b7-4db1-9880-978e90d2c297.jpg?v=1603964046","width":1000}],"requires_selling_plan":false,"selling_plan_groups":[],"content":"\u003cdiv\u003e\u003cspan\u003e\u003cstrong\u003e\u003cspan lang=\"en\"\u003e\u003cspan title=\"\"\u003eDescription:\u003c\/span\u003e\u003c\/span\u003e\u003c\/strong\u003e\u003c\/span\u003e\u003c\/div\u003e\n\u003cdiv\u003e\n\u003cul\u003e\n\u003cli\u003e\u003cspan lang=\"en\"\u003e\u003cspan title=\"\"\u003eMini solar jar light circuit control board. Suitable for solar lawn lights, solar ceramic lights, solar landscape lights, and other solar products for circuit control.\u003c\/span\u003e\u003c\/span\u003e\u003c\/li\u003e\n\u003cli\u003e\u003cspan lang=\"en\"\u003e\u003cspan title=\"\"\u003eIt can be connected with 1.2V Ni-MH battery and 2V solar panel.\u003c\/span\u003e\u003c\/span\u003e\u003c\/li\u003e\n\u003cli\u003e\u003cspan lang=\"en\"\u003e\u003cspan title=\"\"\u003eThis is a can be assembled into a mason lamp jar\/lawn lamp\/wall\u003c\/span\u003e\u003c\/span\u003e\u003c\/li\u003e\n\u003cli\u003e\u003cspan lang=\"en\"\u003e\u003cspan title=\"\"\u003eLamp\/post lamp\/string lamp\/Christmas lamp\/sunlight lamp\/fluorescent lamp\/\u003c\/span\u003e\u003c\/span\u003e\u003c\/li\u003e\n\u003cli\u003e\u003cspan lang=\"en\"\u003e\u003cspan title=\"\"\u003eAdvertising lights\/night lights, etc. various shapes of solar landscape\u003c\/span\u003e\u003c\/span\u003e\u003c\/li\u003e\n\u003cli\u003e\u003cspan lang=\"en\"\u003e\u003cspan title=\"\"\u003eLight control circuit board, various lamps assembled with this circuit board\u003c\/span\u003e\u003c\/span\u003e\u003c\/li\u003e\n\u003cli\u003e\u003cspan lang=\"en\"\u003e\u003cspan title=\"\"\u003eHas been exported to all parts of the world.\u003c\/span\u003e\u003c\/span\u003e\u003c\/li\u003e\n\u003cli\u003e\u003cspan lang=\"en\"\u003e\u003cspan title=\"\"\u003eThis circuit board has a small area requirement for solar panels,\u003c\/span\u003e\u003c\/span\u003e\u003c\/li\u003e\n\u003cli\u003e\u003cspan lang=\"en\"\u003e\u003cspan title=\"\"\u003eLED drive efficiency is high, and the lighting time is long.\u003c\/span\u003e \u003cspan title=\"\"\u003eline\u003c\/span\u003e\u003c\/span\u003e\u003c\/li\u003e\n\u003cli\u003e\u003cspan lang=\"en\"\u003e\u003cspan title=\"\"\u003eThere is a toggle switch on the board, you can choose to emit white light or seven\u003c\/span\u003e\u003c\/span\u003e\u003c\/li\u003e\n\u003cli\u003e\u003cspan lang=\"en\"\u003e\u003cspan title=\"\"\u003eColor, white light with high brightness, colorful lights with rich colors, Look beautiful\u003c\/span\u003e\u003cspan title=\"\"\u003e!\u003c\/span\u003e\u003c\/span\u003e\u003c\/li\u003e\n\u003c\/ul\u003e\n\u003c\/div\u003e\n\u003cdiv\u003e\u003cspan\u003e\u003cstrong\u003e\u003cspan lang=\"en\"\u003e\u003cspan title=\"\"\u003eTechnical Parameters:\u003c\/span\u003e\u003c\/span\u003e\u003c\/strong\u003e\u003c\/span\u003e\u003c\/div\u003e\n\u003cdiv\u003e\n\u003cdiv\u003e\n\u003cdiv tabindex=\"0\"\u003e\n\u003cul\u003e\n\u003cli\u003e\u003cspan\u003e\u003cspan lang=\"en\"\u003e\u003cspan title=\"\"\u003eSolar panel: 2V \/≤150mA\u003c\/span\u003e\u003c\/span\u003e\u003c\/span\u003e\u003c\/li\u003e\n\u003cli\u003e\u003cspan\u003e\u003cspan lang=\"en\"\u003e\u003cspan title=\"\"\u003eBattery specification: 1.2V rechargeable battery\u003c\/span\u003e\u003c\/span\u003e\u003c\/span\u003e\u003c\/li\u003e\n\u003cli\u003e\u003cspan\u003e\u003cspan lang=\"en\"\u003e\u003cspan title=\"\"\u003eBattery capacity: ≥600mAH\u003c\/span\u003e\u003c\/span\u003e\u003c\/span\u003e\u003c\/li\u003e\n\u003cli\u003e\u003cspan\u003e\u003cspan lang=\"en\"\u003e\u003cspan title=\"\"\u003eLED current: about 10mA\u003c\/span\u003e\u003c\/span\u003e\u003c\/span\u003e\u003c\/li\u003e\n\u003cli\u003e\u003cspan\u003e\u003cspan lang=\"en\"\u003e\u003cspan title=\"\"\u003eCircuit board size: 25mm long and 15mm wide\u003c\/span\u003e\u003c\/span\u003e\u003c\/span\u003e\u003c\/li\u003e\n\u003cli\u003e\u003cspan\u003e\u003cspan lang=\"en\"\u003e\u003cspan title=\"\"\u003eWiring instructions:\u003c\/span\u003e\u003c\/span\u003e\u003c\/span\u003e\u003c\/li\u003e\n\u003cli\u003e\u003cspan\u003e\u003cspan lang=\"en\"\u003e\u003cspan title=\"\"\u003eS+ connected to solar anode\u003c\/span\u003e\u003c\/span\u003e\u003c\/span\u003e\u003c\/li\u003e\n\u003cli\u003e\u003cspan\u003e\u003cspan lang=\"en\"\u003e\u003cspan title=\"\"\u003eS- connect solar negative\u003c\/span\u003e\u003c\/span\u003e\u003c\/span\u003e\u003c\/li\u003e\n\u003cli\u003e\u003cspan\u003e\u003cspan lang=\"en\"\u003e\u003cspan title=\"\"\u003eB+ connects battery positive\u003c\/span\u003e\u003c\/span\u003e\u003c\/span\u003e\u003c\/li\u003e\n\u003cli\u003e\u003cspan\u003e\u003cspan lang=\"en\"\u003e\u003cspan title=\"\"\u003eB- connect battery negative\u003c\/span\u003e\u003c\/span\u003e\u003c\/span\u003e\u003c\/li\u003e\n\u003cli\u003e\u003cspan\u003e\u003cspan lang=\"en\"\u003e\u003cspan title=\"\"\u003eSolar ceramic light jar light lawn light circuit control board\u003c\/span\u003e\u003c\/span\u003e\u003c\/span\u003e\u003c\/li\u003e\n\u003cli\u003e\u003cspan\u003e\u003cspan lang=\"en\"\u003e\u003cspan title=\"\"\u003eComes with two LED lamp beads\u003c\/span\u003e\u003c\/span\u003e\u003c\/span\u003e\u003c\/li\u003e\n\u003cli\u003e\u003cspan\u003e\u003cspan lang=\"en\"\u003e\u003cspan title=\"\"\u003e(1 high-brightness white light + 1 colorful changing color light)\u003c\/span\u003e\u003c\/span\u003e\u003c\/span\u003e\u003c\/li\u003e\n\u003c\/ul\u003e\n\u003cspan\u003e\u003cspan lang=\"en\"\u003e\u003c\/span\u003e\u003c\/span\u003e\n\u003c\/div\u003e\n\u003c\/div\u003e\n\u003cdiv\u003e\n\u003cdiv\u003e\u003cspan\u003e\u003cimg src=\"https:\/\/pg-cdn-a2.datacaciques.com\/00\/NDAy\/20\/10\/28\/x64nrb7dn4u6z62s\/39c5d6c570315a92.jpg\"\u003e\u003c\/span\u003e\u003c\/div\u003e\n\u003cdiv\u003e\n\u003cul\u003e\n\u003cli\u003e\u003cspan lang=\"en\"\u003e\u003cspan title=\"\"\u003eBuilt-in three-level switch (white light file + color light file + off file)\u003c\/span\u003e\u003c\/span\u003e\u003c\/li\u003e\n\u003cli\u003e\u003cspan lang=\"en\"\u003e\u003cspan title=\"\"\u003eSuitable for connecting 1.2V Ni-MH battery and 2V solar panel\u003c\/span\u003e\u003c\/span\u003e\u003c\/li\u003e\n\u003c\/ul\u003e\n\u003c\/div\u003e\n\u003cdiv\u003e\u003cspan lang=\"en\"\u003e\u003cspan title=\"\"\u003e\u003cimg src=\"https:\/\/pg-cdn-a2.datacaciques.com\/00\/NDAy\/20\/10\/28\/x64nrb7dn4u6z62s\/bf3e671abf41c5fe.jpg\"\u003e\u003c\/span\u003e\u003c\/span\u003e\u003c\/div\u003e\n\u003cdiv\u003e\u003cspan lang=\"en\"\u003e\u003cspan title=\"\"\u003e\u003cimg src=\"https:\/\/pg-cdn-a2.datacaciques.com\/00\/NDAy\/20\/10\/28\/x64nrb7dn4u6z62s\/2a7821a95f75a92d.jpg\"\u003e\u003c\/span\u003e\u003c\/span\u003e\u003c\/div\u003e\n\u003cdiv\u003e\u003cspan\u003e\u003cstrong\u003e\u003cspan lang=\"en\"\u003e\u003cspan title=\"\"\u003ePackage Include:\u003c\/span\u003e\u003c\/span\u003e\u003c\/strong\u003e\u003c\/span\u003e\u003c\/div\u003e\n\u003cdiv\u003e\n\u003cul\u003e\n\u003cli\u003e\u003cspan lang=\"en\"\u003e\u003cspan title=\"\"\u003e1x 1.2V Ni-MH Battery Controller Solar Jar Light Control Board Solar Ceramic Light\u003c\/span\u003e\u003c\/span\u003e\u003c\/li\u003e\n\u003c\/ul\u003e\n\u003c\/div\u003e\n\u003c\/div\u003e\n\u003c\/div\u003e"}

{"id":6030532051144,"title":"1.2V Ni-MH Battery Controller Solar Jar Light Control Board Solar Ceramic Light","handle":"1-2v-ni-mh-battery-controller-solar-jar-light-control-board-solar-ceramic-light","description":"\u003cdiv\u003e\u003cspan\u003e\u003cstrong\u003e\u003cspan lang=\"en\"\u003e\u003cspan title=\"\"\u003eDescription:\u003c\/span\u003e\u003c\/span\u003e\u003c\/strong\u003e\u003c\/span\u003e\u003c\/div\u003e\n\u003cdiv\u003e\n\u003cul\u003e\n\u003cli\u003e\u003cspan lang=\"en\"\u003e\u003cspan title=\"\"\u003eMini solar jar light circuit control board. Suitable for solar lawn lights, solar ceramic lights, solar landscape lights, and other solar products for circuit control.\u003c\/span\u003e\u003c\/span\u003e\u003c\/li\u003e\n\u003cli\u003e\u003cspan lang=\"en\"\u003e\u003cspan title=\"\"\u003eIt can be connected with 1.2V Ni-MH battery and 2V solar panel.\u003c\/span\u003e\u003c\/span\u003e\u003c\/li\u003e\n\u003cli\u003e\u003cspan lang=\"en\"\u003e\u003cspan title=\"\"\u003eThis is a can be assembled into a mason lamp jar\/lawn lamp\/wall\u003c\/span\u003e\u003c\/span\u003e\u003c\/li\u003e\n\u003cli\u003e\u003cspan lang=\"en\"\u003e\u003cspan title=\"\"\u003eLamp\/post lamp\/string lamp\/Christmas lamp\/sunlight lamp\/fluorescent lamp\/\u003c\/span\u003e\u003c\/span\u003e\u003c\/li\u003e\n\u003cli\u003e\u003cspan lang=\"en\"\u003e\u003cspan title=\"\"\u003eAdvertising lights\/night lights, etc. various shapes of solar landscape\u003c\/span\u003e\u003c\/span\u003e\u003c\/li\u003e\n\u003cli\u003e\u003cspan lang=\"en\"\u003e\u003cspan title=\"\"\u003eLight control circuit board, various lamps assembled with this circuit board\u003c\/span\u003e\u003c\/span\u003e\u003c\/li\u003e\n\u003cli\u003e\u003cspan lang=\"en\"\u003e\u003cspan title=\"\"\u003eHas been exported to all parts of the world.\u003c\/span\u003e\u003c\/span\u003e\u003c\/li\u003e\n\u003cli\u003e\u003cspan lang=\"en\"\u003e\u003cspan title=\"\"\u003eThis circuit board has a small area requirement for solar panels,\u003c\/span\u003e\u003c\/span\u003e\u003c\/li\u003e\n\u003cli\u003e\u003cspan lang=\"en\"\u003e\u003cspan title=\"\"\u003eLED drive efficiency is high, and the lighting time is long.\u003c\/span\u003e \u003cspan title=\"\"\u003eline\u003c\/span\u003e\u003c\/span\u003e\u003c\/li\u003e\n\u003cli\u003e\u003cspan lang=\"en\"\u003e\u003cspan title=\"\"\u003eThere is a toggle switch on the board, you can choose to emit white light or seven\u003c\/span\u003e\u003c\/span\u003e\u003c\/li\u003e\n\u003cli\u003e\u003cspan lang=\"en\"\u003e\u003cspan title=\"\"\u003eColor, white light with high brightness, colorful lights with rich colors, Look beautiful\u003c\/span\u003e\u003cspan title=\"\"\u003e!\u003c\/span\u003e\u003c\/span\u003e\u003c\/li\u003e\n\u003c\/ul\u003e\n\u003c\/div\u003e\n\u003cdiv\u003e\u003cspan\u003e\u003cstrong\u003e\u003cspan lang=\"en\"\u003e\u003cspan title=\"\"\u003eTechnical Parameters:\u003c\/span\u003e\u003c\/span\u003e\u003c\/strong\u003e\u003c\/span\u003e\u003c\/div\u003e\n\u003cdiv\u003e\n\u003cdiv\u003e\n\u003cdiv tabindex=\"0\"\u003e\n\u003cul\u003e\n\u003cli\u003e\u003cspan\u003e\u003cspan lang=\"en\"\u003e\u003cspan title=\"\"\u003eSolar panel: 2V \/≤150mA\u003c\/span\u003e\u003c\/span\u003e\u003c\/span\u003e\u003c\/li\u003e\n\u003cli\u003e\u003cspan\u003e\u003cspan lang=\"en\"\u003e\u003cspan title=\"\"\u003eBattery specification: 1.2V rechargeable battery\u003c\/span\u003e\u003c\/span\u003e\u003c\/span\u003e\u003c\/li\u003e\n\u003cli\u003e\u003cspan\u003e\u003cspan lang=\"en\"\u003e\u003cspan title=\"\"\u003eBattery capacity: ≥600mAH\u003c\/span\u003e\u003c\/span\u003e\u003c\/span\u003e\u003c\/li\u003e\n\u003cli\u003e\u003cspan\u003e\u003cspan lang=\"en\"\u003e\u003cspan title=\"\"\u003eLED current: about 10mA\u003c\/span\u003e\u003c\/span\u003e\u003c\/span\u003e\u003c\/li\u003e\n\u003cli\u003e\u003cspan\u003e\u003cspan lang=\"en\"\u003e\u003cspan title=\"\"\u003eCircuit board size: 25mm long and 15mm wide\u003c\/span\u003e\u003c\/span\u003e\u003c\/span\u003e\u003c\/li\u003e\n\u003cli\u003e\u003cspan\u003e\u003cspan lang=\"en\"\u003e\u003cspan title=\"\"\u003eWiring instructions:\u003c\/span\u003e\u003c\/span\u003e\u003c\/span\u003e\u003c\/li\u003e\n\u003cli\u003e\u003cspan\u003e\u003cspan lang=\"en\"\u003e\u003cspan title=\"\"\u003eS+ connected to solar anode\u003c\/span\u003e\u003c\/span\u003e\u003c\/span\u003e\u003c\/li\u003e\n\u003cli\u003e\u003cspan\u003e\u003cspan lang=\"en\"\u003e\u003cspan title=\"\"\u003eS- connect solar negative\u003c\/span\u003e\u003c\/span\u003e\u003c\/span\u003e\u003c\/li\u003e\n\u003cli\u003e\u003cspan\u003e\u003cspan lang=\"en\"\u003e\u003cspan title=\"\"\u003eB+ connects battery positive\u003c\/span\u003e\u003c\/span\u003e\u003c\/span\u003e\u003c\/li\u003e\n\u003cli\u003e\u003cspan\u003e\u003cspan lang=\"en\"\u003e\u003cspan title=\"\"\u003eB- connect battery negative\u003c\/span\u003e\u003c\/span\u003e\u003c\/span\u003e\u003c\/li\u003e\n\u003cli\u003e\u003cspan\u003e\u003cspan lang=\"en\"\u003e\u003cspan title=\"\"\u003eSolar ceramic light jar light lawn light circuit control board\u003c\/span\u003e\u003c\/span\u003e\u003c\/span\u003e\u003c\/li\u003e\n\u003cli\u003e\u003cspan\u003e\u003cspan lang=\"en\"\u003e\u003cspan title=\"\"\u003eComes with two LED lamp beads\u003c\/span\u003e\u003c\/span\u003e\u003c\/span\u003e\u003c\/li\u003e\n\u003cli\u003e\u003cspan\u003e\u003cspan lang=\"en\"\u003e\u003cspan title=\"\"\u003e(1 high-brightness white light + 1 colorful changing color light)\u003c\/span\u003e\u003c\/span\u003e\u003c\/span\u003e\u003c\/li\u003e\n\u003c\/ul\u003e\n\u003cspan\u003e\u003cspan lang=\"en\"\u003e\u003c\/span\u003e\u003c\/span\u003e\n\u003c\/div\u003e\n\u003c\/div\u003e\n\u003cdiv\u003e\n\u003cdiv\u003e\u003cspan\u003e\u003cimg src=\"https:\/\/pg-cdn-a2.datacaciques.com\/00\/NDAy\/20\/10\/28\/x64nrb7dn4u6z62s\/39c5d6c570315a92.jpg\"\u003e\u003c\/span\u003e\u003c\/div\u003e\n\u003cdiv\u003e\n\u003cul\u003e\n\u003cli\u003e\u003cspan lang=\"en\"\u003e\u003cspan title=\"\"\u003eBuilt-in three-level switch (white light file + color light file + off file)\u003c\/span\u003e\u003c\/span\u003e\u003c\/li\u003e\n\u003cli\u003e\u003cspan lang=\"en\"\u003e\u003cspan title=\"\"\u003eSuitable for connecting 1.2V Ni-MH battery and 2V solar panel\u003c\/span\u003e\u003c\/span\u003e\u003c\/li\u003e\n\u003c\/ul\u003e\n\u003c\/div\u003e\n\u003cdiv\u003e\u003cspan lang=\"en\"\u003e\u003cspan title=\"\"\u003e\u003cimg src=\"https:\/\/pg-cdn-a2.datacaciques.com\/00\/NDAy\/20\/10\/28\/x64nrb7dn4u6z62s\/bf3e671abf41c5fe.jpg\"\u003e\u003c\/span\u003e\u003c\/span\u003e\u003c\/div\u003e\n\u003cdiv\u003e\u003cspan lang=\"en\"\u003e\u003cspan title=\"\"\u003e\u003cimg src=\"https:\/\/pg-cdn-a2.datacaciques.com\/00\/NDAy\/20\/10\/28\/x64nrb7dn4u6z62s\/2a7821a95f75a92d.jpg\"\u003e\u003c\/span\u003e\u003c\/span\u003e\u003c\/div\u003e\n\u003cdiv\u003e\u003cspan\u003e\u003cstrong\u003e\u003cspan lang=\"en\"\u003e\u003cspan title=\"\"\u003ePackage Include:\u003c\/span\u003e\u003c\/span\u003e\u003c\/strong\u003e\u003c\/span\u003e\u003c\/div\u003e\n\u003cdiv\u003e\n\u003cul\u003e\n\u003cli\u003e\u003cspan lang=\"en\"\u003e\u003cspan title=\"\"\u003e1x 1.2V Ni-MH Battery Controller Solar Jar Light Control Board Solar Ceramic Light\u003c\/span\u003e\u003c\/span\u003e\u003c\/li\u003e\n\u003c\/ul\u003e\n\u003c\/div\u003e\n\u003c\/div\u003e\n\u003c\/div\u003e","published_at":"2020-10-29T17:34:02+08:00","created_at":"2020-10-29T17:34:00+08:00","vendor":"DIYMORE","type":"","tags":[],"price":499,"price_min":499,"price_max":1599,"available":true,"price_varies":true,"compare_at_price":null,"compare_at_price_min":0,"compare_at_price_max":0,"compare_at_price_varies":false,"variants":[{"id":37266674221256,"title":"1PCS","option1":"1PCS","option2":null,"option3":null,"sku":"XH0022","requires_shipping":true,"taxable":false,"featured_image":null,"available":true,"name":"1.2V Ni-MH Battery Controller Solar Jar Light Control Board Solar Ceramic Light - 1PCS","public_title":"1PCS","options":["1PCS"],"price":499,"weight":0,"compare_at_price":null,"inventory_management":"shopify","barcode":"","requires_selling_plan":false,"selling_plan_allocations":[],"quantity_rule":{"min":1,"max":null,"increment":1}},{"id":37266674254024,"title":"5PCS","option1":"5PCS","option2":null,"option3":null,"sku":"XH00225","requires_shipping":true,"taxable":false,"featured_image":null,"available":true,"name":"1.2V Ni-MH Battery Controller Solar Jar Light Control Board Solar Ceramic Light - 5PCS","public_title":"5PCS","options":["5PCS"],"price":999,"weight":0,"compare_at_price":null,"inventory_management":"shopify","barcode":"","requires_selling_plan":false,"selling_plan_allocations":[],"quantity_rule":{"min":1,"max":null,"increment":1}},{"id":37266674286792,"title":"10PCS","option1":"10PCS","option2":null,"option3":null,"sku":"XH002210","requires_shipping":true,"taxable":false,"featured_image":null,"available":true,"name":"1.2V Ni-MH Battery Controller Solar Jar Light Control Board Solar Ceramic Light - 10PCS","public_title":"10PCS","options":["10PCS"],"price":1599,"weight":0,"compare_at_price":null,"inventory_management":"shopify","barcode":"","requires_selling_plan":false,"selling_plan_allocations":[],"quantity_rule":{"min":1,"max":null,"increment":1}}],"images":["\/\/cdn.shopify.com\/s\/files\/1\/0122\/7558\/0986\/products\/1_86a548f4-87e2-47cc-ad41-e77a681f15a5.jpg?v=1603964045","\/\/cdn.shopify.com\/s\/files\/1\/0122\/7558\/0986\/products\/5_4cb42758-c0a3-4154-bca7-c1cc8377e200.jpg?v=1603964045","\/\/cdn.shopify.com\/s\/files\/1\/0122\/7558\/0986\/products\/3_7d67ed02-3d07-4614-85bd-55474a3efe65.jpg?v=1603964046","\/\/cdn.shopify.com\/s\/files\/1\/0122\/7558\/0986\/products\/6_8c9e9301-425b-4ed2-b041-a97ded3a8ae3.jpg?v=1603964046","\/\/cdn.shopify.com\/s\/files\/1\/0122\/7558\/0986\/products\/f7d7c897f798fc44c391847188c3ac79_2ecf89f3-e3b7-4db1-9880-978e90d2c297.jpg?v=1603964046"],"featured_image":"\/\/cdn.shopify.com\/s\/files\/1\/0122\/7558\/0986\/products\/1_86a548f4-87e2-47cc-ad41-e77a681f15a5.jpg?v=1603964045","options":["Quantity"],"media":[{"alt":null,"id":14582443114696,"position":1,"preview_image":{"aspect_ratio":1.0,"height":1000,"width":1000,"src":"https:\/\/cdn.shopify.com\/s\/files\/1\/0122\/7558\/0986\/products\/1_86a548f4-87e2-47cc-ad41-e77a681f15a5.jpg?v=1603964045"},"aspect_ratio":1.0,"height":1000,"media_type":"image","src":"https:\/\/cdn.shopify.com\/s\/files\/1\/0122\/7558\/0986\/products\/1_86a548f4-87e2-47cc-ad41-e77a681f15a5.jpg?v=1603964045","width":1000},{"alt":null,"id":14582443147464,"position":2,"preview_image":{"aspect_ratio":1.0,"height":1000,"width":1000,"src":"https:\/\/cdn.shopify.com\/s\/files\/1\/0122\/7558\/0986\/products\/5_4cb42758-c0a3-4154-bca7-c1cc8377e200.jpg?v=1603964045"},"aspect_ratio":1.0,"height":1000,"media_type":"image","src":"https:\/\/cdn.shopify.com\/s\/files\/1\/0122\/7558\/0986\/products\/5_4cb42758-c0a3-4154-bca7-c1cc8377e200.jpg?v=1603964045","width":1000},{"alt":null,"id":14582443180232,"position":3,"preview_image":{"aspect_ratio":1.0,"height":1000,"width":1000,"src":"https:\/\/cdn.shopify.com\/s\/files\/1\/0122\/7558\/0986\/products\/3_7d67ed02-3d07-4614-85bd-55474a3efe65.jpg?v=1603964046"},"aspect_ratio":1.0,"height":1000,"media_type":"image","src":"https:\/\/cdn.shopify.com\/s\/files\/1\/0122\/7558\/0986\/products\/3_7d67ed02-3d07-4614-85bd-55474a3efe65.jpg?v=1603964046","width":1000},{"alt":null,"id":14582443213000,"position":4,"preview_image":{"aspect_ratio":1.0,"height":1000,"width":1000,"src":"https:\/\/cdn.shopify.com\/s\/files\/1\/0122\/7558\/0986\/products\/6_8c9e9301-425b-4ed2-b041-a97ded3a8ae3.jpg?v=1603964046"},"aspect_ratio":1.0,"height":1000,"media_type":"image","src":"https:\/\/cdn.shopify.com\/s\/files\/1\/0122\/7558\/0986\/products\/6_8c9e9301-425b-4ed2-b041-a97ded3a8ae3.jpg?v=1603964046","width":1000},{"alt":null,"id":14582443245768,"position":5,"preview_image":{"aspect_ratio":1.0,"height":1000,"width":1000,"src":"https:\/\/cdn.shopify.com\/s\/files\/1\/0122\/7558\/0986\/products\/f7d7c897f798fc44c391847188c3ac79_2ecf89f3-e3b7-4db1-9880-978e90d2c297.jpg?v=1603964046"},"aspect_ratio":1.0,"height":1000,"media_type":"image","src":"https:\/\/cdn.shopify.com\/s\/files\/1\/0122\/7558\/0986\/products\/f7d7c897f798fc44c391847188c3ac79_2ecf89f3-e3b7-4db1-9880-978e90d2c297.jpg?v=1603964046","width":1000}],"requires_selling_plan":false,"selling_plan_groups":[],"content":"\u003cdiv\u003e\u003cspan\u003e\u003cstrong\u003e\u003cspan lang=\"en\"\u003e\u003cspan title=\"\"\u003eDescription:\u003c\/span\u003e\u003c\/span\u003e\u003c\/strong\u003e\u003c\/span\u003e\u003c\/div\u003e\n\u003cdiv\u003e\n\u003cul\u003e\n\u003cli\u003e\u003cspan lang=\"en\"\u003e\u003cspan title=\"\"\u003eMini solar jar light circuit control board. Suitable for solar lawn lights, solar ceramic lights, solar landscape lights, and other solar products for circuit control.\u003c\/span\u003e\u003c\/span\u003e\u003c\/li\u003e\n\u003cli\u003e\u003cspan lang=\"en\"\u003e\u003cspan title=\"\"\u003eIt can be connected with 1.2V Ni-MH battery and 2V solar panel.\u003c\/span\u003e\u003c\/span\u003e\u003c\/li\u003e\n\u003cli\u003e\u003cspan lang=\"en\"\u003e\u003cspan title=\"\"\u003eThis is a can be assembled into a mason lamp jar\/lawn lamp\/wall\u003c\/span\u003e\u003c\/span\u003e\u003c\/li\u003e\n\u003cli\u003e\u003cspan lang=\"en\"\u003e\u003cspan title=\"\"\u003eLamp\/post lamp\/string lamp\/Christmas lamp\/sunlight lamp\/fluorescent lamp\/\u003c\/span\u003e\u003c\/span\u003e\u003c\/li\u003e\n\u003cli\u003e\u003cspan lang=\"en\"\u003e\u003cspan title=\"\"\u003eAdvertising lights\/night lights, etc. various shapes of solar landscape\u003c\/span\u003e\u003c\/span\u003e\u003c\/li\u003e\n\u003cli\u003e\u003cspan lang=\"en\"\u003e\u003cspan title=\"\"\u003eLight control circuit board, various lamps assembled with this circuit board\u003c\/span\u003e\u003c\/span\u003e\u003c\/li\u003e\n\u003cli\u003e\u003cspan lang=\"en\"\u003e\u003cspan title=\"\"\u003eHas been exported to all parts of the world.\u003c\/span\u003e\u003c\/span\u003e\u003c\/li\u003e\n\u003cli\u003e\u003cspan lang=\"en\"\u003e\u003cspan title=\"\"\u003eThis circuit board has a small area requirement for solar panels,\u003c\/span\u003e\u003c\/span\u003e\u003c\/li\u003e\n\u003cli\u003e\u003cspan lang=\"en\"\u003e\u003cspan title=\"\"\u003eLED drive efficiency is high, and the lighting time is long.\u003c\/span\u003e \u003cspan title=\"\"\u003eline\u003c\/span\u003e\u003c\/span\u003e\u003c\/li\u003e\n\u003cli\u003e\u003cspan lang=\"en\"\u003e\u003cspan title=\"\"\u003eThere is a toggle switch on the board, you can choose to emit white light or seven\u003c\/span\u003e\u003c\/span\u003e\u003c\/li\u003e\n\u003cli\u003e\u003cspan lang=\"en\"\u003e\u003cspan title=\"\"\u003eColor, white light with high brightness, colorful lights with rich colors, Look beautiful\u003c\/span\u003e\u003cspan title=\"\"\u003e!\u003c\/span\u003e\u003c\/span\u003e\u003c\/li\u003e\n\u003c\/ul\u003e\n\u003c\/div\u003e\n\u003cdiv\u003e\u003cspan\u003e\u003cstrong\u003e\u003cspan lang=\"en\"\u003e\u003cspan title=\"\"\u003eTechnical Parameters:\u003c\/span\u003e\u003c\/span\u003e\u003c\/strong\u003e\u003c\/span\u003e\u003c\/div\u003e\n\u003cdiv\u003e\n\u003cdiv\u003e\n\u003cdiv tabindex=\"0\"\u003e\n\u003cul\u003e\n\u003cli\u003e\u003cspan\u003e\u003cspan lang=\"en\"\u003e\u003cspan title=\"\"\u003eSolar panel: 2V \/≤150mA\u003c\/span\u003e\u003c\/span\u003e\u003c\/span\u003e\u003c\/li\u003e\n\u003cli\u003e\u003cspan\u003e\u003cspan lang=\"en\"\u003e\u003cspan title=\"\"\u003eBattery specification: 1.2V rechargeable battery\u003c\/span\u003e\u003c\/span\u003e\u003c\/span\u003e\u003c\/li\u003e\n\u003cli\u003e\u003cspan\u003e\u003cspan lang=\"en\"\u003e\u003cspan title=\"\"\u003eBattery capacity: ≥600mAH\u003c\/span\u003e\u003c\/span\u003e\u003c\/span\u003e\u003c\/li\u003e\n\u003cli\u003e\u003cspan\u003e\u003cspan lang=\"en\"\u003e\u003cspan title=\"\"\u003eLED current: about 10mA\u003c\/span\u003e\u003c\/span\u003e\u003c\/span\u003e\u003c\/li\u003e\n\u003cli\u003e\u003cspan\u003e\u003cspan lang=\"en\"\u003e\u003cspan title=\"\"\u003eCircuit board size: 25mm long and 15mm wide\u003c\/span\u003e\u003c\/span\u003e\u003c\/span\u003e\u003c\/li\u003e\n\u003cli\u003e\u003cspan\u003e\u003cspan lang=\"en\"\u003e\u003cspan title=\"\"\u003eWiring instructions:\u003c\/span\u003e\u003c\/span\u003e\u003c\/span\u003e\u003c\/li\u003e\n\u003cli\u003e\u003cspan\u003e\u003cspan lang=\"en\"\u003e\u003cspan title=\"\"\u003eS+ connected to solar anode\u003c\/span\u003e\u003c\/span\u003e\u003c\/span\u003e\u003c\/li\u003e\n\u003cli\u003e\u003cspan\u003e\u003cspan lang=\"en\"\u003e\u003cspan title=\"\"\u003eS- connect solar negative\u003c\/span\u003e\u003c\/span\u003e\u003c\/span\u003e\u003c\/li\u003e\n\u003cli\u003e\u003cspan\u003e\u003cspan lang=\"en\"\u003e\u003cspan title=\"\"\u003eB+ connects battery positive\u003c\/span\u003e\u003c\/span\u003e\u003c\/span\u003e\u003c\/li\u003e\n\u003cli\u003e\u003cspan\u003e\u003cspan lang=\"en\"\u003e\u003cspan title=\"\"\u003eB- connect battery negative\u003c\/span\u003e\u003c\/span\u003e\u003c\/span\u003e\u003c\/li\u003e\n\u003cli\u003e\u003cspan\u003e\u003cspan lang=\"en\"\u003e\u003cspan title=\"\"\u003eSolar ceramic light jar light lawn light circuit control board\u003c\/span\u003e\u003c\/span\u003e\u003c\/span\u003e\u003c\/li\u003e\n\u003cli\u003e\u003cspan\u003e\u003cspan lang=\"en\"\u003e\u003cspan title=\"\"\u003eComes with two LED lamp beads\u003c\/span\u003e\u003c\/span\u003e\u003c\/span\u003e\u003c\/li\u003e\n\u003cli\u003e\u003cspan\u003e\u003cspan lang=\"en\"\u003e\u003cspan title=\"\"\u003e(1 high-brightness white light + 1 colorful changing color light)\u003c\/span\u003e\u003c\/span\u003e\u003c\/span\u003e\u003c\/li\u003e\n\u003c\/ul\u003e\n\u003cspan\u003e\u003cspan lang=\"en\"\u003e\u003c\/span\u003e\u003c\/span\u003e\n\u003c\/div\u003e\n\u003c\/div\u003e\n\u003cdiv\u003e\n\u003cdiv\u003e\u003cspan\u003e\u003cimg src=\"https:\/\/pg-cdn-a2.datacaciques.com\/00\/NDAy\/20\/10\/28\/x64nrb7dn4u6z62s\/39c5d6c570315a92.jpg\"\u003e\u003c\/span\u003e\u003c\/div\u003e\n\u003cdiv\u003e\n\u003cul\u003e\n\u003cli\u003e\u003cspan lang=\"en\"\u003e\u003cspan title=\"\"\u003eBuilt-in three-level switch (white light file + color light file + off file)\u003c\/span\u003e\u003c\/span\u003e\u003c\/li\u003e\n\u003cli\u003e\u003cspan lang=\"en\"\u003e\u003cspan title=\"\"\u003eSuitable for connecting 1.2V Ni-MH battery and 2V solar panel\u003c\/span\u003e\u003c\/span\u003e\u003c\/li\u003e\n\u003c\/ul\u003e\n\u003c\/div\u003e\n\u003cdiv\u003e\u003cspan lang=\"en\"\u003e\u003cspan title=\"\"\u003e\u003cimg src=\"https:\/\/pg-cdn-a2.datacaciques.com\/00\/NDAy\/20\/10\/28\/x64nrb7dn4u6z62s\/bf3e671abf41c5fe.jpg\"\u003e\u003c\/span\u003e\u003c\/span\u003e\u003c\/div\u003e\n\u003cdiv\u003e\u003cspan lang=\"en\"\u003e\u003cspan title=\"\"\u003e\u003cimg src=\"https:\/\/pg-cdn-a2.datacaciques.com\/00\/NDAy\/20\/10\/28\/x64nrb7dn4u6z62s\/2a7821a95f75a92d.jpg\"\u003e\u003c\/span\u003e\u003c\/span\u003e\u003c\/div\u003e\n\u003cdiv\u003e\u003cspan\u003e\u003cstrong\u003e\u003cspan lang=\"en\"\u003e\u003cspan title=\"\"\u003ePackage Include:\u003c\/span\u003e\u003c\/span\u003e\u003c\/strong\u003e\u003c\/span\u003e\u003c\/div\u003e\n\u003cdiv\u003e\n\u003cul\u003e\n\u003cli\u003e\u003cspan lang=\"en\"\u003e\u003cspan title=\"\"\u003e1x 1.2V Ni-MH Battery Controller Solar Jar Light Control Board Solar Ceramic Light\u003c\/span\u003e\u003c\/span\u003e\u003c\/li\u003e\n\u003c\/ul\u003e\n\u003c\/div\u003e\n\u003c\/div\u003e\n\u003c\/div\u003e"}

{"id":6030532051144,"title":"1.2V Ni-MH Battery Controller Solar Jar Light Control Board Solar Ceramic Light","handle":"1-2v-ni-mh-battery-controller-solar-jar-light-control-board-solar-ceramic-light","description":"\u003cdiv\u003e\u003cspan\u003e\u003cstrong\u003e\u003cspan lang=\"en\"\u003e\u003cspan title=\"\"\u003eDescription:\u003c\/span\u003e\u003c\/span\u003e\u003c\/strong\u003e\u003c\/span\u003e\u003c\/div\u003e\n\u003cdiv\u003e\n\u003cul\u003e\n\u003cli\u003e\u003cspan lang=\"en\"\u003e\u003cspan title=\"\"\u003eMini solar jar light circuit control board. Suitable for solar lawn lights, solar ceramic lights, solar landscape lights, and other solar products for circuit control.\u003c\/span\u003e\u003c\/span\u003e\u003c\/li\u003e\n\u003cli\u003e\u003cspan lang=\"en\"\u003e\u003cspan title=\"\"\u003eIt can be connected with 1.2V Ni-MH battery and 2V solar panel.\u003c\/span\u003e\u003c\/span\u003e\u003c\/li\u003e\n\u003cli\u003e\u003cspan lang=\"en\"\u003e\u003cspan title=\"\"\u003eThis is a can be assembled into a mason lamp jar\/lawn lamp\/wall\u003c\/span\u003e\u003c\/span\u003e\u003c\/li\u003e\n\u003cli\u003e\u003cspan lang=\"en\"\u003e\u003cspan title=\"\"\u003eLamp\/post lamp\/string lamp\/Christmas lamp\/sunlight lamp\/fluorescent lamp\/\u003c\/span\u003e\u003c\/span\u003e\u003c\/li\u003e\n\u003cli\u003e\u003cspan lang=\"en\"\u003e\u003cspan title=\"\"\u003eAdvertising lights\/night lights, etc. various shapes of solar landscape\u003c\/span\u003e\u003c\/span\u003e\u003c\/li\u003e\n\u003cli\u003e\u003cspan lang=\"en\"\u003e\u003cspan title=\"\"\u003eLight control circuit board, various lamps assembled with this circuit board\u003c\/span\u003e\u003c\/span\u003e\u003c\/li\u003e\n\u003cli\u003e\u003cspan lang=\"en\"\u003e\u003cspan title=\"\"\u003eHas been exported to all parts of the world.\u003c\/span\u003e\u003c\/span\u003e\u003c\/li\u003e\n\u003cli\u003e\u003cspan lang=\"en\"\u003e\u003cspan title=\"\"\u003eThis circuit board has a small area requirement for solar panels,\u003c\/span\u003e\u003c\/span\u003e\u003c\/li\u003e\n\u003cli\u003e\u003cspan lang=\"en\"\u003e\u003cspan title=\"\"\u003eLED drive efficiency is high, and the lighting time is long.\u003c\/span\u003e \u003cspan title=\"\"\u003eline\u003c\/span\u003e\u003c\/span\u003e\u003c\/li\u003e\n\u003cli\u003e\u003cspan lang=\"en\"\u003e\u003cspan title=\"\"\u003eThere is a toggle switch on the board, you can choose to emit white light or seven\u003c\/span\u003e\u003c\/span\u003e\u003c\/li\u003e\n\u003cli\u003e\u003cspan lang=\"en\"\u003e\u003cspan title=\"\"\u003eColor, white light with high brightness, colorful lights with rich colors, Look beautiful\u003c\/span\u003e\u003cspan title=\"\"\u003e!\u003c\/span\u003e\u003c\/span\u003e\u003c\/li\u003e\n\u003c\/ul\u003e\n\u003c\/div\u003e\n\u003cdiv\u003e\u003cspan\u003e\u003cstrong\u003e\u003cspan lang=\"en\"\u003e\u003cspan title=\"\"\u003eTechnical Parameters:\u003c\/span\u003e\u003c\/span\u003e\u003c\/strong\u003e\u003c\/span\u003e\u003c\/div\u003e\n\u003cdiv\u003e\n\u003cdiv\u003e\n\u003cdiv tabindex=\"0\"\u003e\n\u003cul\u003e\n\u003cli\u003e\u003cspan\u003e\u003cspan lang=\"en\"\u003e\u003cspan title=\"\"\u003eSolar panel: 2V \/≤150mA\u003c\/span\u003e\u003c\/span\u003e\u003c\/span\u003e\u003c\/li\u003e\n\u003cli\u003e\u003cspan\u003e\u003cspan lang=\"en\"\u003e\u003cspan title=\"\"\u003eBattery specification: 1.2V rechargeable battery\u003c\/span\u003e\u003c\/span\u003e\u003c\/span\u003e\u003c\/li\u003e\n\u003cli\u003e\u003cspan\u003e\u003cspan lang=\"en\"\u003e\u003cspan title=\"\"\u003eBattery capacity: ≥600mAH\u003c\/span\u003e\u003c\/span\u003e\u003c\/span\u003e\u003c\/li\u003e\n\u003cli\u003e\u003cspan\u003e\u003cspan lang=\"en\"\u003e\u003cspan title=\"\"\u003eLED current: about 10mA\u003c\/span\u003e\u003c\/span\u003e\u003c\/span\u003e\u003c\/li\u003e\n\u003cli\u003e\u003cspan\u003e\u003cspan lang=\"en\"\u003e\u003cspan title=\"\"\u003eCircuit board size: 25mm long and 15mm wide\u003c\/span\u003e\u003c\/span\u003e\u003c\/span\u003e\u003c\/li\u003e\n\u003cli\u003e\u003cspan\u003e\u003cspan lang=\"en\"\u003e\u003cspan title=\"\"\u003eWiring instructions:\u003c\/span\u003e\u003c\/span\u003e\u003c\/span\u003e\u003c\/li\u003e\n\u003cli\u003e\u003cspan\u003e\u003cspan lang=\"en\"\u003e\u003cspan title=\"\"\u003eS+ connected to solar anode\u003c\/span\u003e\u003c\/span\u003e\u003c\/span\u003e\u003c\/li\u003e\n\u003cli\u003e\u003cspan\u003e\u003cspan lang=\"en\"\u003e\u003cspan title=\"\"\u003eS- connect solar negative\u003c\/span\u003e\u003c\/span\u003e\u003c\/span\u003e\u003c\/li\u003e\n\u003cli\u003e\u003cspan\u003e\u003cspan lang=\"en\"\u003e\u003cspan title=\"\"\u003eB+ connects battery positive\u003c\/span\u003e\u003c\/span\u003e\u003c\/span\u003e\u003c\/li\u003e\n\u003cli\u003e\u003cspan\u003e\u003cspan lang=\"en\"\u003e\u003cspan title=\"\"\u003eB- connect battery negative\u003c\/span\u003e\u003c\/span\u003e\u003c\/span\u003e\u003c\/li\u003e\n\u003cli\u003e\u003cspan\u003e\u003cspan lang=\"en\"\u003e\u003cspan title=\"\"\u003eSolar ceramic light jar light lawn light circuit control board\u003c\/span\u003e\u003c\/span\u003e\u003c\/span\u003e\u003c\/li\u003e\n\u003cli\u003e\u003cspan\u003e\u003cspan lang=\"en\"\u003e\u003cspan title=\"\"\u003eComes with two LED lamp beads\u003c\/span\u003e\u003c\/span\u003e\u003c\/span\u003e\u003c\/li\u003e\n\u003cli\u003e\u003cspan\u003e\u003cspan lang=\"en\"\u003e\u003cspan title=\"\"\u003e(1 high-brightness white light + 1 colorful changing color light)\u003c\/span\u003e\u003c\/span\u003e\u003c\/span\u003e\u003c\/li\u003e\n\u003c\/ul\u003e\n\u003cspan\u003e\u003cspan lang=\"en\"\u003e\u003c\/span\u003e\u003c\/span\u003e\n\u003c\/div\u003e\n\u003c\/div\u003e\n\u003cdiv\u003e\n\u003cdiv\u003e\u003cspan\u003e\u003cimg src=\"https:\/\/pg-cdn-a2.datacaciques.com\/00\/NDAy\/20\/10\/28\/x64nrb7dn4u6z62s\/39c5d6c570315a92.jpg\"\u003e\u003c\/span\u003e\u003c\/div\u003e\n\u003cdiv\u003e\n\u003cul\u003e\n\u003cli\u003e\u003cspan lang=\"en\"\u003e\u003cspan title=\"\"\u003eBuilt-in three-level switch (white light file + color light file + off file)\u003c\/span\u003e\u003c\/span\u003e\u003c\/li\u003e\n\u003cli\u003e\u003cspan lang=\"en\"\u003e\u003cspan title=\"\"\u003eSuitable for connecting 1.2V Ni-MH battery and 2V solar panel\u003c\/span\u003e\u003c\/span\u003e\u003c\/li\u003e\n\u003c\/ul\u003e\n\u003c\/div\u003e\n\u003cdiv\u003e\u003cspan lang=\"en\"\u003e\u003cspan title=\"\"\u003e\u003cimg src=\"https:\/\/pg-cdn-a2.datacaciques.com\/00\/NDAy\/20\/10\/28\/x64nrb7dn4u6z62s\/bf3e671abf41c5fe.jpg\"\u003e\u003c\/span\u003e\u003c\/span\u003e\u003c\/div\u003e\n\u003cdiv\u003e\u003cspan lang=\"en\"\u003e\u003cspan title=\"\"\u003e\u003cimg src=\"https:\/\/pg-cdn-a2.datacaciques.com\/00\/NDAy\/20\/10\/28\/x64nrb7dn4u6z62s\/2a7821a95f75a92d.jpg\"\u003e\u003c\/span\u003e\u003c\/span\u003e\u003c\/div\u003e\n\u003cdiv\u003e\u003cspan\u003e\u003cstrong\u003e\u003cspan lang=\"en\"\u003e\u003cspan title=\"\"\u003ePackage Include:\u003c\/span\u003e\u003c\/span\u003e\u003c\/strong\u003e\u003c\/span\u003e\u003c\/div\u003e\n\u003cdiv\u003e\n\u003cul\u003e\n\u003cli\u003e\u003cspan lang=\"en\"\u003e\u003cspan title=\"\"\u003e1x 1.2V Ni-MH Battery Controller Solar Jar Light Control Board Solar Ceramic Light\u003c\/span\u003e\u003c\/span\u003e\u003c\/li\u003e\n\u003c\/ul\u003e\n\u003c\/div\u003e\n\u003c\/div\u003e\n\u003c\/div\u003e","published_at":"2020-10-29T17:34:02+08:00","created_at":"2020-10-29T17:34:00+08:00","vendor":"DIYMORE","type":"","tags":[],"price":499,"price_min":499,"price_max":1599,"available":true,"price_varies":true,"compare_at_price":null,"compare_at_price_min":0,"compare_at_price_max":0,"compare_at_price_varies":false,"variants":[{"id":37266674221256,"title":"1PCS","option1":"1PCS","option2":null,"option3":null,"sku":"XH0022","requires_shipping":true,"taxable":false,"featured_image":null,"available":true,"name":"1.2V Ni-MH Battery Controller Solar Jar Light Control Board Solar Ceramic Light - 1PCS","public_title":"1PCS","options":["1PCS"],"price":499,"weight":0,"compare_at_price":null,"inventory_management":"shopify","barcode":"","requires_selling_plan":false,"selling_plan_allocations":[],"quantity_rule":{"min":1,"max":null,"increment":1}},{"id":37266674254024,"title":"5PCS","option1":"5PCS","option2":null,"option3":null,"sku":"XH00225","requires_shipping":true,"taxable":false,"featured_image":null,"available":true,"name":"1.2V Ni-MH Battery Controller Solar Jar Light Control Board Solar Ceramic Light - 5PCS","public_title":"5PCS","options":["5PCS"],"price":999,"weight":0,"compare_at_price":null,"inventory_management":"shopify","barcode":"","requires_selling_plan":false,"selling_plan_allocations":[],"quantity_rule":{"min":1,"max":null,"increment":1}},{"id":37266674286792,"title":"10PCS","option1":"10PCS","option2":null,"option3":null,"sku":"XH002210","requires_shipping":true,"taxable":false,"featured_image":null,"available":true,"name":"1.2V Ni-MH Battery Controller Solar Jar Light Control Board Solar Ceramic Light - 10PCS","public_title":"10PCS","options":["10PCS"],"price":1599,"weight":0,"compare_at_price":null,"inventory_management":"shopify","barcode":"","requires_selling_plan":false,"selling_plan_allocations":[],"quantity_rule":{"min":1,"max":null,"increment":1}}],"images":["\/\/cdn.shopify.com\/s\/files\/1\/0122\/7558\/0986\/products\/1_86a548f4-87e2-47cc-ad41-e77a681f15a5.jpg?v=1603964045","\/\/cdn.shopify.com\/s\/files\/1\/0122\/7558\/0986\/products\/5_4cb42758-c0a3-4154-bca7-c1cc8377e200.jpg?v=1603964045","\/\/cdn.shopify.com\/s\/files\/1\/0122\/7558\/0986\/products\/3_7d67ed02-3d07-4614-85bd-55474a3efe65.jpg?v=1603964046","\/\/cdn.shopify.com\/s\/files\/1\/0122\/7558\/0986\/products\/6_8c9e9301-425b-4ed2-b041-a97ded3a8ae3.jpg?v=1603964046","\/\/cdn.shopify.com\/s\/files\/1\/0122\/7558\/0986\/products\/f7d7c897f798fc44c391847188c3ac79_2ecf89f3-e3b7-4db1-9880-978e90d2c297.jpg?v=1603964046"],"featured_image":"\/\/cdn.shopify.com\/s\/files\/1\/0122\/7558\/0986\/products\/1_86a548f4-87e2-47cc-ad41-e77a681f15a5.jpg?v=1603964045","options":["Quantity"],"media":[{"alt":null,"id":14582443114696,"position":1,"preview_image":{"aspect_ratio":1.0,"height":1000,"width":1000,"src":"https:\/\/cdn.shopify.com\/s\/files\/1\/0122\/7558\/0986\/products\/1_86a548f4-87e2-47cc-ad41-e77a681f15a5.jpg?v=1603964045"},"aspect_ratio":1.0,"height":1000,"media_type":"image","src":"https:\/\/cdn.shopify.com\/s\/files\/1\/0122\/7558\/0986\/products\/1_86a548f4-87e2-47cc-ad41-e77a681f15a5.jpg?v=1603964045","width":1000},{"alt":null,"id":14582443147464,"position":2,"preview_image":{"aspect_ratio":1.0,"height":1000,"width":1000,"src":"https:\/\/cdn.shopify.com\/s\/files\/1\/0122\/7558\/0986\/products\/5_4cb42758-c0a3-4154-bca7-c1cc8377e200.jpg?v=1603964045"},"aspect_ratio":1.0,"height":1000,"media_type":"image","src":"https:\/\/cdn.shopify.com\/s\/files\/1\/0122\/7558\/0986\/products\/5_4cb42758-c0a3-4154-bca7-c1cc8377e200.jpg?v=1603964045","width":1000},{"alt":null,"id":14582443180232,"position":3,"preview_image":{"aspect_ratio":1.0,"height":1000,"width":1000,"src":"https:\/\/cdn.shopify.com\/s\/files\/1\/0122\/7558\/0986\/products\/3_7d67ed02-3d07-4614-85bd-55474a3efe65.jpg?v=1603964046"},"aspect_ratio":1.0,"height":1000,"media_type":"image","src":"https:\/\/cdn.shopify.com\/s\/files\/1\/0122\/7558\/0986\/products\/3_7d67ed02-3d07-4614-85bd-55474a3efe65.jpg?v=1603964046","width":1000},{"alt":null,"id":14582443213000,"position":4,"preview_image":{"aspect_ratio":1.0,"height":1000,"width":1000,"src":"https:\/\/cdn.shopify.com\/s\/files\/1\/0122\/7558\/0986\/products\/6_8c9e9301-425b-4ed2-b041-a97ded3a8ae3.jpg?v=1603964046"},"aspect_ratio":1.0,"height":1000,"media_type":"image","src":"https:\/\/cdn.shopify.com\/s\/files\/1\/0122\/7558\/0986\/products\/6_8c9e9301-425b-4ed2-b041-a97ded3a8ae3.jpg?v=1603964046","width":1000},{"alt":null,"id":14582443245768,"position":5,"preview_image":{"aspect_ratio":1.0,"height":1000,"width":1000,"src":"https:\/\/cdn.shopify.com\/s\/files\/1\/0122\/7558\/0986\/products\/f7d7c897f798fc44c391847188c3ac79_2ecf89f3-e3b7-4db1-9880-978e90d2c297.jpg?v=1603964046"},"aspect_ratio":1.0,"height":1000,"media_type":"image","src":"https:\/\/cdn.shopify.com\/s\/files\/1\/0122\/7558\/0986\/products\/f7d7c897f798fc44c391847188c3ac79_2ecf89f3-e3b7-4db1-9880-978e90d2c297.jpg?v=1603964046","width":1000}],"requires_selling_plan":false,"selling_plan_groups":[],"content":"\u003cdiv\u003e\u003cspan\u003e\u003cstrong\u003e\u003cspan lang=\"en\"\u003e\u003cspan title=\"\"\u003eDescription:\u003c\/span\u003e\u003c\/span\u003e\u003c\/strong\u003e\u003c\/span\u003e\u003c\/div\u003e\n\u003cdiv\u003e\n\u003cul\u003e\n\u003cli\u003e\u003cspan lang=\"en\"\u003e\u003cspan title=\"\"\u003eMini solar jar light circuit control board. Suitable for solar lawn lights, solar ceramic lights, solar landscape lights, and other solar products for circuit control.\u003c\/span\u003e\u003c\/span\u003e\u003c\/li\u003e\n\u003cli\u003e\u003cspan lang=\"en\"\u003e\u003cspan title=\"\"\u003eIt can be connected with 1.2V Ni-MH battery and 2V solar panel.\u003c\/span\u003e\u003c\/span\u003e\u003c\/li\u003e\n\u003cli\u003e\u003cspan lang=\"en\"\u003e\u003cspan title=\"\"\u003eThis is a can be assembled into a mason lamp jar\/lawn lamp\/wall\u003c\/span\u003e\u003c\/span\u003e\u003c\/li\u003e\n\u003cli\u003e\u003cspan lang=\"en\"\u003e\u003cspan title=\"\"\u003eLamp\/post lamp\/string lamp\/Christmas lamp\/sunlight lamp\/fluorescent lamp\/\u003c\/span\u003e\u003c\/span\u003e\u003c\/li\u003e\n\u003cli\u003e\u003cspan lang=\"en\"\u003e\u003cspan title=\"\"\u003eAdvertising lights\/night lights, etc. various shapes of solar landscape\u003c\/span\u003e\u003c\/span\u003e\u003c\/li\u003e\n\u003cli\u003e\u003cspan lang=\"en\"\u003e\u003cspan title=\"\"\u003eLight control circuit board, various lamps assembled with this circuit board\u003c\/span\u003e\u003c\/span\u003e\u003c\/li\u003e\n\u003cli\u003e\u003cspan lang=\"en\"\u003e\u003cspan title=\"\"\u003eHas been exported to all parts of the world.\u003c\/span\u003e\u003c\/span\u003e\u003c\/li\u003e\n\u003cli\u003e\u003cspan lang=\"en\"\u003e\u003cspan title=\"\"\u003eThis circuit board has a small area requirement for solar panels,\u003c\/span\u003e\u003c\/span\u003e\u003c\/li\u003e\n\u003cli\u003e\u003cspan lang=\"en\"\u003e\u003cspan title=\"\"\u003eLED drive efficiency is high, and the lighting time is long.\u003c\/span\u003e \u003cspan title=\"\"\u003eline\u003c\/span\u003e\u003c\/span\u003e\u003c\/li\u003e\n\u003cli\u003e\u003cspan lang=\"en\"\u003e\u003cspan title=\"\"\u003eThere is a toggle switch on the board, you can choose to emit white light or seven\u003c\/span\u003e\u003c\/span\u003e\u003c\/li\u003e\n\u003cli\u003e\u003cspan lang=\"en\"\u003e\u003cspan title=\"\"\u003eColor, white light with high brightness, colorful lights with rich colors, Look beautiful\u003c\/span\u003e\u003cspan title=\"\"\u003e!\u003c\/span\u003e\u003c\/span\u003e\u003c\/li\u003e\n\u003c\/ul\u003e\n\u003c\/div\u003e\n\u003cdiv\u003e\u003cspan\u003e\u003cstrong\u003e\u003cspan lang=\"en\"\u003e\u003cspan title=\"\"\u003eTechnical Parameters:\u003c\/span\u003e\u003c\/span\u003e\u003c\/strong\u003e\u003c\/span\u003e\u003c\/div\u003e\n\u003cdiv\u003e\n\u003cdiv\u003e\n\u003cdiv tabindex=\"0\"\u003e\n\u003cul\u003e\n\u003cli\u003e\u003cspan\u003e\u003cspan lang=\"en\"\u003e\u003cspan title=\"\"\u003eSolar panel: 2V \/≤150mA\u003c\/span\u003e\u003c\/span\u003e\u003c\/span\u003e\u003c\/li\u003e\n\u003cli\u003e\u003cspan\u003e\u003cspan lang=\"en\"\u003e\u003cspan title=\"\"\u003eBattery specification: 1.2V rechargeable battery\u003c\/span\u003e\u003c\/span\u003e\u003c\/span\u003e\u003c\/li\u003e\n\u003cli\u003e\u003cspan\u003e\u003cspan lang=\"en\"\u003e\u003cspan title=\"\"\u003eBattery capacity: ≥600mAH\u003c\/span\u003e\u003c\/span\u003e\u003c\/span\u003e\u003c\/li\u003e\n\u003cli\u003e\u003cspan\u003e\u003cspan lang=\"en\"\u003e\u003cspan title=\"\"\u003eLED current: about 10mA\u003c\/span\u003e\u003c\/span\u003e\u003c\/span\u003e\u003c\/li\u003e\n\u003cli\u003e\u003cspan\u003e\u003cspan lang=\"en\"\u003e\u003cspan title=\"\"\u003eCircuit board size: 25mm long and 15mm wide\u003c\/span\u003e\u003c\/span\u003e\u003c\/span\u003e\u003c\/li\u003e\n\u003cli\u003e\u003cspan\u003e\u003cspan lang=\"en\"\u003e\u003cspan title=\"\"\u003eWiring instructions:\u003c\/span\u003e\u003c\/span\u003e\u003c\/span\u003e\u003c\/li\u003e\n\u003cli\u003e\u003cspan\u003e\u003cspan lang=\"en\"\u003e\u003cspan title=\"\"\u003eS+ connected to solar anode\u003c\/span\u003e\u003c\/span\u003e\u003c\/span\u003e\u003c\/li\u003e\n\u003cli\u003e\u003cspan\u003e\u003cspan lang=\"en\"\u003e\u003cspan title=\"\"\u003eS- connect solar negative\u003c\/span\u003e\u003c\/span\u003e\u003c\/span\u003e\u003c\/li\u003e\n\u003cli\u003e\u003cspan\u003e\u003cspan lang=\"en\"\u003e\u003cspan title=\"\"\u003eB+ connects battery positive\u003c\/span\u003e\u003c\/span\u003e\u003c\/span\u003e\u003c\/li\u003e\n\u003cli\u003e\u003cspan\u003e\u003cspan lang=\"en\"\u003e\u003cspan title=\"\"\u003eB- connect battery negative\u003c\/span\u003e\u003c\/span\u003e\u003c\/span\u003e\u003c\/li\u003e\n\u003cli\u003e\u003cspan\u003e\u003cspan lang=\"en\"\u003e\u003cspan title=\"\"\u003eSolar ceramic light jar light lawn light circuit control board\u003c\/span\u003e\u003c\/span\u003e\u003c\/span\u003e\u003c\/li\u003e\n\u003cli\u003e\u003cspan\u003e\u003cspan lang=\"en\"\u003e\u003cspan title=\"\"\u003eComes with two LED lamp beads\u003c\/span\u003e\u003c\/span\u003e\u003c\/span\u003e\u003c\/li\u003e\n\u003cli\u003e\u003cspan\u003e\u003cspan lang=\"en\"\u003e\u003cspan title=\"\"\u003e(1 high-brightness white light + 1 colorful changing color light)\u003c\/span\u003e\u003c\/span\u003e\u003c\/span\u003e\u003c\/li\u003e\n\u003c\/ul\u003e\n\u003cspan\u003e\u003cspan lang=\"en\"\u003e\u003c\/span\u003e\u003c\/span\u003e\n\u003c\/div\u003e\n\u003c\/div\u003e\n\u003cdiv\u003e\n\u003cdiv\u003e\u003cspan\u003e\u003cimg src=\"https:\/\/pg-cdn-a2.datacaciques.com\/00\/NDAy\/20\/10\/28\/x64nrb7dn4u6z62s\/39c5d6c570315a92.jpg\"\u003e\u003c\/span\u003e\u003c\/div\u003e\n\u003cdiv\u003e\n\u003cul\u003e\n\u003cli\u003e\u003cspan lang=\"en\"\u003e\u003cspan title=\"\"\u003eBuilt-in three-level switch (white light file + color light file + off file)\u003c\/span\u003e\u003c\/span\u003e\u003c\/li\u003e\n\u003cli\u003e\u003cspan lang=\"en\"\u003e\u003cspan title=\"\"\u003eSuitable for connecting 1.2V Ni-MH battery and 2V solar panel\u003c\/span\u003e\u003c\/span\u003e\u003c\/li\u003e\n\u003c\/ul\u003e\n\u003c\/div\u003e\n\u003cdiv\u003e\u003cspan lang=\"en\"\u003e\u003cspan title=\"\"\u003e\u003cimg src=\"https:\/\/pg-cdn-a2.datacaciques.com\/00\/NDAy\/20\/10\/28\/x64nrb7dn4u6z62s\/bf3e671abf41c5fe.jpg\"\u003e\u003c\/span\u003e\u003c\/span\u003e\u003c\/div\u003e\n\u003cdiv\u003e\u003cspan lang=\"en\"\u003e\u003cspan title=\"\"\u003e\u003cimg src=\"https:\/\/pg-cdn-a2.datacaciques.com\/00\/NDAy\/20\/10\/28\/x64nrb7dn4u6z62s\/2a7821a95f75a92d.jpg\"\u003e\u003c\/span\u003e\u003c\/span\u003e\u003c\/div\u003e\n\u003cdiv\u003e\u003cspan\u003e\u003cstrong\u003e\u003cspan lang=\"en\"\u003e\u003cspan title=\"\"\u003ePackage Include:\u003c\/span\u003e\u003c\/span\u003e\u003c\/strong\u003e\u003c\/span\u003e\u003c\/div\u003e\n\u003cdiv\u003e\n\u003cul\u003e\n\u003cli\u003e\u003cspan lang=\"en\"\u003e\u003cspan title=\"\"\u003e1x 1.2V Ni-MH Battery Controller Solar Jar Light Control Board Solar Ceramic Light\u003c\/span\u003e\u003c\/span\u003e\u003c\/li\u003e\n\u003c\/ul\u003e\n\u003c\/div\u003e\n\u003c\/div\u003e\n\u003c\/div\u003e"}

{"id":6030532051144,"title":"1.2V Ni-MH Battery Controller Solar Jar Light Control Board Solar Ceramic Light","handle":"1-2v-ni-mh-battery-controller-solar-jar-light-control-board-solar-ceramic-light","description":"\u003cdiv\u003e\u003cspan\u003e\u003cstrong\u003e\u003cspan lang=\"en\"\u003e\u003cspan title=\"\"\u003eDescription:\u003c\/span\u003e\u003c\/span\u003e\u003c\/strong\u003e\u003c\/span\u003e\u003c\/div\u003e\n\u003cdiv\u003e\n\u003cul\u003e\n\u003cli\u003e\u003cspan lang=\"en\"\u003e\u003cspan title=\"\"\u003eMini solar jar light circuit control board. Suitable for solar lawn lights, solar ceramic lights, solar landscape lights, and other solar products for circuit control.\u003c\/span\u003e\u003c\/span\u003e\u003c\/li\u003e\n\u003cli\u003e\u003cspan lang=\"en\"\u003e\u003cspan title=\"\"\u003eIt can be connected with 1.2V Ni-MH battery and 2V solar panel.\u003c\/span\u003e\u003c\/span\u003e\u003c\/li\u003e\n\u003cli\u003e\u003cspan lang=\"en\"\u003e\u003cspan title=\"\"\u003eThis is a can be assembled into a mason lamp jar\/lawn lamp\/wall\u003c\/span\u003e\u003c\/span\u003e\u003c\/li\u003e\n\u003cli\u003e\u003cspan lang=\"en\"\u003e\u003cspan title=\"\"\u003eLamp\/post lamp\/string lamp\/Christmas lamp\/sunlight lamp\/fluorescent lamp\/\u003c\/span\u003e\u003c\/span\u003e\u003c\/li\u003e\n\u003cli\u003e\u003cspan lang=\"en\"\u003e\u003cspan title=\"\"\u003eAdvertising lights\/night lights, etc. various shapes of solar landscape\u003c\/span\u003e\u003c\/span\u003e\u003c\/li\u003e\n\u003cli\u003e\u003cspan lang=\"en\"\u003e\u003cspan title=\"\"\u003eLight control circuit board, various lamps assembled with this circuit board\u003c\/span\u003e\u003c\/span\u003e\u003c\/li\u003e\n\u003cli\u003e\u003cspan lang=\"en\"\u003e\u003cspan title=\"\"\u003eHas been exported to all parts of the world.\u003c\/span\u003e\u003c\/span\u003e\u003c\/li\u003e\n\u003cli\u003e\u003cspan lang=\"en\"\u003e\u003cspan title=\"\"\u003eThis circuit board has a small area requirement for solar panels,\u003c\/span\u003e\u003c\/span\u003e\u003c\/li\u003e\n\u003cli\u003e\u003cspan lang=\"en\"\u003e\u003cspan title=\"\"\u003eLED drive efficiency is high, and the lighting time is long.\u003c\/span\u003e \u003cspan title=\"\"\u003eline\u003c\/span\u003e\u003c\/span\u003e\u003c\/li\u003e\n\u003cli\u003e\u003cspan lang=\"en\"\u003e\u003cspan title=\"\"\u003eThere is a toggle switch on the board, you can choose to emit white light or seven\u003c\/span\u003e\u003c\/span\u003e\u003c\/li\u003e\n\u003cli\u003e\u003cspan lang=\"en\"\u003e\u003cspan title=\"\"\u003eColor, white light with high brightness, colorful lights with rich colors, Look beautiful\u003c\/span\u003e\u003cspan title=\"\"\u003e!\u003c\/span\u003e\u003c\/span\u003e\u003c\/li\u003e\n\u003c\/ul\u003e\n\u003c\/div\u003e\n\u003cdiv\u003e\u003cspan\u003e\u003cstrong\u003e\u003cspan lang=\"en\"\u003e\u003cspan title=\"\"\u003eTechnical Parameters:\u003c\/span\u003e\u003c\/span\u003e\u003c\/strong\u003e\u003c\/span\u003e\u003c\/div\u003e\n\u003cdiv\u003e\n\u003cdiv\u003e\n\u003cdiv tabindex=\"0\"\u003e\n\u003cul\u003e\n\u003cli\u003e\u003cspan\u003e\u003cspan lang=\"en\"\u003e\u003cspan title=\"\"\u003eSolar panel: 2V \/≤150mA\u003c\/span\u003e\u003c\/span\u003e\u003c\/span\u003e\u003c\/li\u003e\n\u003cli\u003e\u003cspan\u003e\u003cspan lang=\"en\"\u003e\u003cspan title=\"\"\u003eBattery specification: 1.2V rechargeable battery\u003c\/span\u003e\u003c\/span\u003e\u003c\/span\u003e\u003c\/li\u003e\n\u003cli\u003e\u003cspan\u003e\u003cspan lang=\"en\"\u003e\u003cspan title=\"\"\u003eBattery capacity: ≥600mAH\u003c\/span\u003e\u003c\/span\u003e\u003c\/span\u003e\u003c\/li\u003e\n\u003cli\u003e\u003cspan\u003e\u003cspan lang=\"en\"\u003e\u003cspan title=\"\"\u003eLED current: about 10mA\u003c\/span\u003e\u003c\/span\u003e\u003c\/span\u003e\u003c\/li\u003e\n\u003cli\u003e\u003cspan\u003e\u003cspan lang=\"en\"\u003e\u003cspan title=\"\"\u003eCircuit board size: 25mm long and 15mm wide\u003c\/span\u003e\u003c\/span\u003e\u003c\/span\u003e\u003c\/li\u003e\n\u003cli\u003e\u003cspan\u003e\u003cspan lang=\"en\"\u003e\u003cspan title=\"\"\u003eWiring instructions:\u003c\/span\u003e\u003c\/span\u003e\u003c\/span\u003e\u003c\/li\u003e\n\u003cli\u003e\u003cspan\u003e\u003cspan lang=\"en\"\u003e\u003cspan title=\"\"\u003eS+ connected to solar anode\u003c\/span\u003e\u003c\/span\u003e\u003c\/span\u003e\u003c\/li\u003e\n\u003cli\u003e\u003cspan\u003e\u003cspan lang=\"en\"\u003e\u003cspan title=\"\"\u003eS- connect solar negative\u003c\/span\u003e\u003c\/span\u003e\u003c\/span\u003e\u003c\/li\u003e\n\u003cli\u003e\u003cspan\u003e\u003cspan lang=\"en\"\u003e\u003cspan title=\"\"\u003eB+ connects battery positive\u003c\/span\u003e\u003c\/span\u003e\u003c\/span\u003e\u003c\/li\u003e\n\u003cli\u003e\u003cspan\u003e\u003cspan lang=\"en\"\u003e\u003cspan title=\"\"\u003eB- connect battery negative\u003c\/span\u003e\u003c\/span\u003e\u003c\/span\u003e\u003c\/li\u003e\n\u003cli\u003e\u003cspan\u003e\u003cspan lang=\"en\"\u003e\u003cspan title=\"\"\u003eSolar ceramic light jar light lawn light circuit control board\u003c\/span\u003e\u003c\/span\u003e\u003c\/span\u003e\u003c\/li\u003e\n\u003cli\u003e\u003cspan\u003e\u003cspan lang=\"en\"\u003e\u003cspan title=\"\"\u003eComes with two LED lamp beads\u003c\/span\u003e\u003c\/span\u003e\u003c\/span\u003e\u003c\/li\u003e\n\u003cli\u003e\u003cspan\u003e\u003cspan lang=\"en\"\u003e\u003cspan title=\"\"\u003e(1 high-brightness white light + 1 colorful changing color light)\u003c\/span\u003e\u003c\/span\u003e\u003c\/span\u003e\u003c\/li\u003e\n\u003c\/ul\u003e\n\u003cspan\u003e\u003cspan lang=\"en\"\u003e\u003c\/span\u003e\u003c\/span\u003e\n\u003c\/div\u003e\n\u003c\/div\u003e\n\u003cdiv\u003e\n\u003cdiv\u003e\u003cspan\u003e\u003cimg src=\"https:\/\/pg-cdn-a2.datacaciques.com\/00\/NDAy\/20\/10\/28\/x64nrb7dn4u6z62s\/39c5d6c570315a92.jpg\"\u003e\u003c\/span\u003e\u003c\/div\u003e\n\u003cdiv\u003e\n\u003cul\u003e\n\u003cli\u003e\u003cspan lang=\"en\"\u003e\u003cspan title=\"\"\u003eBuilt-in three-level switch (white light file + color light file + off file)\u003c\/span\u003e\u003c\/span\u003e\u003c\/li\u003e\n\u003cli\u003e\u003cspan lang=\"en\"\u003e\u003cspan title=\"\"\u003eSuitable for connecting 1.2V Ni-MH battery and 2V solar panel\u003c\/span\u003e\u003c\/span\u003e\u003c\/li\u003e\n\u003c\/ul\u003e\n\u003c\/div\u003e\n\u003cdiv\u003e\u003cspan lang=\"en\"\u003e\u003cspan title=\"\"\u003e\u003cimg src=\"https:\/\/pg-cdn-a2.datacaciques.com\/00\/NDAy\/20\/10\/28\/x64nrb7dn4u6z62s\/bf3e671abf41c5fe.jpg\"\u003e\u003c\/span\u003e\u003c\/span\u003e\u003c\/div\u003e\n\u003cdiv\u003e\u003cspan lang=\"en\"\u003e\u003cspan title=\"\"\u003e\u003cimg src=\"https:\/\/pg-cdn-a2.datacaciques.com\/00\/NDAy\/20\/10\/28\/x64nrb7dn4u6z62s\/2a7821a95f75a92d.jpg\"\u003e\u003c\/span\u003e\u003c\/span\u003e\u003c\/div\u003e\n\u003cdiv\u003e\u003cspan\u003e\u003cstrong\u003e\u003cspan lang=\"en\"\u003e\u003cspan title=\"\"\u003ePackage Include:\u003c\/span\u003e\u003c\/span\u003e\u003c\/strong\u003e\u003c\/span\u003e\u003c\/div\u003e\n\u003cdiv\u003e\n\u003cul\u003e\n\u003cli\u003e\u003cspan lang=\"en\"\u003e\u003cspan title=\"\"\u003e1x 1.2V Ni-MH Battery Controller Solar Jar Light Control Board Solar Ceramic Light\u003c\/span\u003e\u003c\/span\u003e\u003c\/li\u003e\n\u003c\/ul\u003e\n\u003c\/div\u003e\n\u003c\/div\u003e\n\u003c\/div\u003e","published_at":"2020-10-29T17:34:02+08:00","created_at":"2020-10-29T17:34:00+08:00","vendor":"DIYMORE","type":"","tags":[],"price":499,"price_min":499,"price_max":1599,"available":true,"price_varies":true,"compare_at_price":null,"compare_at_price_min":0,"compare_at_price_max":0,"compare_at_price_varies":false,"variants":[{"id":37266674221256,"title":"1PCS","option1":"1PCS","option2":null,"option3":null,"sku":"XH0022","requires_shipping":true,"taxable":false,"featured_image":null,"available":true,"name":"1.2V Ni-MH Battery Controller Solar Jar Light Control Board Solar Ceramic Light - 1PCS","public_title":"1PCS","options":["1PCS"],"price":499,"weight":0,"compare_at_price":null,"inventory_management":"shopify","barcode":"","requires_selling_plan":false,"selling_plan_allocations":[],"quantity_rule":{"min":1,"max":null,"increment":1}},{"id":37266674254024,"title":"5PCS","option1":"5PCS","option2":null,"option3":null,"sku":"XH00225","requires_shipping":true,"taxable":false,"featured_image":null,"available":true,"name":"1.2V Ni-MH Battery Controller Solar Jar Light Control Board Solar Ceramic Light - 5PCS","public_title":"5PCS","options":["5PCS"],"price":999,"weight":0,"compare_at_price":null,"inventory_management":"shopify","barcode":"","requires_selling_plan":false,"selling_plan_allocations":[],"quantity_rule":{"min":1,"max":null,"increment":1}},{"id":37266674286792,"title":"10PCS","option1":"10PCS","option2":null,"option3":null,"sku":"XH002210","requires_shipping":true,"taxable":false,"featured_image":null,"available":true,"name":"1.2V Ni-MH Battery Controller Solar Jar Light Control Board Solar Ceramic Light - 10PCS","public_title":"10PCS","options":["10PCS"],"price":1599,"weight":0,"compare_at_price":null,"inventory_management":"shopify","barcode":"","requires_selling_plan":false,"selling_plan_allocations":[],"quantity_rule":{"min":1,"max":null,"increment":1}}],"images":["\/\/cdn.shopify.com\/s\/files\/1\/0122\/7558\/0986\/products\/1_86a548f4-87e2-47cc-ad41-e77a681f15a5.jpg?v=1603964045","\/\/cdn.shopify.com\/s\/files\/1\/0122\/7558\/0986\/products\/5_4cb42758-c0a3-4154-bca7-c1cc8377e200.jpg?v=1603964045","\/\/cdn.shopify.com\/s\/files\/1\/0122\/7558\/0986\/products\/3_7d67ed02-3d07-4614-85bd-55474a3efe65.jpg?v=1603964046","\/\/cdn.shopify.com\/s\/files\/1\/0122\/7558\/0986\/products\/6_8c9e9301-425b-4ed2-b041-a97ded3a8ae3.jpg?v=1603964046","\/\/cdn.shopify.com\/s\/files\/1\/0122\/7558\/0986\/products\/f7d7c897f798fc44c391847188c3ac79_2ecf89f3-e3b7-4db1-9880-978e90d2c297.jpg?v=1603964046"],"featured_image":"\/\/cdn.shopify.com\/s\/files\/1\/0122\/7558\/0986\/products\/1_86a548f4-87e2-47cc-ad41-e77a681f15a5.jpg?v=1603964045","options":["Quantity"],"media":[{"alt":null,"id":14582443114696,"position":1,"preview_image":{"aspect_ratio":1.0,"height":1000,"width":1000,"src":"https:\/\/cdn.shopify.com\/s\/files\/1\/0122\/7558\/0986\/products\/1_86a548f4-87e2-47cc-ad41-e77a681f15a5.jpg?v=1603964045"},"aspect_ratio":1.0,"height":1000,"media_type":"image","src":"https:\/\/cdn.shopify.com\/s\/files\/1\/0122\/7558\/0986\/products\/1_86a548f4-87e2-47cc-ad41-e77a681f15a5.jpg?v=1603964045","width":1000},{"alt":null,"id":14582443147464,"position":2,"preview_image":{"aspect_ratio":1.0,"height":1000,"width":1000,"src":"https:\/\/cdn.shopify.com\/s\/files\/1\/0122\/7558\/0986\/products\/5_4cb42758-c0a3-4154-bca7-c1cc8377e200.jpg?v=1603964045"},"aspect_ratio":1.0,"height":1000,"media_type":"image","src":"https:\/\/cdn.shopify.com\/s\/files\/1\/0122\/7558\/0986\/products\/5_4cb42758-c0a3-4154-bca7-c1cc8377e200.jpg?v=1603964045","width":1000},{"alt":null,"id":14582443180232,"position":3,"preview_image":{"aspect_ratio":1.0,"height":1000,"width":1000,"src":"https:\/\/cdn.shopify.com\/s\/files\/1\/0122\/7558\/0986\/products\/3_7d67ed02-3d07-4614-85bd-55474a3efe65.jpg?v=1603964046"},"aspect_ratio":1.0,"height":1000,"media_type":"image","src":"https:\/\/cdn.shopify.com\/s\/files\/1\/0122\/7558\/0986\/products\/3_7d67ed02-3d07-4614-85bd-55474a3efe65.jpg?v=1603964046","width":1000},{"alt":null,"id":14582443213000,"position":4,"preview_image":{"aspect_ratio":1.0,"height":1000,"width":1000,"src":"https:\/\/cdn.shopify.com\/s\/files\/1\/0122\/7558\/0986\/products\/6_8c9e9301-425b-4ed2-b041-a97ded3a8ae3.jpg?v=1603964046"},"aspect_ratio":1.0,"height":1000,"media_type":"image","src":"https:\/\/cdn.shopify.com\/s\/files\/1\/0122\/7558\/0986\/products\/6_8c9e9301-425b-4ed2-b041-a97ded3a8ae3.jpg?v=1603964046","width":1000},{"alt":null,"id":14582443245768,"position":5,"preview_image":{"aspect_ratio":1.0,"height":1000,"width":1000,"src":"https:\/\/cdn.shopify.com\/s\/files\/1\/0122\/7558\/0986\/products\/f7d7c897f798fc44c391847188c3ac79_2ecf89f3-e3b7-4db1-9880-978e90d2c297.jpg?v=1603964046"},"aspect_ratio":1.0,"height":1000,"media_type":"image","src":"https:\/\/cdn.shopify.com\/s\/files\/1\/0122\/7558\/0986\/products\/f7d7c897f798fc44c391847188c3ac79_2ecf89f3-e3b7-4db1-9880-978e90d2c297.jpg?v=1603964046","width":1000}],"requires_selling_plan":false,"selling_plan_groups":[],"content":"\u003cdiv\u003e\u003cspan\u003e\u003cstrong\u003e\u003cspan lang=\"en\"\u003e\u003cspan title=\"\"\u003eDescription:\u003c\/span\u003e\u003c\/span\u003e\u003c\/strong\u003e\u003c\/span\u003e\u003c\/div\u003e\n\u003cdiv\u003e\n\u003cul\u003e\n\u003cli\u003e\u003cspan lang=\"en\"\u003e\u003cspan title=\"\"\u003eMini solar jar light circuit control board. Suitable for solar lawn lights, solar ceramic lights, solar landscape lights, and other solar products for circuit control.\u003c\/span\u003e\u003c\/span\u003e\u003c\/li\u003e\n\u003cli\u003e\u003cspan lang=\"en\"\u003e\u003cspan title=\"\"\u003eIt can be connected with 1.2V Ni-MH battery and 2V solar panel.\u003c\/span\u003e\u003c\/span\u003e\u003c\/li\u003e\n\u003cli\u003e\u003cspan lang=\"en\"\u003e\u003cspan title=\"\"\u003eThis is a can be assembled into a mason lamp jar\/lawn lamp\/wall\u003c\/span\u003e\u003c\/span\u003e\u003c\/li\u003e\n\u003cli\u003e\u003cspan lang=\"en\"\u003e\u003cspan title=\"\"\u003eLamp\/post lamp\/string lamp\/Christmas lamp\/sunlight lamp\/fluorescent lamp\/\u003c\/span\u003e\u003c\/span\u003e\u003c\/li\u003e\n\u003cli\u003e\u003cspan lang=\"en\"\u003e\u003cspan title=\"\"\u003eAdvertising lights\/night lights, etc. various shapes of solar landscape\u003c\/span\u003e\u003c\/span\u003e\u003c\/li\u003e\n\u003cli\u003e\u003cspan lang=\"en\"\u003e\u003cspan title=\"\"\u003eLight control circuit board, various lamps assembled with this circuit board\u003c\/span\u003e\u003c\/span\u003e\u003c\/li\u003e\n\u003cli\u003e\u003cspan lang=\"en\"\u003e\u003cspan title=\"\"\u003eHas been exported to all parts of the world.\u003c\/span\u003e\u003c\/span\u003e\u003c\/li\u003e\n\u003cli\u003e\u003cspan lang=\"en\"\u003e\u003cspan title=\"\"\u003eThis circuit board has a small area requirement for solar panels,\u003c\/span\u003e\u003c\/span\u003e\u003c\/li\u003e\n\u003cli\u003e\u003cspan lang=\"en\"\u003e\u003cspan title=\"\"\u003eLED drive efficiency is high, and the lighting time is long.\u003c\/span\u003e \u003cspan title=\"\"\u003eline\u003c\/span\u003e\u003c\/span\u003e\u003c\/li\u003e\n\u003cli\u003e\u003cspan lang=\"en\"\u003e\u003cspan title=\"\"\u003eThere is a toggle switch on the board, you can choose to emit white light or seven\u003c\/span\u003e\u003c\/span\u003e\u003c\/li\u003e\n\u003cli\u003e\u003cspan lang=\"en\"\u003e\u003cspan title=\"\"\u003eColor, white light with high brightness, colorful lights with rich colors, Look beautiful\u003c\/span\u003e\u003cspan title=\"\"\u003e!\u003c\/span\u003e\u003c\/span\u003e\u003c\/li\u003e\n\u003c\/ul\u003e\n\u003c\/div\u003e\n\u003cdiv\u003e\u003cspan\u003e\u003cstrong\u003e\u003cspan lang=\"en\"\u003e\u003cspan title=\"\"\u003eTechnical Parameters:\u003c\/span\u003e\u003c\/span\u003e\u003c\/strong\u003e\u003c\/span\u003e\u003c\/div\u003e\n\u003cdiv\u003e\n\u003cdiv\u003e\n\u003cdiv tabindex=\"0\"\u003e\n\u003cul\u003e\n\u003cli\u003e\u003cspan\u003e\u003cspan lang=\"en\"\u003e\u003cspan title=\"\"\u003eSolar panel: 2V \/≤150mA\u003c\/span\u003e\u003c\/span\u003e\u003c\/span\u003e\u003c\/li\u003e\n\u003cli\u003e\u003cspan\u003e\u003cspan lang=\"en\"\u003e\u003cspan title=\"\"\u003eBattery specification: 1.2V rechargeable battery\u003c\/span\u003e\u003c\/span\u003e\u003c\/span\u003e\u003c\/li\u003e\n\u003cli\u003e\u003cspan\u003e\u003cspan lang=\"en\"\u003e\u003cspan title=\"\"\u003eBattery capacity: ≥600mAH\u003c\/span\u003e\u003c\/span\u003e\u003c\/span\u003e\u003c\/li\u003e\n\u003cli\u003e\u003cspan\u003e\u003cspan lang=\"en\"\u003e\u003cspan title=\"\"\u003eLED current: about 10mA\u003c\/span\u003e\u003c\/span\u003e\u003c\/span\u003e\u003c\/li\u003e\n\u003cli\u003e\u003cspan\u003e\u003cspan lang=\"en\"\u003e\u003cspan title=\"\"\u003eCircuit board size: 25mm long and 15mm wide\u003c\/span\u003e\u003c\/span\u003e\u003c\/span\u003e\u003c\/li\u003e\n\u003cli\u003e\u003cspan\u003e\u003cspan lang=\"en\"\u003e\u003cspan title=\"\"\u003eWiring instructions:\u003c\/span\u003e\u003c\/span\u003e\u003c\/span\u003e\u003c\/li\u003e\n\u003cli\u003e\u003cspan\u003e\u003cspan lang=\"en\"\u003e\u003cspan title=\"\"\u003eS+ connected to solar anode\u003c\/span\u003e\u003c\/span\u003e\u003c\/span\u003e\u003c\/li\u003e\n\u003cli\u003e\u003cspan\u003e\u003cspan lang=\"en\"\u003e\u003cspan title=\"\"\u003eS- connect solar negative\u003c\/span\u003e\u003c\/span\u003e\u003c\/span\u003e\u003c\/li\u003e\n\u003cli\u003e\u003cspan\u003e\u003cspan lang=\"en\"\u003e\u003cspan title=\"\"\u003eB+ connects battery positive\u003c\/span\u003e\u003c\/span\u003e\u003c\/span\u003e\u003c\/li\u003e\n\u003cli\u003e\u003cspan\u003e\u003cspan lang=\"en\"\u003e\u003cspan title=\"\"\u003eB- connect battery negative\u003c\/span\u003e\u003c\/span\u003e\u003c\/span\u003e\u003c\/li\u003e\n\u003cli\u003e\u003cspan\u003e\u003cspan lang=\"en\"\u003e\u003cspan title=\"\"\u003eSolar ceramic light jar light lawn light circuit control board\u003c\/span\u003e\u003c\/span\u003e\u003c\/span\u003e\u003c\/li\u003e\n\u003cli\u003e\u003cspan\u003e\u003cspan lang=\"en\"\u003e\u003cspan title=\"\"\u003eComes with two LED lamp beads\u003c\/span\u003e\u003c\/span\u003e\u003c\/span\u003e\u003c\/li\u003e\n\u003cli\u003e\u003cspan\u003e\u003cspan lang=\"en\"\u003e\u003cspan title=\"\"\u003e(1 high-brightness white light + 1 colorful changing color light)\u003c\/span\u003e\u003c\/span\u003e\u003c\/span\u003e\u003c\/li\u003e\n\u003c\/ul\u003e\n\u003cspan\u003e\u003cspan lang=\"en\"\u003e\u003c\/span\u003e\u003c\/span\u003e\n\u003c\/div\u003e\n\u003c\/div\u003e\n\u003cdiv\u003e\n\u003cdiv\u003e\u003cspan\u003e\u003cimg src=\"https:\/\/pg-cdn-a2.datacaciques.com\/00\/NDAy\/20\/10\/28\/x64nrb7dn4u6z62s\/39c5d6c570315a92.jpg\"\u003e\u003c\/span\u003e\u003c\/div\u003e\n\u003cdiv\u003e\n\u003cul\u003e\n\u003cli\u003e\u003cspan lang=\"en\"\u003e\u003cspan title=\"\"\u003eBuilt-in three-level switch (white light file + color light file + off file)\u003c\/span\u003e\u003c\/span\u003e\u003c\/li\u003e\n\u003cli\u003e\u003cspan lang=\"en\"\u003e\u003cspan title=\"\"\u003eSuitable for connecting 1.2V Ni-MH battery and 2V solar panel\u003c\/span\u003e\u003c\/span\u003e\u003c\/li\u003e\n\u003c\/ul\u003e\n\u003c\/div\u003e\n\u003cdiv\u003e\u003cspan lang=\"en\"\u003e\u003cspan title=\"\"\u003e\u003cimg src=\"https:\/\/pg-cdn-a2.datacaciques.com\/00\/NDAy\/20\/10\/28\/x64nrb7dn4u6z62s\/bf3e671abf41c5fe.jpg\"\u003e\u003c\/span\u003e\u003c\/span\u003e\u003c\/div\u003e\n\u003cdiv\u003e\u003cspan lang=\"en\"\u003e\u003cspan title=\"\"\u003e\u003cimg src=\"https:\/\/pg-cdn-a2.datacaciques.com\/00\/NDAy\/20\/10\/28\/x64nrb7dn4u6z62s\/2a7821a95f75a92d.jpg\"\u003e\u003c\/span\u003e\u003c\/span\u003e\u003c\/div\u003e\n\u003cdiv\u003e\u003cspan\u003e\u003cstrong\u003e\u003cspan lang=\"en\"\u003e\u003cspan title=\"\"\u003ePackage Include:\u003c\/span\u003e\u003c\/span\u003e\u003c\/strong\u003e\u003c\/span\u003e\u003c\/div\u003e\n\u003cdiv\u003e\n\u003cul\u003e\n\u003cli\u003e\u003cspan lang=\"en\"\u003e\u003cspan title=\"\"\u003e1x 1.2V Ni-MH Battery Controller Solar Jar Light Control Board Solar Ceramic Light\u003c\/span\u003e\u003c\/span\u003e\u003c\/li\u003e\n\u003c\/ul\u003e\n\u003c\/div\u003e\n\u003c\/div\u003e\n\u003c\/div\u003e"}

{"id":6030532051144,"title":"1.2V Ni-MH Battery Controller Solar Jar Light Control Board Solar Ceramic Light","handle":"1-2v-ni-mh-battery-controller-solar-jar-light-control-board-solar-ceramic-light","description":"\u003cdiv\u003e\u003cspan\u003e\u003cstrong\u003e\u003cspan lang=\"en\"\u003e\u003cspan title=\"\"\u003eDescription:\u003c\/span\u003e\u003c\/span\u003e\u003c\/strong\u003e\u003c\/span\u003e\u003c\/div\u003e\n\u003cdiv\u003e\n\u003cul\u003e\n\u003cli\u003e\u003cspan lang=\"en\"\u003e\u003cspan title=\"\"\u003eMini solar jar light circuit control board. Suitable for solar lawn lights, solar ceramic lights, solar landscape lights, and other solar products for circuit control.\u003c\/span\u003e\u003c\/span\u003e\u003c\/li\u003e\n\u003cli\u003e\u003cspan lang=\"en\"\u003e\u003cspan title=\"\"\u003eIt can be connected with 1.2V Ni-MH battery and 2V solar panel.\u003c\/span\u003e\u003c\/span\u003e\u003c\/li\u003e\n\u003cli\u003e\u003cspan lang=\"en\"\u003e\u003cspan title=\"\"\u003eThis is a can be assembled into a mason lamp jar\/lawn lamp\/wall\u003c\/span\u003e\u003c\/span\u003e\u003c\/li\u003e\n\u003cli\u003e\u003cspan lang=\"en\"\u003e\u003cspan title=\"\"\u003eLamp\/post lamp\/string lamp\/Christmas lamp\/sunlight lamp\/fluorescent lamp\/\u003c\/span\u003e\u003c\/span\u003e\u003c\/li\u003e\n\u003cli\u003e\u003cspan lang=\"en\"\u003e\u003cspan title=\"\"\u003eAdvertising lights\/night lights, etc. various shapes of solar landscape\u003c\/span\u003e\u003c\/span\u003e\u003c\/li\u003e\n\u003cli\u003e\u003cspan lang=\"en\"\u003e\u003cspan title=\"\"\u003eLight control circuit board, various lamps assembled with this circuit board\u003c\/span\u003e\u003c\/span\u003e\u003c\/li\u003e\n\u003cli\u003e\u003cspan lang=\"en\"\u003e\u003cspan title=\"\"\u003eHas been exported to all parts of the world.\u003c\/span\u003e\u003c\/span\u003e\u003c\/li\u003e\n\u003cli\u003e\u003cspan lang=\"en\"\u003e\u003cspan title=\"\"\u003eThis circuit board has a small area requirement for solar panels,\u003c\/span\u003e\u003c\/span\u003e\u003c\/li\u003e\n\u003cli\u003e\u003cspan lang=\"en\"\u003e\u003cspan title=\"\"\u003eLED drive efficiency is high, and the lighting time is long.\u003c\/span\u003e \u003cspan title=\"\"\u003eline\u003c\/span\u003e\u003c\/span\u003e\u003c\/li\u003e\n\u003cli\u003e\u003cspan lang=\"en\"\u003e\u003cspan title=\"\"\u003eThere is a toggle switch on the board, you can choose to emit white light or seven\u003c\/span\u003e\u003c\/span\u003e\u003c\/li\u003e\n\u003cli\u003e\u003cspan lang=\"en\"\u003e\u003cspan title=\"\"\u003eColor, white light with high brightness, colorful lights with rich colors, Look beautiful\u003c\/span\u003e\u003cspan title=\"\"\u003e!\u003c\/span\u003e\u003c\/span\u003e\u003c\/li\u003e\n\u003c\/ul\u003e\n\u003c\/div\u003e\n\u003cdiv\u003e\u003cspan\u003e\u003cstrong\u003e\u003cspan lang=\"en\"\u003e\u003cspan title=\"\"\u003eTechnical Parameters:\u003c\/span\u003e\u003c\/span\u003e\u003c\/strong\u003e\u003c\/span\u003e\u003c\/div\u003e\n\u003cdiv\u003e\n\u003cdiv\u003e\n\u003cdiv tabindex=\"0\"\u003e\n\u003cul\u003e\n\u003cli\u003e\u003cspan\u003e\u003cspan lang=\"en\"\u003e\u003cspan title=\"\"\u003eSolar panel: 2V \/≤150mA\u003c\/span\u003e\u003c\/span\u003e\u003c\/span\u003e\u003c\/li\u003e\n\u003cli\u003e\u003cspan\u003e\u003cspan lang=\"en\"\u003e\u003cspan title=\"\"\u003eBattery specification: 1.2V rechargeable battery\u003c\/span\u003e\u003c\/span\u003e\u003c\/span\u003e\u003c\/li\u003e\n\u003cli\u003e\u003cspan\u003e\u003cspan lang=\"en\"\u003e\u003cspan title=\"\"\u003eBattery capacity: ≥600mAH\u003c\/span\u003e\u003c\/span\u003e\u003c\/span\u003e\u003c\/li\u003e\n\u003cli\u003e\u003cspan\u003e\u003cspan lang=\"en\"\u003e\u003cspan title=\"\"\u003eLED current: about 10mA\u003c\/span\u003e\u003c\/span\u003e\u003c\/span\u003e\u003c\/li\u003e\n\u003cli\u003e\u003cspan\u003e\u003cspan lang=\"en\"\u003e\u003cspan title=\"\"\u003eCircuit board size: 25mm long and 15mm wide\u003c\/span\u003e\u003c\/span\u003e\u003c\/span\u003e\u003c\/li\u003e\n\u003cli\u003e\u003cspan\u003e\u003cspan lang=\"en\"\u003e\u003cspan title=\"\"\u003eWiring instructions:\u003c\/span\u003e\u003c\/span\u003e\u003c\/span\u003e\u003c\/li\u003e\n\u003cli\u003e\u003cspan\u003e\u003cspan lang=\"en\"\u003e\u003cspan title=\"\"\u003eS+ connected to solar anode\u003c\/span\u003e\u003c\/span\u003e\u003c\/span\u003e\u003c\/li\u003e\n\u003cli\u003e\u003cspan\u003e\u003cspan lang=\"en\"\u003e\u003cspan title=\"\"\u003eS- connect solar negative\u003c\/span\u003e\u003c\/span\u003e\u003c\/span\u003e\u003c\/li\u003e\n\u003cli\u003e\u003cspan\u003e\u003cspan lang=\"en\"\u003e\u003cspan title=\"\"\u003eB+ connects battery positive\u003c\/span\u003e\u003c\/span\u003e\u003c\/span\u003e\u003c\/li\u003e\n\u003cli\u003e\u003cspan\u003e\u003cspan lang=\"en\"\u003e\u003cspan title=\"\"\u003eB- connect battery negative\u003c\/span\u003e\u003c\/span\u003e\u003c\/span\u003e\u003c\/li\u003e\n\u003cli\u003e\u003cspan\u003e\u003cspan lang=\"en\"\u003e\u003cspan title=\"\"\u003eSolar ceramic light jar light lawn light circuit control board\u003c\/span\u003e\u003c\/span\u003e\u003c\/span\u003e\u003c\/li\u003e\n\u003cli\u003e\u003cspan\u003e\u003cspan lang=\"en\"\u003e\u003cspan title=\"\"\u003eComes with two LED lamp beads\u003c\/span\u003e\u003c\/span\u003e\u003c\/span\u003e\u003c\/li\u003e\n\u003cli\u003e\u003cspan\u003e\u003cspan lang=\"en\"\u003e\u003cspan title=\"\"\u003e(1 high-brightness white light + 1 colorful changing color light)\u003c\/span\u003e\u003c\/span\u003e\u003c\/span\u003e\u003c\/li\u003e\n\u003c\/ul\u003e\n\u003cspan\u003e\u003cspan lang=\"en\"\u003e\u003c\/span\u003e\u003c\/span\u003e\n\u003c\/div\u003e\n\u003c\/div\u003e\n\u003cdiv\u003e\n\u003cdiv\u003e\u003cspan\u003e\u003cimg src=\"https:\/\/pg-cdn-a2.datacaciques.com\/00\/NDAy\/20\/10\/28\/x64nrb7dn4u6z62s\/39c5d6c570315a92.jpg\"\u003e\u003c\/span\u003e\u003c\/div\u003e\n\u003cdiv\u003e\n\u003cul\u003e\n\u003cli\u003e\u003cspan lang=\"en\"\u003e\u003cspan title=\"\"\u003eBuilt-in three-level switch (white light file + color light file + off file)\u003c\/span\u003e\u003c\/span\u003e\u003c\/li\u003e\n\u003cli\u003e\u003cspan lang=\"en\"\u003e\u003cspan title=\"\"\u003eSuitable for connecting 1.2V Ni-MH battery and 2V solar panel\u003c\/span\u003e\u003c\/span\u003e\u003c\/li\u003e\n\u003c\/ul\u003e\n\u003c\/div\u003e\n\u003cdiv\u003e\u003cspan lang=\"en\"\u003e\u003cspan title=\"\"\u003e\u003cimg src=\"https:\/\/pg-cdn-a2.datacaciques.com\/00\/NDAy\/20\/10\/28\/x64nrb7dn4u6z62s\/bf3e671abf41c5fe.jpg\"\u003e\u003c\/span\u003e\u003c\/span\u003e\u003c\/div\u003e\n\u003cdiv\u003e\u003cspan lang=\"en\"\u003e\u003cspan title=\"\"\u003e\u003cimg src=\"https:\/\/pg-cdn-a2.datacaciques.com\/00\/NDAy\/20\/10\/28\/x64nrb7dn4u6z62s\/2a7821a95f75a92d.jpg\"\u003e\u003c\/span\u003e\u003c\/span\u003e\u003c\/div\u003e\n\u003cdiv\u003e\u003cspan\u003e\u003cstrong\u003e\u003cspan lang=\"en\"\u003e\u003cspan title=\"\"\u003ePackage Include:\u003c\/span\u003e\u003c\/span\u003e\u003c\/strong\u003e\u003c\/span\u003e\u003c\/div\u003e\n\u003cdiv\u003e\n\u003cul\u003e\n\u003cli\u003e\u003cspan lang=\"en\"\u003e\u003cspan title=\"\"\u003e1x 1.2V Ni-MH Battery Controller Solar Jar Light Control Board Solar Ceramic Light\u003c\/span\u003e\u003c\/span\u003e\u003c\/li\u003e\n\u003c\/ul\u003e\n\u003c\/div\u003e\n\u003c\/div\u003e\n\u003c\/div\u003e","published_at":"2020-10-29T17:34:02+08:00","created_at":"2020-10-29T17:34:00+08:00","vendor":"DIYMORE","type":"","tags":[],"price":499,"price_min":499,"price_max":1599,"available":true,"price_varies":true,"compare_at_price":null,"compare_at_price_min":0,"compare_at_price_max":0,"compare_at_price_varies":false,"variants":[{"id":37266674221256,"title":"1PCS","option1":"1PCS","option2":null,"option3":null,"sku":"XH0022","requires_shipping":true,"taxable":false,"featured_image":null,"available":true,"name":"1.2V Ni-MH Battery Controller Solar Jar Light Control Board Solar Ceramic Light - 1PCS","public_title":"1PCS","options":["1PCS"],"price":499,"weight":0,"compare_at_price":null,"inventory_management":"shopify","barcode":"","requires_selling_plan":false,"selling_plan_allocations":[],"quantity_rule":{"min":1,"max":null,"increment":1}},{"id":37266674254024,"title":"5PCS","option1":"5PCS","option2":null,"option3":null,"sku":"XH00225","requires_shipping":true,"taxable":false,"featured_image":null,"available":true,"name":"1.2V Ni-MH Battery Controller Solar Jar Light Control Board Solar Ceramic Light - 5PCS","public_title":"5PCS","options":["5PCS"],"price":999,"weight":0,"compare_at_price":null,"inventory_management":"shopify","barcode":"","requires_selling_plan":false,"selling_plan_allocations":[],"quantity_rule":{"min":1,"max":null,"increment":1}},{"id":37266674286792,"title":"10PCS","option1":"10PCS","option2":null,"option3":null,"sku":"XH002210","requires_shipping":true,"taxable":false,"featured_image":null,"available":true,"name":"1.2V Ni-MH Battery Controller Solar Jar Light Control Board Solar Ceramic Light - 10PCS","public_title":"10PCS","options":["10PCS"],"price":1599,"weight":0,"compare_at_price":null,"inventory_management":"shopify","barcode":"","requires_selling_plan":false,"selling_plan_allocations":[],"quantity_rule":{"min":1,"max":null,"increment":1}}],"images":["\/\/cdn.shopify.com\/s\/files\/1\/0122\/7558\/0986\/products\/1_86a548f4-87e2-47cc-ad41-e77a681f15a5.jpg?v=1603964045","\/\/cdn.shopify.com\/s\/files\/1\/0122\/7558\/0986\/products\/5_4cb42758-c0a3-4154-bca7-c1cc8377e200.jpg?v=1603964045","\/\/cdn.shopify.com\/s\/files\/1\/0122\/7558\/0986\/products\/3_7d67ed02-3d07-4614-85bd-55474a3efe65.jpg?v=1603964046","\/\/cdn.shopify.com\/s\/files\/1\/0122\/7558\/0986\/products\/6_8c9e9301-425b-4ed2-b041-a97ded3a8ae3.jpg?v=1603964046","\/\/cdn.shopify.com\/s\/files\/1\/0122\/7558\/0986\/products\/f7d7c897f798fc44c391847188c3ac79_2ecf89f3-e3b7-4db1-9880-978e90d2c297.jpg?v=1603964046"],"featured_image":"\/\/cdn.shopify.com\/s\/files\/1\/0122\/7558\/0986\/products\/1_86a548f4-87e2-47cc-ad41-e77a681f15a5.jpg?v=1603964045","options":["Quantity"],"media":[{"alt":null,"id":14582443114696,"position":1,"preview_image":{"aspect_ratio":1.0,"height":1000,"width":1000,"src":"https:\/\/cdn.shopify.com\/s\/files\/1\/0122\/7558\/0986\/products\/1_86a548f4-87e2-47cc-ad41-e77a681f15a5.jpg?v=1603964045"},"aspect_ratio":1.0,"height":1000,"media_type":"image","src":"https:\/\/cdn.shopify.com\/s\/files\/1\/0122\/7558\/0986\/products\/1_86a548f4-87e2-47cc-ad41-e77a681f15a5.jpg?v=1603964045","width":1000},{"alt":null,"id":14582443147464,"position":2,"preview_image":{"aspect_ratio":1.0,"height":1000,"width":1000,"src":"https:\/\/cdn.shopify.com\/s\/files\/1\/0122\/7558\/0986\/products\/5_4cb42758-c0a3-4154-bca7-c1cc8377e200.jpg?v=1603964045"},"aspect_ratio":1.0,"height":1000,"media_type":"image","src":"https:\/\/cdn.shopify.com\/s\/files\/1\/0122\/7558\/0986\/products\/5_4cb42758-c0a3-4154-bca7-c1cc8377e200.jpg?v=1603964045","width":1000},{"alt":null,"id":14582443180232,"position":3,"preview_image":{"aspect_ratio":1.0,"height":1000,"width":1000,"src":"https:\/\/cdn.shopify.com\/s\/files\/1\/0122\/7558\/0986\/products\/3_7d67ed02-3d07-4614-85bd-55474a3efe65.jpg?v=1603964046"},"aspect_ratio":1.0,"height":1000,"media_type":"image","src":"https:\/\/cdn.shopify.com\/s\/files\/1\/0122\/7558\/0986\/products\/3_7d67ed02-3d07-4614-85bd-55474a3efe65.jpg?v=1603964046","width":1000},{"alt":null,"id":14582443213000,"position":4,"preview_image":{"aspect_ratio":1.0,"height":1000,"width":1000,"src":"https:\/\/cdn.shopify.com\/s\/files\/1\/0122\/7558\/0986\/products\/6_8c9e9301-425b-4ed2-b041-a97ded3a8ae3.jpg?v=1603964046"},"aspect_ratio":1.0,"height":1000,"media_type":"image","src":"https:\/\/cdn.shopify.com\/s\/files\/1\/0122\/7558\/0986\/products\/6_8c9e9301-425b-4ed2-b041-a97ded3a8ae3.jpg?v=1603964046","width":1000},{"alt":null,"id":14582443245768,"position":5,"preview_image":{"aspect_ratio":1.0,"height":1000,"width":1000,"src":"https:\/\/cdn.shopify.com\/s\/files\/1\/0122\/7558\/0986\/products\/f7d7c897f798fc44c391847188c3ac79_2ecf89f3-e3b7-4db1-9880-978e90d2c297.jpg?v=1603964046"},"aspect_ratio":1.0,"height":1000,"media_type":"image","src":"https:\/\/cdn.shopify.com\/s\/files\/1\/0122\/7558\/0986\/products\/f7d7c897f798fc44c391847188c3ac79_2ecf89f3-e3b7-4db1-9880-978e90d2c297.jpg?v=1603964046","width":1000}],"requires_selling_plan":false,"selling_plan_groups":[],"content":"\u003cdiv\u003e\u003cspan\u003e\u003cstrong\u003e\u003cspan lang=\"en\"\u003e\u003cspan title=\"\"\u003eDescription:\u003c\/span\u003e\u003c\/span\u003e\u003c\/strong\u003e\u003c\/span\u003e\u003c\/div\u003e\n\u003cdiv\u003e\n\u003cul\u003e\n\u003cli\u003e\u003cspan lang=\"en\"\u003e\u003cspan title=\"\"\u003eMini solar jar light circuit control board. Suitable for solar lawn lights, solar ceramic lights, solar landscape lights, and other solar products for circuit control.\u003c\/span\u003e\u003c\/span\u003e\u003c\/li\u003e\n\u003cli\u003e\u003cspan lang=\"en\"\u003e\u003cspan title=\"\"\u003eIt can be connected with 1.2V Ni-MH battery and 2V solar panel.\u003c\/span\u003e\u003c\/span\u003e\u003c\/li\u003e\n\u003cli\u003e\u003cspan lang=\"en\"\u003e\u003cspan title=\"\"\u003eThis is a can be assembled into a mason lamp jar\/lawn lamp\/wall\u003c\/span\u003e\u003c\/span\u003e\u003c\/li\u003e\n\u003cli\u003e\u003cspan lang=\"en\"\u003e\u003cspan title=\"\"\u003eLamp\/post lamp\/string lamp\/Christmas lamp\/sunlight lamp\/fluorescent lamp\/\u003c\/span\u003e\u003c\/span\u003e\u003c\/li\u003e\n\u003cli\u003e\u003cspan lang=\"en\"\u003e\u003cspan title=\"\"\u003eAdvertising lights\/night lights, etc. various shapes of solar landscape\u003c\/span\u003e\u003c\/span\u003e\u003c\/li\u003e\n\u003cli\u003e\u003cspan lang=\"en\"\u003e\u003cspan title=\"\"\u003eLight control circuit board, various lamps assembled with this circuit board\u003c\/span\u003e\u003c\/span\u003e\u003c\/li\u003e\n\u003cli\u003e\u003cspan lang=\"en\"\u003e\u003cspan title=\"\"\u003eHas been exported to all parts of the world.\u003c\/span\u003e\u003c\/span\u003e\u003c\/li\u003e\n\u003cli\u003e\u003cspan lang=\"en\"\u003e\u003cspan title=\"\"\u003eThis circuit board has a small area requirement for solar panels,\u003c\/span\u003e\u003c\/span\u003e\u003c\/li\u003e\n\u003cli\u003e\u003cspan lang=\"en\"\u003e\u003cspan title=\"\"\u003eLED drive efficiency is high, and the lighting time is long.\u003c\/span\u003e \u003cspan title=\"\"\u003eline\u003c\/span\u003e\u003c\/span\u003e\u003c\/li\u003e\n\u003cli\u003e\u003cspan lang=\"en\"\u003e\u003cspan title=\"\"\u003eThere is a toggle switch on the board, you can choose to emit white light or seven\u003c\/span\u003e\u003c\/span\u003e\u003c\/li\u003e\n\u003cli\u003e\u003cspan lang=\"en\"\u003e\u003cspan title=\"\"\u003eColor, white light with high brightness, colorful lights with rich colors, Look beautiful\u003c\/span\u003e\u003cspan title=\"\"\u003e!\u003c\/span\u003e\u003c\/span\u003e\u003c\/li\u003e\n\u003c\/ul\u003e\n\u003c\/div\u003e\n\u003cdiv\u003e\u003cspan\u003e\u003cstrong\u003e\u003cspan lang=\"en\"\u003e\u003cspan title=\"\"\u003eTechnical Parameters:\u003c\/span\u003e\u003c\/span\u003e\u003c\/strong\u003e\u003c\/span\u003e\u003c\/div\u003e\n\u003cdiv\u003e\n\u003cdiv\u003e\n\u003cdiv tabindex=\"0\"\u003e\n\u003cul\u003e\n\u003cli\u003e\u003cspan\u003e\u003cspan lang=\"en\"\u003e\u003cspan title=\"\"\u003eSolar panel: 2V \/≤150mA\u003c\/span\u003e\u003c\/span\u003e\u003c\/span\u003e\u003c\/li\u003e\n\u003cli\u003e\u003cspan\u003e\u003cspan lang=\"en\"\u003e\u003cspan title=\"\"\u003eBattery specification: 1.2V rechargeable battery\u003c\/span\u003e\u003c\/span\u003e\u003c\/span\u003e\u003c\/li\u003e\n\u003cli\u003e\u003cspan\u003e\u003cspan lang=\"en\"\u003e\u003cspan title=\"\"\u003eBattery capacity: ≥600mAH\u003c\/span\u003e\u003c\/span\u003e\u003c\/span\u003e\u003c\/li\u003e\n\u003cli\u003e\u003cspan\u003e\u003cspan lang=\"en\"\u003e\u003cspan title=\"\"\u003eLED current: about 10mA\u003c\/span\u003e\u003c\/span\u003e\u003c\/span\u003e\u003c\/li\u003e\n\u003cli\u003e\u003cspan\u003e\u003cspan lang=\"en\"\u003e\u003cspan title=\"\"\u003eCircuit board size: 25mm long and 15mm wide\u003c\/span\u003e\u003c\/span\u003e\u003c\/span\u003e\u003c\/li\u003e\n\u003cli\u003e\u003cspan\u003e\u003cspan lang=\"en\"\u003e\u003cspan title=\"\"\u003eWiring instructions:\u003c\/span\u003e\u003c\/span\u003e\u003c\/span\u003e\u003c\/li\u003e\n\u003cli\u003e\u003cspan\u003e\u003cspan lang=\"en\"\u003e\u003cspan title=\"\"\u003eS+ connected to solar anode\u003c\/span\u003e\u003c\/span\u003e\u003c\/span\u003e\u003c\/li\u003e\n\u003cli\u003e\u003cspan\u003e\u003cspan lang=\"en\"\u003e\u003cspan title=\"\"\u003eS- connect solar negative\u003c\/span\u003e\u003c\/span\u003e\u003c\/span\u003e\u003c\/li\u003e\n\u003cli\u003e\u003cspan\u003e\u003cspan lang=\"en\"\u003e\u003cspan title=\"\"\u003eB+ connects battery positive\u003c\/span\u003e\u003c\/span\u003e\u003c\/span\u003e\u003c\/li\u003e\n\u003cli\u003e\u003cspan\u003e\u003cspan lang=\"en\"\u003e\u003cspan title=\"\"\u003eB- connect battery negative\u003c\/span\u003e\u003c\/span\u003e\u003c\/span\u003e\u003c\/li\u003e\n\u003cli\u003e\u003cspan\u003e\u003cspan lang=\"en\"\u003e\u003cspan title=\"\"\u003eSolar ceramic light jar light lawn light circuit control board\u003c\/span\u003e\u003c\/span\u003e\u003c\/span\u003e\u003c\/li\u003e\n\u003cli\u003e\u003cspan\u003e\u003cspan lang=\"en\"\u003e\u003cspan title=\"\"\u003eComes with two LED lamp beads\u003c\/span\u003e\u003c\/span\u003e\u003c\/span\u003e\u003c\/li\u003e\n\u003cli\u003e\u003cspan\u003e\u003cspan lang=\"en\"\u003e\u003cspan title=\"\"\u003e(1 high-brightness white light + 1 colorful changing color light)\u003c\/span\u003e\u003c\/span\u003e\u003c\/span\u003e\u003c\/li\u003e\n\u003c\/ul\u003e\n\u003cspan\u003e\u003cspan lang=\"en\"\u003e\u003c\/span\u003e\u003c\/span\u003e\n\u003c\/div\u003e\n\u003c\/div\u003e\n\u003cdiv\u003e\n\u003cdiv\u003e\u003cspan\u003e\u003cimg src=\"https:\/\/pg-cdn-a2.datacaciques.com\/00\/NDAy\/20\/10\/28\/x64nrb7dn4u6z62s\/39c5d6c570315a92.jpg\"\u003e\u003c\/span\u003e\u003c\/div\u003e\n\u003cdiv\u003e\n\u003cul\u003e\n\u003cli\u003e\u003cspan lang=\"en\"\u003e\u003cspan title=\"\"\u003eBuilt-in three-level switch (white light file + color light file + off file)\u003c\/span\u003e\u003c\/span\u003e\u003c\/li\u003e\n\u003cli\u003e\u003cspan lang=\"en\"\u003e\u003cspan title=\"\"\u003eSuitable for connecting 1.2V Ni-MH battery and 2V solar panel\u003c\/span\u003e\u003c\/span\u003e\u003c\/li\u003e\n\u003c\/ul\u003e\n\u003c\/div\u003e\n\u003cdiv\u003e\u003cspan lang=\"en\"\u003e\u003cspan title=\"\"\u003e\u003cimg src=\"https:\/\/pg-cdn-a2.datacaciques.com\/00\/NDAy\/20\/10\/28\/x64nrb7dn4u6z62s\/bf3e671abf41c5fe.jpg\"\u003e\u003c\/span\u003e\u003c\/span\u003e\u003c\/div\u003e\n\u003cdiv\u003e\u003cspan lang=\"en\"\u003e\u003cspan title=\"\"\u003e\u003cimg src=\"https:\/\/pg-cdn-a2.datacaciques.com\/00\/NDAy\/20\/10\/28\/x64nrb7dn4u6z62s\/2a7821a95f75a92d.jpg\"\u003e\u003c\/span\u003e\u003c\/span\u003e\u003c\/div\u003e\n\u003cdiv\u003e\u003cspan\u003e\u003cstrong\u003e\u003cspan lang=\"en\"\u003e\u003cspan title=\"\"\u003ePackage Include:\u003c\/span\u003e\u003c\/span\u003e\u003c\/strong\u003e\u003c\/span\u003e\u003c\/div\u003e\n\u003cdiv\u003e\n\u003cul\u003e\n\u003cli\u003e\u003cspan lang=\"en\"\u003e\u003cspan title=\"\"\u003e1x 1.2V Ni-MH Battery Controller Solar Jar Light Control Board Solar Ceramic Light\u003c\/span\u003e\u003c\/span\u003e\u003c\/li\u003e\n\u003c\/ul\u003e\n\u003c\/div\u003e\n\u003c\/div\u003e\n\u003c\/div\u003e"}

{"id":6030532051144,"title":"1.2V Ni-MH Battery Controller Solar Jar Light Control Board Solar Ceramic Light","handle":"1-2v-ni-mh-battery-controller-solar-jar-light-control-board-solar-ceramic-light","description":"\u003cdiv\u003e\u003cspan\u003e\u003cstrong\u003e\u003cspan lang=\"en\"\u003e\u003cspan title=\"\"\u003eDescription:\u003c\/span\u003e\u003c\/span\u003e\u003c\/strong\u003e\u003c\/span\u003e\u003c\/div\u003e\n\u003cdiv\u003e\n\u003cul\u003e\n\u003cli\u003e\u003cspan lang=\"en\"\u003e\u003cspan title=\"\"\u003eMini solar jar light circuit control board. Suitable for solar lawn lights, solar ceramic lights, solar landscape lights, and other solar products for circuit control.\u003c\/span\u003e\u003c\/span\u003e\u003c\/li\u003e\n\u003cli\u003e\u003cspan lang=\"en\"\u003e\u003cspan title=\"\"\u003eIt can be connected with 1.2V Ni-MH battery and 2V solar panel.\u003c\/span\u003e\u003c\/span\u003e\u003c\/li\u003e\n\u003cli\u003e\u003cspan lang=\"en\"\u003e\u003cspan title=\"\"\u003eThis is a can be assembled into a mason lamp jar\/lawn lamp\/wall\u003c\/span\u003e\u003c\/span\u003e\u003c\/li\u003e\n\u003cli\u003e\u003cspan lang=\"en\"\u003e\u003cspan title=\"\"\u003eLamp\/post lamp\/string lamp\/Christmas lamp\/sunlight lamp\/fluorescent lamp\/\u003c\/span\u003e\u003c\/span\u003e\u003c\/li\u003e\n\u003cli\u003e\u003cspan lang=\"en\"\u003e\u003cspan title=\"\"\u003eAdvertising lights\/night lights, etc. various shapes of solar landscape\u003c\/span\u003e\u003c\/span\u003e\u003c\/li\u003e\n\u003cli\u003e\u003cspan lang=\"en\"\u003e\u003cspan title=\"\"\u003eLight control circuit board, various lamps assembled with this circuit board\u003c\/span\u003e\u003c\/span\u003e\u003c\/li\u003e\n\u003cli\u003e\u003cspan lang=\"en\"\u003e\u003cspan title=\"\"\u003eHas been exported to all parts of the world.\u003c\/span\u003e\u003c\/span\u003e\u003c\/li\u003e\n\u003cli\u003e\u003cspan lang=\"en\"\u003e\u003cspan title=\"\"\u003eThis circuit board has a small area requirement for solar panels,\u003c\/span\u003e\u003c\/span\u003e\u003c\/li\u003e\n\u003cli\u003e\u003cspan lang=\"en\"\u003e\u003cspan title=\"\"\u003eLED drive efficiency is high, and the lighting time is long.\u003c\/span\u003e \u003cspan title=\"\"\u003eline\u003c\/span\u003e\u003c\/span\u003e\u003c\/li\u003e\n\u003cli\u003e\u003cspan lang=\"en\"\u003e\u003cspan title=\"\"\u003eThere is a toggle switch on the board, you can choose to emit white light or seven\u003c\/span\u003e\u003c\/span\u003e\u003c\/li\u003e\n\u003cli\u003e\u003cspan lang=\"en\"\u003e\u003cspan title=\"\"\u003eColor, white light with high brightness, colorful lights with rich colors, Look beautiful\u003c\/span\u003e\u003cspan title=\"\"\u003e!\u003c\/span\u003e\u003c\/span\u003e\u003c\/li\u003e\n\u003c\/ul\u003e\n\u003c\/div\u003e\n\u003cdiv\u003e\u003cspan\u003e\u003cstrong\u003e\u003cspan lang=\"en\"\u003e\u003cspan title=\"\"\u003eTechnical Parameters:\u003c\/span\u003e\u003c\/span\u003e\u003c\/strong\u003e\u003c\/span\u003e\u003c\/div\u003e\n\u003cdiv\u003e\n\u003cdiv\u003e\n\u003cdiv tabindex=\"0\"\u003e\n\u003cul\u003e\n\u003cli\u003e\u003cspan\u003e\u003cspan lang=\"en\"\u003e\u003cspan title=\"\"\u003eSolar panel: 2V \/≤150mA\u003c\/span\u003e\u003c\/span\u003e\u003c\/span\u003e\u003c\/li\u003e\n\u003cli\u003e\u003cspan\u003e\u003cspan lang=\"en\"\u003e\u003cspan title=\"\"\u003eBattery specification: 1.2V rechargeable battery\u003c\/span\u003e\u003c\/span\u003e\u003c\/span\u003e\u003c\/li\u003e\n\u003cli\u003e\u003cspan\u003e\u003cspan lang=\"en\"\u003e\u003cspan title=\"\"\u003eBattery capacity: ≥600mAH\u003c\/span\u003e\u003c\/span\u003e\u003c\/span\u003e\u003c\/li\u003e\n\u003cli\u003e\u003cspan\u003e\u003cspan lang=\"en\"\u003e\u003cspan title=\"\"\u003eLED current: about 10mA\u003c\/span\u003e\u003c\/span\u003e\u003c\/span\u003e\u003c\/li\u003e\n\u003cli\u003e\u003cspan\u003e\u003cspan lang=\"en\"\u003e\u003cspan title=\"\"\u003eCircuit board size: 25mm long and 15mm wide\u003c\/span\u003e\u003c\/span\u003e\u003c\/span\u003e\u003c\/li\u003e\n\u003cli\u003e\u003cspan\u003e\u003cspan lang=\"en\"\u003e\u003cspan title=\"\"\u003eWiring instructions:\u003c\/span\u003e\u003c\/span\u003e\u003c\/span\u003e\u003c\/li\u003e\n\u003cli\u003e\u003cspan\u003e\u003cspan lang=\"en\"\u003e\u003cspan title=\"\"\u003eS+ connected to solar anode\u003c\/span\u003e\u003c\/span\u003e\u003c\/span\u003e\u003c\/li\u003e\n\u003cli\u003e\u003cspan\u003e\u003cspan lang=\"en\"\u003e\u003cspan title=\"\"\u003eS- connect solar negative\u003c\/span\u003e\u003c\/span\u003e\u003c\/span\u003e\u003c\/li\u003e\n\u003cli\u003e\u003cspan\u003e\u003cspan lang=\"en\"\u003e\u003cspan title=\"\"\u003eB+ connects battery positive\u003c\/span\u003e\u003c\/span\u003e\u003c\/span\u003e\u003c\/li\u003e\n\u003cli\u003e\u003cspan\u003e\u003cspan lang=\"en\"\u003e\u003cspan title=\"\"\u003eB- connect battery negative\u003c\/span\u003e\u003c\/span\u003e\u003c\/span\u003e\u003c\/li\u003e\n\u003cli\u003e\u003cspan\u003e\u003cspan lang=\"en\"\u003e\u003cspan title=\"\"\u003eSolar ceramic light jar light lawn light circuit control board\u003c\/span\u003e\u003c\/span\u003e\u003c\/span\u003e\u003c\/li\u003e\n\u003cli\u003e\u003cspan\u003e\u003cspan lang=\"en\"\u003e\u003cspan title=\"\"\u003eComes with two LED lamp beads\u003c\/span\u003e\u003c\/span\u003e\u003c\/span\u003e\u003c\/li\u003e\n\u003cli\u003e\u003cspan\u003e\u003cspan lang=\"en\"\u003e\u003cspan title=\"\"\u003e(1 high-brightness white light + 1 colorful changing color light)\u003c\/span\u003e\u003c\/span\u003e\u003c\/span\u003e\u003c\/li\u003e\n\u003c\/ul\u003e\n\u003cspan\u003e\u003cspan lang=\"en\"\u003e\u003c\/span\u003e\u003c\/span\u003e\n\u003c\/div\u003e\n\u003c\/div\u003e\n\u003cdiv\u003e\n\u003cdiv\u003e\u003cspan\u003e\u003cimg src=\"https:\/\/pg-cdn-a2.datacaciques.com\/00\/NDAy\/20\/10\/28\/x64nrb7dn4u6z62s\/39c5d6c570315a92.jpg\"\u003e\u003c\/span\u003e\u003c\/div\u003e\n\u003cdiv\u003e\n\u003cul\u003e\n\u003cli\u003e\u003cspan lang=\"en\"\u003e\u003cspan title=\"\"\u003eBuilt-in three-level switch (white light file + color light file + off file)\u003c\/span\u003e\u003c\/span\u003e\u003c\/li\u003e\n\u003cli\u003e\u003cspan lang=\"en\"\u003e\u003cspan title=\"\"\u003eSuitable for connecting 1.2V Ni-MH battery and 2V solar panel\u003c\/span\u003e\u003c\/span\u003e\u003c\/li\u003e\n\u003c\/ul\u003e\n\u003c\/div\u003e\n\u003cdiv\u003e\u003cspan lang=\"en\"\u003e\u003cspan title=\"\"\u003e\u003cimg src=\"https:\/\/pg-cdn-a2.datacaciques.com\/00\/NDAy\/20\/10\/28\/x64nrb7dn4u6z62s\/bf3e671abf41c5fe.jpg\"\u003e\u003c\/span\u003e\u003c\/span\u003e\u003c\/div\u003e\n\u003cdiv\u003e\u003cspan lang=\"en\"\u003e\u003cspan title=\"\"\u003e\u003cimg src=\"https:\/\/pg-cdn-a2.datacaciques.com\/00\/NDAy\/20\/10\/28\/x64nrb7dn4u6z62s\/2a7821a95f75a92d.jpg\"\u003e\u003c\/span\u003e\u003c\/span\u003e\u003c\/div\u003e\n\u003cdiv\u003e\u003cspan\u003e\u003cstrong\u003e\u003cspan lang=\"en\"\u003e\u003cspan title=\"\"\u003ePackage Include:\u003c\/span\u003e\u003c\/span\u003e\u003c\/strong\u003e\u003c\/span\u003e\u003c\/div\u003e\n\u003cdiv\u003e\n\u003cul\u003e\n\u003cli\u003e\u003cspan lang=\"en\"\u003e\u003cspan title=\"\"\u003e1x 1.2V Ni-MH Battery Controller Solar Jar Light Control Board Solar Ceramic Light\u003c\/span\u003e\u003c\/span\u003e\u003c\/li\u003e\n\u003c\/ul\u003e\n\u003c\/div\u003e\n\u003c\/div\u003e\n\u003c\/div\u003e","published_at":"2020-10-29T17:34:02+08:00","created_at":"2020-10-29T17:34:00+08:00","vendor":"DIYMORE","type":"","tags":[],"price":499,"price_min":499,"price_max":1599,"available":true,"price_varies":true,"compare_at_price":null,"compare_at_price_min":0,"compare_at_price_max":0,"compare_at_price_varies":false,"variants":[{"id":37266674221256,"title":"1PCS","option1":"1PCS","option2":null,"option3":null,"sku":"XH0022","requires_shipping":true,"taxable":false,"featured_image":null,"available":true,"name":"1.2V Ni-MH Battery Controller Solar Jar Light Control Board Solar Ceramic Light - 1PCS","public_title":"1PCS","options":["1PCS"],"price":499,"weight":0,"compare_at_price":null,"inventory_management":"shopify","barcode":"","requires_selling_plan":false,"selling_plan_allocations":[],"quantity_rule":{"min":1,"max":null,"increment":1}},{"id":37266674254024,"title":"5PCS","option1":"5PCS","option2":null,"option3":null,"sku":"XH00225","requires_shipping":true,"taxable":false,"featured_image":null,"available":true,"name":"1.2V Ni-MH Battery Controller Solar Jar Light Control Board Solar Ceramic Light - 5PCS","public_title":"5PCS","options":["5PCS"],"price":999,"weight":0,"compare_at_price":null,"inventory_management":"shopify","barcode":"","requires_selling_plan":false,"selling_plan_allocations":[],"quantity_rule":{"min":1,"max":null,"increment":1}},{"id":37266674286792,"title":"10PCS","option1":"10PCS","option2":null,"option3":null,"sku":"XH002210","requires_shipping":true,"taxable":false,"featured_image":null,"available":true,"name":"1.2V Ni-MH Battery Controller Solar Jar Light Control Board Solar Ceramic Light - 10PCS","public_title":"10PCS","options":["10PCS"],"price":1599,"weight":0,"compare_at_price":null,"inventory_management":"shopify","barcode":"","requires_selling_plan":false,"selling_plan_allocations":[],"quantity_rule":{"min":1,"max":null,"increment":1}}],"images":["\/\/cdn.shopify.com\/s\/files\/1\/0122\/7558\/0986\/products\/1_86a548f4-87e2-47cc-ad41-e77a681f15a5.jpg?v=1603964045","\/\/cdn.shopify.com\/s\/files\/1\/0122\/7558\/0986\/products\/5_4cb42758-c0a3-4154-bca7-c1cc8377e200.jpg?v=1603964045","\/\/cdn.shopify.com\/s\/files\/1\/0122\/7558\/0986\/products\/3_7d67ed02-3d07-4614-85bd-55474a3efe65.jpg?v=1603964046","\/\/cdn.shopify.com\/s\/files\/1\/0122\/7558\/0986\/products\/6_8c9e9301-425b-4ed2-b041-a97ded3a8ae3.jpg?v=1603964046","\/\/cdn.shopify.com\/s\/files\/1\/0122\/7558\/0986\/products\/f7d7c897f798fc44c391847188c3ac79_2ecf89f3-e3b7-4db1-9880-978e90d2c297.jpg?v=1603964046"],"featured_image":"\/\/cdn.shopify.com\/s\/files\/1\/0122\/7558\/0986\/products\/1_86a548f4-87e2-47cc-ad41-e77a681f15a5.jpg?v=1603964045","options":["Quantity"],"media":[{"alt":null,"id":14582443114696,"position":1,"preview_image":{"aspect_ratio":1.0,"height":1000,"width":1000,"src":"https:\/\/cdn.shopify.com\/s\/files\/1\/0122\/7558\/0986\/products\/1_86a548f4-87e2-47cc-ad41-e77a681f15a5.jpg?v=1603964045"},"aspect_ratio":1.0,"height":1000,"media_type":"image","src":"https:\/\/cdn.shopify.com\/s\/files\/1\/0122\/7558\/0986\/products\/1_86a548f4-87e2-47cc-ad41-e77a681f15a5.jpg?v=1603964045","width":1000},{"alt":null,"id":14582443147464,"position":2,"preview_image":{"aspect_ratio":1.0,"height":1000,"width":1000,"src":"https:\/\/cdn.shopify.com\/s\/files\/1\/0122\/7558\/0986\/products\/5_4cb42758-c0a3-4154-bca7-c1cc8377e200.jpg?v=1603964045"},"aspect_ratio":1.0,"height":1000,"media_type":"image","src":"https:\/\/cdn.shopify.com\/s\/files\/1\/0122\/7558\/0986\/products\/5_4cb42758-c0a3-4154-bca7-c1cc8377e200.jpg?v=1603964045","width":1000},{"alt":null,"id":14582443180232,"position":3,"preview_image":{"aspect_ratio":1.0,"height":1000,"width":1000,"src":"https:\/\/cdn.shopify.com\/s\/files\/1\/0122\/7558\/0986\/products\/3_7d67ed02-3d07-4614-85bd-55474a3efe65.jpg?v=1603964046"},"aspect_ratio":1.0,"height":1000,"media_type":"image","src":"https:\/\/cdn.shopify.com\/s\/files\/1\/0122\/7558\/0986\/products\/3_7d67ed02-3d07-4614-85bd-55474a3efe65.jpg?v=1603964046","width":1000},{"alt":null,"id":14582443213000,"position":4,"preview_image":{"aspect_ratio":1.0,"height":1000,"width":1000,"src":"https:\/\/cdn.shopify.com\/s\/files\/1\/0122\/7558\/0986\/products\/6_8c9e9301-425b-4ed2-b041-a97ded3a8ae3.jpg?v=1603964046"},"aspect_ratio":1.0,"height":1000,"media_type":"image","src":"https:\/\/cdn.shopify.com\/s\/files\/1\/0122\/7558\/0986\/products\/6_8c9e9301-425b-4ed2-b041-a97ded3a8ae3.jpg?v=1603964046","width":1000},{"alt":null,"id":14582443245768,"position":5,"preview_image":{"aspect_ratio":1.0,"height":1000,"width":1000,"src":"https:\/\/cdn.shopify.com\/s\/files\/1\/0122\/7558\/0986\/products\/f7d7c897f798fc44c391847188c3ac79_2ecf89f3-e3b7-4db1-9880-978e90d2c297.jpg?v=1603964046"},"aspect_ratio":1.0,"height":1000,"media_type":"image","src":"https:\/\/cdn.shopify.com\/s\/files\/1\/0122\/7558\/0986\/products\/f7d7c897f798fc44c391847188c3ac79_2ecf89f3-e3b7-4db1-9880-978e90d2c297.jpg?v=1603964046","width":1000}],"requires_selling_plan":false,"selling_plan_groups":[],"content":"\u003cdiv\u003e\u003cspan\u003e\u003cstrong\u003e\u003cspan lang=\"en\"\u003e\u003cspan title=\"\"\u003eDescription:\u003c\/span\u003e\u003c\/span\u003e\u003c\/strong\u003e\u003c\/span\u003e\u003c\/div\u003e\n\u003cdiv\u003e\n\u003cul\u003e\n\u003cli\u003e\u003cspan lang=\"en\"\u003e\u003cspan title=\"\"\u003eMini solar jar light circuit control board. Suitable for solar lawn lights, solar ceramic lights, solar landscape lights, and other solar products for circuit control.\u003c\/span\u003e\u003c\/span\u003e\u003c\/li\u003e\n\u003cli\u003e\u003cspan lang=\"en\"\u003e\u003cspan title=\"\"\u003eIt can be connected with 1.2V Ni-MH battery and 2V solar panel.\u003c\/span\u003e\u003c\/span\u003e\u003c\/li\u003e\n\u003cli\u003e\u003cspan lang=\"en\"\u003e\u003cspan title=\"\"\u003eThis is a can be assembled into a mason lamp jar\/lawn lamp\/wall\u003c\/span\u003e\u003c\/span\u003e\u003c\/li\u003e\n\u003cli\u003e\u003cspan lang=\"en\"\u003e\u003cspan title=\"\"\u003eLamp\/post lamp\/string lamp\/Christmas lamp\/sunlight lamp\/fluorescent lamp\/\u003c\/span\u003e\u003c\/span\u003e\u003c\/li\u003e\n\u003cli\u003e\u003cspan lang=\"en\"\u003e\u003cspan title=\"\"\u003eAdvertising lights\/night lights, etc. various shapes of solar landscape\u003c\/span\u003e\u003c\/span\u003e\u003c\/li\u003e\n\u003cli\u003e\u003cspan lang=\"en\"\u003e\u003cspan title=\"\"\u003eLight control circuit board, various lamps assembled with this circuit board\u003c\/span\u003e\u003c\/span\u003e\u003c\/li\u003e\n\u003cli\u003e\u003cspan lang=\"en\"\u003e\u003cspan title=\"\"\u003eHas been exported to all parts of the world.\u003c\/span\u003e\u003c\/span\u003e\u003c\/li\u003e\n\u003cli\u003e\u003cspan lang=\"en\"\u003e\u003cspan title=\"\"\u003eThis circuit board has a small area requirement for solar panels,\u003c\/span\u003e\u003c\/span\u003e\u003c\/li\u003e\n\u003cli\u003e\u003cspan lang=\"en\"\u003e\u003cspan title=\"\"\u003eLED drive efficiency is high, and the lighting time is long.\u003c\/span\u003e \u003cspan title=\"\"\u003eline\u003c\/span\u003e\u003c\/span\u003e\u003c\/li\u003e\n\u003cli\u003e\u003cspan lang=\"en\"\u003e\u003cspan title=\"\"\u003eThere is a toggle switch on the board, you can choose to emit white light or seven\u003c\/span\u003e\u003c\/span\u003e\u003c\/li\u003e\n\u003cli\u003e\u003cspan lang=\"en\"\u003e\u003cspan title=\"\"\u003eColor, white light with high brightness, colorful lights with rich colors, Look beautiful\u003c\/span\u003e\u003cspan title=\"\"\u003e!\u003c\/span\u003e\u003c\/span\u003e\u003c\/li\u003e\n\u003c\/ul\u003e\n\u003c\/div\u003e\n\u003cdiv\u003e\u003cspan\u003e\u003cstrong\u003e\u003cspan lang=\"en\"\u003e\u003cspan title=\"\"\u003eTechnical Parameters:\u003c\/span\u003e\u003c\/span\u003e\u003c\/strong\u003e\u003c\/span\u003e\u003c\/div\u003e\n\u003cdiv\u003e\n\u003cdiv\u003e\n\u003cdiv tabindex=\"0\"\u003e\n\u003cul\u003e\n\u003cli\u003e\u003cspan\u003e\u003cspan lang=\"en\"\u003e\u003cspan title=\"\"\u003eSolar panel: 2V \/≤150mA\u003c\/span\u003e\u003c\/span\u003e\u003c\/span\u003e\u003c\/li\u003e\n\u003cli\u003e\u003cspan\u003e\u003cspan lang=\"en\"\u003e\u003cspan title=\"\"\u003eBattery specification: 1.2V rechargeable battery\u003c\/span\u003e\u003c\/span\u003e\u003c\/span\u003e\u003c\/li\u003e\n\u003cli\u003e\u003cspan\u003e\u003cspan lang=\"en\"\u003e\u003cspan title=\"\"\u003eBattery capacity: ≥600mAH\u003c\/span\u003e\u003c\/span\u003e\u003c\/span\u003e\u003c\/li\u003e\n\u003cli\u003e\u003cspan\u003e\u003cspan lang=\"en\"\u003e\u003cspan title=\"\"\u003eLED current: about 10mA\u003c\/span\u003e\u003c\/span\u003e\u003c\/span\u003e\u003c\/li\u003e\n\u003cli\u003e\u003cspan\u003e\u003cspan lang=\"en\"\u003e\u003cspan title=\"\"\u003eCircuit board size: 25mm long and 15mm wide\u003c\/span\u003e\u003c\/span\u003e\u003c\/span\u003e\u003c\/li\u003e\n\u003cli\u003e\u003cspan\u003e\u003cspan lang=\"en\"\u003e\u003cspan title=\"\"\u003eWiring instructions:\u003c\/span\u003e\u003c\/span\u003e\u003c\/span\u003e\u003c\/li\u003e\n\u003cli\u003e\u003cspan\u003e\u003cspan lang=\"en\"\u003e\u003cspan title=\"\"\u003eS+ connected to solar anode\u003c\/span\u003e\u003c\/span\u003e\u003c\/span\u003e\u003c\/li\u003e\n\u003cli\u003e\u003cspan\u003e\u003cspan lang=\"en\"\u003e\u003cspan title=\"\"\u003eS- connect solar negative\u003c\/span\u003e\u003c\/span\u003e\u003c\/span\u003e\u003c\/li\u003e\n\u003cli\u003e\u003cspan\u003e\u003cspan lang=\"en\"\u003e\u003cspan title=\"\"\u003eB+ connects battery positive\u003c\/span\u003e\u003c\/span\u003e\u003c\/span\u003e\u003c\/li\u003e\n\u003cli\u003e\u003cspan\u003e\u003cspan lang=\"en\"\u003e\u003cspan title=\"\"\u003eB- connect battery negative\u003c\/span\u003e\u003c\/span\u003e\u003c\/span\u003e\u003c\/li\u003e\n\u003cli\u003e\u003cspan\u003e\u003cspan lang=\"en\"\u003e\u003cspan title=\"\"\u003eSolar ceramic light jar light lawn light circuit control board\u003c\/span\u003e\u003c\/span\u003e\u003c\/span\u003e\u003c\/li\u003e\n\u003cli\u003e\u003cspan\u003e\u003cspan lang=\"en\"\u003e\u003cspan title=\"\"\u003eComes with two LED lamp beads\u003c\/span\u003e\u003c\/span\u003e\u003c\/span\u003e\u003c\/li\u003e\n\u003cli\u003e\u003cspan\u003e\u003cspan lang=\"en\"\u003e\u003cspan title=\"\"\u003e(1 high-brightness white light + 1 colorful changing color light)\u003c\/span\u003e\u003c\/span\u003e\u003c\/span\u003e\u003c\/li\u003e\n\u003c\/ul\u003e\n\u003cspan\u003e\u003cspan lang=\"en\"\u003e\u003c\/span\u003e\u003c\/span\u003e\n\u003c\/div\u003e\n\u003c\/div\u003e\n\u003cdiv\u003e\n\u003cdiv\u003e\u003cspan\u003e\u003cimg src=\"https:\/\/pg-cdn-a2.datacaciques.com\/00\/NDAy\/20\/10\/28\/x64nrb7dn4u6z62s\/39c5d6c570315a92.jpg\"\u003e\u003c\/span\u003e\u003c\/div\u003e\n\u003cdiv\u003e\n\u003cul\u003e\n\u003cli\u003e\u003cspan lang=\"en\"\u003e\u003cspan title=\"\"\u003eBuilt-in three-level switch (white light file + color light file + off file)\u003c\/span\u003e\u003c\/span\u003e\u003c\/li\u003e\n\u003cli\u003e\u003cspan lang=\"en\"\u003e\u003cspan title=\"\"\u003eSuitable for connecting 1.2V Ni-MH battery and 2V solar panel\u003c\/span\u003e\u003c\/span\u003e\u003c\/li\u003e\n\u003c\/ul\u003e\n\u003c\/div\u003e\n\u003cdiv\u003e\u003cspan lang=\"en\"\u003e\u003cspan title=\"\"\u003e\u003cimg src=\"https:\/\/pg-cdn-a2.datacaciques.com\/00\/NDAy\/20\/10\/28\/x64nrb7dn4u6z62s\/bf3e671abf41c5fe.jpg\"\u003e\u003c\/span\u003e\u003c\/span\u003e\u003c\/div\u003e\n\u003cdiv\u003e\u003cspan lang=\"en\"\u003e\u003cspan title=\"\"\u003e\u003cimg src=\"https:\/\/pg-cdn-a2.datacaciques.com\/00\/NDAy\/20\/10\/28\/x64nrb7dn4u6z62s\/2a7821a95f75a92d.jpg\"\u003e\u003c\/span\u003e\u003c\/span\u003e\u003c\/div\u003e\n\u003cdiv\u003e\u003cspan\u003e\u003cstrong\u003e\u003cspan lang=\"en\"\u003e\u003cspan title=\"\"\u003ePackage Include:\u003c\/span\u003e\u003c\/span\u003e\u003c\/strong\u003e\u003c\/span\u003e\u003c\/div\u003e\n\u003cdiv\u003e\n\u003cul\u003e\n\u003cli\u003e\u003cspan lang=\"en\"\u003e\u003cspan title=\"\"\u003e1x 1.2V Ni-MH Battery Controller Solar Jar Light Control Board Solar Ceramic Light\u003c\/span\u003e\u003c\/span\u003e\u003c\/li\u003e\n\u003c\/ul\u003e\n\u003c\/div\u003e\n\u003c\/div\u003e\n\u003c\/div\u003e"}