DC 8-26V TPA3118 PBTL Mono Digital Amplifier Board 1*60W/2*30W AMP Module
DC 8-26V TPA3118 PBTL Mono Digital Amplifier Board 1*60W/2*30W AMP Module
SKU:X12922
Regular price
$8.99
guarantee

Quality checked

Special gift cards

Special gift cards

Free return

Within 60 days

Consultancy

86-0755-85201155
Description:
1X60W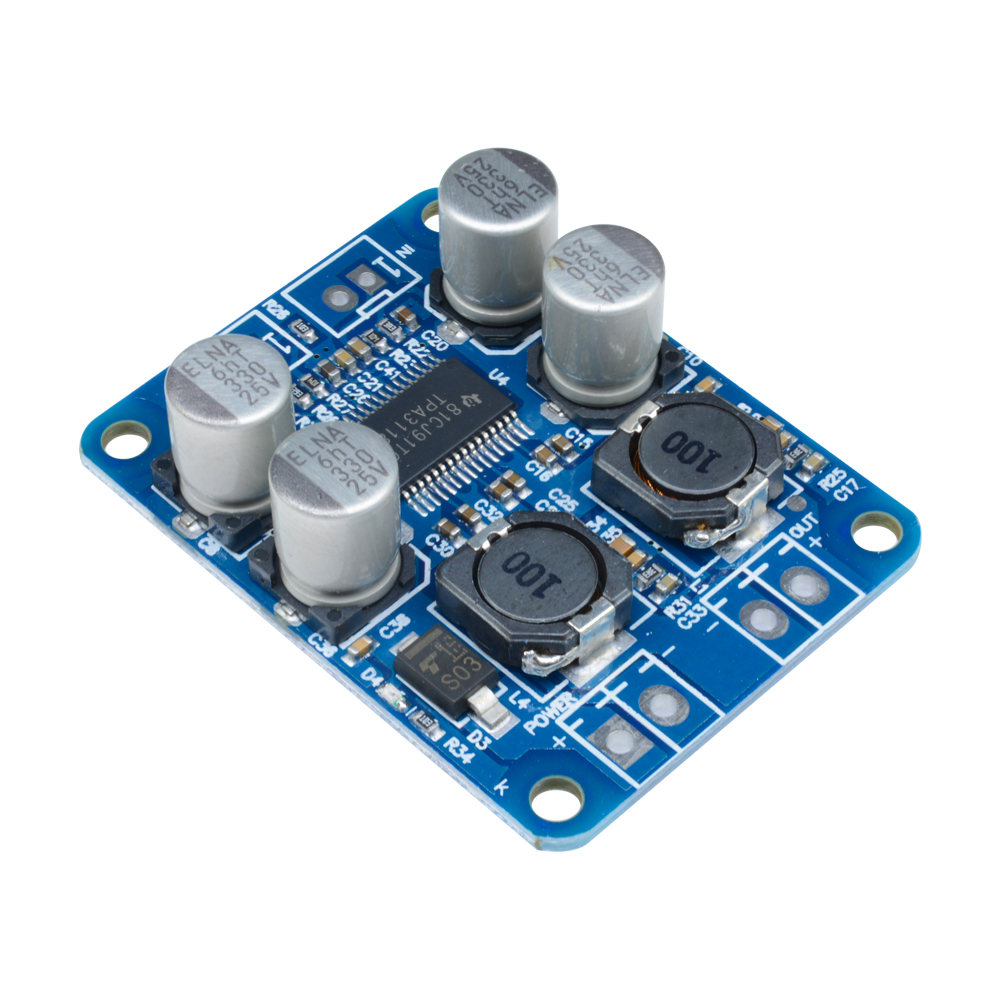 Sound quality is very good by using this module.

Mono digital audio power amplifier chip.

High output and low power consumption.

Applicable speaker impedance: 4-8 ohm(8 ohm is the best).
Specifications:
Working Voltage: DC 8-24V

Power Output: 60W

Applicable Speaker Impedance: 4-8 ohm

PCB Board Size: 45 * 35mm / 1.77 * 1.4in

Weight: 12g / 0.43oz
Package List:
1 * DC 8-26V TPA3118 PBTL Mono Digital Amplifier Board AMP Module 1*60W for Arduino
2X30W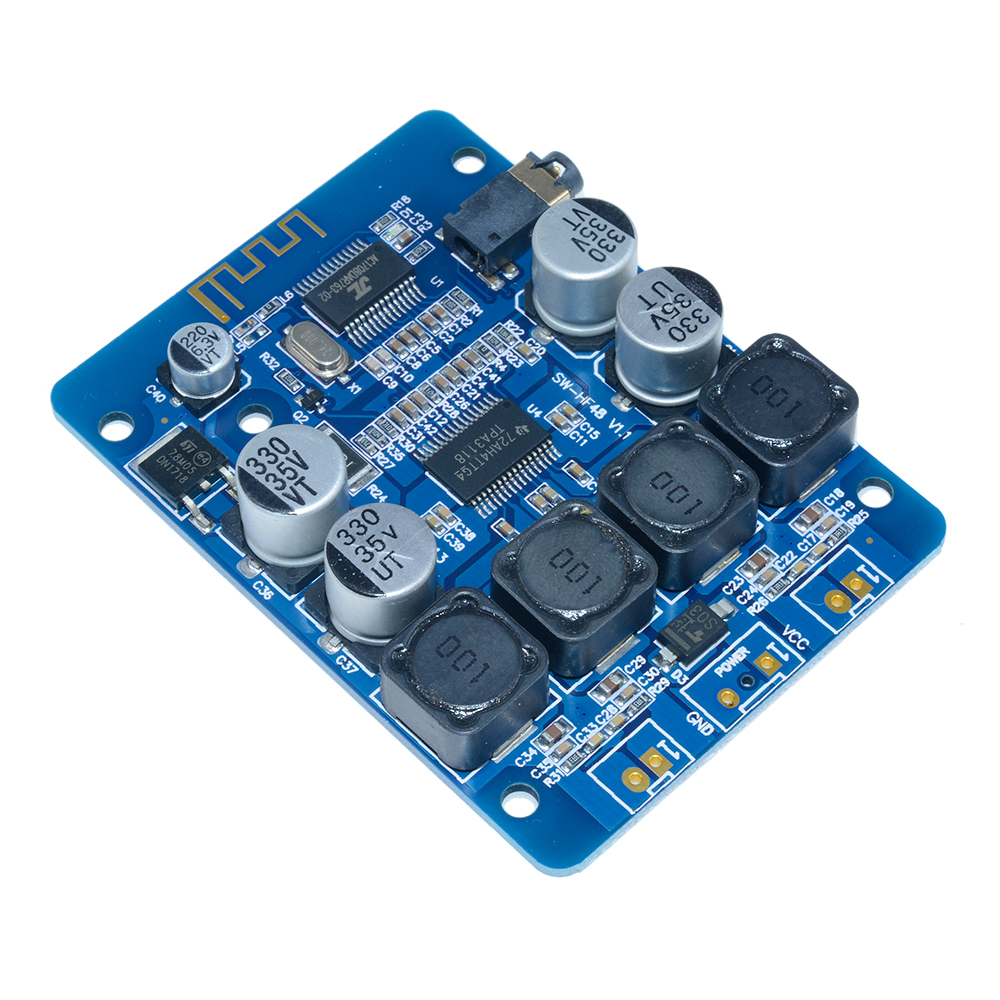 Audio input: Bluetooth receiver

Supply voltage: 8 ~ 26VDC (direct current) reverse polarity protection

2X30W stereo power amplifier chip TPA3118

Applicable Speaker Impedance: 4,6,8 ohm

AUX output: 3.5 headphones on (after the amp for use)

Display Bluetooth device name: Xpecial Audio
Package Contents:
1 x TPA3118 2x30W Digital Bluetooth Audio Receiver Dual Stereo Power Amplifier Board
3:TPA3118D2 Digital HD Audio Amplifier Speaker Dual Channel Power Amp Board 45W*2
Description:
Product Name: Digital audio amplifier board

Power amplifier chip: TPA3118D2 * 1

Input voltage: DC12-28V, recommended DC24V

Power supply interface: DC socket (5.5 * 2.1)

Input current:> 3A

Output power: 45W * 2

Output impedance: 4-8ohm

Input impedance: 1KΩ

Signal to noise ratio: 100db

Magnification: 30TSP

Number of channels: two channels

Audio input: 3.5mm socket / xH2.54-3P

Size: 66 * 53MM
Product parameters:
Board power supply maximum range DC12-28V, recommended DC24V power supply. 12V power supply is the output power of20W per channel, 24V power supply is the output power up to 45W per channel.

The new original IC chip with overvoltage protection, overcurrent protection, overheating protection, short circuit protection, audio output 5mm pitch 2P terminal, can be connected to double 30W speakers.
Package included:
1PC TPA3118D2 Digital HD Audio 45W*2 Dual Channel Amplifier Speaker Power Amp Board
Purchasing & Delivery
Before you make your purchase, it's helpful to know the measurements of the area you plan to place the furniture. You should also measure any doorways and hallways through which the furniture will pass to get to its final destination.

Picking up at the store
Shopify Shop requires that all products are properly inspected BEFORE you take it home to insure there are no surprises. Our team is happy to open all packages and will assist in the inspection process. We will then reseal packages for safe transport. We encourage all customers to bring furniture pads or blankets to protect the items during transport as well as rope or tie downs. Shopify Shop will not be responsible for damage that occurs after leaving the store or during transit. It is the purchaser's responsibility to make sure the correct items are picked up and in good condition.

Delivery
Customers are able to pick the next available delivery day that best fits their schedule. However, to route stops as efficiently as possible, Shopify Shop will provide the time frame. Customers will not be able to choose a time. You will be notified in advance of your scheduled time frame. Please make sure that a responsible adult (18 years or older) will be home at that time.
In preparation for your delivery, please remove existing furniture, pictures, mirrors, accessories, etc. to prevent damages. Also insure that the area where you would like your furniture placed is clear of any old furniture and any other items that may obstruct the passageway of the delivery team. Shopify Shop will deliver, assemble, and set-up your new furniture purchase and remove all packing materials from your home. Our delivery crews are not permitted to move your existing furniture or other household items. Delivery personnel will attempt to deliver the purchased items in a safe and controlled manner but will not attempt to place furniture if they feel it will result in damage to the product or your home. Delivery personnel are unable to remove doors, hoist furniture or carry furniture up more than 3 flights of stairs. An elevator must be available for deliveries to the 4th floor and above.
Other Customers also buy:
Translation missing: en.products.product.regular_price

$10.99

{"id":6031845392584,"title":"DC 8-26V TPA3118 PBTL Mono Digital Amplifier Board 1*60W\/2*30W AMP Module","handle":"dc-8-26v-tpa3118-pbtl-mono-digital-amplifier-board-1-60w-2-30w-amp-module","description":"\u003cspan data-mce-fragment=\"1\"\u003e\u003cstrong data-mce-fragment=\"1\"\u003eDescription:\u003c\/strong\u003e\u003c\/span\u003e\u003cbr data-mce-fragment=\"1\"\u003e\u003cbr data-mce-fragment=\"1\"\u003e\u003cspan data-mce-fragment=\"1\"\u003e\u003cstrong data-mce-fragment=\"1\"\u003e1X60W\u003c\/strong\u003e\u003c\/span\u003e\u003cbr data-mce-fragment=\"1\"\u003e\u003cspan data-mce-fragment=\"1\"\u003e\u003cimg src=\"https:\/\/pg-cdn-a2.datacaciques.com\/00\/NDAy\/18\/10\/29\/718383n01qg7m6j0\/c9f3f9b214ddca2f.jpg\" width=\"300\" data-mce-fragment=\"1\" data-mce-src=\"https:\/\/pg-cdn-a2.datacaciques.com\/00\/NDAy\/18\/10\/29\/718383n01qg7m6j0\/c9f3f9b214ddca2f.jpg\" caption=\"false\"\u003e\u003c\/span\u003e\u003cbr data-mce-fragment=\"1\"\u003e\n\u003cdiv data-mce-fragment=\"1\"\u003e\n\u003cul\u003e\n\u003cli\u003e\u003cspan data-mce-fragment=\"1\"\u003eSound quality is very good by using this module.\u003c\/span\u003e\u003c\/li\u003e\n\u003cli\u003e\u003cspan data-mce-fragment=\"1\"\u003eMono digital audio power amplifier chip.\u003c\/span\u003e\u003c\/li\u003e\n\u003cli\u003e\u003cspan data-mce-fragment=\"1\"\u003eHigh output and low power consumption.\u003c\/span\u003e\u003c\/li\u003e\n\u003cli\u003e\u003cspan data-mce-fragment=\"1\"\u003eApplicable speaker impedance: 4-8 ohm(8 ohm is the best).\u003c\/span\u003e\u003c\/li\u003e\n\u003c\/ul\u003e\n\u003c\/div\u003e\n\u003cdiv data-mce-fragment=\"1\"\u003e\n\u003cbr data-mce-fragment=\"1\"\u003e\u003cspan data-mce-fragment=\"1\"\u003e\u003cstrong data-mce-fragment=\"1\"\u003eSpecifications:\u003c\/strong\u003e\u003c\/span\u003e\u003cbr data-mce-fragment=\"1\"\u003e\n\u003cul\u003e\n\u003cli\u003e\u003cspan data-mce-fragment=\"1\"\u003eWorking Voltage: DC 8-24V\u003c\/span\u003e\u003c\/li\u003e\n\u003cli\u003e\u003cspan data-mce-fragment=\"1\"\u003ePower Output: 60W\u003c\/span\u003e\u003c\/li\u003e\n\u003cli\u003e\u003cspan data-mce-fragment=\"1\"\u003eApplicable Speaker Impedance: 4-8 ohm\u003c\/span\u003e\u003c\/li\u003e\n\u003cli\u003e\u003cspan data-mce-fragment=\"1\"\u003ePCB Board Size: 45 * 35mm \/ 1.77 * 1.4in\u003c\/span\u003e\u003c\/li\u003e\n\u003cli\u003e\u003cspan data-mce-fragment=\"1\"\u003eWeight: 12g \/ 0.43oz\u003c\/span\u003e\u003c\/li\u003e\n\u003c\/ul\u003e\n\u003cspan data-mce-fragment=\"1\"\u003e\u003cstrong data-mce-fragment=\"1\"\u003ePackage List:\u003c\/strong\u003e\u003c\/span\u003e\n\u003c\/div\u003e\n\u003cdiv data-mce-fragment=\"1\"\u003e\n\u003cul\u003e\n\u003cli\u003e\u003cspan data-mce-fragment=\"1\"\u003e1 * DC 8-26V TPA3118 PBTL Mono Digital Amplifier Board AMP Module 1*60W for Arduino\u003c\/span\u003e\u003c\/li\u003e\n\u003c\/ul\u003e\n\u003cspan data-mce-fragment=\"1\"\u003e\u003cspan data-mce-fragment=\"1\"\u003e\u003cbr data-mce-fragment=\"1\"\u003e\u003cstrong data-mce-fragment=\"1\"\u003e2X30W\u003c\/strong\u003e\u003cbr data-mce-fragment=\"1\"\u003e\u003cimg src=\"https:\/\/pg-cdn-a2.datacaciques.com\/00\/NDAy\/17\/10\/13\/0tf53yfj56356974\/b6cfaf1130aa5b27.jpg\" width=\"300\" data-mce-fragment=\"1\" data-mce-src=\"https:\/\/pg-cdn-a2.datacaciques.com\/00\/NDAy\/17\/10\/13\/0tf53yfj56356974\/b6cfaf1130aa5b27.jpg\" caption=\"false\"\u003e\u003cbr data-mce-fragment=\"1\"\u003e\u003c\/span\u003e\u003c\/span\u003e\n\u003cul\u003e\n\u003cli\u003e\u003cspan data-mce-fragment=\"1\"\u003eAudio input: Bluetooth receiver\u003c\/span\u003e\u003c\/li\u003e\n\u003cli\u003e\u003cspan data-mce-fragment=\"1\"\u003eSupply voltage: 8 ~ 26VDC (direct current) reverse polarity protection\u003c\/span\u003e\u003c\/li\u003e\n\u003cli\u003e\u003cspan data-mce-fragment=\"1\"\u003e2X30W stereo power amplifier chip TPA3118\u003c\/span\u003e\u003c\/li\u003e\n\u003cli\u003e\u003cspan data-mce-fragment=\"1\"\u003eApplicable Speaker Impedance: 4,6,8 ohm\u003c\/span\u003e\u003c\/li\u003e\n\u003cli\u003e\u003cspan data-mce-fragment=\"1\"\u003eAUX output: 3.5 headphones on (after the amp for use)\u003c\/span\u003e\u003c\/li\u003e\n\u003cli\u003e\u003cspan data-mce-fragment=\"1\"\u003eDisplay Bluetooth device name: Xpecial Audio\u003c\/span\u003e\u003c\/li\u003e\n\u003c\/ul\u003e\n\u003cspan data-mce-fragment=\"1\"\u003e\u003cstrong data-mce-fragment=\"1\"\u003ePackage Contents:\u003c\/strong\u003e\u003c\/span\u003e\n\u003c\/div\u003e\n\u003cdiv data-mce-fragment=\"1\"\u003e\n\u003cul\u003e\n\u003cli\u003e\u003cspan data-mce-fragment=\"1\"\u003e1 x TPA3118 2x30W Digital Bluetooth Audio Receiver Dual Stereo Power Amplifier Board\u003c\/span\u003e\u003c\/li\u003e\n\u003c\/ul\u003e\n\u003c\/div\u003e\n\u003cdiv data-mce-fragment=\"1\"\u003e\u003cspan data-mce-fragment=\"1\"\u003e \u003c\/span\u003e\u003c\/div\u003e\n\u003cdiv data-mce-fragment=\"1\"\u003e\u003cspan data-mce-fragment=\"1\"\u003e\u003cstrong data-mce-fragment=\"1\"\u003e3:TPA3118D2 Digital HD Audio Amplifier Speaker Dual Channel Power Amp Board 45W*2\u003c\/strong\u003e\u003c\/span\u003e\u003c\/div\u003e\n\u003cdiv data-mce-fragment=\"1\"\u003e\u003cspan data-mce-fragment=\"1\"\u003e\u003cstrong data-mce-fragment=\"1\"\u003e \u003c\/strong\u003e\u003c\/span\u003e\u003c\/div\u003e\n\u003cdiv data-mce-fragment=\"1\"\u003e\n\u003cspan data-mce-fragment=\"1\"\u003e\u003cspan data-mce-fragment=\"1\"\u003e\u003cstrong data-mce-fragment=\"1\"\u003eDescription:\u003c\/strong\u003e\u003cbr data-mce-fragment=\"1\"\u003e\u003c\/span\u003e\u003c\/span\u003e\n\u003cul\u003e\n\u003cli\u003e\u003cspan data-mce-fragment=\"1\"\u003eProduct Name: Digital audio amplifier board\u003c\/span\u003e\u003c\/li\u003e\n\u003cli\u003e\u003cspan data-mce-fragment=\"1\"\u003ePower amplifier chip: TPA3118D2 * 1\u003c\/span\u003e\u003c\/li\u003e\n\u003cli\u003e\u003cspan data-mce-fragment=\"1\"\u003eInput voltage: DC12-28V, recommended DC24V\u003c\/span\u003e\u003c\/li\u003e\n\u003cli\u003e\u003cspan data-mce-fragment=\"1\"\u003ePower supply interface: DC socket (5.5 * 2.1)\u003c\/span\u003e\u003c\/li\u003e\n\u003cli\u003e\u003cspan data-mce-fragment=\"1\"\u003eInput current:\u0026gt; 3A\u003c\/span\u003e\u003c\/li\u003e\n\u003cli\u003e\u003cspan data-mce-fragment=\"1\"\u003eOutput power: 45W * 2\u003c\/span\u003e\u003c\/li\u003e\n\u003cli\u003e\u003cspan data-mce-fragment=\"1\"\u003eOutput impedance: 4-8ohm\u003c\/span\u003e\u003c\/li\u003e\n\u003cli\u003e\u003cspan data-mce-fragment=\"1\"\u003eInput impedance: 1KΩ\u003c\/span\u003e\u003c\/li\u003e\n\u003cli\u003e\u003cspan data-mce-fragment=\"1\"\u003eSignal to noise ratio: 100db\u003c\/span\u003e\u003c\/li\u003e\n\u003cli\u003e\u003cspan data-mce-fragment=\"1\"\u003eMagnification: 30TSP\u003c\/span\u003e\u003c\/li\u003e\n\u003cli\u003e\u003cspan data-mce-fragment=\"1\"\u003eNumber of channels: two channels\u003c\/span\u003e\u003c\/li\u003e\n\u003cli\u003e\u003cspan data-mce-fragment=\"1\"\u003eAudio input: 3.5mm socket \/ xH2.54-3P\u003c\/span\u003e\u003c\/li\u003e\n\u003cli\u003e\u003cspan data-mce-fragment=\"1\"\u003eSize: 66 * 53MM\u003c\/span\u003e\u003c\/li\u003e\n\u003c\/ul\u003e\n\u003cspan data-mce-fragment=\"1\"\u003e\u003cspan data-mce-fragment=\"1\"\u003e\u003cbr data-mce-fragment=\"1\"\u003e\u003cstrong data-mce-fragment=\"1\"\u003eProduct parameters:\u003c\/strong\u003e\u003cbr data-mce-fragment=\"1\"\u003e\u003c\/span\u003e\u003c\/span\u003e\n\u003cul\u003e\n\u003cli\u003e\u003cspan data-mce-fragment=\"1\"\u003eBoard power supply maximum range DC12-28V, recommended DC24V power supply. 12V power supply is the output power of20W per channel, 24V power supply is the output power up to 45W per channel.\u003c\/span\u003e\u003c\/li\u003e\n\u003cli\u003e\u003cspan data-mce-fragment=\"1\"\u003eThe new original IC chip with overvoltage protection, overcurrent protection, overheating protection, short circuit protection, audio output 5mm pitch 2P terminal, can be connected to double 30W speakers.\u003c\/span\u003e\u003c\/li\u003e\n\u003c\/ul\u003e\n\u003cspan data-mce-fragment=\"1\"\u003e\u003cspan data-mce-fragment=\"1\"\u003e\u003cstrong data-mce-fragment=\"1\"\u003ePackage included:\u003c\/strong\u003e\u003cbr data-mce-fragment=\"1\"\u003e\u003c\/span\u003e\u003c\/span\u003e\n\u003cul\u003e\n\u003cli\u003e\u003cspan data-mce-fragment=\"1\"\u003e1PC TPA3118D2 Digital HD Audio 45W*2 Dual Channel Amplifier Speaker Power Amp Board\u003c\/span\u003e\u003c\/li\u003e\n\u003c\/ul\u003e\n\u003c\/div\u003e","published_at":"2020-10-30T15:34:46+08:00","created_at":"2020-10-30T15:34:45+08:00","vendor":"DIYMORE","type":"","tags":[],"price":899,"price_min":899,"price_max":899,"available":true,"price_varies":false,"compare_at_price":null,"compare_at_price_min":0,"compare_at_price_max":0,"compare_at_price_varies":false,"variants":[{"id":37269984641224,"title":"Default Title","option1":"Default Title","option2":null,"option3":null,"sku":"X12922","requires_shipping":true,"taxable":false,"featured_image":null,"available":true,"name":"DC 8-26V TPA3118 PBTL Mono Digital Amplifier Board 1*60W\/2*30W AMP Module","public_title":null,"options":["Default Title"],"price":899,"weight":0,"compare_at_price":null,"inventory_management":"shopify","barcode":"","requires_selling_plan":false,"selling_plan_allocations":[]}],"images":["\/\/www.diymore.cc\/cdn\/shop\/products\/X12922_1.jpg?v=1604043287","\/\/www.diymore.cc\/cdn\/shop\/products\/X12922_4.jpg?v=1604043287","\/\/www.diymore.cc\/cdn\/shop\/products\/X12922_5.jpg?v=1604043287","\/\/www.diymore.cc\/cdn\/shop\/products\/X12922_6.jpg?v=1604043288","\/\/www.diymore.cc\/cdn\/shop\/products\/X12922_11.jpg?v=1604043288"],"featured_image":"\/\/www.diymore.cc\/cdn\/shop\/products\/X12922_1.jpg?v=1604043287","options":["Title"],"media":[{"alt":null,"id":14590455382216,"position":1,"preview_image":{"aspect_ratio":1.0,"height":1000,"width":1000,"src":"\/\/www.diymore.cc\/cdn\/shop\/products\/X12922_1.jpg?v=1604043287"},"aspect_ratio":1.0,"height":1000,"media_type":"image","src":"\/\/www.diymore.cc\/cdn\/shop\/products\/X12922_1.jpg?v=1604043287","width":1000},{"alt":null,"id":14590455414984,"position":2,"preview_image":{"aspect_ratio":1.0,"height":1000,"width":1000,"src":"\/\/www.diymore.cc\/cdn\/shop\/products\/X12922_4.jpg?v=1604043287"},"aspect_ratio":1.0,"height":1000,"media_type":"image","src":"\/\/www.diymore.cc\/cdn\/shop\/products\/X12922_4.jpg?v=1604043287","width":1000},{"alt":null,"id":14590455447752,"position":3,"preview_image":{"aspect_ratio":1.0,"height":1000,"width":1000,"src":"\/\/www.diymore.cc\/cdn\/shop\/products\/X12922_5.jpg?v=1604043287"},"aspect_ratio":1.0,"height":1000,"media_type":"image","src":"\/\/www.diymore.cc\/cdn\/shop\/products\/X12922_5.jpg?v=1604043287","width":1000},{"alt":null,"id":14590455480520,"position":4,"preview_image":{"aspect_ratio":1.0,"height":1000,"width":1000,"src":"\/\/www.diymore.cc\/cdn\/shop\/products\/X12922_6.jpg?v=1604043288"},"aspect_ratio":1.0,"height":1000,"media_type":"image","src":"\/\/www.diymore.cc\/cdn\/shop\/products\/X12922_6.jpg?v=1604043288","width":1000},{"alt":null,"id":14590455546056,"position":5,"preview_image":{"aspect_ratio":1.0,"height":1000,"width":1000,"src":"\/\/www.diymore.cc\/cdn\/shop\/products\/X12922_11.jpg?v=1604043288"},"aspect_ratio":1.0,"height":1000,"media_type":"image","src":"\/\/www.diymore.cc\/cdn\/shop\/products\/X12922_11.jpg?v=1604043288","width":1000}],"requires_selling_plan":false,"selling_plan_groups":[],"content":"\u003cspan data-mce-fragment=\"1\"\u003e\u003cstrong data-mce-fragment=\"1\"\u003eDescription:\u003c\/strong\u003e\u003c\/span\u003e\u003cbr data-mce-fragment=\"1\"\u003e\u003cbr data-mce-fragment=\"1\"\u003e\u003cspan data-mce-fragment=\"1\"\u003e\u003cstrong data-mce-fragment=\"1\"\u003e1X60W\u003c\/strong\u003e\u003c\/span\u003e\u003cbr data-mce-fragment=\"1\"\u003e\u003cspan data-mce-fragment=\"1\"\u003e\u003cimg src=\"https:\/\/pg-cdn-a2.datacaciques.com\/00\/NDAy\/18\/10\/29\/718383n01qg7m6j0\/c9f3f9b214ddca2f.jpg\" width=\"300\" data-mce-fragment=\"1\" data-mce-src=\"https:\/\/pg-cdn-a2.datacaciques.com\/00\/NDAy\/18\/10\/29\/718383n01qg7m6j0\/c9f3f9b214ddca2f.jpg\" caption=\"false\"\u003e\u003c\/span\u003e\u003cbr data-mce-fragment=\"1\"\u003e\n\u003cdiv data-mce-fragment=\"1\"\u003e\n\u003cul\u003e\n\u003cli\u003e\u003cspan data-mce-fragment=\"1\"\u003eSound quality is very good by using this module.\u003c\/span\u003e\u003c\/li\u003e\n\u003cli\u003e\u003cspan data-mce-fragment=\"1\"\u003eMono digital audio power amplifier chip.\u003c\/span\u003e\u003c\/li\u003e\n\u003cli\u003e\u003cspan data-mce-fragment=\"1\"\u003eHigh output and low power consumption.\u003c\/span\u003e\u003c\/li\u003e\n\u003cli\u003e\u003cspan data-mce-fragment=\"1\"\u003eApplicable speaker impedance: 4-8 ohm(8 ohm is the best).\u003c\/span\u003e\u003c\/li\u003e\n\u003c\/ul\u003e\n\u003c\/div\u003e\n\u003cdiv data-mce-fragment=\"1\"\u003e\n\u003cbr data-mce-fragment=\"1\"\u003e\u003cspan data-mce-fragment=\"1\"\u003e\u003cstrong data-mce-fragment=\"1\"\u003eSpecifications:\u003c\/strong\u003e\u003c\/span\u003e\u003cbr data-mce-fragment=\"1\"\u003e\n\u003cul\u003e\n\u003cli\u003e\u003cspan data-mce-fragment=\"1\"\u003eWorking Voltage: DC 8-24V\u003c\/span\u003e\u003c\/li\u003e\n\u003cli\u003e\u003cspan data-mce-fragment=\"1\"\u003ePower Output: 60W\u003c\/span\u003e\u003c\/li\u003e\n\u003cli\u003e\u003cspan data-mce-fragment=\"1\"\u003eApplicable Speaker Impedance: 4-8 ohm\u003c\/span\u003e\u003c\/li\u003e\n\u003cli\u003e\u003cspan data-mce-fragment=\"1\"\u003ePCB Board Size: 45 * 35mm \/ 1.77 * 1.4in\u003c\/span\u003e\u003c\/li\u003e\n\u003cli\u003e\u003cspan data-mce-fragment=\"1\"\u003eWeight: 12g \/ 0.43oz\u003c\/span\u003e\u003c\/li\u003e\n\u003c\/ul\u003e\n\u003cspan data-mce-fragment=\"1\"\u003e\u003cstrong data-mce-fragment=\"1\"\u003ePackage List:\u003c\/strong\u003e\u003c\/span\u003e\n\u003c\/div\u003e\n\u003cdiv data-mce-fragment=\"1\"\u003e\n\u003cul\u003e\n\u003cli\u003e\u003cspan data-mce-fragment=\"1\"\u003e1 * DC 8-26V TPA3118 PBTL Mono Digital Amplifier Board AMP Module 1*60W for Arduino\u003c\/span\u003e\u003c\/li\u003e\n\u003c\/ul\u003e\n\u003cspan data-mce-fragment=\"1\"\u003e\u003cspan data-mce-fragment=\"1\"\u003e\u003cbr data-mce-fragment=\"1\"\u003e\u003cstrong data-mce-fragment=\"1\"\u003e2X30W\u003c\/strong\u003e\u003cbr data-mce-fragment=\"1\"\u003e\u003cimg src=\"https:\/\/pg-cdn-a2.datacaciques.com\/00\/NDAy\/17\/10\/13\/0tf53yfj56356974\/b6cfaf1130aa5b27.jpg\" width=\"300\" data-mce-fragment=\"1\" data-mce-src=\"https:\/\/pg-cdn-a2.datacaciques.com\/00\/NDAy\/17\/10\/13\/0tf53yfj56356974\/b6cfaf1130aa5b27.jpg\" caption=\"false\"\u003e\u003cbr data-mce-fragment=\"1\"\u003e\u003c\/span\u003e\u003c\/span\u003e\n\u003cul\u003e\n\u003cli\u003e\u003cspan data-mce-fragment=\"1\"\u003eAudio input: Bluetooth receiver\u003c\/span\u003e\u003c\/li\u003e\n\u003cli\u003e\u003cspan data-mce-fragment=\"1\"\u003eSupply voltage: 8 ~ 26VDC (direct current) reverse polarity protection\u003c\/span\u003e\u003c\/li\u003e\n\u003cli\u003e\u003cspan data-mce-fragment=\"1\"\u003e2X30W stereo power amplifier chip TPA3118\u003c\/span\u003e\u003c\/li\u003e\n\u003cli\u003e\u003cspan data-mce-fragment=\"1\"\u003eApplicable Speaker Impedance: 4,6,8 ohm\u003c\/span\u003e\u003c\/li\u003e\n\u003cli\u003e\u003cspan data-mce-fragment=\"1\"\u003eAUX output: 3.5 headphones on (after the amp for use)\u003c\/span\u003e\u003c\/li\u003e\n\u003cli\u003e\u003cspan data-mce-fragment=\"1\"\u003eDisplay Bluetooth device name: Xpecial Audio\u003c\/span\u003e\u003c\/li\u003e\n\u003c\/ul\u003e\n\u003cspan data-mce-fragment=\"1\"\u003e\u003cstrong data-mce-fragment=\"1\"\u003ePackage Contents:\u003c\/strong\u003e\u003c\/span\u003e\n\u003c\/div\u003e\n\u003cdiv data-mce-fragment=\"1\"\u003e\n\u003cul\u003e\n\u003cli\u003e\u003cspan data-mce-fragment=\"1\"\u003e1 x TPA3118 2x30W Digital Bluetooth Audio Receiver Dual Stereo Power Amplifier Board\u003c\/span\u003e\u003c\/li\u003e\n\u003c\/ul\u003e\n\u003c\/div\u003e\n\u003cdiv data-mce-fragment=\"1\"\u003e\u003cspan data-mce-fragment=\"1\"\u003e \u003c\/span\u003e\u003c\/div\u003e\n\u003cdiv data-mce-fragment=\"1\"\u003e\u003cspan data-mce-fragment=\"1\"\u003e\u003cstrong data-mce-fragment=\"1\"\u003e3:TPA3118D2 Digital HD Audio Amplifier Speaker Dual Channel Power Amp Board 45W*2\u003c\/strong\u003e\u003c\/span\u003e\u003c\/div\u003e\n\u003cdiv data-mce-fragment=\"1\"\u003e\u003cspan data-mce-fragment=\"1\"\u003e\u003cstrong data-mce-fragment=\"1\"\u003e \u003c\/strong\u003e\u003c\/span\u003e\u003c\/div\u003e\n\u003cdiv data-mce-fragment=\"1\"\u003e\n\u003cspan data-mce-fragment=\"1\"\u003e\u003cspan data-mce-fragment=\"1\"\u003e\u003cstrong data-mce-fragment=\"1\"\u003eDescription:\u003c\/strong\u003e\u003cbr data-mce-fragment=\"1\"\u003e\u003c\/span\u003e\u003c\/span\u003e\n\u003cul\u003e\n\u003cli\u003e\u003cspan data-mce-fragment=\"1\"\u003eProduct Name: Digital audio amplifier board\u003c\/span\u003e\u003c\/li\u003e\n\u003cli\u003e\u003cspan data-mce-fragment=\"1\"\u003ePower amplifier chip: TPA3118D2 * 1\u003c\/span\u003e\u003c\/li\u003e\n\u003cli\u003e\u003cspan data-mce-fragment=\"1\"\u003eInput voltage: DC12-28V, recommended DC24V\u003c\/span\u003e\u003c\/li\u003e\n\u003cli\u003e\u003cspan data-mce-fragment=\"1\"\u003ePower supply interface: DC socket (5.5 * 2.1)\u003c\/span\u003e\u003c\/li\u003e\n\u003cli\u003e\u003cspan data-mce-fragment=\"1\"\u003eInput current:\u0026gt; 3A\u003c\/span\u003e\u003c\/li\u003e\n\u003cli\u003e\u003cspan data-mce-fragment=\"1\"\u003eOutput power: 45W * 2\u003c\/span\u003e\u003c\/li\u003e\n\u003cli\u003e\u003cspan data-mce-fragment=\"1\"\u003eOutput impedance: 4-8ohm\u003c\/span\u003e\u003c\/li\u003e\n\u003cli\u003e\u003cspan data-mce-fragment=\"1\"\u003eInput impedance: 1KΩ\u003c\/span\u003e\u003c\/li\u003e\n\u003cli\u003e\u003cspan data-mce-fragment=\"1\"\u003eSignal to noise ratio: 100db\u003c\/span\u003e\u003c\/li\u003e\n\u003cli\u003e\u003cspan data-mce-fragment=\"1\"\u003eMagnification: 30TSP\u003c\/span\u003e\u003c\/li\u003e\n\u003cli\u003e\u003cspan data-mce-fragment=\"1\"\u003eNumber of channels: two channels\u003c\/span\u003e\u003c\/li\u003e\n\u003cli\u003e\u003cspan data-mce-fragment=\"1\"\u003eAudio input: 3.5mm socket \/ xH2.54-3P\u003c\/span\u003e\u003c\/li\u003e\n\u003cli\u003e\u003cspan data-mce-fragment=\"1\"\u003eSize: 66 * 53MM\u003c\/span\u003e\u003c\/li\u003e\n\u003c\/ul\u003e\n\u003cspan data-mce-fragment=\"1\"\u003e\u003cspan data-mce-fragment=\"1\"\u003e\u003cbr data-mce-fragment=\"1\"\u003e\u003cstrong data-mce-fragment=\"1\"\u003eProduct parameters:\u003c\/strong\u003e\u003cbr data-mce-fragment=\"1\"\u003e\u003c\/span\u003e\u003c\/span\u003e\n\u003cul\u003e\n\u003cli\u003e\u003cspan data-mce-fragment=\"1\"\u003eBoard power supply maximum range DC12-28V, recommended DC24V power supply. 12V power supply is the output power of20W per channel, 24V power supply is the output power up to 45W per channel.\u003c\/span\u003e\u003c\/li\u003e\n\u003cli\u003e\u003cspan data-mce-fragment=\"1\"\u003eThe new original IC chip with overvoltage protection, overcurrent protection, overheating protection, short circuit protection, audio output 5mm pitch 2P terminal, can be connected to double 30W speakers.\u003c\/span\u003e\u003c\/li\u003e\n\u003c\/ul\u003e\n\u003cspan data-mce-fragment=\"1\"\u003e\u003cspan data-mce-fragment=\"1\"\u003e\u003cstrong data-mce-fragment=\"1\"\u003ePackage included:\u003c\/strong\u003e\u003cbr data-mce-fragment=\"1\"\u003e\u003c\/span\u003e\u003c\/span\u003e\n\u003cul\u003e\n\u003cli\u003e\u003cspan data-mce-fragment=\"1\"\u003e1PC TPA3118D2 Digital HD Audio 45W*2 Dual Channel Amplifier Speaker Power Amp Board\u003c\/span\u003e\u003c\/li\u003e\n\u003c\/ul\u003e\n\u003c\/div\u003e"}

Translation missing: en.products.product.regular_price

$17.99

{"id":6031845392584,"title":"DC 8-26V TPA3118 PBTL Mono Digital Amplifier Board 1*60W\/2*30W AMP Module","handle":"dc-8-26v-tpa3118-pbtl-mono-digital-amplifier-board-1-60w-2-30w-amp-module","description":"\u003cspan data-mce-fragment=\"1\"\u003e\u003cstrong data-mce-fragment=\"1\"\u003eDescription:\u003c\/strong\u003e\u003c\/span\u003e\u003cbr data-mce-fragment=\"1\"\u003e\u003cbr data-mce-fragment=\"1\"\u003e\u003cspan data-mce-fragment=\"1\"\u003e\u003cstrong data-mce-fragment=\"1\"\u003e1X60W\u003c\/strong\u003e\u003c\/span\u003e\u003cbr data-mce-fragment=\"1\"\u003e\u003cspan data-mce-fragment=\"1\"\u003e\u003cimg src=\"https:\/\/pg-cdn-a2.datacaciques.com\/00\/NDAy\/18\/10\/29\/718383n01qg7m6j0\/c9f3f9b214ddca2f.jpg\" width=\"300\" data-mce-fragment=\"1\" data-mce-src=\"https:\/\/pg-cdn-a2.datacaciques.com\/00\/NDAy\/18\/10\/29\/718383n01qg7m6j0\/c9f3f9b214ddca2f.jpg\" caption=\"false\"\u003e\u003c\/span\u003e\u003cbr data-mce-fragment=\"1\"\u003e\n\u003cdiv data-mce-fragment=\"1\"\u003e\n\u003cul\u003e\n\u003cli\u003e\u003cspan data-mce-fragment=\"1\"\u003eSound quality is very good by using this module.\u003c\/span\u003e\u003c\/li\u003e\n\u003cli\u003e\u003cspan data-mce-fragment=\"1\"\u003eMono digital audio power amplifier chip.\u003c\/span\u003e\u003c\/li\u003e\n\u003cli\u003e\u003cspan data-mce-fragment=\"1\"\u003eHigh output and low power consumption.\u003c\/span\u003e\u003c\/li\u003e\n\u003cli\u003e\u003cspan data-mce-fragment=\"1\"\u003eApplicable speaker impedance: 4-8 ohm(8 ohm is the best).\u003c\/span\u003e\u003c\/li\u003e\n\u003c\/ul\u003e\n\u003c\/div\u003e\n\u003cdiv data-mce-fragment=\"1\"\u003e\n\u003cbr data-mce-fragment=\"1\"\u003e\u003cspan data-mce-fragment=\"1\"\u003e\u003cstrong data-mce-fragment=\"1\"\u003eSpecifications:\u003c\/strong\u003e\u003c\/span\u003e\u003cbr data-mce-fragment=\"1\"\u003e\n\u003cul\u003e\n\u003cli\u003e\u003cspan data-mce-fragment=\"1\"\u003eWorking Voltage: DC 8-24V\u003c\/span\u003e\u003c\/li\u003e\n\u003cli\u003e\u003cspan data-mce-fragment=\"1\"\u003ePower Output: 60W\u003c\/span\u003e\u003c\/li\u003e\n\u003cli\u003e\u003cspan data-mce-fragment=\"1\"\u003eApplicable Speaker Impedance: 4-8 ohm\u003c\/span\u003e\u003c\/li\u003e\n\u003cli\u003e\u003cspan data-mce-fragment=\"1\"\u003ePCB Board Size: 45 * 35mm \/ 1.77 * 1.4in\u003c\/span\u003e\u003c\/li\u003e\n\u003cli\u003e\u003cspan data-mce-fragment=\"1\"\u003eWeight: 12g \/ 0.43oz\u003c\/span\u003e\u003c\/li\u003e\n\u003c\/ul\u003e\n\u003cspan data-mce-fragment=\"1\"\u003e\u003cstrong data-mce-fragment=\"1\"\u003ePackage List:\u003c\/strong\u003e\u003c\/span\u003e\n\u003c\/div\u003e\n\u003cdiv data-mce-fragment=\"1\"\u003e\n\u003cul\u003e\n\u003cli\u003e\u003cspan data-mce-fragment=\"1\"\u003e1 * DC 8-26V TPA3118 PBTL Mono Digital Amplifier Board AMP Module 1*60W for Arduino\u003c\/span\u003e\u003c\/li\u003e\n\u003c\/ul\u003e\n\u003cspan data-mce-fragment=\"1\"\u003e\u003cspan data-mce-fragment=\"1\"\u003e\u003cbr data-mce-fragment=\"1\"\u003e\u003cstrong data-mce-fragment=\"1\"\u003e2X30W\u003c\/strong\u003e\u003cbr data-mce-fragment=\"1\"\u003e\u003cimg src=\"https:\/\/pg-cdn-a2.datacaciques.com\/00\/NDAy\/17\/10\/13\/0tf53yfj56356974\/b6cfaf1130aa5b27.jpg\" width=\"300\" data-mce-fragment=\"1\" data-mce-src=\"https:\/\/pg-cdn-a2.datacaciques.com\/00\/NDAy\/17\/10\/13\/0tf53yfj56356974\/b6cfaf1130aa5b27.jpg\" caption=\"false\"\u003e\u003cbr data-mce-fragment=\"1\"\u003e\u003c\/span\u003e\u003c\/span\u003e\n\u003cul\u003e\n\u003cli\u003e\u003cspan data-mce-fragment=\"1\"\u003eAudio input: Bluetooth receiver\u003c\/span\u003e\u003c\/li\u003e\n\u003cli\u003e\u003cspan data-mce-fragment=\"1\"\u003eSupply voltage: 8 ~ 26VDC (direct current) reverse polarity protection\u003c\/span\u003e\u003c\/li\u003e\n\u003cli\u003e\u003cspan data-mce-fragment=\"1\"\u003e2X30W stereo power amplifier chip TPA3118\u003c\/span\u003e\u003c\/li\u003e\n\u003cli\u003e\u003cspan data-mce-fragment=\"1\"\u003eApplicable Speaker Impedance: 4,6,8 ohm\u003c\/span\u003e\u003c\/li\u003e\n\u003cli\u003e\u003cspan data-mce-fragment=\"1\"\u003eAUX output: 3.5 headphones on (after the amp for use)\u003c\/span\u003e\u003c\/li\u003e\n\u003cli\u003e\u003cspan data-mce-fragment=\"1\"\u003eDisplay Bluetooth device name: Xpecial Audio\u003c\/span\u003e\u003c\/li\u003e\n\u003c\/ul\u003e\n\u003cspan data-mce-fragment=\"1\"\u003e\u003cstrong data-mce-fragment=\"1\"\u003ePackage Contents:\u003c\/strong\u003e\u003c\/span\u003e\n\u003c\/div\u003e\n\u003cdiv data-mce-fragment=\"1\"\u003e\n\u003cul\u003e\n\u003cli\u003e\u003cspan data-mce-fragment=\"1\"\u003e1 x TPA3118 2x30W Digital Bluetooth Audio Receiver Dual Stereo Power Amplifier Board\u003c\/span\u003e\u003c\/li\u003e\n\u003c\/ul\u003e\n\u003c\/div\u003e\n\u003cdiv data-mce-fragment=\"1\"\u003e\u003cspan data-mce-fragment=\"1\"\u003e \u003c\/span\u003e\u003c\/div\u003e\n\u003cdiv data-mce-fragment=\"1\"\u003e\u003cspan data-mce-fragment=\"1\"\u003e\u003cstrong data-mce-fragment=\"1\"\u003e3:TPA3118D2 Digital HD Audio Amplifier Speaker Dual Channel Power Amp Board 45W*2\u003c\/strong\u003e\u003c\/span\u003e\u003c\/div\u003e\n\u003cdiv data-mce-fragment=\"1\"\u003e\u003cspan data-mce-fragment=\"1\"\u003e\u003cstrong data-mce-fragment=\"1\"\u003e \u003c\/strong\u003e\u003c\/span\u003e\u003c\/div\u003e\n\u003cdiv data-mce-fragment=\"1\"\u003e\n\u003cspan data-mce-fragment=\"1\"\u003e\u003cspan data-mce-fragment=\"1\"\u003e\u003cstrong data-mce-fragment=\"1\"\u003eDescription:\u003c\/strong\u003e\u003cbr data-mce-fragment=\"1\"\u003e\u003c\/span\u003e\u003c\/span\u003e\n\u003cul\u003e\n\u003cli\u003e\u003cspan data-mce-fragment=\"1\"\u003eProduct Name: Digital audio amplifier board\u003c\/span\u003e\u003c\/li\u003e\n\u003cli\u003e\u003cspan data-mce-fragment=\"1\"\u003ePower amplifier chip: TPA3118D2 * 1\u003c\/span\u003e\u003c\/li\u003e\n\u003cli\u003e\u003cspan data-mce-fragment=\"1\"\u003eInput voltage: DC12-28V, recommended DC24V\u003c\/span\u003e\u003c\/li\u003e\n\u003cli\u003e\u003cspan data-mce-fragment=\"1\"\u003ePower supply interface: DC socket (5.5 * 2.1)\u003c\/span\u003e\u003c\/li\u003e\n\u003cli\u003e\u003cspan data-mce-fragment=\"1\"\u003eInput current:\u0026gt; 3A\u003c\/span\u003e\u003c\/li\u003e\n\u003cli\u003e\u003cspan data-mce-fragment=\"1\"\u003eOutput power: 45W * 2\u003c\/span\u003e\u003c\/li\u003e\n\u003cli\u003e\u003cspan data-mce-fragment=\"1\"\u003eOutput impedance: 4-8ohm\u003c\/span\u003e\u003c\/li\u003e\n\u003cli\u003e\u003cspan data-mce-fragment=\"1\"\u003eInput impedance: 1KΩ\u003c\/span\u003e\u003c\/li\u003e\n\u003cli\u003e\u003cspan data-mce-fragment=\"1\"\u003eSignal to noise ratio: 100db\u003c\/span\u003e\u003c\/li\u003e\n\u003cli\u003e\u003cspan data-mce-fragment=\"1\"\u003eMagnification: 30TSP\u003c\/span\u003e\u003c\/li\u003e\n\u003cli\u003e\u003cspan data-mce-fragment=\"1\"\u003eNumber of channels: two channels\u003c\/span\u003e\u003c\/li\u003e\n\u003cli\u003e\u003cspan data-mce-fragment=\"1\"\u003eAudio input: 3.5mm socket \/ xH2.54-3P\u003c\/span\u003e\u003c\/li\u003e\n\u003cli\u003e\u003cspan data-mce-fragment=\"1\"\u003eSize: 66 * 53MM\u003c\/span\u003e\u003c\/li\u003e\n\u003c\/ul\u003e\n\u003cspan data-mce-fragment=\"1\"\u003e\u003cspan data-mce-fragment=\"1\"\u003e\u003cbr data-mce-fragment=\"1\"\u003e\u003cstrong data-mce-fragment=\"1\"\u003eProduct parameters:\u003c\/strong\u003e\u003cbr data-mce-fragment=\"1\"\u003e\u003c\/span\u003e\u003c\/span\u003e\n\u003cul\u003e\n\u003cli\u003e\u003cspan data-mce-fragment=\"1\"\u003eBoard power supply maximum range DC12-28V, recommended DC24V power supply. 12V power supply is the output power of20W per channel, 24V power supply is the output power up to 45W per channel.\u003c\/span\u003e\u003c\/li\u003e\n\u003cli\u003e\u003cspan data-mce-fragment=\"1\"\u003eThe new original IC chip with overvoltage protection, overcurrent protection, overheating protection, short circuit protection, audio output 5mm pitch 2P terminal, can be connected to double 30W speakers.\u003c\/span\u003e\u003c\/li\u003e\n\u003c\/ul\u003e\n\u003cspan data-mce-fragment=\"1\"\u003e\u003cspan data-mce-fragment=\"1\"\u003e\u003cstrong data-mce-fragment=\"1\"\u003ePackage included:\u003c\/strong\u003e\u003cbr data-mce-fragment=\"1\"\u003e\u003c\/span\u003e\u003c\/span\u003e\n\u003cul\u003e\n\u003cli\u003e\u003cspan data-mce-fragment=\"1\"\u003e1PC TPA3118D2 Digital HD Audio 45W*2 Dual Channel Amplifier Speaker Power Amp Board\u003c\/span\u003e\u003c\/li\u003e\n\u003c\/ul\u003e\n\u003c\/div\u003e","published_at":"2020-10-30T15:34:46+08:00","created_at":"2020-10-30T15:34:45+08:00","vendor":"DIYMORE","type":"","tags":[],"price":899,"price_min":899,"price_max":899,"available":true,"price_varies":false,"compare_at_price":null,"compare_at_price_min":0,"compare_at_price_max":0,"compare_at_price_varies":false,"variants":[{"id":37269984641224,"title":"Default Title","option1":"Default Title","option2":null,"option3":null,"sku":"X12922","requires_shipping":true,"taxable":false,"featured_image":null,"available":true,"name":"DC 8-26V TPA3118 PBTL Mono Digital Amplifier Board 1*60W\/2*30W AMP Module","public_title":null,"options":["Default Title"],"price":899,"weight":0,"compare_at_price":null,"inventory_management":"shopify","barcode":"","requires_selling_plan":false,"selling_plan_allocations":[]}],"images":["\/\/www.diymore.cc\/cdn\/shop\/products\/X12922_1.jpg?v=1604043287","\/\/www.diymore.cc\/cdn\/shop\/products\/X12922_4.jpg?v=1604043287","\/\/www.diymore.cc\/cdn\/shop\/products\/X12922_5.jpg?v=1604043287","\/\/www.diymore.cc\/cdn\/shop\/products\/X12922_6.jpg?v=1604043288","\/\/www.diymore.cc\/cdn\/shop\/products\/X12922_11.jpg?v=1604043288"],"featured_image":"\/\/www.diymore.cc\/cdn\/shop\/products\/X12922_1.jpg?v=1604043287","options":["Title"],"media":[{"alt":null,"id":14590455382216,"position":1,"preview_image":{"aspect_ratio":1.0,"height":1000,"width":1000,"src":"\/\/www.diymore.cc\/cdn\/shop\/products\/X12922_1.jpg?v=1604043287"},"aspect_ratio":1.0,"height":1000,"media_type":"image","src":"\/\/www.diymore.cc\/cdn\/shop\/products\/X12922_1.jpg?v=1604043287","width":1000},{"alt":null,"id":14590455414984,"position":2,"preview_image":{"aspect_ratio":1.0,"height":1000,"width":1000,"src":"\/\/www.diymore.cc\/cdn\/shop\/products\/X12922_4.jpg?v=1604043287"},"aspect_ratio":1.0,"height":1000,"media_type":"image","src":"\/\/www.diymore.cc\/cdn\/shop\/products\/X12922_4.jpg?v=1604043287","width":1000},{"alt":null,"id":14590455447752,"position":3,"preview_image":{"aspect_ratio":1.0,"height":1000,"width":1000,"src":"\/\/www.diymore.cc\/cdn\/shop\/products\/X12922_5.jpg?v=1604043287"},"aspect_ratio":1.0,"height":1000,"media_type":"image","src":"\/\/www.diymore.cc\/cdn\/shop\/products\/X12922_5.jpg?v=1604043287","width":1000},{"alt":null,"id":14590455480520,"position":4,"preview_image":{"aspect_ratio":1.0,"height":1000,"width":1000,"src":"\/\/www.diymore.cc\/cdn\/shop\/products\/X12922_6.jpg?v=1604043288"},"aspect_ratio":1.0,"height":1000,"media_type":"image","src":"\/\/www.diymore.cc\/cdn\/shop\/products\/X12922_6.jpg?v=1604043288","width":1000},{"alt":null,"id":14590455546056,"position":5,"preview_image":{"aspect_ratio":1.0,"height":1000,"width":1000,"src":"\/\/www.diymore.cc\/cdn\/shop\/products\/X12922_11.jpg?v=1604043288"},"aspect_ratio":1.0,"height":1000,"media_type":"image","src":"\/\/www.diymore.cc\/cdn\/shop\/products\/X12922_11.jpg?v=1604043288","width":1000}],"requires_selling_plan":false,"selling_plan_groups":[],"content":"\u003cspan data-mce-fragment=\"1\"\u003e\u003cstrong data-mce-fragment=\"1\"\u003eDescription:\u003c\/strong\u003e\u003c\/span\u003e\u003cbr data-mce-fragment=\"1\"\u003e\u003cbr data-mce-fragment=\"1\"\u003e\u003cspan data-mce-fragment=\"1\"\u003e\u003cstrong data-mce-fragment=\"1\"\u003e1X60W\u003c\/strong\u003e\u003c\/span\u003e\u003cbr data-mce-fragment=\"1\"\u003e\u003cspan data-mce-fragment=\"1\"\u003e\u003cimg src=\"https:\/\/pg-cdn-a2.datacaciques.com\/00\/NDAy\/18\/10\/29\/718383n01qg7m6j0\/c9f3f9b214ddca2f.jpg\" width=\"300\" data-mce-fragment=\"1\" data-mce-src=\"https:\/\/pg-cdn-a2.datacaciques.com\/00\/NDAy\/18\/10\/29\/718383n01qg7m6j0\/c9f3f9b214ddca2f.jpg\" caption=\"false\"\u003e\u003c\/span\u003e\u003cbr data-mce-fragment=\"1\"\u003e\n\u003cdiv data-mce-fragment=\"1\"\u003e\n\u003cul\u003e\n\u003cli\u003e\u003cspan data-mce-fragment=\"1\"\u003eSound quality is very good by using this module.\u003c\/span\u003e\u003c\/li\u003e\n\u003cli\u003e\u003cspan data-mce-fragment=\"1\"\u003eMono digital audio power amplifier chip.\u003c\/span\u003e\u003c\/li\u003e\n\u003cli\u003e\u003cspan data-mce-fragment=\"1\"\u003eHigh output and low power consumption.\u003c\/span\u003e\u003c\/li\u003e\n\u003cli\u003e\u003cspan data-mce-fragment=\"1\"\u003eApplicable speaker impedance: 4-8 ohm(8 ohm is the best).\u003c\/span\u003e\u003c\/li\u003e\n\u003c\/ul\u003e\n\u003c\/div\u003e\n\u003cdiv data-mce-fragment=\"1\"\u003e\n\u003cbr data-mce-fragment=\"1\"\u003e\u003cspan data-mce-fragment=\"1\"\u003e\u003cstrong data-mce-fragment=\"1\"\u003eSpecifications:\u003c\/strong\u003e\u003c\/span\u003e\u003cbr data-mce-fragment=\"1\"\u003e\n\u003cul\u003e\n\u003cli\u003e\u003cspan data-mce-fragment=\"1\"\u003eWorking Voltage: DC 8-24V\u003c\/span\u003e\u003c\/li\u003e\n\u003cli\u003e\u003cspan data-mce-fragment=\"1\"\u003ePower Output: 60W\u003c\/span\u003e\u003c\/li\u003e\n\u003cli\u003e\u003cspan data-mce-fragment=\"1\"\u003eApplicable Speaker Impedance: 4-8 ohm\u003c\/span\u003e\u003c\/li\u003e\n\u003cli\u003e\u003cspan data-mce-fragment=\"1\"\u003ePCB Board Size: 45 * 35mm \/ 1.77 * 1.4in\u003c\/span\u003e\u003c\/li\u003e\n\u003cli\u003e\u003cspan data-mce-fragment=\"1\"\u003eWeight: 12g \/ 0.43oz\u003c\/span\u003e\u003c\/li\u003e\n\u003c\/ul\u003e\n\u003cspan data-mce-fragment=\"1\"\u003e\u003cstrong data-mce-fragment=\"1\"\u003ePackage List:\u003c\/strong\u003e\u003c\/span\u003e\n\u003c\/div\u003e\n\u003cdiv data-mce-fragment=\"1\"\u003e\n\u003cul\u003e\n\u003cli\u003e\u003cspan data-mce-fragment=\"1\"\u003e1 * DC 8-26V TPA3118 PBTL Mono Digital Amplifier Board AMP Module 1*60W for Arduino\u003c\/span\u003e\u003c\/li\u003e\n\u003c\/ul\u003e\n\u003cspan data-mce-fragment=\"1\"\u003e\u003cspan data-mce-fragment=\"1\"\u003e\u003cbr data-mce-fragment=\"1\"\u003e\u003cstrong data-mce-fragment=\"1\"\u003e2X30W\u003c\/strong\u003e\u003cbr data-mce-fragment=\"1\"\u003e\u003cimg src=\"https:\/\/pg-cdn-a2.datacaciques.com\/00\/NDAy\/17\/10\/13\/0tf53yfj56356974\/b6cfaf1130aa5b27.jpg\" width=\"300\" data-mce-fragment=\"1\" data-mce-src=\"https:\/\/pg-cdn-a2.datacaciques.com\/00\/NDAy\/17\/10\/13\/0tf53yfj56356974\/b6cfaf1130aa5b27.jpg\" caption=\"false\"\u003e\u003cbr data-mce-fragment=\"1\"\u003e\u003c\/span\u003e\u003c\/span\u003e\n\u003cul\u003e\n\u003cli\u003e\u003cspan data-mce-fragment=\"1\"\u003eAudio input: Bluetooth receiver\u003c\/span\u003e\u003c\/li\u003e\n\u003cli\u003e\u003cspan data-mce-fragment=\"1\"\u003eSupply voltage: 8 ~ 26VDC (direct current) reverse polarity protection\u003c\/span\u003e\u003c\/li\u003e\n\u003cli\u003e\u003cspan data-mce-fragment=\"1\"\u003e2X30W stereo power amplifier chip TPA3118\u003c\/span\u003e\u003c\/li\u003e\n\u003cli\u003e\u003cspan data-mce-fragment=\"1\"\u003eApplicable Speaker Impedance: 4,6,8 ohm\u003c\/span\u003e\u003c\/li\u003e\n\u003cli\u003e\u003cspan data-mce-fragment=\"1\"\u003eAUX output: 3.5 headphones on (after the amp for use)\u003c\/span\u003e\u003c\/li\u003e\n\u003cli\u003e\u003cspan data-mce-fragment=\"1\"\u003eDisplay Bluetooth device name: Xpecial Audio\u003c\/span\u003e\u003c\/li\u003e\n\u003c\/ul\u003e\n\u003cspan data-mce-fragment=\"1\"\u003e\u003cstrong data-mce-fragment=\"1\"\u003ePackage Contents:\u003c\/strong\u003e\u003c\/span\u003e\n\u003c\/div\u003e\n\u003cdiv data-mce-fragment=\"1\"\u003e\n\u003cul\u003e\n\u003cli\u003e\u003cspan data-mce-fragment=\"1\"\u003e1 x TPA3118 2x30W Digital Bluetooth Audio Receiver Dual Stereo Power Amplifier Board\u003c\/span\u003e\u003c\/li\u003e\n\u003c\/ul\u003e\n\u003c\/div\u003e\n\u003cdiv data-mce-fragment=\"1\"\u003e\u003cspan data-mce-fragment=\"1\"\u003e \u003c\/span\u003e\u003c\/div\u003e\n\u003cdiv data-mce-fragment=\"1\"\u003e\u003cspan data-mce-fragment=\"1\"\u003e\u003cstrong data-mce-fragment=\"1\"\u003e3:TPA3118D2 Digital HD Audio Amplifier Speaker Dual Channel Power Amp Board 45W*2\u003c\/strong\u003e\u003c\/span\u003e\u003c\/div\u003e\n\u003cdiv data-mce-fragment=\"1\"\u003e\u003cspan data-mce-fragment=\"1\"\u003e\u003cstrong data-mce-fragment=\"1\"\u003e \u003c\/strong\u003e\u003c\/span\u003e\u003c\/div\u003e\n\u003cdiv data-mce-fragment=\"1\"\u003e\n\u003cspan data-mce-fragment=\"1\"\u003e\u003cspan data-mce-fragment=\"1\"\u003e\u003cstrong data-mce-fragment=\"1\"\u003eDescription:\u003c\/strong\u003e\u003cbr data-mce-fragment=\"1\"\u003e\u003c\/span\u003e\u003c\/span\u003e\n\u003cul\u003e\n\u003cli\u003e\u003cspan data-mce-fragment=\"1\"\u003eProduct Name: Digital audio amplifier board\u003c\/span\u003e\u003c\/li\u003e\n\u003cli\u003e\u003cspan data-mce-fragment=\"1\"\u003ePower amplifier chip: TPA3118D2 * 1\u003c\/span\u003e\u003c\/li\u003e\n\u003cli\u003e\u003cspan data-mce-fragment=\"1\"\u003eInput voltage: DC12-28V, recommended DC24V\u003c\/span\u003e\u003c\/li\u003e\n\u003cli\u003e\u003cspan data-mce-fragment=\"1\"\u003ePower supply interface: DC socket (5.5 * 2.1)\u003c\/span\u003e\u003c\/li\u003e\n\u003cli\u003e\u003cspan data-mce-fragment=\"1\"\u003eInput current:\u0026gt; 3A\u003c\/span\u003e\u003c\/li\u003e\n\u003cli\u003e\u003cspan data-mce-fragment=\"1\"\u003eOutput power: 45W * 2\u003c\/span\u003e\u003c\/li\u003e\n\u003cli\u003e\u003cspan data-mce-fragment=\"1\"\u003eOutput impedance: 4-8ohm\u003c\/span\u003e\u003c\/li\u003e\n\u003cli\u003e\u003cspan data-mce-fragment=\"1\"\u003eInput impedance: 1KΩ\u003c\/span\u003e\u003c\/li\u003e\n\u003cli\u003e\u003cspan data-mce-fragment=\"1\"\u003eSignal to noise ratio: 100db\u003c\/span\u003e\u003c\/li\u003e\n\u003cli\u003e\u003cspan data-mce-fragment=\"1\"\u003eMagnification: 30TSP\u003c\/span\u003e\u003c\/li\u003e\n\u003cli\u003e\u003cspan data-mce-fragment=\"1\"\u003eNumber of channels: two channels\u003c\/span\u003e\u003c\/li\u003e\n\u003cli\u003e\u003cspan data-mce-fragment=\"1\"\u003eAudio input: 3.5mm socket \/ xH2.54-3P\u003c\/span\u003e\u003c\/li\u003e\n\u003cli\u003e\u003cspan data-mce-fragment=\"1\"\u003eSize: 66 * 53MM\u003c\/span\u003e\u003c\/li\u003e\n\u003c\/ul\u003e\n\u003cspan data-mce-fragment=\"1\"\u003e\u003cspan data-mce-fragment=\"1\"\u003e\u003cbr data-mce-fragment=\"1\"\u003e\u003cstrong data-mce-fragment=\"1\"\u003eProduct parameters:\u003c\/strong\u003e\u003cbr data-mce-fragment=\"1\"\u003e\u003c\/span\u003e\u003c\/span\u003e\n\u003cul\u003e\n\u003cli\u003e\u003cspan data-mce-fragment=\"1\"\u003eBoard power supply maximum range DC12-28V, recommended DC24V power supply. 12V power supply is the output power of20W per channel, 24V power supply is the output power up to 45W per channel.\u003c\/span\u003e\u003c\/li\u003e\n\u003cli\u003e\u003cspan data-mce-fragment=\"1\"\u003eThe new original IC chip with overvoltage protection, overcurrent protection, overheating protection, short circuit protection, audio output 5mm pitch 2P terminal, can be connected to double 30W speakers.\u003c\/span\u003e\u003c\/li\u003e\n\u003c\/ul\u003e\n\u003cspan data-mce-fragment=\"1\"\u003e\u003cspan data-mce-fragment=\"1\"\u003e\u003cstrong data-mce-fragment=\"1\"\u003ePackage included:\u003c\/strong\u003e\u003cbr data-mce-fragment=\"1\"\u003e\u003c\/span\u003e\u003c\/span\u003e\n\u003cul\u003e\n\u003cli\u003e\u003cspan data-mce-fragment=\"1\"\u003e1PC TPA3118D2 Digital HD Audio 45W*2 Dual Channel Amplifier Speaker Power Amp Board\u003c\/span\u003e\u003c\/li\u003e\n\u003c\/ul\u003e\n\u003c\/div\u003e"}

Translation missing: en.products.product.regular_price

$5.99

{"id":6031845392584,"title":"DC 8-26V TPA3118 PBTL Mono Digital Amplifier Board 1*60W\/2*30W AMP Module","handle":"dc-8-26v-tpa3118-pbtl-mono-digital-amplifier-board-1-60w-2-30w-amp-module","description":"\u003cspan data-mce-fragment=\"1\"\u003e\u003cstrong data-mce-fragment=\"1\"\u003eDescription:\u003c\/strong\u003e\u003c\/span\u003e\u003cbr data-mce-fragment=\"1\"\u003e\u003cbr data-mce-fragment=\"1\"\u003e\u003cspan data-mce-fragment=\"1\"\u003e\u003cstrong data-mce-fragment=\"1\"\u003e1X60W\u003c\/strong\u003e\u003c\/span\u003e\u003cbr data-mce-fragment=\"1\"\u003e\u003cspan data-mce-fragment=\"1\"\u003e\u003cimg src=\"https:\/\/pg-cdn-a2.datacaciques.com\/00\/NDAy\/18\/10\/29\/718383n01qg7m6j0\/c9f3f9b214ddca2f.jpg\" width=\"300\" data-mce-fragment=\"1\" data-mce-src=\"https:\/\/pg-cdn-a2.datacaciques.com\/00\/NDAy\/18\/10\/29\/718383n01qg7m6j0\/c9f3f9b214ddca2f.jpg\" caption=\"false\"\u003e\u003c\/span\u003e\u003cbr data-mce-fragment=\"1\"\u003e\n\u003cdiv data-mce-fragment=\"1\"\u003e\n\u003cul\u003e\n\u003cli\u003e\u003cspan data-mce-fragment=\"1\"\u003eSound quality is very good by using this module.\u003c\/span\u003e\u003c\/li\u003e\n\u003cli\u003e\u003cspan data-mce-fragment=\"1\"\u003eMono digital audio power amplifier chip.\u003c\/span\u003e\u003c\/li\u003e\n\u003cli\u003e\u003cspan data-mce-fragment=\"1\"\u003eHigh output and low power consumption.\u003c\/span\u003e\u003c\/li\u003e\n\u003cli\u003e\u003cspan data-mce-fragment=\"1\"\u003eApplicable speaker impedance: 4-8 ohm(8 ohm is the best).\u003c\/span\u003e\u003c\/li\u003e\n\u003c\/ul\u003e\n\u003c\/div\u003e\n\u003cdiv data-mce-fragment=\"1\"\u003e\n\u003cbr data-mce-fragment=\"1\"\u003e\u003cspan data-mce-fragment=\"1\"\u003e\u003cstrong data-mce-fragment=\"1\"\u003eSpecifications:\u003c\/strong\u003e\u003c\/span\u003e\u003cbr data-mce-fragment=\"1\"\u003e\n\u003cul\u003e\n\u003cli\u003e\u003cspan data-mce-fragment=\"1\"\u003eWorking Voltage: DC 8-24V\u003c\/span\u003e\u003c\/li\u003e\n\u003cli\u003e\u003cspan data-mce-fragment=\"1\"\u003ePower Output: 60W\u003c\/span\u003e\u003c\/li\u003e\n\u003cli\u003e\u003cspan data-mce-fragment=\"1\"\u003eApplicable Speaker Impedance: 4-8 ohm\u003c\/span\u003e\u003c\/li\u003e\n\u003cli\u003e\u003cspan data-mce-fragment=\"1\"\u003ePCB Board Size: 45 * 35mm \/ 1.77 * 1.4in\u003c\/span\u003e\u003c\/li\u003e\n\u003cli\u003e\u003cspan data-mce-fragment=\"1\"\u003eWeight: 12g \/ 0.43oz\u003c\/span\u003e\u003c\/li\u003e\n\u003c\/ul\u003e\n\u003cspan data-mce-fragment=\"1\"\u003e\u003cstrong data-mce-fragment=\"1\"\u003ePackage List:\u003c\/strong\u003e\u003c\/span\u003e\n\u003c\/div\u003e\n\u003cdiv data-mce-fragment=\"1\"\u003e\n\u003cul\u003e\n\u003cli\u003e\u003cspan data-mce-fragment=\"1\"\u003e1 * DC 8-26V TPA3118 PBTL Mono Digital Amplifier Board AMP Module 1*60W for Arduino\u003c\/span\u003e\u003c\/li\u003e\n\u003c\/ul\u003e\n\u003cspan data-mce-fragment=\"1\"\u003e\u003cspan data-mce-fragment=\"1\"\u003e\u003cbr data-mce-fragment=\"1\"\u003e\u003cstrong data-mce-fragment=\"1\"\u003e2X30W\u003c\/strong\u003e\u003cbr data-mce-fragment=\"1\"\u003e\u003cimg src=\"https:\/\/pg-cdn-a2.datacaciques.com\/00\/NDAy\/17\/10\/13\/0tf53yfj56356974\/b6cfaf1130aa5b27.jpg\" width=\"300\" data-mce-fragment=\"1\" data-mce-src=\"https:\/\/pg-cdn-a2.datacaciques.com\/00\/NDAy\/17\/10\/13\/0tf53yfj56356974\/b6cfaf1130aa5b27.jpg\" caption=\"false\"\u003e\u003cbr data-mce-fragment=\"1\"\u003e\u003c\/span\u003e\u003c\/span\u003e\n\u003cul\u003e\n\u003cli\u003e\u003cspan data-mce-fragment=\"1\"\u003eAudio input: Bluetooth receiver\u003c\/span\u003e\u003c\/li\u003e\n\u003cli\u003e\u003cspan data-mce-fragment=\"1\"\u003eSupply voltage: 8 ~ 26VDC (direct current) reverse polarity protection\u003c\/span\u003e\u003c\/li\u003e\n\u003cli\u003e\u003cspan data-mce-fragment=\"1\"\u003e2X30W stereo power amplifier chip TPA3118\u003c\/span\u003e\u003c\/li\u003e\n\u003cli\u003e\u003cspan data-mce-fragment=\"1\"\u003eApplicable Speaker Impedance: 4,6,8 ohm\u003c\/span\u003e\u003c\/li\u003e\n\u003cli\u003e\u003cspan data-mce-fragment=\"1\"\u003eAUX output: 3.5 headphones on (after the amp for use)\u003c\/span\u003e\u003c\/li\u003e\n\u003cli\u003e\u003cspan data-mce-fragment=\"1\"\u003eDisplay Bluetooth device name: Xpecial Audio\u003c\/span\u003e\u003c\/li\u003e\n\u003c\/ul\u003e\n\u003cspan data-mce-fragment=\"1\"\u003e\u003cstrong data-mce-fragment=\"1\"\u003ePackage Contents:\u003c\/strong\u003e\u003c\/span\u003e\n\u003c\/div\u003e\n\u003cdiv data-mce-fragment=\"1\"\u003e\n\u003cul\u003e\n\u003cli\u003e\u003cspan data-mce-fragment=\"1\"\u003e1 x TPA3118 2x30W Digital Bluetooth Audio Receiver Dual Stereo Power Amplifier Board\u003c\/span\u003e\u003c\/li\u003e\n\u003c\/ul\u003e\n\u003c\/div\u003e\n\u003cdiv data-mce-fragment=\"1\"\u003e\u003cspan data-mce-fragment=\"1\"\u003e \u003c\/span\u003e\u003c\/div\u003e\n\u003cdiv data-mce-fragment=\"1\"\u003e\u003cspan data-mce-fragment=\"1\"\u003e\u003cstrong data-mce-fragment=\"1\"\u003e3:TPA3118D2 Digital HD Audio Amplifier Speaker Dual Channel Power Amp Board 45W*2\u003c\/strong\u003e\u003c\/span\u003e\u003c\/div\u003e\n\u003cdiv data-mce-fragment=\"1\"\u003e\u003cspan data-mce-fragment=\"1\"\u003e\u003cstrong data-mce-fragment=\"1\"\u003e \u003c\/strong\u003e\u003c\/span\u003e\u003c\/div\u003e\n\u003cdiv data-mce-fragment=\"1\"\u003e\n\u003cspan data-mce-fragment=\"1\"\u003e\u003cspan data-mce-fragment=\"1\"\u003e\u003cstrong data-mce-fragment=\"1\"\u003eDescription:\u003c\/strong\u003e\u003cbr data-mce-fragment=\"1\"\u003e\u003c\/span\u003e\u003c\/span\u003e\n\u003cul\u003e\n\u003cli\u003e\u003cspan data-mce-fragment=\"1\"\u003eProduct Name: Digital audio amplifier board\u003c\/span\u003e\u003c\/li\u003e\n\u003cli\u003e\u003cspan data-mce-fragment=\"1\"\u003ePower amplifier chip: TPA3118D2 * 1\u003c\/span\u003e\u003c\/li\u003e\n\u003cli\u003e\u003cspan data-mce-fragment=\"1\"\u003eInput voltage: DC12-28V, recommended DC24V\u003c\/span\u003e\u003c\/li\u003e\n\u003cli\u003e\u003cspan data-mce-fragment=\"1\"\u003ePower supply interface: DC socket (5.5 * 2.1)\u003c\/span\u003e\u003c\/li\u003e\n\u003cli\u003e\u003cspan data-mce-fragment=\"1\"\u003eInput current:\u0026gt; 3A\u003c\/span\u003e\u003c\/li\u003e\n\u003cli\u003e\u003cspan data-mce-fragment=\"1\"\u003eOutput power: 45W * 2\u003c\/span\u003e\u003c\/li\u003e\n\u003cli\u003e\u003cspan data-mce-fragment=\"1\"\u003eOutput impedance: 4-8ohm\u003c\/span\u003e\u003c\/li\u003e\n\u003cli\u003e\u003cspan data-mce-fragment=\"1\"\u003eInput impedance: 1KΩ\u003c\/span\u003e\u003c\/li\u003e\n\u003cli\u003e\u003cspan data-mce-fragment=\"1\"\u003eSignal to noise ratio: 100db\u003c\/span\u003e\u003c\/li\u003e\n\u003cli\u003e\u003cspan data-mce-fragment=\"1\"\u003eMagnification: 30TSP\u003c\/span\u003e\u003c\/li\u003e\n\u003cli\u003e\u003cspan data-mce-fragment=\"1\"\u003eNumber of channels: two channels\u003c\/span\u003e\u003c\/li\u003e\n\u003cli\u003e\u003cspan data-mce-fragment=\"1\"\u003eAudio input: 3.5mm socket \/ xH2.54-3P\u003c\/span\u003e\u003c\/li\u003e\n\u003cli\u003e\u003cspan data-mce-fragment=\"1\"\u003eSize: 66 * 53MM\u003c\/span\u003e\u003c\/li\u003e\n\u003c\/ul\u003e\n\u003cspan data-mce-fragment=\"1\"\u003e\u003cspan data-mce-fragment=\"1\"\u003e\u003cbr data-mce-fragment=\"1\"\u003e\u003cstrong data-mce-fragment=\"1\"\u003eProduct parameters:\u003c\/strong\u003e\u003cbr data-mce-fragment=\"1\"\u003e\u003c\/span\u003e\u003c\/span\u003e\n\u003cul\u003e\n\u003cli\u003e\u003cspan data-mce-fragment=\"1\"\u003eBoard power supply maximum range DC12-28V, recommended DC24V power supply. 12V power supply is the output power of20W per channel, 24V power supply is the output power up to 45W per channel.\u003c\/span\u003e\u003c\/li\u003e\n\u003cli\u003e\u003cspan data-mce-fragment=\"1\"\u003eThe new original IC chip with overvoltage protection, overcurrent protection, overheating protection, short circuit protection, audio output 5mm pitch 2P terminal, can be connected to double 30W speakers.\u003c\/span\u003e\u003c\/li\u003e\n\u003c\/ul\u003e\n\u003cspan data-mce-fragment=\"1\"\u003e\u003cspan data-mce-fragment=\"1\"\u003e\u003cstrong data-mce-fragment=\"1\"\u003ePackage included:\u003c\/strong\u003e\u003cbr data-mce-fragment=\"1\"\u003e\u003c\/span\u003e\u003c\/span\u003e\n\u003cul\u003e\n\u003cli\u003e\u003cspan data-mce-fragment=\"1\"\u003e1PC TPA3118D2 Digital HD Audio 45W*2 Dual Channel Amplifier Speaker Power Amp Board\u003c\/span\u003e\u003c\/li\u003e\n\u003c\/ul\u003e\n\u003c\/div\u003e","published_at":"2020-10-30T15:34:46+08:00","created_at":"2020-10-30T15:34:45+08:00","vendor":"DIYMORE","type":"","tags":[],"price":899,"price_min":899,"price_max":899,"available":true,"price_varies":false,"compare_at_price":null,"compare_at_price_min":0,"compare_at_price_max":0,"compare_at_price_varies":false,"variants":[{"id":37269984641224,"title":"Default Title","option1":"Default Title","option2":null,"option3":null,"sku":"X12922","requires_shipping":true,"taxable":false,"featured_image":null,"available":true,"name":"DC 8-26V TPA3118 PBTL Mono Digital Amplifier Board 1*60W\/2*30W AMP Module","public_title":null,"options":["Default Title"],"price":899,"weight":0,"compare_at_price":null,"inventory_management":"shopify","barcode":"","requires_selling_plan":false,"selling_plan_allocations":[]}],"images":["\/\/www.diymore.cc\/cdn\/shop\/products\/X12922_1.jpg?v=1604043287","\/\/www.diymore.cc\/cdn\/shop\/products\/X12922_4.jpg?v=1604043287","\/\/www.diymore.cc\/cdn\/shop\/products\/X12922_5.jpg?v=1604043287","\/\/www.diymore.cc\/cdn\/shop\/products\/X12922_6.jpg?v=1604043288","\/\/www.diymore.cc\/cdn\/shop\/products\/X12922_11.jpg?v=1604043288"],"featured_image":"\/\/www.diymore.cc\/cdn\/shop\/products\/X12922_1.jpg?v=1604043287","options":["Title"],"media":[{"alt":null,"id":14590455382216,"position":1,"preview_image":{"aspect_ratio":1.0,"height":1000,"width":1000,"src":"\/\/www.diymore.cc\/cdn\/shop\/products\/X12922_1.jpg?v=1604043287"},"aspect_ratio":1.0,"height":1000,"media_type":"image","src":"\/\/www.diymore.cc\/cdn\/shop\/products\/X12922_1.jpg?v=1604043287","width":1000},{"alt":null,"id":14590455414984,"position":2,"preview_image":{"aspect_ratio":1.0,"height":1000,"width":1000,"src":"\/\/www.diymore.cc\/cdn\/shop\/products\/X12922_4.jpg?v=1604043287"},"aspect_ratio":1.0,"height":1000,"media_type":"image","src":"\/\/www.diymore.cc\/cdn\/shop\/products\/X12922_4.jpg?v=1604043287","width":1000},{"alt":null,"id":14590455447752,"position":3,"preview_image":{"aspect_ratio":1.0,"height":1000,"width":1000,"src":"\/\/www.diymore.cc\/cdn\/shop\/products\/X12922_5.jpg?v=1604043287"},"aspect_ratio":1.0,"height":1000,"media_type":"image","src":"\/\/www.diymore.cc\/cdn\/shop\/products\/X12922_5.jpg?v=1604043287","width":1000},{"alt":null,"id":14590455480520,"position":4,"preview_image":{"aspect_ratio":1.0,"height":1000,"width":1000,"src":"\/\/www.diymore.cc\/cdn\/shop\/products\/X12922_6.jpg?v=1604043288"},"aspect_ratio":1.0,"height":1000,"media_type":"image","src":"\/\/www.diymore.cc\/cdn\/shop\/products\/X12922_6.jpg?v=1604043288","width":1000},{"alt":null,"id":14590455546056,"position":5,"preview_image":{"aspect_ratio":1.0,"height":1000,"width":1000,"src":"\/\/www.diymore.cc\/cdn\/shop\/products\/X12922_11.jpg?v=1604043288"},"aspect_ratio":1.0,"height":1000,"media_type":"image","src":"\/\/www.diymore.cc\/cdn\/shop\/products\/X12922_11.jpg?v=1604043288","width":1000}],"requires_selling_plan":false,"selling_plan_groups":[],"content":"\u003cspan data-mce-fragment=\"1\"\u003e\u003cstrong data-mce-fragment=\"1\"\u003eDescription:\u003c\/strong\u003e\u003c\/span\u003e\u003cbr data-mce-fragment=\"1\"\u003e\u003cbr data-mce-fragment=\"1\"\u003e\u003cspan data-mce-fragment=\"1\"\u003e\u003cstrong data-mce-fragment=\"1\"\u003e1X60W\u003c\/strong\u003e\u003c\/span\u003e\u003cbr data-mce-fragment=\"1\"\u003e\u003cspan data-mce-fragment=\"1\"\u003e\u003cimg src=\"https:\/\/pg-cdn-a2.datacaciques.com\/00\/NDAy\/18\/10\/29\/718383n01qg7m6j0\/c9f3f9b214ddca2f.jpg\" width=\"300\" data-mce-fragment=\"1\" data-mce-src=\"https:\/\/pg-cdn-a2.datacaciques.com\/00\/NDAy\/18\/10\/29\/718383n01qg7m6j0\/c9f3f9b214ddca2f.jpg\" caption=\"false\"\u003e\u003c\/span\u003e\u003cbr data-mce-fragment=\"1\"\u003e\n\u003cdiv data-mce-fragment=\"1\"\u003e\n\u003cul\u003e\n\u003cli\u003e\u003cspan data-mce-fragment=\"1\"\u003eSound quality is very good by using this module.\u003c\/span\u003e\u003c\/li\u003e\n\u003cli\u003e\u003cspan data-mce-fragment=\"1\"\u003eMono digital audio power amplifier chip.\u003c\/span\u003e\u003c\/li\u003e\n\u003cli\u003e\u003cspan data-mce-fragment=\"1\"\u003eHigh output and low power consumption.\u003c\/span\u003e\u003c\/li\u003e\n\u003cli\u003e\u003cspan data-mce-fragment=\"1\"\u003eApplicable speaker impedance: 4-8 ohm(8 ohm is the best).\u003c\/span\u003e\u003c\/li\u003e\n\u003c\/ul\u003e\n\u003c\/div\u003e\n\u003cdiv data-mce-fragment=\"1\"\u003e\n\u003cbr data-mce-fragment=\"1\"\u003e\u003cspan data-mce-fragment=\"1\"\u003e\u003cstrong data-mce-fragment=\"1\"\u003eSpecifications:\u003c\/strong\u003e\u003c\/span\u003e\u003cbr data-mce-fragment=\"1\"\u003e\n\u003cul\u003e\n\u003cli\u003e\u003cspan data-mce-fragment=\"1\"\u003eWorking Voltage: DC 8-24V\u003c\/span\u003e\u003c\/li\u003e\n\u003cli\u003e\u003cspan data-mce-fragment=\"1\"\u003ePower Output: 60W\u003c\/span\u003e\u003c\/li\u003e\n\u003cli\u003e\u003cspan data-mce-fragment=\"1\"\u003eApplicable Speaker Impedance: 4-8 ohm\u003c\/span\u003e\u003c\/li\u003e\n\u003cli\u003e\u003cspan data-mce-fragment=\"1\"\u003ePCB Board Size: 45 * 35mm \/ 1.77 * 1.4in\u003c\/span\u003e\u003c\/li\u003e\n\u003cli\u003e\u003cspan data-mce-fragment=\"1\"\u003eWeight: 12g \/ 0.43oz\u003c\/span\u003e\u003c\/li\u003e\n\u003c\/ul\u003e\n\u003cspan data-mce-fragment=\"1\"\u003e\u003cstrong data-mce-fragment=\"1\"\u003ePackage List:\u003c\/strong\u003e\u003c\/span\u003e\n\u003c\/div\u003e\n\u003cdiv data-mce-fragment=\"1\"\u003e\n\u003cul\u003e\n\u003cli\u003e\u003cspan data-mce-fragment=\"1\"\u003e1 * DC 8-26V TPA3118 PBTL Mono Digital Amplifier Board AMP Module 1*60W for Arduino\u003c\/span\u003e\u003c\/li\u003e\n\u003c\/ul\u003e\n\u003cspan data-mce-fragment=\"1\"\u003e\u003cspan data-mce-fragment=\"1\"\u003e\u003cbr data-mce-fragment=\"1\"\u003e\u003cstrong data-mce-fragment=\"1\"\u003e2X30W\u003c\/strong\u003e\u003cbr data-mce-fragment=\"1\"\u003e\u003cimg src=\"https:\/\/pg-cdn-a2.datacaciques.com\/00\/NDAy\/17\/10\/13\/0tf53yfj56356974\/b6cfaf1130aa5b27.jpg\" width=\"300\" data-mce-fragment=\"1\" data-mce-src=\"https:\/\/pg-cdn-a2.datacaciques.com\/00\/NDAy\/17\/10\/13\/0tf53yfj56356974\/b6cfaf1130aa5b27.jpg\" caption=\"false\"\u003e\u003cbr data-mce-fragment=\"1\"\u003e\u003c\/span\u003e\u003c\/span\u003e\n\u003cul\u003e\n\u003cli\u003e\u003cspan data-mce-fragment=\"1\"\u003eAudio input: Bluetooth receiver\u003c\/span\u003e\u003c\/li\u003e\n\u003cli\u003e\u003cspan data-mce-fragment=\"1\"\u003eSupply voltage: 8 ~ 26VDC (direct current) reverse polarity protection\u003c\/span\u003e\u003c\/li\u003e\n\u003cli\u003e\u003cspan data-mce-fragment=\"1\"\u003e2X30W stereo power amplifier chip TPA3118\u003c\/span\u003e\u003c\/li\u003e\n\u003cli\u003e\u003cspan data-mce-fragment=\"1\"\u003eApplicable Speaker Impedance: 4,6,8 ohm\u003c\/span\u003e\u003c\/li\u003e\n\u003cli\u003e\u003cspan data-mce-fragment=\"1\"\u003eAUX output: 3.5 headphones on (after the amp for use)\u003c\/span\u003e\u003c\/li\u003e\n\u003cli\u003e\u003cspan data-mce-fragment=\"1\"\u003eDisplay Bluetooth device name: Xpecial Audio\u003c\/span\u003e\u003c\/li\u003e\n\u003c\/ul\u003e\n\u003cspan data-mce-fragment=\"1\"\u003e\u003cstrong data-mce-fragment=\"1\"\u003ePackage Contents:\u003c\/strong\u003e\u003c\/span\u003e\n\u003c\/div\u003e\n\u003cdiv data-mce-fragment=\"1\"\u003e\n\u003cul\u003e\n\u003cli\u003e\u003cspan data-mce-fragment=\"1\"\u003e1 x TPA3118 2x30W Digital Bluetooth Audio Receiver Dual Stereo Power Amplifier Board\u003c\/span\u003e\u003c\/li\u003e\n\u003c\/ul\u003e\n\u003c\/div\u003e\n\u003cdiv data-mce-fragment=\"1\"\u003e\u003cspan data-mce-fragment=\"1\"\u003e \u003c\/span\u003e\u003c\/div\u003e\n\u003cdiv data-mce-fragment=\"1\"\u003e\u003cspan data-mce-fragment=\"1\"\u003e\u003cstrong data-mce-fragment=\"1\"\u003e3:TPA3118D2 Digital HD Audio Amplifier Speaker Dual Channel Power Amp Board 45W*2\u003c\/strong\u003e\u003c\/span\u003e\u003c\/div\u003e\n\u003cdiv data-mce-fragment=\"1\"\u003e\u003cspan data-mce-fragment=\"1\"\u003e\u003cstrong data-mce-fragment=\"1\"\u003e \u003c\/strong\u003e\u003c\/span\u003e\u003c\/div\u003e\n\u003cdiv data-mce-fragment=\"1\"\u003e\n\u003cspan data-mce-fragment=\"1\"\u003e\u003cspan data-mce-fragment=\"1\"\u003e\u003cstrong data-mce-fragment=\"1\"\u003eDescription:\u003c\/strong\u003e\u003cbr data-mce-fragment=\"1\"\u003e\u003c\/span\u003e\u003c\/span\u003e\n\u003cul\u003e\n\u003cli\u003e\u003cspan data-mce-fragment=\"1\"\u003eProduct Name: Digital audio amplifier board\u003c\/span\u003e\u003c\/li\u003e\n\u003cli\u003e\u003cspan data-mce-fragment=\"1\"\u003ePower amplifier chip: TPA3118D2 * 1\u003c\/span\u003e\u003c\/li\u003e\n\u003cli\u003e\u003cspan data-mce-fragment=\"1\"\u003eInput voltage: DC12-28V, recommended DC24V\u003c\/span\u003e\u003c\/li\u003e\n\u003cli\u003e\u003cspan data-mce-fragment=\"1\"\u003ePower supply interface: DC socket (5.5 * 2.1)\u003c\/span\u003e\u003c\/li\u003e\n\u003cli\u003e\u003cspan data-mce-fragment=\"1\"\u003eInput current:\u0026gt; 3A\u003c\/span\u003e\u003c\/li\u003e\n\u003cli\u003e\u003cspan data-mce-fragment=\"1\"\u003eOutput power: 45W * 2\u003c\/span\u003e\u003c\/li\u003e\n\u003cli\u003e\u003cspan data-mce-fragment=\"1\"\u003eOutput impedance: 4-8ohm\u003c\/span\u003e\u003c\/li\u003e\n\u003cli\u003e\u003cspan data-mce-fragment=\"1\"\u003eInput impedance: 1KΩ\u003c\/span\u003e\u003c\/li\u003e\n\u003cli\u003e\u003cspan data-mce-fragment=\"1\"\u003eSignal to noise ratio: 100db\u003c\/span\u003e\u003c\/li\u003e\n\u003cli\u003e\u003cspan data-mce-fragment=\"1\"\u003eMagnification: 30TSP\u003c\/span\u003e\u003c\/li\u003e\n\u003cli\u003e\u003cspan data-mce-fragment=\"1\"\u003eNumber of channels: two channels\u003c\/span\u003e\u003c\/li\u003e\n\u003cli\u003e\u003cspan data-mce-fragment=\"1\"\u003eAudio input: 3.5mm socket \/ xH2.54-3P\u003c\/span\u003e\u003c\/li\u003e\n\u003cli\u003e\u003cspan data-mce-fragment=\"1\"\u003eSize: 66 * 53MM\u003c\/span\u003e\u003c\/li\u003e\n\u003c\/ul\u003e\n\u003cspan data-mce-fragment=\"1\"\u003e\u003cspan data-mce-fragment=\"1\"\u003e\u003cbr data-mce-fragment=\"1\"\u003e\u003cstrong data-mce-fragment=\"1\"\u003eProduct parameters:\u003c\/strong\u003e\u003cbr data-mce-fragment=\"1\"\u003e\u003c\/span\u003e\u003c\/span\u003e\n\u003cul\u003e\n\u003cli\u003e\u003cspan data-mce-fragment=\"1\"\u003eBoard power supply maximum range DC12-28V, recommended DC24V power supply. 12V power supply is the output power of20W per channel, 24V power supply is the output power up to 45W per channel.\u003c\/span\u003e\u003c\/li\u003e\n\u003cli\u003e\u003cspan data-mce-fragment=\"1\"\u003eThe new original IC chip with overvoltage protection, overcurrent protection, overheating protection, short circuit protection, audio output 5mm pitch 2P terminal, can be connected to double 30W speakers.\u003c\/span\u003e\u003c\/li\u003e\n\u003c\/ul\u003e\n\u003cspan data-mce-fragment=\"1\"\u003e\u003cspan data-mce-fragment=\"1\"\u003e\u003cstrong data-mce-fragment=\"1\"\u003ePackage included:\u003c\/strong\u003e\u003cbr data-mce-fragment=\"1\"\u003e\u003c\/span\u003e\u003c\/span\u003e\n\u003cul\u003e\n\u003cli\u003e\u003cspan data-mce-fragment=\"1\"\u003e1PC TPA3118D2 Digital HD Audio 45W*2 Dual Channel Amplifier Speaker Power Amp Board\u003c\/span\u003e\u003c\/li\u003e\n\u003c\/ul\u003e\n\u003c\/div\u003e"}

Translation missing: en.products.product.regular_price

$11.00

{"id":6031845392584,"title":"DC 8-26V TPA3118 PBTL Mono Digital Amplifier Board 1*60W\/2*30W AMP Module","handle":"dc-8-26v-tpa3118-pbtl-mono-digital-amplifier-board-1-60w-2-30w-amp-module","description":"\u003cspan data-mce-fragment=\"1\"\u003e\u003cstrong data-mce-fragment=\"1\"\u003eDescription:\u003c\/strong\u003e\u003c\/span\u003e\u003cbr data-mce-fragment=\"1\"\u003e\u003cbr data-mce-fragment=\"1\"\u003e\u003cspan data-mce-fragment=\"1\"\u003e\u003cstrong data-mce-fragment=\"1\"\u003e1X60W\u003c\/strong\u003e\u003c\/span\u003e\u003cbr data-mce-fragment=\"1\"\u003e\u003cspan data-mce-fragment=\"1\"\u003e\u003cimg src=\"https:\/\/pg-cdn-a2.datacaciques.com\/00\/NDAy\/18\/10\/29\/718383n01qg7m6j0\/c9f3f9b214ddca2f.jpg\" width=\"300\" data-mce-fragment=\"1\" data-mce-src=\"https:\/\/pg-cdn-a2.datacaciques.com\/00\/NDAy\/18\/10\/29\/718383n01qg7m6j0\/c9f3f9b214ddca2f.jpg\" caption=\"false\"\u003e\u003c\/span\u003e\u003cbr data-mce-fragment=\"1\"\u003e\n\u003cdiv data-mce-fragment=\"1\"\u003e\n\u003cul\u003e\n\u003cli\u003e\u003cspan data-mce-fragment=\"1\"\u003eSound quality is very good by using this module.\u003c\/span\u003e\u003c\/li\u003e\n\u003cli\u003e\u003cspan data-mce-fragment=\"1\"\u003eMono digital audio power amplifier chip.\u003c\/span\u003e\u003c\/li\u003e\n\u003cli\u003e\u003cspan data-mce-fragment=\"1\"\u003eHigh output and low power consumption.\u003c\/span\u003e\u003c\/li\u003e\n\u003cli\u003e\u003cspan data-mce-fragment=\"1\"\u003eApplicable speaker impedance: 4-8 ohm(8 ohm is the best).\u003c\/span\u003e\u003c\/li\u003e\n\u003c\/ul\u003e\n\u003c\/div\u003e\n\u003cdiv data-mce-fragment=\"1\"\u003e\n\u003cbr data-mce-fragment=\"1\"\u003e\u003cspan data-mce-fragment=\"1\"\u003e\u003cstrong data-mce-fragment=\"1\"\u003eSpecifications:\u003c\/strong\u003e\u003c\/span\u003e\u003cbr data-mce-fragment=\"1\"\u003e\n\u003cul\u003e\n\u003cli\u003e\u003cspan data-mce-fragment=\"1\"\u003eWorking Voltage: DC 8-24V\u003c\/span\u003e\u003c\/li\u003e\n\u003cli\u003e\u003cspan data-mce-fragment=\"1\"\u003ePower Output: 60W\u003c\/span\u003e\u003c\/li\u003e\n\u003cli\u003e\u003cspan data-mce-fragment=\"1\"\u003eApplicable Speaker Impedance: 4-8 ohm\u003c\/span\u003e\u003c\/li\u003e\n\u003cli\u003e\u003cspan data-mce-fragment=\"1\"\u003ePCB Board Size: 45 * 35mm \/ 1.77 * 1.4in\u003c\/span\u003e\u003c\/li\u003e\n\u003cli\u003e\u003cspan data-mce-fragment=\"1\"\u003eWeight: 12g \/ 0.43oz\u003c\/span\u003e\u003c\/li\u003e\n\u003c\/ul\u003e\n\u003cspan data-mce-fragment=\"1\"\u003e\u003cstrong data-mce-fragment=\"1\"\u003ePackage List:\u003c\/strong\u003e\u003c\/span\u003e\n\u003c\/div\u003e\n\u003cdiv data-mce-fragment=\"1\"\u003e\n\u003cul\u003e\n\u003cli\u003e\u003cspan data-mce-fragment=\"1\"\u003e1 * DC 8-26V TPA3118 PBTL Mono Digital Amplifier Board AMP Module 1*60W for Arduino\u003c\/span\u003e\u003c\/li\u003e\n\u003c\/ul\u003e\n\u003cspan data-mce-fragment=\"1\"\u003e\u003cspan data-mce-fragment=\"1\"\u003e\u003cbr data-mce-fragment=\"1\"\u003e\u003cstrong data-mce-fragment=\"1\"\u003e2X30W\u003c\/strong\u003e\u003cbr data-mce-fragment=\"1\"\u003e\u003cimg src=\"https:\/\/pg-cdn-a2.datacaciques.com\/00\/NDAy\/17\/10\/13\/0tf53yfj56356974\/b6cfaf1130aa5b27.jpg\" width=\"300\" data-mce-fragment=\"1\" data-mce-src=\"https:\/\/pg-cdn-a2.datacaciques.com\/00\/NDAy\/17\/10\/13\/0tf53yfj56356974\/b6cfaf1130aa5b27.jpg\" caption=\"false\"\u003e\u003cbr data-mce-fragment=\"1\"\u003e\u003c\/span\u003e\u003c\/span\u003e\n\u003cul\u003e\n\u003cli\u003e\u003cspan data-mce-fragment=\"1\"\u003eAudio input: Bluetooth receiver\u003c\/span\u003e\u003c\/li\u003e\n\u003cli\u003e\u003cspan data-mce-fragment=\"1\"\u003eSupply voltage: 8 ~ 26VDC (direct current) reverse polarity protection\u003c\/span\u003e\u003c\/li\u003e\n\u003cli\u003e\u003cspan data-mce-fragment=\"1\"\u003e2X30W stereo power amplifier chip TPA3118\u003c\/span\u003e\u003c\/li\u003e\n\u003cli\u003e\u003cspan data-mce-fragment=\"1\"\u003eApplicable Speaker Impedance: 4,6,8 ohm\u003c\/span\u003e\u003c\/li\u003e\n\u003cli\u003e\u003cspan data-mce-fragment=\"1\"\u003eAUX output: 3.5 headphones on (after the amp for use)\u003c\/span\u003e\u003c\/li\u003e\n\u003cli\u003e\u003cspan data-mce-fragment=\"1\"\u003eDisplay Bluetooth device name: Xpecial Audio\u003c\/span\u003e\u003c\/li\u003e\n\u003c\/ul\u003e\n\u003cspan data-mce-fragment=\"1\"\u003e\u003cstrong data-mce-fragment=\"1\"\u003ePackage Contents:\u003c\/strong\u003e\u003c\/span\u003e\n\u003c\/div\u003e\n\u003cdiv data-mce-fragment=\"1\"\u003e\n\u003cul\u003e\n\u003cli\u003e\u003cspan data-mce-fragment=\"1\"\u003e1 x TPA3118 2x30W Digital Bluetooth Audio Receiver Dual Stereo Power Amplifier Board\u003c\/span\u003e\u003c\/li\u003e\n\u003c\/ul\u003e\n\u003c\/div\u003e\n\u003cdiv data-mce-fragment=\"1\"\u003e\u003cspan data-mce-fragment=\"1\"\u003e \u003c\/span\u003e\u003c\/div\u003e\n\u003cdiv data-mce-fragment=\"1\"\u003e\u003cspan data-mce-fragment=\"1\"\u003e\u003cstrong data-mce-fragment=\"1\"\u003e3:TPA3118D2 Digital HD Audio Amplifier Speaker Dual Channel Power Amp Board 45W*2\u003c\/strong\u003e\u003c\/span\u003e\u003c\/div\u003e\n\u003cdiv data-mce-fragment=\"1\"\u003e\u003cspan data-mce-fragment=\"1\"\u003e\u003cstrong data-mce-fragment=\"1\"\u003e \u003c\/strong\u003e\u003c\/span\u003e\u003c\/div\u003e\n\u003cdiv data-mce-fragment=\"1\"\u003e\n\u003cspan data-mce-fragment=\"1\"\u003e\u003cspan data-mce-fragment=\"1\"\u003e\u003cstrong data-mce-fragment=\"1\"\u003eDescription:\u003c\/strong\u003e\u003cbr data-mce-fragment=\"1\"\u003e\u003c\/span\u003e\u003c\/span\u003e\n\u003cul\u003e\n\u003cli\u003e\u003cspan data-mce-fragment=\"1\"\u003eProduct Name: Digital audio amplifier board\u003c\/span\u003e\u003c\/li\u003e\n\u003cli\u003e\u003cspan data-mce-fragment=\"1\"\u003ePower amplifier chip: TPA3118D2 * 1\u003c\/span\u003e\u003c\/li\u003e\n\u003cli\u003e\u003cspan data-mce-fragment=\"1\"\u003eInput voltage: DC12-28V, recommended DC24V\u003c\/span\u003e\u003c\/li\u003e\n\u003cli\u003e\u003cspan data-mce-fragment=\"1\"\u003ePower supply interface: DC socket (5.5 * 2.1)\u003c\/span\u003e\u003c\/li\u003e\n\u003cli\u003e\u003cspan data-mce-fragment=\"1\"\u003eInput current:\u0026gt; 3A\u003c\/span\u003e\u003c\/li\u003e\n\u003cli\u003e\u003cspan data-mce-fragment=\"1\"\u003eOutput power: 45W * 2\u003c\/span\u003e\u003c\/li\u003e\n\u003cli\u003e\u003cspan data-mce-fragment=\"1\"\u003eOutput impedance: 4-8ohm\u003c\/span\u003e\u003c\/li\u003e\n\u003cli\u003e\u003cspan data-mce-fragment=\"1\"\u003eInput impedance: 1KΩ\u003c\/span\u003e\u003c\/li\u003e\n\u003cli\u003e\u003cspan data-mce-fragment=\"1\"\u003eSignal to noise ratio: 100db\u003c\/span\u003e\u003c\/li\u003e\n\u003cli\u003e\u003cspan data-mce-fragment=\"1\"\u003eMagnification: 30TSP\u003c\/span\u003e\u003c\/li\u003e\n\u003cli\u003e\u003cspan data-mce-fragment=\"1\"\u003eNumber of channels: two channels\u003c\/span\u003e\u003c\/li\u003e\n\u003cli\u003e\u003cspan data-mce-fragment=\"1\"\u003eAudio input: 3.5mm socket \/ xH2.54-3P\u003c\/span\u003e\u003c\/li\u003e\n\u003cli\u003e\u003cspan data-mce-fragment=\"1\"\u003eSize: 66 * 53MM\u003c\/span\u003e\u003c\/li\u003e\n\u003c\/ul\u003e\n\u003cspan data-mce-fragment=\"1\"\u003e\u003cspan data-mce-fragment=\"1\"\u003e\u003cbr data-mce-fragment=\"1\"\u003e\u003cstrong data-mce-fragment=\"1\"\u003eProduct parameters:\u003c\/strong\u003e\u003cbr data-mce-fragment=\"1\"\u003e\u003c\/span\u003e\u003c\/span\u003e\n\u003cul\u003e\n\u003cli\u003e\u003cspan data-mce-fragment=\"1\"\u003eBoard power supply maximum range DC12-28V, recommended DC24V power supply. 12V power supply is the output power of20W per channel, 24V power supply is the output power up to 45W per channel.\u003c\/span\u003e\u003c\/li\u003e\n\u003cli\u003e\u003cspan data-mce-fragment=\"1\"\u003eThe new original IC chip with overvoltage protection, overcurrent protection, overheating protection, short circuit protection, audio output 5mm pitch 2P terminal, can be connected to double 30W speakers.\u003c\/span\u003e\u003c\/li\u003e\n\u003c\/ul\u003e\n\u003cspan data-mce-fragment=\"1\"\u003e\u003cspan data-mce-fragment=\"1\"\u003e\u003cstrong data-mce-fragment=\"1\"\u003ePackage included:\u003c\/strong\u003e\u003cbr data-mce-fragment=\"1\"\u003e\u003c\/span\u003e\u003c\/span\u003e\n\u003cul\u003e\n\u003cli\u003e\u003cspan data-mce-fragment=\"1\"\u003e1PC TPA3118D2 Digital HD Audio 45W*2 Dual Channel Amplifier Speaker Power Amp Board\u003c\/span\u003e\u003c\/li\u003e\n\u003c\/ul\u003e\n\u003c\/div\u003e","published_at":"2020-10-30T15:34:46+08:00","created_at":"2020-10-30T15:34:45+08:00","vendor":"DIYMORE","type":"","tags":[],"price":899,"price_min":899,"price_max":899,"available":true,"price_varies":false,"compare_at_price":null,"compare_at_price_min":0,"compare_at_price_max":0,"compare_at_price_varies":false,"variants":[{"id":37269984641224,"title":"Default Title","option1":"Default Title","option2":null,"option3":null,"sku":"X12922","requires_shipping":true,"taxable":false,"featured_image":null,"available":true,"name":"DC 8-26V TPA3118 PBTL Mono Digital Amplifier Board 1*60W\/2*30W AMP Module","public_title":null,"options":["Default Title"],"price":899,"weight":0,"compare_at_price":null,"inventory_management":"shopify","barcode":"","requires_selling_plan":false,"selling_plan_allocations":[]}],"images":["\/\/www.diymore.cc\/cdn\/shop\/products\/X12922_1.jpg?v=1604043287","\/\/www.diymore.cc\/cdn\/shop\/products\/X12922_4.jpg?v=1604043287","\/\/www.diymore.cc\/cdn\/shop\/products\/X12922_5.jpg?v=1604043287","\/\/www.diymore.cc\/cdn\/shop\/products\/X12922_6.jpg?v=1604043288","\/\/www.diymore.cc\/cdn\/shop\/products\/X12922_11.jpg?v=1604043288"],"featured_image":"\/\/www.diymore.cc\/cdn\/shop\/products\/X12922_1.jpg?v=1604043287","options":["Title"],"media":[{"alt":null,"id":14590455382216,"position":1,"preview_image":{"aspect_ratio":1.0,"height":1000,"width":1000,"src":"\/\/www.diymore.cc\/cdn\/shop\/products\/X12922_1.jpg?v=1604043287"},"aspect_ratio":1.0,"height":1000,"media_type":"image","src":"\/\/www.diymore.cc\/cdn\/shop\/products\/X12922_1.jpg?v=1604043287","width":1000},{"alt":null,"id":14590455414984,"position":2,"preview_image":{"aspect_ratio":1.0,"height":1000,"width":1000,"src":"\/\/www.diymore.cc\/cdn\/shop\/products\/X12922_4.jpg?v=1604043287"},"aspect_ratio":1.0,"height":1000,"media_type":"image","src":"\/\/www.diymore.cc\/cdn\/shop\/products\/X12922_4.jpg?v=1604043287","width":1000},{"alt":null,"id":14590455447752,"position":3,"preview_image":{"aspect_ratio":1.0,"height":1000,"width":1000,"src":"\/\/www.diymore.cc\/cdn\/shop\/products\/X12922_5.jpg?v=1604043287"},"aspect_ratio":1.0,"height":1000,"media_type":"image","src":"\/\/www.diymore.cc\/cdn\/shop\/products\/X12922_5.jpg?v=1604043287","width":1000},{"alt":null,"id":14590455480520,"position":4,"preview_image":{"aspect_ratio":1.0,"height":1000,"width":1000,"src":"\/\/www.diymore.cc\/cdn\/shop\/products\/X12922_6.jpg?v=1604043288"},"aspect_ratio":1.0,"height":1000,"media_type":"image","src":"\/\/www.diymore.cc\/cdn\/shop\/products\/X12922_6.jpg?v=1604043288","width":1000},{"alt":null,"id":14590455546056,"position":5,"preview_image":{"aspect_ratio":1.0,"height":1000,"width":1000,"src":"\/\/www.diymore.cc\/cdn\/shop\/products\/X12922_11.jpg?v=1604043288"},"aspect_ratio":1.0,"height":1000,"media_type":"image","src":"\/\/www.diymore.cc\/cdn\/shop\/products\/X12922_11.jpg?v=1604043288","width":1000}],"requires_selling_plan":false,"selling_plan_groups":[],"content":"\u003cspan data-mce-fragment=\"1\"\u003e\u003cstrong data-mce-fragment=\"1\"\u003eDescription:\u003c\/strong\u003e\u003c\/span\u003e\u003cbr data-mce-fragment=\"1\"\u003e\u003cbr data-mce-fragment=\"1\"\u003e\u003cspan data-mce-fragment=\"1\"\u003e\u003cstrong data-mce-fragment=\"1\"\u003e1X60W\u003c\/strong\u003e\u003c\/span\u003e\u003cbr data-mce-fragment=\"1\"\u003e\u003cspan data-mce-fragment=\"1\"\u003e\u003cimg src=\"https:\/\/pg-cdn-a2.datacaciques.com\/00\/NDAy\/18\/10\/29\/718383n01qg7m6j0\/c9f3f9b214ddca2f.jpg\" width=\"300\" data-mce-fragment=\"1\" data-mce-src=\"https:\/\/pg-cdn-a2.datacaciques.com\/00\/NDAy\/18\/10\/29\/718383n01qg7m6j0\/c9f3f9b214ddca2f.jpg\" caption=\"false\"\u003e\u003c\/span\u003e\u003cbr data-mce-fragment=\"1\"\u003e\n\u003cdiv data-mce-fragment=\"1\"\u003e\n\u003cul\u003e\n\u003cli\u003e\u003cspan data-mce-fragment=\"1\"\u003eSound quality is very good by using this module.\u003c\/span\u003e\u003c\/li\u003e\n\u003cli\u003e\u003cspan data-mce-fragment=\"1\"\u003eMono digital audio power amplifier chip.\u003c\/span\u003e\u003c\/li\u003e\n\u003cli\u003e\u003cspan data-mce-fragment=\"1\"\u003eHigh output and low power consumption.\u003c\/span\u003e\u003c\/li\u003e\n\u003cli\u003e\u003cspan data-mce-fragment=\"1\"\u003eApplicable speaker impedance: 4-8 ohm(8 ohm is the best).\u003c\/span\u003e\u003c\/li\u003e\n\u003c\/ul\u003e\n\u003c\/div\u003e\n\u003cdiv data-mce-fragment=\"1\"\u003e\n\u003cbr data-mce-fragment=\"1\"\u003e\u003cspan data-mce-fragment=\"1\"\u003e\u003cstrong data-mce-fragment=\"1\"\u003eSpecifications:\u003c\/strong\u003e\u003c\/span\u003e\u003cbr data-mce-fragment=\"1\"\u003e\n\u003cul\u003e\n\u003cli\u003e\u003cspan data-mce-fragment=\"1\"\u003eWorking Voltage: DC 8-24V\u003c\/span\u003e\u003c\/li\u003e\n\u003cli\u003e\u003cspan data-mce-fragment=\"1\"\u003ePower Output: 60W\u003c\/span\u003e\u003c\/li\u003e\n\u003cli\u003e\u003cspan data-mce-fragment=\"1\"\u003eApplicable Speaker Impedance: 4-8 ohm\u003c\/span\u003e\u003c\/li\u003e\n\u003cli\u003e\u003cspan data-mce-fragment=\"1\"\u003ePCB Board Size: 45 * 35mm \/ 1.77 * 1.4in\u003c\/span\u003e\u003c\/li\u003e\n\u003cli\u003e\u003cspan data-mce-fragment=\"1\"\u003eWeight: 12g \/ 0.43oz\u003c\/span\u003e\u003c\/li\u003e\n\u003c\/ul\u003e\n\u003cspan data-mce-fragment=\"1\"\u003e\u003cstrong data-mce-fragment=\"1\"\u003ePackage List:\u003c\/strong\u003e\u003c\/span\u003e\n\u003c\/div\u003e\n\u003cdiv data-mce-fragment=\"1\"\u003e\n\u003cul\u003e\n\u003cli\u003e\u003cspan data-mce-fragment=\"1\"\u003e1 * DC 8-26V TPA3118 PBTL Mono Digital Amplifier Board AMP Module 1*60W for Arduino\u003c\/span\u003e\u003c\/li\u003e\n\u003c\/ul\u003e\n\u003cspan data-mce-fragment=\"1\"\u003e\u003cspan data-mce-fragment=\"1\"\u003e\u003cbr data-mce-fragment=\"1\"\u003e\u003cstrong data-mce-fragment=\"1\"\u003e2X30W\u003c\/strong\u003e\u003cbr data-mce-fragment=\"1\"\u003e\u003cimg src=\"https:\/\/pg-cdn-a2.datacaciques.com\/00\/NDAy\/17\/10\/13\/0tf53yfj56356974\/b6cfaf1130aa5b27.jpg\" width=\"300\" data-mce-fragment=\"1\" data-mce-src=\"https:\/\/pg-cdn-a2.datacaciques.com\/00\/NDAy\/17\/10\/13\/0tf53yfj56356974\/b6cfaf1130aa5b27.jpg\" caption=\"false\"\u003e\u003cbr data-mce-fragment=\"1\"\u003e\u003c\/span\u003e\u003c\/span\u003e\n\u003cul\u003e\n\u003cli\u003e\u003cspan data-mce-fragment=\"1\"\u003eAudio input: Bluetooth receiver\u003c\/span\u003e\u003c\/li\u003e\n\u003cli\u003e\u003cspan data-mce-fragment=\"1\"\u003eSupply voltage: 8 ~ 26VDC (direct current) reverse polarity protection\u003c\/span\u003e\u003c\/li\u003e\n\u003cli\u003e\u003cspan data-mce-fragment=\"1\"\u003e2X30W stereo power amplifier chip TPA3118\u003c\/span\u003e\u003c\/li\u003e\n\u003cli\u003e\u003cspan data-mce-fragment=\"1\"\u003eApplicable Speaker Impedance: 4,6,8 ohm\u003c\/span\u003e\u003c\/li\u003e\n\u003cli\u003e\u003cspan data-mce-fragment=\"1\"\u003eAUX output: 3.5 headphones on (after the amp for use)\u003c\/span\u003e\u003c\/li\u003e\n\u003cli\u003e\u003cspan data-mce-fragment=\"1\"\u003eDisplay Bluetooth device name: Xpecial Audio\u003c\/span\u003e\u003c\/li\u003e\n\u003c\/ul\u003e\n\u003cspan data-mce-fragment=\"1\"\u003e\u003cstrong data-mce-fragment=\"1\"\u003ePackage Contents:\u003c\/strong\u003e\u003c\/span\u003e\n\u003c\/div\u003e\n\u003cdiv data-mce-fragment=\"1\"\u003e\n\u003cul\u003e\n\u003cli\u003e\u003cspan data-mce-fragment=\"1\"\u003e1 x TPA3118 2x30W Digital Bluetooth Audio Receiver Dual Stereo Power Amplifier Board\u003c\/span\u003e\u003c\/li\u003e\n\u003c\/ul\u003e\n\u003c\/div\u003e\n\u003cdiv data-mce-fragment=\"1\"\u003e\u003cspan data-mce-fragment=\"1\"\u003e \u003c\/span\u003e\u003c\/div\u003e\n\u003cdiv data-mce-fragment=\"1\"\u003e\u003cspan data-mce-fragment=\"1\"\u003e\u003cstrong data-mce-fragment=\"1\"\u003e3:TPA3118D2 Digital HD Audio Amplifier Speaker Dual Channel Power Amp Board 45W*2\u003c\/strong\u003e\u003c\/span\u003e\u003c\/div\u003e\n\u003cdiv data-mce-fragment=\"1\"\u003e\u003cspan data-mce-fragment=\"1\"\u003e\u003cstrong data-mce-fragment=\"1\"\u003e \u003c\/strong\u003e\u003c\/span\u003e\u003c\/div\u003e\n\u003cdiv data-mce-fragment=\"1\"\u003e\n\u003cspan data-mce-fragment=\"1\"\u003e\u003cspan data-mce-fragment=\"1\"\u003e\u003cstrong data-mce-fragment=\"1\"\u003eDescription:\u003c\/strong\u003e\u003cbr data-mce-fragment=\"1\"\u003e\u003c\/span\u003e\u003c\/span\u003e\n\u003cul\u003e\n\u003cli\u003e\u003cspan data-mce-fragment=\"1\"\u003eProduct Name: Digital audio amplifier board\u003c\/span\u003e\u003c\/li\u003e\n\u003cli\u003e\u003cspan data-mce-fragment=\"1\"\u003ePower amplifier chip: TPA3118D2 * 1\u003c\/span\u003e\u003c\/li\u003e\n\u003cli\u003e\u003cspan data-mce-fragment=\"1\"\u003eInput voltage: DC12-28V, recommended DC24V\u003c\/span\u003e\u003c\/li\u003e\n\u003cli\u003e\u003cspan data-mce-fragment=\"1\"\u003ePower supply interface: DC socket (5.5 * 2.1)\u003c\/span\u003e\u003c\/li\u003e\n\u003cli\u003e\u003cspan data-mce-fragment=\"1\"\u003eInput current:\u0026gt; 3A\u003c\/span\u003e\u003c\/li\u003e\n\u003cli\u003e\u003cspan data-mce-fragment=\"1\"\u003eOutput power: 45W * 2\u003c\/span\u003e\u003c\/li\u003e\n\u003cli\u003e\u003cspan data-mce-fragment=\"1\"\u003eOutput impedance: 4-8ohm\u003c\/span\u003e\u003c\/li\u003e\n\u003cli\u003e\u003cspan data-mce-fragment=\"1\"\u003eInput impedance: 1KΩ\u003c\/span\u003e\u003c\/li\u003e\n\u003cli\u003e\u003cspan data-mce-fragment=\"1\"\u003eSignal to noise ratio: 100db\u003c\/span\u003e\u003c\/li\u003e\n\u003cli\u003e\u003cspan data-mce-fragment=\"1\"\u003eMagnification: 30TSP\u003c\/span\u003e\u003c\/li\u003e\n\u003cli\u003e\u003cspan data-mce-fragment=\"1\"\u003eNumber of channels: two channels\u003c\/span\u003e\u003c\/li\u003e\n\u003cli\u003e\u003cspan data-mce-fragment=\"1\"\u003eAudio input: 3.5mm socket \/ xH2.54-3P\u003c\/span\u003e\u003c\/li\u003e\n\u003cli\u003e\u003cspan data-mce-fragment=\"1\"\u003eSize: 66 * 53MM\u003c\/span\u003e\u003c\/li\u003e\n\u003c\/ul\u003e\n\u003cspan data-mce-fragment=\"1\"\u003e\u003cspan data-mce-fragment=\"1\"\u003e\u003cbr data-mce-fragment=\"1\"\u003e\u003cstrong data-mce-fragment=\"1\"\u003eProduct parameters:\u003c\/strong\u003e\u003cbr data-mce-fragment=\"1\"\u003e\u003c\/span\u003e\u003c\/span\u003e\n\u003cul\u003e\n\u003cli\u003e\u003cspan data-mce-fragment=\"1\"\u003eBoard power supply maximum range DC12-28V, recommended DC24V power supply. 12V power supply is the output power of20W per channel, 24V power supply is the output power up to 45W per channel.\u003c\/span\u003e\u003c\/li\u003e\n\u003cli\u003e\u003cspan data-mce-fragment=\"1\"\u003eThe new original IC chip with overvoltage protection, overcurrent protection, overheating protection, short circuit protection, audio output 5mm pitch 2P terminal, can be connected to double 30W speakers.\u003c\/span\u003e\u003c\/li\u003e\n\u003c\/ul\u003e\n\u003cspan data-mce-fragment=\"1\"\u003e\u003cspan data-mce-fragment=\"1\"\u003e\u003cstrong data-mce-fragment=\"1\"\u003ePackage included:\u003c\/strong\u003e\u003cbr data-mce-fragment=\"1\"\u003e\u003c\/span\u003e\u003c\/span\u003e\n\u003cul\u003e\n\u003cli\u003e\u003cspan data-mce-fragment=\"1\"\u003e1PC TPA3118D2 Digital HD Audio 45W*2 Dual Channel Amplifier Speaker Power Amp Board\u003c\/span\u003e\u003c\/li\u003e\n\u003c\/ul\u003e\n\u003c\/div\u003e"}

Translation missing: en.products.product.regular_price

$4.99

{"id":6031845392584,"title":"DC 8-26V TPA3118 PBTL Mono Digital Amplifier Board 1*60W\/2*30W AMP Module","handle":"dc-8-26v-tpa3118-pbtl-mono-digital-amplifier-board-1-60w-2-30w-amp-module","description":"\u003cspan data-mce-fragment=\"1\"\u003e\u003cstrong data-mce-fragment=\"1\"\u003eDescription:\u003c\/strong\u003e\u003c\/span\u003e\u003cbr data-mce-fragment=\"1\"\u003e\u003cbr data-mce-fragment=\"1\"\u003e\u003cspan data-mce-fragment=\"1\"\u003e\u003cstrong data-mce-fragment=\"1\"\u003e1X60W\u003c\/strong\u003e\u003c\/span\u003e\u003cbr data-mce-fragment=\"1\"\u003e\u003cspan data-mce-fragment=\"1\"\u003e\u003cimg src=\"https:\/\/pg-cdn-a2.datacaciques.com\/00\/NDAy\/18\/10\/29\/718383n01qg7m6j0\/c9f3f9b214ddca2f.jpg\" width=\"300\" data-mce-fragment=\"1\" data-mce-src=\"https:\/\/pg-cdn-a2.datacaciques.com\/00\/NDAy\/18\/10\/29\/718383n01qg7m6j0\/c9f3f9b214ddca2f.jpg\" caption=\"false\"\u003e\u003c\/span\u003e\u003cbr data-mce-fragment=\"1\"\u003e\n\u003cdiv data-mce-fragment=\"1\"\u003e\n\u003cul\u003e\n\u003cli\u003e\u003cspan data-mce-fragment=\"1\"\u003eSound quality is very good by using this module.\u003c\/span\u003e\u003c\/li\u003e\n\u003cli\u003e\u003cspan data-mce-fragment=\"1\"\u003eMono digital audio power amplifier chip.\u003c\/span\u003e\u003c\/li\u003e\n\u003cli\u003e\u003cspan data-mce-fragment=\"1\"\u003eHigh output and low power consumption.\u003c\/span\u003e\u003c\/li\u003e\n\u003cli\u003e\u003cspan data-mce-fragment=\"1\"\u003eApplicable speaker impedance: 4-8 ohm(8 ohm is the best).\u003c\/span\u003e\u003c\/li\u003e\n\u003c\/ul\u003e\n\u003c\/div\u003e\n\u003cdiv data-mce-fragment=\"1\"\u003e\n\u003cbr data-mce-fragment=\"1\"\u003e\u003cspan data-mce-fragment=\"1\"\u003e\u003cstrong data-mce-fragment=\"1\"\u003eSpecifications:\u003c\/strong\u003e\u003c\/span\u003e\u003cbr data-mce-fragment=\"1\"\u003e\n\u003cul\u003e\n\u003cli\u003e\u003cspan data-mce-fragment=\"1\"\u003eWorking Voltage: DC 8-24V\u003c\/span\u003e\u003c\/li\u003e\n\u003cli\u003e\u003cspan data-mce-fragment=\"1\"\u003ePower Output: 60W\u003c\/span\u003e\u003c\/li\u003e\n\u003cli\u003e\u003cspan data-mce-fragment=\"1\"\u003eApplicable Speaker Impedance: 4-8 ohm\u003c\/span\u003e\u003c\/li\u003e\n\u003cli\u003e\u003cspan data-mce-fragment=\"1\"\u003ePCB Board Size: 45 * 35mm \/ 1.77 * 1.4in\u003c\/span\u003e\u003c\/li\u003e\n\u003cli\u003e\u003cspan data-mce-fragment=\"1\"\u003eWeight: 12g \/ 0.43oz\u003c\/span\u003e\u003c\/li\u003e\n\u003c\/ul\u003e\n\u003cspan data-mce-fragment=\"1\"\u003e\u003cstrong data-mce-fragment=\"1\"\u003ePackage List:\u003c\/strong\u003e\u003c\/span\u003e\n\u003c\/div\u003e\n\u003cdiv data-mce-fragment=\"1\"\u003e\n\u003cul\u003e\n\u003cli\u003e\u003cspan data-mce-fragment=\"1\"\u003e1 * DC 8-26V TPA3118 PBTL Mono Digital Amplifier Board AMP Module 1*60W for Arduino\u003c\/span\u003e\u003c\/li\u003e\n\u003c\/ul\u003e\n\u003cspan data-mce-fragment=\"1\"\u003e\u003cspan data-mce-fragment=\"1\"\u003e\u003cbr data-mce-fragment=\"1\"\u003e\u003cstrong data-mce-fragment=\"1\"\u003e2X30W\u003c\/strong\u003e\u003cbr data-mce-fragment=\"1\"\u003e\u003cimg src=\"https:\/\/pg-cdn-a2.datacaciques.com\/00\/NDAy\/17\/10\/13\/0tf53yfj56356974\/b6cfaf1130aa5b27.jpg\" width=\"300\" data-mce-fragment=\"1\" data-mce-src=\"https:\/\/pg-cdn-a2.datacaciques.com\/00\/NDAy\/17\/10\/13\/0tf53yfj56356974\/b6cfaf1130aa5b27.jpg\" caption=\"false\"\u003e\u003cbr data-mce-fragment=\"1\"\u003e\u003c\/span\u003e\u003c\/span\u003e\n\u003cul\u003e\n\u003cli\u003e\u003cspan data-mce-fragment=\"1\"\u003eAudio input: Bluetooth receiver\u003c\/span\u003e\u003c\/li\u003e\n\u003cli\u003e\u003cspan data-mce-fragment=\"1\"\u003eSupply voltage: 8 ~ 26VDC (direct current) reverse polarity protection\u003c\/span\u003e\u003c\/li\u003e\n\u003cli\u003e\u003cspan data-mce-fragment=\"1\"\u003e2X30W stereo power amplifier chip TPA3118\u003c\/span\u003e\u003c\/li\u003e\n\u003cli\u003e\u003cspan data-mce-fragment=\"1\"\u003eApplicable Speaker Impedance: 4,6,8 ohm\u003c\/span\u003e\u003c\/li\u003e\n\u003cli\u003e\u003cspan data-mce-fragment=\"1\"\u003eAUX output: 3.5 headphones on (after the amp for use)\u003c\/span\u003e\u003c\/li\u003e\n\u003cli\u003e\u003cspan data-mce-fragment=\"1\"\u003eDisplay Bluetooth device name: Xpecial Audio\u003c\/span\u003e\u003c\/li\u003e\n\u003c\/ul\u003e\n\u003cspan data-mce-fragment=\"1\"\u003e\u003cstrong data-mce-fragment=\"1\"\u003ePackage Contents:\u003c\/strong\u003e\u003c\/span\u003e\n\u003c\/div\u003e\n\u003cdiv data-mce-fragment=\"1\"\u003e\n\u003cul\u003e\n\u003cli\u003e\u003cspan data-mce-fragment=\"1\"\u003e1 x TPA3118 2x30W Digital Bluetooth Audio Receiver Dual Stereo Power Amplifier Board\u003c\/span\u003e\u003c\/li\u003e\n\u003c\/ul\u003e\n\u003c\/div\u003e\n\u003cdiv data-mce-fragment=\"1\"\u003e\u003cspan data-mce-fragment=\"1\"\u003e \u003c\/span\u003e\u003c\/div\u003e\n\u003cdiv data-mce-fragment=\"1\"\u003e\u003cspan data-mce-fragment=\"1\"\u003e\u003cstrong data-mce-fragment=\"1\"\u003e3:TPA3118D2 Digital HD Audio Amplifier Speaker Dual Channel Power Amp Board 45W*2\u003c\/strong\u003e\u003c\/span\u003e\u003c\/div\u003e\n\u003cdiv data-mce-fragment=\"1\"\u003e\u003cspan data-mce-fragment=\"1\"\u003e\u003cstrong data-mce-fragment=\"1\"\u003e \u003c\/strong\u003e\u003c\/span\u003e\u003c\/div\u003e\n\u003cdiv data-mce-fragment=\"1\"\u003e\n\u003cspan data-mce-fragment=\"1\"\u003e\u003cspan data-mce-fragment=\"1\"\u003e\u003cstrong data-mce-fragment=\"1\"\u003eDescription:\u003c\/strong\u003e\u003cbr data-mce-fragment=\"1\"\u003e\u003c\/span\u003e\u003c\/span\u003e\n\u003cul\u003e\n\u003cli\u003e\u003cspan data-mce-fragment=\"1\"\u003eProduct Name: Digital audio amplifier board\u003c\/span\u003e\u003c\/li\u003e\n\u003cli\u003e\u003cspan data-mce-fragment=\"1\"\u003ePower amplifier chip: TPA3118D2 * 1\u003c\/span\u003e\u003c\/li\u003e\n\u003cli\u003e\u003cspan data-mce-fragment=\"1\"\u003eInput voltage: DC12-28V, recommended DC24V\u003c\/span\u003e\u003c\/li\u003e\n\u003cli\u003e\u003cspan data-mce-fragment=\"1\"\u003ePower supply interface: DC socket (5.5 * 2.1)\u003c\/span\u003e\u003c\/li\u003e\n\u003cli\u003e\u003cspan data-mce-fragment=\"1\"\u003eInput current:\u0026gt; 3A\u003c\/span\u003e\u003c\/li\u003e\n\u003cli\u003e\u003cspan data-mce-fragment=\"1\"\u003eOutput power: 45W * 2\u003c\/span\u003e\u003c\/li\u003e\n\u003cli\u003e\u003cspan data-mce-fragment=\"1\"\u003eOutput impedance: 4-8ohm\u003c\/span\u003e\u003c\/li\u003e\n\u003cli\u003e\u003cspan data-mce-fragment=\"1\"\u003eInput impedance: 1KΩ\u003c\/span\u003e\u003c\/li\u003e\n\u003cli\u003e\u003cspan data-mce-fragment=\"1\"\u003eSignal to noise ratio: 100db\u003c\/span\u003e\u003c\/li\u003e\n\u003cli\u003e\u003cspan data-mce-fragment=\"1\"\u003eMagnification: 30TSP\u003c\/span\u003e\u003c\/li\u003e\n\u003cli\u003e\u003cspan data-mce-fragment=\"1\"\u003eNumber of channels: two channels\u003c\/span\u003e\u003c\/li\u003e\n\u003cli\u003e\u003cspan data-mce-fragment=\"1\"\u003eAudio input: 3.5mm socket \/ xH2.54-3P\u003c\/span\u003e\u003c\/li\u003e\n\u003cli\u003e\u003cspan data-mce-fragment=\"1\"\u003eSize: 66 * 53MM\u003c\/span\u003e\u003c\/li\u003e\n\u003c\/ul\u003e\n\u003cspan data-mce-fragment=\"1\"\u003e\u003cspan data-mce-fragment=\"1\"\u003e\u003cbr data-mce-fragment=\"1\"\u003e\u003cstrong data-mce-fragment=\"1\"\u003eProduct parameters:\u003c\/strong\u003e\u003cbr data-mce-fragment=\"1\"\u003e\u003c\/span\u003e\u003c\/span\u003e\n\u003cul\u003e\n\u003cli\u003e\u003cspan data-mce-fragment=\"1\"\u003eBoard power supply maximum range DC12-28V, recommended DC24V power supply. 12V power supply is the output power of20W per channel, 24V power supply is the output power up to 45W per channel.\u003c\/span\u003e\u003c\/li\u003e\n\u003cli\u003e\u003cspan data-mce-fragment=\"1\"\u003eThe new original IC chip with overvoltage protection, overcurrent protection, overheating protection, short circuit protection, audio output 5mm pitch 2P terminal, can be connected to double 30W speakers.\u003c\/span\u003e\u003c\/li\u003e\n\u003c\/ul\u003e\n\u003cspan data-mce-fragment=\"1\"\u003e\u003cspan data-mce-fragment=\"1\"\u003e\u003cstrong data-mce-fragment=\"1\"\u003ePackage included:\u003c\/strong\u003e\u003cbr data-mce-fragment=\"1\"\u003e\u003c\/span\u003e\u003c\/span\u003e\n\u003cul\u003e\n\u003cli\u003e\u003cspan data-mce-fragment=\"1\"\u003e1PC TPA3118D2 Digital HD Audio 45W*2 Dual Channel Amplifier Speaker Power Amp Board\u003c\/span\u003e\u003c\/li\u003e\n\u003c\/ul\u003e\n\u003c\/div\u003e","published_at":"2020-10-30T15:34:46+08:00","created_at":"2020-10-30T15:34:45+08:00","vendor":"DIYMORE","type":"","tags":[],"price":899,"price_min":899,"price_max":899,"available":true,"price_varies":false,"compare_at_price":null,"compare_at_price_min":0,"compare_at_price_max":0,"compare_at_price_varies":false,"variants":[{"id":37269984641224,"title":"Default Title","option1":"Default Title","option2":null,"option3":null,"sku":"X12922","requires_shipping":true,"taxable":false,"featured_image":null,"available":true,"name":"DC 8-26V TPA3118 PBTL Mono Digital Amplifier Board 1*60W\/2*30W AMP Module","public_title":null,"options":["Default Title"],"price":899,"weight":0,"compare_at_price":null,"inventory_management":"shopify","barcode":"","requires_selling_plan":false,"selling_plan_allocations":[]}],"images":["\/\/www.diymore.cc\/cdn\/shop\/products\/X12922_1.jpg?v=1604043287","\/\/www.diymore.cc\/cdn\/shop\/products\/X12922_4.jpg?v=1604043287","\/\/www.diymore.cc\/cdn\/shop\/products\/X12922_5.jpg?v=1604043287","\/\/www.diymore.cc\/cdn\/shop\/products\/X12922_6.jpg?v=1604043288","\/\/www.diymore.cc\/cdn\/shop\/products\/X12922_11.jpg?v=1604043288"],"featured_image":"\/\/www.diymore.cc\/cdn\/shop\/products\/X12922_1.jpg?v=1604043287","options":["Title"],"media":[{"alt":null,"id":14590455382216,"position":1,"preview_image":{"aspect_ratio":1.0,"height":1000,"width":1000,"src":"\/\/www.diymore.cc\/cdn\/shop\/products\/X12922_1.jpg?v=1604043287"},"aspect_ratio":1.0,"height":1000,"media_type":"image","src":"\/\/www.diymore.cc\/cdn\/shop\/products\/X12922_1.jpg?v=1604043287","width":1000},{"alt":null,"id":14590455414984,"position":2,"preview_image":{"aspect_ratio":1.0,"height":1000,"width":1000,"src":"\/\/www.diymore.cc\/cdn\/shop\/products\/X12922_4.jpg?v=1604043287"},"aspect_ratio":1.0,"height":1000,"media_type":"image","src":"\/\/www.diymore.cc\/cdn\/shop\/products\/X12922_4.jpg?v=1604043287","width":1000},{"alt":null,"id":14590455447752,"position":3,"preview_image":{"aspect_ratio":1.0,"height":1000,"width":1000,"src":"\/\/www.diymore.cc\/cdn\/shop\/products\/X12922_5.jpg?v=1604043287"},"aspect_ratio":1.0,"height":1000,"media_type":"image","src":"\/\/www.diymore.cc\/cdn\/shop\/products\/X12922_5.jpg?v=1604043287","width":1000},{"alt":null,"id":14590455480520,"position":4,"preview_image":{"aspect_ratio":1.0,"height":1000,"width":1000,"src":"\/\/www.diymore.cc\/cdn\/shop\/products\/X12922_6.jpg?v=1604043288"},"aspect_ratio":1.0,"height":1000,"media_type":"image","src":"\/\/www.diymore.cc\/cdn\/shop\/products\/X12922_6.jpg?v=1604043288","width":1000},{"alt":null,"id":14590455546056,"position":5,"preview_image":{"aspect_ratio":1.0,"height":1000,"width":1000,"src":"\/\/www.diymore.cc\/cdn\/shop\/products\/X12922_11.jpg?v=1604043288"},"aspect_ratio":1.0,"height":1000,"media_type":"image","src":"\/\/www.diymore.cc\/cdn\/shop\/products\/X12922_11.jpg?v=1604043288","width":1000}],"requires_selling_plan":false,"selling_plan_groups":[],"content":"\u003cspan data-mce-fragment=\"1\"\u003e\u003cstrong data-mce-fragment=\"1\"\u003eDescription:\u003c\/strong\u003e\u003c\/span\u003e\u003cbr data-mce-fragment=\"1\"\u003e\u003cbr data-mce-fragment=\"1\"\u003e\u003cspan data-mce-fragment=\"1\"\u003e\u003cstrong data-mce-fragment=\"1\"\u003e1X60W\u003c\/strong\u003e\u003c\/span\u003e\u003cbr data-mce-fragment=\"1\"\u003e\u003cspan data-mce-fragment=\"1\"\u003e\u003cimg src=\"https:\/\/pg-cdn-a2.datacaciques.com\/00\/NDAy\/18\/10\/29\/718383n01qg7m6j0\/c9f3f9b214ddca2f.jpg\" width=\"300\" data-mce-fragment=\"1\" data-mce-src=\"https:\/\/pg-cdn-a2.datacaciques.com\/00\/NDAy\/18\/10\/29\/718383n01qg7m6j0\/c9f3f9b214ddca2f.jpg\" caption=\"false\"\u003e\u003c\/span\u003e\u003cbr data-mce-fragment=\"1\"\u003e\n\u003cdiv data-mce-fragment=\"1\"\u003e\n\u003cul\u003e\n\u003cli\u003e\u003cspan data-mce-fragment=\"1\"\u003eSound quality is very good by using this module.\u003c\/span\u003e\u003c\/li\u003e\n\u003cli\u003e\u003cspan data-mce-fragment=\"1\"\u003eMono digital audio power amplifier chip.\u003c\/span\u003e\u003c\/li\u003e\n\u003cli\u003e\u003cspan data-mce-fragment=\"1\"\u003eHigh output and low power consumption.\u003c\/span\u003e\u003c\/li\u003e\n\u003cli\u003e\u003cspan data-mce-fragment=\"1\"\u003eApplicable speaker impedance: 4-8 ohm(8 ohm is the best).\u003c\/span\u003e\u003c\/li\u003e\n\u003c\/ul\u003e\n\u003c\/div\u003e\n\u003cdiv data-mce-fragment=\"1\"\u003e\n\u003cbr data-mce-fragment=\"1\"\u003e\u003cspan data-mce-fragment=\"1\"\u003e\u003cstrong data-mce-fragment=\"1\"\u003eSpecifications:\u003c\/strong\u003e\u003c\/span\u003e\u003cbr data-mce-fragment=\"1\"\u003e\n\u003cul\u003e\n\u003cli\u003e\u003cspan data-mce-fragment=\"1\"\u003eWorking Voltage: DC 8-24V\u003c\/span\u003e\u003c\/li\u003e\n\u003cli\u003e\u003cspan data-mce-fragment=\"1\"\u003ePower Output: 60W\u003c\/span\u003e\u003c\/li\u003e\n\u003cli\u003e\u003cspan data-mce-fragment=\"1\"\u003eApplicable Speaker Impedance: 4-8 ohm\u003c\/span\u003e\u003c\/li\u003e\n\u003cli\u003e\u003cspan data-mce-fragment=\"1\"\u003ePCB Board Size: 45 * 35mm \/ 1.77 * 1.4in\u003c\/span\u003e\u003c\/li\u003e\n\u003cli\u003e\u003cspan data-mce-fragment=\"1\"\u003eWeight: 12g \/ 0.43oz\u003c\/span\u003e\u003c\/li\u003e\n\u003c\/ul\u003e\n\u003cspan data-mce-fragment=\"1\"\u003e\u003cstrong data-mce-fragment=\"1\"\u003ePackage List:\u003c\/strong\u003e\u003c\/span\u003e\n\u003c\/div\u003e\n\u003cdiv data-mce-fragment=\"1\"\u003e\n\u003cul\u003e\n\u003cli\u003e\u003cspan data-mce-fragment=\"1\"\u003e1 * DC 8-26V TPA3118 PBTL Mono Digital Amplifier Board AMP Module 1*60W for Arduino\u003c\/span\u003e\u003c\/li\u003e\n\u003c\/ul\u003e\n\u003cspan data-mce-fragment=\"1\"\u003e\u003cspan data-mce-fragment=\"1\"\u003e\u003cbr data-mce-fragment=\"1\"\u003e\u003cstrong data-mce-fragment=\"1\"\u003e2X30W\u003c\/strong\u003e\u003cbr data-mce-fragment=\"1\"\u003e\u003cimg src=\"https:\/\/pg-cdn-a2.datacaciques.com\/00\/NDAy\/17\/10\/13\/0tf53yfj56356974\/b6cfaf1130aa5b27.jpg\" width=\"300\" data-mce-fragment=\"1\" data-mce-src=\"https:\/\/pg-cdn-a2.datacaciques.com\/00\/NDAy\/17\/10\/13\/0tf53yfj56356974\/b6cfaf1130aa5b27.jpg\" caption=\"false\"\u003e\u003cbr data-mce-fragment=\"1\"\u003e\u003c\/span\u003e\u003c\/span\u003e\n\u003cul\u003e\n\u003cli\u003e\u003cspan data-mce-fragment=\"1\"\u003eAudio input: Bluetooth receiver\u003c\/span\u003e\u003c\/li\u003e\n\u003cli\u003e\u003cspan data-mce-fragment=\"1\"\u003eSupply voltage: 8 ~ 26VDC (direct current) reverse polarity protection\u003c\/span\u003e\u003c\/li\u003e\n\u003cli\u003e\u003cspan data-mce-fragment=\"1\"\u003e2X30W stereo power amplifier chip TPA3118\u003c\/span\u003e\u003c\/li\u003e\n\u003cli\u003e\u003cspan data-mce-fragment=\"1\"\u003eApplicable Speaker Impedance: 4,6,8 ohm\u003c\/span\u003e\u003c\/li\u003e\n\u003cli\u003e\u003cspan data-mce-fragment=\"1\"\u003eAUX output: 3.5 headphones on (after the amp for use)\u003c\/span\u003e\u003c\/li\u003e\n\u003cli\u003e\u003cspan data-mce-fragment=\"1\"\u003eDisplay Bluetooth device name: Xpecial Audio\u003c\/span\u003e\u003c\/li\u003e\n\u003c\/ul\u003e\n\u003cspan data-mce-fragment=\"1\"\u003e\u003cstrong data-mce-fragment=\"1\"\u003ePackage Contents:\u003c\/strong\u003e\u003c\/span\u003e\n\u003c\/div\u003e\n\u003cdiv data-mce-fragment=\"1\"\u003e\n\u003cul\u003e\n\u003cli\u003e\u003cspan data-mce-fragment=\"1\"\u003e1 x TPA3118 2x30W Digital Bluetooth Audio Receiver Dual Stereo Power Amplifier Board\u003c\/span\u003e\u003c\/li\u003e\n\u003c\/ul\u003e\n\u003c\/div\u003e\n\u003cdiv data-mce-fragment=\"1\"\u003e\u003cspan data-mce-fragment=\"1\"\u003e \u003c\/span\u003e\u003c\/div\u003e\n\u003cdiv data-mce-fragment=\"1\"\u003e\u003cspan data-mce-fragment=\"1\"\u003e\u003cstrong data-mce-fragment=\"1\"\u003e3:TPA3118D2 Digital HD Audio Amplifier Speaker Dual Channel Power Amp Board 45W*2\u003c\/strong\u003e\u003c\/span\u003e\u003c\/div\u003e\n\u003cdiv data-mce-fragment=\"1\"\u003e\u003cspan data-mce-fragment=\"1\"\u003e\u003cstrong data-mce-fragment=\"1\"\u003e \u003c\/strong\u003e\u003c\/span\u003e\u003c\/div\u003e\n\u003cdiv data-mce-fragment=\"1\"\u003e\n\u003cspan data-mce-fragment=\"1\"\u003e\u003cspan data-mce-fragment=\"1\"\u003e\u003cstrong data-mce-fragment=\"1\"\u003eDescription:\u003c\/strong\u003e\u003cbr data-mce-fragment=\"1\"\u003e\u003c\/span\u003e\u003c\/span\u003e\n\u003cul\u003e\n\u003cli\u003e\u003cspan data-mce-fragment=\"1\"\u003eProduct Name: Digital audio amplifier board\u003c\/span\u003e\u003c\/li\u003e\n\u003cli\u003e\u003cspan data-mce-fragment=\"1\"\u003ePower amplifier chip: TPA3118D2 * 1\u003c\/span\u003e\u003c\/li\u003e\n\u003cli\u003e\u003cspan data-mce-fragment=\"1\"\u003eInput voltage: DC12-28V, recommended DC24V\u003c\/span\u003e\u003c\/li\u003e\n\u003cli\u003e\u003cspan data-mce-fragment=\"1\"\u003ePower supply interface: DC socket (5.5 * 2.1)\u003c\/span\u003e\u003c\/li\u003e\n\u003cli\u003e\u003cspan data-mce-fragment=\"1\"\u003eInput current:\u0026gt; 3A\u003c\/span\u003e\u003c\/li\u003e\n\u003cli\u003e\u003cspan data-mce-fragment=\"1\"\u003eOutput power: 45W * 2\u003c\/span\u003e\u003c\/li\u003e\n\u003cli\u003e\u003cspan data-mce-fragment=\"1\"\u003eOutput impedance: 4-8ohm\u003c\/span\u003e\u003c\/li\u003e\n\u003cli\u003e\u003cspan data-mce-fragment=\"1\"\u003eInput impedance: 1KΩ\u003c\/span\u003e\u003c\/li\u003e\n\u003cli\u003e\u003cspan data-mce-fragment=\"1\"\u003eSignal to noise ratio: 100db\u003c\/span\u003e\u003c\/li\u003e\n\u003cli\u003e\u003cspan data-mce-fragment=\"1\"\u003eMagnification: 30TSP\u003c\/span\u003e\u003c\/li\u003e\n\u003cli\u003e\u003cspan data-mce-fragment=\"1\"\u003eNumber of channels: two channels\u003c\/span\u003e\u003c\/li\u003e\n\u003cli\u003e\u003cspan data-mce-fragment=\"1\"\u003eAudio input: 3.5mm socket \/ xH2.54-3P\u003c\/span\u003e\u003c\/li\u003e\n\u003cli\u003e\u003cspan data-mce-fragment=\"1\"\u003eSize: 66 * 53MM\u003c\/span\u003e\u003c\/li\u003e\n\u003c\/ul\u003e\n\u003cspan data-mce-fragment=\"1\"\u003e\u003cspan data-mce-fragment=\"1\"\u003e\u003cbr data-mce-fragment=\"1\"\u003e\u003cstrong data-mce-fragment=\"1\"\u003eProduct parameters:\u003c\/strong\u003e\u003cbr data-mce-fragment=\"1\"\u003e\u003c\/span\u003e\u003c\/span\u003e\n\u003cul\u003e\n\u003cli\u003e\u003cspan data-mce-fragment=\"1\"\u003eBoard power supply maximum range DC12-28V, recommended DC24V power supply. 12V power supply is the output power of20W per channel, 24V power supply is the output power up to 45W per channel.\u003c\/span\u003e\u003c\/li\u003e\n\u003cli\u003e\u003cspan data-mce-fragment=\"1\"\u003eThe new original IC chip with overvoltage protection, overcurrent protection, overheating protection, short circuit protection, audio output 5mm pitch 2P terminal, can be connected to double 30W speakers.\u003c\/span\u003e\u003c\/li\u003e\n\u003c\/ul\u003e\n\u003cspan data-mce-fragment=\"1\"\u003e\u003cspan data-mce-fragment=\"1\"\u003e\u003cstrong data-mce-fragment=\"1\"\u003ePackage included:\u003c\/strong\u003e\u003cbr data-mce-fragment=\"1\"\u003e\u003c\/span\u003e\u003c\/span\u003e\n\u003cul\u003e\n\u003cli\u003e\u003cspan data-mce-fragment=\"1\"\u003e1PC TPA3118D2 Digital HD Audio 45W*2 Dual Channel Amplifier Speaker Power Amp Board\u003c\/span\u003e\u003c\/li\u003e\n\u003c\/ul\u003e\n\u003c\/div\u003e"}

Translation missing: en.products.product.regular_price

$8.99

{"id":6031845392584,"title":"DC 8-26V TPA3118 PBTL Mono Digital Amplifier Board 1*60W\/2*30W AMP Module","handle":"dc-8-26v-tpa3118-pbtl-mono-digital-amplifier-board-1-60w-2-30w-amp-module","description":"\u003cspan data-mce-fragment=\"1\"\u003e\u003cstrong data-mce-fragment=\"1\"\u003eDescription:\u003c\/strong\u003e\u003c\/span\u003e\u003cbr data-mce-fragment=\"1\"\u003e\u003cbr data-mce-fragment=\"1\"\u003e\u003cspan data-mce-fragment=\"1\"\u003e\u003cstrong data-mce-fragment=\"1\"\u003e1X60W\u003c\/strong\u003e\u003c\/span\u003e\u003cbr data-mce-fragment=\"1\"\u003e\u003cspan data-mce-fragment=\"1\"\u003e\u003cimg src=\"https:\/\/pg-cdn-a2.datacaciques.com\/00\/NDAy\/18\/10\/29\/718383n01qg7m6j0\/c9f3f9b214ddca2f.jpg\" width=\"300\" data-mce-fragment=\"1\" data-mce-src=\"https:\/\/pg-cdn-a2.datacaciques.com\/00\/NDAy\/18\/10\/29\/718383n01qg7m6j0\/c9f3f9b214ddca2f.jpg\" caption=\"false\"\u003e\u003c\/span\u003e\u003cbr data-mce-fragment=\"1\"\u003e\n\u003cdiv data-mce-fragment=\"1\"\u003e\n\u003cul\u003e\n\u003cli\u003e\u003cspan data-mce-fragment=\"1\"\u003eSound quality is very good by using this module.\u003c\/span\u003e\u003c\/li\u003e\n\u003cli\u003e\u003cspan data-mce-fragment=\"1\"\u003eMono digital audio power amplifier chip.\u003c\/span\u003e\u003c\/li\u003e\n\u003cli\u003e\u003cspan data-mce-fragment=\"1\"\u003eHigh output and low power consumption.\u003c\/span\u003e\u003c\/li\u003e\n\u003cli\u003e\u003cspan data-mce-fragment=\"1\"\u003eApplicable speaker impedance: 4-8 ohm(8 ohm is the best).\u003c\/span\u003e\u003c\/li\u003e\n\u003c\/ul\u003e\n\u003c\/div\u003e\n\u003cdiv data-mce-fragment=\"1\"\u003e\n\u003cbr data-mce-fragment=\"1\"\u003e\u003cspan data-mce-fragment=\"1\"\u003e\u003cstrong data-mce-fragment=\"1\"\u003eSpecifications:\u003c\/strong\u003e\u003c\/span\u003e\u003cbr data-mce-fragment=\"1\"\u003e\n\u003cul\u003e\n\u003cli\u003e\u003cspan data-mce-fragment=\"1\"\u003eWorking Voltage: DC 8-24V\u003c\/span\u003e\u003c\/li\u003e\n\u003cli\u003e\u003cspan data-mce-fragment=\"1\"\u003ePower Output: 60W\u003c\/span\u003e\u003c\/li\u003e\n\u003cli\u003e\u003cspan data-mce-fragment=\"1\"\u003eApplicable Speaker Impedance: 4-8 ohm\u003c\/span\u003e\u003c\/li\u003e\n\u003cli\u003e\u003cspan data-mce-fragment=\"1\"\u003ePCB Board Size: 45 * 35mm \/ 1.77 * 1.4in\u003c\/span\u003e\u003c\/li\u003e\n\u003cli\u003e\u003cspan data-mce-fragment=\"1\"\u003eWeight: 12g \/ 0.43oz\u003c\/span\u003e\u003c\/li\u003e\n\u003c\/ul\u003e\n\u003cspan data-mce-fragment=\"1\"\u003e\u003cstrong data-mce-fragment=\"1\"\u003ePackage List:\u003c\/strong\u003e\u003c\/span\u003e\n\u003c\/div\u003e\n\u003cdiv data-mce-fragment=\"1\"\u003e\n\u003cul\u003e\n\u003cli\u003e\u003cspan data-mce-fragment=\"1\"\u003e1 * DC 8-26V TPA3118 PBTL Mono Digital Amplifier Board AMP Module 1*60W for Arduino\u003c\/span\u003e\u003c\/li\u003e\n\u003c\/ul\u003e\n\u003cspan data-mce-fragment=\"1\"\u003e\u003cspan data-mce-fragment=\"1\"\u003e\u003cbr data-mce-fragment=\"1\"\u003e\u003cstrong data-mce-fragment=\"1\"\u003e2X30W\u003c\/strong\u003e\u003cbr data-mce-fragment=\"1\"\u003e\u003cimg src=\"https:\/\/pg-cdn-a2.datacaciques.com\/00\/NDAy\/17\/10\/13\/0tf53yfj56356974\/b6cfaf1130aa5b27.jpg\" width=\"300\" data-mce-fragment=\"1\" data-mce-src=\"https:\/\/pg-cdn-a2.datacaciques.com\/00\/NDAy\/17\/10\/13\/0tf53yfj56356974\/b6cfaf1130aa5b27.jpg\" caption=\"false\"\u003e\u003cbr data-mce-fragment=\"1\"\u003e\u003c\/span\u003e\u003c\/span\u003e\n\u003cul\u003e\n\u003cli\u003e\u003cspan data-mce-fragment=\"1\"\u003eAudio input: Bluetooth receiver\u003c\/span\u003e\u003c\/li\u003e\n\u003cli\u003e\u003cspan data-mce-fragment=\"1\"\u003eSupply voltage: 8 ~ 26VDC (direct current) reverse polarity protection\u003c\/span\u003e\u003c\/li\u003e\n\u003cli\u003e\u003cspan data-mce-fragment=\"1\"\u003e2X30W stereo power amplifier chip TPA3118\u003c\/span\u003e\u003c\/li\u003e\n\u003cli\u003e\u003cspan data-mce-fragment=\"1\"\u003eApplicable Speaker Impedance: 4,6,8 ohm\u003c\/span\u003e\u003c\/li\u003e\n\u003cli\u003e\u003cspan data-mce-fragment=\"1\"\u003eAUX output: 3.5 headphones on (after the amp for use)\u003c\/span\u003e\u003c\/li\u003e\n\u003cli\u003e\u003cspan data-mce-fragment=\"1\"\u003eDisplay Bluetooth device name: Xpecial Audio\u003c\/span\u003e\u003c\/li\u003e\n\u003c\/ul\u003e\n\u003cspan data-mce-fragment=\"1\"\u003e\u003cstrong data-mce-fragment=\"1\"\u003ePackage Contents:\u003c\/strong\u003e\u003c\/span\u003e\n\u003c\/div\u003e\n\u003cdiv data-mce-fragment=\"1\"\u003e\n\u003cul\u003e\n\u003cli\u003e\u003cspan data-mce-fragment=\"1\"\u003e1 x TPA3118 2x30W Digital Bluetooth Audio Receiver Dual Stereo Power Amplifier Board\u003c\/span\u003e\u003c\/li\u003e\n\u003c\/ul\u003e\n\u003c\/div\u003e\n\u003cdiv data-mce-fragment=\"1\"\u003e\u003cspan data-mce-fragment=\"1\"\u003e \u003c\/span\u003e\u003c\/div\u003e\n\u003cdiv data-mce-fragment=\"1\"\u003e\u003cspan data-mce-fragment=\"1\"\u003e\u003cstrong data-mce-fragment=\"1\"\u003e3:TPA3118D2 Digital HD Audio Amplifier Speaker Dual Channel Power Amp Board 45W*2\u003c\/strong\u003e\u003c\/span\u003e\u003c\/div\u003e\n\u003cdiv data-mce-fragment=\"1\"\u003e\u003cspan data-mce-fragment=\"1\"\u003e\u003cstrong data-mce-fragment=\"1\"\u003e \u003c\/strong\u003e\u003c\/span\u003e\u003c\/div\u003e\n\u003cdiv data-mce-fragment=\"1\"\u003e\n\u003cspan data-mce-fragment=\"1\"\u003e\u003cspan data-mce-fragment=\"1\"\u003e\u003cstrong data-mce-fragment=\"1\"\u003eDescription:\u003c\/strong\u003e\u003cbr data-mce-fragment=\"1\"\u003e\u003c\/span\u003e\u003c\/span\u003e\n\u003cul\u003e\n\u003cli\u003e\u003cspan data-mce-fragment=\"1\"\u003eProduct Name: Digital audio amplifier board\u003c\/span\u003e\u003c\/li\u003e\n\u003cli\u003e\u003cspan data-mce-fragment=\"1\"\u003ePower amplifier chip: TPA3118D2 * 1\u003c\/span\u003e\u003c\/li\u003e\n\u003cli\u003e\u003cspan data-mce-fragment=\"1\"\u003eInput voltage: DC12-28V, recommended DC24V\u003c\/span\u003e\u003c\/li\u003e\n\u003cli\u003e\u003cspan data-mce-fragment=\"1\"\u003ePower supply interface: DC socket (5.5 * 2.1)\u003c\/span\u003e\u003c\/li\u003e\n\u003cli\u003e\u003cspan data-mce-fragment=\"1\"\u003eInput current:\u0026gt; 3A\u003c\/span\u003e\u003c\/li\u003e\n\u003cli\u003e\u003cspan data-mce-fragment=\"1\"\u003eOutput power: 45W * 2\u003c\/span\u003e\u003c\/li\u003e\n\u003cli\u003e\u003cspan data-mce-fragment=\"1\"\u003eOutput impedance: 4-8ohm\u003c\/span\u003e\u003c\/li\u003e\n\u003cli\u003e\u003cspan data-mce-fragment=\"1\"\u003eInput impedance: 1KΩ\u003c\/span\u003e\u003c\/li\u003e\n\u003cli\u003e\u003cspan data-mce-fragment=\"1\"\u003eSignal to noise ratio: 100db\u003c\/span\u003e\u003c\/li\u003e\n\u003cli\u003e\u003cspan data-mce-fragment=\"1\"\u003eMagnification: 30TSP\u003c\/span\u003e\u003c\/li\u003e\n\u003cli\u003e\u003cspan data-mce-fragment=\"1\"\u003eNumber of channels: two channels\u003c\/span\u003e\u003c\/li\u003e\n\u003cli\u003e\u003cspan data-mce-fragment=\"1\"\u003eAudio input: 3.5mm socket \/ xH2.54-3P\u003c\/span\u003e\u003c\/li\u003e\n\u003cli\u003e\u003cspan data-mce-fragment=\"1\"\u003eSize: 66 * 53MM\u003c\/span\u003e\u003c\/li\u003e\n\u003c\/ul\u003e\n\u003cspan data-mce-fragment=\"1\"\u003e\u003cspan data-mce-fragment=\"1\"\u003e\u003cbr data-mce-fragment=\"1\"\u003e\u003cstrong data-mce-fragment=\"1\"\u003eProduct parameters:\u003c\/strong\u003e\u003cbr data-mce-fragment=\"1\"\u003e\u003c\/span\u003e\u003c\/span\u003e\n\u003cul\u003e\n\u003cli\u003e\u003cspan data-mce-fragment=\"1\"\u003eBoard power supply maximum range DC12-28V, recommended DC24V power supply. 12V power supply is the output power of20W per channel, 24V power supply is the output power up to 45W per channel.\u003c\/span\u003e\u003c\/li\u003e\n\u003cli\u003e\u003cspan data-mce-fragment=\"1\"\u003eThe new original IC chip with overvoltage protection, overcurrent protection, overheating protection, short circuit protection, audio output 5mm pitch 2P terminal, can be connected to double 30W speakers.\u003c\/span\u003e\u003c\/li\u003e\n\u003c\/ul\u003e\n\u003cspan data-mce-fragment=\"1\"\u003e\u003cspan data-mce-fragment=\"1\"\u003e\u003cstrong data-mce-fragment=\"1\"\u003ePackage included:\u003c\/strong\u003e\u003cbr data-mce-fragment=\"1\"\u003e\u003c\/span\u003e\u003c\/span\u003e\n\u003cul\u003e\n\u003cli\u003e\u003cspan data-mce-fragment=\"1\"\u003e1PC TPA3118D2 Digital HD Audio 45W*2 Dual Channel Amplifier Speaker Power Amp Board\u003c\/span\u003e\u003c\/li\u003e\n\u003c\/ul\u003e\n\u003c\/div\u003e","published_at":"2020-10-30T15:34:46+08:00","created_at":"2020-10-30T15:34:45+08:00","vendor":"DIYMORE","type":"","tags":[],"price":899,"price_min":899,"price_max":899,"available":true,"price_varies":false,"compare_at_price":null,"compare_at_price_min":0,"compare_at_price_max":0,"compare_at_price_varies":false,"variants":[{"id":37269984641224,"title":"Default Title","option1":"Default Title","option2":null,"option3":null,"sku":"X12922","requires_shipping":true,"taxable":false,"featured_image":null,"available":true,"name":"DC 8-26V TPA3118 PBTL Mono Digital Amplifier Board 1*60W\/2*30W AMP Module","public_title":null,"options":["Default Title"],"price":899,"weight":0,"compare_at_price":null,"inventory_management":"shopify","barcode":"","requires_selling_plan":false,"selling_plan_allocations":[]}],"images":["\/\/www.diymore.cc\/cdn\/shop\/products\/X12922_1.jpg?v=1604043287","\/\/www.diymore.cc\/cdn\/shop\/products\/X12922_4.jpg?v=1604043287","\/\/www.diymore.cc\/cdn\/shop\/products\/X12922_5.jpg?v=1604043287","\/\/www.diymore.cc\/cdn\/shop\/products\/X12922_6.jpg?v=1604043288","\/\/www.diymore.cc\/cdn\/shop\/products\/X12922_11.jpg?v=1604043288"],"featured_image":"\/\/www.diymore.cc\/cdn\/shop\/products\/X12922_1.jpg?v=1604043287","options":["Title"],"media":[{"alt":null,"id":14590455382216,"position":1,"preview_image":{"aspect_ratio":1.0,"height":1000,"width":1000,"src":"\/\/www.diymore.cc\/cdn\/shop\/products\/X12922_1.jpg?v=1604043287"},"aspect_ratio":1.0,"height":1000,"media_type":"image","src":"\/\/www.diymore.cc\/cdn\/shop\/products\/X12922_1.jpg?v=1604043287","width":1000},{"alt":null,"id":14590455414984,"position":2,"preview_image":{"aspect_ratio":1.0,"height":1000,"width":1000,"src":"\/\/www.diymore.cc\/cdn\/shop\/products\/X12922_4.jpg?v=1604043287"},"aspect_ratio":1.0,"height":1000,"media_type":"image","src":"\/\/www.diymore.cc\/cdn\/shop\/products\/X12922_4.jpg?v=1604043287","width":1000},{"alt":null,"id":14590455447752,"position":3,"preview_image":{"aspect_ratio":1.0,"height":1000,"width":1000,"src":"\/\/www.diymore.cc\/cdn\/shop\/products\/X12922_5.jpg?v=1604043287"},"aspect_ratio":1.0,"height":1000,"media_type":"image","src":"\/\/www.diymore.cc\/cdn\/shop\/products\/X12922_5.jpg?v=1604043287","width":1000},{"alt":null,"id":14590455480520,"position":4,"preview_image":{"aspect_ratio":1.0,"height":1000,"width":1000,"src":"\/\/www.diymore.cc\/cdn\/shop\/products\/X12922_6.jpg?v=1604043288"},"aspect_ratio":1.0,"height":1000,"media_type":"image","src":"\/\/www.diymore.cc\/cdn\/shop\/products\/X12922_6.jpg?v=1604043288","width":1000},{"alt":null,"id":14590455546056,"position":5,"preview_image":{"aspect_ratio":1.0,"height":1000,"width":1000,"src":"\/\/www.diymore.cc\/cdn\/shop\/products\/X12922_11.jpg?v=1604043288"},"aspect_ratio":1.0,"height":1000,"media_type":"image","src":"\/\/www.diymore.cc\/cdn\/shop\/products\/X12922_11.jpg?v=1604043288","width":1000}],"requires_selling_plan":false,"selling_plan_groups":[],"content":"\u003cspan data-mce-fragment=\"1\"\u003e\u003cstrong data-mce-fragment=\"1\"\u003eDescription:\u003c\/strong\u003e\u003c\/span\u003e\u003cbr data-mce-fragment=\"1\"\u003e\u003cbr data-mce-fragment=\"1\"\u003e\u003cspan data-mce-fragment=\"1\"\u003e\u003cstrong data-mce-fragment=\"1\"\u003e1X60W\u003c\/strong\u003e\u003c\/span\u003e\u003cbr data-mce-fragment=\"1\"\u003e\u003cspan data-mce-fragment=\"1\"\u003e\u003cimg src=\"https:\/\/pg-cdn-a2.datacaciques.com\/00\/NDAy\/18\/10\/29\/718383n01qg7m6j0\/c9f3f9b214ddca2f.jpg\" width=\"300\" data-mce-fragment=\"1\" data-mce-src=\"https:\/\/pg-cdn-a2.datacaciques.com\/00\/NDAy\/18\/10\/29\/718383n01qg7m6j0\/c9f3f9b214ddca2f.jpg\" caption=\"false\"\u003e\u003c\/span\u003e\u003cbr data-mce-fragment=\"1\"\u003e\n\u003cdiv data-mce-fragment=\"1\"\u003e\n\u003cul\u003e\n\u003cli\u003e\u003cspan data-mce-fragment=\"1\"\u003eSound quality is very good by using this module.\u003c\/span\u003e\u003c\/li\u003e\n\u003cli\u003e\u003cspan data-mce-fragment=\"1\"\u003eMono digital audio power amplifier chip.\u003c\/span\u003e\u003c\/li\u003e\n\u003cli\u003e\u003cspan data-mce-fragment=\"1\"\u003eHigh output and low power consumption.\u003c\/span\u003e\u003c\/li\u003e\n\u003cli\u003e\u003cspan data-mce-fragment=\"1\"\u003eApplicable speaker impedance: 4-8 ohm(8 ohm is the best).\u003c\/span\u003e\u003c\/li\u003e\n\u003c\/ul\u003e\n\u003c\/div\u003e\n\u003cdiv data-mce-fragment=\"1\"\u003e\n\u003cbr data-mce-fragment=\"1\"\u003e\u003cspan data-mce-fragment=\"1\"\u003e\u003cstrong data-mce-fragment=\"1\"\u003eSpecifications:\u003c\/strong\u003e\u003c\/span\u003e\u003cbr data-mce-fragment=\"1\"\u003e\n\u003cul\u003e\n\u003cli\u003e\u003cspan data-mce-fragment=\"1\"\u003eWorking Voltage: DC 8-24V\u003c\/span\u003e\u003c\/li\u003e\n\u003cli\u003e\u003cspan data-mce-fragment=\"1\"\u003ePower Output: 60W\u003c\/span\u003e\u003c\/li\u003e\n\u003cli\u003e\u003cspan data-mce-fragment=\"1\"\u003eApplicable Speaker Impedance: 4-8 ohm\u003c\/span\u003e\u003c\/li\u003e\n\u003cli\u003e\u003cspan data-mce-fragment=\"1\"\u003ePCB Board Size: 45 * 35mm \/ 1.77 * 1.4in\u003c\/span\u003e\u003c\/li\u003e\n\u003cli\u003e\u003cspan data-mce-fragment=\"1\"\u003eWeight: 12g \/ 0.43oz\u003c\/span\u003e\u003c\/li\u003e\n\u003c\/ul\u003e\n\u003cspan data-mce-fragment=\"1\"\u003e\u003cstrong data-mce-fragment=\"1\"\u003ePackage List:\u003c\/strong\u003e\u003c\/span\u003e\n\u003c\/div\u003e\n\u003cdiv data-mce-fragment=\"1\"\u003e\n\u003cul\u003e\n\u003cli\u003e\u003cspan data-mce-fragment=\"1\"\u003e1 * DC 8-26V TPA3118 PBTL Mono Digital Amplifier Board AMP Module 1*60W for Arduino\u003c\/span\u003e\u003c\/li\u003e\n\u003c\/ul\u003e\n\u003cspan data-mce-fragment=\"1\"\u003e\u003cspan data-mce-fragment=\"1\"\u003e\u003cbr data-mce-fragment=\"1\"\u003e\u003cstrong data-mce-fragment=\"1\"\u003e2X30W\u003c\/strong\u003e\u003cbr data-mce-fragment=\"1\"\u003e\u003cimg src=\"https:\/\/pg-cdn-a2.datacaciques.com\/00\/NDAy\/17\/10\/13\/0tf53yfj56356974\/b6cfaf1130aa5b27.jpg\" width=\"300\" data-mce-fragment=\"1\" data-mce-src=\"https:\/\/pg-cdn-a2.datacaciques.com\/00\/NDAy\/17\/10\/13\/0tf53yfj56356974\/b6cfaf1130aa5b27.jpg\" caption=\"false\"\u003e\u003cbr data-mce-fragment=\"1\"\u003e\u003c\/span\u003e\u003c\/span\u003e\n\u003cul\u003e\n\u003cli\u003e\u003cspan data-mce-fragment=\"1\"\u003eAudio input: Bluetooth receiver\u003c\/span\u003e\u003c\/li\u003e\n\u003cli\u003e\u003cspan data-mce-fragment=\"1\"\u003eSupply voltage: 8 ~ 26VDC (direct current) reverse polarity protection\u003c\/span\u003e\u003c\/li\u003e\n\u003cli\u003e\u003cspan data-mce-fragment=\"1\"\u003e2X30W stereo power amplifier chip TPA3118\u003c\/span\u003e\u003c\/li\u003e\n\u003cli\u003e\u003cspan data-mce-fragment=\"1\"\u003eApplicable Speaker Impedance: 4,6,8 ohm\u003c\/span\u003e\u003c\/li\u003e\n\u003cli\u003e\u003cspan data-mce-fragment=\"1\"\u003eAUX output: 3.5 headphones on (after the amp for use)\u003c\/span\u003e\u003c\/li\u003e\n\u003cli\u003e\u003cspan data-mce-fragment=\"1\"\u003eDisplay Bluetooth device name: Xpecial Audio\u003c\/span\u003e\u003c\/li\u003e\n\u003c\/ul\u003e\n\u003cspan data-mce-fragment=\"1\"\u003e\u003cstrong data-mce-fragment=\"1\"\u003ePackage Contents:\u003c\/strong\u003e\u003c\/span\u003e\n\u003c\/div\u003e\n\u003cdiv data-mce-fragment=\"1\"\u003e\n\u003cul\u003e\n\u003cli\u003e\u003cspan data-mce-fragment=\"1\"\u003e1 x TPA3118 2x30W Digital Bluetooth Audio Receiver Dual Stereo Power Amplifier Board\u003c\/span\u003e\u003c\/li\u003e\n\u003c\/ul\u003e\n\u003c\/div\u003e\n\u003cdiv data-mce-fragment=\"1\"\u003e\u003cspan data-mce-fragment=\"1\"\u003e \u003c\/span\u003e\u003c\/div\u003e\n\u003cdiv data-mce-fragment=\"1\"\u003e\u003cspan data-mce-fragment=\"1\"\u003e\u003cstrong data-mce-fragment=\"1\"\u003e3:TPA3118D2 Digital HD Audio Amplifier Speaker Dual Channel Power Amp Board 45W*2\u003c\/strong\u003e\u003c\/span\u003e\u003c\/div\u003e\n\u003cdiv data-mce-fragment=\"1\"\u003e\u003cspan data-mce-fragment=\"1\"\u003e\u003cstrong data-mce-fragment=\"1\"\u003e \u003c\/strong\u003e\u003c\/span\u003e\u003c\/div\u003e\n\u003cdiv data-mce-fragment=\"1\"\u003e\n\u003cspan data-mce-fragment=\"1\"\u003e\u003cspan data-mce-fragment=\"1\"\u003e\u003cstrong data-mce-fragment=\"1\"\u003eDescription:\u003c\/strong\u003e\u003cbr data-mce-fragment=\"1\"\u003e\u003c\/span\u003e\u003c\/span\u003e\n\u003cul\u003e\n\u003cli\u003e\u003cspan data-mce-fragment=\"1\"\u003eProduct Name: Digital audio amplifier board\u003c\/span\u003e\u003c\/li\u003e\n\u003cli\u003e\u003cspan data-mce-fragment=\"1\"\u003ePower amplifier chip: TPA3118D2 * 1\u003c\/span\u003e\u003c\/li\u003e\n\u003cli\u003e\u003cspan data-mce-fragment=\"1\"\u003eInput voltage: DC12-28V, recommended DC24V\u003c\/span\u003e\u003c\/li\u003e\n\u003cli\u003e\u003cspan data-mce-fragment=\"1\"\u003ePower supply interface: DC socket (5.5 * 2.1)\u003c\/span\u003e\u003c\/li\u003e\n\u003cli\u003e\u003cspan data-mce-fragment=\"1\"\u003eInput current:\u0026gt; 3A\u003c\/span\u003e\u003c\/li\u003e\n\u003cli\u003e\u003cspan data-mce-fragment=\"1\"\u003eOutput power: 45W * 2\u003c\/span\u003e\u003c\/li\u003e\n\u003cli\u003e\u003cspan data-mce-fragment=\"1\"\u003eOutput impedance: 4-8ohm\u003c\/span\u003e\u003c\/li\u003e\n\u003cli\u003e\u003cspan data-mce-fragment=\"1\"\u003eInput impedance: 1KΩ\u003c\/span\u003e\u003c\/li\u003e\n\u003cli\u003e\u003cspan data-mce-fragment=\"1\"\u003eSignal to noise ratio: 100db\u003c\/span\u003e\u003c\/li\u003e\n\u003cli\u003e\u003cspan data-mce-fragment=\"1\"\u003eMagnification: 30TSP\u003c\/span\u003e\u003c\/li\u003e\n\u003cli\u003e\u003cspan data-mce-fragment=\"1\"\u003eNumber of channels: two channels\u003c\/span\u003e\u003c\/li\u003e\n\u003cli\u003e\u003cspan data-mce-fragment=\"1\"\u003eAudio input: 3.5mm socket \/ xH2.54-3P\u003c\/span\u003e\u003c\/li\u003e\n\u003cli\u003e\u003cspan data-mce-fragment=\"1\"\u003eSize: 66 * 53MM\u003c\/span\u003e\u003c\/li\u003e\n\u003c\/ul\u003e\n\u003cspan data-mce-fragment=\"1\"\u003e\u003cspan data-mce-fragment=\"1\"\u003e\u003cbr data-mce-fragment=\"1\"\u003e\u003cstrong data-mce-fragment=\"1\"\u003eProduct parameters:\u003c\/strong\u003e\u003cbr data-mce-fragment=\"1\"\u003e\u003c\/span\u003e\u003c\/span\u003e\n\u003cul\u003e\n\u003cli\u003e\u003cspan data-mce-fragment=\"1\"\u003eBoard power supply maximum range DC12-28V, recommended DC24V power supply. 12V power supply is the output power of20W per channel, 24V power supply is the output power up to 45W per channel.\u003c\/span\u003e\u003c\/li\u003e\n\u003cli\u003e\u003cspan data-mce-fragment=\"1\"\u003eThe new original IC chip with overvoltage protection, overcurrent protection, overheating protection, short circuit protection, audio output 5mm pitch 2P terminal, can be connected to double 30W speakers.\u003c\/span\u003e\u003c\/li\u003e\n\u003c\/ul\u003e\n\u003cspan data-mce-fragment=\"1\"\u003e\u003cspan data-mce-fragment=\"1\"\u003e\u003cstrong data-mce-fragment=\"1\"\u003ePackage included:\u003c\/strong\u003e\u003cbr data-mce-fragment=\"1\"\u003e\u003c\/span\u003e\u003c\/span\u003e\n\u003cul\u003e\n\u003cli\u003e\u003cspan data-mce-fragment=\"1\"\u003e1PC TPA3118D2 Digital HD Audio 45W*2 Dual Channel Amplifier Speaker Power Amp Board\u003c\/span\u003e\u003c\/li\u003e\n\u003c\/ul\u003e\n\u003c\/div\u003e"}