Digital Clamp Meter DC Current 4000 Counts AC/DC Volt 1000A Handheld Tester
Digital Clamp Meter DC Current 4000 Counts AC/DC Volt 1000A Handheld Tester
SKU:XQ0032
Regular price
$50.99
guarantee

Quality checked

Special gift cards

Special gift cards

Free return

Within 60 days

Consultancy

86-0755-85201155
About Product:
【Wide Range Clamp Meter】 With 4000 counts display, the clamp meter can measure DC/AC voltage;AC/DC current,Resistance,Capacitance,Temperature,Frequency,Diode Test. The clamp meter has manual/automatic ranging which can adjust the operation method according to your usage habits.The jaw size up to 1.77in/45mm to measure a cable which is thick enough

【Multi-Function Multimeter】With Data hold, LCD Backlight, Relative value,Continuity buzzer,Connect to Phone by APP. Through the Backlight function, you can measure in the darkness and read the data clearly by the large LCD screen.

【Auto Connect To Your Phone Via Bluetooth】HP-570C-APP clamp multimeter come with APP Supported, you can connect to your smart phone via Bluetooth to monitor clamp meter measurement in real time. With this APP-Multimeter, you can transfer the data and analysis it in real time on your phone. The mobile APP can be installed on iPhone 4S iOS or Android 4.30 or higher.

【Safety & Over Load Protection】 HP-570C-APP Clamp Meter is up to the standards of IEC1010 Double Insulation, Pollution Degree 2, Over voltage Category Ⅲ and overload protection. It will show "OL" on the LCD if over range.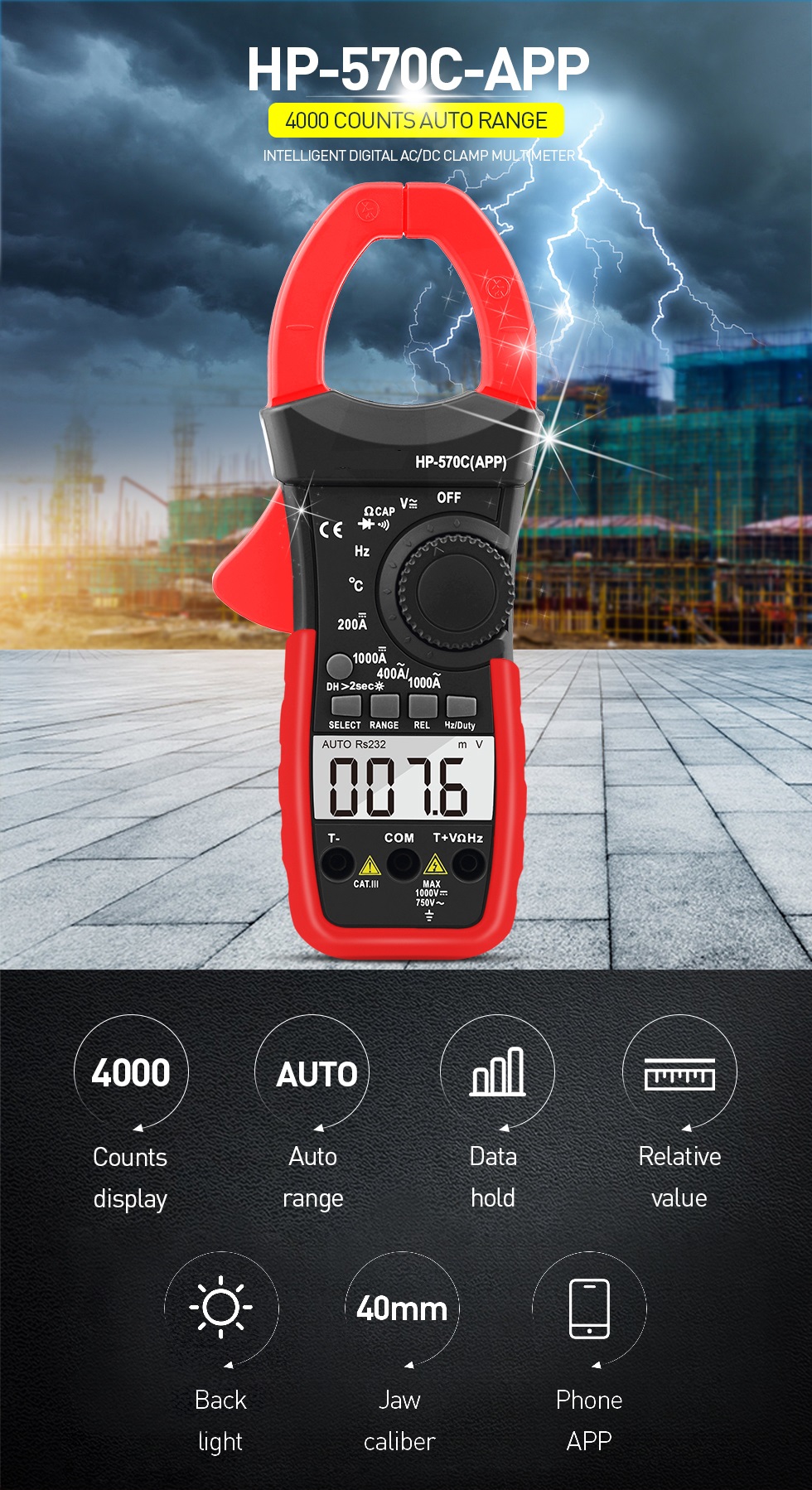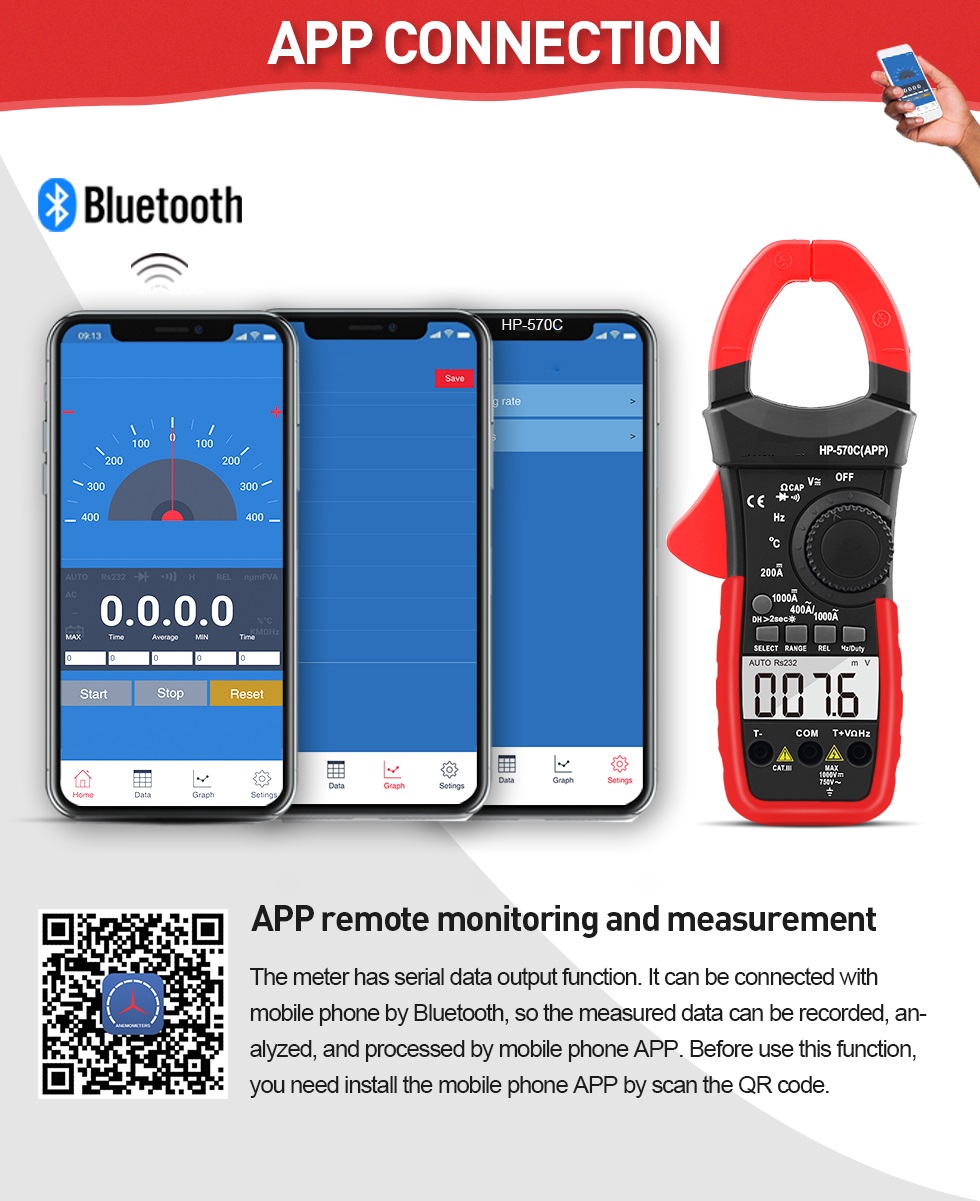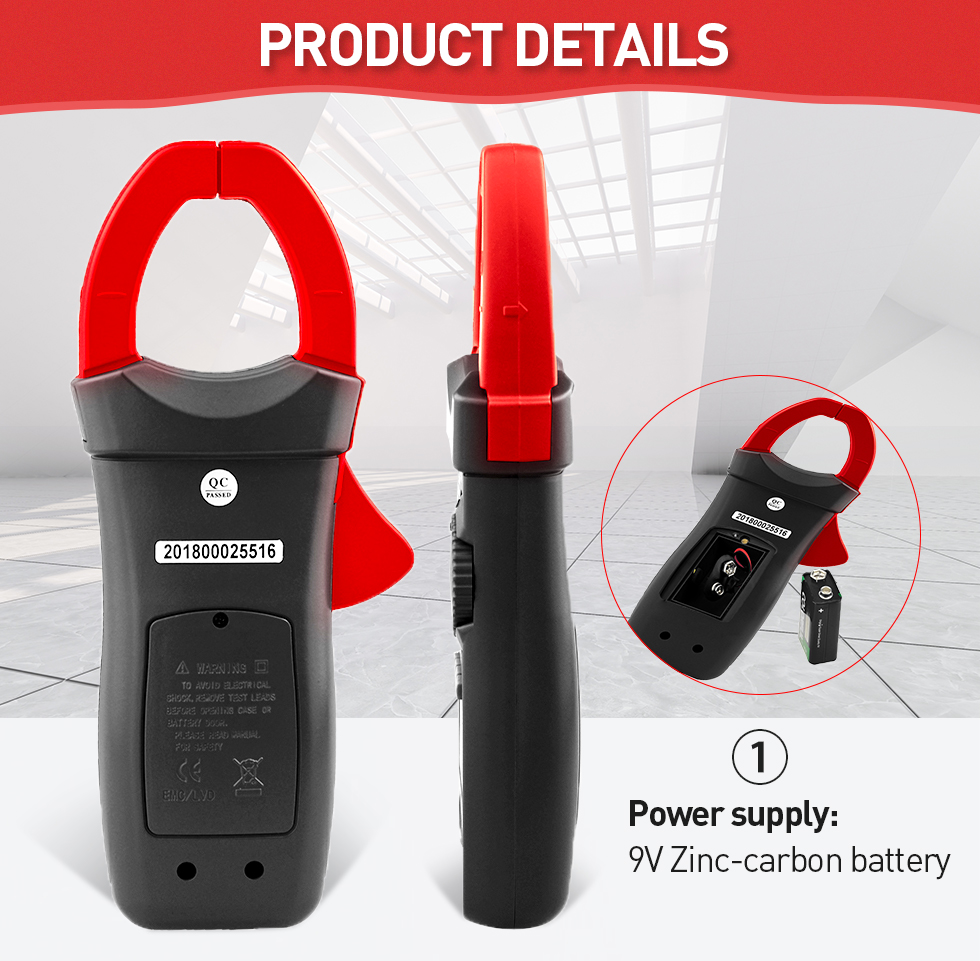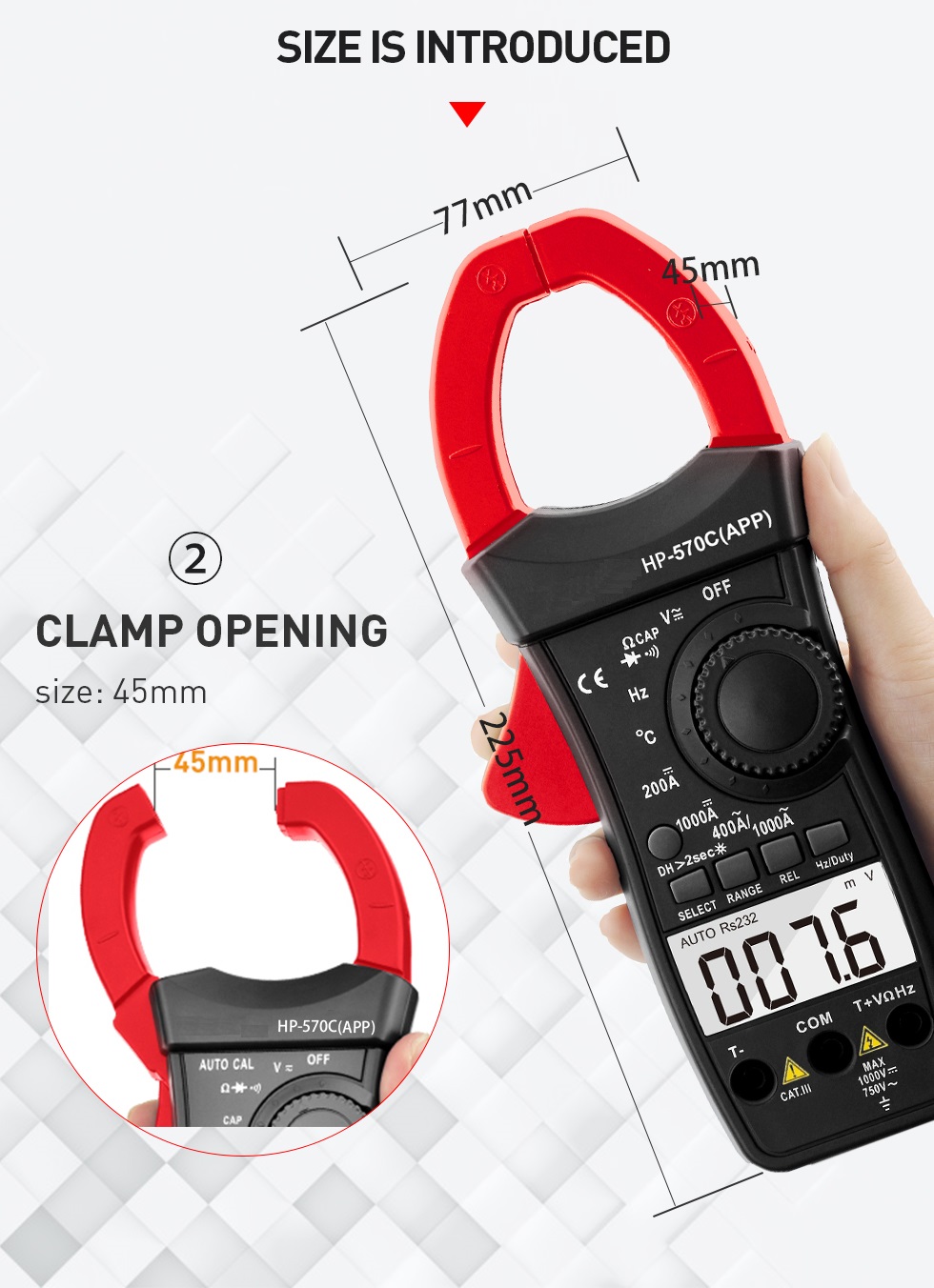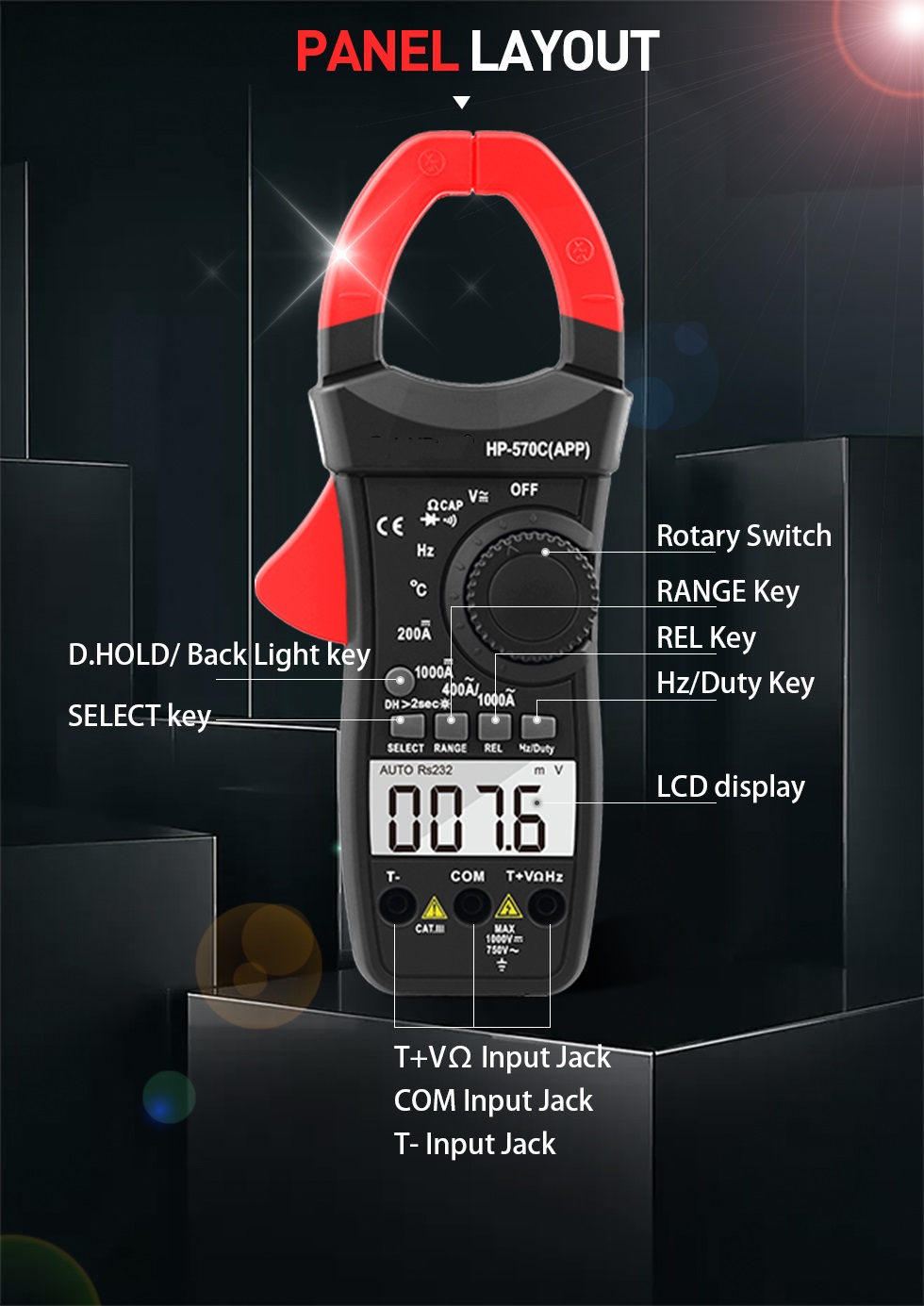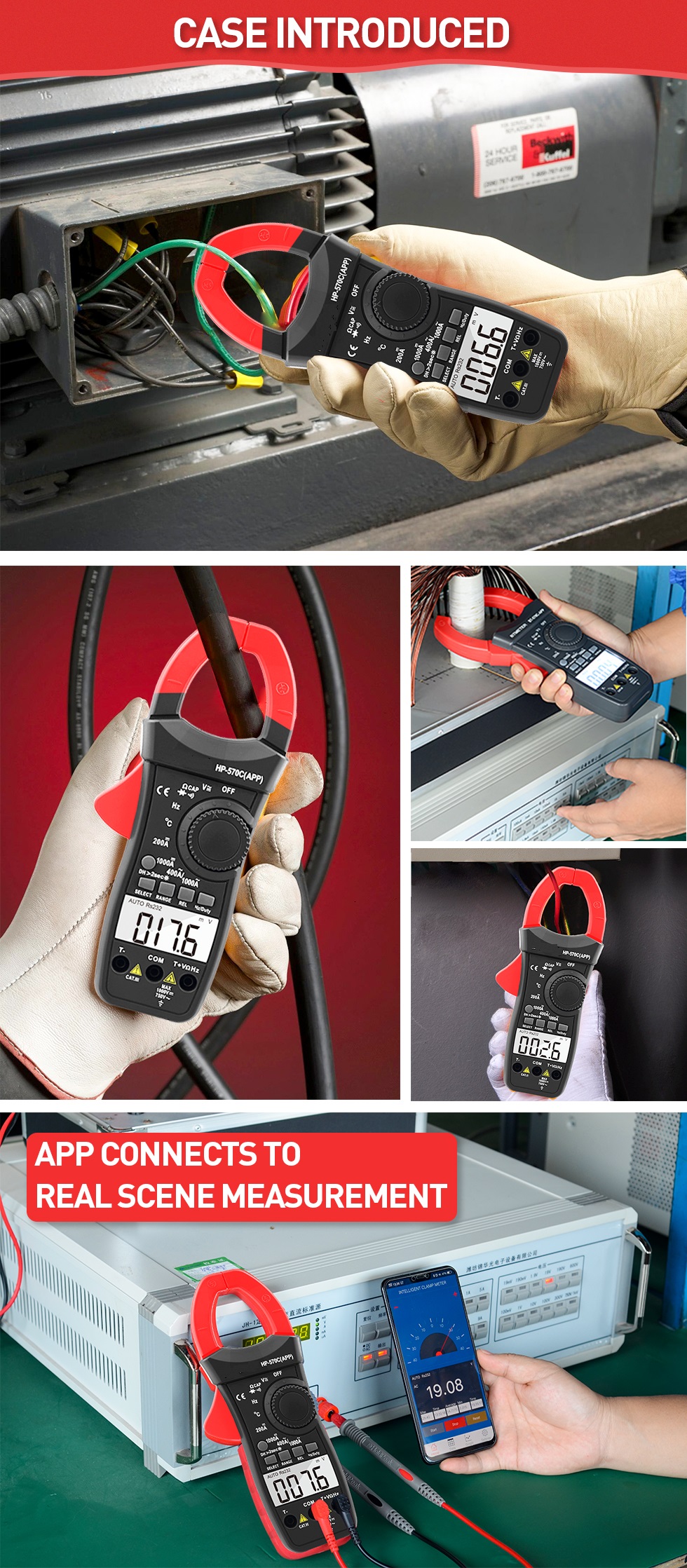 Product Specification:
Range Selection: Auto Ranging

Max Display: 4000

Duty cycle:0.1%~99.9%

Capacitance:51.2nF~100uF

Frequency:5.12Hz~5.12MHz(0.1%+5dgt)

Temperature:-20℃~1000℃(-4℉~1832℉)(3%+2dgt)

DC Voltage: 400mV/4V/40V/400V(0.5%+2dgt) 1000V(0.8%+2dgt)

AC Voltage: 4V/40V/400V(3.0%+10dgt) 750V(1.2%+3dgt)

DC Current: 200A(3.0%+10dgt)

1000A (0~800:±3.5%+10dgt; 800~1000:±6.5%+10dgt)

AC Current: 400A(3.0%+10dgt)

1000A(0~800:±3.5%+10dgt; 800~1000:±6.5%+10dgt)

Resistance: 400Ω(1.0%+3dgt)

4kΩ/40kΩ /400kΩ/4MΩ(1.0%+2dgt)

40MΩ(1.5%+3dgt)

Features:

√ Data Hold YES

√ Diode Test YES

√ Auto power off YES

√ Backlight Display YES

√ Overload P rotection YES

√ Phone APP Connection YES
1 * Holdpeak 570C-APP Clamp Meters

1 * Test Lead

1 * English Manual

1 * Storage Bag
The standard package don't include batteries. Because, the international air shipping forbid to ship liquid,powder and batteries,we can not put them in the package box. Hope you can understand buy them in your local store or supermarket.Thanks for your support!
Purchasing & Delivery
Before you make your purchase, it's helpful to know the measurements of the area you plan to place the furniture. You should also measure any doorways and hallways through which the furniture will pass to get to its final destination.

Picking up at the store
Shopify Shop requires that all products are properly inspected BEFORE you take it home to insure there are no surprises. Our team is happy to open all packages and will assist in the inspection process. We will then reseal packages for safe transport. We encourage all customers to bring furniture pads or blankets to protect the items during transport as well as rope or tie downs. Shopify Shop will not be responsible for damage that occurs after leaving the store or during transit. It is the purchaser's responsibility to make sure the correct items are picked up and in good condition.

Delivery
Customers are able to pick the next available delivery day that best fits their schedule. However, to route stops as efficiently as possible, Shopify Shop will provide the time frame. Customers will not be able to choose a time. You will be notified in advance of your scheduled time frame. Please make sure that a responsible adult (18 years or older) will be home at that time.
In preparation for your delivery, please remove existing furniture, pictures, mirrors, accessories, etc. to prevent damages. Also insure that the area where you would like your furniture placed is clear of any old furniture and any other items that may obstruct the passageway of the delivery team. Shopify Shop will deliver, assemble, and set-up your new furniture purchase and remove all packing materials from your home. Our delivery crews are not permitted to move your existing furniture or other household items. Delivery personnel will attempt to deliver the purchased items in a safe and controlled manner but will not attempt to place furniture if they feel it will result in damage to the product or your home. Delivery personnel are unable to remove doors, hoist furniture or carry furniture up more than 3 flights of stairs. An elevator must be available for deliveries to the 4th floor and above.
Other Customers also buy:
Translation missing: en.products.product.regular_price

$5.99

{"id":6041334153416,"title":"Digital Clamp Meter DC Current 4000 Counts AC\/DC Volt 1000A Handheld Tester","handle":"digital-clamp-meter-dc-current-4000-counts-ac-dc-volt-1000a-handheld-tester","description":"\u003cdiv data-mce-fragment=\"1\"\u003e\u003cspan data-mce-fragment=\"1\"\u003e\u003cstrong data-mce-fragment=\"1\"\u003eAbout Product:\u003c\/strong\u003e\u003c\/span\u003e\u003c\/div\u003e\n\u003cdiv data-mce-fragment=\"1\"\u003e\n\u003cul\u003e\n\u003cli\u003e\u003cspan data-mce-fragment=\"1\"\u003e【Wide Range Clamp Meter】 With 4000 counts display, the clamp meter can measure DC\/AC voltage;AC\/DC current,Resistance,Capacitance,Temperature,Frequency,Diode Test. The clamp meter has manual\/automatic ranging which can adjust the operation method according to your usage habits.The jaw size up to 1.77in\/45mm to measure a cable which is thick enough\u003c\/span\u003e\u003c\/li\u003e\n\u003cli\u003e\u003cspan data-mce-fragment=\"1\"\u003e【Multi-Function Multimeter】With Data hold, LCD Backlight, Relative value,Continuity buzzer,Connect to Phone by APP. Through the Backlight function, you can measure in the darkness and read the data clearly by the large LCD screen.\u003c\/span\u003e\u003c\/li\u003e\n\u003cli\u003e\u003cspan data-mce-fragment=\"1\"\u003e【Auto Connect To Your Phone Via Bluetooth】HP-570C-APP clamp multimeter come with APP Supported, you can connect to your smart phone via Bluetooth to monitor clamp meter measurement in real time. With this APP-Multimeter, you can transfer the data and analysis it in real time on your phone. The mobile APP can be installed on iPhone 4S iOS or Android 4.30 or higher.\u003c\/span\u003e\u003c\/li\u003e\n\u003cli\u003e\u003cspan data-mce-fragment=\"1\"\u003e【Safety \u0026amp; Over Load Protection】 HP-570C-APP Clamp Meter is up to the standards of IEC1010 Double Insulation, Pollution Degree 2, Over voltage Category Ⅲ and overload protection. It will show \"OL\" on the LCD if over range.\u003c\/span\u003e\u003c\/li\u003e\n\u003c\/ul\u003e\n\u003c\/div\u003e\n\u003cdiv data-mce-fragment=\"1\"\u003e\u003cspan data-mce-fragment=\"1\"\u003e\u003cstrong data-mce-fragment=\"1\"\u003e\u003cimg src=\"https:\/\/pg-cdn-a2.datacaciques.com\/00\/NDAy\/20\/10\/19\/578sngi3324w547p\/1d4d65bdcb7c3d0d.jpg\" data-mce-fragment=\"1\" data-mce-src=\"https:\/\/pg-cdn-a2.datacaciques.com\/00\/NDAy\/20\/10\/19\/578sngi3324w547p\/1d4d65bdcb7c3d0d.jpg\"\u003e\u003cimg src=\"https:\/\/pg-cdn-a2.datacaciques.com\/00\/NDAy\/20\/10\/19\/578sngi3324w547p\/a8a0343eab3ddb20.jpg\" data-mce-fragment=\"1\" data-mce-src=\"https:\/\/pg-cdn-a2.datacaciques.com\/00\/NDAy\/20\/10\/19\/578sngi3324w547p\/a8a0343eab3ddb20.jpg\"\u003e\u003cimg src=\"https:\/\/pg-cdn-a2.datacaciques.com\/00\/NDAy\/20\/10\/19\/578sngi3324w547p\/035d7c08ae1f9ac8.jpg\" data-mce-fragment=\"1\" data-mce-src=\"https:\/\/pg-cdn-a2.datacaciques.com\/00\/NDAy\/20\/10\/19\/578sngi3324w547p\/035d7c08ae1f9ac8.jpg\"\u003e\u003cimg src=\"https:\/\/pg-cdn-a2.datacaciques.com\/00\/NDAy\/20\/10\/19\/578sngi3324w547p\/396d7dae1157f399.jpg\" data-mce-fragment=\"1\" data-mce-src=\"https:\/\/pg-cdn-a2.datacaciques.com\/00\/NDAy\/20\/10\/19\/578sngi3324w547p\/396d7dae1157f399.jpg\"\u003e\u003cimg src=\"https:\/\/pg-cdn-a2.datacaciques.com\/00\/NDAy\/20\/10\/19\/578sngi3324w547p\/75c686f7e8728a9c.jpg\" data-mce-fragment=\"1\" data-mce-src=\"https:\/\/pg-cdn-a2.datacaciques.com\/00\/NDAy\/20\/10\/19\/578sngi3324w547p\/75c686f7e8728a9c.jpg\"\u003e\u003cimg src=\"https:\/\/pg-cdn-a2.datacaciques.com\/00\/NDAy\/20\/10\/19\/578sngi3324w547p\/ac49092a3a640d9f.jpg\" data-mce-fragment=\"1\" data-mce-src=\"https:\/\/pg-cdn-a2.datacaciques.com\/00\/NDAy\/20\/10\/19\/578sngi3324w547p\/ac49092a3a640d9f.jpg\"\u003e\u003c\/strong\u003e\u003c\/span\u003e\u003c\/div\u003e\n\u003cdiv data-mce-fragment=\"1\"\u003e\u003cspan data-mce-fragment=\"1\"\u003e\u003cstrong data-mce-fragment=\"1\"\u003eProduct Specification:\u003c\/strong\u003e\u003c\/span\u003e\u003c\/div\u003e\n\u003cdiv data-mce-fragment=\"1\"\u003e\n\u003cdiv data-mce-fragment=\"1\"\u003e\n\u003cul data-mce-fragment=\"1\"\u003e\n\u003cli data-mce-fragment=\"1\"\u003e\n\u003cp data-mce-fragment=\"1\"\u003e\u003cspan data-mce-fragment=\"1\"\u003eRange Selection: Auto Ranging\u003c\/span\u003e\u003c\/p\u003e\n\u003c\/li\u003e\n\u003cli data-mce-fragment=\"1\"\u003e\n\u003cp data-mce-fragment=\"1\"\u003e\u003cspan data-mce-fragment=\"1\"\u003eMax Display: 4000\u003c\/span\u003e\u003c\/p\u003e\n\u003c\/li\u003e\n\u003cli data-mce-fragment=\"1\"\u003e\n\u003cp data-mce-fragment=\"1\"\u003e\u003cspan data-mce-fragment=\"1\"\u003eDuty cycle:0.1%~99.9%\u003c\/span\u003e\u003c\/p\u003e\n\u003c\/li\u003e\n\u003cli data-mce-fragment=\"1\"\u003e\n\u003cp data-mce-fragment=\"1\"\u003e\u003cspan data-mce-fragment=\"1\"\u003eCapacitance:51.2nF~100uF\u003c\/span\u003e\u003c\/p\u003e\n\u003c\/li\u003e\n\u003cli data-mce-fragment=\"1\"\u003e\n\u003cp data-mce-fragment=\"1\"\u003e\u003cspan data-mce-fragment=\"1\"\u003eFrequency:5.12Hz~5.12MHz(0.1%+5dgt)\u003c\/span\u003e\u003c\/p\u003e\n\u003c\/li\u003e\n\u003cli data-mce-fragment=\"1\"\u003e\n\u003cp data-mce-fragment=\"1\"\u003e\u003cspan data-mce-fragment=\"1\"\u003eTemperature:-20℃~1000℃(-4℉~1832℉)(3%+2dgt)\u003c\/span\u003e\u003c\/p\u003e\n\u003c\/li\u003e\n\u003cli data-mce-fragment=\"1\"\u003e\n\u003cp data-mce-fragment=\"1\"\u003e\u003cspan data-mce-fragment=\"1\"\u003eDC Voltage: 400mV\/4V\/40V\/400V(0.5%+2dgt) 1000V(0.8%+2dgt)\u003c\/span\u003e\u003c\/p\u003e\n\u003c\/li\u003e\n\u003cli data-mce-fragment=\"1\"\u003e\n\u003cp data-mce-fragment=\"1\"\u003e\u003cspan data-mce-fragment=\"1\"\u003eAC Voltage: 4V\/40V\/400V(3.0%+10dgt) 750V(1.2%+3dgt)\u003c\/span\u003e\u003c\/p\u003e\n\u003c\/li\u003e\n\u003cli data-mce-fragment=\"1\"\u003e\n\u003cp data-mce-fragment=\"1\"\u003e\u003cspan data-mce-fragment=\"1\"\u003eDC Current: 200A(3.0%+10dgt)\u003c\/span\u003e\u003c\/p\u003e\n\u003c\/li\u003e\n\u003cli data-mce-fragment=\"1\"\u003e\n\u003cp data-mce-fragment=\"1\"\u003e\u003cspan data-mce-fragment=\"1\"\u003e1000A (0~800:±3.5%+10dgt; 800~1000:±6.5%+10dgt)\u003c\/span\u003e\u003c\/p\u003e\n\u003c\/li\u003e\n\u003cli data-mce-fragment=\"1\"\u003e\n\u003cp data-mce-fragment=\"1\"\u003e\u003cspan data-mce-fragment=\"1\"\u003eAC Current: 400A(3.0%+10dgt)\u003c\/span\u003e\u003c\/p\u003e\n\u003c\/li\u003e\n\u003cli data-mce-fragment=\"1\"\u003e\n\u003cp data-mce-fragment=\"1\"\u003e\u003cspan data-mce-fragment=\"1\"\u003e1000A(0~800:±3.5%+10dgt; 800~1000:±6.5%+10dgt)\u003c\/span\u003e\u003c\/p\u003e\n\u003c\/li\u003e\n\u003cli data-mce-fragment=\"1\"\u003e\n\u003cp data-mce-fragment=\"1\"\u003e\u003cspan data-mce-fragment=\"1\"\u003eResistance: 400Ω(1.0%+3dgt)\u003c\/span\u003e\u003c\/p\u003e\n\u003c\/li\u003e\n\u003cli data-mce-fragment=\"1\"\u003e\n\u003cp data-mce-fragment=\"1\"\u003e\u003cspan data-mce-fragment=\"1\"\u003e4kΩ\/40kΩ \/400kΩ\/4MΩ(1.0%+2dgt)\u003c\/span\u003e\u003c\/p\u003e\n\u003c\/li\u003e\n\u003cli data-mce-fragment=\"1\"\u003e\n\u003cp data-mce-fragment=\"1\"\u003e\u003cspan data-mce-fragment=\"1\"\u003e40MΩ(1.5%+3dgt)\u003c\/span\u003e\u003c\/p\u003e\n\u003cp data-mce-fragment=\"1\"\u003e\u003cspan data-mce-fragment=\"1\"\u003e\u003cstrong data-mce-fragment=\"1\"\u003eFeatures:\u003c\/strong\u003e\u003c\/span\u003e\u003c\/p\u003e\n\u003cp data-mce-fragment=\"1\"\u003e\u003cspan data-mce-fragment=\"1\"\u003e√ Data Hold YES\u003c\/span\u003e\u003c\/p\u003e\n\u003cp data-mce-fragment=\"1\"\u003e\u003cspan data-mce-fragment=\"1\"\u003e√ Diode Test YES\u003c\/span\u003e\u003c\/p\u003e\n\u003cp data-mce-fragment=\"1\"\u003e\u003cspan data-mce-fragment=\"1\"\u003e√ Auto power off YES\u003c\/span\u003e\u003c\/p\u003e\n\u003cp data-mce-fragment=\"1\"\u003e\u003cspan data-mce-fragment=\"1\"\u003e√ Backlight Display YES\u003c\/span\u003e\u003c\/p\u003e\n\u003cp data-mce-fragment=\"1\"\u003e\u003cspan data-mce-fragment=\"1\"\u003e√ Overload P rotection YES\u003c\/span\u003e\u003c\/p\u003e\n\u003cp data-mce-fragment=\"1\"\u003e\u003cspan data-mce-fragment=\"1\"\u003e√ Phone APP Connection YES\u003c\/span\u003e\u003c\/p\u003e\n\u003c\/li\u003e\n\u003c\/ul\u003e\n\u003cspan data-mce-fragment=\"1\" rwr=\"1\"\u003e\u003cimg alt=\"522343\" src=\"https:\/\/image.pushauction.com\/0\/0\/f6717b1d-988a-4448-be24-fb6726d8b456\/205a60a9-61ea-4ebc-9902-b38809d48c11.jpg\" data-mce-fragment=\"1\" data-mce-src=\"https:\/\/image.pushauction.com\/0\/0\/f6717b1d-988a-4448-be24-fb6726d8b456\/205a60a9-61ea-4ebc-9902-b38809d48c11.jpg\"\u003e\u003c\/span\u003e\n\u003c\/div\u003e\n\u003cdiv data-mce-fragment=\"1\"\u003e\n\u003cp data-mce-fragment=\"1\"\u003e\u003cspan data-mce-fragment=\"1\" rwr=\"1\"\u003e\u003cimg alt=\"522343\" src=\"https:\/\/image.pushauction.com\/0\/0\/f6717b1d-988a-4448-be24-fb6726d8b456\/cc70184d-9b46-4df5-89de-6192710e40cc.JPG\" data-mce-fragment=\"1\" data-mce-src=\"https:\/\/image.pushauction.com\/0\/0\/f6717b1d-988a-4448-be24-fb6726d8b456\/cc70184d-9b46-4df5-89de-6192710e40cc.JPG\"\u003e\u003c\/span\u003e\u003c\/p\u003e\n\u003cul data-mce-fragment=\"1\"\u003e\n\u003cli data-mce-fragment=\"1\"\u003e\u003cspan data-mce-fragment=\"1\"\u003e1 * Holdpeak 570C-APP Clamp Meters\u003c\/span\u003e\u003c\/li\u003e\n\u003cli data-mce-fragment=\"1\"\u003e\u003cspan data-mce-fragment=\"1\"\u003e1 * Test Lead\u003c\/span\u003e\u003c\/li\u003e\n\u003cli data-mce-fragment=\"1\"\u003e\u003cspan data-mce-fragment=\"1\"\u003e1 * English Manual\u003c\/span\u003e\u003c\/li\u003e\n\u003cli data-mce-fragment=\"1\"\u003e\u003cspan data-mce-fragment=\"1\"\u003e1 * Storage Bag\u003c\/span\u003e\u003c\/li\u003e\n\u003c\/ul\u003e\n\u003c\/div\u003e\n\u003cdiv data-mce-fragment=\"1\"\u003e\n\u003ch3 data-mce-fragment=\"1\"\u003e\u003cspan data-mce-fragment=\"1\"\u003e\u003ca data-mce-fragment=\"1\"\u003eNotice:\u003c\/a\u003e\u003c\/span\u003e\u003c\/h3\u003e\n\u003cul data-mce-fragment=\"1\"\u003e\n\u003cli data-mce-fragment=\"1\"\u003e\u003cspan data-mce-fragment=\"1\"\u003eThe standard package don't include batteries. Because, the international air shipping forbid to ship liquid,powder and batteries,we can not put them in the package box. Hope you can understand buy them in your local store or supermarket.Thanks for your support!\u003c\/span\u003e\u003c\/li\u003e\n\u003c\/ul\u003e\n\u003c\/div\u003e\n\u003c\/div\u003e","published_at":"2020-11-02T17:59:06+08:00","created_at":"2020-11-02T17:39:56+08:00","vendor":"DIYMORE","type":"","tags":[],"price":5099,"price_min":5099,"price_max":5099,"available":true,"price_varies":false,"compare_at_price":null,"compare_at_price_min":0,"compare_at_price_max":0,"compare_at_price_varies":false,"variants":[{"id":37402113999048,"title":"Default Title","option1":"Default Title","option2":null,"option3":null,"sku":"XQ0032","requires_shipping":true,"taxable":false,"featured_image":null,"available":true,"name":"Digital Clamp Meter DC Current 4000 Counts AC\/DC Volt 1000A Handheld Tester","public_title":null,"options":["Default Title"],"price":5099,"weight":0,"compare_at_price":null,"inventory_management":"shopify","barcode":"","requires_selling_plan":false,"selling_plan_allocations":[]}],"images":["\/\/www.diymore.cc\/cdn\/shop\/products\/XQ0032.jpg?v=1604309999","\/\/www.diymore.cc\/cdn\/shop\/products\/XQ0032_3.jpg?v=1604309999","\/\/www.diymore.cc\/cdn\/shop\/products\/XQ0032_4.jpg?v=1604309999","\/\/www.diymore.cc\/cdn\/shop\/products\/XQ0032_2.jpg?v=1604309999"],"featured_image":"\/\/www.diymore.cc\/cdn\/shop\/products\/XQ0032.jpg?v=1604309999","options":["Title"],"media":[{"alt":null,"id":14739445055688,"position":1,"preview_image":{"aspect_ratio":1.0,"height":1000,"width":1000,"src":"\/\/www.diymore.cc\/cdn\/shop\/products\/XQ0032.jpg?v=1604309999"},"aspect_ratio":1.0,"height":1000,"media_type":"image","src":"\/\/www.diymore.cc\/cdn\/shop\/products\/XQ0032.jpg?v=1604309999","width":1000},{"alt":null,"id":14739445088456,"position":2,"preview_image":{"aspect_ratio":1.0,"height":1000,"width":1000,"src":"\/\/www.diymore.cc\/cdn\/shop\/products\/XQ0032_3.jpg?v=1604309999"},"aspect_ratio":1.0,"height":1000,"media_type":"image","src":"\/\/www.diymore.cc\/cdn\/shop\/products\/XQ0032_3.jpg?v=1604309999","width":1000},{"alt":null,"id":14739445121224,"position":3,"preview_image":{"aspect_ratio":1.0,"height":1000,"width":1000,"src":"\/\/www.diymore.cc\/cdn\/shop\/products\/XQ0032_4.jpg?v=1604309999"},"aspect_ratio":1.0,"height":1000,"media_type":"image","src":"\/\/www.diymore.cc\/cdn\/shop\/products\/XQ0032_4.jpg?v=1604309999","width":1000},{"alt":null,"id":14739445153992,"position":4,"preview_image":{"aspect_ratio":1.0,"height":1000,"width":1000,"src":"\/\/www.diymore.cc\/cdn\/shop\/products\/XQ0032_2.jpg?v=1604309999"},"aspect_ratio":1.0,"height":1000,"media_type":"image","src":"\/\/www.diymore.cc\/cdn\/shop\/products\/XQ0032_2.jpg?v=1604309999","width":1000}],"requires_selling_plan":false,"selling_plan_groups":[],"content":"\u003cdiv data-mce-fragment=\"1\"\u003e\u003cspan data-mce-fragment=\"1\"\u003e\u003cstrong data-mce-fragment=\"1\"\u003eAbout Product:\u003c\/strong\u003e\u003c\/span\u003e\u003c\/div\u003e\n\u003cdiv data-mce-fragment=\"1\"\u003e\n\u003cul\u003e\n\u003cli\u003e\u003cspan data-mce-fragment=\"1\"\u003e【Wide Range Clamp Meter】 With 4000 counts display, the clamp meter can measure DC\/AC voltage;AC\/DC current,Resistance,Capacitance,Temperature,Frequency,Diode Test. The clamp meter has manual\/automatic ranging which can adjust the operation method according to your usage habits.The jaw size up to 1.77in\/45mm to measure a cable which is thick enough\u003c\/span\u003e\u003c\/li\u003e\n\u003cli\u003e\u003cspan data-mce-fragment=\"1\"\u003e【Multi-Function Multimeter】With Data hold, LCD Backlight, Relative value,Continuity buzzer,Connect to Phone by APP. Through the Backlight function, you can measure in the darkness and read the data clearly by the large LCD screen.\u003c\/span\u003e\u003c\/li\u003e\n\u003cli\u003e\u003cspan data-mce-fragment=\"1\"\u003e【Auto Connect To Your Phone Via Bluetooth】HP-570C-APP clamp multimeter come with APP Supported, you can connect to your smart phone via Bluetooth to monitor clamp meter measurement in real time. With this APP-Multimeter, you can transfer the data and analysis it in real time on your phone. The mobile APP can be installed on iPhone 4S iOS or Android 4.30 or higher.\u003c\/span\u003e\u003c\/li\u003e\n\u003cli\u003e\u003cspan data-mce-fragment=\"1\"\u003e【Safety \u0026amp; Over Load Protection】 HP-570C-APP Clamp Meter is up to the standards of IEC1010 Double Insulation, Pollution Degree 2, Over voltage Category Ⅲ and overload protection. It will show \"OL\" on the LCD if over range.\u003c\/span\u003e\u003c\/li\u003e\n\u003c\/ul\u003e\n\u003c\/div\u003e\n\u003cdiv data-mce-fragment=\"1\"\u003e\u003cspan data-mce-fragment=\"1\"\u003e\u003cstrong data-mce-fragment=\"1\"\u003e\u003cimg src=\"https:\/\/pg-cdn-a2.datacaciques.com\/00\/NDAy\/20\/10\/19\/578sngi3324w547p\/1d4d65bdcb7c3d0d.jpg\" data-mce-fragment=\"1\" data-mce-src=\"https:\/\/pg-cdn-a2.datacaciques.com\/00\/NDAy\/20\/10\/19\/578sngi3324w547p\/1d4d65bdcb7c3d0d.jpg\"\u003e\u003cimg src=\"https:\/\/pg-cdn-a2.datacaciques.com\/00\/NDAy\/20\/10\/19\/578sngi3324w547p\/a8a0343eab3ddb20.jpg\" data-mce-fragment=\"1\" data-mce-src=\"https:\/\/pg-cdn-a2.datacaciques.com\/00\/NDAy\/20\/10\/19\/578sngi3324w547p\/a8a0343eab3ddb20.jpg\"\u003e\u003cimg src=\"https:\/\/pg-cdn-a2.datacaciques.com\/00\/NDAy\/20\/10\/19\/578sngi3324w547p\/035d7c08ae1f9ac8.jpg\" data-mce-fragment=\"1\" data-mce-src=\"https:\/\/pg-cdn-a2.datacaciques.com\/00\/NDAy\/20\/10\/19\/578sngi3324w547p\/035d7c08ae1f9ac8.jpg\"\u003e\u003cimg src=\"https:\/\/pg-cdn-a2.datacaciques.com\/00\/NDAy\/20\/10\/19\/578sngi3324w547p\/396d7dae1157f399.jpg\" data-mce-fragment=\"1\" data-mce-src=\"https:\/\/pg-cdn-a2.datacaciques.com\/00\/NDAy\/20\/10\/19\/578sngi3324w547p\/396d7dae1157f399.jpg\"\u003e\u003cimg src=\"https:\/\/pg-cdn-a2.datacaciques.com\/00\/NDAy\/20\/10\/19\/578sngi3324w547p\/75c686f7e8728a9c.jpg\" data-mce-fragment=\"1\" data-mce-src=\"https:\/\/pg-cdn-a2.datacaciques.com\/00\/NDAy\/20\/10\/19\/578sngi3324w547p\/75c686f7e8728a9c.jpg\"\u003e\u003cimg src=\"https:\/\/pg-cdn-a2.datacaciques.com\/00\/NDAy\/20\/10\/19\/578sngi3324w547p\/ac49092a3a640d9f.jpg\" data-mce-fragment=\"1\" data-mce-src=\"https:\/\/pg-cdn-a2.datacaciques.com\/00\/NDAy\/20\/10\/19\/578sngi3324w547p\/ac49092a3a640d9f.jpg\"\u003e\u003c\/strong\u003e\u003c\/span\u003e\u003c\/div\u003e\n\u003cdiv data-mce-fragment=\"1\"\u003e\u003cspan data-mce-fragment=\"1\"\u003e\u003cstrong data-mce-fragment=\"1\"\u003eProduct Specification:\u003c\/strong\u003e\u003c\/span\u003e\u003c\/div\u003e\n\u003cdiv data-mce-fragment=\"1\"\u003e\n\u003cdiv data-mce-fragment=\"1\"\u003e\n\u003cul data-mce-fragment=\"1\"\u003e\n\u003cli data-mce-fragment=\"1\"\u003e\n\u003cp data-mce-fragment=\"1\"\u003e\u003cspan data-mce-fragment=\"1\"\u003eRange Selection: Auto Ranging\u003c\/span\u003e\u003c\/p\u003e\n\u003c\/li\u003e\n\u003cli data-mce-fragment=\"1\"\u003e\n\u003cp data-mce-fragment=\"1\"\u003e\u003cspan data-mce-fragment=\"1\"\u003eMax Display: 4000\u003c\/span\u003e\u003c\/p\u003e\n\u003c\/li\u003e\n\u003cli data-mce-fragment=\"1\"\u003e\n\u003cp data-mce-fragment=\"1\"\u003e\u003cspan data-mce-fragment=\"1\"\u003eDuty cycle:0.1%~99.9%\u003c\/span\u003e\u003c\/p\u003e\n\u003c\/li\u003e\n\u003cli data-mce-fragment=\"1\"\u003e\n\u003cp data-mce-fragment=\"1\"\u003e\u003cspan data-mce-fragment=\"1\"\u003eCapacitance:51.2nF~100uF\u003c\/span\u003e\u003c\/p\u003e\n\u003c\/li\u003e\n\u003cli data-mce-fragment=\"1\"\u003e\n\u003cp data-mce-fragment=\"1\"\u003e\u003cspan data-mce-fragment=\"1\"\u003eFrequency:5.12Hz~5.12MHz(0.1%+5dgt)\u003c\/span\u003e\u003c\/p\u003e\n\u003c\/li\u003e\n\u003cli data-mce-fragment=\"1\"\u003e\n\u003cp data-mce-fragment=\"1\"\u003e\u003cspan data-mce-fragment=\"1\"\u003eTemperature:-20℃~1000℃(-4℉~1832℉)(3%+2dgt)\u003c\/span\u003e\u003c\/p\u003e\n\u003c\/li\u003e\n\u003cli data-mce-fragment=\"1\"\u003e\n\u003cp data-mce-fragment=\"1\"\u003e\u003cspan data-mce-fragment=\"1\"\u003eDC Voltage: 400mV\/4V\/40V\/400V(0.5%+2dgt) 1000V(0.8%+2dgt)\u003c\/span\u003e\u003c\/p\u003e\n\u003c\/li\u003e\n\u003cli data-mce-fragment=\"1\"\u003e\n\u003cp data-mce-fragment=\"1\"\u003e\u003cspan data-mce-fragment=\"1\"\u003eAC Voltage: 4V\/40V\/400V(3.0%+10dgt) 750V(1.2%+3dgt)\u003c\/span\u003e\u003c\/p\u003e\n\u003c\/li\u003e\n\u003cli data-mce-fragment=\"1\"\u003e\n\u003cp data-mce-fragment=\"1\"\u003e\u003cspan data-mce-fragment=\"1\"\u003eDC Current: 200A(3.0%+10dgt)\u003c\/span\u003e\u003c\/p\u003e\n\u003c\/li\u003e\n\u003cli data-mce-fragment=\"1\"\u003e\n\u003cp data-mce-fragment=\"1\"\u003e\u003cspan data-mce-fragment=\"1\"\u003e1000A (0~800:±3.5%+10dgt; 800~1000:±6.5%+10dgt)\u003c\/span\u003e\u003c\/p\u003e\n\u003c\/li\u003e\n\u003cli data-mce-fragment=\"1\"\u003e\n\u003cp data-mce-fragment=\"1\"\u003e\u003cspan data-mce-fragment=\"1\"\u003eAC Current: 400A(3.0%+10dgt)\u003c\/span\u003e\u003c\/p\u003e\n\u003c\/li\u003e\n\u003cli data-mce-fragment=\"1\"\u003e\n\u003cp data-mce-fragment=\"1\"\u003e\u003cspan data-mce-fragment=\"1\"\u003e1000A(0~800:±3.5%+10dgt; 800~1000:±6.5%+10dgt)\u003c\/span\u003e\u003c\/p\u003e\n\u003c\/li\u003e\n\u003cli data-mce-fragment=\"1\"\u003e\n\u003cp data-mce-fragment=\"1\"\u003e\u003cspan data-mce-fragment=\"1\"\u003eResistance: 400Ω(1.0%+3dgt)\u003c\/span\u003e\u003c\/p\u003e\n\u003c\/li\u003e\n\u003cli data-mce-fragment=\"1\"\u003e\n\u003cp data-mce-fragment=\"1\"\u003e\u003cspan data-mce-fragment=\"1\"\u003e4kΩ\/40kΩ \/400kΩ\/4MΩ(1.0%+2dgt)\u003c\/span\u003e\u003c\/p\u003e\n\u003c\/li\u003e\n\u003cli data-mce-fragment=\"1\"\u003e\n\u003cp data-mce-fragment=\"1\"\u003e\u003cspan data-mce-fragment=\"1\"\u003e40MΩ(1.5%+3dgt)\u003c\/span\u003e\u003c\/p\u003e\n\u003cp data-mce-fragment=\"1\"\u003e\u003cspan data-mce-fragment=\"1\"\u003e\u003cstrong data-mce-fragment=\"1\"\u003eFeatures:\u003c\/strong\u003e\u003c\/span\u003e\u003c\/p\u003e\n\u003cp data-mce-fragment=\"1\"\u003e\u003cspan data-mce-fragment=\"1\"\u003e√ Data Hold YES\u003c\/span\u003e\u003c\/p\u003e\n\u003cp data-mce-fragment=\"1\"\u003e\u003cspan data-mce-fragment=\"1\"\u003e√ Diode Test YES\u003c\/span\u003e\u003c\/p\u003e\n\u003cp data-mce-fragment=\"1\"\u003e\u003cspan data-mce-fragment=\"1\"\u003e√ Auto power off YES\u003c\/span\u003e\u003c\/p\u003e\n\u003cp data-mce-fragment=\"1\"\u003e\u003cspan data-mce-fragment=\"1\"\u003e√ Backlight Display YES\u003c\/span\u003e\u003c\/p\u003e\n\u003cp data-mce-fragment=\"1\"\u003e\u003cspan data-mce-fragment=\"1\"\u003e√ Overload P rotection YES\u003c\/span\u003e\u003c\/p\u003e\n\u003cp data-mce-fragment=\"1\"\u003e\u003cspan data-mce-fragment=\"1\"\u003e√ Phone APP Connection YES\u003c\/span\u003e\u003c\/p\u003e\n\u003c\/li\u003e\n\u003c\/ul\u003e\n\u003cspan data-mce-fragment=\"1\" rwr=\"1\"\u003e\u003cimg alt=\"522343\" src=\"https:\/\/image.pushauction.com\/0\/0\/f6717b1d-988a-4448-be24-fb6726d8b456\/205a60a9-61ea-4ebc-9902-b38809d48c11.jpg\" data-mce-fragment=\"1\" data-mce-src=\"https:\/\/image.pushauction.com\/0\/0\/f6717b1d-988a-4448-be24-fb6726d8b456\/205a60a9-61ea-4ebc-9902-b38809d48c11.jpg\"\u003e\u003c\/span\u003e\n\u003c\/div\u003e\n\u003cdiv data-mce-fragment=\"1\"\u003e\n\u003cp data-mce-fragment=\"1\"\u003e\u003cspan data-mce-fragment=\"1\" rwr=\"1\"\u003e\u003cimg alt=\"522343\" src=\"https:\/\/image.pushauction.com\/0\/0\/f6717b1d-988a-4448-be24-fb6726d8b456\/cc70184d-9b46-4df5-89de-6192710e40cc.JPG\" data-mce-fragment=\"1\" data-mce-src=\"https:\/\/image.pushauction.com\/0\/0\/f6717b1d-988a-4448-be24-fb6726d8b456\/cc70184d-9b46-4df5-89de-6192710e40cc.JPG\"\u003e\u003c\/span\u003e\u003c\/p\u003e\n\u003cul data-mce-fragment=\"1\"\u003e\n\u003cli data-mce-fragment=\"1\"\u003e\u003cspan data-mce-fragment=\"1\"\u003e1 * Holdpeak 570C-APP Clamp Meters\u003c\/span\u003e\u003c\/li\u003e\n\u003cli data-mce-fragment=\"1\"\u003e\u003cspan data-mce-fragment=\"1\"\u003e1 * Test Lead\u003c\/span\u003e\u003c\/li\u003e\n\u003cli data-mce-fragment=\"1\"\u003e\u003cspan data-mce-fragment=\"1\"\u003e1 * English Manual\u003c\/span\u003e\u003c\/li\u003e\n\u003cli data-mce-fragment=\"1\"\u003e\u003cspan data-mce-fragment=\"1\"\u003e1 * Storage Bag\u003c\/span\u003e\u003c\/li\u003e\n\u003c\/ul\u003e\n\u003c\/div\u003e\n\u003cdiv data-mce-fragment=\"1\"\u003e\n\u003ch3 data-mce-fragment=\"1\"\u003e\u003cspan data-mce-fragment=\"1\"\u003e\u003ca data-mce-fragment=\"1\"\u003eNotice:\u003c\/a\u003e\u003c\/span\u003e\u003c\/h3\u003e\n\u003cul data-mce-fragment=\"1\"\u003e\n\u003cli data-mce-fragment=\"1\"\u003e\u003cspan data-mce-fragment=\"1\"\u003eThe standard package don't include batteries. Because, the international air shipping forbid to ship liquid,powder and batteries,we can not put them in the package box. Hope you can understand buy them in your local store or supermarket.Thanks for your support!\u003c\/span\u003e\u003c\/li\u003e\n\u003c\/ul\u003e\n\u003c\/div\u003e\n\u003c\/div\u003e"}

Translation missing: en.products.product.regular_price

$23.99

{"id":6041334153416,"title":"Digital Clamp Meter DC Current 4000 Counts AC\/DC Volt 1000A Handheld Tester","handle":"digital-clamp-meter-dc-current-4000-counts-ac-dc-volt-1000a-handheld-tester","description":"\u003cdiv data-mce-fragment=\"1\"\u003e\u003cspan data-mce-fragment=\"1\"\u003e\u003cstrong data-mce-fragment=\"1\"\u003eAbout Product:\u003c\/strong\u003e\u003c\/span\u003e\u003c\/div\u003e\n\u003cdiv data-mce-fragment=\"1\"\u003e\n\u003cul\u003e\n\u003cli\u003e\u003cspan data-mce-fragment=\"1\"\u003e【Wide Range Clamp Meter】 With 4000 counts display, the clamp meter can measure DC\/AC voltage;AC\/DC current,Resistance,Capacitance,Temperature,Frequency,Diode Test. The clamp meter has manual\/automatic ranging which can adjust the operation method according to your usage habits.The jaw size up to 1.77in\/45mm to measure a cable which is thick enough\u003c\/span\u003e\u003c\/li\u003e\n\u003cli\u003e\u003cspan data-mce-fragment=\"1\"\u003e【Multi-Function Multimeter】With Data hold, LCD Backlight, Relative value,Continuity buzzer,Connect to Phone by APP. Through the Backlight function, you can measure in the darkness and read the data clearly by the large LCD screen.\u003c\/span\u003e\u003c\/li\u003e\n\u003cli\u003e\u003cspan data-mce-fragment=\"1\"\u003e【Auto Connect To Your Phone Via Bluetooth】HP-570C-APP clamp multimeter come with APP Supported, you can connect to your smart phone via Bluetooth to monitor clamp meter measurement in real time. With this APP-Multimeter, you can transfer the data and analysis it in real time on your phone. The mobile APP can be installed on iPhone 4S iOS or Android 4.30 or higher.\u003c\/span\u003e\u003c\/li\u003e\n\u003cli\u003e\u003cspan data-mce-fragment=\"1\"\u003e【Safety \u0026amp; Over Load Protection】 HP-570C-APP Clamp Meter is up to the standards of IEC1010 Double Insulation, Pollution Degree 2, Over voltage Category Ⅲ and overload protection. It will show \"OL\" on the LCD if over range.\u003c\/span\u003e\u003c\/li\u003e\n\u003c\/ul\u003e\n\u003c\/div\u003e\n\u003cdiv data-mce-fragment=\"1\"\u003e\u003cspan data-mce-fragment=\"1\"\u003e\u003cstrong data-mce-fragment=\"1\"\u003e\u003cimg src=\"https:\/\/pg-cdn-a2.datacaciques.com\/00\/NDAy\/20\/10\/19\/578sngi3324w547p\/1d4d65bdcb7c3d0d.jpg\" data-mce-fragment=\"1\" data-mce-src=\"https:\/\/pg-cdn-a2.datacaciques.com\/00\/NDAy\/20\/10\/19\/578sngi3324w547p\/1d4d65bdcb7c3d0d.jpg\"\u003e\u003cimg src=\"https:\/\/pg-cdn-a2.datacaciques.com\/00\/NDAy\/20\/10\/19\/578sngi3324w547p\/a8a0343eab3ddb20.jpg\" data-mce-fragment=\"1\" data-mce-src=\"https:\/\/pg-cdn-a2.datacaciques.com\/00\/NDAy\/20\/10\/19\/578sngi3324w547p\/a8a0343eab3ddb20.jpg\"\u003e\u003cimg src=\"https:\/\/pg-cdn-a2.datacaciques.com\/00\/NDAy\/20\/10\/19\/578sngi3324w547p\/035d7c08ae1f9ac8.jpg\" data-mce-fragment=\"1\" data-mce-src=\"https:\/\/pg-cdn-a2.datacaciques.com\/00\/NDAy\/20\/10\/19\/578sngi3324w547p\/035d7c08ae1f9ac8.jpg\"\u003e\u003cimg src=\"https:\/\/pg-cdn-a2.datacaciques.com\/00\/NDAy\/20\/10\/19\/578sngi3324w547p\/396d7dae1157f399.jpg\" data-mce-fragment=\"1\" data-mce-src=\"https:\/\/pg-cdn-a2.datacaciques.com\/00\/NDAy\/20\/10\/19\/578sngi3324w547p\/396d7dae1157f399.jpg\"\u003e\u003cimg src=\"https:\/\/pg-cdn-a2.datacaciques.com\/00\/NDAy\/20\/10\/19\/578sngi3324w547p\/75c686f7e8728a9c.jpg\" data-mce-fragment=\"1\" data-mce-src=\"https:\/\/pg-cdn-a2.datacaciques.com\/00\/NDAy\/20\/10\/19\/578sngi3324w547p\/75c686f7e8728a9c.jpg\"\u003e\u003cimg src=\"https:\/\/pg-cdn-a2.datacaciques.com\/00\/NDAy\/20\/10\/19\/578sngi3324w547p\/ac49092a3a640d9f.jpg\" data-mce-fragment=\"1\" data-mce-src=\"https:\/\/pg-cdn-a2.datacaciques.com\/00\/NDAy\/20\/10\/19\/578sngi3324w547p\/ac49092a3a640d9f.jpg\"\u003e\u003c\/strong\u003e\u003c\/span\u003e\u003c\/div\u003e\n\u003cdiv data-mce-fragment=\"1\"\u003e\u003cspan data-mce-fragment=\"1\"\u003e\u003cstrong data-mce-fragment=\"1\"\u003eProduct Specification:\u003c\/strong\u003e\u003c\/span\u003e\u003c\/div\u003e\n\u003cdiv data-mce-fragment=\"1\"\u003e\n\u003cdiv data-mce-fragment=\"1\"\u003e\n\u003cul data-mce-fragment=\"1\"\u003e\n\u003cli data-mce-fragment=\"1\"\u003e\n\u003cp data-mce-fragment=\"1\"\u003e\u003cspan data-mce-fragment=\"1\"\u003eRange Selection: Auto Ranging\u003c\/span\u003e\u003c\/p\u003e\n\u003c\/li\u003e\n\u003cli data-mce-fragment=\"1\"\u003e\n\u003cp data-mce-fragment=\"1\"\u003e\u003cspan data-mce-fragment=\"1\"\u003eMax Display: 4000\u003c\/span\u003e\u003c\/p\u003e\n\u003c\/li\u003e\n\u003cli data-mce-fragment=\"1\"\u003e\n\u003cp data-mce-fragment=\"1\"\u003e\u003cspan data-mce-fragment=\"1\"\u003eDuty cycle:0.1%~99.9%\u003c\/span\u003e\u003c\/p\u003e\n\u003c\/li\u003e\n\u003cli data-mce-fragment=\"1\"\u003e\n\u003cp data-mce-fragment=\"1\"\u003e\u003cspan data-mce-fragment=\"1\"\u003eCapacitance:51.2nF~100uF\u003c\/span\u003e\u003c\/p\u003e\n\u003c\/li\u003e\n\u003cli data-mce-fragment=\"1\"\u003e\n\u003cp data-mce-fragment=\"1\"\u003e\u003cspan data-mce-fragment=\"1\"\u003eFrequency:5.12Hz~5.12MHz(0.1%+5dgt)\u003c\/span\u003e\u003c\/p\u003e\n\u003c\/li\u003e\n\u003cli data-mce-fragment=\"1\"\u003e\n\u003cp data-mce-fragment=\"1\"\u003e\u003cspan data-mce-fragment=\"1\"\u003eTemperature:-20℃~1000℃(-4℉~1832℉)(3%+2dgt)\u003c\/span\u003e\u003c\/p\u003e\n\u003c\/li\u003e\n\u003cli data-mce-fragment=\"1\"\u003e\n\u003cp data-mce-fragment=\"1\"\u003e\u003cspan data-mce-fragment=\"1\"\u003eDC Voltage: 400mV\/4V\/40V\/400V(0.5%+2dgt) 1000V(0.8%+2dgt)\u003c\/span\u003e\u003c\/p\u003e\n\u003c\/li\u003e\n\u003cli data-mce-fragment=\"1\"\u003e\n\u003cp data-mce-fragment=\"1\"\u003e\u003cspan data-mce-fragment=\"1\"\u003eAC Voltage: 4V\/40V\/400V(3.0%+10dgt) 750V(1.2%+3dgt)\u003c\/span\u003e\u003c\/p\u003e\n\u003c\/li\u003e\n\u003cli data-mce-fragment=\"1\"\u003e\n\u003cp data-mce-fragment=\"1\"\u003e\u003cspan data-mce-fragment=\"1\"\u003eDC Current: 200A(3.0%+10dgt)\u003c\/span\u003e\u003c\/p\u003e\n\u003c\/li\u003e\n\u003cli data-mce-fragment=\"1\"\u003e\n\u003cp data-mce-fragment=\"1\"\u003e\u003cspan data-mce-fragment=\"1\"\u003e1000A (0~800:±3.5%+10dgt; 800~1000:±6.5%+10dgt)\u003c\/span\u003e\u003c\/p\u003e\n\u003c\/li\u003e\n\u003cli data-mce-fragment=\"1\"\u003e\n\u003cp data-mce-fragment=\"1\"\u003e\u003cspan data-mce-fragment=\"1\"\u003eAC Current: 400A(3.0%+10dgt)\u003c\/span\u003e\u003c\/p\u003e\n\u003c\/li\u003e\n\u003cli data-mce-fragment=\"1\"\u003e\n\u003cp data-mce-fragment=\"1\"\u003e\u003cspan data-mce-fragment=\"1\"\u003e1000A(0~800:±3.5%+10dgt; 800~1000:±6.5%+10dgt)\u003c\/span\u003e\u003c\/p\u003e\n\u003c\/li\u003e\n\u003cli data-mce-fragment=\"1\"\u003e\n\u003cp data-mce-fragment=\"1\"\u003e\u003cspan data-mce-fragment=\"1\"\u003eResistance: 400Ω(1.0%+3dgt)\u003c\/span\u003e\u003c\/p\u003e\n\u003c\/li\u003e\n\u003cli data-mce-fragment=\"1\"\u003e\n\u003cp data-mce-fragment=\"1\"\u003e\u003cspan data-mce-fragment=\"1\"\u003e4kΩ\/40kΩ \/400kΩ\/4MΩ(1.0%+2dgt)\u003c\/span\u003e\u003c\/p\u003e\n\u003c\/li\u003e\n\u003cli data-mce-fragment=\"1\"\u003e\n\u003cp data-mce-fragment=\"1\"\u003e\u003cspan data-mce-fragment=\"1\"\u003e40MΩ(1.5%+3dgt)\u003c\/span\u003e\u003c\/p\u003e\n\u003cp data-mce-fragment=\"1\"\u003e\u003cspan data-mce-fragment=\"1\"\u003e\u003cstrong data-mce-fragment=\"1\"\u003eFeatures:\u003c\/strong\u003e\u003c\/span\u003e\u003c\/p\u003e\n\u003cp data-mce-fragment=\"1\"\u003e\u003cspan data-mce-fragment=\"1\"\u003e√ Data Hold YES\u003c\/span\u003e\u003c\/p\u003e\n\u003cp data-mce-fragment=\"1\"\u003e\u003cspan data-mce-fragment=\"1\"\u003e√ Diode Test YES\u003c\/span\u003e\u003c\/p\u003e\n\u003cp data-mce-fragment=\"1\"\u003e\u003cspan data-mce-fragment=\"1\"\u003e√ Auto power off YES\u003c\/span\u003e\u003c\/p\u003e\n\u003cp data-mce-fragment=\"1\"\u003e\u003cspan data-mce-fragment=\"1\"\u003e√ Backlight Display YES\u003c\/span\u003e\u003c\/p\u003e\n\u003cp data-mce-fragment=\"1\"\u003e\u003cspan data-mce-fragment=\"1\"\u003e√ Overload P rotection YES\u003c\/span\u003e\u003c\/p\u003e\n\u003cp data-mce-fragment=\"1\"\u003e\u003cspan data-mce-fragment=\"1\"\u003e√ Phone APP Connection YES\u003c\/span\u003e\u003c\/p\u003e\n\u003c\/li\u003e\n\u003c\/ul\u003e\n\u003cspan data-mce-fragment=\"1\" rwr=\"1\"\u003e\u003cimg alt=\"522343\" src=\"https:\/\/image.pushauction.com\/0\/0\/f6717b1d-988a-4448-be24-fb6726d8b456\/205a60a9-61ea-4ebc-9902-b38809d48c11.jpg\" data-mce-fragment=\"1\" data-mce-src=\"https:\/\/image.pushauction.com\/0\/0\/f6717b1d-988a-4448-be24-fb6726d8b456\/205a60a9-61ea-4ebc-9902-b38809d48c11.jpg\"\u003e\u003c\/span\u003e\n\u003c\/div\u003e\n\u003cdiv data-mce-fragment=\"1\"\u003e\n\u003cp data-mce-fragment=\"1\"\u003e\u003cspan data-mce-fragment=\"1\" rwr=\"1\"\u003e\u003cimg alt=\"522343\" src=\"https:\/\/image.pushauction.com\/0\/0\/f6717b1d-988a-4448-be24-fb6726d8b456\/cc70184d-9b46-4df5-89de-6192710e40cc.JPG\" data-mce-fragment=\"1\" data-mce-src=\"https:\/\/image.pushauction.com\/0\/0\/f6717b1d-988a-4448-be24-fb6726d8b456\/cc70184d-9b46-4df5-89de-6192710e40cc.JPG\"\u003e\u003c\/span\u003e\u003c\/p\u003e\n\u003cul data-mce-fragment=\"1\"\u003e\n\u003cli data-mce-fragment=\"1\"\u003e\u003cspan data-mce-fragment=\"1\"\u003e1 * Holdpeak 570C-APP Clamp Meters\u003c\/span\u003e\u003c\/li\u003e\n\u003cli data-mce-fragment=\"1\"\u003e\u003cspan data-mce-fragment=\"1\"\u003e1 * Test Lead\u003c\/span\u003e\u003c\/li\u003e\n\u003cli data-mce-fragment=\"1\"\u003e\u003cspan data-mce-fragment=\"1\"\u003e1 * English Manual\u003c\/span\u003e\u003c\/li\u003e\n\u003cli data-mce-fragment=\"1\"\u003e\u003cspan data-mce-fragment=\"1\"\u003e1 * Storage Bag\u003c\/span\u003e\u003c\/li\u003e\n\u003c\/ul\u003e\n\u003c\/div\u003e\n\u003cdiv data-mce-fragment=\"1\"\u003e\n\u003ch3 data-mce-fragment=\"1\"\u003e\u003cspan data-mce-fragment=\"1\"\u003e\u003ca data-mce-fragment=\"1\"\u003eNotice:\u003c\/a\u003e\u003c\/span\u003e\u003c\/h3\u003e\n\u003cul data-mce-fragment=\"1\"\u003e\n\u003cli data-mce-fragment=\"1\"\u003e\u003cspan data-mce-fragment=\"1\"\u003eThe standard package don't include batteries. Because, the international air shipping forbid to ship liquid,powder and batteries,we can not put them in the package box. Hope you can understand buy them in your local store or supermarket.Thanks for your support!\u003c\/span\u003e\u003c\/li\u003e\n\u003c\/ul\u003e\n\u003c\/div\u003e\n\u003c\/div\u003e","published_at":"2020-11-02T17:59:06+08:00","created_at":"2020-11-02T17:39:56+08:00","vendor":"DIYMORE","type":"","tags":[],"price":5099,"price_min":5099,"price_max":5099,"available":true,"price_varies":false,"compare_at_price":null,"compare_at_price_min":0,"compare_at_price_max":0,"compare_at_price_varies":false,"variants":[{"id":37402113999048,"title":"Default Title","option1":"Default Title","option2":null,"option3":null,"sku":"XQ0032","requires_shipping":true,"taxable":false,"featured_image":null,"available":true,"name":"Digital Clamp Meter DC Current 4000 Counts AC\/DC Volt 1000A Handheld Tester","public_title":null,"options":["Default Title"],"price":5099,"weight":0,"compare_at_price":null,"inventory_management":"shopify","barcode":"","requires_selling_plan":false,"selling_plan_allocations":[]}],"images":["\/\/www.diymore.cc\/cdn\/shop\/products\/XQ0032.jpg?v=1604309999","\/\/www.diymore.cc\/cdn\/shop\/products\/XQ0032_3.jpg?v=1604309999","\/\/www.diymore.cc\/cdn\/shop\/products\/XQ0032_4.jpg?v=1604309999","\/\/www.diymore.cc\/cdn\/shop\/products\/XQ0032_2.jpg?v=1604309999"],"featured_image":"\/\/www.diymore.cc\/cdn\/shop\/products\/XQ0032.jpg?v=1604309999","options":["Title"],"media":[{"alt":null,"id":14739445055688,"position":1,"preview_image":{"aspect_ratio":1.0,"height":1000,"width":1000,"src":"\/\/www.diymore.cc\/cdn\/shop\/products\/XQ0032.jpg?v=1604309999"},"aspect_ratio":1.0,"height":1000,"media_type":"image","src":"\/\/www.diymore.cc\/cdn\/shop\/products\/XQ0032.jpg?v=1604309999","width":1000},{"alt":null,"id":14739445088456,"position":2,"preview_image":{"aspect_ratio":1.0,"height":1000,"width":1000,"src":"\/\/www.diymore.cc\/cdn\/shop\/products\/XQ0032_3.jpg?v=1604309999"},"aspect_ratio":1.0,"height":1000,"media_type":"image","src":"\/\/www.diymore.cc\/cdn\/shop\/products\/XQ0032_3.jpg?v=1604309999","width":1000},{"alt":null,"id":14739445121224,"position":3,"preview_image":{"aspect_ratio":1.0,"height":1000,"width":1000,"src":"\/\/www.diymore.cc\/cdn\/shop\/products\/XQ0032_4.jpg?v=1604309999"},"aspect_ratio":1.0,"height":1000,"media_type":"image","src":"\/\/www.diymore.cc\/cdn\/shop\/products\/XQ0032_4.jpg?v=1604309999","width":1000},{"alt":null,"id":14739445153992,"position":4,"preview_image":{"aspect_ratio":1.0,"height":1000,"width":1000,"src":"\/\/www.diymore.cc\/cdn\/shop\/products\/XQ0032_2.jpg?v=1604309999"},"aspect_ratio":1.0,"height":1000,"media_type":"image","src":"\/\/www.diymore.cc\/cdn\/shop\/products\/XQ0032_2.jpg?v=1604309999","width":1000}],"requires_selling_plan":false,"selling_plan_groups":[],"content":"\u003cdiv data-mce-fragment=\"1\"\u003e\u003cspan data-mce-fragment=\"1\"\u003e\u003cstrong data-mce-fragment=\"1\"\u003eAbout Product:\u003c\/strong\u003e\u003c\/span\u003e\u003c\/div\u003e\n\u003cdiv data-mce-fragment=\"1\"\u003e\n\u003cul\u003e\n\u003cli\u003e\u003cspan data-mce-fragment=\"1\"\u003e【Wide Range Clamp Meter】 With 4000 counts display, the clamp meter can measure DC\/AC voltage;AC\/DC current,Resistance,Capacitance,Temperature,Frequency,Diode Test. The clamp meter has manual\/automatic ranging which can adjust the operation method according to your usage habits.The jaw size up to 1.77in\/45mm to measure a cable which is thick enough\u003c\/span\u003e\u003c\/li\u003e\n\u003cli\u003e\u003cspan data-mce-fragment=\"1\"\u003e【Multi-Function Multimeter】With Data hold, LCD Backlight, Relative value,Continuity buzzer,Connect to Phone by APP. Through the Backlight function, you can measure in the darkness and read the data clearly by the large LCD screen.\u003c\/span\u003e\u003c\/li\u003e\n\u003cli\u003e\u003cspan data-mce-fragment=\"1\"\u003e【Auto Connect To Your Phone Via Bluetooth】HP-570C-APP clamp multimeter come with APP Supported, you can connect to your smart phone via Bluetooth to monitor clamp meter measurement in real time. With this APP-Multimeter, you can transfer the data and analysis it in real time on your phone. The mobile APP can be installed on iPhone 4S iOS or Android 4.30 or higher.\u003c\/span\u003e\u003c\/li\u003e\n\u003cli\u003e\u003cspan data-mce-fragment=\"1\"\u003e【Safety \u0026amp; Over Load Protection】 HP-570C-APP Clamp Meter is up to the standards of IEC1010 Double Insulation, Pollution Degree 2, Over voltage Category Ⅲ and overload protection. It will show \"OL\" on the LCD if over range.\u003c\/span\u003e\u003c\/li\u003e\n\u003c\/ul\u003e\n\u003c\/div\u003e\n\u003cdiv data-mce-fragment=\"1\"\u003e\u003cspan data-mce-fragment=\"1\"\u003e\u003cstrong data-mce-fragment=\"1\"\u003e\u003cimg src=\"https:\/\/pg-cdn-a2.datacaciques.com\/00\/NDAy\/20\/10\/19\/578sngi3324w547p\/1d4d65bdcb7c3d0d.jpg\" data-mce-fragment=\"1\" data-mce-src=\"https:\/\/pg-cdn-a2.datacaciques.com\/00\/NDAy\/20\/10\/19\/578sngi3324w547p\/1d4d65bdcb7c3d0d.jpg\"\u003e\u003cimg src=\"https:\/\/pg-cdn-a2.datacaciques.com\/00\/NDAy\/20\/10\/19\/578sngi3324w547p\/a8a0343eab3ddb20.jpg\" data-mce-fragment=\"1\" data-mce-src=\"https:\/\/pg-cdn-a2.datacaciques.com\/00\/NDAy\/20\/10\/19\/578sngi3324w547p\/a8a0343eab3ddb20.jpg\"\u003e\u003cimg src=\"https:\/\/pg-cdn-a2.datacaciques.com\/00\/NDAy\/20\/10\/19\/578sngi3324w547p\/035d7c08ae1f9ac8.jpg\" data-mce-fragment=\"1\" data-mce-src=\"https:\/\/pg-cdn-a2.datacaciques.com\/00\/NDAy\/20\/10\/19\/578sngi3324w547p\/035d7c08ae1f9ac8.jpg\"\u003e\u003cimg src=\"https:\/\/pg-cdn-a2.datacaciques.com\/00\/NDAy\/20\/10\/19\/578sngi3324w547p\/396d7dae1157f399.jpg\" data-mce-fragment=\"1\" data-mce-src=\"https:\/\/pg-cdn-a2.datacaciques.com\/00\/NDAy\/20\/10\/19\/578sngi3324w547p\/396d7dae1157f399.jpg\"\u003e\u003cimg src=\"https:\/\/pg-cdn-a2.datacaciques.com\/00\/NDAy\/20\/10\/19\/578sngi3324w547p\/75c686f7e8728a9c.jpg\" data-mce-fragment=\"1\" data-mce-src=\"https:\/\/pg-cdn-a2.datacaciques.com\/00\/NDAy\/20\/10\/19\/578sngi3324w547p\/75c686f7e8728a9c.jpg\"\u003e\u003cimg src=\"https:\/\/pg-cdn-a2.datacaciques.com\/00\/NDAy\/20\/10\/19\/578sngi3324w547p\/ac49092a3a640d9f.jpg\" data-mce-fragment=\"1\" data-mce-src=\"https:\/\/pg-cdn-a2.datacaciques.com\/00\/NDAy\/20\/10\/19\/578sngi3324w547p\/ac49092a3a640d9f.jpg\"\u003e\u003c\/strong\u003e\u003c\/span\u003e\u003c\/div\u003e\n\u003cdiv data-mce-fragment=\"1\"\u003e\u003cspan data-mce-fragment=\"1\"\u003e\u003cstrong data-mce-fragment=\"1\"\u003eProduct Specification:\u003c\/strong\u003e\u003c\/span\u003e\u003c\/div\u003e\n\u003cdiv data-mce-fragment=\"1\"\u003e\n\u003cdiv data-mce-fragment=\"1\"\u003e\n\u003cul data-mce-fragment=\"1\"\u003e\n\u003cli data-mce-fragment=\"1\"\u003e\n\u003cp data-mce-fragment=\"1\"\u003e\u003cspan data-mce-fragment=\"1\"\u003eRange Selection: Auto Ranging\u003c\/span\u003e\u003c\/p\u003e\n\u003c\/li\u003e\n\u003cli data-mce-fragment=\"1\"\u003e\n\u003cp data-mce-fragment=\"1\"\u003e\u003cspan data-mce-fragment=\"1\"\u003eMax Display: 4000\u003c\/span\u003e\u003c\/p\u003e\n\u003c\/li\u003e\n\u003cli data-mce-fragment=\"1\"\u003e\n\u003cp data-mce-fragment=\"1\"\u003e\u003cspan data-mce-fragment=\"1\"\u003eDuty cycle:0.1%~99.9%\u003c\/span\u003e\u003c\/p\u003e\n\u003c\/li\u003e\n\u003cli data-mce-fragment=\"1\"\u003e\n\u003cp data-mce-fragment=\"1\"\u003e\u003cspan data-mce-fragment=\"1\"\u003eCapacitance:51.2nF~100uF\u003c\/span\u003e\u003c\/p\u003e\n\u003c\/li\u003e\n\u003cli data-mce-fragment=\"1\"\u003e\n\u003cp data-mce-fragment=\"1\"\u003e\u003cspan data-mce-fragment=\"1\"\u003eFrequency:5.12Hz~5.12MHz(0.1%+5dgt)\u003c\/span\u003e\u003c\/p\u003e\n\u003c\/li\u003e\n\u003cli data-mce-fragment=\"1\"\u003e\n\u003cp data-mce-fragment=\"1\"\u003e\u003cspan data-mce-fragment=\"1\"\u003eTemperature:-20℃~1000℃(-4℉~1832℉)(3%+2dgt)\u003c\/span\u003e\u003c\/p\u003e\n\u003c\/li\u003e\n\u003cli data-mce-fragment=\"1\"\u003e\n\u003cp data-mce-fragment=\"1\"\u003e\u003cspan data-mce-fragment=\"1\"\u003eDC Voltage: 400mV\/4V\/40V\/400V(0.5%+2dgt) 1000V(0.8%+2dgt)\u003c\/span\u003e\u003c\/p\u003e\n\u003c\/li\u003e\n\u003cli data-mce-fragment=\"1\"\u003e\n\u003cp data-mce-fragment=\"1\"\u003e\u003cspan data-mce-fragment=\"1\"\u003eAC Voltage: 4V\/40V\/400V(3.0%+10dgt) 750V(1.2%+3dgt)\u003c\/span\u003e\u003c\/p\u003e\n\u003c\/li\u003e\n\u003cli data-mce-fragment=\"1\"\u003e\n\u003cp data-mce-fragment=\"1\"\u003e\u003cspan data-mce-fragment=\"1\"\u003eDC Current: 200A(3.0%+10dgt)\u003c\/span\u003e\u003c\/p\u003e\n\u003c\/li\u003e\n\u003cli data-mce-fragment=\"1\"\u003e\n\u003cp data-mce-fragment=\"1\"\u003e\u003cspan data-mce-fragment=\"1\"\u003e1000A (0~800:±3.5%+10dgt; 800~1000:±6.5%+10dgt)\u003c\/span\u003e\u003c\/p\u003e\n\u003c\/li\u003e\n\u003cli data-mce-fragment=\"1\"\u003e\n\u003cp data-mce-fragment=\"1\"\u003e\u003cspan data-mce-fragment=\"1\"\u003eAC Current: 400A(3.0%+10dgt)\u003c\/span\u003e\u003c\/p\u003e\n\u003c\/li\u003e\n\u003cli data-mce-fragment=\"1\"\u003e\n\u003cp data-mce-fragment=\"1\"\u003e\u003cspan data-mce-fragment=\"1\"\u003e1000A(0~800:±3.5%+10dgt; 800~1000:±6.5%+10dgt)\u003c\/span\u003e\u003c\/p\u003e\n\u003c\/li\u003e\n\u003cli data-mce-fragment=\"1\"\u003e\n\u003cp data-mce-fragment=\"1\"\u003e\u003cspan data-mce-fragment=\"1\"\u003eResistance: 400Ω(1.0%+3dgt)\u003c\/span\u003e\u003c\/p\u003e\n\u003c\/li\u003e\n\u003cli data-mce-fragment=\"1\"\u003e\n\u003cp data-mce-fragment=\"1\"\u003e\u003cspan data-mce-fragment=\"1\"\u003e4kΩ\/40kΩ \/400kΩ\/4MΩ(1.0%+2dgt)\u003c\/span\u003e\u003c\/p\u003e\n\u003c\/li\u003e\n\u003cli data-mce-fragment=\"1\"\u003e\n\u003cp data-mce-fragment=\"1\"\u003e\u003cspan data-mce-fragment=\"1\"\u003e40MΩ(1.5%+3dgt)\u003c\/span\u003e\u003c\/p\u003e\n\u003cp data-mce-fragment=\"1\"\u003e\u003cspan data-mce-fragment=\"1\"\u003e\u003cstrong data-mce-fragment=\"1\"\u003eFeatures:\u003c\/strong\u003e\u003c\/span\u003e\u003c\/p\u003e\n\u003cp data-mce-fragment=\"1\"\u003e\u003cspan data-mce-fragment=\"1\"\u003e√ Data Hold YES\u003c\/span\u003e\u003c\/p\u003e\n\u003cp data-mce-fragment=\"1\"\u003e\u003cspan data-mce-fragment=\"1\"\u003e√ Diode Test YES\u003c\/span\u003e\u003c\/p\u003e\n\u003cp data-mce-fragment=\"1\"\u003e\u003cspan data-mce-fragment=\"1\"\u003e√ Auto power off YES\u003c\/span\u003e\u003c\/p\u003e\n\u003cp data-mce-fragment=\"1\"\u003e\u003cspan data-mce-fragment=\"1\"\u003e√ Backlight Display YES\u003c\/span\u003e\u003c\/p\u003e\n\u003cp data-mce-fragment=\"1\"\u003e\u003cspan data-mce-fragment=\"1\"\u003e√ Overload P rotection YES\u003c\/span\u003e\u003c\/p\u003e\n\u003cp data-mce-fragment=\"1\"\u003e\u003cspan data-mce-fragment=\"1\"\u003e√ Phone APP Connection YES\u003c\/span\u003e\u003c\/p\u003e\n\u003c\/li\u003e\n\u003c\/ul\u003e\n\u003cspan data-mce-fragment=\"1\" rwr=\"1\"\u003e\u003cimg alt=\"522343\" src=\"https:\/\/image.pushauction.com\/0\/0\/f6717b1d-988a-4448-be24-fb6726d8b456\/205a60a9-61ea-4ebc-9902-b38809d48c11.jpg\" data-mce-fragment=\"1\" data-mce-src=\"https:\/\/image.pushauction.com\/0\/0\/f6717b1d-988a-4448-be24-fb6726d8b456\/205a60a9-61ea-4ebc-9902-b38809d48c11.jpg\"\u003e\u003c\/span\u003e\n\u003c\/div\u003e\n\u003cdiv data-mce-fragment=\"1\"\u003e\n\u003cp data-mce-fragment=\"1\"\u003e\u003cspan data-mce-fragment=\"1\" rwr=\"1\"\u003e\u003cimg alt=\"522343\" src=\"https:\/\/image.pushauction.com\/0\/0\/f6717b1d-988a-4448-be24-fb6726d8b456\/cc70184d-9b46-4df5-89de-6192710e40cc.JPG\" data-mce-fragment=\"1\" data-mce-src=\"https:\/\/image.pushauction.com\/0\/0\/f6717b1d-988a-4448-be24-fb6726d8b456\/cc70184d-9b46-4df5-89de-6192710e40cc.JPG\"\u003e\u003c\/span\u003e\u003c\/p\u003e\n\u003cul data-mce-fragment=\"1\"\u003e\n\u003cli data-mce-fragment=\"1\"\u003e\u003cspan data-mce-fragment=\"1\"\u003e1 * Holdpeak 570C-APP Clamp Meters\u003c\/span\u003e\u003c\/li\u003e\n\u003cli data-mce-fragment=\"1\"\u003e\u003cspan data-mce-fragment=\"1\"\u003e1 * Test Lead\u003c\/span\u003e\u003c\/li\u003e\n\u003cli data-mce-fragment=\"1\"\u003e\u003cspan data-mce-fragment=\"1\"\u003e1 * English Manual\u003c\/span\u003e\u003c\/li\u003e\n\u003cli data-mce-fragment=\"1\"\u003e\u003cspan data-mce-fragment=\"1\"\u003e1 * Storage Bag\u003c\/span\u003e\u003c\/li\u003e\n\u003c\/ul\u003e\n\u003c\/div\u003e\n\u003cdiv data-mce-fragment=\"1\"\u003e\n\u003ch3 data-mce-fragment=\"1\"\u003e\u003cspan data-mce-fragment=\"1\"\u003e\u003ca data-mce-fragment=\"1\"\u003eNotice:\u003c\/a\u003e\u003c\/span\u003e\u003c\/h3\u003e\n\u003cul data-mce-fragment=\"1\"\u003e\n\u003cli data-mce-fragment=\"1\"\u003e\u003cspan data-mce-fragment=\"1\"\u003eThe standard package don't include batteries. Because, the international air shipping forbid to ship liquid,powder and batteries,we can not put them in the package box. Hope you can understand buy them in your local store or supermarket.Thanks for your support!\u003c\/span\u003e\u003c\/li\u003e\n\u003c\/ul\u003e\n\u003c\/div\u003e\n\u003c\/div\u003e"}

Translation missing: en.products.product.regular_price

$5.99

{"id":6041334153416,"title":"Digital Clamp Meter DC Current 4000 Counts AC\/DC Volt 1000A Handheld Tester","handle":"digital-clamp-meter-dc-current-4000-counts-ac-dc-volt-1000a-handheld-tester","description":"\u003cdiv data-mce-fragment=\"1\"\u003e\u003cspan data-mce-fragment=\"1\"\u003e\u003cstrong data-mce-fragment=\"1\"\u003eAbout Product:\u003c\/strong\u003e\u003c\/span\u003e\u003c\/div\u003e\n\u003cdiv data-mce-fragment=\"1\"\u003e\n\u003cul\u003e\n\u003cli\u003e\u003cspan data-mce-fragment=\"1\"\u003e【Wide Range Clamp Meter】 With 4000 counts display, the clamp meter can measure DC\/AC voltage;AC\/DC current,Resistance,Capacitance,Temperature,Frequency,Diode Test. The clamp meter has manual\/automatic ranging which can adjust the operation method according to your usage habits.The jaw size up to 1.77in\/45mm to measure a cable which is thick enough\u003c\/span\u003e\u003c\/li\u003e\n\u003cli\u003e\u003cspan data-mce-fragment=\"1\"\u003e【Multi-Function Multimeter】With Data hold, LCD Backlight, Relative value,Continuity buzzer,Connect to Phone by APP. Through the Backlight function, you can measure in the darkness and read the data clearly by the large LCD screen.\u003c\/span\u003e\u003c\/li\u003e\n\u003cli\u003e\u003cspan data-mce-fragment=\"1\"\u003e【Auto Connect To Your Phone Via Bluetooth】HP-570C-APP clamp multimeter come with APP Supported, you can connect to your smart phone via Bluetooth to monitor clamp meter measurement in real time. With this APP-Multimeter, you can transfer the data and analysis it in real time on your phone. The mobile APP can be installed on iPhone 4S iOS or Android 4.30 or higher.\u003c\/span\u003e\u003c\/li\u003e\n\u003cli\u003e\u003cspan data-mce-fragment=\"1\"\u003e【Safety \u0026amp; Over Load Protection】 HP-570C-APP Clamp Meter is up to the standards of IEC1010 Double Insulation, Pollution Degree 2, Over voltage Category Ⅲ and overload protection. It will show \"OL\" on the LCD if over range.\u003c\/span\u003e\u003c\/li\u003e\n\u003c\/ul\u003e\n\u003c\/div\u003e\n\u003cdiv data-mce-fragment=\"1\"\u003e\u003cspan data-mce-fragment=\"1\"\u003e\u003cstrong data-mce-fragment=\"1\"\u003e\u003cimg src=\"https:\/\/pg-cdn-a2.datacaciques.com\/00\/NDAy\/20\/10\/19\/578sngi3324w547p\/1d4d65bdcb7c3d0d.jpg\" data-mce-fragment=\"1\" data-mce-src=\"https:\/\/pg-cdn-a2.datacaciques.com\/00\/NDAy\/20\/10\/19\/578sngi3324w547p\/1d4d65bdcb7c3d0d.jpg\"\u003e\u003cimg src=\"https:\/\/pg-cdn-a2.datacaciques.com\/00\/NDAy\/20\/10\/19\/578sngi3324w547p\/a8a0343eab3ddb20.jpg\" data-mce-fragment=\"1\" data-mce-src=\"https:\/\/pg-cdn-a2.datacaciques.com\/00\/NDAy\/20\/10\/19\/578sngi3324w547p\/a8a0343eab3ddb20.jpg\"\u003e\u003cimg src=\"https:\/\/pg-cdn-a2.datacaciques.com\/00\/NDAy\/20\/10\/19\/578sngi3324w547p\/035d7c08ae1f9ac8.jpg\" data-mce-fragment=\"1\" data-mce-src=\"https:\/\/pg-cdn-a2.datacaciques.com\/00\/NDAy\/20\/10\/19\/578sngi3324w547p\/035d7c08ae1f9ac8.jpg\"\u003e\u003cimg src=\"https:\/\/pg-cdn-a2.datacaciques.com\/00\/NDAy\/20\/10\/19\/578sngi3324w547p\/396d7dae1157f399.jpg\" data-mce-fragment=\"1\" data-mce-src=\"https:\/\/pg-cdn-a2.datacaciques.com\/00\/NDAy\/20\/10\/19\/578sngi3324w547p\/396d7dae1157f399.jpg\"\u003e\u003cimg src=\"https:\/\/pg-cdn-a2.datacaciques.com\/00\/NDAy\/20\/10\/19\/578sngi3324w547p\/75c686f7e8728a9c.jpg\" data-mce-fragment=\"1\" data-mce-src=\"https:\/\/pg-cdn-a2.datacaciques.com\/00\/NDAy\/20\/10\/19\/578sngi3324w547p\/75c686f7e8728a9c.jpg\"\u003e\u003cimg src=\"https:\/\/pg-cdn-a2.datacaciques.com\/00\/NDAy\/20\/10\/19\/578sngi3324w547p\/ac49092a3a640d9f.jpg\" data-mce-fragment=\"1\" data-mce-src=\"https:\/\/pg-cdn-a2.datacaciques.com\/00\/NDAy\/20\/10\/19\/578sngi3324w547p\/ac49092a3a640d9f.jpg\"\u003e\u003c\/strong\u003e\u003c\/span\u003e\u003c\/div\u003e\n\u003cdiv data-mce-fragment=\"1\"\u003e\u003cspan data-mce-fragment=\"1\"\u003e\u003cstrong data-mce-fragment=\"1\"\u003eProduct Specification:\u003c\/strong\u003e\u003c\/span\u003e\u003c\/div\u003e\n\u003cdiv data-mce-fragment=\"1\"\u003e\n\u003cdiv data-mce-fragment=\"1\"\u003e\n\u003cul data-mce-fragment=\"1\"\u003e\n\u003cli data-mce-fragment=\"1\"\u003e\n\u003cp data-mce-fragment=\"1\"\u003e\u003cspan data-mce-fragment=\"1\"\u003eRange Selection: Auto Ranging\u003c\/span\u003e\u003c\/p\u003e\n\u003c\/li\u003e\n\u003cli data-mce-fragment=\"1\"\u003e\n\u003cp data-mce-fragment=\"1\"\u003e\u003cspan data-mce-fragment=\"1\"\u003eMax Display: 4000\u003c\/span\u003e\u003c\/p\u003e\n\u003c\/li\u003e\n\u003cli data-mce-fragment=\"1\"\u003e\n\u003cp data-mce-fragment=\"1\"\u003e\u003cspan data-mce-fragment=\"1\"\u003eDuty cycle:0.1%~99.9%\u003c\/span\u003e\u003c\/p\u003e\n\u003c\/li\u003e\n\u003cli data-mce-fragment=\"1\"\u003e\n\u003cp data-mce-fragment=\"1\"\u003e\u003cspan data-mce-fragment=\"1\"\u003eCapacitance:51.2nF~100uF\u003c\/span\u003e\u003c\/p\u003e\n\u003c\/li\u003e\n\u003cli data-mce-fragment=\"1\"\u003e\n\u003cp data-mce-fragment=\"1\"\u003e\u003cspan data-mce-fragment=\"1\"\u003eFrequency:5.12Hz~5.12MHz(0.1%+5dgt)\u003c\/span\u003e\u003c\/p\u003e\n\u003c\/li\u003e\n\u003cli data-mce-fragment=\"1\"\u003e\n\u003cp data-mce-fragment=\"1\"\u003e\u003cspan data-mce-fragment=\"1\"\u003eTemperature:-20℃~1000℃(-4℉~1832℉)(3%+2dgt)\u003c\/span\u003e\u003c\/p\u003e\n\u003c\/li\u003e\n\u003cli data-mce-fragment=\"1\"\u003e\n\u003cp data-mce-fragment=\"1\"\u003e\u003cspan data-mce-fragment=\"1\"\u003eDC Voltage: 400mV\/4V\/40V\/400V(0.5%+2dgt) 1000V(0.8%+2dgt)\u003c\/span\u003e\u003c\/p\u003e\n\u003c\/li\u003e\n\u003cli data-mce-fragment=\"1\"\u003e\n\u003cp data-mce-fragment=\"1\"\u003e\u003cspan data-mce-fragment=\"1\"\u003eAC Voltage: 4V\/40V\/400V(3.0%+10dgt) 750V(1.2%+3dgt)\u003c\/span\u003e\u003c\/p\u003e\n\u003c\/li\u003e\n\u003cli data-mce-fragment=\"1\"\u003e\n\u003cp data-mce-fragment=\"1\"\u003e\u003cspan data-mce-fragment=\"1\"\u003eDC Current: 200A(3.0%+10dgt)\u003c\/span\u003e\u003c\/p\u003e\n\u003c\/li\u003e\n\u003cli data-mce-fragment=\"1\"\u003e\n\u003cp data-mce-fragment=\"1\"\u003e\u003cspan data-mce-fragment=\"1\"\u003e1000A (0~800:±3.5%+10dgt; 800~1000:±6.5%+10dgt)\u003c\/span\u003e\u003c\/p\u003e\n\u003c\/li\u003e\n\u003cli data-mce-fragment=\"1\"\u003e\n\u003cp data-mce-fragment=\"1\"\u003e\u003cspan data-mce-fragment=\"1\"\u003eAC Current: 400A(3.0%+10dgt)\u003c\/span\u003e\u003c\/p\u003e\n\u003c\/li\u003e\n\u003cli data-mce-fragment=\"1\"\u003e\n\u003cp data-mce-fragment=\"1\"\u003e\u003cspan data-mce-fragment=\"1\"\u003e1000A(0~800:±3.5%+10dgt; 800~1000:±6.5%+10dgt)\u003c\/span\u003e\u003c\/p\u003e\n\u003c\/li\u003e\n\u003cli data-mce-fragment=\"1\"\u003e\n\u003cp data-mce-fragment=\"1\"\u003e\u003cspan data-mce-fragment=\"1\"\u003eResistance: 400Ω(1.0%+3dgt)\u003c\/span\u003e\u003c\/p\u003e\n\u003c\/li\u003e\n\u003cli data-mce-fragment=\"1\"\u003e\n\u003cp data-mce-fragment=\"1\"\u003e\u003cspan data-mce-fragment=\"1\"\u003e4kΩ\/40kΩ \/400kΩ\/4MΩ(1.0%+2dgt)\u003c\/span\u003e\u003c\/p\u003e\n\u003c\/li\u003e\n\u003cli data-mce-fragment=\"1\"\u003e\n\u003cp data-mce-fragment=\"1\"\u003e\u003cspan data-mce-fragment=\"1\"\u003e40MΩ(1.5%+3dgt)\u003c\/span\u003e\u003c\/p\u003e\n\u003cp data-mce-fragment=\"1\"\u003e\u003cspan data-mce-fragment=\"1\"\u003e\u003cstrong data-mce-fragment=\"1\"\u003eFeatures:\u003c\/strong\u003e\u003c\/span\u003e\u003c\/p\u003e\n\u003cp data-mce-fragment=\"1\"\u003e\u003cspan data-mce-fragment=\"1\"\u003e√ Data Hold YES\u003c\/span\u003e\u003c\/p\u003e\n\u003cp data-mce-fragment=\"1\"\u003e\u003cspan data-mce-fragment=\"1\"\u003e√ Diode Test YES\u003c\/span\u003e\u003c\/p\u003e\n\u003cp data-mce-fragment=\"1\"\u003e\u003cspan data-mce-fragment=\"1\"\u003e√ Auto power off YES\u003c\/span\u003e\u003c\/p\u003e\n\u003cp data-mce-fragment=\"1\"\u003e\u003cspan data-mce-fragment=\"1\"\u003e√ Backlight Display YES\u003c\/span\u003e\u003c\/p\u003e\n\u003cp data-mce-fragment=\"1\"\u003e\u003cspan data-mce-fragment=\"1\"\u003e√ Overload P rotection YES\u003c\/span\u003e\u003c\/p\u003e\n\u003cp data-mce-fragment=\"1\"\u003e\u003cspan data-mce-fragment=\"1\"\u003e√ Phone APP Connection YES\u003c\/span\u003e\u003c\/p\u003e\n\u003c\/li\u003e\n\u003c\/ul\u003e\n\u003cspan data-mce-fragment=\"1\" rwr=\"1\"\u003e\u003cimg alt=\"522343\" src=\"https:\/\/image.pushauction.com\/0\/0\/f6717b1d-988a-4448-be24-fb6726d8b456\/205a60a9-61ea-4ebc-9902-b38809d48c11.jpg\" data-mce-fragment=\"1\" data-mce-src=\"https:\/\/image.pushauction.com\/0\/0\/f6717b1d-988a-4448-be24-fb6726d8b456\/205a60a9-61ea-4ebc-9902-b38809d48c11.jpg\"\u003e\u003c\/span\u003e\n\u003c\/div\u003e\n\u003cdiv data-mce-fragment=\"1\"\u003e\n\u003cp data-mce-fragment=\"1\"\u003e\u003cspan data-mce-fragment=\"1\" rwr=\"1\"\u003e\u003cimg alt=\"522343\" src=\"https:\/\/image.pushauction.com\/0\/0\/f6717b1d-988a-4448-be24-fb6726d8b456\/cc70184d-9b46-4df5-89de-6192710e40cc.JPG\" data-mce-fragment=\"1\" data-mce-src=\"https:\/\/image.pushauction.com\/0\/0\/f6717b1d-988a-4448-be24-fb6726d8b456\/cc70184d-9b46-4df5-89de-6192710e40cc.JPG\"\u003e\u003c\/span\u003e\u003c\/p\u003e\n\u003cul data-mce-fragment=\"1\"\u003e\n\u003cli data-mce-fragment=\"1\"\u003e\u003cspan data-mce-fragment=\"1\"\u003e1 * Holdpeak 570C-APP Clamp Meters\u003c\/span\u003e\u003c\/li\u003e\n\u003cli data-mce-fragment=\"1\"\u003e\u003cspan data-mce-fragment=\"1\"\u003e1 * Test Lead\u003c\/span\u003e\u003c\/li\u003e\n\u003cli data-mce-fragment=\"1\"\u003e\u003cspan data-mce-fragment=\"1\"\u003e1 * English Manual\u003c\/span\u003e\u003c\/li\u003e\n\u003cli data-mce-fragment=\"1\"\u003e\u003cspan data-mce-fragment=\"1\"\u003e1 * Storage Bag\u003c\/span\u003e\u003c\/li\u003e\n\u003c\/ul\u003e\n\u003c\/div\u003e\n\u003cdiv data-mce-fragment=\"1\"\u003e\n\u003ch3 data-mce-fragment=\"1\"\u003e\u003cspan data-mce-fragment=\"1\"\u003e\u003ca data-mce-fragment=\"1\"\u003eNotice:\u003c\/a\u003e\u003c\/span\u003e\u003c\/h3\u003e\n\u003cul data-mce-fragment=\"1\"\u003e\n\u003cli data-mce-fragment=\"1\"\u003e\u003cspan data-mce-fragment=\"1\"\u003eThe standard package don't include batteries. Because, the international air shipping forbid to ship liquid,powder and batteries,we can not put them in the package box. Hope you can understand buy them in your local store or supermarket.Thanks for your support!\u003c\/span\u003e\u003c\/li\u003e\n\u003c\/ul\u003e\n\u003c\/div\u003e\n\u003c\/div\u003e","published_at":"2020-11-02T17:59:06+08:00","created_at":"2020-11-02T17:39:56+08:00","vendor":"DIYMORE","type":"","tags":[],"price":5099,"price_min":5099,"price_max":5099,"available":true,"price_varies":false,"compare_at_price":null,"compare_at_price_min":0,"compare_at_price_max":0,"compare_at_price_varies":false,"variants":[{"id":37402113999048,"title":"Default Title","option1":"Default Title","option2":null,"option3":null,"sku":"XQ0032","requires_shipping":true,"taxable":false,"featured_image":null,"available":true,"name":"Digital Clamp Meter DC Current 4000 Counts AC\/DC Volt 1000A Handheld Tester","public_title":null,"options":["Default Title"],"price":5099,"weight":0,"compare_at_price":null,"inventory_management":"shopify","barcode":"","requires_selling_plan":false,"selling_plan_allocations":[]}],"images":["\/\/www.diymore.cc\/cdn\/shop\/products\/XQ0032.jpg?v=1604309999","\/\/www.diymore.cc\/cdn\/shop\/products\/XQ0032_3.jpg?v=1604309999","\/\/www.diymore.cc\/cdn\/shop\/products\/XQ0032_4.jpg?v=1604309999","\/\/www.diymore.cc\/cdn\/shop\/products\/XQ0032_2.jpg?v=1604309999"],"featured_image":"\/\/www.diymore.cc\/cdn\/shop\/products\/XQ0032.jpg?v=1604309999","options":["Title"],"media":[{"alt":null,"id":14739445055688,"position":1,"preview_image":{"aspect_ratio":1.0,"height":1000,"width":1000,"src":"\/\/www.diymore.cc\/cdn\/shop\/products\/XQ0032.jpg?v=1604309999"},"aspect_ratio":1.0,"height":1000,"media_type":"image","src":"\/\/www.diymore.cc\/cdn\/shop\/products\/XQ0032.jpg?v=1604309999","width":1000},{"alt":null,"id":14739445088456,"position":2,"preview_image":{"aspect_ratio":1.0,"height":1000,"width":1000,"src":"\/\/www.diymore.cc\/cdn\/shop\/products\/XQ0032_3.jpg?v=1604309999"},"aspect_ratio":1.0,"height":1000,"media_type":"image","src":"\/\/www.diymore.cc\/cdn\/shop\/products\/XQ0032_3.jpg?v=1604309999","width":1000},{"alt":null,"id":14739445121224,"position":3,"preview_image":{"aspect_ratio":1.0,"height":1000,"width":1000,"src":"\/\/www.diymore.cc\/cdn\/shop\/products\/XQ0032_4.jpg?v=1604309999"},"aspect_ratio":1.0,"height":1000,"media_type":"image","src":"\/\/www.diymore.cc\/cdn\/shop\/products\/XQ0032_4.jpg?v=1604309999","width":1000},{"alt":null,"id":14739445153992,"position":4,"preview_image":{"aspect_ratio":1.0,"height":1000,"width":1000,"src":"\/\/www.diymore.cc\/cdn\/shop\/products\/XQ0032_2.jpg?v=1604309999"},"aspect_ratio":1.0,"height":1000,"media_type":"image","src":"\/\/www.diymore.cc\/cdn\/shop\/products\/XQ0032_2.jpg?v=1604309999","width":1000}],"requires_selling_plan":false,"selling_plan_groups":[],"content":"\u003cdiv data-mce-fragment=\"1\"\u003e\u003cspan data-mce-fragment=\"1\"\u003e\u003cstrong data-mce-fragment=\"1\"\u003eAbout Product:\u003c\/strong\u003e\u003c\/span\u003e\u003c\/div\u003e\n\u003cdiv data-mce-fragment=\"1\"\u003e\n\u003cul\u003e\n\u003cli\u003e\u003cspan data-mce-fragment=\"1\"\u003e【Wide Range Clamp Meter】 With 4000 counts display, the clamp meter can measure DC\/AC voltage;AC\/DC current,Resistance,Capacitance,Temperature,Frequency,Diode Test. The clamp meter has manual\/automatic ranging which can adjust the operation method according to your usage habits.The jaw size up to 1.77in\/45mm to measure a cable which is thick enough\u003c\/span\u003e\u003c\/li\u003e\n\u003cli\u003e\u003cspan data-mce-fragment=\"1\"\u003e【Multi-Function Multimeter】With Data hold, LCD Backlight, Relative value,Continuity buzzer,Connect to Phone by APP. Through the Backlight function, you can measure in the darkness and read the data clearly by the large LCD screen.\u003c\/span\u003e\u003c\/li\u003e\n\u003cli\u003e\u003cspan data-mce-fragment=\"1\"\u003e【Auto Connect To Your Phone Via Bluetooth】HP-570C-APP clamp multimeter come with APP Supported, you can connect to your smart phone via Bluetooth to monitor clamp meter measurement in real time. With this APP-Multimeter, you can transfer the data and analysis it in real time on your phone. The mobile APP can be installed on iPhone 4S iOS or Android 4.30 or higher.\u003c\/span\u003e\u003c\/li\u003e\n\u003cli\u003e\u003cspan data-mce-fragment=\"1\"\u003e【Safety \u0026amp; Over Load Protection】 HP-570C-APP Clamp Meter is up to the standards of IEC1010 Double Insulation, Pollution Degree 2, Over voltage Category Ⅲ and overload protection. It will show \"OL\" on the LCD if over range.\u003c\/span\u003e\u003c\/li\u003e\n\u003c\/ul\u003e\n\u003c\/div\u003e\n\u003cdiv data-mce-fragment=\"1\"\u003e\u003cspan data-mce-fragment=\"1\"\u003e\u003cstrong data-mce-fragment=\"1\"\u003e\u003cimg src=\"https:\/\/pg-cdn-a2.datacaciques.com\/00\/NDAy\/20\/10\/19\/578sngi3324w547p\/1d4d65bdcb7c3d0d.jpg\" data-mce-fragment=\"1\" data-mce-src=\"https:\/\/pg-cdn-a2.datacaciques.com\/00\/NDAy\/20\/10\/19\/578sngi3324w547p\/1d4d65bdcb7c3d0d.jpg\"\u003e\u003cimg src=\"https:\/\/pg-cdn-a2.datacaciques.com\/00\/NDAy\/20\/10\/19\/578sngi3324w547p\/a8a0343eab3ddb20.jpg\" data-mce-fragment=\"1\" data-mce-src=\"https:\/\/pg-cdn-a2.datacaciques.com\/00\/NDAy\/20\/10\/19\/578sngi3324w547p\/a8a0343eab3ddb20.jpg\"\u003e\u003cimg src=\"https:\/\/pg-cdn-a2.datacaciques.com\/00\/NDAy\/20\/10\/19\/578sngi3324w547p\/035d7c08ae1f9ac8.jpg\" data-mce-fragment=\"1\" data-mce-src=\"https:\/\/pg-cdn-a2.datacaciques.com\/00\/NDAy\/20\/10\/19\/578sngi3324w547p\/035d7c08ae1f9ac8.jpg\"\u003e\u003cimg src=\"https:\/\/pg-cdn-a2.datacaciques.com\/00\/NDAy\/20\/10\/19\/578sngi3324w547p\/396d7dae1157f399.jpg\" data-mce-fragment=\"1\" data-mce-src=\"https:\/\/pg-cdn-a2.datacaciques.com\/00\/NDAy\/20\/10\/19\/578sngi3324w547p\/396d7dae1157f399.jpg\"\u003e\u003cimg src=\"https:\/\/pg-cdn-a2.datacaciques.com\/00\/NDAy\/20\/10\/19\/578sngi3324w547p\/75c686f7e8728a9c.jpg\" data-mce-fragment=\"1\" data-mce-src=\"https:\/\/pg-cdn-a2.datacaciques.com\/00\/NDAy\/20\/10\/19\/578sngi3324w547p\/75c686f7e8728a9c.jpg\"\u003e\u003cimg src=\"https:\/\/pg-cdn-a2.datacaciques.com\/00\/NDAy\/20\/10\/19\/578sngi3324w547p\/ac49092a3a640d9f.jpg\" data-mce-fragment=\"1\" data-mce-src=\"https:\/\/pg-cdn-a2.datacaciques.com\/00\/NDAy\/20\/10\/19\/578sngi3324w547p\/ac49092a3a640d9f.jpg\"\u003e\u003c\/strong\u003e\u003c\/span\u003e\u003c\/div\u003e\n\u003cdiv data-mce-fragment=\"1\"\u003e\u003cspan data-mce-fragment=\"1\"\u003e\u003cstrong data-mce-fragment=\"1\"\u003eProduct Specification:\u003c\/strong\u003e\u003c\/span\u003e\u003c\/div\u003e\n\u003cdiv data-mce-fragment=\"1\"\u003e\n\u003cdiv data-mce-fragment=\"1\"\u003e\n\u003cul data-mce-fragment=\"1\"\u003e\n\u003cli data-mce-fragment=\"1\"\u003e\n\u003cp data-mce-fragment=\"1\"\u003e\u003cspan data-mce-fragment=\"1\"\u003eRange Selection: Auto Ranging\u003c\/span\u003e\u003c\/p\u003e\n\u003c\/li\u003e\n\u003cli data-mce-fragment=\"1\"\u003e\n\u003cp data-mce-fragment=\"1\"\u003e\u003cspan data-mce-fragment=\"1\"\u003eMax Display: 4000\u003c\/span\u003e\u003c\/p\u003e\n\u003c\/li\u003e\n\u003cli data-mce-fragment=\"1\"\u003e\n\u003cp data-mce-fragment=\"1\"\u003e\u003cspan data-mce-fragment=\"1\"\u003eDuty cycle:0.1%~99.9%\u003c\/span\u003e\u003c\/p\u003e\n\u003c\/li\u003e\n\u003cli data-mce-fragment=\"1\"\u003e\n\u003cp data-mce-fragment=\"1\"\u003e\u003cspan data-mce-fragment=\"1\"\u003eCapacitance:51.2nF~100uF\u003c\/span\u003e\u003c\/p\u003e\n\u003c\/li\u003e\n\u003cli data-mce-fragment=\"1\"\u003e\n\u003cp data-mce-fragment=\"1\"\u003e\u003cspan data-mce-fragment=\"1\"\u003eFrequency:5.12Hz~5.12MHz(0.1%+5dgt)\u003c\/span\u003e\u003c\/p\u003e\n\u003c\/li\u003e\n\u003cli data-mce-fragment=\"1\"\u003e\n\u003cp data-mce-fragment=\"1\"\u003e\u003cspan data-mce-fragment=\"1\"\u003eTemperature:-20℃~1000℃(-4℉~1832℉)(3%+2dgt)\u003c\/span\u003e\u003c\/p\u003e\n\u003c\/li\u003e\n\u003cli data-mce-fragment=\"1\"\u003e\n\u003cp data-mce-fragment=\"1\"\u003e\u003cspan data-mce-fragment=\"1\"\u003eDC Voltage: 400mV\/4V\/40V\/400V(0.5%+2dgt) 1000V(0.8%+2dgt)\u003c\/span\u003e\u003c\/p\u003e\n\u003c\/li\u003e\n\u003cli data-mce-fragment=\"1\"\u003e\n\u003cp data-mce-fragment=\"1\"\u003e\u003cspan data-mce-fragment=\"1\"\u003eAC Voltage: 4V\/40V\/400V(3.0%+10dgt) 750V(1.2%+3dgt)\u003c\/span\u003e\u003c\/p\u003e\n\u003c\/li\u003e\n\u003cli data-mce-fragment=\"1\"\u003e\n\u003cp data-mce-fragment=\"1\"\u003e\u003cspan data-mce-fragment=\"1\"\u003eDC Current: 200A(3.0%+10dgt)\u003c\/span\u003e\u003c\/p\u003e\n\u003c\/li\u003e\n\u003cli data-mce-fragment=\"1\"\u003e\n\u003cp data-mce-fragment=\"1\"\u003e\u003cspan data-mce-fragment=\"1\"\u003e1000A (0~800:±3.5%+10dgt; 800~1000:±6.5%+10dgt)\u003c\/span\u003e\u003c\/p\u003e\n\u003c\/li\u003e\n\u003cli data-mce-fragment=\"1\"\u003e\n\u003cp data-mce-fragment=\"1\"\u003e\u003cspan data-mce-fragment=\"1\"\u003eAC Current: 400A(3.0%+10dgt)\u003c\/span\u003e\u003c\/p\u003e\n\u003c\/li\u003e\n\u003cli data-mce-fragment=\"1\"\u003e\n\u003cp data-mce-fragment=\"1\"\u003e\u003cspan data-mce-fragment=\"1\"\u003e1000A(0~800:±3.5%+10dgt; 800~1000:±6.5%+10dgt)\u003c\/span\u003e\u003c\/p\u003e\n\u003c\/li\u003e\n\u003cli data-mce-fragment=\"1\"\u003e\n\u003cp data-mce-fragment=\"1\"\u003e\u003cspan data-mce-fragment=\"1\"\u003eResistance: 400Ω(1.0%+3dgt)\u003c\/span\u003e\u003c\/p\u003e\n\u003c\/li\u003e\n\u003cli data-mce-fragment=\"1\"\u003e\n\u003cp data-mce-fragment=\"1\"\u003e\u003cspan data-mce-fragment=\"1\"\u003e4kΩ\/40kΩ \/400kΩ\/4MΩ(1.0%+2dgt)\u003c\/span\u003e\u003c\/p\u003e\n\u003c\/li\u003e\n\u003cli data-mce-fragment=\"1\"\u003e\n\u003cp data-mce-fragment=\"1\"\u003e\u003cspan data-mce-fragment=\"1\"\u003e40MΩ(1.5%+3dgt)\u003c\/span\u003e\u003c\/p\u003e\n\u003cp data-mce-fragment=\"1\"\u003e\u003cspan data-mce-fragment=\"1\"\u003e\u003cstrong data-mce-fragment=\"1\"\u003eFeatures:\u003c\/strong\u003e\u003c\/span\u003e\u003c\/p\u003e\n\u003cp data-mce-fragment=\"1\"\u003e\u003cspan data-mce-fragment=\"1\"\u003e√ Data Hold YES\u003c\/span\u003e\u003c\/p\u003e\n\u003cp data-mce-fragment=\"1\"\u003e\u003cspan data-mce-fragment=\"1\"\u003e√ Diode Test YES\u003c\/span\u003e\u003c\/p\u003e\n\u003cp data-mce-fragment=\"1\"\u003e\u003cspan data-mce-fragment=\"1\"\u003e√ Auto power off YES\u003c\/span\u003e\u003c\/p\u003e\n\u003cp data-mce-fragment=\"1\"\u003e\u003cspan data-mce-fragment=\"1\"\u003e√ Backlight Display YES\u003c\/span\u003e\u003c\/p\u003e\n\u003cp data-mce-fragment=\"1\"\u003e\u003cspan data-mce-fragment=\"1\"\u003e√ Overload P rotection YES\u003c\/span\u003e\u003c\/p\u003e\n\u003cp data-mce-fragment=\"1\"\u003e\u003cspan data-mce-fragment=\"1\"\u003e√ Phone APP Connection YES\u003c\/span\u003e\u003c\/p\u003e\n\u003c\/li\u003e\n\u003c\/ul\u003e\n\u003cspan data-mce-fragment=\"1\" rwr=\"1\"\u003e\u003cimg alt=\"522343\" src=\"https:\/\/image.pushauction.com\/0\/0\/f6717b1d-988a-4448-be24-fb6726d8b456\/205a60a9-61ea-4ebc-9902-b38809d48c11.jpg\" data-mce-fragment=\"1\" data-mce-src=\"https:\/\/image.pushauction.com\/0\/0\/f6717b1d-988a-4448-be24-fb6726d8b456\/205a60a9-61ea-4ebc-9902-b38809d48c11.jpg\"\u003e\u003c\/span\u003e\n\u003c\/div\u003e\n\u003cdiv data-mce-fragment=\"1\"\u003e\n\u003cp data-mce-fragment=\"1\"\u003e\u003cspan data-mce-fragment=\"1\" rwr=\"1\"\u003e\u003cimg alt=\"522343\" src=\"https:\/\/image.pushauction.com\/0\/0\/f6717b1d-988a-4448-be24-fb6726d8b456\/cc70184d-9b46-4df5-89de-6192710e40cc.JPG\" data-mce-fragment=\"1\" data-mce-src=\"https:\/\/image.pushauction.com\/0\/0\/f6717b1d-988a-4448-be24-fb6726d8b456\/cc70184d-9b46-4df5-89de-6192710e40cc.JPG\"\u003e\u003c\/span\u003e\u003c\/p\u003e\n\u003cul data-mce-fragment=\"1\"\u003e\n\u003cli data-mce-fragment=\"1\"\u003e\u003cspan data-mce-fragment=\"1\"\u003e1 * Holdpeak 570C-APP Clamp Meters\u003c\/span\u003e\u003c\/li\u003e\n\u003cli data-mce-fragment=\"1\"\u003e\u003cspan data-mce-fragment=\"1\"\u003e1 * Test Lead\u003c\/span\u003e\u003c\/li\u003e\n\u003cli data-mce-fragment=\"1\"\u003e\u003cspan data-mce-fragment=\"1\"\u003e1 * English Manual\u003c\/span\u003e\u003c\/li\u003e\n\u003cli data-mce-fragment=\"1\"\u003e\u003cspan data-mce-fragment=\"1\"\u003e1 * Storage Bag\u003c\/span\u003e\u003c\/li\u003e\n\u003c\/ul\u003e\n\u003c\/div\u003e\n\u003cdiv data-mce-fragment=\"1\"\u003e\n\u003ch3 data-mce-fragment=\"1\"\u003e\u003cspan data-mce-fragment=\"1\"\u003e\u003ca data-mce-fragment=\"1\"\u003eNotice:\u003c\/a\u003e\u003c\/span\u003e\u003c\/h3\u003e\n\u003cul data-mce-fragment=\"1\"\u003e\n\u003cli data-mce-fragment=\"1\"\u003e\u003cspan data-mce-fragment=\"1\"\u003eThe standard package don't include batteries. Because, the international air shipping forbid to ship liquid,powder and batteries,we can not put them in the package box. Hope you can understand buy them in your local store or supermarket.Thanks for your support!\u003c\/span\u003e\u003c\/li\u003e\n\u003c\/ul\u003e\n\u003c\/div\u003e\n\u003c\/div\u003e"}

Translation missing: en.products.product.regular_price

$7.99

{"id":6041334153416,"title":"Digital Clamp Meter DC Current 4000 Counts AC\/DC Volt 1000A Handheld Tester","handle":"digital-clamp-meter-dc-current-4000-counts-ac-dc-volt-1000a-handheld-tester","description":"\u003cdiv data-mce-fragment=\"1\"\u003e\u003cspan data-mce-fragment=\"1\"\u003e\u003cstrong data-mce-fragment=\"1\"\u003eAbout Product:\u003c\/strong\u003e\u003c\/span\u003e\u003c\/div\u003e\n\u003cdiv data-mce-fragment=\"1\"\u003e\n\u003cul\u003e\n\u003cli\u003e\u003cspan data-mce-fragment=\"1\"\u003e【Wide Range Clamp Meter】 With 4000 counts display, the clamp meter can measure DC\/AC voltage;AC\/DC current,Resistance,Capacitance,Temperature,Frequency,Diode Test. The clamp meter has manual\/automatic ranging which can adjust the operation method according to your usage habits.The jaw size up to 1.77in\/45mm to measure a cable which is thick enough\u003c\/span\u003e\u003c\/li\u003e\n\u003cli\u003e\u003cspan data-mce-fragment=\"1\"\u003e【Multi-Function Multimeter】With Data hold, LCD Backlight, Relative value,Continuity buzzer,Connect to Phone by APP. Through the Backlight function, you can measure in the darkness and read the data clearly by the large LCD screen.\u003c\/span\u003e\u003c\/li\u003e\n\u003cli\u003e\u003cspan data-mce-fragment=\"1\"\u003e【Auto Connect To Your Phone Via Bluetooth】HP-570C-APP clamp multimeter come with APP Supported, you can connect to your smart phone via Bluetooth to monitor clamp meter measurement in real time. With this APP-Multimeter, you can transfer the data and analysis it in real time on your phone. The mobile APP can be installed on iPhone 4S iOS or Android 4.30 or higher.\u003c\/span\u003e\u003c\/li\u003e\n\u003cli\u003e\u003cspan data-mce-fragment=\"1\"\u003e【Safety \u0026amp; Over Load Protection】 HP-570C-APP Clamp Meter is up to the standards of IEC1010 Double Insulation, Pollution Degree 2, Over voltage Category Ⅲ and overload protection. It will show \"OL\" on the LCD if over range.\u003c\/span\u003e\u003c\/li\u003e\n\u003c\/ul\u003e\n\u003c\/div\u003e\n\u003cdiv data-mce-fragment=\"1\"\u003e\u003cspan data-mce-fragment=\"1\"\u003e\u003cstrong data-mce-fragment=\"1\"\u003e\u003cimg src=\"https:\/\/pg-cdn-a2.datacaciques.com\/00\/NDAy\/20\/10\/19\/578sngi3324w547p\/1d4d65bdcb7c3d0d.jpg\" data-mce-fragment=\"1\" data-mce-src=\"https:\/\/pg-cdn-a2.datacaciques.com\/00\/NDAy\/20\/10\/19\/578sngi3324w547p\/1d4d65bdcb7c3d0d.jpg\"\u003e\u003cimg src=\"https:\/\/pg-cdn-a2.datacaciques.com\/00\/NDAy\/20\/10\/19\/578sngi3324w547p\/a8a0343eab3ddb20.jpg\" data-mce-fragment=\"1\" data-mce-src=\"https:\/\/pg-cdn-a2.datacaciques.com\/00\/NDAy\/20\/10\/19\/578sngi3324w547p\/a8a0343eab3ddb20.jpg\"\u003e\u003cimg src=\"https:\/\/pg-cdn-a2.datacaciques.com\/00\/NDAy\/20\/10\/19\/578sngi3324w547p\/035d7c08ae1f9ac8.jpg\" data-mce-fragment=\"1\" data-mce-src=\"https:\/\/pg-cdn-a2.datacaciques.com\/00\/NDAy\/20\/10\/19\/578sngi3324w547p\/035d7c08ae1f9ac8.jpg\"\u003e\u003cimg src=\"https:\/\/pg-cdn-a2.datacaciques.com\/00\/NDAy\/20\/10\/19\/578sngi3324w547p\/396d7dae1157f399.jpg\" data-mce-fragment=\"1\" data-mce-src=\"https:\/\/pg-cdn-a2.datacaciques.com\/00\/NDAy\/20\/10\/19\/578sngi3324w547p\/396d7dae1157f399.jpg\"\u003e\u003cimg src=\"https:\/\/pg-cdn-a2.datacaciques.com\/00\/NDAy\/20\/10\/19\/578sngi3324w547p\/75c686f7e8728a9c.jpg\" data-mce-fragment=\"1\" data-mce-src=\"https:\/\/pg-cdn-a2.datacaciques.com\/00\/NDAy\/20\/10\/19\/578sngi3324w547p\/75c686f7e8728a9c.jpg\"\u003e\u003cimg src=\"https:\/\/pg-cdn-a2.datacaciques.com\/00\/NDAy\/20\/10\/19\/578sngi3324w547p\/ac49092a3a640d9f.jpg\" data-mce-fragment=\"1\" data-mce-src=\"https:\/\/pg-cdn-a2.datacaciques.com\/00\/NDAy\/20\/10\/19\/578sngi3324w547p\/ac49092a3a640d9f.jpg\"\u003e\u003c\/strong\u003e\u003c\/span\u003e\u003c\/div\u003e\n\u003cdiv data-mce-fragment=\"1\"\u003e\u003cspan data-mce-fragment=\"1\"\u003e\u003cstrong data-mce-fragment=\"1\"\u003eProduct Specification:\u003c\/strong\u003e\u003c\/span\u003e\u003c\/div\u003e\n\u003cdiv data-mce-fragment=\"1\"\u003e\n\u003cdiv data-mce-fragment=\"1\"\u003e\n\u003cul data-mce-fragment=\"1\"\u003e\n\u003cli data-mce-fragment=\"1\"\u003e\n\u003cp data-mce-fragment=\"1\"\u003e\u003cspan data-mce-fragment=\"1\"\u003eRange Selection: Auto Ranging\u003c\/span\u003e\u003c\/p\u003e\n\u003c\/li\u003e\n\u003cli data-mce-fragment=\"1\"\u003e\n\u003cp data-mce-fragment=\"1\"\u003e\u003cspan data-mce-fragment=\"1\"\u003eMax Display: 4000\u003c\/span\u003e\u003c\/p\u003e\n\u003c\/li\u003e\n\u003cli data-mce-fragment=\"1\"\u003e\n\u003cp data-mce-fragment=\"1\"\u003e\u003cspan data-mce-fragment=\"1\"\u003eDuty cycle:0.1%~99.9%\u003c\/span\u003e\u003c\/p\u003e\n\u003c\/li\u003e\n\u003cli data-mce-fragment=\"1\"\u003e\n\u003cp data-mce-fragment=\"1\"\u003e\u003cspan data-mce-fragment=\"1\"\u003eCapacitance:51.2nF~100uF\u003c\/span\u003e\u003c\/p\u003e\n\u003c\/li\u003e\n\u003cli data-mce-fragment=\"1\"\u003e\n\u003cp data-mce-fragment=\"1\"\u003e\u003cspan data-mce-fragment=\"1\"\u003eFrequency:5.12Hz~5.12MHz(0.1%+5dgt)\u003c\/span\u003e\u003c\/p\u003e\n\u003c\/li\u003e\n\u003cli data-mce-fragment=\"1\"\u003e\n\u003cp data-mce-fragment=\"1\"\u003e\u003cspan data-mce-fragment=\"1\"\u003eTemperature:-20℃~1000℃(-4℉~1832℉)(3%+2dgt)\u003c\/span\u003e\u003c\/p\u003e\n\u003c\/li\u003e\n\u003cli data-mce-fragment=\"1\"\u003e\n\u003cp data-mce-fragment=\"1\"\u003e\u003cspan data-mce-fragment=\"1\"\u003eDC Voltage: 400mV\/4V\/40V\/400V(0.5%+2dgt) 1000V(0.8%+2dgt)\u003c\/span\u003e\u003c\/p\u003e\n\u003c\/li\u003e\n\u003cli data-mce-fragment=\"1\"\u003e\n\u003cp data-mce-fragment=\"1\"\u003e\u003cspan data-mce-fragment=\"1\"\u003eAC Voltage: 4V\/40V\/400V(3.0%+10dgt) 750V(1.2%+3dgt)\u003c\/span\u003e\u003c\/p\u003e\n\u003c\/li\u003e\n\u003cli data-mce-fragment=\"1\"\u003e\n\u003cp data-mce-fragment=\"1\"\u003e\u003cspan data-mce-fragment=\"1\"\u003eDC Current: 200A(3.0%+10dgt)\u003c\/span\u003e\u003c\/p\u003e\n\u003c\/li\u003e\n\u003cli data-mce-fragment=\"1\"\u003e\n\u003cp data-mce-fragment=\"1\"\u003e\u003cspan data-mce-fragment=\"1\"\u003e1000A (0~800:±3.5%+10dgt; 800~1000:±6.5%+10dgt)\u003c\/span\u003e\u003c\/p\u003e\n\u003c\/li\u003e\n\u003cli data-mce-fragment=\"1\"\u003e\n\u003cp data-mce-fragment=\"1\"\u003e\u003cspan data-mce-fragment=\"1\"\u003eAC Current: 400A(3.0%+10dgt)\u003c\/span\u003e\u003c\/p\u003e\n\u003c\/li\u003e\n\u003cli data-mce-fragment=\"1\"\u003e\n\u003cp data-mce-fragment=\"1\"\u003e\u003cspan data-mce-fragment=\"1\"\u003e1000A(0~800:±3.5%+10dgt; 800~1000:±6.5%+10dgt)\u003c\/span\u003e\u003c\/p\u003e\n\u003c\/li\u003e\n\u003cli data-mce-fragment=\"1\"\u003e\n\u003cp data-mce-fragment=\"1\"\u003e\u003cspan data-mce-fragment=\"1\"\u003eResistance: 400Ω(1.0%+3dgt)\u003c\/span\u003e\u003c\/p\u003e\n\u003c\/li\u003e\n\u003cli data-mce-fragment=\"1\"\u003e\n\u003cp data-mce-fragment=\"1\"\u003e\u003cspan data-mce-fragment=\"1\"\u003e4kΩ\/40kΩ \/400kΩ\/4MΩ(1.0%+2dgt)\u003c\/span\u003e\u003c\/p\u003e\n\u003c\/li\u003e\n\u003cli data-mce-fragment=\"1\"\u003e\n\u003cp data-mce-fragment=\"1\"\u003e\u003cspan data-mce-fragment=\"1\"\u003e40MΩ(1.5%+3dgt)\u003c\/span\u003e\u003c\/p\u003e\n\u003cp data-mce-fragment=\"1\"\u003e\u003cspan data-mce-fragment=\"1\"\u003e\u003cstrong data-mce-fragment=\"1\"\u003eFeatures:\u003c\/strong\u003e\u003c\/span\u003e\u003c\/p\u003e\n\u003cp data-mce-fragment=\"1\"\u003e\u003cspan data-mce-fragment=\"1\"\u003e√ Data Hold YES\u003c\/span\u003e\u003c\/p\u003e\n\u003cp data-mce-fragment=\"1\"\u003e\u003cspan data-mce-fragment=\"1\"\u003e√ Diode Test YES\u003c\/span\u003e\u003c\/p\u003e\n\u003cp data-mce-fragment=\"1\"\u003e\u003cspan data-mce-fragment=\"1\"\u003e√ Auto power off YES\u003c\/span\u003e\u003c\/p\u003e\n\u003cp data-mce-fragment=\"1\"\u003e\u003cspan data-mce-fragment=\"1\"\u003e√ Backlight Display YES\u003c\/span\u003e\u003c\/p\u003e\n\u003cp data-mce-fragment=\"1\"\u003e\u003cspan data-mce-fragment=\"1\"\u003e√ Overload P rotection YES\u003c\/span\u003e\u003c\/p\u003e\n\u003cp data-mce-fragment=\"1\"\u003e\u003cspan data-mce-fragment=\"1\"\u003e√ Phone APP Connection YES\u003c\/span\u003e\u003c\/p\u003e\n\u003c\/li\u003e\n\u003c\/ul\u003e\n\u003cspan data-mce-fragment=\"1\" rwr=\"1\"\u003e\u003cimg alt=\"522343\" src=\"https:\/\/image.pushauction.com\/0\/0\/f6717b1d-988a-4448-be24-fb6726d8b456\/205a60a9-61ea-4ebc-9902-b38809d48c11.jpg\" data-mce-fragment=\"1\" data-mce-src=\"https:\/\/image.pushauction.com\/0\/0\/f6717b1d-988a-4448-be24-fb6726d8b456\/205a60a9-61ea-4ebc-9902-b38809d48c11.jpg\"\u003e\u003c\/span\u003e\n\u003c\/div\u003e\n\u003cdiv data-mce-fragment=\"1\"\u003e\n\u003cp data-mce-fragment=\"1\"\u003e\u003cspan data-mce-fragment=\"1\" rwr=\"1\"\u003e\u003cimg alt=\"522343\" src=\"https:\/\/image.pushauction.com\/0\/0\/f6717b1d-988a-4448-be24-fb6726d8b456\/cc70184d-9b46-4df5-89de-6192710e40cc.JPG\" data-mce-fragment=\"1\" data-mce-src=\"https:\/\/image.pushauction.com\/0\/0\/f6717b1d-988a-4448-be24-fb6726d8b456\/cc70184d-9b46-4df5-89de-6192710e40cc.JPG\"\u003e\u003c\/span\u003e\u003c\/p\u003e\n\u003cul data-mce-fragment=\"1\"\u003e\n\u003cli data-mce-fragment=\"1\"\u003e\u003cspan data-mce-fragment=\"1\"\u003e1 * Holdpeak 570C-APP Clamp Meters\u003c\/span\u003e\u003c\/li\u003e\n\u003cli data-mce-fragment=\"1\"\u003e\u003cspan data-mce-fragment=\"1\"\u003e1 * Test Lead\u003c\/span\u003e\u003c\/li\u003e\n\u003cli data-mce-fragment=\"1\"\u003e\u003cspan data-mce-fragment=\"1\"\u003e1 * English Manual\u003c\/span\u003e\u003c\/li\u003e\n\u003cli data-mce-fragment=\"1\"\u003e\u003cspan data-mce-fragment=\"1\"\u003e1 * Storage Bag\u003c\/span\u003e\u003c\/li\u003e\n\u003c\/ul\u003e\n\u003c\/div\u003e\n\u003cdiv data-mce-fragment=\"1\"\u003e\n\u003ch3 data-mce-fragment=\"1\"\u003e\u003cspan data-mce-fragment=\"1\"\u003e\u003ca data-mce-fragment=\"1\"\u003eNotice:\u003c\/a\u003e\u003c\/span\u003e\u003c\/h3\u003e\n\u003cul data-mce-fragment=\"1\"\u003e\n\u003cli data-mce-fragment=\"1\"\u003e\u003cspan data-mce-fragment=\"1\"\u003eThe standard package don't include batteries. Because, the international air shipping forbid to ship liquid,powder and batteries,we can not put them in the package box. Hope you can understand buy them in your local store or supermarket.Thanks for your support!\u003c\/span\u003e\u003c\/li\u003e\n\u003c\/ul\u003e\n\u003c\/div\u003e\n\u003c\/div\u003e","published_at":"2020-11-02T17:59:06+08:00","created_at":"2020-11-02T17:39:56+08:00","vendor":"DIYMORE","type":"","tags":[],"price":5099,"price_min":5099,"price_max":5099,"available":true,"price_varies":false,"compare_at_price":null,"compare_at_price_min":0,"compare_at_price_max":0,"compare_at_price_varies":false,"variants":[{"id":37402113999048,"title":"Default Title","option1":"Default Title","option2":null,"option3":null,"sku":"XQ0032","requires_shipping":true,"taxable":false,"featured_image":null,"available":true,"name":"Digital Clamp Meter DC Current 4000 Counts AC\/DC Volt 1000A Handheld Tester","public_title":null,"options":["Default Title"],"price":5099,"weight":0,"compare_at_price":null,"inventory_management":"shopify","barcode":"","requires_selling_plan":false,"selling_plan_allocations":[]}],"images":["\/\/www.diymore.cc\/cdn\/shop\/products\/XQ0032.jpg?v=1604309999","\/\/www.diymore.cc\/cdn\/shop\/products\/XQ0032_3.jpg?v=1604309999","\/\/www.diymore.cc\/cdn\/shop\/products\/XQ0032_4.jpg?v=1604309999","\/\/www.diymore.cc\/cdn\/shop\/products\/XQ0032_2.jpg?v=1604309999"],"featured_image":"\/\/www.diymore.cc\/cdn\/shop\/products\/XQ0032.jpg?v=1604309999","options":["Title"],"media":[{"alt":null,"id":14739445055688,"position":1,"preview_image":{"aspect_ratio":1.0,"height":1000,"width":1000,"src":"\/\/www.diymore.cc\/cdn\/shop\/products\/XQ0032.jpg?v=1604309999"},"aspect_ratio":1.0,"height":1000,"media_type":"image","src":"\/\/www.diymore.cc\/cdn\/shop\/products\/XQ0032.jpg?v=1604309999","width":1000},{"alt":null,"id":14739445088456,"position":2,"preview_image":{"aspect_ratio":1.0,"height":1000,"width":1000,"src":"\/\/www.diymore.cc\/cdn\/shop\/products\/XQ0032_3.jpg?v=1604309999"},"aspect_ratio":1.0,"height":1000,"media_type":"image","src":"\/\/www.diymore.cc\/cdn\/shop\/products\/XQ0032_3.jpg?v=1604309999","width":1000},{"alt":null,"id":14739445121224,"position":3,"preview_image":{"aspect_ratio":1.0,"height":1000,"width":1000,"src":"\/\/www.diymore.cc\/cdn\/shop\/products\/XQ0032_4.jpg?v=1604309999"},"aspect_ratio":1.0,"height":1000,"media_type":"image","src":"\/\/www.diymore.cc\/cdn\/shop\/products\/XQ0032_4.jpg?v=1604309999","width":1000},{"alt":null,"id":14739445153992,"position":4,"preview_image":{"aspect_ratio":1.0,"height":1000,"width":1000,"src":"\/\/www.diymore.cc\/cdn\/shop\/products\/XQ0032_2.jpg?v=1604309999"},"aspect_ratio":1.0,"height":1000,"media_type":"image","src":"\/\/www.diymore.cc\/cdn\/shop\/products\/XQ0032_2.jpg?v=1604309999","width":1000}],"requires_selling_plan":false,"selling_plan_groups":[],"content":"\u003cdiv data-mce-fragment=\"1\"\u003e\u003cspan data-mce-fragment=\"1\"\u003e\u003cstrong data-mce-fragment=\"1\"\u003eAbout Product:\u003c\/strong\u003e\u003c\/span\u003e\u003c\/div\u003e\n\u003cdiv data-mce-fragment=\"1\"\u003e\n\u003cul\u003e\n\u003cli\u003e\u003cspan data-mce-fragment=\"1\"\u003e【Wide Range Clamp Meter】 With 4000 counts display, the clamp meter can measure DC\/AC voltage;AC\/DC current,Resistance,Capacitance,Temperature,Frequency,Diode Test. The clamp meter has manual\/automatic ranging which can adjust the operation method according to your usage habits.The jaw size up to 1.77in\/45mm to measure a cable which is thick enough\u003c\/span\u003e\u003c\/li\u003e\n\u003cli\u003e\u003cspan data-mce-fragment=\"1\"\u003e【Multi-Function Multimeter】With Data hold, LCD Backlight, Relative value,Continuity buzzer,Connect to Phone by APP. Through the Backlight function, you can measure in the darkness and read the data clearly by the large LCD screen.\u003c\/span\u003e\u003c\/li\u003e\n\u003cli\u003e\u003cspan data-mce-fragment=\"1\"\u003e【Auto Connect To Your Phone Via Bluetooth】HP-570C-APP clamp multimeter come with APP Supported, you can connect to your smart phone via Bluetooth to monitor clamp meter measurement in real time. With this APP-Multimeter, you can transfer the data and analysis it in real time on your phone. The mobile APP can be installed on iPhone 4S iOS or Android 4.30 or higher.\u003c\/span\u003e\u003c\/li\u003e\n\u003cli\u003e\u003cspan data-mce-fragment=\"1\"\u003e【Safety \u0026amp; Over Load Protection】 HP-570C-APP Clamp Meter is up to the standards of IEC1010 Double Insulation, Pollution Degree 2, Over voltage Category Ⅲ and overload protection. It will show \"OL\" on the LCD if over range.\u003c\/span\u003e\u003c\/li\u003e\n\u003c\/ul\u003e\n\u003c\/div\u003e\n\u003cdiv data-mce-fragment=\"1\"\u003e\u003cspan data-mce-fragment=\"1\"\u003e\u003cstrong data-mce-fragment=\"1\"\u003e\u003cimg src=\"https:\/\/pg-cdn-a2.datacaciques.com\/00\/NDAy\/20\/10\/19\/578sngi3324w547p\/1d4d65bdcb7c3d0d.jpg\" data-mce-fragment=\"1\" data-mce-src=\"https:\/\/pg-cdn-a2.datacaciques.com\/00\/NDAy\/20\/10\/19\/578sngi3324w547p\/1d4d65bdcb7c3d0d.jpg\"\u003e\u003cimg src=\"https:\/\/pg-cdn-a2.datacaciques.com\/00\/NDAy\/20\/10\/19\/578sngi3324w547p\/a8a0343eab3ddb20.jpg\" data-mce-fragment=\"1\" data-mce-src=\"https:\/\/pg-cdn-a2.datacaciques.com\/00\/NDAy\/20\/10\/19\/578sngi3324w547p\/a8a0343eab3ddb20.jpg\"\u003e\u003cimg src=\"https:\/\/pg-cdn-a2.datacaciques.com\/00\/NDAy\/20\/10\/19\/578sngi3324w547p\/035d7c08ae1f9ac8.jpg\" data-mce-fragment=\"1\" data-mce-src=\"https:\/\/pg-cdn-a2.datacaciques.com\/00\/NDAy\/20\/10\/19\/578sngi3324w547p\/035d7c08ae1f9ac8.jpg\"\u003e\u003cimg src=\"https:\/\/pg-cdn-a2.datacaciques.com\/00\/NDAy\/20\/10\/19\/578sngi3324w547p\/396d7dae1157f399.jpg\" data-mce-fragment=\"1\" data-mce-src=\"https:\/\/pg-cdn-a2.datacaciques.com\/00\/NDAy\/20\/10\/19\/578sngi3324w547p\/396d7dae1157f399.jpg\"\u003e\u003cimg src=\"https:\/\/pg-cdn-a2.datacaciques.com\/00\/NDAy\/20\/10\/19\/578sngi3324w547p\/75c686f7e8728a9c.jpg\" data-mce-fragment=\"1\" data-mce-src=\"https:\/\/pg-cdn-a2.datacaciques.com\/00\/NDAy\/20\/10\/19\/578sngi3324w547p\/75c686f7e8728a9c.jpg\"\u003e\u003cimg src=\"https:\/\/pg-cdn-a2.datacaciques.com\/00\/NDAy\/20\/10\/19\/578sngi3324w547p\/ac49092a3a640d9f.jpg\" data-mce-fragment=\"1\" data-mce-src=\"https:\/\/pg-cdn-a2.datacaciques.com\/00\/NDAy\/20\/10\/19\/578sngi3324w547p\/ac49092a3a640d9f.jpg\"\u003e\u003c\/strong\u003e\u003c\/span\u003e\u003c\/div\u003e\n\u003cdiv data-mce-fragment=\"1\"\u003e\u003cspan data-mce-fragment=\"1\"\u003e\u003cstrong data-mce-fragment=\"1\"\u003eProduct Specification:\u003c\/strong\u003e\u003c\/span\u003e\u003c\/div\u003e\n\u003cdiv data-mce-fragment=\"1\"\u003e\n\u003cdiv data-mce-fragment=\"1\"\u003e\n\u003cul data-mce-fragment=\"1\"\u003e\n\u003cli data-mce-fragment=\"1\"\u003e\n\u003cp data-mce-fragment=\"1\"\u003e\u003cspan data-mce-fragment=\"1\"\u003eRange Selection: Auto Ranging\u003c\/span\u003e\u003c\/p\u003e\n\u003c\/li\u003e\n\u003cli data-mce-fragment=\"1\"\u003e\n\u003cp data-mce-fragment=\"1\"\u003e\u003cspan data-mce-fragment=\"1\"\u003eMax Display: 4000\u003c\/span\u003e\u003c\/p\u003e\n\u003c\/li\u003e\n\u003cli data-mce-fragment=\"1\"\u003e\n\u003cp data-mce-fragment=\"1\"\u003e\u003cspan data-mce-fragment=\"1\"\u003eDuty cycle:0.1%~99.9%\u003c\/span\u003e\u003c\/p\u003e\n\u003c\/li\u003e\n\u003cli data-mce-fragment=\"1\"\u003e\n\u003cp data-mce-fragment=\"1\"\u003e\u003cspan data-mce-fragment=\"1\"\u003eCapacitance:51.2nF~100uF\u003c\/span\u003e\u003c\/p\u003e\n\u003c\/li\u003e\n\u003cli data-mce-fragment=\"1\"\u003e\n\u003cp data-mce-fragment=\"1\"\u003e\u003cspan data-mce-fragment=\"1\"\u003eFrequency:5.12Hz~5.12MHz(0.1%+5dgt)\u003c\/span\u003e\u003c\/p\u003e\n\u003c\/li\u003e\n\u003cli data-mce-fragment=\"1\"\u003e\n\u003cp data-mce-fragment=\"1\"\u003e\u003cspan data-mce-fragment=\"1\"\u003eTemperature:-20℃~1000℃(-4℉~1832℉)(3%+2dgt)\u003c\/span\u003e\u003c\/p\u003e\n\u003c\/li\u003e\n\u003cli data-mce-fragment=\"1\"\u003e\n\u003cp data-mce-fragment=\"1\"\u003e\u003cspan data-mce-fragment=\"1\"\u003eDC Voltage: 400mV\/4V\/40V\/400V(0.5%+2dgt) 1000V(0.8%+2dgt)\u003c\/span\u003e\u003c\/p\u003e\n\u003c\/li\u003e\n\u003cli data-mce-fragment=\"1\"\u003e\n\u003cp data-mce-fragment=\"1\"\u003e\u003cspan data-mce-fragment=\"1\"\u003eAC Voltage: 4V\/40V\/400V(3.0%+10dgt) 750V(1.2%+3dgt)\u003c\/span\u003e\u003c\/p\u003e\n\u003c\/li\u003e\n\u003cli data-mce-fragment=\"1\"\u003e\n\u003cp data-mce-fragment=\"1\"\u003e\u003cspan data-mce-fragment=\"1\"\u003eDC Current: 200A(3.0%+10dgt)\u003c\/span\u003e\u003c\/p\u003e\n\u003c\/li\u003e\n\u003cli data-mce-fragment=\"1\"\u003e\n\u003cp data-mce-fragment=\"1\"\u003e\u003cspan data-mce-fragment=\"1\"\u003e1000A (0~800:±3.5%+10dgt; 800~1000:±6.5%+10dgt)\u003c\/span\u003e\u003c\/p\u003e\n\u003c\/li\u003e\n\u003cli data-mce-fragment=\"1\"\u003e\n\u003cp data-mce-fragment=\"1\"\u003e\u003cspan data-mce-fragment=\"1\"\u003eAC Current: 400A(3.0%+10dgt)\u003c\/span\u003e\u003c\/p\u003e\n\u003c\/li\u003e\n\u003cli data-mce-fragment=\"1\"\u003e\n\u003cp data-mce-fragment=\"1\"\u003e\u003cspan data-mce-fragment=\"1\"\u003e1000A(0~800:±3.5%+10dgt; 800~1000:±6.5%+10dgt)\u003c\/span\u003e\u003c\/p\u003e\n\u003c\/li\u003e\n\u003cli data-mce-fragment=\"1\"\u003e\n\u003cp data-mce-fragment=\"1\"\u003e\u003cspan data-mce-fragment=\"1\"\u003eResistance: 400Ω(1.0%+3dgt)\u003c\/span\u003e\u003c\/p\u003e\n\u003c\/li\u003e\n\u003cli data-mce-fragment=\"1\"\u003e\n\u003cp data-mce-fragment=\"1\"\u003e\u003cspan data-mce-fragment=\"1\"\u003e4kΩ\/40kΩ \/400kΩ\/4MΩ(1.0%+2dgt)\u003c\/span\u003e\u003c\/p\u003e\n\u003c\/li\u003e\n\u003cli data-mce-fragment=\"1\"\u003e\n\u003cp data-mce-fragment=\"1\"\u003e\u003cspan data-mce-fragment=\"1\"\u003e40MΩ(1.5%+3dgt)\u003c\/span\u003e\u003c\/p\u003e\n\u003cp data-mce-fragment=\"1\"\u003e\u003cspan data-mce-fragment=\"1\"\u003e\u003cstrong data-mce-fragment=\"1\"\u003eFeatures:\u003c\/strong\u003e\u003c\/span\u003e\u003c\/p\u003e\n\u003cp data-mce-fragment=\"1\"\u003e\u003cspan data-mce-fragment=\"1\"\u003e√ Data Hold YES\u003c\/span\u003e\u003c\/p\u003e\n\u003cp data-mce-fragment=\"1\"\u003e\u003cspan data-mce-fragment=\"1\"\u003e√ Diode Test YES\u003c\/span\u003e\u003c\/p\u003e\n\u003cp data-mce-fragment=\"1\"\u003e\u003cspan data-mce-fragment=\"1\"\u003e√ Auto power off YES\u003c\/span\u003e\u003c\/p\u003e\n\u003cp data-mce-fragment=\"1\"\u003e\u003cspan data-mce-fragment=\"1\"\u003e√ Backlight Display YES\u003c\/span\u003e\u003c\/p\u003e\n\u003cp data-mce-fragment=\"1\"\u003e\u003cspan data-mce-fragment=\"1\"\u003e√ Overload P rotection YES\u003c\/span\u003e\u003c\/p\u003e\n\u003cp data-mce-fragment=\"1\"\u003e\u003cspan data-mce-fragment=\"1\"\u003e√ Phone APP Connection YES\u003c\/span\u003e\u003c\/p\u003e\n\u003c\/li\u003e\n\u003c\/ul\u003e\n\u003cspan data-mce-fragment=\"1\" rwr=\"1\"\u003e\u003cimg alt=\"522343\" src=\"https:\/\/image.pushauction.com\/0\/0\/f6717b1d-988a-4448-be24-fb6726d8b456\/205a60a9-61ea-4ebc-9902-b38809d48c11.jpg\" data-mce-fragment=\"1\" data-mce-src=\"https:\/\/image.pushauction.com\/0\/0\/f6717b1d-988a-4448-be24-fb6726d8b456\/205a60a9-61ea-4ebc-9902-b38809d48c11.jpg\"\u003e\u003c\/span\u003e\n\u003c\/div\u003e\n\u003cdiv data-mce-fragment=\"1\"\u003e\n\u003cp data-mce-fragment=\"1\"\u003e\u003cspan data-mce-fragment=\"1\" rwr=\"1\"\u003e\u003cimg alt=\"522343\" src=\"https:\/\/image.pushauction.com\/0\/0\/f6717b1d-988a-4448-be24-fb6726d8b456\/cc70184d-9b46-4df5-89de-6192710e40cc.JPG\" data-mce-fragment=\"1\" data-mce-src=\"https:\/\/image.pushauction.com\/0\/0\/f6717b1d-988a-4448-be24-fb6726d8b456\/cc70184d-9b46-4df5-89de-6192710e40cc.JPG\"\u003e\u003c\/span\u003e\u003c\/p\u003e\n\u003cul data-mce-fragment=\"1\"\u003e\n\u003cli data-mce-fragment=\"1\"\u003e\u003cspan data-mce-fragment=\"1\"\u003e1 * Holdpeak 570C-APP Clamp Meters\u003c\/span\u003e\u003c\/li\u003e\n\u003cli data-mce-fragment=\"1\"\u003e\u003cspan data-mce-fragment=\"1\"\u003e1 * Test Lead\u003c\/span\u003e\u003c\/li\u003e\n\u003cli data-mce-fragment=\"1\"\u003e\u003cspan data-mce-fragment=\"1\"\u003e1 * English Manual\u003c\/span\u003e\u003c\/li\u003e\n\u003cli data-mce-fragment=\"1\"\u003e\u003cspan data-mce-fragment=\"1\"\u003e1 * Storage Bag\u003c\/span\u003e\u003c\/li\u003e\n\u003c\/ul\u003e\n\u003c\/div\u003e\n\u003cdiv data-mce-fragment=\"1\"\u003e\n\u003ch3 data-mce-fragment=\"1\"\u003e\u003cspan data-mce-fragment=\"1\"\u003e\u003ca data-mce-fragment=\"1\"\u003eNotice:\u003c\/a\u003e\u003c\/span\u003e\u003c\/h3\u003e\n\u003cul data-mce-fragment=\"1\"\u003e\n\u003cli data-mce-fragment=\"1\"\u003e\u003cspan data-mce-fragment=\"1\"\u003eThe standard package don't include batteries. Because, the international air shipping forbid to ship liquid,powder and batteries,we can not put them in the package box. Hope you can understand buy them in your local store or supermarket.Thanks for your support!\u003c\/span\u003e\u003c\/li\u003e\n\u003c\/ul\u003e\n\u003c\/div\u003e\n\u003c\/div\u003e"}

Translation missing: en.products.product.regular_price

$9.99

{"id":6041334153416,"title":"Digital Clamp Meter DC Current 4000 Counts AC\/DC Volt 1000A Handheld Tester","handle":"digital-clamp-meter-dc-current-4000-counts-ac-dc-volt-1000a-handheld-tester","description":"\u003cdiv data-mce-fragment=\"1\"\u003e\u003cspan data-mce-fragment=\"1\"\u003e\u003cstrong data-mce-fragment=\"1\"\u003eAbout Product:\u003c\/strong\u003e\u003c\/span\u003e\u003c\/div\u003e\n\u003cdiv data-mce-fragment=\"1\"\u003e\n\u003cul\u003e\n\u003cli\u003e\u003cspan data-mce-fragment=\"1\"\u003e【Wide Range Clamp Meter】 With 4000 counts display, the clamp meter can measure DC\/AC voltage;AC\/DC current,Resistance,Capacitance,Temperature,Frequency,Diode Test. The clamp meter has manual\/automatic ranging which can adjust the operation method according to your usage habits.The jaw size up to 1.77in\/45mm to measure a cable which is thick enough\u003c\/span\u003e\u003c\/li\u003e\n\u003cli\u003e\u003cspan data-mce-fragment=\"1\"\u003e【Multi-Function Multimeter】With Data hold, LCD Backlight, Relative value,Continuity buzzer,Connect to Phone by APP. Through the Backlight function, you can measure in the darkness and read the data clearly by the large LCD screen.\u003c\/span\u003e\u003c\/li\u003e\n\u003cli\u003e\u003cspan data-mce-fragment=\"1\"\u003e【Auto Connect To Your Phone Via Bluetooth】HP-570C-APP clamp multimeter come with APP Supported, you can connect to your smart phone via Bluetooth to monitor clamp meter measurement in real time. With this APP-Multimeter, you can transfer the data and analysis it in real time on your phone. The mobile APP can be installed on iPhone 4S iOS or Android 4.30 or higher.\u003c\/span\u003e\u003c\/li\u003e\n\u003cli\u003e\u003cspan data-mce-fragment=\"1\"\u003e【Safety \u0026amp; Over Load Protection】 HP-570C-APP Clamp Meter is up to the standards of IEC1010 Double Insulation, Pollution Degree 2, Over voltage Category Ⅲ and overload protection. It will show \"OL\" on the LCD if over range.\u003c\/span\u003e\u003c\/li\u003e\n\u003c\/ul\u003e\n\u003c\/div\u003e\n\u003cdiv data-mce-fragment=\"1\"\u003e\u003cspan data-mce-fragment=\"1\"\u003e\u003cstrong data-mce-fragment=\"1\"\u003e\u003cimg src=\"https:\/\/pg-cdn-a2.datacaciques.com\/00\/NDAy\/20\/10\/19\/578sngi3324w547p\/1d4d65bdcb7c3d0d.jpg\" data-mce-fragment=\"1\" data-mce-src=\"https:\/\/pg-cdn-a2.datacaciques.com\/00\/NDAy\/20\/10\/19\/578sngi3324w547p\/1d4d65bdcb7c3d0d.jpg\"\u003e\u003cimg src=\"https:\/\/pg-cdn-a2.datacaciques.com\/00\/NDAy\/20\/10\/19\/578sngi3324w547p\/a8a0343eab3ddb20.jpg\" data-mce-fragment=\"1\" data-mce-src=\"https:\/\/pg-cdn-a2.datacaciques.com\/00\/NDAy\/20\/10\/19\/578sngi3324w547p\/a8a0343eab3ddb20.jpg\"\u003e\u003cimg src=\"https:\/\/pg-cdn-a2.datacaciques.com\/00\/NDAy\/20\/10\/19\/578sngi3324w547p\/035d7c08ae1f9ac8.jpg\" data-mce-fragment=\"1\" data-mce-src=\"https:\/\/pg-cdn-a2.datacaciques.com\/00\/NDAy\/20\/10\/19\/578sngi3324w547p\/035d7c08ae1f9ac8.jpg\"\u003e\u003cimg src=\"https:\/\/pg-cdn-a2.datacaciques.com\/00\/NDAy\/20\/10\/19\/578sngi3324w547p\/396d7dae1157f399.jpg\" data-mce-fragment=\"1\" data-mce-src=\"https:\/\/pg-cdn-a2.datacaciques.com\/00\/NDAy\/20\/10\/19\/578sngi3324w547p\/396d7dae1157f399.jpg\"\u003e\u003cimg src=\"https:\/\/pg-cdn-a2.datacaciques.com\/00\/NDAy\/20\/10\/19\/578sngi3324w547p\/75c686f7e8728a9c.jpg\" data-mce-fragment=\"1\" data-mce-src=\"https:\/\/pg-cdn-a2.datacaciques.com\/00\/NDAy\/20\/10\/19\/578sngi3324w547p\/75c686f7e8728a9c.jpg\"\u003e\u003cimg src=\"https:\/\/pg-cdn-a2.datacaciques.com\/00\/NDAy\/20\/10\/19\/578sngi3324w547p\/ac49092a3a640d9f.jpg\" data-mce-fragment=\"1\" data-mce-src=\"https:\/\/pg-cdn-a2.datacaciques.com\/00\/NDAy\/20\/10\/19\/578sngi3324w547p\/ac49092a3a640d9f.jpg\"\u003e\u003c\/strong\u003e\u003c\/span\u003e\u003c\/div\u003e\n\u003cdiv data-mce-fragment=\"1\"\u003e\u003cspan data-mce-fragment=\"1\"\u003e\u003cstrong data-mce-fragment=\"1\"\u003eProduct Specification:\u003c\/strong\u003e\u003c\/span\u003e\u003c\/div\u003e\n\u003cdiv data-mce-fragment=\"1\"\u003e\n\u003cdiv data-mce-fragment=\"1\"\u003e\n\u003cul data-mce-fragment=\"1\"\u003e\n\u003cli data-mce-fragment=\"1\"\u003e\n\u003cp data-mce-fragment=\"1\"\u003e\u003cspan data-mce-fragment=\"1\"\u003eRange Selection: Auto Ranging\u003c\/span\u003e\u003c\/p\u003e\n\u003c\/li\u003e\n\u003cli data-mce-fragment=\"1\"\u003e\n\u003cp data-mce-fragment=\"1\"\u003e\u003cspan data-mce-fragment=\"1\"\u003eMax Display: 4000\u003c\/span\u003e\u003c\/p\u003e\n\u003c\/li\u003e\n\u003cli data-mce-fragment=\"1\"\u003e\n\u003cp data-mce-fragment=\"1\"\u003e\u003cspan data-mce-fragment=\"1\"\u003eDuty cycle:0.1%~99.9%\u003c\/span\u003e\u003c\/p\u003e\n\u003c\/li\u003e\n\u003cli data-mce-fragment=\"1\"\u003e\n\u003cp data-mce-fragment=\"1\"\u003e\u003cspan data-mce-fragment=\"1\"\u003eCapacitance:51.2nF~100uF\u003c\/span\u003e\u003c\/p\u003e\n\u003c\/li\u003e\n\u003cli data-mce-fragment=\"1\"\u003e\n\u003cp data-mce-fragment=\"1\"\u003e\u003cspan data-mce-fragment=\"1\"\u003eFrequency:5.12Hz~5.12MHz(0.1%+5dgt)\u003c\/span\u003e\u003c\/p\u003e\n\u003c\/li\u003e\n\u003cli data-mce-fragment=\"1\"\u003e\n\u003cp data-mce-fragment=\"1\"\u003e\u003cspan data-mce-fragment=\"1\"\u003eTemperature:-20℃~1000℃(-4℉~1832℉)(3%+2dgt)\u003c\/span\u003e\u003c\/p\u003e\n\u003c\/li\u003e\n\u003cli data-mce-fragment=\"1\"\u003e\n\u003cp data-mce-fragment=\"1\"\u003e\u003cspan data-mce-fragment=\"1\"\u003eDC Voltage: 400mV\/4V\/40V\/400V(0.5%+2dgt) 1000V(0.8%+2dgt)\u003c\/span\u003e\u003c\/p\u003e\n\u003c\/li\u003e\n\u003cli data-mce-fragment=\"1\"\u003e\n\u003cp data-mce-fragment=\"1\"\u003e\u003cspan data-mce-fragment=\"1\"\u003eAC Voltage: 4V\/40V\/400V(3.0%+10dgt) 750V(1.2%+3dgt)\u003c\/span\u003e\u003c\/p\u003e\n\u003c\/li\u003e\n\u003cli data-mce-fragment=\"1\"\u003e\n\u003cp data-mce-fragment=\"1\"\u003e\u003cspan data-mce-fragment=\"1\"\u003eDC Current: 200A(3.0%+10dgt)\u003c\/span\u003e\u003c\/p\u003e\n\u003c\/li\u003e\n\u003cli data-mce-fragment=\"1\"\u003e\n\u003cp data-mce-fragment=\"1\"\u003e\u003cspan data-mce-fragment=\"1\"\u003e1000A (0~800:±3.5%+10dgt; 800~1000:±6.5%+10dgt)\u003c\/span\u003e\u003c\/p\u003e\n\u003c\/li\u003e\n\u003cli data-mce-fragment=\"1\"\u003e\n\u003cp data-mce-fragment=\"1\"\u003e\u003cspan data-mce-fragment=\"1\"\u003eAC Current: 400A(3.0%+10dgt)\u003c\/span\u003e\u003c\/p\u003e\n\u003c\/li\u003e\n\u003cli data-mce-fragment=\"1\"\u003e\n\u003cp data-mce-fragment=\"1\"\u003e\u003cspan data-mce-fragment=\"1\"\u003e1000A(0~800:±3.5%+10dgt; 800~1000:±6.5%+10dgt)\u003c\/span\u003e\u003c\/p\u003e\n\u003c\/li\u003e\n\u003cli data-mce-fragment=\"1\"\u003e\n\u003cp data-mce-fragment=\"1\"\u003e\u003cspan data-mce-fragment=\"1\"\u003eResistance: 400Ω(1.0%+3dgt)\u003c\/span\u003e\u003c\/p\u003e\n\u003c\/li\u003e\n\u003cli data-mce-fragment=\"1\"\u003e\n\u003cp data-mce-fragment=\"1\"\u003e\u003cspan data-mce-fragment=\"1\"\u003e4kΩ\/40kΩ \/400kΩ\/4MΩ(1.0%+2dgt)\u003c\/span\u003e\u003c\/p\u003e\n\u003c\/li\u003e\n\u003cli data-mce-fragment=\"1\"\u003e\n\u003cp data-mce-fragment=\"1\"\u003e\u003cspan data-mce-fragment=\"1\"\u003e40MΩ(1.5%+3dgt)\u003c\/span\u003e\u003c\/p\u003e\n\u003cp data-mce-fragment=\"1\"\u003e\u003cspan data-mce-fragment=\"1\"\u003e\u003cstrong data-mce-fragment=\"1\"\u003eFeatures:\u003c\/strong\u003e\u003c\/span\u003e\u003c\/p\u003e\n\u003cp data-mce-fragment=\"1\"\u003e\u003cspan data-mce-fragment=\"1\"\u003e√ Data Hold YES\u003c\/span\u003e\u003c\/p\u003e\n\u003cp data-mce-fragment=\"1\"\u003e\u003cspan data-mce-fragment=\"1\"\u003e√ Diode Test YES\u003c\/span\u003e\u003c\/p\u003e\n\u003cp data-mce-fragment=\"1\"\u003e\u003cspan data-mce-fragment=\"1\"\u003e√ Auto power off YES\u003c\/span\u003e\u003c\/p\u003e\n\u003cp data-mce-fragment=\"1\"\u003e\u003cspan data-mce-fragment=\"1\"\u003e√ Backlight Display YES\u003c\/span\u003e\u003c\/p\u003e\n\u003cp data-mce-fragment=\"1\"\u003e\u003cspan data-mce-fragment=\"1\"\u003e√ Overload P rotection YES\u003c\/span\u003e\u003c\/p\u003e\n\u003cp data-mce-fragment=\"1\"\u003e\u003cspan data-mce-fragment=\"1\"\u003e√ Phone APP Connection YES\u003c\/span\u003e\u003c\/p\u003e\n\u003c\/li\u003e\n\u003c\/ul\u003e\n\u003cspan data-mce-fragment=\"1\" rwr=\"1\"\u003e\u003cimg alt=\"522343\" src=\"https:\/\/image.pushauction.com\/0\/0\/f6717b1d-988a-4448-be24-fb6726d8b456\/205a60a9-61ea-4ebc-9902-b38809d48c11.jpg\" data-mce-fragment=\"1\" data-mce-src=\"https:\/\/image.pushauction.com\/0\/0\/f6717b1d-988a-4448-be24-fb6726d8b456\/205a60a9-61ea-4ebc-9902-b38809d48c11.jpg\"\u003e\u003c\/span\u003e\n\u003c\/div\u003e\n\u003cdiv data-mce-fragment=\"1\"\u003e\n\u003cp data-mce-fragment=\"1\"\u003e\u003cspan data-mce-fragment=\"1\" rwr=\"1\"\u003e\u003cimg alt=\"522343\" src=\"https:\/\/image.pushauction.com\/0\/0\/f6717b1d-988a-4448-be24-fb6726d8b456\/cc70184d-9b46-4df5-89de-6192710e40cc.JPG\" data-mce-fragment=\"1\" data-mce-src=\"https:\/\/image.pushauction.com\/0\/0\/f6717b1d-988a-4448-be24-fb6726d8b456\/cc70184d-9b46-4df5-89de-6192710e40cc.JPG\"\u003e\u003c\/span\u003e\u003c\/p\u003e\n\u003cul data-mce-fragment=\"1\"\u003e\n\u003cli data-mce-fragment=\"1\"\u003e\u003cspan data-mce-fragment=\"1\"\u003e1 * Holdpeak 570C-APP Clamp Meters\u003c\/span\u003e\u003c\/li\u003e\n\u003cli data-mce-fragment=\"1\"\u003e\u003cspan data-mce-fragment=\"1\"\u003e1 * Test Lead\u003c\/span\u003e\u003c\/li\u003e\n\u003cli data-mce-fragment=\"1\"\u003e\u003cspan data-mce-fragment=\"1\"\u003e1 * English Manual\u003c\/span\u003e\u003c\/li\u003e\n\u003cli data-mce-fragment=\"1\"\u003e\u003cspan data-mce-fragment=\"1\"\u003e1 * Storage Bag\u003c\/span\u003e\u003c\/li\u003e\n\u003c\/ul\u003e\n\u003c\/div\u003e\n\u003cdiv data-mce-fragment=\"1\"\u003e\n\u003ch3 data-mce-fragment=\"1\"\u003e\u003cspan data-mce-fragment=\"1\"\u003e\u003ca data-mce-fragment=\"1\"\u003eNotice:\u003c\/a\u003e\u003c\/span\u003e\u003c\/h3\u003e\n\u003cul data-mce-fragment=\"1\"\u003e\n\u003cli data-mce-fragment=\"1\"\u003e\u003cspan data-mce-fragment=\"1\"\u003eThe standard package don't include batteries. Because, the international air shipping forbid to ship liquid,powder and batteries,we can not put them in the package box. Hope you can understand buy them in your local store or supermarket.Thanks for your support!\u003c\/span\u003e\u003c\/li\u003e\n\u003c\/ul\u003e\n\u003c\/div\u003e\n\u003c\/div\u003e","published_at":"2020-11-02T17:59:06+08:00","created_at":"2020-11-02T17:39:56+08:00","vendor":"DIYMORE","type":"","tags":[],"price":5099,"price_min":5099,"price_max":5099,"available":true,"price_varies":false,"compare_at_price":null,"compare_at_price_min":0,"compare_at_price_max":0,"compare_at_price_varies":false,"variants":[{"id":37402113999048,"title":"Default Title","option1":"Default Title","option2":null,"option3":null,"sku":"XQ0032","requires_shipping":true,"taxable":false,"featured_image":null,"available":true,"name":"Digital Clamp Meter DC Current 4000 Counts AC\/DC Volt 1000A Handheld Tester","public_title":null,"options":["Default Title"],"price":5099,"weight":0,"compare_at_price":null,"inventory_management":"shopify","barcode":"","requires_selling_plan":false,"selling_plan_allocations":[]}],"images":["\/\/www.diymore.cc\/cdn\/shop\/products\/XQ0032.jpg?v=1604309999","\/\/www.diymore.cc\/cdn\/shop\/products\/XQ0032_3.jpg?v=1604309999","\/\/www.diymore.cc\/cdn\/shop\/products\/XQ0032_4.jpg?v=1604309999","\/\/www.diymore.cc\/cdn\/shop\/products\/XQ0032_2.jpg?v=1604309999"],"featured_image":"\/\/www.diymore.cc\/cdn\/shop\/products\/XQ0032.jpg?v=1604309999","options":["Title"],"media":[{"alt":null,"id":14739445055688,"position":1,"preview_image":{"aspect_ratio":1.0,"height":1000,"width":1000,"src":"\/\/www.diymore.cc\/cdn\/shop\/products\/XQ0032.jpg?v=1604309999"},"aspect_ratio":1.0,"height":1000,"media_type":"image","src":"\/\/www.diymore.cc\/cdn\/shop\/products\/XQ0032.jpg?v=1604309999","width":1000},{"alt":null,"id":14739445088456,"position":2,"preview_image":{"aspect_ratio":1.0,"height":1000,"width":1000,"src":"\/\/www.diymore.cc\/cdn\/shop\/products\/XQ0032_3.jpg?v=1604309999"},"aspect_ratio":1.0,"height":1000,"media_type":"image","src":"\/\/www.diymore.cc\/cdn\/shop\/products\/XQ0032_3.jpg?v=1604309999","width":1000},{"alt":null,"id":14739445121224,"position":3,"preview_image":{"aspect_ratio":1.0,"height":1000,"width":1000,"src":"\/\/www.diymore.cc\/cdn\/shop\/products\/XQ0032_4.jpg?v=1604309999"},"aspect_ratio":1.0,"height":1000,"media_type":"image","src":"\/\/www.diymore.cc\/cdn\/shop\/products\/XQ0032_4.jpg?v=1604309999","width":1000},{"alt":null,"id":14739445153992,"position":4,"preview_image":{"aspect_ratio":1.0,"height":1000,"width":1000,"src":"\/\/www.diymore.cc\/cdn\/shop\/products\/XQ0032_2.jpg?v=1604309999"},"aspect_ratio":1.0,"height":1000,"media_type":"image","src":"\/\/www.diymore.cc\/cdn\/shop\/products\/XQ0032_2.jpg?v=1604309999","width":1000}],"requires_selling_plan":false,"selling_plan_groups":[],"content":"\u003cdiv data-mce-fragment=\"1\"\u003e\u003cspan data-mce-fragment=\"1\"\u003e\u003cstrong data-mce-fragment=\"1\"\u003eAbout Product:\u003c\/strong\u003e\u003c\/span\u003e\u003c\/div\u003e\n\u003cdiv data-mce-fragment=\"1\"\u003e\n\u003cul\u003e\n\u003cli\u003e\u003cspan data-mce-fragment=\"1\"\u003e【Wide Range Clamp Meter】 With 4000 counts display, the clamp meter can measure DC\/AC voltage;AC\/DC current,Resistance,Capacitance,Temperature,Frequency,Diode Test. The clamp meter has manual\/automatic ranging which can adjust the operation method according to your usage habits.The jaw size up to 1.77in\/45mm to measure a cable which is thick enough\u003c\/span\u003e\u003c\/li\u003e\n\u003cli\u003e\u003cspan data-mce-fragment=\"1\"\u003e【Multi-Function Multimeter】With Data hold, LCD Backlight, Relative value,Continuity buzzer,Connect to Phone by APP. Through the Backlight function, you can measure in the darkness and read the data clearly by the large LCD screen.\u003c\/span\u003e\u003c\/li\u003e\n\u003cli\u003e\u003cspan data-mce-fragment=\"1\"\u003e【Auto Connect To Your Phone Via Bluetooth】HP-570C-APP clamp multimeter come with APP Supported, you can connect to your smart phone via Bluetooth to monitor clamp meter measurement in real time. With this APP-Multimeter, you can transfer the data and analysis it in real time on your phone. The mobile APP can be installed on iPhone 4S iOS or Android 4.30 or higher.\u003c\/span\u003e\u003c\/li\u003e\n\u003cli\u003e\u003cspan data-mce-fragment=\"1\"\u003e【Safety \u0026amp; Over Load Protection】 HP-570C-APP Clamp Meter is up to the standards of IEC1010 Double Insulation, Pollution Degree 2, Over voltage Category Ⅲ and overload protection. It will show \"OL\" on the LCD if over range.\u003c\/span\u003e\u003c\/li\u003e\n\u003c\/ul\u003e\n\u003c\/div\u003e\n\u003cdiv data-mce-fragment=\"1\"\u003e\u003cspan data-mce-fragment=\"1\"\u003e\u003cstrong data-mce-fragment=\"1\"\u003e\u003cimg src=\"https:\/\/pg-cdn-a2.datacaciques.com\/00\/NDAy\/20\/10\/19\/578sngi3324w547p\/1d4d65bdcb7c3d0d.jpg\" data-mce-fragment=\"1\" data-mce-src=\"https:\/\/pg-cdn-a2.datacaciques.com\/00\/NDAy\/20\/10\/19\/578sngi3324w547p\/1d4d65bdcb7c3d0d.jpg\"\u003e\u003cimg src=\"https:\/\/pg-cdn-a2.datacaciques.com\/00\/NDAy\/20\/10\/19\/578sngi3324w547p\/a8a0343eab3ddb20.jpg\" data-mce-fragment=\"1\" data-mce-src=\"https:\/\/pg-cdn-a2.datacaciques.com\/00\/NDAy\/20\/10\/19\/578sngi3324w547p\/a8a0343eab3ddb20.jpg\"\u003e\u003cimg src=\"https:\/\/pg-cdn-a2.datacaciques.com\/00\/NDAy\/20\/10\/19\/578sngi3324w547p\/035d7c08ae1f9ac8.jpg\" data-mce-fragment=\"1\" data-mce-src=\"https:\/\/pg-cdn-a2.datacaciques.com\/00\/NDAy\/20\/10\/19\/578sngi3324w547p\/035d7c08ae1f9ac8.jpg\"\u003e\u003cimg src=\"https:\/\/pg-cdn-a2.datacaciques.com\/00\/NDAy\/20\/10\/19\/578sngi3324w547p\/396d7dae1157f399.jpg\" data-mce-fragment=\"1\" data-mce-src=\"https:\/\/pg-cdn-a2.datacaciques.com\/00\/NDAy\/20\/10\/19\/578sngi3324w547p\/396d7dae1157f399.jpg\"\u003e\u003cimg src=\"https:\/\/pg-cdn-a2.datacaciques.com\/00\/NDAy\/20\/10\/19\/578sngi3324w547p\/75c686f7e8728a9c.jpg\" data-mce-fragment=\"1\" data-mce-src=\"https:\/\/pg-cdn-a2.datacaciques.com\/00\/NDAy\/20\/10\/19\/578sngi3324w547p\/75c686f7e8728a9c.jpg\"\u003e\u003cimg src=\"https:\/\/pg-cdn-a2.datacaciques.com\/00\/NDAy\/20\/10\/19\/578sngi3324w547p\/ac49092a3a640d9f.jpg\" data-mce-fragment=\"1\" data-mce-src=\"https:\/\/pg-cdn-a2.datacaciques.com\/00\/NDAy\/20\/10\/19\/578sngi3324w547p\/ac49092a3a640d9f.jpg\"\u003e\u003c\/strong\u003e\u003c\/span\u003e\u003c\/div\u003e\n\u003cdiv data-mce-fragment=\"1\"\u003e\u003cspan data-mce-fragment=\"1\"\u003e\u003cstrong data-mce-fragment=\"1\"\u003eProduct Specification:\u003c\/strong\u003e\u003c\/span\u003e\u003c\/div\u003e\n\u003cdiv data-mce-fragment=\"1\"\u003e\n\u003cdiv data-mce-fragment=\"1\"\u003e\n\u003cul data-mce-fragment=\"1\"\u003e\n\u003cli data-mce-fragment=\"1\"\u003e\n\u003cp data-mce-fragment=\"1\"\u003e\u003cspan data-mce-fragment=\"1\"\u003eRange Selection: Auto Ranging\u003c\/span\u003e\u003c\/p\u003e\n\u003c\/li\u003e\n\u003cli data-mce-fragment=\"1\"\u003e\n\u003cp data-mce-fragment=\"1\"\u003e\u003cspan data-mce-fragment=\"1\"\u003eMax Display: 4000\u003c\/span\u003e\u003c\/p\u003e\n\u003c\/li\u003e\n\u003cli data-mce-fragment=\"1\"\u003e\n\u003cp data-mce-fragment=\"1\"\u003e\u003cspan data-mce-fragment=\"1\"\u003eDuty cycle:0.1%~99.9%\u003c\/span\u003e\u003c\/p\u003e\n\u003c\/li\u003e\n\u003cli data-mce-fragment=\"1\"\u003e\n\u003cp data-mce-fragment=\"1\"\u003e\u003cspan data-mce-fragment=\"1\"\u003eCapacitance:51.2nF~100uF\u003c\/span\u003e\u003c\/p\u003e\n\u003c\/li\u003e\n\u003cli data-mce-fragment=\"1\"\u003e\n\u003cp data-mce-fragment=\"1\"\u003e\u003cspan data-mce-fragment=\"1\"\u003eFrequency:5.12Hz~5.12MHz(0.1%+5dgt)\u003c\/span\u003e\u003c\/p\u003e\n\u003c\/li\u003e\n\u003cli data-mce-fragment=\"1\"\u003e\n\u003cp data-mce-fragment=\"1\"\u003e\u003cspan data-mce-fragment=\"1\"\u003eTemperature:-20℃~1000℃(-4℉~1832℉)(3%+2dgt)\u003c\/span\u003e\u003c\/p\u003e\n\u003c\/li\u003e\n\u003cli data-mce-fragment=\"1\"\u003e\n\u003cp data-mce-fragment=\"1\"\u003e\u003cspan data-mce-fragment=\"1\"\u003eDC Voltage: 400mV\/4V\/40V\/400V(0.5%+2dgt) 1000V(0.8%+2dgt)\u003c\/span\u003e\u003c\/p\u003e\n\u003c\/li\u003e\n\u003cli data-mce-fragment=\"1\"\u003e\n\u003cp data-mce-fragment=\"1\"\u003e\u003cspan data-mce-fragment=\"1\"\u003eAC Voltage: 4V\/40V\/400V(3.0%+10dgt) 750V(1.2%+3dgt)\u003c\/span\u003e\u003c\/p\u003e\n\u003c\/li\u003e\n\u003cli data-mce-fragment=\"1\"\u003e\n\u003cp data-mce-fragment=\"1\"\u003e\u003cspan data-mce-fragment=\"1\"\u003eDC Current: 200A(3.0%+10dgt)\u003c\/span\u003e\u003c\/p\u003e\n\u003c\/li\u003e\n\u003cli data-mce-fragment=\"1\"\u003e\n\u003cp data-mce-fragment=\"1\"\u003e\u003cspan data-mce-fragment=\"1\"\u003e1000A (0~800:±3.5%+10dgt; 800~1000:±6.5%+10dgt)\u003c\/span\u003e\u003c\/p\u003e\n\u003c\/li\u003e\n\u003cli data-mce-fragment=\"1\"\u003e\n\u003cp data-mce-fragment=\"1\"\u003e\u003cspan data-mce-fragment=\"1\"\u003eAC Current: 400A(3.0%+10dgt)\u003c\/span\u003e\u003c\/p\u003e\n\u003c\/li\u003e\n\u003cli data-mce-fragment=\"1\"\u003e\n\u003cp data-mce-fragment=\"1\"\u003e\u003cspan data-mce-fragment=\"1\"\u003e1000A(0~800:±3.5%+10dgt; 800~1000:±6.5%+10dgt)\u003c\/span\u003e\u003c\/p\u003e\n\u003c\/li\u003e\n\u003cli data-mce-fragment=\"1\"\u003e\n\u003cp data-mce-fragment=\"1\"\u003e\u003cspan data-mce-fragment=\"1\"\u003eResistance: 400Ω(1.0%+3dgt)\u003c\/span\u003e\u003c\/p\u003e\n\u003c\/li\u003e\n\u003cli data-mce-fragment=\"1\"\u003e\n\u003cp data-mce-fragment=\"1\"\u003e\u003cspan data-mce-fragment=\"1\"\u003e4kΩ\/40kΩ \/400kΩ\/4MΩ(1.0%+2dgt)\u003c\/span\u003e\u003c\/p\u003e\n\u003c\/li\u003e\n\u003cli data-mce-fragment=\"1\"\u003e\n\u003cp data-mce-fragment=\"1\"\u003e\u003cspan data-mce-fragment=\"1\"\u003e40MΩ(1.5%+3dgt)\u003c\/span\u003e\u003c\/p\u003e\n\u003cp data-mce-fragment=\"1\"\u003e\u003cspan data-mce-fragment=\"1\"\u003e\u003cstrong data-mce-fragment=\"1\"\u003eFeatures:\u003c\/strong\u003e\u003c\/span\u003e\u003c\/p\u003e\n\u003cp data-mce-fragment=\"1\"\u003e\u003cspan data-mce-fragment=\"1\"\u003e√ Data Hold YES\u003c\/span\u003e\u003c\/p\u003e\n\u003cp data-mce-fragment=\"1\"\u003e\u003cspan data-mce-fragment=\"1\"\u003e√ Diode Test YES\u003c\/span\u003e\u003c\/p\u003e\n\u003cp data-mce-fragment=\"1\"\u003e\u003cspan data-mce-fragment=\"1\"\u003e√ Auto power off YES\u003c\/span\u003e\u003c\/p\u003e\n\u003cp data-mce-fragment=\"1\"\u003e\u003cspan data-mce-fragment=\"1\"\u003e√ Backlight Display YES\u003c\/span\u003e\u003c\/p\u003e\n\u003cp data-mce-fragment=\"1\"\u003e\u003cspan data-mce-fragment=\"1\"\u003e√ Overload P rotection YES\u003c\/span\u003e\u003c\/p\u003e\n\u003cp data-mce-fragment=\"1\"\u003e\u003cspan data-mce-fragment=\"1\"\u003e√ Phone APP Connection YES\u003c\/span\u003e\u003c\/p\u003e\n\u003c\/li\u003e\n\u003c\/ul\u003e\n\u003cspan data-mce-fragment=\"1\" rwr=\"1\"\u003e\u003cimg alt=\"522343\" src=\"https:\/\/image.pushauction.com\/0\/0\/f6717b1d-988a-4448-be24-fb6726d8b456\/205a60a9-61ea-4ebc-9902-b38809d48c11.jpg\" data-mce-fragment=\"1\" data-mce-src=\"https:\/\/image.pushauction.com\/0\/0\/f6717b1d-988a-4448-be24-fb6726d8b456\/205a60a9-61ea-4ebc-9902-b38809d48c11.jpg\"\u003e\u003c\/span\u003e\n\u003c\/div\u003e\n\u003cdiv data-mce-fragment=\"1\"\u003e\n\u003cp data-mce-fragment=\"1\"\u003e\u003cspan data-mce-fragment=\"1\" rwr=\"1\"\u003e\u003cimg alt=\"522343\" src=\"https:\/\/image.pushauction.com\/0\/0\/f6717b1d-988a-4448-be24-fb6726d8b456\/cc70184d-9b46-4df5-89de-6192710e40cc.JPG\" data-mce-fragment=\"1\" data-mce-src=\"https:\/\/image.pushauction.com\/0\/0\/f6717b1d-988a-4448-be24-fb6726d8b456\/cc70184d-9b46-4df5-89de-6192710e40cc.JPG\"\u003e\u003c\/span\u003e\u003c\/p\u003e\n\u003cul data-mce-fragment=\"1\"\u003e\n\u003cli data-mce-fragment=\"1\"\u003e\u003cspan data-mce-fragment=\"1\"\u003e1 * Holdpeak 570C-APP Clamp Meters\u003c\/span\u003e\u003c\/li\u003e\n\u003cli data-mce-fragment=\"1\"\u003e\u003cspan data-mce-fragment=\"1\"\u003e1 * Test Lead\u003c\/span\u003e\u003c\/li\u003e\n\u003cli data-mce-fragment=\"1\"\u003e\u003cspan data-mce-fragment=\"1\"\u003e1 * English Manual\u003c\/span\u003e\u003c\/li\u003e\n\u003cli data-mce-fragment=\"1\"\u003e\u003cspan data-mce-fragment=\"1\"\u003e1 * Storage Bag\u003c\/span\u003e\u003c\/li\u003e\n\u003c\/ul\u003e\n\u003c\/div\u003e\n\u003cdiv data-mce-fragment=\"1\"\u003e\n\u003ch3 data-mce-fragment=\"1\"\u003e\u003cspan data-mce-fragment=\"1\"\u003e\u003ca data-mce-fragment=\"1\"\u003eNotice:\u003c\/a\u003e\u003c\/span\u003e\u003c\/h3\u003e\n\u003cul data-mce-fragment=\"1\"\u003e\n\u003cli data-mce-fragment=\"1\"\u003e\u003cspan data-mce-fragment=\"1\"\u003eThe standard package don't include batteries. Because, the international air shipping forbid to ship liquid,powder and batteries,we can not put them in the package box. Hope you can understand buy them in your local store or supermarket.Thanks for your support!\u003c\/span\u003e\u003c\/li\u003e\n\u003c\/ul\u003e\n\u003c\/div\u003e\n\u003c\/div\u003e"}

Translation missing: en.products.product.regular_price

$5.99

{"id":6041334153416,"title":"Digital Clamp Meter DC Current 4000 Counts AC\/DC Volt 1000A Handheld Tester","handle":"digital-clamp-meter-dc-current-4000-counts-ac-dc-volt-1000a-handheld-tester","description":"\u003cdiv data-mce-fragment=\"1\"\u003e\u003cspan data-mce-fragment=\"1\"\u003e\u003cstrong data-mce-fragment=\"1\"\u003eAbout Product:\u003c\/strong\u003e\u003c\/span\u003e\u003c\/div\u003e\n\u003cdiv data-mce-fragment=\"1\"\u003e\n\u003cul\u003e\n\u003cli\u003e\u003cspan data-mce-fragment=\"1\"\u003e【Wide Range Clamp Meter】 With 4000 counts display, the clamp meter can measure DC\/AC voltage;AC\/DC current,Resistance,Capacitance,Temperature,Frequency,Diode Test. The clamp meter has manual\/automatic ranging which can adjust the operation method according to your usage habits.The jaw size up to 1.77in\/45mm to measure a cable which is thick enough\u003c\/span\u003e\u003c\/li\u003e\n\u003cli\u003e\u003cspan data-mce-fragment=\"1\"\u003e【Multi-Function Multimeter】With Data hold, LCD Backlight, Relative value,Continuity buzzer,Connect to Phone by APP. Through the Backlight function, you can measure in the darkness and read the data clearly by the large LCD screen.\u003c\/span\u003e\u003c\/li\u003e\n\u003cli\u003e\u003cspan data-mce-fragment=\"1\"\u003e【Auto Connect To Your Phone Via Bluetooth】HP-570C-APP clamp multimeter come with APP Supported, you can connect to your smart phone via Bluetooth to monitor clamp meter measurement in real time. With this APP-Multimeter, you can transfer the data and analysis it in real time on your phone. The mobile APP can be installed on iPhone 4S iOS or Android 4.30 or higher.\u003c\/span\u003e\u003c\/li\u003e\n\u003cli\u003e\u003cspan data-mce-fragment=\"1\"\u003e【Safety \u0026amp; Over Load Protection】 HP-570C-APP Clamp Meter is up to the standards of IEC1010 Double Insulation, Pollution Degree 2, Over voltage Category Ⅲ and overload protection. It will show \"OL\" on the LCD if over range.\u003c\/span\u003e\u003c\/li\u003e\n\u003c\/ul\u003e\n\u003c\/div\u003e\n\u003cdiv data-mce-fragment=\"1\"\u003e\u003cspan data-mce-fragment=\"1\"\u003e\u003cstrong data-mce-fragment=\"1\"\u003e\u003cimg src=\"https:\/\/pg-cdn-a2.datacaciques.com\/00\/NDAy\/20\/10\/19\/578sngi3324w547p\/1d4d65bdcb7c3d0d.jpg\" data-mce-fragment=\"1\" data-mce-src=\"https:\/\/pg-cdn-a2.datacaciques.com\/00\/NDAy\/20\/10\/19\/578sngi3324w547p\/1d4d65bdcb7c3d0d.jpg\"\u003e\u003cimg src=\"https:\/\/pg-cdn-a2.datacaciques.com\/00\/NDAy\/20\/10\/19\/578sngi3324w547p\/a8a0343eab3ddb20.jpg\" data-mce-fragment=\"1\" data-mce-src=\"https:\/\/pg-cdn-a2.datacaciques.com\/00\/NDAy\/20\/10\/19\/578sngi3324w547p\/a8a0343eab3ddb20.jpg\"\u003e\u003cimg src=\"https:\/\/pg-cdn-a2.datacaciques.com\/00\/NDAy\/20\/10\/19\/578sngi3324w547p\/035d7c08ae1f9ac8.jpg\" data-mce-fragment=\"1\" data-mce-src=\"https:\/\/pg-cdn-a2.datacaciques.com\/00\/NDAy\/20\/10\/19\/578sngi3324w547p\/035d7c08ae1f9ac8.jpg\"\u003e\u003cimg src=\"https:\/\/pg-cdn-a2.datacaciques.com\/00\/NDAy\/20\/10\/19\/578sngi3324w547p\/396d7dae1157f399.jpg\" data-mce-fragment=\"1\" data-mce-src=\"https:\/\/pg-cdn-a2.datacaciques.com\/00\/NDAy\/20\/10\/19\/578sngi3324w547p\/396d7dae1157f399.jpg\"\u003e\u003cimg src=\"https:\/\/pg-cdn-a2.datacaciques.com\/00\/NDAy\/20\/10\/19\/578sngi3324w547p\/75c686f7e8728a9c.jpg\" data-mce-fragment=\"1\" data-mce-src=\"https:\/\/pg-cdn-a2.datacaciques.com\/00\/NDAy\/20\/10\/19\/578sngi3324w547p\/75c686f7e8728a9c.jpg\"\u003e\u003cimg src=\"https:\/\/pg-cdn-a2.datacaciques.com\/00\/NDAy\/20\/10\/19\/578sngi3324w547p\/ac49092a3a640d9f.jpg\" data-mce-fragment=\"1\" data-mce-src=\"https:\/\/pg-cdn-a2.datacaciques.com\/00\/NDAy\/20\/10\/19\/578sngi3324w547p\/ac49092a3a640d9f.jpg\"\u003e\u003c\/strong\u003e\u003c\/span\u003e\u003c\/div\u003e\n\u003cdiv data-mce-fragment=\"1\"\u003e\u003cspan data-mce-fragment=\"1\"\u003e\u003cstrong data-mce-fragment=\"1\"\u003eProduct Specification:\u003c\/strong\u003e\u003c\/span\u003e\u003c\/div\u003e\n\u003cdiv data-mce-fragment=\"1\"\u003e\n\u003cdiv data-mce-fragment=\"1\"\u003e\n\u003cul data-mce-fragment=\"1\"\u003e\n\u003cli data-mce-fragment=\"1\"\u003e\n\u003cp data-mce-fragment=\"1\"\u003e\u003cspan data-mce-fragment=\"1\"\u003eRange Selection: Auto Ranging\u003c\/span\u003e\u003c\/p\u003e\n\u003c\/li\u003e\n\u003cli data-mce-fragment=\"1\"\u003e\n\u003cp data-mce-fragment=\"1\"\u003e\u003cspan data-mce-fragment=\"1\"\u003eMax Display: 4000\u003c\/span\u003e\u003c\/p\u003e\n\u003c\/li\u003e\n\u003cli data-mce-fragment=\"1\"\u003e\n\u003cp data-mce-fragment=\"1\"\u003e\u003cspan data-mce-fragment=\"1\"\u003eDuty cycle:0.1%~99.9%\u003c\/span\u003e\u003c\/p\u003e\n\u003c\/li\u003e\n\u003cli data-mce-fragment=\"1\"\u003e\n\u003cp data-mce-fragment=\"1\"\u003e\u003cspan data-mce-fragment=\"1\"\u003eCapacitance:51.2nF~100uF\u003c\/span\u003e\u003c\/p\u003e\n\u003c\/li\u003e\n\u003cli data-mce-fragment=\"1\"\u003e\n\u003cp data-mce-fragment=\"1\"\u003e\u003cspan data-mce-fragment=\"1\"\u003eFrequency:5.12Hz~5.12MHz(0.1%+5dgt)\u003c\/span\u003e\u003c\/p\u003e\n\u003c\/li\u003e\n\u003cli data-mce-fragment=\"1\"\u003e\n\u003cp data-mce-fragment=\"1\"\u003e\u003cspan data-mce-fragment=\"1\"\u003eTemperature:-20℃~1000℃(-4℉~1832℉)(3%+2dgt)\u003c\/span\u003e\u003c\/p\u003e\n\u003c\/li\u003e\n\u003cli data-mce-fragment=\"1\"\u003e\n\u003cp data-mce-fragment=\"1\"\u003e\u003cspan data-mce-fragment=\"1\"\u003eDC Voltage: 400mV\/4V\/40V\/400V(0.5%+2dgt) 1000V(0.8%+2dgt)\u003c\/span\u003e\u003c\/p\u003e\n\u003c\/li\u003e\n\u003cli data-mce-fragment=\"1\"\u003e\n\u003cp data-mce-fragment=\"1\"\u003e\u003cspan data-mce-fragment=\"1\"\u003eAC Voltage: 4V\/40V\/400V(3.0%+10dgt) 750V(1.2%+3dgt)\u003c\/span\u003e\u003c\/p\u003e\n\u003c\/li\u003e\n\u003cli data-mce-fragment=\"1\"\u003e\n\u003cp data-mce-fragment=\"1\"\u003e\u003cspan data-mce-fragment=\"1\"\u003eDC Current: 200A(3.0%+10dgt)\u003c\/span\u003e\u003c\/p\u003e\n\u003c\/li\u003e\n\u003cli data-mce-fragment=\"1\"\u003e\n\u003cp data-mce-fragment=\"1\"\u003e\u003cspan data-mce-fragment=\"1\"\u003e1000A (0~800:±3.5%+10dgt; 800~1000:±6.5%+10dgt)\u003c\/span\u003e\u003c\/p\u003e\n\u003c\/li\u003e\n\u003cli data-mce-fragment=\"1\"\u003e\n\u003cp data-mce-fragment=\"1\"\u003e\u003cspan data-mce-fragment=\"1\"\u003eAC Current: 400A(3.0%+10dgt)\u003c\/span\u003e\u003c\/p\u003e\n\u003c\/li\u003e\n\u003cli data-mce-fragment=\"1\"\u003e\n\u003cp data-mce-fragment=\"1\"\u003e\u003cspan data-mce-fragment=\"1\"\u003e1000A(0~800:±3.5%+10dgt; 800~1000:±6.5%+10dgt)\u003c\/span\u003e\u003c\/p\u003e\n\u003c\/li\u003e\n\u003cli data-mce-fragment=\"1\"\u003e\n\u003cp data-mce-fragment=\"1\"\u003e\u003cspan data-mce-fragment=\"1\"\u003eResistance: 400Ω(1.0%+3dgt)\u003c\/span\u003e\u003c\/p\u003e\n\u003c\/li\u003e\n\u003cli data-mce-fragment=\"1\"\u003e\n\u003cp data-mce-fragment=\"1\"\u003e\u003cspan data-mce-fragment=\"1\"\u003e4kΩ\/40kΩ \/400kΩ\/4MΩ(1.0%+2dgt)\u003c\/span\u003e\u003c\/p\u003e\n\u003c\/li\u003e\n\u003cli data-mce-fragment=\"1\"\u003e\n\u003cp data-mce-fragment=\"1\"\u003e\u003cspan data-mce-fragment=\"1\"\u003e40MΩ(1.5%+3dgt)\u003c\/span\u003e\u003c\/p\u003e\n\u003cp data-mce-fragment=\"1\"\u003e\u003cspan data-mce-fragment=\"1\"\u003e\u003cstrong data-mce-fragment=\"1\"\u003eFeatures:\u003c\/strong\u003e\u003c\/span\u003e\u003c\/p\u003e\n\u003cp data-mce-fragment=\"1\"\u003e\u003cspan data-mce-fragment=\"1\"\u003e√ Data Hold YES\u003c\/span\u003e\u003c\/p\u003e\n\u003cp data-mce-fragment=\"1\"\u003e\u003cspan data-mce-fragment=\"1\"\u003e√ Diode Test YES\u003c\/span\u003e\u003c\/p\u003e\n\u003cp data-mce-fragment=\"1\"\u003e\u003cspan data-mce-fragment=\"1\"\u003e√ Auto power off YES\u003c\/span\u003e\u003c\/p\u003e\n\u003cp data-mce-fragment=\"1\"\u003e\u003cspan data-mce-fragment=\"1\"\u003e√ Backlight Display YES\u003c\/span\u003e\u003c\/p\u003e\n\u003cp data-mce-fragment=\"1\"\u003e\u003cspan data-mce-fragment=\"1\"\u003e√ Overload P rotection YES\u003c\/span\u003e\u003c\/p\u003e\n\u003cp data-mce-fragment=\"1\"\u003e\u003cspan data-mce-fragment=\"1\"\u003e√ Phone APP Connection YES\u003c\/span\u003e\u003c\/p\u003e\n\u003c\/li\u003e\n\u003c\/ul\u003e\n\u003cspan data-mce-fragment=\"1\" rwr=\"1\"\u003e\u003cimg alt=\"522343\" src=\"https:\/\/image.pushauction.com\/0\/0\/f6717b1d-988a-4448-be24-fb6726d8b456\/205a60a9-61ea-4ebc-9902-b38809d48c11.jpg\" data-mce-fragment=\"1\" data-mce-src=\"https:\/\/image.pushauction.com\/0\/0\/f6717b1d-988a-4448-be24-fb6726d8b456\/205a60a9-61ea-4ebc-9902-b38809d48c11.jpg\"\u003e\u003c\/span\u003e\n\u003c\/div\u003e\n\u003cdiv data-mce-fragment=\"1\"\u003e\n\u003cp data-mce-fragment=\"1\"\u003e\u003cspan data-mce-fragment=\"1\" rwr=\"1\"\u003e\u003cimg alt=\"522343\" src=\"https:\/\/image.pushauction.com\/0\/0\/f6717b1d-988a-4448-be24-fb6726d8b456\/cc70184d-9b46-4df5-89de-6192710e40cc.JPG\" data-mce-fragment=\"1\" data-mce-src=\"https:\/\/image.pushauction.com\/0\/0\/f6717b1d-988a-4448-be24-fb6726d8b456\/cc70184d-9b46-4df5-89de-6192710e40cc.JPG\"\u003e\u003c\/span\u003e\u003c\/p\u003e\n\u003cul data-mce-fragment=\"1\"\u003e\n\u003cli data-mce-fragment=\"1\"\u003e\u003cspan data-mce-fragment=\"1\"\u003e1 * Holdpeak 570C-APP Clamp Meters\u003c\/span\u003e\u003c\/li\u003e\n\u003cli data-mce-fragment=\"1\"\u003e\u003cspan data-mce-fragment=\"1\"\u003e1 * Test Lead\u003c\/span\u003e\u003c\/li\u003e\n\u003cli data-mce-fragment=\"1\"\u003e\u003cspan data-mce-fragment=\"1\"\u003e1 * English Manual\u003c\/span\u003e\u003c\/li\u003e\n\u003cli data-mce-fragment=\"1\"\u003e\u003cspan data-mce-fragment=\"1\"\u003e1 * Storage Bag\u003c\/span\u003e\u003c\/li\u003e\n\u003c\/ul\u003e\n\u003c\/div\u003e\n\u003cdiv data-mce-fragment=\"1\"\u003e\n\u003ch3 data-mce-fragment=\"1\"\u003e\u003cspan data-mce-fragment=\"1\"\u003e\u003ca data-mce-fragment=\"1\"\u003eNotice:\u003c\/a\u003e\u003c\/span\u003e\u003c\/h3\u003e\n\u003cul data-mce-fragment=\"1\"\u003e\n\u003cli data-mce-fragment=\"1\"\u003e\u003cspan data-mce-fragment=\"1\"\u003eThe standard package don't include batteries. Because, the international air shipping forbid to ship liquid,powder and batteries,we can not put them in the package box. Hope you can understand buy them in your local store or supermarket.Thanks for your support!\u003c\/span\u003e\u003c\/li\u003e\n\u003c\/ul\u003e\n\u003c\/div\u003e\n\u003c\/div\u003e","published_at":"2020-11-02T17:59:06+08:00","created_at":"2020-11-02T17:39:56+08:00","vendor":"DIYMORE","type":"","tags":[],"price":5099,"price_min":5099,"price_max":5099,"available":true,"price_varies":false,"compare_at_price":null,"compare_at_price_min":0,"compare_at_price_max":0,"compare_at_price_varies":false,"variants":[{"id":37402113999048,"title":"Default Title","option1":"Default Title","option2":null,"option3":null,"sku":"XQ0032","requires_shipping":true,"taxable":false,"featured_image":null,"available":true,"name":"Digital Clamp Meter DC Current 4000 Counts AC\/DC Volt 1000A Handheld Tester","public_title":null,"options":["Default Title"],"price":5099,"weight":0,"compare_at_price":null,"inventory_management":"shopify","barcode":"","requires_selling_plan":false,"selling_plan_allocations":[]}],"images":["\/\/www.diymore.cc\/cdn\/shop\/products\/XQ0032.jpg?v=1604309999","\/\/www.diymore.cc\/cdn\/shop\/products\/XQ0032_3.jpg?v=1604309999","\/\/www.diymore.cc\/cdn\/shop\/products\/XQ0032_4.jpg?v=1604309999","\/\/www.diymore.cc\/cdn\/shop\/products\/XQ0032_2.jpg?v=1604309999"],"featured_image":"\/\/www.diymore.cc\/cdn\/shop\/products\/XQ0032.jpg?v=1604309999","options":["Title"],"media":[{"alt":null,"id":14739445055688,"position":1,"preview_image":{"aspect_ratio":1.0,"height":1000,"width":1000,"src":"\/\/www.diymore.cc\/cdn\/shop\/products\/XQ0032.jpg?v=1604309999"},"aspect_ratio":1.0,"height":1000,"media_type":"image","src":"\/\/www.diymore.cc\/cdn\/shop\/products\/XQ0032.jpg?v=1604309999","width":1000},{"alt":null,"id":14739445088456,"position":2,"preview_image":{"aspect_ratio":1.0,"height":1000,"width":1000,"src":"\/\/www.diymore.cc\/cdn\/shop\/products\/XQ0032_3.jpg?v=1604309999"},"aspect_ratio":1.0,"height":1000,"media_type":"image","src":"\/\/www.diymore.cc\/cdn\/shop\/products\/XQ0032_3.jpg?v=1604309999","width":1000},{"alt":null,"id":14739445121224,"position":3,"preview_image":{"aspect_ratio":1.0,"height":1000,"width":1000,"src":"\/\/www.diymore.cc\/cdn\/shop\/products\/XQ0032_4.jpg?v=1604309999"},"aspect_ratio":1.0,"height":1000,"media_type":"image","src":"\/\/www.diymore.cc\/cdn\/shop\/products\/XQ0032_4.jpg?v=1604309999","width":1000},{"alt":null,"id":14739445153992,"position":4,"preview_image":{"aspect_ratio":1.0,"height":1000,"width":1000,"src":"\/\/www.diymore.cc\/cdn\/shop\/products\/XQ0032_2.jpg?v=1604309999"},"aspect_ratio":1.0,"height":1000,"media_type":"image","src":"\/\/www.diymore.cc\/cdn\/shop\/products\/XQ0032_2.jpg?v=1604309999","width":1000}],"requires_selling_plan":false,"selling_plan_groups":[],"content":"\u003cdiv data-mce-fragment=\"1\"\u003e\u003cspan data-mce-fragment=\"1\"\u003e\u003cstrong data-mce-fragment=\"1\"\u003eAbout Product:\u003c\/strong\u003e\u003c\/span\u003e\u003c\/div\u003e\n\u003cdiv data-mce-fragment=\"1\"\u003e\n\u003cul\u003e\n\u003cli\u003e\u003cspan data-mce-fragment=\"1\"\u003e【Wide Range Clamp Meter】 With 4000 counts display, the clamp meter can measure DC\/AC voltage;AC\/DC current,Resistance,Capacitance,Temperature,Frequency,Diode Test. The clamp meter has manual\/automatic ranging which can adjust the operation method according to your usage habits.The jaw size up to 1.77in\/45mm to measure a cable which is thick enough\u003c\/span\u003e\u003c\/li\u003e\n\u003cli\u003e\u003cspan data-mce-fragment=\"1\"\u003e【Multi-Function Multimeter】With Data hold, LCD Backlight, Relative value,Continuity buzzer,Connect to Phone by APP. Through the Backlight function, you can measure in the darkness and read the data clearly by the large LCD screen.\u003c\/span\u003e\u003c\/li\u003e\n\u003cli\u003e\u003cspan data-mce-fragment=\"1\"\u003e【Auto Connect To Your Phone Via Bluetooth】HP-570C-APP clamp multimeter come with APP Supported, you can connect to your smart phone via Bluetooth to monitor clamp meter measurement in real time. With this APP-Multimeter, you can transfer the data and analysis it in real time on your phone. The mobile APP can be installed on iPhone 4S iOS or Android 4.30 or higher.\u003c\/span\u003e\u003c\/li\u003e\n\u003cli\u003e\u003cspan data-mce-fragment=\"1\"\u003e【Safety \u0026amp; Over Load Protection】 HP-570C-APP Clamp Meter is up to the standards of IEC1010 Double Insulation, Pollution Degree 2, Over voltage Category Ⅲ and overload protection. It will show \"OL\" on the LCD if over range.\u003c\/span\u003e\u003c\/li\u003e\n\u003c\/ul\u003e\n\u003c\/div\u003e\n\u003cdiv data-mce-fragment=\"1\"\u003e\u003cspan data-mce-fragment=\"1\"\u003e\u003cstrong data-mce-fragment=\"1\"\u003e\u003cimg src=\"https:\/\/pg-cdn-a2.datacaciques.com\/00\/NDAy\/20\/10\/19\/578sngi3324w547p\/1d4d65bdcb7c3d0d.jpg\" data-mce-fragment=\"1\" data-mce-src=\"https:\/\/pg-cdn-a2.datacaciques.com\/00\/NDAy\/20\/10\/19\/578sngi3324w547p\/1d4d65bdcb7c3d0d.jpg\"\u003e\u003cimg src=\"https:\/\/pg-cdn-a2.datacaciques.com\/00\/NDAy\/20\/10\/19\/578sngi3324w547p\/a8a0343eab3ddb20.jpg\" data-mce-fragment=\"1\" data-mce-src=\"https:\/\/pg-cdn-a2.datacaciques.com\/00\/NDAy\/20\/10\/19\/578sngi3324w547p\/a8a0343eab3ddb20.jpg\"\u003e\u003cimg src=\"https:\/\/pg-cdn-a2.datacaciques.com\/00\/NDAy\/20\/10\/19\/578sngi3324w547p\/035d7c08ae1f9ac8.jpg\" data-mce-fragment=\"1\" data-mce-src=\"https:\/\/pg-cdn-a2.datacaciques.com\/00\/NDAy\/20\/10\/19\/578sngi3324w547p\/035d7c08ae1f9ac8.jpg\"\u003e\u003cimg src=\"https:\/\/pg-cdn-a2.datacaciques.com\/00\/NDAy\/20\/10\/19\/578sngi3324w547p\/396d7dae1157f399.jpg\" data-mce-fragment=\"1\" data-mce-src=\"https:\/\/pg-cdn-a2.datacaciques.com\/00\/NDAy\/20\/10\/19\/578sngi3324w547p\/396d7dae1157f399.jpg\"\u003e\u003cimg src=\"https:\/\/pg-cdn-a2.datacaciques.com\/00\/NDAy\/20\/10\/19\/578sngi3324w547p\/75c686f7e8728a9c.jpg\" data-mce-fragment=\"1\" data-mce-src=\"https:\/\/pg-cdn-a2.datacaciques.com\/00\/NDAy\/20\/10\/19\/578sngi3324w547p\/75c686f7e8728a9c.jpg\"\u003e\u003cimg src=\"https:\/\/pg-cdn-a2.datacaciques.com\/00\/NDAy\/20\/10\/19\/578sngi3324w547p\/ac49092a3a640d9f.jpg\" data-mce-fragment=\"1\" data-mce-src=\"https:\/\/pg-cdn-a2.datacaciques.com\/00\/NDAy\/20\/10\/19\/578sngi3324w547p\/ac49092a3a640d9f.jpg\"\u003e\u003c\/strong\u003e\u003c\/span\u003e\u003c\/div\u003e\n\u003cdiv data-mce-fragment=\"1\"\u003e\u003cspan data-mce-fragment=\"1\"\u003e\u003cstrong data-mce-fragment=\"1\"\u003eProduct Specification:\u003c\/strong\u003e\u003c\/span\u003e\u003c\/div\u003e\n\u003cdiv data-mce-fragment=\"1\"\u003e\n\u003cdiv data-mce-fragment=\"1\"\u003e\n\u003cul data-mce-fragment=\"1\"\u003e\n\u003cli data-mce-fragment=\"1\"\u003e\n\u003cp data-mce-fragment=\"1\"\u003e\u003cspan data-mce-fragment=\"1\"\u003eRange Selection: Auto Ranging\u003c\/span\u003e\u003c\/p\u003e\n\u003c\/li\u003e\n\u003cli data-mce-fragment=\"1\"\u003e\n\u003cp data-mce-fragment=\"1\"\u003e\u003cspan data-mce-fragment=\"1\"\u003eMax Display: 4000\u003c\/span\u003e\u003c\/p\u003e\n\u003c\/li\u003e\n\u003cli data-mce-fragment=\"1\"\u003e\n\u003cp data-mce-fragment=\"1\"\u003e\u003cspan data-mce-fragment=\"1\"\u003eDuty cycle:0.1%~99.9%\u003c\/span\u003e\u003c\/p\u003e\n\u003c\/li\u003e\n\u003cli data-mce-fragment=\"1\"\u003e\n\u003cp data-mce-fragment=\"1\"\u003e\u003cspan data-mce-fragment=\"1\"\u003eCapacitance:51.2nF~100uF\u003c\/span\u003e\u003c\/p\u003e\n\u003c\/li\u003e\n\u003cli data-mce-fragment=\"1\"\u003e\n\u003cp data-mce-fragment=\"1\"\u003e\u003cspan data-mce-fragment=\"1\"\u003eFrequency:5.12Hz~5.12MHz(0.1%+5dgt)\u003c\/span\u003e\u003c\/p\u003e\n\u003c\/li\u003e\n\u003cli data-mce-fragment=\"1\"\u003e\n\u003cp data-mce-fragment=\"1\"\u003e\u003cspan data-mce-fragment=\"1\"\u003eTemperature:-20℃~1000℃(-4℉~1832℉)(3%+2dgt)\u003c\/span\u003e\u003c\/p\u003e\n\u003c\/li\u003e\n\u003cli data-mce-fragment=\"1\"\u003e\n\u003cp data-mce-fragment=\"1\"\u003e\u003cspan data-mce-fragment=\"1\"\u003eDC Voltage: 400mV\/4V\/40V\/400V(0.5%+2dgt) 1000V(0.8%+2dgt)\u003c\/span\u003e\u003c\/p\u003e\n\u003c\/li\u003e\n\u003cli data-mce-fragment=\"1\"\u003e\n\u003cp data-mce-fragment=\"1\"\u003e\u003cspan data-mce-fragment=\"1\"\u003eAC Voltage: 4V\/40V\/400V(3.0%+10dgt) 750V(1.2%+3dgt)\u003c\/span\u003e\u003c\/p\u003e\n\u003c\/li\u003e\n\u003cli data-mce-fragment=\"1\"\u003e\n\u003cp data-mce-fragment=\"1\"\u003e\u003cspan data-mce-fragment=\"1\"\u003eDC Current: 200A(3.0%+10dgt)\u003c\/span\u003e\u003c\/p\u003e\n\u003c\/li\u003e\n\u003cli data-mce-fragment=\"1\"\u003e\n\u003cp data-mce-fragment=\"1\"\u003e\u003cspan data-mce-fragment=\"1\"\u003e1000A (0~800:±3.5%+10dgt; 800~1000:±6.5%+10dgt)\u003c\/span\u003e\u003c\/p\u003e\n\u003c\/li\u003e\n\u003cli data-mce-fragment=\"1\"\u003e\n\u003cp data-mce-fragment=\"1\"\u003e\u003cspan data-mce-fragment=\"1\"\u003eAC Current: 400A(3.0%+10dgt)\u003c\/span\u003e\u003c\/p\u003e\n\u003c\/li\u003e\n\u003cli data-mce-fragment=\"1\"\u003e\n\u003cp data-mce-fragment=\"1\"\u003e\u003cspan data-mce-fragment=\"1\"\u003e1000A(0~800:±3.5%+10dgt; 800~1000:±6.5%+10dgt)\u003c\/span\u003e\u003c\/p\u003e\n\u003c\/li\u003e\n\u003cli data-mce-fragment=\"1\"\u003e\n\u003cp data-mce-fragment=\"1\"\u003e\u003cspan data-mce-fragment=\"1\"\u003eResistance: 400Ω(1.0%+3dgt)\u003c\/span\u003e\u003c\/p\u003e\n\u003c\/li\u003e\n\u003cli data-mce-fragment=\"1\"\u003e\n\u003cp data-mce-fragment=\"1\"\u003e\u003cspan data-mce-fragment=\"1\"\u003e4kΩ\/40kΩ \/400kΩ\/4MΩ(1.0%+2dgt)\u003c\/span\u003e\u003c\/p\u003e\n\u003c\/li\u003e\n\u003cli data-mce-fragment=\"1\"\u003e\n\u003cp data-mce-fragment=\"1\"\u003e\u003cspan data-mce-fragment=\"1\"\u003e40MΩ(1.5%+3dgt)\u003c\/span\u003e\u003c\/p\u003e\n\u003cp data-mce-fragment=\"1\"\u003e\u003cspan data-mce-fragment=\"1\"\u003e\u003cstrong data-mce-fragment=\"1\"\u003eFeatures:\u003c\/strong\u003e\u003c\/span\u003e\u003c\/p\u003e\n\u003cp data-mce-fragment=\"1\"\u003e\u003cspan data-mce-fragment=\"1\"\u003e√ Data Hold YES\u003c\/span\u003e\u003c\/p\u003e\n\u003cp data-mce-fragment=\"1\"\u003e\u003cspan data-mce-fragment=\"1\"\u003e√ Diode Test YES\u003c\/span\u003e\u003c\/p\u003e\n\u003cp data-mce-fragment=\"1\"\u003e\u003cspan data-mce-fragment=\"1\"\u003e√ Auto power off YES\u003c\/span\u003e\u003c\/p\u003e\n\u003cp data-mce-fragment=\"1\"\u003e\u003cspan data-mce-fragment=\"1\"\u003e√ Backlight Display YES\u003c\/span\u003e\u003c\/p\u003e\n\u003cp data-mce-fragment=\"1\"\u003e\u003cspan data-mce-fragment=\"1\"\u003e√ Overload P rotection YES\u003c\/span\u003e\u003c\/p\u003e\n\u003cp data-mce-fragment=\"1\"\u003e\u003cspan data-mce-fragment=\"1\"\u003e√ Phone APP Connection YES\u003c\/span\u003e\u003c\/p\u003e\n\u003c\/li\u003e\n\u003c\/ul\u003e\n\u003cspan data-mce-fragment=\"1\" rwr=\"1\"\u003e\u003cimg alt=\"522343\" src=\"https:\/\/image.pushauction.com\/0\/0\/f6717b1d-988a-4448-be24-fb6726d8b456\/205a60a9-61ea-4ebc-9902-b38809d48c11.jpg\" data-mce-fragment=\"1\" data-mce-src=\"https:\/\/image.pushauction.com\/0\/0\/f6717b1d-988a-4448-be24-fb6726d8b456\/205a60a9-61ea-4ebc-9902-b38809d48c11.jpg\"\u003e\u003c\/span\u003e\n\u003c\/div\u003e\n\u003cdiv data-mce-fragment=\"1\"\u003e\n\u003cp data-mce-fragment=\"1\"\u003e\u003cspan data-mce-fragment=\"1\" rwr=\"1\"\u003e\u003cimg alt=\"522343\" src=\"https:\/\/image.pushauction.com\/0\/0\/f6717b1d-988a-4448-be24-fb6726d8b456\/cc70184d-9b46-4df5-89de-6192710e40cc.JPG\" data-mce-fragment=\"1\" data-mce-src=\"https:\/\/image.pushauction.com\/0\/0\/f6717b1d-988a-4448-be24-fb6726d8b456\/cc70184d-9b46-4df5-89de-6192710e40cc.JPG\"\u003e\u003c\/span\u003e\u003c\/p\u003e\n\u003cul data-mce-fragment=\"1\"\u003e\n\u003cli data-mce-fragment=\"1\"\u003e\u003cspan data-mce-fragment=\"1\"\u003e1 * Holdpeak 570C-APP Clamp Meters\u003c\/span\u003e\u003c\/li\u003e\n\u003cli data-mce-fragment=\"1\"\u003e\u003cspan data-mce-fragment=\"1\"\u003e1 * Test Lead\u003c\/span\u003e\u003c\/li\u003e\n\u003cli data-mce-fragment=\"1\"\u003e\u003cspan data-mce-fragment=\"1\"\u003e1 * English Manual\u003c\/span\u003e\u003c\/li\u003e\n\u003cli data-mce-fragment=\"1\"\u003e\u003cspan data-mce-fragment=\"1\"\u003e1 * Storage Bag\u003c\/span\u003e\u003c\/li\u003e\n\u003c\/ul\u003e\n\u003c\/div\u003e\n\u003cdiv data-mce-fragment=\"1\"\u003e\n\u003ch3 data-mce-fragment=\"1\"\u003e\u003cspan data-mce-fragment=\"1\"\u003e\u003ca data-mce-fragment=\"1\"\u003eNotice:\u003c\/a\u003e\u003c\/span\u003e\u003c\/h3\u003e\n\u003cul data-mce-fragment=\"1\"\u003e\n\u003cli data-mce-fragment=\"1\"\u003e\u003cspan data-mce-fragment=\"1\"\u003eThe standard package don't include batteries. Because, the international air shipping forbid to ship liquid,powder and batteries,we can not put them in the package box. Hope you can understand buy them in your local store or supermarket.Thanks for your support!\u003c\/span\u003e\u003c\/li\u003e\n\u003c\/ul\u003e\n\u003c\/div\u003e\n\u003c\/div\u003e"}