Hand-held Desktop DIY Battery Portable Mini Spot Welder Welding Machine
Hand-held Desktop DIY Battery Portable Mini Spot Welder Welding Machine
SKU:YC0024
Regular price
$48.99
guarantee

Quality checked

Special gift cards

Special gift cards

Free return

Within 60 days

Consultancy

86-0755-85201155
Introduction
This product is suitable for daily or small spot welding/butt welding work in the family. It is automatically triggered without a switch, and the operation is convenient and quick.
Parameters
Battery capacity: 5AH

Output voltage: 4.2V max

Output current: maximum 500A

Design current: maximum 1000A

Input parameters: 5V/2.1A

Support welding: 0.1-0.2 nickel sheet, iron sheet, stainless steel

Welding time: several milliseconds

Charging voltage: 4.5~5.5V (current≥2.5A)

Product size: 150*80*22MM

Shell material: hard aluminum alloy

Weight: a set of 467g
Features
Small size

Simple operation

Hard appearance

Easy to use
Super current
Components introduction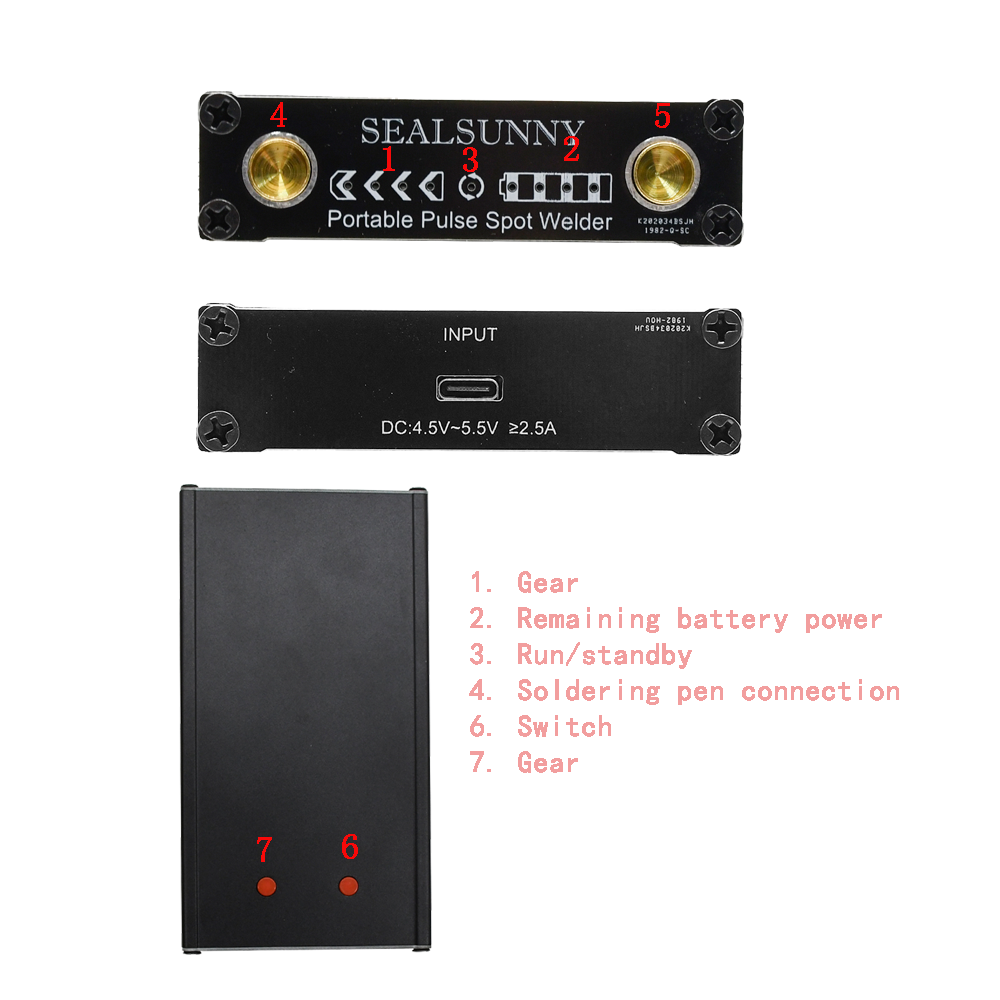 How to use
Power on
Click button 6
Shut down

Double-click the button6;

Automatically shut down after three minutes of standby

Gear position adjustment
Button 7 is gear position adjustment, click to change gears, the cycle is first gear>second gear>third gear>fourth gear>standby
Standby

After the fourth gear, click to enter the standby state;

It enters the standby state without spot welding for more than 30 minutes.

Spot welding
After turning on the machine, select the required gear and touch the welding object with the welding pen to spot welding.
Precautions for spot welding
a. Please fix the spot welding items in the spot welding mode;
b. Please keep the welding objects in a flat state;
3. Keep cooling time about 10S after welding
Matters needing attention
It can be operated while charging, and it will enter standby mode when charging
It is recommended to charge it once half a year when it is not used for a long time, and the charge is 75%
Continuous use of the soldering pen will cause hotness, it is recommended to wear gloves to operate
Do not drop, flood, heat and other harmful operations to electronics
The blackening of the tip of the soldering pen will affect the effect, which can be worn off with sandpaper
If the spot welding is too long or the shutdown is caused by good contact, just restart it
Package Included:
1PCS*Hand-held desktop mini portable spot welder
Purchasing & Delivery
Before you make your purchase, it's helpful to know the measurements of the area you plan to place the furniture. You should also measure any doorways and hallways through which the furniture will pass to get to its final destination.

Picking up at the store
Shopify Shop requires that all products are properly inspected BEFORE you take it home to insure there are no surprises. Our team is happy to open all packages and will assist in the inspection process. We will then reseal packages for safe transport. We encourage all customers to bring furniture pads or blankets to protect the items during transport as well as rope or tie downs. Shopify Shop will not be responsible for damage that occurs after leaving the store or during transit. It is the purchaser's responsibility to make sure the correct items are picked up and in good condition.

Delivery
Customers are able to pick the next available delivery day that best fits their schedule. However, to route stops as efficiently as possible, Shopify Shop will provide the time frame. Customers will not be able to choose a time. You will be notified in advance of your scheduled time frame. Please make sure that a responsible adult (18 years or older) will be home at that time.
In preparation for your delivery, please remove existing furniture, pictures, mirrors, accessories, etc. to prevent damages. Also insure that the area where you would like your furniture placed is clear of any old furniture and any other items that may obstruct the passageway of the delivery team. Shopify Shop will deliver, assemble, and set-up your new furniture purchase and remove all packing materials from your home. Our delivery crews are not permitted to move your existing furniture or other household items. Delivery personnel will attempt to deliver the purchased items in a safe and controlled manner but will not attempt to place furniture if they feel it will result in damage to the product or your home. Delivery personnel are unable to remove doors, hoist furniture or carry furniture up more than 3 flights of stairs. An elevator must be available for deliveries to the 4th floor and above.
Other Customers also buy:
translation missing: en.products.product.regular_price

$5.99

{"id":6087916945608,"title":"Hand-held Desktop DIY Battery Portable Mini Spot Welder Welding Machine","handle":"hand-held-desktop-diy-battery-portable-mini-spot-welder-welding-machine","description":"\u003cdiv\u003e\n\u003cdiv\u003e\n\u003cspan\u003e\u003cstrong\u003eIntroduction\u003c\/strong\u003e \u003c\/span\u003e\u003cbr\u003e\n\u003cul\u003e\n\u003cli\u003e\u003cspan\u003eThis product is suitable for daily or small spot welding\/butt welding work in the family. It is automatically triggered without a switch, and the operation is convenient and quick.\u003c\/span\u003e\u003c\/li\u003e\n\u003c\/ul\u003e\n\u003cspan\u003e\u003cstrong\u003eParameters\u003c\/strong\u003e\u003c\/span\u003e\u003cbr\u003e\n\u003cul\u003e\n\u003cli\u003e\u003cspan\u003eBattery capacity: 5AH\u003c\/span\u003e\u003c\/li\u003e\n\u003cli\u003e\u003cspan\u003eOutput voltage: 4.2V max\u003c\/span\u003e\u003c\/li\u003e\n\u003cli\u003e\u003cspan\u003eOutput current: maximum 500A\u003c\/span\u003e\u003c\/li\u003e\n\u003cli\u003e\u003cspan\u003eDesign current: maximum 1000A\u003c\/span\u003e\u003c\/li\u003e\n\u003cli\u003e\u003cspan\u003eInput parameters: 5V\/2.1A\u003c\/span\u003e\u003c\/li\u003e\n\u003cli\u003e\u003cspan\u003eSupport welding: 0.1-0.2 nickel sheet, iron sheet, stainless steel\u003c\/span\u003e\u003c\/li\u003e\n\u003cli\u003e\u003cspan\u003eWelding time: several milliseconds\u003c\/span\u003e\u003c\/li\u003e\n\u003cli\u003e\u003cspan\u003eCharging voltage: 4.5~5.5V (current≥2.5A)\u003c\/span\u003e\u003c\/li\u003e\n\u003cli\u003e\u003cspan\u003eProduct size: 150*80*22MM\u003c\/span\u003e\u003c\/li\u003e\n\u003cli\u003e\u003cspan\u003eShell material: hard aluminum alloy\u003c\/span\u003e\u003c\/li\u003e\n\u003cli\u003e\u003cspan\u003eWeight: a set of 467g\u003c\/span\u003e\u003c\/li\u003e\n\u003c\/ul\u003e\n\u003cspan\u003e\u003cstrong\u003eFeatures\u003c\/strong\u003e\u003c\/span\u003e\u003cbr\u003e\n\u003cul\u003e\n\u003cli\u003e\u003cspan\u003eSmall size\u003c\/span\u003e\u003c\/li\u003e\n\u003cli\u003e\u003cspan\u003eSimple operation\u003c\/span\u003e\u003c\/li\u003e\n\u003cli\u003e\u003cspan\u003eHard appearance\u003c\/span\u003e\u003c\/li\u003e\n\u003cli\u003e\u003cspan\u003eEasy to use\u003c\/span\u003e\u003c\/li\u003e\n\u003c\/ul\u003e\n\u003cspan\u003eSuper current\u003c\/span\u003e\u003cbr\u003e\u003cspan\u003e\u003cstrong\u003eComponents introduction\u003c\/strong\u003e\u003c\/span\u003e\n\u003c\/div\u003e\n\u003cdiv\u003e\n\u003cspan\u003e\u003cimg src=\"https:\/\/pg-cdn-a2.datacaciques.com\/00\/NDAy\/20\/11\/13\/sz294t40vfev921j\/f9a597bb1d94110c.png\" width=\"338\" height=\"338\" data-mce-src=\"https:\/\/pg-cdn-a2.datacaciques.com\/00\/NDAy\/20\/11\/13\/sz294t40vfev921j\/f9a597bb1d94110c.png\"\u003e\u003c\/span\u003e\u003cbr\u003e\u003cspan\u003e\u003cstrong\u003eHow to use\u003c\/strong\u003e\u003c\/span\u003e\n\u003c\/div\u003e\n\u003cdiv\u003e\n\u003cspan\u003e\u003cstrong\u003e\u003c\/strong\u003e\u003c\/span\u003e\u003cbr\u003e\n\u003c\/div\u003e\n\u003cdiv\u003e\n\u003ctable border=\"1\" height=\"325\"\u003e\n\u003ctbody\u003e\n\u003ctr\u003e\n\u003ctd\u003ePower on\u003c\/td\u003e\n\u003ctd\u003eClick button 6\u003c\/td\u003e\n\u003c\/tr\u003e\n\u003ctr\u003e\n\u003ctd\u003eShut down\u003c\/td\u003e\n\u003ctd\u003e\n\u003cdiv\u003eDouble-click the button6;\u003c\/div\u003e\n\u003cdiv\u003eAutomatically shut down after three minutes of standby\u003c\/div\u003e\n\u003c\/td\u003e\n\u003c\/tr\u003e\n\u003ctr\u003e\n\u003ctd\u003eGear position adjustment\u003c\/td\u003e\n\u003ctd\u003eButton 7 is gear position adjustment, click to change gears, the cycle is first gear\u0026gt;second gear\u0026gt;third gear\u0026gt;fourth gear\u0026gt;standby\u003c\/td\u003e\n\u003c\/tr\u003e\n\u003ctr\u003e\n\u003ctd\u003eStandby\u003c\/td\u003e\n\u003ctd\u003e\n\u003cdiv\u003eAfter the fourth gear, click to enter the standby state;\u003c\/div\u003e\n\u003cdiv\u003e\u003cstrong\u003eIt enters the standby state without spot welding for more than 30 minutes.\u003c\/strong\u003e\u003c\/div\u003e\n\u003c\/td\u003e\n\u003c\/tr\u003e\n\u003ctr\u003e\n\u003ctd\u003eSpot welding\u003c\/td\u003e\n\u003ctd\u003eAfter turning on the machine, select the required gear and touch the welding object with the welding pen to spot welding.\u003c\/td\u003e\n\u003c\/tr\u003e\n\u003ctr\u003e\n\u003ctd\u003ePrecautions for spot welding\u003c\/td\u003e\n\u003ctd\u003ea. Please fix the spot welding items in the spot welding mode;\u003cbr\u003eb. Please keep the welding objects in a flat state;\u003cbr\u003e3. Keep cooling time about 10S after welding\u003c\/td\u003e\n\u003c\/tr\u003e\n\u003c\/tbody\u003e\n\u003c\/table\u003e\n\u003c\/div\u003e\n\u003cdiv\u003e\n\u003cdiv\u003e\n\u003cstrong\u003eMatters needing attention\u003c\/strong\u003e\u003cbr\u003e\n\u003cul\u003e\n\u003cli\u003eIt can be operated while charging, and it will enter standby mode when charging\u003c\/li\u003e\n\u003cli\u003eIt is recommended to charge it once half a year when it is not used for a long time, and the charge is 75%\u003c\/li\u003e\n\u003cli\u003eContinuous use of the soldering pen will cause hotness, it is recommended to wear gloves to operate\u003c\/li\u003e\n\u003cli\u003eDo not drop, flood, heat and other harmful operations to electronics\u003c\/li\u003e\n\u003cli\u003eThe blackening of the tip of the soldering pen will affect the effect, which can be worn off with sandpaper\u003c\/li\u003e\n\u003cli\u003eIf the spot welding is too long or the shutdown is caused by good contact, just restart it\u003c\/li\u003e\n\u003c\/ul\u003e\n\u003c\/div\u003e\n\u003cdiv\u003e\n\u003cspan\u003e\u003cstrong\u003ePackage Included:\u003c\/strong\u003e\u003c\/span\u003e\u003cbr\u003e\n\u003cul\u003e\n\u003cli\u003e\u003cspan face=\"times new roman, times\"\u003e1PCS*Hand-held desktop mini portable spot welder\u003c\/span\u003e\u003c\/li\u003e\n\u003c\/ul\u003e\n\u003c\/div\u003e\n\u003c\/div\u003e\n\u003c\/div\u003e","published_at":"2020-11-18T15:22:50+08:00","created_at":"2020-11-18T15:22:49+08:00","vendor":"DIYMORE","type":"","tags":[],"price":4899,"price_min":4899,"price_max":4899,"available":true,"price_varies":false,"compare_at_price":null,"compare_at_price_min":0,"compare_at_price_max":0,"compare_at_price_varies":false,"variants":[{"id":37545534456008,"title":"Default Title","option1":"Default Title","option2":null,"option3":null,"sku":"YC0024","requires_shipping":true,"taxable":false,"featured_image":null,"available":true,"name":"Hand-held Desktop DIY Battery Portable Mini Spot Welder Welding Machine","public_title":null,"options":["Default Title"],"price":4899,"weight":0,"compare_at_price":null,"inventory_management":"shopify","barcode":"","requires_selling_plan":false,"selling_plan_allocations":[],"quantity_rule":{"min":1,"max":null,"increment":1}}],"images":["\/\/cdn.shopify.com\/s\/files\/1\/0122\/7558\/0986\/products\/4_a4211117-4a59-4131-b652-28053a189381.jpg?v=1605684173","\/\/cdn.shopify.com\/s\/files\/1\/0122\/7558\/0986\/products\/1_ed2b35e8-0f0f-484a-b6ac-ddd5e820157d.jpg?v=1605684173","\/\/cdn.shopify.com\/s\/files\/1\/0122\/7558\/0986\/products\/2_e67edc1f-58e2-439d-b607-f5c880da4fe7.jpg?v=1605684173","\/\/cdn.shopify.com\/s\/files\/1\/0122\/7558\/0986\/products\/3_0d7204ab-b1b2-407d-8b90-b6c1e568760c.jpg?v=1605684173","\/\/cdn.shopify.com\/s\/files\/1\/0122\/7558\/0986\/products\/9_0801781d-6725-479e-a518-f6a57345226b.jpg?v=1605684173","\/\/cdn.shopify.com\/s\/files\/1\/0122\/7558\/0986\/products\/6_5a085030-c47f-458c-8ce8-57c83d68694f.jpg?v=1605684173"],"featured_image":"\/\/cdn.shopify.com\/s\/files\/1\/0122\/7558\/0986\/products\/4_a4211117-4a59-4131-b652-28053a189381.jpg?v=1605684173","options":["Title"],"media":[{"alt":null,"id":14971542307016,"position":1,"preview_image":{"aspect_ratio":1.0,"height":1000,"width":1000,"src":"https:\/\/cdn.shopify.com\/s\/files\/1\/0122\/7558\/0986\/products\/4_a4211117-4a59-4131-b652-28053a189381.jpg?v=1605684173"},"aspect_ratio":1.0,"height":1000,"media_type":"image","src":"https:\/\/cdn.shopify.com\/s\/files\/1\/0122\/7558\/0986\/products\/4_a4211117-4a59-4131-b652-28053a189381.jpg?v=1605684173","width":1000},{"alt":null,"id":14971542339784,"position":2,"preview_image":{"aspect_ratio":1.0,"height":1000,"width":1000,"src":"https:\/\/cdn.shopify.com\/s\/files\/1\/0122\/7558\/0986\/products\/1_ed2b35e8-0f0f-484a-b6ac-ddd5e820157d.jpg?v=1605684173"},"aspect_ratio":1.0,"height":1000,"media_type":"image","src":"https:\/\/cdn.shopify.com\/s\/files\/1\/0122\/7558\/0986\/products\/1_ed2b35e8-0f0f-484a-b6ac-ddd5e820157d.jpg?v=1605684173","width":1000},{"alt":null,"id":14971542372552,"position":3,"preview_image":{"aspect_ratio":1.0,"height":1000,"width":1000,"src":"https:\/\/cdn.shopify.com\/s\/files\/1\/0122\/7558\/0986\/products\/2_e67edc1f-58e2-439d-b607-f5c880da4fe7.jpg?v=1605684173"},"aspect_ratio":1.0,"height":1000,"media_type":"image","src":"https:\/\/cdn.shopify.com\/s\/files\/1\/0122\/7558\/0986\/products\/2_e67edc1f-58e2-439d-b607-f5c880da4fe7.jpg?v=1605684173","width":1000},{"alt":null,"id":14971542405320,"position":4,"preview_image":{"aspect_ratio":1.0,"height":1000,"width":1000,"src":"https:\/\/cdn.shopify.com\/s\/files\/1\/0122\/7558\/0986\/products\/3_0d7204ab-b1b2-407d-8b90-b6c1e568760c.jpg?v=1605684173"},"aspect_ratio":1.0,"height":1000,"media_type":"image","src":"https:\/\/cdn.shopify.com\/s\/files\/1\/0122\/7558\/0986\/products\/3_0d7204ab-b1b2-407d-8b90-b6c1e568760c.jpg?v=1605684173","width":1000},{"alt":null,"id":14971542438088,"position":5,"preview_image":{"aspect_ratio":1.0,"height":1000,"width":1000,"src":"https:\/\/cdn.shopify.com\/s\/files\/1\/0122\/7558\/0986\/products\/9_0801781d-6725-479e-a518-f6a57345226b.jpg?v=1605684173"},"aspect_ratio":1.0,"height":1000,"media_type":"image","src":"https:\/\/cdn.shopify.com\/s\/files\/1\/0122\/7558\/0986\/products\/9_0801781d-6725-479e-a518-f6a57345226b.jpg?v=1605684173","width":1000},{"alt":null,"id":14971542470856,"position":6,"preview_image":{"aspect_ratio":1.0,"height":1000,"width":1000,"src":"https:\/\/cdn.shopify.com\/s\/files\/1\/0122\/7558\/0986\/products\/6_5a085030-c47f-458c-8ce8-57c83d68694f.jpg?v=1605684173"},"aspect_ratio":1.0,"height":1000,"media_type":"image","src":"https:\/\/cdn.shopify.com\/s\/files\/1\/0122\/7558\/0986\/products\/6_5a085030-c47f-458c-8ce8-57c83d68694f.jpg?v=1605684173","width":1000}],"requires_selling_plan":false,"selling_plan_groups":[],"content":"\u003cdiv\u003e\n\u003cdiv\u003e\n\u003cspan\u003e\u003cstrong\u003eIntroduction\u003c\/strong\u003e \u003c\/span\u003e\u003cbr\u003e\n\u003cul\u003e\n\u003cli\u003e\u003cspan\u003eThis product is suitable for daily or small spot welding\/butt welding work in the family. It is automatically triggered without a switch, and the operation is convenient and quick.\u003c\/span\u003e\u003c\/li\u003e\n\u003c\/ul\u003e\n\u003cspan\u003e\u003cstrong\u003eParameters\u003c\/strong\u003e\u003c\/span\u003e\u003cbr\u003e\n\u003cul\u003e\n\u003cli\u003e\u003cspan\u003eBattery capacity: 5AH\u003c\/span\u003e\u003c\/li\u003e\n\u003cli\u003e\u003cspan\u003eOutput voltage: 4.2V max\u003c\/span\u003e\u003c\/li\u003e\n\u003cli\u003e\u003cspan\u003eOutput current: maximum 500A\u003c\/span\u003e\u003c\/li\u003e\n\u003cli\u003e\u003cspan\u003eDesign current: maximum 1000A\u003c\/span\u003e\u003c\/li\u003e\n\u003cli\u003e\u003cspan\u003eInput parameters: 5V\/2.1A\u003c\/span\u003e\u003c\/li\u003e\n\u003cli\u003e\u003cspan\u003eSupport welding: 0.1-0.2 nickel sheet, iron sheet, stainless steel\u003c\/span\u003e\u003c\/li\u003e\n\u003cli\u003e\u003cspan\u003eWelding time: several milliseconds\u003c\/span\u003e\u003c\/li\u003e\n\u003cli\u003e\u003cspan\u003eCharging voltage: 4.5~5.5V (current≥2.5A)\u003c\/span\u003e\u003c\/li\u003e\n\u003cli\u003e\u003cspan\u003eProduct size: 150*80*22MM\u003c\/span\u003e\u003c\/li\u003e\n\u003cli\u003e\u003cspan\u003eShell material: hard aluminum alloy\u003c\/span\u003e\u003c\/li\u003e\n\u003cli\u003e\u003cspan\u003eWeight: a set of 467g\u003c\/span\u003e\u003c\/li\u003e\n\u003c\/ul\u003e\n\u003cspan\u003e\u003cstrong\u003eFeatures\u003c\/strong\u003e\u003c\/span\u003e\u003cbr\u003e\n\u003cul\u003e\n\u003cli\u003e\u003cspan\u003eSmall size\u003c\/span\u003e\u003c\/li\u003e\n\u003cli\u003e\u003cspan\u003eSimple operation\u003c\/span\u003e\u003c\/li\u003e\n\u003cli\u003e\u003cspan\u003eHard appearance\u003c\/span\u003e\u003c\/li\u003e\n\u003cli\u003e\u003cspan\u003eEasy to use\u003c\/span\u003e\u003c\/li\u003e\n\u003c\/ul\u003e\n\u003cspan\u003eSuper current\u003c\/span\u003e\u003cbr\u003e\u003cspan\u003e\u003cstrong\u003eComponents introduction\u003c\/strong\u003e\u003c\/span\u003e\n\u003c\/div\u003e\n\u003cdiv\u003e\n\u003cspan\u003e\u003cimg src=\"https:\/\/pg-cdn-a2.datacaciques.com\/00\/NDAy\/20\/11\/13\/sz294t40vfev921j\/f9a597bb1d94110c.png\" width=\"338\" height=\"338\" data-mce-src=\"https:\/\/pg-cdn-a2.datacaciques.com\/00\/NDAy\/20\/11\/13\/sz294t40vfev921j\/f9a597bb1d94110c.png\"\u003e\u003c\/span\u003e\u003cbr\u003e\u003cspan\u003e\u003cstrong\u003eHow to use\u003c\/strong\u003e\u003c\/span\u003e\n\u003c\/div\u003e\n\u003cdiv\u003e\n\u003cspan\u003e\u003cstrong\u003e\u003c\/strong\u003e\u003c\/span\u003e\u003cbr\u003e\n\u003c\/div\u003e\n\u003cdiv\u003e\n\u003ctable border=\"1\" height=\"325\"\u003e\n\u003ctbody\u003e\n\u003ctr\u003e\n\u003ctd\u003ePower on\u003c\/td\u003e\n\u003ctd\u003eClick button 6\u003c\/td\u003e\n\u003c\/tr\u003e\n\u003ctr\u003e\n\u003ctd\u003eShut down\u003c\/td\u003e\n\u003ctd\u003e\n\u003cdiv\u003eDouble-click the button6;\u003c\/div\u003e\n\u003cdiv\u003eAutomatically shut down after three minutes of standby\u003c\/div\u003e\n\u003c\/td\u003e\n\u003c\/tr\u003e\n\u003ctr\u003e\n\u003ctd\u003eGear position adjustment\u003c\/td\u003e\n\u003ctd\u003eButton 7 is gear position adjustment, click to change gears, the cycle is first gear\u0026gt;second gear\u0026gt;third gear\u0026gt;fourth gear\u0026gt;standby\u003c\/td\u003e\n\u003c\/tr\u003e\n\u003ctr\u003e\n\u003ctd\u003eStandby\u003c\/td\u003e\n\u003ctd\u003e\n\u003cdiv\u003eAfter the fourth gear, click to enter the standby state;\u003c\/div\u003e\n\u003cdiv\u003e\u003cstrong\u003eIt enters the standby state without spot welding for more than 30 minutes.\u003c\/strong\u003e\u003c\/div\u003e\n\u003c\/td\u003e\n\u003c\/tr\u003e\n\u003ctr\u003e\n\u003ctd\u003eSpot welding\u003c\/td\u003e\n\u003ctd\u003eAfter turning on the machine, select the required gear and touch the welding object with the welding pen to spot welding.\u003c\/td\u003e\n\u003c\/tr\u003e\n\u003ctr\u003e\n\u003ctd\u003ePrecautions for spot welding\u003c\/td\u003e\n\u003ctd\u003ea. Please fix the spot welding items in the spot welding mode;\u003cbr\u003eb. Please keep the welding objects in a flat state;\u003cbr\u003e3. Keep cooling time about 10S after welding\u003c\/td\u003e\n\u003c\/tr\u003e\n\u003c\/tbody\u003e\n\u003c\/table\u003e\n\u003c\/div\u003e\n\u003cdiv\u003e\n\u003cdiv\u003e\n\u003cstrong\u003eMatters needing attention\u003c\/strong\u003e\u003cbr\u003e\n\u003cul\u003e\n\u003cli\u003eIt can be operated while charging, and it will enter standby mode when charging\u003c\/li\u003e\n\u003cli\u003eIt is recommended to charge it once half a year when it is not used for a long time, and the charge is 75%\u003c\/li\u003e\n\u003cli\u003eContinuous use of the soldering pen will cause hotness, it is recommended to wear gloves to operate\u003c\/li\u003e\n\u003cli\u003eDo not drop, flood, heat and other harmful operations to electronics\u003c\/li\u003e\n\u003cli\u003eThe blackening of the tip of the soldering pen will affect the effect, which can be worn off with sandpaper\u003c\/li\u003e\n\u003cli\u003eIf the spot welding is too long or the shutdown is caused by good contact, just restart it\u003c\/li\u003e\n\u003c\/ul\u003e\n\u003c\/div\u003e\n\u003cdiv\u003e\n\u003cspan\u003e\u003cstrong\u003ePackage Included:\u003c\/strong\u003e\u003c\/span\u003e\u003cbr\u003e\n\u003cul\u003e\n\u003cli\u003e\u003cspan face=\"times new roman, times\"\u003e1PCS*Hand-held desktop mini portable spot welder\u003c\/span\u003e\u003c\/li\u003e\n\u003c\/ul\u003e\n\u003c\/div\u003e\n\u003c\/div\u003e\n\u003c\/div\u003e"}

translation missing: en.products.product.regular_price

$23.99

{"id":6087916945608,"title":"Hand-held Desktop DIY Battery Portable Mini Spot Welder Welding Machine","handle":"hand-held-desktop-diy-battery-portable-mini-spot-welder-welding-machine","description":"\u003cdiv\u003e\n\u003cdiv\u003e\n\u003cspan\u003e\u003cstrong\u003eIntroduction\u003c\/strong\u003e \u003c\/span\u003e\u003cbr\u003e\n\u003cul\u003e\n\u003cli\u003e\u003cspan\u003eThis product is suitable for daily or small spot welding\/butt welding work in the family. It is automatically triggered without a switch, and the operation is convenient and quick.\u003c\/span\u003e\u003c\/li\u003e\n\u003c\/ul\u003e\n\u003cspan\u003e\u003cstrong\u003eParameters\u003c\/strong\u003e\u003c\/span\u003e\u003cbr\u003e\n\u003cul\u003e\n\u003cli\u003e\u003cspan\u003eBattery capacity: 5AH\u003c\/span\u003e\u003c\/li\u003e\n\u003cli\u003e\u003cspan\u003eOutput voltage: 4.2V max\u003c\/span\u003e\u003c\/li\u003e\n\u003cli\u003e\u003cspan\u003eOutput current: maximum 500A\u003c\/span\u003e\u003c\/li\u003e\n\u003cli\u003e\u003cspan\u003eDesign current: maximum 1000A\u003c\/span\u003e\u003c\/li\u003e\n\u003cli\u003e\u003cspan\u003eInput parameters: 5V\/2.1A\u003c\/span\u003e\u003c\/li\u003e\n\u003cli\u003e\u003cspan\u003eSupport welding: 0.1-0.2 nickel sheet, iron sheet, stainless steel\u003c\/span\u003e\u003c\/li\u003e\n\u003cli\u003e\u003cspan\u003eWelding time: several milliseconds\u003c\/span\u003e\u003c\/li\u003e\n\u003cli\u003e\u003cspan\u003eCharging voltage: 4.5~5.5V (current≥2.5A)\u003c\/span\u003e\u003c\/li\u003e\n\u003cli\u003e\u003cspan\u003eProduct size: 150*80*22MM\u003c\/span\u003e\u003c\/li\u003e\n\u003cli\u003e\u003cspan\u003eShell material: hard aluminum alloy\u003c\/span\u003e\u003c\/li\u003e\n\u003cli\u003e\u003cspan\u003eWeight: a set of 467g\u003c\/span\u003e\u003c\/li\u003e\n\u003c\/ul\u003e\n\u003cspan\u003e\u003cstrong\u003eFeatures\u003c\/strong\u003e\u003c\/span\u003e\u003cbr\u003e\n\u003cul\u003e\n\u003cli\u003e\u003cspan\u003eSmall size\u003c\/span\u003e\u003c\/li\u003e\n\u003cli\u003e\u003cspan\u003eSimple operation\u003c\/span\u003e\u003c\/li\u003e\n\u003cli\u003e\u003cspan\u003eHard appearance\u003c\/span\u003e\u003c\/li\u003e\n\u003cli\u003e\u003cspan\u003eEasy to use\u003c\/span\u003e\u003c\/li\u003e\n\u003c\/ul\u003e\n\u003cspan\u003eSuper current\u003c\/span\u003e\u003cbr\u003e\u003cspan\u003e\u003cstrong\u003eComponents introduction\u003c\/strong\u003e\u003c\/span\u003e\n\u003c\/div\u003e\n\u003cdiv\u003e\n\u003cspan\u003e\u003cimg src=\"https:\/\/pg-cdn-a2.datacaciques.com\/00\/NDAy\/20\/11\/13\/sz294t40vfev921j\/f9a597bb1d94110c.png\" width=\"338\" height=\"338\" data-mce-src=\"https:\/\/pg-cdn-a2.datacaciques.com\/00\/NDAy\/20\/11\/13\/sz294t40vfev921j\/f9a597bb1d94110c.png\"\u003e\u003c\/span\u003e\u003cbr\u003e\u003cspan\u003e\u003cstrong\u003eHow to use\u003c\/strong\u003e\u003c\/span\u003e\n\u003c\/div\u003e\n\u003cdiv\u003e\n\u003cspan\u003e\u003cstrong\u003e\u003c\/strong\u003e\u003c\/span\u003e\u003cbr\u003e\n\u003c\/div\u003e\n\u003cdiv\u003e\n\u003ctable border=\"1\" height=\"325\"\u003e\n\u003ctbody\u003e\n\u003ctr\u003e\n\u003ctd\u003ePower on\u003c\/td\u003e\n\u003ctd\u003eClick button 6\u003c\/td\u003e\n\u003c\/tr\u003e\n\u003ctr\u003e\n\u003ctd\u003eShut down\u003c\/td\u003e\n\u003ctd\u003e\n\u003cdiv\u003eDouble-click the button6;\u003c\/div\u003e\n\u003cdiv\u003eAutomatically shut down after three minutes of standby\u003c\/div\u003e\n\u003c\/td\u003e\n\u003c\/tr\u003e\n\u003ctr\u003e\n\u003ctd\u003eGear position adjustment\u003c\/td\u003e\n\u003ctd\u003eButton 7 is gear position adjustment, click to change gears, the cycle is first gear\u0026gt;second gear\u0026gt;third gear\u0026gt;fourth gear\u0026gt;standby\u003c\/td\u003e\n\u003c\/tr\u003e\n\u003ctr\u003e\n\u003ctd\u003eStandby\u003c\/td\u003e\n\u003ctd\u003e\n\u003cdiv\u003eAfter the fourth gear, click to enter the standby state;\u003c\/div\u003e\n\u003cdiv\u003e\u003cstrong\u003eIt enters the standby state without spot welding for more than 30 minutes.\u003c\/strong\u003e\u003c\/div\u003e\n\u003c\/td\u003e\n\u003c\/tr\u003e\n\u003ctr\u003e\n\u003ctd\u003eSpot welding\u003c\/td\u003e\n\u003ctd\u003eAfter turning on the machine, select the required gear and touch the welding object with the welding pen to spot welding.\u003c\/td\u003e\n\u003c\/tr\u003e\n\u003ctr\u003e\n\u003ctd\u003ePrecautions for spot welding\u003c\/td\u003e\n\u003ctd\u003ea. Please fix the spot welding items in the spot welding mode;\u003cbr\u003eb. Please keep the welding objects in a flat state;\u003cbr\u003e3. Keep cooling time about 10S after welding\u003c\/td\u003e\n\u003c\/tr\u003e\n\u003c\/tbody\u003e\n\u003c\/table\u003e\n\u003c\/div\u003e\n\u003cdiv\u003e\n\u003cdiv\u003e\n\u003cstrong\u003eMatters needing attention\u003c\/strong\u003e\u003cbr\u003e\n\u003cul\u003e\n\u003cli\u003eIt can be operated while charging, and it will enter standby mode when charging\u003c\/li\u003e\n\u003cli\u003eIt is recommended to charge it once half a year when it is not used for a long time, and the charge is 75%\u003c\/li\u003e\n\u003cli\u003eContinuous use of the soldering pen will cause hotness, it is recommended to wear gloves to operate\u003c\/li\u003e\n\u003cli\u003eDo not drop, flood, heat and other harmful operations to electronics\u003c\/li\u003e\n\u003cli\u003eThe blackening of the tip of the soldering pen will affect the effect, which can be worn off with sandpaper\u003c\/li\u003e\n\u003cli\u003eIf the spot welding is too long or the shutdown is caused by good contact, just restart it\u003c\/li\u003e\n\u003c\/ul\u003e\n\u003c\/div\u003e\n\u003cdiv\u003e\n\u003cspan\u003e\u003cstrong\u003ePackage Included:\u003c\/strong\u003e\u003c\/span\u003e\u003cbr\u003e\n\u003cul\u003e\n\u003cli\u003e\u003cspan face=\"times new roman, times\"\u003e1PCS*Hand-held desktop mini portable spot welder\u003c\/span\u003e\u003c\/li\u003e\n\u003c\/ul\u003e\n\u003c\/div\u003e\n\u003c\/div\u003e\n\u003c\/div\u003e","published_at":"2020-11-18T15:22:50+08:00","created_at":"2020-11-18T15:22:49+08:00","vendor":"DIYMORE","type":"","tags":[],"price":4899,"price_min":4899,"price_max":4899,"available":true,"price_varies":false,"compare_at_price":null,"compare_at_price_min":0,"compare_at_price_max":0,"compare_at_price_varies":false,"variants":[{"id":37545534456008,"title":"Default Title","option1":"Default Title","option2":null,"option3":null,"sku":"YC0024","requires_shipping":true,"taxable":false,"featured_image":null,"available":true,"name":"Hand-held Desktop DIY Battery Portable Mini Spot Welder Welding Machine","public_title":null,"options":["Default Title"],"price":4899,"weight":0,"compare_at_price":null,"inventory_management":"shopify","barcode":"","requires_selling_plan":false,"selling_plan_allocations":[],"quantity_rule":{"min":1,"max":null,"increment":1}}],"images":["\/\/cdn.shopify.com\/s\/files\/1\/0122\/7558\/0986\/products\/4_a4211117-4a59-4131-b652-28053a189381.jpg?v=1605684173","\/\/cdn.shopify.com\/s\/files\/1\/0122\/7558\/0986\/products\/1_ed2b35e8-0f0f-484a-b6ac-ddd5e820157d.jpg?v=1605684173","\/\/cdn.shopify.com\/s\/files\/1\/0122\/7558\/0986\/products\/2_e67edc1f-58e2-439d-b607-f5c880da4fe7.jpg?v=1605684173","\/\/cdn.shopify.com\/s\/files\/1\/0122\/7558\/0986\/products\/3_0d7204ab-b1b2-407d-8b90-b6c1e568760c.jpg?v=1605684173","\/\/cdn.shopify.com\/s\/files\/1\/0122\/7558\/0986\/products\/9_0801781d-6725-479e-a518-f6a57345226b.jpg?v=1605684173","\/\/cdn.shopify.com\/s\/files\/1\/0122\/7558\/0986\/products\/6_5a085030-c47f-458c-8ce8-57c83d68694f.jpg?v=1605684173"],"featured_image":"\/\/cdn.shopify.com\/s\/files\/1\/0122\/7558\/0986\/products\/4_a4211117-4a59-4131-b652-28053a189381.jpg?v=1605684173","options":["Title"],"media":[{"alt":null,"id":14971542307016,"position":1,"preview_image":{"aspect_ratio":1.0,"height":1000,"width":1000,"src":"https:\/\/cdn.shopify.com\/s\/files\/1\/0122\/7558\/0986\/products\/4_a4211117-4a59-4131-b652-28053a189381.jpg?v=1605684173"},"aspect_ratio":1.0,"height":1000,"media_type":"image","src":"https:\/\/cdn.shopify.com\/s\/files\/1\/0122\/7558\/0986\/products\/4_a4211117-4a59-4131-b652-28053a189381.jpg?v=1605684173","width":1000},{"alt":null,"id":14971542339784,"position":2,"preview_image":{"aspect_ratio":1.0,"height":1000,"width":1000,"src":"https:\/\/cdn.shopify.com\/s\/files\/1\/0122\/7558\/0986\/products\/1_ed2b35e8-0f0f-484a-b6ac-ddd5e820157d.jpg?v=1605684173"},"aspect_ratio":1.0,"height":1000,"media_type":"image","src":"https:\/\/cdn.shopify.com\/s\/files\/1\/0122\/7558\/0986\/products\/1_ed2b35e8-0f0f-484a-b6ac-ddd5e820157d.jpg?v=1605684173","width":1000},{"alt":null,"id":14971542372552,"position":3,"preview_image":{"aspect_ratio":1.0,"height":1000,"width":1000,"src":"https:\/\/cdn.shopify.com\/s\/files\/1\/0122\/7558\/0986\/products\/2_e67edc1f-58e2-439d-b607-f5c880da4fe7.jpg?v=1605684173"},"aspect_ratio":1.0,"height":1000,"media_type":"image","src":"https:\/\/cdn.shopify.com\/s\/files\/1\/0122\/7558\/0986\/products\/2_e67edc1f-58e2-439d-b607-f5c880da4fe7.jpg?v=1605684173","width":1000},{"alt":null,"id":14971542405320,"position":4,"preview_image":{"aspect_ratio":1.0,"height":1000,"width":1000,"src":"https:\/\/cdn.shopify.com\/s\/files\/1\/0122\/7558\/0986\/products\/3_0d7204ab-b1b2-407d-8b90-b6c1e568760c.jpg?v=1605684173"},"aspect_ratio":1.0,"height":1000,"media_type":"image","src":"https:\/\/cdn.shopify.com\/s\/files\/1\/0122\/7558\/0986\/products\/3_0d7204ab-b1b2-407d-8b90-b6c1e568760c.jpg?v=1605684173","width":1000},{"alt":null,"id":14971542438088,"position":5,"preview_image":{"aspect_ratio":1.0,"height":1000,"width":1000,"src":"https:\/\/cdn.shopify.com\/s\/files\/1\/0122\/7558\/0986\/products\/9_0801781d-6725-479e-a518-f6a57345226b.jpg?v=1605684173"},"aspect_ratio":1.0,"height":1000,"media_type":"image","src":"https:\/\/cdn.shopify.com\/s\/files\/1\/0122\/7558\/0986\/products\/9_0801781d-6725-479e-a518-f6a57345226b.jpg?v=1605684173","width":1000},{"alt":null,"id":14971542470856,"position":6,"preview_image":{"aspect_ratio":1.0,"height":1000,"width":1000,"src":"https:\/\/cdn.shopify.com\/s\/files\/1\/0122\/7558\/0986\/products\/6_5a085030-c47f-458c-8ce8-57c83d68694f.jpg?v=1605684173"},"aspect_ratio":1.0,"height":1000,"media_type":"image","src":"https:\/\/cdn.shopify.com\/s\/files\/1\/0122\/7558\/0986\/products\/6_5a085030-c47f-458c-8ce8-57c83d68694f.jpg?v=1605684173","width":1000}],"requires_selling_plan":false,"selling_plan_groups":[],"content":"\u003cdiv\u003e\n\u003cdiv\u003e\n\u003cspan\u003e\u003cstrong\u003eIntroduction\u003c\/strong\u003e \u003c\/span\u003e\u003cbr\u003e\n\u003cul\u003e\n\u003cli\u003e\u003cspan\u003eThis product is suitable for daily or small spot welding\/butt welding work in the family. It is automatically triggered without a switch, and the operation is convenient and quick.\u003c\/span\u003e\u003c\/li\u003e\n\u003c\/ul\u003e\n\u003cspan\u003e\u003cstrong\u003eParameters\u003c\/strong\u003e\u003c\/span\u003e\u003cbr\u003e\n\u003cul\u003e\n\u003cli\u003e\u003cspan\u003eBattery capacity: 5AH\u003c\/span\u003e\u003c\/li\u003e\n\u003cli\u003e\u003cspan\u003eOutput voltage: 4.2V max\u003c\/span\u003e\u003c\/li\u003e\n\u003cli\u003e\u003cspan\u003eOutput current: maximum 500A\u003c\/span\u003e\u003c\/li\u003e\n\u003cli\u003e\u003cspan\u003eDesign current: maximum 1000A\u003c\/span\u003e\u003c\/li\u003e\n\u003cli\u003e\u003cspan\u003eInput parameters: 5V\/2.1A\u003c\/span\u003e\u003c\/li\u003e\n\u003cli\u003e\u003cspan\u003eSupport welding: 0.1-0.2 nickel sheet, iron sheet, stainless steel\u003c\/span\u003e\u003c\/li\u003e\n\u003cli\u003e\u003cspan\u003eWelding time: several milliseconds\u003c\/span\u003e\u003c\/li\u003e\n\u003cli\u003e\u003cspan\u003eCharging voltage: 4.5~5.5V (current≥2.5A)\u003c\/span\u003e\u003c\/li\u003e\n\u003cli\u003e\u003cspan\u003eProduct size: 150*80*22MM\u003c\/span\u003e\u003c\/li\u003e\n\u003cli\u003e\u003cspan\u003eShell material: hard aluminum alloy\u003c\/span\u003e\u003c\/li\u003e\n\u003cli\u003e\u003cspan\u003eWeight: a set of 467g\u003c\/span\u003e\u003c\/li\u003e\n\u003c\/ul\u003e\n\u003cspan\u003e\u003cstrong\u003eFeatures\u003c\/strong\u003e\u003c\/span\u003e\u003cbr\u003e\n\u003cul\u003e\n\u003cli\u003e\u003cspan\u003eSmall size\u003c\/span\u003e\u003c\/li\u003e\n\u003cli\u003e\u003cspan\u003eSimple operation\u003c\/span\u003e\u003c\/li\u003e\n\u003cli\u003e\u003cspan\u003eHard appearance\u003c\/span\u003e\u003c\/li\u003e\n\u003cli\u003e\u003cspan\u003eEasy to use\u003c\/span\u003e\u003c\/li\u003e\n\u003c\/ul\u003e\n\u003cspan\u003eSuper current\u003c\/span\u003e\u003cbr\u003e\u003cspan\u003e\u003cstrong\u003eComponents introduction\u003c\/strong\u003e\u003c\/span\u003e\n\u003c\/div\u003e\n\u003cdiv\u003e\n\u003cspan\u003e\u003cimg src=\"https:\/\/pg-cdn-a2.datacaciques.com\/00\/NDAy\/20\/11\/13\/sz294t40vfev921j\/f9a597bb1d94110c.png\" width=\"338\" height=\"338\" data-mce-src=\"https:\/\/pg-cdn-a2.datacaciques.com\/00\/NDAy\/20\/11\/13\/sz294t40vfev921j\/f9a597bb1d94110c.png\"\u003e\u003c\/span\u003e\u003cbr\u003e\u003cspan\u003e\u003cstrong\u003eHow to use\u003c\/strong\u003e\u003c\/span\u003e\n\u003c\/div\u003e\n\u003cdiv\u003e\n\u003cspan\u003e\u003cstrong\u003e\u003c\/strong\u003e\u003c\/span\u003e\u003cbr\u003e\n\u003c\/div\u003e\n\u003cdiv\u003e\n\u003ctable border=\"1\" height=\"325\"\u003e\n\u003ctbody\u003e\n\u003ctr\u003e\n\u003ctd\u003ePower on\u003c\/td\u003e\n\u003ctd\u003eClick button 6\u003c\/td\u003e\n\u003c\/tr\u003e\n\u003ctr\u003e\n\u003ctd\u003eShut down\u003c\/td\u003e\n\u003ctd\u003e\n\u003cdiv\u003eDouble-click the button6;\u003c\/div\u003e\n\u003cdiv\u003eAutomatically shut down after three minutes of standby\u003c\/div\u003e\n\u003c\/td\u003e\n\u003c\/tr\u003e\n\u003ctr\u003e\n\u003ctd\u003eGear position adjustment\u003c\/td\u003e\n\u003ctd\u003eButton 7 is gear position adjustment, click to change gears, the cycle is first gear\u0026gt;second gear\u0026gt;third gear\u0026gt;fourth gear\u0026gt;standby\u003c\/td\u003e\n\u003c\/tr\u003e\n\u003ctr\u003e\n\u003ctd\u003eStandby\u003c\/td\u003e\n\u003ctd\u003e\n\u003cdiv\u003eAfter the fourth gear, click to enter the standby state;\u003c\/div\u003e\n\u003cdiv\u003e\u003cstrong\u003eIt enters the standby state without spot welding for more than 30 minutes.\u003c\/strong\u003e\u003c\/div\u003e\n\u003c\/td\u003e\n\u003c\/tr\u003e\n\u003ctr\u003e\n\u003ctd\u003eSpot welding\u003c\/td\u003e\n\u003ctd\u003eAfter turning on the machine, select the required gear and touch the welding object with the welding pen to spot welding.\u003c\/td\u003e\n\u003c\/tr\u003e\n\u003ctr\u003e\n\u003ctd\u003ePrecautions for spot welding\u003c\/td\u003e\n\u003ctd\u003ea. Please fix the spot welding items in the spot welding mode;\u003cbr\u003eb. Please keep the welding objects in a flat state;\u003cbr\u003e3. Keep cooling time about 10S after welding\u003c\/td\u003e\n\u003c\/tr\u003e\n\u003c\/tbody\u003e\n\u003c\/table\u003e\n\u003c\/div\u003e\n\u003cdiv\u003e\n\u003cdiv\u003e\n\u003cstrong\u003eMatters needing attention\u003c\/strong\u003e\u003cbr\u003e\n\u003cul\u003e\n\u003cli\u003eIt can be operated while charging, and it will enter standby mode when charging\u003c\/li\u003e\n\u003cli\u003eIt is recommended to charge it once half a year when it is not used for a long time, and the charge is 75%\u003c\/li\u003e\n\u003cli\u003eContinuous use of the soldering pen will cause hotness, it is recommended to wear gloves to operate\u003c\/li\u003e\n\u003cli\u003eDo not drop, flood, heat and other harmful operations to electronics\u003c\/li\u003e\n\u003cli\u003eThe blackening of the tip of the soldering pen will affect the effect, which can be worn off with sandpaper\u003c\/li\u003e\n\u003cli\u003eIf the spot welding is too long or the shutdown is caused by good contact, just restart it\u003c\/li\u003e\n\u003c\/ul\u003e\n\u003c\/div\u003e\n\u003cdiv\u003e\n\u003cspan\u003e\u003cstrong\u003ePackage Included:\u003c\/strong\u003e\u003c\/span\u003e\u003cbr\u003e\n\u003cul\u003e\n\u003cli\u003e\u003cspan face=\"times new roman, times\"\u003e1PCS*Hand-held desktop mini portable spot welder\u003c\/span\u003e\u003c\/li\u003e\n\u003c\/ul\u003e\n\u003c\/div\u003e\n\u003c\/div\u003e\n\u003c\/div\u003e"}

translation missing: en.products.product.regular_price

$5.99

{"id":6087916945608,"title":"Hand-held Desktop DIY Battery Portable Mini Spot Welder Welding Machine","handle":"hand-held-desktop-diy-battery-portable-mini-spot-welder-welding-machine","description":"\u003cdiv\u003e\n\u003cdiv\u003e\n\u003cspan\u003e\u003cstrong\u003eIntroduction\u003c\/strong\u003e \u003c\/span\u003e\u003cbr\u003e\n\u003cul\u003e\n\u003cli\u003e\u003cspan\u003eThis product is suitable for daily or small spot welding\/butt welding work in the family. It is automatically triggered without a switch, and the operation is convenient and quick.\u003c\/span\u003e\u003c\/li\u003e\n\u003c\/ul\u003e\n\u003cspan\u003e\u003cstrong\u003eParameters\u003c\/strong\u003e\u003c\/span\u003e\u003cbr\u003e\n\u003cul\u003e\n\u003cli\u003e\u003cspan\u003eBattery capacity: 5AH\u003c\/span\u003e\u003c\/li\u003e\n\u003cli\u003e\u003cspan\u003eOutput voltage: 4.2V max\u003c\/span\u003e\u003c\/li\u003e\n\u003cli\u003e\u003cspan\u003eOutput current: maximum 500A\u003c\/span\u003e\u003c\/li\u003e\n\u003cli\u003e\u003cspan\u003eDesign current: maximum 1000A\u003c\/span\u003e\u003c\/li\u003e\n\u003cli\u003e\u003cspan\u003eInput parameters: 5V\/2.1A\u003c\/span\u003e\u003c\/li\u003e\n\u003cli\u003e\u003cspan\u003eSupport welding: 0.1-0.2 nickel sheet, iron sheet, stainless steel\u003c\/span\u003e\u003c\/li\u003e\n\u003cli\u003e\u003cspan\u003eWelding time: several milliseconds\u003c\/span\u003e\u003c\/li\u003e\n\u003cli\u003e\u003cspan\u003eCharging voltage: 4.5~5.5V (current≥2.5A)\u003c\/span\u003e\u003c\/li\u003e\n\u003cli\u003e\u003cspan\u003eProduct size: 150*80*22MM\u003c\/span\u003e\u003c\/li\u003e\n\u003cli\u003e\u003cspan\u003eShell material: hard aluminum alloy\u003c\/span\u003e\u003c\/li\u003e\n\u003cli\u003e\u003cspan\u003eWeight: a set of 467g\u003c\/span\u003e\u003c\/li\u003e\n\u003c\/ul\u003e\n\u003cspan\u003e\u003cstrong\u003eFeatures\u003c\/strong\u003e\u003c\/span\u003e\u003cbr\u003e\n\u003cul\u003e\n\u003cli\u003e\u003cspan\u003eSmall size\u003c\/span\u003e\u003c\/li\u003e\n\u003cli\u003e\u003cspan\u003eSimple operation\u003c\/span\u003e\u003c\/li\u003e\n\u003cli\u003e\u003cspan\u003eHard appearance\u003c\/span\u003e\u003c\/li\u003e\n\u003cli\u003e\u003cspan\u003eEasy to use\u003c\/span\u003e\u003c\/li\u003e\n\u003c\/ul\u003e\n\u003cspan\u003eSuper current\u003c\/span\u003e\u003cbr\u003e\u003cspan\u003e\u003cstrong\u003eComponents introduction\u003c\/strong\u003e\u003c\/span\u003e\n\u003c\/div\u003e\n\u003cdiv\u003e\n\u003cspan\u003e\u003cimg src=\"https:\/\/pg-cdn-a2.datacaciques.com\/00\/NDAy\/20\/11\/13\/sz294t40vfev921j\/f9a597bb1d94110c.png\" width=\"338\" height=\"338\" data-mce-src=\"https:\/\/pg-cdn-a2.datacaciques.com\/00\/NDAy\/20\/11\/13\/sz294t40vfev921j\/f9a597bb1d94110c.png\"\u003e\u003c\/span\u003e\u003cbr\u003e\u003cspan\u003e\u003cstrong\u003eHow to use\u003c\/strong\u003e\u003c\/span\u003e\n\u003c\/div\u003e\n\u003cdiv\u003e\n\u003cspan\u003e\u003cstrong\u003e\u003c\/strong\u003e\u003c\/span\u003e\u003cbr\u003e\n\u003c\/div\u003e\n\u003cdiv\u003e\n\u003ctable border=\"1\" height=\"325\"\u003e\n\u003ctbody\u003e\n\u003ctr\u003e\n\u003ctd\u003ePower on\u003c\/td\u003e\n\u003ctd\u003eClick button 6\u003c\/td\u003e\n\u003c\/tr\u003e\n\u003ctr\u003e\n\u003ctd\u003eShut down\u003c\/td\u003e\n\u003ctd\u003e\n\u003cdiv\u003eDouble-click the button6;\u003c\/div\u003e\n\u003cdiv\u003eAutomatically shut down after three minutes of standby\u003c\/div\u003e\n\u003c\/td\u003e\n\u003c\/tr\u003e\n\u003ctr\u003e\n\u003ctd\u003eGear position adjustment\u003c\/td\u003e\n\u003ctd\u003eButton 7 is gear position adjustment, click to change gears, the cycle is first gear\u0026gt;second gear\u0026gt;third gear\u0026gt;fourth gear\u0026gt;standby\u003c\/td\u003e\n\u003c\/tr\u003e\n\u003ctr\u003e\n\u003ctd\u003eStandby\u003c\/td\u003e\n\u003ctd\u003e\n\u003cdiv\u003eAfter the fourth gear, click to enter the standby state;\u003c\/div\u003e\n\u003cdiv\u003e\u003cstrong\u003eIt enters the standby state without spot welding for more than 30 minutes.\u003c\/strong\u003e\u003c\/div\u003e\n\u003c\/td\u003e\n\u003c\/tr\u003e\n\u003ctr\u003e\n\u003ctd\u003eSpot welding\u003c\/td\u003e\n\u003ctd\u003eAfter turning on the machine, select the required gear and touch the welding object with the welding pen to spot welding.\u003c\/td\u003e\n\u003c\/tr\u003e\n\u003ctr\u003e\n\u003ctd\u003ePrecautions for spot welding\u003c\/td\u003e\n\u003ctd\u003ea. Please fix the spot welding items in the spot welding mode;\u003cbr\u003eb. Please keep the welding objects in a flat state;\u003cbr\u003e3. Keep cooling time about 10S after welding\u003c\/td\u003e\n\u003c\/tr\u003e\n\u003c\/tbody\u003e\n\u003c\/table\u003e\n\u003c\/div\u003e\n\u003cdiv\u003e\n\u003cdiv\u003e\n\u003cstrong\u003eMatters needing attention\u003c\/strong\u003e\u003cbr\u003e\n\u003cul\u003e\n\u003cli\u003eIt can be operated while charging, and it will enter standby mode when charging\u003c\/li\u003e\n\u003cli\u003eIt is recommended to charge it once half a year when it is not used for a long time, and the charge is 75%\u003c\/li\u003e\n\u003cli\u003eContinuous use of the soldering pen will cause hotness, it is recommended to wear gloves to operate\u003c\/li\u003e\n\u003cli\u003eDo not drop, flood, heat and other harmful operations to electronics\u003c\/li\u003e\n\u003cli\u003eThe blackening of the tip of the soldering pen will affect the effect, which can be worn off with sandpaper\u003c\/li\u003e\n\u003cli\u003eIf the spot welding is too long or the shutdown is caused by good contact, just restart it\u003c\/li\u003e\n\u003c\/ul\u003e\n\u003c\/div\u003e\n\u003cdiv\u003e\n\u003cspan\u003e\u003cstrong\u003ePackage Included:\u003c\/strong\u003e\u003c\/span\u003e\u003cbr\u003e\n\u003cul\u003e\n\u003cli\u003e\u003cspan face=\"times new roman, times\"\u003e1PCS*Hand-held desktop mini portable spot welder\u003c\/span\u003e\u003c\/li\u003e\n\u003c\/ul\u003e\n\u003c\/div\u003e\n\u003c\/div\u003e\n\u003c\/div\u003e","published_at":"2020-11-18T15:22:50+08:00","created_at":"2020-11-18T15:22:49+08:00","vendor":"DIYMORE","type":"","tags":[],"price":4899,"price_min":4899,"price_max":4899,"available":true,"price_varies":false,"compare_at_price":null,"compare_at_price_min":0,"compare_at_price_max":0,"compare_at_price_varies":false,"variants":[{"id":37545534456008,"title":"Default Title","option1":"Default Title","option2":null,"option3":null,"sku":"YC0024","requires_shipping":true,"taxable":false,"featured_image":null,"available":true,"name":"Hand-held Desktop DIY Battery Portable Mini Spot Welder Welding Machine","public_title":null,"options":["Default Title"],"price":4899,"weight":0,"compare_at_price":null,"inventory_management":"shopify","barcode":"","requires_selling_plan":false,"selling_plan_allocations":[],"quantity_rule":{"min":1,"max":null,"increment":1}}],"images":["\/\/cdn.shopify.com\/s\/files\/1\/0122\/7558\/0986\/products\/4_a4211117-4a59-4131-b652-28053a189381.jpg?v=1605684173","\/\/cdn.shopify.com\/s\/files\/1\/0122\/7558\/0986\/products\/1_ed2b35e8-0f0f-484a-b6ac-ddd5e820157d.jpg?v=1605684173","\/\/cdn.shopify.com\/s\/files\/1\/0122\/7558\/0986\/products\/2_e67edc1f-58e2-439d-b607-f5c880da4fe7.jpg?v=1605684173","\/\/cdn.shopify.com\/s\/files\/1\/0122\/7558\/0986\/products\/3_0d7204ab-b1b2-407d-8b90-b6c1e568760c.jpg?v=1605684173","\/\/cdn.shopify.com\/s\/files\/1\/0122\/7558\/0986\/products\/9_0801781d-6725-479e-a518-f6a57345226b.jpg?v=1605684173","\/\/cdn.shopify.com\/s\/files\/1\/0122\/7558\/0986\/products\/6_5a085030-c47f-458c-8ce8-57c83d68694f.jpg?v=1605684173"],"featured_image":"\/\/cdn.shopify.com\/s\/files\/1\/0122\/7558\/0986\/products\/4_a4211117-4a59-4131-b652-28053a189381.jpg?v=1605684173","options":["Title"],"media":[{"alt":null,"id":14971542307016,"position":1,"preview_image":{"aspect_ratio":1.0,"height":1000,"width":1000,"src":"https:\/\/cdn.shopify.com\/s\/files\/1\/0122\/7558\/0986\/products\/4_a4211117-4a59-4131-b652-28053a189381.jpg?v=1605684173"},"aspect_ratio":1.0,"height":1000,"media_type":"image","src":"https:\/\/cdn.shopify.com\/s\/files\/1\/0122\/7558\/0986\/products\/4_a4211117-4a59-4131-b652-28053a189381.jpg?v=1605684173","width":1000},{"alt":null,"id":14971542339784,"position":2,"preview_image":{"aspect_ratio":1.0,"height":1000,"width":1000,"src":"https:\/\/cdn.shopify.com\/s\/files\/1\/0122\/7558\/0986\/products\/1_ed2b35e8-0f0f-484a-b6ac-ddd5e820157d.jpg?v=1605684173"},"aspect_ratio":1.0,"height":1000,"media_type":"image","src":"https:\/\/cdn.shopify.com\/s\/files\/1\/0122\/7558\/0986\/products\/1_ed2b35e8-0f0f-484a-b6ac-ddd5e820157d.jpg?v=1605684173","width":1000},{"alt":null,"id":14971542372552,"position":3,"preview_image":{"aspect_ratio":1.0,"height":1000,"width":1000,"src":"https:\/\/cdn.shopify.com\/s\/files\/1\/0122\/7558\/0986\/products\/2_e67edc1f-58e2-439d-b607-f5c880da4fe7.jpg?v=1605684173"},"aspect_ratio":1.0,"height":1000,"media_type":"image","src":"https:\/\/cdn.shopify.com\/s\/files\/1\/0122\/7558\/0986\/products\/2_e67edc1f-58e2-439d-b607-f5c880da4fe7.jpg?v=1605684173","width":1000},{"alt":null,"id":14971542405320,"position":4,"preview_image":{"aspect_ratio":1.0,"height":1000,"width":1000,"src":"https:\/\/cdn.shopify.com\/s\/files\/1\/0122\/7558\/0986\/products\/3_0d7204ab-b1b2-407d-8b90-b6c1e568760c.jpg?v=1605684173"},"aspect_ratio":1.0,"height":1000,"media_type":"image","src":"https:\/\/cdn.shopify.com\/s\/files\/1\/0122\/7558\/0986\/products\/3_0d7204ab-b1b2-407d-8b90-b6c1e568760c.jpg?v=1605684173","width":1000},{"alt":null,"id":14971542438088,"position":5,"preview_image":{"aspect_ratio":1.0,"height":1000,"width":1000,"src":"https:\/\/cdn.shopify.com\/s\/files\/1\/0122\/7558\/0986\/products\/9_0801781d-6725-479e-a518-f6a57345226b.jpg?v=1605684173"},"aspect_ratio":1.0,"height":1000,"media_type":"image","src":"https:\/\/cdn.shopify.com\/s\/files\/1\/0122\/7558\/0986\/products\/9_0801781d-6725-479e-a518-f6a57345226b.jpg?v=1605684173","width":1000},{"alt":null,"id":14971542470856,"position":6,"preview_image":{"aspect_ratio":1.0,"height":1000,"width":1000,"src":"https:\/\/cdn.shopify.com\/s\/files\/1\/0122\/7558\/0986\/products\/6_5a085030-c47f-458c-8ce8-57c83d68694f.jpg?v=1605684173"},"aspect_ratio":1.0,"height":1000,"media_type":"image","src":"https:\/\/cdn.shopify.com\/s\/files\/1\/0122\/7558\/0986\/products\/6_5a085030-c47f-458c-8ce8-57c83d68694f.jpg?v=1605684173","width":1000}],"requires_selling_plan":false,"selling_plan_groups":[],"content":"\u003cdiv\u003e\n\u003cdiv\u003e\n\u003cspan\u003e\u003cstrong\u003eIntroduction\u003c\/strong\u003e \u003c\/span\u003e\u003cbr\u003e\n\u003cul\u003e\n\u003cli\u003e\u003cspan\u003eThis product is suitable for daily or small spot welding\/butt welding work in the family. It is automatically triggered without a switch, and the operation is convenient and quick.\u003c\/span\u003e\u003c\/li\u003e\n\u003c\/ul\u003e\n\u003cspan\u003e\u003cstrong\u003eParameters\u003c\/strong\u003e\u003c\/span\u003e\u003cbr\u003e\n\u003cul\u003e\n\u003cli\u003e\u003cspan\u003eBattery capacity: 5AH\u003c\/span\u003e\u003c\/li\u003e\n\u003cli\u003e\u003cspan\u003eOutput voltage: 4.2V max\u003c\/span\u003e\u003c\/li\u003e\n\u003cli\u003e\u003cspan\u003eOutput current: maximum 500A\u003c\/span\u003e\u003c\/li\u003e\n\u003cli\u003e\u003cspan\u003eDesign current: maximum 1000A\u003c\/span\u003e\u003c\/li\u003e\n\u003cli\u003e\u003cspan\u003eInput parameters: 5V\/2.1A\u003c\/span\u003e\u003c\/li\u003e\n\u003cli\u003e\u003cspan\u003eSupport welding: 0.1-0.2 nickel sheet, iron sheet, stainless steel\u003c\/span\u003e\u003c\/li\u003e\n\u003cli\u003e\u003cspan\u003eWelding time: several milliseconds\u003c\/span\u003e\u003c\/li\u003e\n\u003cli\u003e\u003cspan\u003eCharging voltage: 4.5~5.5V (current≥2.5A)\u003c\/span\u003e\u003c\/li\u003e\n\u003cli\u003e\u003cspan\u003eProduct size: 150*80*22MM\u003c\/span\u003e\u003c\/li\u003e\n\u003cli\u003e\u003cspan\u003eShell material: hard aluminum alloy\u003c\/span\u003e\u003c\/li\u003e\n\u003cli\u003e\u003cspan\u003eWeight: a set of 467g\u003c\/span\u003e\u003c\/li\u003e\n\u003c\/ul\u003e\n\u003cspan\u003e\u003cstrong\u003eFeatures\u003c\/strong\u003e\u003c\/span\u003e\u003cbr\u003e\n\u003cul\u003e\n\u003cli\u003e\u003cspan\u003eSmall size\u003c\/span\u003e\u003c\/li\u003e\n\u003cli\u003e\u003cspan\u003eSimple operation\u003c\/span\u003e\u003c\/li\u003e\n\u003cli\u003e\u003cspan\u003eHard appearance\u003c\/span\u003e\u003c\/li\u003e\n\u003cli\u003e\u003cspan\u003eEasy to use\u003c\/span\u003e\u003c\/li\u003e\n\u003c\/ul\u003e\n\u003cspan\u003eSuper current\u003c\/span\u003e\u003cbr\u003e\u003cspan\u003e\u003cstrong\u003eComponents introduction\u003c\/strong\u003e\u003c\/span\u003e\n\u003c\/div\u003e\n\u003cdiv\u003e\n\u003cspan\u003e\u003cimg src=\"https:\/\/pg-cdn-a2.datacaciques.com\/00\/NDAy\/20\/11\/13\/sz294t40vfev921j\/f9a597bb1d94110c.png\" width=\"338\" height=\"338\" data-mce-src=\"https:\/\/pg-cdn-a2.datacaciques.com\/00\/NDAy\/20\/11\/13\/sz294t40vfev921j\/f9a597bb1d94110c.png\"\u003e\u003c\/span\u003e\u003cbr\u003e\u003cspan\u003e\u003cstrong\u003eHow to use\u003c\/strong\u003e\u003c\/span\u003e\n\u003c\/div\u003e\n\u003cdiv\u003e\n\u003cspan\u003e\u003cstrong\u003e\u003c\/strong\u003e\u003c\/span\u003e\u003cbr\u003e\n\u003c\/div\u003e\n\u003cdiv\u003e\n\u003ctable border=\"1\" height=\"325\"\u003e\n\u003ctbody\u003e\n\u003ctr\u003e\n\u003ctd\u003ePower on\u003c\/td\u003e\n\u003ctd\u003eClick button 6\u003c\/td\u003e\n\u003c\/tr\u003e\n\u003ctr\u003e\n\u003ctd\u003eShut down\u003c\/td\u003e\n\u003ctd\u003e\n\u003cdiv\u003eDouble-click the button6;\u003c\/div\u003e\n\u003cdiv\u003eAutomatically shut down after three minutes of standby\u003c\/div\u003e\n\u003c\/td\u003e\n\u003c\/tr\u003e\n\u003ctr\u003e\n\u003ctd\u003eGear position adjustment\u003c\/td\u003e\n\u003ctd\u003eButton 7 is gear position adjustment, click to change gears, the cycle is first gear\u0026gt;second gear\u0026gt;third gear\u0026gt;fourth gear\u0026gt;standby\u003c\/td\u003e\n\u003c\/tr\u003e\n\u003ctr\u003e\n\u003ctd\u003eStandby\u003c\/td\u003e\n\u003ctd\u003e\n\u003cdiv\u003eAfter the fourth gear, click to enter the standby state;\u003c\/div\u003e\n\u003cdiv\u003e\u003cstrong\u003eIt enters the standby state without spot welding for more than 30 minutes.\u003c\/strong\u003e\u003c\/div\u003e\n\u003c\/td\u003e\n\u003c\/tr\u003e\n\u003ctr\u003e\n\u003ctd\u003eSpot welding\u003c\/td\u003e\n\u003ctd\u003eAfter turning on the machine, select the required gear and touch the welding object with the welding pen to spot welding.\u003c\/td\u003e\n\u003c\/tr\u003e\n\u003ctr\u003e\n\u003ctd\u003ePrecautions for spot welding\u003c\/td\u003e\n\u003ctd\u003ea. Please fix the spot welding items in the spot welding mode;\u003cbr\u003eb. Please keep the welding objects in a flat state;\u003cbr\u003e3. Keep cooling time about 10S after welding\u003c\/td\u003e\n\u003c\/tr\u003e\n\u003c\/tbody\u003e\n\u003c\/table\u003e\n\u003c\/div\u003e\n\u003cdiv\u003e\n\u003cdiv\u003e\n\u003cstrong\u003eMatters needing attention\u003c\/strong\u003e\u003cbr\u003e\n\u003cul\u003e\n\u003cli\u003eIt can be operated while charging, and it will enter standby mode when charging\u003c\/li\u003e\n\u003cli\u003eIt is recommended to charge it once half a year when it is not used for a long time, and the charge is 75%\u003c\/li\u003e\n\u003cli\u003eContinuous use of the soldering pen will cause hotness, it is recommended to wear gloves to operate\u003c\/li\u003e\n\u003cli\u003eDo not drop, flood, heat and other harmful operations to electronics\u003c\/li\u003e\n\u003cli\u003eThe blackening of the tip of the soldering pen will affect the effect, which can be worn off with sandpaper\u003c\/li\u003e\n\u003cli\u003eIf the spot welding is too long or the shutdown is caused by good contact, just restart it\u003c\/li\u003e\n\u003c\/ul\u003e\n\u003c\/div\u003e\n\u003cdiv\u003e\n\u003cspan\u003e\u003cstrong\u003ePackage Included:\u003c\/strong\u003e\u003c\/span\u003e\u003cbr\u003e\n\u003cul\u003e\n\u003cli\u003e\u003cspan face=\"times new roman, times\"\u003e1PCS*Hand-held desktop mini portable spot welder\u003c\/span\u003e\u003c\/li\u003e\n\u003c\/ul\u003e\n\u003c\/div\u003e\n\u003c\/div\u003e\n\u003c\/div\u003e"}

translation missing: en.products.product.regular_price

$7.99

{"id":6087916945608,"title":"Hand-held Desktop DIY Battery Portable Mini Spot Welder Welding Machine","handle":"hand-held-desktop-diy-battery-portable-mini-spot-welder-welding-machine","description":"\u003cdiv\u003e\n\u003cdiv\u003e\n\u003cspan\u003e\u003cstrong\u003eIntroduction\u003c\/strong\u003e \u003c\/span\u003e\u003cbr\u003e\n\u003cul\u003e\n\u003cli\u003e\u003cspan\u003eThis product is suitable for daily or small spot welding\/butt welding work in the family. It is automatically triggered without a switch, and the operation is convenient and quick.\u003c\/span\u003e\u003c\/li\u003e\n\u003c\/ul\u003e\n\u003cspan\u003e\u003cstrong\u003eParameters\u003c\/strong\u003e\u003c\/span\u003e\u003cbr\u003e\n\u003cul\u003e\n\u003cli\u003e\u003cspan\u003eBattery capacity: 5AH\u003c\/span\u003e\u003c\/li\u003e\n\u003cli\u003e\u003cspan\u003eOutput voltage: 4.2V max\u003c\/span\u003e\u003c\/li\u003e\n\u003cli\u003e\u003cspan\u003eOutput current: maximum 500A\u003c\/span\u003e\u003c\/li\u003e\n\u003cli\u003e\u003cspan\u003eDesign current: maximum 1000A\u003c\/span\u003e\u003c\/li\u003e\n\u003cli\u003e\u003cspan\u003eInput parameters: 5V\/2.1A\u003c\/span\u003e\u003c\/li\u003e\n\u003cli\u003e\u003cspan\u003eSupport welding: 0.1-0.2 nickel sheet, iron sheet, stainless steel\u003c\/span\u003e\u003c\/li\u003e\n\u003cli\u003e\u003cspan\u003eWelding time: several milliseconds\u003c\/span\u003e\u003c\/li\u003e\n\u003cli\u003e\u003cspan\u003eCharging voltage: 4.5~5.5V (current≥2.5A)\u003c\/span\u003e\u003c\/li\u003e\n\u003cli\u003e\u003cspan\u003eProduct size: 150*80*22MM\u003c\/span\u003e\u003c\/li\u003e\n\u003cli\u003e\u003cspan\u003eShell material: hard aluminum alloy\u003c\/span\u003e\u003c\/li\u003e\n\u003cli\u003e\u003cspan\u003eWeight: a set of 467g\u003c\/span\u003e\u003c\/li\u003e\n\u003c\/ul\u003e\n\u003cspan\u003e\u003cstrong\u003eFeatures\u003c\/strong\u003e\u003c\/span\u003e\u003cbr\u003e\n\u003cul\u003e\n\u003cli\u003e\u003cspan\u003eSmall size\u003c\/span\u003e\u003c\/li\u003e\n\u003cli\u003e\u003cspan\u003eSimple operation\u003c\/span\u003e\u003c\/li\u003e\n\u003cli\u003e\u003cspan\u003eHard appearance\u003c\/span\u003e\u003c\/li\u003e\n\u003cli\u003e\u003cspan\u003eEasy to use\u003c\/span\u003e\u003c\/li\u003e\n\u003c\/ul\u003e\n\u003cspan\u003eSuper current\u003c\/span\u003e\u003cbr\u003e\u003cspan\u003e\u003cstrong\u003eComponents introduction\u003c\/strong\u003e\u003c\/span\u003e\n\u003c\/div\u003e\n\u003cdiv\u003e\n\u003cspan\u003e\u003cimg src=\"https:\/\/pg-cdn-a2.datacaciques.com\/00\/NDAy\/20\/11\/13\/sz294t40vfev921j\/f9a597bb1d94110c.png\" width=\"338\" height=\"338\" data-mce-src=\"https:\/\/pg-cdn-a2.datacaciques.com\/00\/NDAy\/20\/11\/13\/sz294t40vfev921j\/f9a597bb1d94110c.png\"\u003e\u003c\/span\u003e\u003cbr\u003e\u003cspan\u003e\u003cstrong\u003eHow to use\u003c\/strong\u003e\u003c\/span\u003e\n\u003c\/div\u003e\n\u003cdiv\u003e\n\u003cspan\u003e\u003cstrong\u003e\u003c\/strong\u003e\u003c\/span\u003e\u003cbr\u003e\n\u003c\/div\u003e\n\u003cdiv\u003e\n\u003ctable border=\"1\" height=\"325\"\u003e\n\u003ctbody\u003e\n\u003ctr\u003e\n\u003ctd\u003ePower on\u003c\/td\u003e\n\u003ctd\u003eClick button 6\u003c\/td\u003e\n\u003c\/tr\u003e\n\u003ctr\u003e\n\u003ctd\u003eShut down\u003c\/td\u003e\n\u003ctd\u003e\n\u003cdiv\u003eDouble-click the button6;\u003c\/div\u003e\n\u003cdiv\u003eAutomatically shut down after three minutes of standby\u003c\/div\u003e\n\u003c\/td\u003e\n\u003c\/tr\u003e\n\u003ctr\u003e\n\u003ctd\u003eGear position adjustment\u003c\/td\u003e\n\u003ctd\u003eButton 7 is gear position adjustment, click to change gears, the cycle is first gear\u0026gt;second gear\u0026gt;third gear\u0026gt;fourth gear\u0026gt;standby\u003c\/td\u003e\n\u003c\/tr\u003e\n\u003ctr\u003e\n\u003ctd\u003eStandby\u003c\/td\u003e\n\u003ctd\u003e\n\u003cdiv\u003eAfter the fourth gear, click to enter the standby state;\u003c\/div\u003e\n\u003cdiv\u003e\u003cstrong\u003eIt enters the standby state without spot welding for more than 30 minutes.\u003c\/strong\u003e\u003c\/div\u003e\n\u003c\/td\u003e\n\u003c\/tr\u003e\n\u003ctr\u003e\n\u003ctd\u003eSpot welding\u003c\/td\u003e\n\u003ctd\u003eAfter turning on the machine, select the required gear and touch the welding object with the welding pen to spot welding.\u003c\/td\u003e\n\u003c\/tr\u003e\n\u003ctr\u003e\n\u003ctd\u003ePrecautions for spot welding\u003c\/td\u003e\n\u003ctd\u003ea. Please fix the spot welding items in the spot welding mode;\u003cbr\u003eb. Please keep the welding objects in a flat state;\u003cbr\u003e3. Keep cooling time about 10S after welding\u003c\/td\u003e\n\u003c\/tr\u003e\n\u003c\/tbody\u003e\n\u003c\/table\u003e\n\u003c\/div\u003e\n\u003cdiv\u003e\n\u003cdiv\u003e\n\u003cstrong\u003eMatters needing attention\u003c\/strong\u003e\u003cbr\u003e\n\u003cul\u003e\n\u003cli\u003eIt can be operated while charging, and it will enter standby mode when charging\u003c\/li\u003e\n\u003cli\u003eIt is recommended to charge it once half a year when it is not used for a long time, and the charge is 75%\u003c\/li\u003e\n\u003cli\u003eContinuous use of the soldering pen will cause hotness, it is recommended to wear gloves to operate\u003c\/li\u003e\n\u003cli\u003eDo not drop, flood, heat and other harmful operations to electronics\u003c\/li\u003e\n\u003cli\u003eThe blackening of the tip of the soldering pen will affect the effect, which can be worn off with sandpaper\u003c\/li\u003e\n\u003cli\u003eIf the spot welding is too long or the shutdown is caused by good contact, just restart it\u003c\/li\u003e\n\u003c\/ul\u003e\n\u003c\/div\u003e\n\u003cdiv\u003e\n\u003cspan\u003e\u003cstrong\u003ePackage Included:\u003c\/strong\u003e\u003c\/span\u003e\u003cbr\u003e\n\u003cul\u003e\n\u003cli\u003e\u003cspan face=\"times new roman, times\"\u003e1PCS*Hand-held desktop mini portable spot welder\u003c\/span\u003e\u003c\/li\u003e\n\u003c\/ul\u003e\n\u003c\/div\u003e\n\u003c\/div\u003e\n\u003c\/div\u003e","published_at":"2020-11-18T15:22:50+08:00","created_at":"2020-11-18T15:22:49+08:00","vendor":"DIYMORE","type":"","tags":[],"price":4899,"price_min":4899,"price_max":4899,"available":true,"price_varies":false,"compare_at_price":null,"compare_at_price_min":0,"compare_at_price_max":0,"compare_at_price_varies":false,"variants":[{"id":37545534456008,"title":"Default Title","option1":"Default Title","option2":null,"option3":null,"sku":"YC0024","requires_shipping":true,"taxable":false,"featured_image":null,"available":true,"name":"Hand-held Desktop DIY Battery Portable Mini Spot Welder Welding Machine","public_title":null,"options":["Default Title"],"price":4899,"weight":0,"compare_at_price":null,"inventory_management":"shopify","barcode":"","requires_selling_plan":false,"selling_plan_allocations":[],"quantity_rule":{"min":1,"max":null,"increment":1}}],"images":["\/\/cdn.shopify.com\/s\/files\/1\/0122\/7558\/0986\/products\/4_a4211117-4a59-4131-b652-28053a189381.jpg?v=1605684173","\/\/cdn.shopify.com\/s\/files\/1\/0122\/7558\/0986\/products\/1_ed2b35e8-0f0f-484a-b6ac-ddd5e820157d.jpg?v=1605684173","\/\/cdn.shopify.com\/s\/files\/1\/0122\/7558\/0986\/products\/2_e67edc1f-58e2-439d-b607-f5c880da4fe7.jpg?v=1605684173","\/\/cdn.shopify.com\/s\/files\/1\/0122\/7558\/0986\/products\/3_0d7204ab-b1b2-407d-8b90-b6c1e568760c.jpg?v=1605684173","\/\/cdn.shopify.com\/s\/files\/1\/0122\/7558\/0986\/products\/9_0801781d-6725-479e-a518-f6a57345226b.jpg?v=1605684173","\/\/cdn.shopify.com\/s\/files\/1\/0122\/7558\/0986\/products\/6_5a085030-c47f-458c-8ce8-57c83d68694f.jpg?v=1605684173"],"featured_image":"\/\/cdn.shopify.com\/s\/files\/1\/0122\/7558\/0986\/products\/4_a4211117-4a59-4131-b652-28053a189381.jpg?v=1605684173","options":["Title"],"media":[{"alt":null,"id":14971542307016,"position":1,"preview_image":{"aspect_ratio":1.0,"height":1000,"width":1000,"src":"https:\/\/cdn.shopify.com\/s\/files\/1\/0122\/7558\/0986\/products\/4_a4211117-4a59-4131-b652-28053a189381.jpg?v=1605684173"},"aspect_ratio":1.0,"height":1000,"media_type":"image","src":"https:\/\/cdn.shopify.com\/s\/files\/1\/0122\/7558\/0986\/products\/4_a4211117-4a59-4131-b652-28053a189381.jpg?v=1605684173","width":1000},{"alt":null,"id":14971542339784,"position":2,"preview_image":{"aspect_ratio":1.0,"height":1000,"width":1000,"src":"https:\/\/cdn.shopify.com\/s\/files\/1\/0122\/7558\/0986\/products\/1_ed2b35e8-0f0f-484a-b6ac-ddd5e820157d.jpg?v=1605684173"},"aspect_ratio":1.0,"height":1000,"media_type":"image","src":"https:\/\/cdn.shopify.com\/s\/files\/1\/0122\/7558\/0986\/products\/1_ed2b35e8-0f0f-484a-b6ac-ddd5e820157d.jpg?v=1605684173","width":1000},{"alt":null,"id":14971542372552,"position":3,"preview_image":{"aspect_ratio":1.0,"height":1000,"width":1000,"src":"https:\/\/cdn.shopify.com\/s\/files\/1\/0122\/7558\/0986\/products\/2_e67edc1f-58e2-439d-b607-f5c880da4fe7.jpg?v=1605684173"},"aspect_ratio":1.0,"height":1000,"media_type":"image","src":"https:\/\/cdn.shopify.com\/s\/files\/1\/0122\/7558\/0986\/products\/2_e67edc1f-58e2-439d-b607-f5c880da4fe7.jpg?v=1605684173","width":1000},{"alt":null,"id":14971542405320,"position":4,"preview_image":{"aspect_ratio":1.0,"height":1000,"width":1000,"src":"https:\/\/cdn.shopify.com\/s\/files\/1\/0122\/7558\/0986\/products\/3_0d7204ab-b1b2-407d-8b90-b6c1e568760c.jpg?v=1605684173"},"aspect_ratio":1.0,"height":1000,"media_type":"image","src":"https:\/\/cdn.shopify.com\/s\/files\/1\/0122\/7558\/0986\/products\/3_0d7204ab-b1b2-407d-8b90-b6c1e568760c.jpg?v=1605684173","width":1000},{"alt":null,"id":14971542438088,"position":5,"preview_image":{"aspect_ratio":1.0,"height":1000,"width":1000,"src":"https:\/\/cdn.shopify.com\/s\/files\/1\/0122\/7558\/0986\/products\/9_0801781d-6725-479e-a518-f6a57345226b.jpg?v=1605684173"},"aspect_ratio":1.0,"height":1000,"media_type":"image","src":"https:\/\/cdn.shopify.com\/s\/files\/1\/0122\/7558\/0986\/products\/9_0801781d-6725-479e-a518-f6a57345226b.jpg?v=1605684173","width":1000},{"alt":null,"id":14971542470856,"position":6,"preview_image":{"aspect_ratio":1.0,"height":1000,"width":1000,"src":"https:\/\/cdn.shopify.com\/s\/files\/1\/0122\/7558\/0986\/products\/6_5a085030-c47f-458c-8ce8-57c83d68694f.jpg?v=1605684173"},"aspect_ratio":1.0,"height":1000,"media_type":"image","src":"https:\/\/cdn.shopify.com\/s\/files\/1\/0122\/7558\/0986\/products\/6_5a085030-c47f-458c-8ce8-57c83d68694f.jpg?v=1605684173","width":1000}],"requires_selling_plan":false,"selling_plan_groups":[],"content":"\u003cdiv\u003e\n\u003cdiv\u003e\n\u003cspan\u003e\u003cstrong\u003eIntroduction\u003c\/strong\u003e \u003c\/span\u003e\u003cbr\u003e\n\u003cul\u003e\n\u003cli\u003e\u003cspan\u003eThis product is suitable for daily or small spot welding\/butt welding work in the family. It is automatically triggered without a switch, and the operation is convenient and quick.\u003c\/span\u003e\u003c\/li\u003e\n\u003c\/ul\u003e\n\u003cspan\u003e\u003cstrong\u003eParameters\u003c\/strong\u003e\u003c\/span\u003e\u003cbr\u003e\n\u003cul\u003e\n\u003cli\u003e\u003cspan\u003eBattery capacity: 5AH\u003c\/span\u003e\u003c\/li\u003e\n\u003cli\u003e\u003cspan\u003eOutput voltage: 4.2V max\u003c\/span\u003e\u003c\/li\u003e\n\u003cli\u003e\u003cspan\u003eOutput current: maximum 500A\u003c\/span\u003e\u003c\/li\u003e\n\u003cli\u003e\u003cspan\u003eDesign current: maximum 1000A\u003c\/span\u003e\u003c\/li\u003e\n\u003cli\u003e\u003cspan\u003eInput parameters: 5V\/2.1A\u003c\/span\u003e\u003c\/li\u003e\n\u003cli\u003e\u003cspan\u003eSupport welding: 0.1-0.2 nickel sheet, iron sheet, stainless steel\u003c\/span\u003e\u003c\/li\u003e\n\u003cli\u003e\u003cspan\u003eWelding time: several milliseconds\u003c\/span\u003e\u003c\/li\u003e\n\u003cli\u003e\u003cspan\u003eCharging voltage: 4.5~5.5V (current≥2.5A)\u003c\/span\u003e\u003c\/li\u003e\n\u003cli\u003e\u003cspan\u003eProduct size: 150*80*22MM\u003c\/span\u003e\u003c\/li\u003e\n\u003cli\u003e\u003cspan\u003eShell material: hard aluminum alloy\u003c\/span\u003e\u003c\/li\u003e\n\u003cli\u003e\u003cspan\u003eWeight: a set of 467g\u003c\/span\u003e\u003c\/li\u003e\n\u003c\/ul\u003e\n\u003cspan\u003e\u003cstrong\u003eFeatures\u003c\/strong\u003e\u003c\/span\u003e\u003cbr\u003e\n\u003cul\u003e\n\u003cli\u003e\u003cspan\u003eSmall size\u003c\/span\u003e\u003c\/li\u003e\n\u003cli\u003e\u003cspan\u003eSimple operation\u003c\/span\u003e\u003c\/li\u003e\n\u003cli\u003e\u003cspan\u003eHard appearance\u003c\/span\u003e\u003c\/li\u003e\n\u003cli\u003e\u003cspan\u003eEasy to use\u003c\/span\u003e\u003c\/li\u003e\n\u003c\/ul\u003e\n\u003cspan\u003eSuper current\u003c\/span\u003e\u003cbr\u003e\u003cspan\u003e\u003cstrong\u003eComponents introduction\u003c\/strong\u003e\u003c\/span\u003e\n\u003c\/div\u003e\n\u003cdiv\u003e\n\u003cspan\u003e\u003cimg src=\"https:\/\/pg-cdn-a2.datacaciques.com\/00\/NDAy\/20\/11\/13\/sz294t40vfev921j\/f9a597bb1d94110c.png\" width=\"338\" height=\"338\" data-mce-src=\"https:\/\/pg-cdn-a2.datacaciques.com\/00\/NDAy\/20\/11\/13\/sz294t40vfev921j\/f9a597bb1d94110c.png\"\u003e\u003c\/span\u003e\u003cbr\u003e\u003cspan\u003e\u003cstrong\u003eHow to use\u003c\/strong\u003e\u003c\/span\u003e\n\u003c\/div\u003e\n\u003cdiv\u003e\n\u003cspan\u003e\u003cstrong\u003e\u003c\/strong\u003e\u003c\/span\u003e\u003cbr\u003e\n\u003c\/div\u003e\n\u003cdiv\u003e\n\u003ctable border=\"1\" height=\"325\"\u003e\n\u003ctbody\u003e\n\u003ctr\u003e\n\u003ctd\u003ePower on\u003c\/td\u003e\n\u003ctd\u003eClick button 6\u003c\/td\u003e\n\u003c\/tr\u003e\n\u003ctr\u003e\n\u003ctd\u003eShut down\u003c\/td\u003e\n\u003ctd\u003e\n\u003cdiv\u003eDouble-click the button6;\u003c\/div\u003e\n\u003cdiv\u003eAutomatically shut down after three minutes of standby\u003c\/div\u003e\n\u003c\/td\u003e\n\u003c\/tr\u003e\n\u003ctr\u003e\n\u003ctd\u003eGear position adjustment\u003c\/td\u003e\n\u003ctd\u003eButton 7 is gear position adjustment, click to change gears, the cycle is first gear\u0026gt;second gear\u0026gt;third gear\u0026gt;fourth gear\u0026gt;standby\u003c\/td\u003e\n\u003c\/tr\u003e\n\u003ctr\u003e\n\u003ctd\u003eStandby\u003c\/td\u003e\n\u003ctd\u003e\n\u003cdiv\u003eAfter the fourth gear, click to enter the standby state;\u003c\/div\u003e\n\u003cdiv\u003e\u003cstrong\u003eIt enters the standby state without spot welding for more than 30 minutes.\u003c\/strong\u003e\u003c\/div\u003e\n\u003c\/td\u003e\n\u003c\/tr\u003e\n\u003ctr\u003e\n\u003ctd\u003eSpot welding\u003c\/td\u003e\n\u003ctd\u003eAfter turning on the machine, select the required gear and touch the welding object with the welding pen to spot welding.\u003c\/td\u003e\n\u003c\/tr\u003e\n\u003ctr\u003e\n\u003ctd\u003ePrecautions for spot welding\u003c\/td\u003e\n\u003ctd\u003ea. Please fix the spot welding items in the spot welding mode;\u003cbr\u003eb. Please keep the welding objects in a flat state;\u003cbr\u003e3. Keep cooling time about 10S after welding\u003c\/td\u003e\n\u003c\/tr\u003e\n\u003c\/tbody\u003e\n\u003c\/table\u003e\n\u003c\/div\u003e\n\u003cdiv\u003e\n\u003cdiv\u003e\n\u003cstrong\u003eMatters needing attention\u003c\/strong\u003e\u003cbr\u003e\n\u003cul\u003e\n\u003cli\u003eIt can be operated while charging, and it will enter standby mode when charging\u003c\/li\u003e\n\u003cli\u003eIt is recommended to charge it once half a year when it is not used for a long time, and the charge is 75%\u003c\/li\u003e\n\u003cli\u003eContinuous use of the soldering pen will cause hotness, it is recommended to wear gloves to operate\u003c\/li\u003e\n\u003cli\u003eDo not drop, flood, heat and other harmful operations to electronics\u003c\/li\u003e\n\u003cli\u003eThe blackening of the tip of the soldering pen will affect the effect, which can be worn off with sandpaper\u003c\/li\u003e\n\u003cli\u003eIf the spot welding is too long or the shutdown is caused by good contact, just restart it\u003c\/li\u003e\n\u003c\/ul\u003e\n\u003c\/div\u003e\n\u003cdiv\u003e\n\u003cspan\u003e\u003cstrong\u003ePackage Included:\u003c\/strong\u003e\u003c\/span\u003e\u003cbr\u003e\n\u003cul\u003e\n\u003cli\u003e\u003cspan face=\"times new roman, times\"\u003e1PCS*Hand-held desktop mini portable spot welder\u003c\/span\u003e\u003c\/li\u003e\n\u003c\/ul\u003e\n\u003c\/div\u003e\n\u003c\/div\u003e\n\u003c\/div\u003e"}

translation missing: en.products.product.regular_price

$5.99

{"id":6087916945608,"title":"Hand-held Desktop DIY Battery Portable Mini Spot Welder Welding Machine","handle":"hand-held-desktop-diy-battery-portable-mini-spot-welder-welding-machine","description":"\u003cdiv\u003e\n\u003cdiv\u003e\n\u003cspan\u003e\u003cstrong\u003eIntroduction\u003c\/strong\u003e \u003c\/span\u003e\u003cbr\u003e\n\u003cul\u003e\n\u003cli\u003e\u003cspan\u003eThis product is suitable for daily or small spot welding\/butt welding work in the family. It is automatically triggered without a switch, and the operation is convenient and quick.\u003c\/span\u003e\u003c\/li\u003e\n\u003c\/ul\u003e\n\u003cspan\u003e\u003cstrong\u003eParameters\u003c\/strong\u003e\u003c\/span\u003e\u003cbr\u003e\n\u003cul\u003e\n\u003cli\u003e\u003cspan\u003eBattery capacity: 5AH\u003c\/span\u003e\u003c\/li\u003e\n\u003cli\u003e\u003cspan\u003eOutput voltage: 4.2V max\u003c\/span\u003e\u003c\/li\u003e\n\u003cli\u003e\u003cspan\u003eOutput current: maximum 500A\u003c\/span\u003e\u003c\/li\u003e\n\u003cli\u003e\u003cspan\u003eDesign current: maximum 1000A\u003c\/span\u003e\u003c\/li\u003e\n\u003cli\u003e\u003cspan\u003eInput parameters: 5V\/2.1A\u003c\/span\u003e\u003c\/li\u003e\n\u003cli\u003e\u003cspan\u003eSupport welding: 0.1-0.2 nickel sheet, iron sheet, stainless steel\u003c\/span\u003e\u003c\/li\u003e\n\u003cli\u003e\u003cspan\u003eWelding time: several milliseconds\u003c\/span\u003e\u003c\/li\u003e\n\u003cli\u003e\u003cspan\u003eCharging voltage: 4.5~5.5V (current≥2.5A)\u003c\/span\u003e\u003c\/li\u003e\n\u003cli\u003e\u003cspan\u003eProduct size: 150*80*22MM\u003c\/span\u003e\u003c\/li\u003e\n\u003cli\u003e\u003cspan\u003eShell material: hard aluminum alloy\u003c\/span\u003e\u003c\/li\u003e\n\u003cli\u003e\u003cspan\u003eWeight: a set of 467g\u003c\/span\u003e\u003c\/li\u003e\n\u003c\/ul\u003e\n\u003cspan\u003e\u003cstrong\u003eFeatures\u003c\/strong\u003e\u003c\/span\u003e\u003cbr\u003e\n\u003cul\u003e\n\u003cli\u003e\u003cspan\u003eSmall size\u003c\/span\u003e\u003c\/li\u003e\n\u003cli\u003e\u003cspan\u003eSimple operation\u003c\/span\u003e\u003c\/li\u003e\n\u003cli\u003e\u003cspan\u003eHard appearance\u003c\/span\u003e\u003c\/li\u003e\n\u003cli\u003e\u003cspan\u003eEasy to use\u003c\/span\u003e\u003c\/li\u003e\n\u003c\/ul\u003e\n\u003cspan\u003eSuper current\u003c\/span\u003e\u003cbr\u003e\u003cspan\u003e\u003cstrong\u003eComponents introduction\u003c\/strong\u003e\u003c\/span\u003e\n\u003c\/div\u003e\n\u003cdiv\u003e\n\u003cspan\u003e\u003cimg src=\"https:\/\/pg-cdn-a2.datacaciques.com\/00\/NDAy\/20\/11\/13\/sz294t40vfev921j\/f9a597bb1d94110c.png\" width=\"338\" height=\"338\" data-mce-src=\"https:\/\/pg-cdn-a2.datacaciques.com\/00\/NDAy\/20\/11\/13\/sz294t40vfev921j\/f9a597bb1d94110c.png\"\u003e\u003c\/span\u003e\u003cbr\u003e\u003cspan\u003e\u003cstrong\u003eHow to use\u003c\/strong\u003e\u003c\/span\u003e\n\u003c\/div\u003e\n\u003cdiv\u003e\n\u003cspan\u003e\u003cstrong\u003e\u003c\/strong\u003e\u003c\/span\u003e\u003cbr\u003e\n\u003c\/div\u003e\n\u003cdiv\u003e\n\u003ctable border=\"1\" height=\"325\"\u003e\n\u003ctbody\u003e\n\u003ctr\u003e\n\u003ctd\u003ePower on\u003c\/td\u003e\n\u003ctd\u003eClick button 6\u003c\/td\u003e\n\u003c\/tr\u003e\n\u003ctr\u003e\n\u003ctd\u003eShut down\u003c\/td\u003e\n\u003ctd\u003e\n\u003cdiv\u003eDouble-click the button6;\u003c\/div\u003e\n\u003cdiv\u003eAutomatically shut down after three minutes of standby\u003c\/div\u003e\n\u003c\/td\u003e\n\u003c\/tr\u003e\n\u003ctr\u003e\n\u003ctd\u003eGear position adjustment\u003c\/td\u003e\n\u003ctd\u003eButton 7 is gear position adjustment, click to change gears, the cycle is first gear\u0026gt;second gear\u0026gt;third gear\u0026gt;fourth gear\u0026gt;standby\u003c\/td\u003e\n\u003c\/tr\u003e\n\u003ctr\u003e\n\u003ctd\u003eStandby\u003c\/td\u003e\n\u003ctd\u003e\n\u003cdiv\u003eAfter the fourth gear, click to enter the standby state;\u003c\/div\u003e\n\u003cdiv\u003e\u003cstrong\u003eIt enters the standby state without spot welding for more than 30 minutes.\u003c\/strong\u003e\u003c\/div\u003e\n\u003c\/td\u003e\n\u003c\/tr\u003e\n\u003ctr\u003e\n\u003ctd\u003eSpot welding\u003c\/td\u003e\n\u003ctd\u003eAfter turning on the machine, select the required gear and touch the welding object with the welding pen to spot welding.\u003c\/td\u003e\n\u003c\/tr\u003e\n\u003ctr\u003e\n\u003ctd\u003ePrecautions for spot welding\u003c\/td\u003e\n\u003ctd\u003ea. Please fix the spot welding items in the spot welding mode;\u003cbr\u003eb. Please keep the welding objects in a flat state;\u003cbr\u003e3. Keep cooling time about 10S after welding\u003c\/td\u003e\n\u003c\/tr\u003e\n\u003c\/tbody\u003e\n\u003c\/table\u003e\n\u003c\/div\u003e\n\u003cdiv\u003e\n\u003cdiv\u003e\n\u003cstrong\u003eMatters needing attention\u003c\/strong\u003e\u003cbr\u003e\n\u003cul\u003e\n\u003cli\u003eIt can be operated while charging, and it will enter standby mode when charging\u003c\/li\u003e\n\u003cli\u003eIt is recommended to charge it once half a year when it is not used for a long time, and the charge is 75%\u003c\/li\u003e\n\u003cli\u003eContinuous use of the soldering pen will cause hotness, it is recommended to wear gloves to operate\u003c\/li\u003e\n\u003cli\u003eDo not drop, flood, heat and other harmful operations to electronics\u003c\/li\u003e\n\u003cli\u003eThe blackening of the tip of the soldering pen will affect the effect, which can be worn off with sandpaper\u003c\/li\u003e\n\u003cli\u003eIf the spot welding is too long or the shutdown is caused by good contact, just restart it\u003c\/li\u003e\n\u003c\/ul\u003e\n\u003c\/div\u003e\n\u003cdiv\u003e\n\u003cspan\u003e\u003cstrong\u003ePackage Included:\u003c\/strong\u003e\u003c\/span\u003e\u003cbr\u003e\n\u003cul\u003e\n\u003cli\u003e\u003cspan face=\"times new roman, times\"\u003e1PCS*Hand-held desktop mini portable spot welder\u003c\/span\u003e\u003c\/li\u003e\n\u003c\/ul\u003e\n\u003c\/div\u003e\n\u003c\/div\u003e\n\u003c\/div\u003e","published_at":"2020-11-18T15:22:50+08:00","created_at":"2020-11-18T15:22:49+08:00","vendor":"DIYMORE","type":"","tags":[],"price":4899,"price_min":4899,"price_max":4899,"available":true,"price_varies":false,"compare_at_price":null,"compare_at_price_min":0,"compare_at_price_max":0,"compare_at_price_varies":false,"variants":[{"id":37545534456008,"title":"Default Title","option1":"Default Title","option2":null,"option3":null,"sku":"YC0024","requires_shipping":true,"taxable":false,"featured_image":null,"available":true,"name":"Hand-held Desktop DIY Battery Portable Mini Spot Welder Welding Machine","public_title":null,"options":["Default Title"],"price":4899,"weight":0,"compare_at_price":null,"inventory_management":"shopify","barcode":"","requires_selling_plan":false,"selling_plan_allocations":[],"quantity_rule":{"min":1,"max":null,"increment":1}}],"images":["\/\/cdn.shopify.com\/s\/files\/1\/0122\/7558\/0986\/products\/4_a4211117-4a59-4131-b652-28053a189381.jpg?v=1605684173","\/\/cdn.shopify.com\/s\/files\/1\/0122\/7558\/0986\/products\/1_ed2b35e8-0f0f-484a-b6ac-ddd5e820157d.jpg?v=1605684173","\/\/cdn.shopify.com\/s\/files\/1\/0122\/7558\/0986\/products\/2_e67edc1f-58e2-439d-b607-f5c880da4fe7.jpg?v=1605684173","\/\/cdn.shopify.com\/s\/files\/1\/0122\/7558\/0986\/products\/3_0d7204ab-b1b2-407d-8b90-b6c1e568760c.jpg?v=1605684173","\/\/cdn.shopify.com\/s\/files\/1\/0122\/7558\/0986\/products\/9_0801781d-6725-479e-a518-f6a57345226b.jpg?v=1605684173","\/\/cdn.shopify.com\/s\/files\/1\/0122\/7558\/0986\/products\/6_5a085030-c47f-458c-8ce8-57c83d68694f.jpg?v=1605684173"],"featured_image":"\/\/cdn.shopify.com\/s\/files\/1\/0122\/7558\/0986\/products\/4_a4211117-4a59-4131-b652-28053a189381.jpg?v=1605684173","options":["Title"],"media":[{"alt":null,"id":14971542307016,"position":1,"preview_image":{"aspect_ratio":1.0,"height":1000,"width":1000,"src":"https:\/\/cdn.shopify.com\/s\/files\/1\/0122\/7558\/0986\/products\/4_a4211117-4a59-4131-b652-28053a189381.jpg?v=1605684173"},"aspect_ratio":1.0,"height":1000,"media_type":"image","src":"https:\/\/cdn.shopify.com\/s\/files\/1\/0122\/7558\/0986\/products\/4_a4211117-4a59-4131-b652-28053a189381.jpg?v=1605684173","width":1000},{"alt":null,"id":14971542339784,"position":2,"preview_image":{"aspect_ratio":1.0,"height":1000,"width":1000,"src":"https:\/\/cdn.shopify.com\/s\/files\/1\/0122\/7558\/0986\/products\/1_ed2b35e8-0f0f-484a-b6ac-ddd5e820157d.jpg?v=1605684173"},"aspect_ratio":1.0,"height":1000,"media_type":"image","src":"https:\/\/cdn.shopify.com\/s\/files\/1\/0122\/7558\/0986\/products\/1_ed2b35e8-0f0f-484a-b6ac-ddd5e820157d.jpg?v=1605684173","width":1000},{"alt":null,"id":14971542372552,"position":3,"preview_image":{"aspect_ratio":1.0,"height":1000,"width":1000,"src":"https:\/\/cdn.shopify.com\/s\/files\/1\/0122\/7558\/0986\/products\/2_e67edc1f-58e2-439d-b607-f5c880da4fe7.jpg?v=1605684173"},"aspect_ratio":1.0,"height":1000,"media_type":"image","src":"https:\/\/cdn.shopify.com\/s\/files\/1\/0122\/7558\/0986\/products\/2_e67edc1f-58e2-439d-b607-f5c880da4fe7.jpg?v=1605684173","width":1000},{"alt":null,"id":14971542405320,"position":4,"preview_image":{"aspect_ratio":1.0,"height":1000,"width":1000,"src":"https:\/\/cdn.shopify.com\/s\/files\/1\/0122\/7558\/0986\/products\/3_0d7204ab-b1b2-407d-8b90-b6c1e568760c.jpg?v=1605684173"},"aspect_ratio":1.0,"height":1000,"media_type":"image","src":"https:\/\/cdn.shopify.com\/s\/files\/1\/0122\/7558\/0986\/products\/3_0d7204ab-b1b2-407d-8b90-b6c1e568760c.jpg?v=1605684173","width":1000},{"alt":null,"id":14971542438088,"position":5,"preview_image":{"aspect_ratio":1.0,"height":1000,"width":1000,"src":"https:\/\/cdn.shopify.com\/s\/files\/1\/0122\/7558\/0986\/products\/9_0801781d-6725-479e-a518-f6a57345226b.jpg?v=1605684173"},"aspect_ratio":1.0,"height":1000,"media_type":"image","src":"https:\/\/cdn.shopify.com\/s\/files\/1\/0122\/7558\/0986\/products\/9_0801781d-6725-479e-a518-f6a57345226b.jpg?v=1605684173","width":1000},{"alt":null,"id":14971542470856,"position":6,"preview_image":{"aspect_ratio":1.0,"height":1000,"width":1000,"src":"https:\/\/cdn.shopify.com\/s\/files\/1\/0122\/7558\/0986\/products\/6_5a085030-c47f-458c-8ce8-57c83d68694f.jpg?v=1605684173"},"aspect_ratio":1.0,"height":1000,"media_type":"image","src":"https:\/\/cdn.shopify.com\/s\/files\/1\/0122\/7558\/0986\/products\/6_5a085030-c47f-458c-8ce8-57c83d68694f.jpg?v=1605684173","width":1000}],"requires_selling_plan":false,"selling_plan_groups":[],"content":"\u003cdiv\u003e\n\u003cdiv\u003e\n\u003cspan\u003e\u003cstrong\u003eIntroduction\u003c\/strong\u003e \u003c\/span\u003e\u003cbr\u003e\n\u003cul\u003e\n\u003cli\u003e\u003cspan\u003eThis product is suitable for daily or small spot welding\/butt welding work in the family. It is automatically triggered without a switch, and the operation is convenient and quick.\u003c\/span\u003e\u003c\/li\u003e\n\u003c\/ul\u003e\n\u003cspan\u003e\u003cstrong\u003eParameters\u003c\/strong\u003e\u003c\/span\u003e\u003cbr\u003e\n\u003cul\u003e\n\u003cli\u003e\u003cspan\u003eBattery capacity: 5AH\u003c\/span\u003e\u003c\/li\u003e\n\u003cli\u003e\u003cspan\u003eOutput voltage: 4.2V max\u003c\/span\u003e\u003c\/li\u003e\n\u003cli\u003e\u003cspan\u003eOutput current: maximum 500A\u003c\/span\u003e\u003c\/li\u003e\n\u003cli\u003e\u003cspan\u003eDesign current: maximum 1000A\u003c\/span\u003e\u003c\/li\u003e\n\u003cli\u003e\u003cspan\u003eInput parameters: 5V\/2.1A\u003c\/span\u003e\u003c\/li\u003e\n\u003cli\u003e\u003cspan\u003eSupport welding: 0.1-0.2 nickel sheet, iron sheet, stainless steel\u003c\/span\u003e\u003c\/li\u003e\n\u003cli\u003e\u003cspan\u003eWelding time: several milliseconds\u003c\/span\u003e\u003c\/li\u003e\n\u003cli\u003e\u003cspan\u003eCharging voltage: 4.5~5.5V (current≥2.5A)\u003c\/span\u003e\u003c\/li\u003e\n\u003cli\u003e\u003cspan\u003eProduct size: 150*80*22MM\u003c\/span\u003e\u003c\/li\u003e\n\u003cli\u003e\u003cspan\u003eShell material: hard aluminum alloy\u003c\/span\u003e\u003c\/li\u003e\n\u003cli\u003e\u003cspan\u003eWeight: a set of 467g\u003c\/span\u003e\u003c\/li\u003e\n\u003c\/ul\u003e\n\u003cspan\u003e\u003cstrong\u003eFeatures\u003c\/strong\u003e\u003c\/span\u003e\u003cbr\u003e\n\u003cul\u003e\n\u003cli\u003e\u003cspan\u003eSmall size\u003c\/span\u003e\u003c\/li\u003e\n\u003cli\u003e\u003cspan\u003eSimple operation\u003c\/span\u003e\u003c\/li\u003e\n\u003cli\u003e\u003cspan\u003eHard appearance\u003c\/span\u003e\u003c\/li\u003e\n\u003cli\u003e\u003cspan\u003eEasy to use\u003c\/span\u003e\u003c\/li\u003e\n\u003c\/ul\u003e\n\u003cspan\u003eSuper current\u003c\/span\u003e\u003cbr\u003e\u003cspan\u003e\u003cstrong\u003eComponents introduction\u003c\/strong\u003e\u003c\/span\u003e\n\u003c\/div\u003e\n\u003cdiv\u003e\n\u003cspan\u003e\u003cimg src=\"https:\/\/pg-cdn-a2.datacaciques.com\/00\/NDAy\/20\/11\/13\/sz294t40vfev921j\/f9a597bb1d94110c.png\" width=\"338\" height=\"338\" data-mce-src=\"https:\/\/pg-cdn-a2.datacaciques.com\/00\/NDAy\/20\/11\/13\/sz294t40vfev921j\/f9a597bb1d94110c.png\"\u003e\u003c\/span\u003e\u003cbr\u003e\u003cspan\u003e\u003cstrong\u003eHow to use\u003c\/strong\u003e\u003c\/span\u003e\n\u003c\/div\u003e\n\u003cdiv\u003e\n\u003cspan\u003e\u003cstrong\u003e\u003c\/strong\u003e\u003c\/span\u003e\u003cbr\u003e\n\u003c\/div\u003e\n\u003cdiv\u003e\n\u003ctable border=\"1\" height=\"325\"\u003e\n\u003ctbody\u003e\n\u003ctr\u003e\n\u003ctd\u003ePower on\u003c\/td\u003e\n\u003ctd\u003eClick button 6\u003c\/td\u003e\n\u003c\/tr\u003e\n\u003ctr\u003e\n\u003ctd\u003eShut down\u003c\/td\u003e\n\u003ctd\u003e\n\u003cdiv\u003eDouble-click the button6;\u003c\/div\u003e\n\u003cdiv\u003eAutomatically shut down after three minutes of standby\u003c\/div\u003e\n\u003c\/td\u003e\n\u003c\/tr\u003e\n\u003ctr\u003e\n\u003ctd\u003eGear position adjustment\u003c\/td\u003e\n\u003ctd\u003eButton 7 is gear position adjustment, click to change gears, the cycle is first gear\u0026gt;second gear\u0026gt;third gear\u0026gt;fourth gear\u0026gt;standby\u003c\/td\u003e\n\u003c\/tr\u003e\n\u003ctr\u003e\n\u003ctd\u003eStandby\u003c\/td\u003e\n\u003ctd\u003e\n\u003cdiv\u003eAfter the fourth gear, click to enter the standby state;\u003c\/div\u003e\n\u003cdiv\u003e\u003cstrong\u003eIt enters the standby state without spot welding for more than 30 minutes.\u003c\/strong\u003e\u003c\/div\u003e\n\u003c\/td\u003e\n\u003c\/tr\u003e\n\u003ctr\u003e\n\u003ctd\u003eSpot welding\u003c\/td\u003e\n\u003ctd\u003eAfter turning on the machine, select the required gear and touch the welding object with the welding pen to spot welding.\u003c\/td\u003e\n\u003c\/tr\u003e\n\u003ctr\u003e\n\u003ctd\u003ePrecautions for spot welding\u003c\/td\u003e\n\u003ctd\u003ea. Please fix the spot welding items in the spot welding mode;\u003cbr\u003eb. Please keep the welding objects in a flat state;\u003cbr\u003e3. Keep cooling time about 10S after welding\u003c\/td\u003e\n\u003c\/tr\u003e\n\u003c\/tbody\u003e\n\u003c\/table\u003e\n\u003c\/div\u003e\n\u003cdiv\u003e\n\u003cdiv\u003e\n\u003cstrong\u003eMatters needing attention\u003c\/strong\u003e\u003cbr\u003e\n\u003cul\u003e\n\u003cli\u003eIt can be operated while charging, and it will enter standby mode when charging\u003c\/li\u003e\n\u003cli\u003eIt is recommended to charge it once half a year when it is not used for a long time, and the charge is 75%\u003c\/li\u003e\n\u003cli\u003eContinuous use of the soldering pen will cause hotness, it is recommended to wear gloves to operate\u003c\/li\u003e\n\u003cli\u003eDo not drop, flood, heat and other harmful operations to electronics\u003c\/li\u003e\n\u003cli\u003eThe blackening of the tip of the soldering pen will affect the effect, which can be worn off with sandpaper\u003c\/li\u003e\n\u003cli\u003eIf the spot welding is too long or the shutdown is caused by good contact, just restart it\u003c\/li\u003e\n\u003c\/ul\u003e\n\u003c\/div\u003e\n\u003cdiv\u003e\n\u003cspan\u003e\u003cstrong\u003ePackage Included:\u003c\/strong\u003e\u003c\/span\u003e\u003cbr\u003e\n\u003cul\u003e\n\u003cli\u003e\u003cspan face=\"times new roman, times\"\u003e1PCS*Hand-held desktop mini portable spot welder\u003c\/span\u003e\u003c\/li\u003e\n\u003c\/ul\u003e\n\u003c\/div\u003e\n\u003c\/div\u003e\n\u003c\/div\u003e"}

translation missing: en.products.product.regular_price

$9.99

{"id":6087916945608,"title":"Hand-held Desktop DIY Battery Portable Mini Spot Welder Welding Machine","handle":"hand-held-desktop-diy-battery-portable-mini-spot-welder-welding-machine","description":"\u003cdiv\u003e\n\u003cdiv\u003e\n\u003cspan\u003e\u003cstrong\u003eIntroduction\u003c\/strong\u003e \u003c\/span\u003e\u003cbr\u003e\n\u003cul\u003e\n\u003cli\u003e\u003cspan\u003eThis product is suitable for daily or small spot welding\/butt welding work in the family. It is automatically triggered without a switch, and the operation is convenient and quick.\u003c\/span\u003e\u003c\/li\u003e\n\u003c\/ul\u003e\n\u003cspan\u003e\u003cstrong\u003eParameters\u003c\/strong\u003e\u003c\/span\u003e\u003cbr\u003e\n\u003cul\u003e\n\u003cli\u003e\u003cspan\u003eBattery capacity: 5AH\u003c\/span\u003e\u003c\/li\u003e\n\u003cli\u003e\u003cspan\u003eOutput voltage: 4.2V max\u003c\/span\u003e\u003c\/li\u003e\n\u003cli\u003e\u003cspan\u003eOutput current: maximum 500A\u003c\/span\u003e\u003c\/li\u003e\n\u003cli\u003e\u003cspan\u003eDesign current: maximum 1000A\u003c\/span\u003e\u003c\/li\u003e\n\u003cli\u003e\u003cspan\u003eInput parameters: 5V\/2.1A\u003c\/span\u003e\u003c\/li\u003e\n\u003cli\u003e\u003cspan\u003eSupport welding: 0.1-0.2 nickel sheet, iron sheet, stainless steel\u003c\/span\u003e\u003c\/li\u003e\n\u003cli\u003e\u003cspan\u003eWelding time: several milliseconds\u003c\/span\u003e\u003c\/li\u003e\n\u003cli\u003e\u003cspan\u003eCharging voltage: 4.5~5.5V (current≥2.5A)\u003c\/span\u003e\u003c\/li\u003e\n\u003cli\u003e\u003cspan\u003eProduct size: 150*80*22MM\u003c\/span\u003e\u003c\/li\u003e\n\u003cli\u003e\u003cspan\u003eShell material: hard aluminum alloy\u003c\/span\u003e\u003c\/li\u003e\n\u003cli\u003e\u003cspan\u003eWeight: a set of 467g\u003c\/span\u003e\u003c\/li\u003e\n\u003c\/ul\u003e\n\u003cspan\u003e\u003cstrong\u003eFeatures\u003c\/strong\u003e\u003c\/span\u003e\u003cbr\u003e\n\u003cul\u003e\n\u003cli\u003e\u003cspan\u003eSmall size\u003c\/span\u003e\u003c\/li\u003e\n\u003cli\u003e\u003cspan\u003eSimple operation\u003c\/span\u003e\u003c\/li\u003e\n\u003cli\u003e\u003cspan\u003eHard appearance\u003c\/span\u003e\u003c\/li\u003e\n\u003cli\u003e\u003cspan\u003eEasy to use\u003c\/span\u003e\u003c\/li\u003e\n\u003c\/ul\u003e\n\u003cspan\u003eSuper current\u003c\/span\u003e\u003cbr\u003e\u003cspan\u003e\u003cstrong\u003eComponents introduction\u003c\/strong\u003e\u003c\/span\u003e\n\u003c\/div\u003e\n\u003cdiv\u003e\n\u003cspan\u003e\u003cimg src=\"https:\/\/pg-cdn-a2.datacaciques.com\/00\/NDAy\/20\/11\/13\/sz294t40vfev921j\/f9a597bb1d94110c.png\" width=\"338\" height=\"338\" data-mce-src=\"https:\/\/pg-cdn-a2.datacaciques.com\/00\/NDAy\/20\/11\/13\/sz294t40vfev921j\/f9a597bb1d94110c.png\"\u003e\u003c\/span\u003e\u003cbr\u003e\u003cspan\u003e\u003cstrong\u003eHow to use\u003c\/strong\u003e\u003c\/span\u003e\n\u003c\/div\u003e\n\u003cdiv\u003e\n\u003cspan\u003e\u003cstrong\u003e\u003c\/strong\u003e\u003c\/span\u003e\u003cbr\u003e\n\u003c\/div\u003e\n\u003cdiv\u003e\n\u003ctable border=\"1\" height=\"325\"\u003e\n\u003ctbody\u003e\n\u003ctr\u003e\n\u003ctd\u003ePower on\u003c\/td\u003e\n\u003ctd\u003eClick button 6\u003c\/td\u003e\n\u003c\/tr\u003e\n\u003ctr\u003e\n\u003ctd\u003eShut down\u003c\/td\u003e\n\u003ctd\u003e\n\u003cdiv\u003eDouble-click the button6;\u003c\/div\u003e\n\u003cdiv\u003eAutomatically shut down after three minutes of standby\u003c\/div\u003e\n\u003c\/td\u003e\n\u003c\/tr\u003e\n\u003ctr\u003e\n\u003ctd\u003eGear position adjustment\u003c\/td\u003e\n\u003ctd\u003eButton 7 is gear position adjustment, click to change gears, the cycle is first gear\u0026gt;second gear\u0026gt;third gear\u0026gt;fourth gear\u0026gt;standby\u003c\/td\u003e\n\u003c\/tr\u003e\n\u003ctr\u003e\n\u003ctd\u003eStandby\u003c\/td\u003e\n\u003ctd\u003e\n\u003cdiv\u003eAfter the fourth gear, click to enter the standby state;\u003c\/div\u003e\n\u003cdiv\u003e\u003cstrong\u003eIt enters the standby state without spot welding for more than 30 minutes.\u003c\/strong\u003e\u003c\/div\u003e\n\u003c\/td\u003e\n\u003c\/tr\u003e\n\u003ctr\u003e\n\u003ctd\u003eSpot welding\u003c\/td\u003e\n\u003ctd\u003eAfter turning on the machine, select the required gear and touch the welding object with the welding pen to spot welding.\u003c\/td\u003e\n\u003c\/tr\u003e\n\u003ctr\u003e\n\u003ctd\u003ePrecautions for spot welding\u003c\/td\u003e\n\u003ctd\u003ea. Please fix the spot welding items in the spot welding mode;\u003cbr\u003eb. Please keep the welding objects in a flat state;\u003cbr\u003e3. Keep cooling time about 10S after welding\u003c\/td\u003e\n\u003c\/tr\u003e\n\u003c\/tbody\u003e\n\u003c\/table\u003e\n\u003c\/div\u003e\n\u003cdiv\u003e\n\u003cdiv\u003e\n\u003cstrong\u003eMatters needing attention\u003c\/strong\u003e\u003cbr\u003e\n\u003cul\u003e\n\u003cli\u003eIt can be operated while charging, and it will enter standby mode when charging\u003c\/li\u003e\n\u003cli\u003eIt is recommended to charge it once half a year when it is not used for a long time, and the charge is 75%\u003c\/li\u003e\n\u003cli\u003eContinuous use of the soldering pen will cause hotness, it is recommended to wear gloves to operate\u003c\/li\u003e\n\u003cli\u003eDo not drop, flood, heat and other harmful operations to electronics\u003c\/li\u003e\n\u003cli\u003eThe blackening of the tip of the soldering pen will affect the effect, which can be worn off with sandpaper\u003c\/li\u003e\n\u003cli\u003eIf the spot welding is too long or the shutdown is caused by good contact, just restart it\u003c\/li\u003e\n\u003c\/ul\u003e\n\u003c\/div\u003e\n\u003cdiv\u003e\n\u003cspan\u003e\u003cstrong\u003ePackage Included:\u003c\/strong\u003e\u003c\/span\u003e\u003cbr\u003e\n\u003cul\u003e\n\u003cli\u003e\u003cspan face=\"times new roman, times\"\u003e1PCS*Hand-held desktop mini portable spot welder\u003c\/span\u003e\u003c\/li\u003e\n\u003c\/ul\u003e\n\u003c\/div\u003e\n\u003c\/div\u003e\n\u003c\/div\u003e","published_at":"2020-11-18T15:22:50+08:00","created_at":"2020-11-18T15:22:49+08:00","vendor":"DIYMORE","type":"","tags":[],"price":4899,"price_min":4899,"price_max":4899,"available":true,"price_varies":false,"compare_at_price":null,"compare_at_price_min":0,"compare_at_price_max":0,"compare_at_price_varies":false,"variants":[{"id":37545534456008,"title":"Default Title","option1":"Default Title","option2":null,"option3":null,"sku":"YC0024","requires_shipping":true,"taxable":false,"featured_image":null,"available":true,"name":"Hand-held Desktop DIY Battery Portable Mini Spot Welder Welding Machine","public_title":null,"options":["Default Title"],"price":4899,"weight":0,"compare_at_price":null,"inventory_management":"shopify","barcode":"","requires_selling_plan":false,"selling_plan_allocations":[],"quantity_rule":{"min":1,"max":null,"increment":1}}],"images":["\/\/cdn.shopify.com\/s\/files\/1\/0122\/7558\/0986\/products\/4_a4211117-4a59-4131-b652-28053a189381.jpg?v=1605684173","\/\/cdn.shopify.com\/s\/files\/1\/0122\/7558\/0986\/products\/1_ed2b35e8-0f0f-484a-b6ac-ddd5e820157d.jpg?v=1605684173","\/\/cdn.shopify.com\/s\/files\/1\/0122\/7558\/0986\/products\/2_e67edc1f-58e2-439d-b607-f5c880da4fe7.jpg?v=1605684173","\/\/cdn.shopify.com\/s\/files\/1\/0122\/7558\/0986\/products\/3_0d7204ab-b1b2-407d-8b90-b6c1e568760c.jpg?v=1605684173","\/\/cdn.shopify.com\/s\/files\/1\/0122\/7558\/0986\/products\/9_0801781d-6725-479e-a518-f6a57345226b.jpg?v=1605684173","\/\/cdn.shopify.com\/s\/files\/1\/0122\/7558\/0986\/products\/6_5a085030-c47f-458c-8ce8-57c83d68694f.jpg?v=1605684173"],"featured_image":"\/\/cdn.shopify.com\/s\/files\/1\/0122\/7558\/0986\/products\/4_a4211117-4a59-4131-b652-28053a189381.jpg?v=1605684173","options":["Title"],"media":[{"alt":null,"id":14971542307016,"position":1,"preview_image":{"aspect_ratio":1.0,"height":1000,"width":1000,"src":"https:\/\/cdn.shopify.com\/s\/files\/1\/0122\/7558\/0986\/products\/4_a4211117-4a59-4131-b652-28053a189381.jpg?v=1605684173"},"aspect_ratio":1.0,"height":1000,"media_type":"image","src":"https:\/\/cdn.shopify.com\/s\/files\/1\/0122\/7558\/0986\/products\/4_a4211117-4a59-4131-b652-28053a189381.jpg?v=1605684173","width":1000},{"alt":null,"id":14971542339784,"position":2,"preview_image":{"aspect_ratio":1.0,"height":1000,"width":1000,"src":"https:\/\/cdn.shopify.com\/s\/files\/1\/0122\/7558\/0986\/products\/1_ed2b35e8-0f0f-484a-b6ac-ddd5e820157d.jpg?v=1605684173"},"aspect_ratio":1.0,"height":1000,"media_type":"image","src":"https:\/\/cdn.shopify.com\/s\/files\/1\/0122\/7558\/0986\/products\/1_ed2b35e8-0f0f-484a-b6ac-ddd5e820157d.jpg?v=1605684173","width":1000},{"alt":null,"id":14971542372552,"position":3,"preview_image":{"aspect_ratio":1.0,"height":1000,"width":1000,"src":"https:\/\/cdn.shopify.com\/s\/files\/1\/0122\/7558\/0986\/products\/2_e67edc1f-58e2-439d-b607-f5c880da4fe7.jpg?v=1605684173"},"aspect_ratio":1.0,"height":1000,"media_type":"image","src":"https:\/\/cdn.shopify.com\/s\/files\/1\/0122\/7558\/0986\/products\/2_e67edc1f-58e2-439d-b607-f5c880da4fe7.jpg?v=1605684173","width":1000},{"alt":null,"id":14971542405320,"position":4,"preview_image":{"aspect_ratio":1.0,"height":1000,"width":1000,"src":"https:\/\/cdn.shopify.com\/s\/files\/1\/0122\/7558\/0986\/products\/3_0d7204ab-b1b2-407d-8b90-b6c1e568760c.jpg?v=1605684173"},"aspect_ratio":1.0,"height":1000,"media_type":"image","src":"https:\/\/cdn.shopify.com\/s\/files\/1\/0122\/7558\/0986\/products\/3_0d7204ab-b1b2-407d-8b90-b6c1e568760c.jpg?v=1605684173","width":1000},{"alt":null,"id":14971542438088,"position":5,"preview_image":{"aspect_ratio":1.0,"height":1000,"width":1000,"src":"https:\/\/cdn.shopify.com\/s\/files\/1\/0122\/7558\/0986\/products\/9_0801781d-6725-479e-a518-f6a57345226b.jpg?v=1605684173"},"aspect_ratio":1.0,"height":1000,"media_type":"image","src":"https:\/\/cdn.shopify.com\/s\/files\/1\/0122\/7558\/0986\/products\/9_0801781d-6725-479e-a518-f6a57345226b.jpg?v=1605684173","width":1000},{"alt":null,"id":14971542470856,"position":6,"preview_image":{"aspect_ratio":1.0,"height":1000,"width":1000,"src":"https:\/\/cdn.shopify.com\/s\/files\/1\/0122\/7558\/0986\/products\/6_5a085030-c47f-458c-8ce8-57c83d68694f.jpg?v=1605684173"},"aspect_ratio":1.0,"height":1000,"media_type":"image","src":"https:\/\/cdn.shopify.com\/s\/files\/1\/0122\/7558\/0986\/products\/6_5a085030-c47f-458c-8ce8-57c83d68694f.jpg?v=1605684173","width":1000}],"requires_selling_plan":false,"selling_plan_groups":[],"content":"\u003cdiv\u003e\n\u003cdiv\u003e\n\u003cspan\u003e\u003cstrong\u003eIntroduction\u003c\/strong\u003e \u003c\/span\u003e\u003cbr\u003e\n\u003cul\u003e\n\u003cli\u003e\u003cspan\u003eThis product is suitable for daily or small spot welding\/butt welding work in the family. It is automatically triggered without a switch, and the operation is convenient and quick.\u003c\/span\u003e\u003c\/li\u003e\n\u003c\/ul\u003e\n\u003cspan\u003e\u003cstrong\u003eParameters\u003c\/strong\u003e\u003c\/span\u003e\u003cbr\u003e\n\u003cul\u003e\n\u003cli\u003e\u003cspan\u003eBattery capacity: 5AH\u003c\/span\u003e\u003c\/li\u003e\n\u003cli\u003e\u003cspan\u003eOutput voltage: 4.2V max\u003c\/span\u003e\u003c\/li\u003e\n\u003cli\u003e\u003cspan\u003eOutput current: maximum 500A\u003c\/span\u003e\u003c\/li\u003e\n\u003cli\u003e\u003cspan\u003eDesign current: maximum 1000A\u003c\/span\u003e\u003c\/li\u003e\n\u003cli\u003e\u003cspan\u003eInput parameters: 5V\/2.1A\u003c\/span\u003e\u003c\/li\u003e\n\u003cli\u003e\u003cspan\u003eSupport welding: 0.1-0.2 nickel sheet, iron sheet, stainless steel\u003c\/span\u003e\u003c\/li\u003e\n\u003cli\u003e\u003cspan\u003eWelding time: several milliseconds\u003c\/span\u003e\u003c\/li\u003e\n\u003cli\u003e\u003cspan\u003eCharging voltage: 4.5~5.5V (current≥2.5A)\u003c\/span\u003e\u003c\/li\u003e\n\u003cli\u003e\u003cspan\u003eProduct size: 150*80*22MM\u003c\/span\u003e\u003c\/li\u003e\n\u003cli\u003e\u003cspan\u003eShell material: hard aluminum alloy\u003c\/span\u003e\u003c\/li\u003e\n\u003cli\u003e\u003cspan\u003eWeight: a set of 467g\u003c\/span\u003e\u003c\/li\u003e\n\u003c\/ul\u003e\n\u003cspan\u003e\u003cstrong\u003eFeatures\u003c\/strong\u003e\u003c\/span\u003e\u003cbr\u003e\n\u003cul\u003e\n\u003cli\u003e\u003cspan\u003eSmall size\u003c\/span\u003e\u003c\/li\u003e\n\u003cli\u003e\u003cspan\u003eSimple operation\u003c\/span\u003e\u003c\/li\u003e\n\u003cli\u003e\u003cspan\u003eHard appearance\u003c\/span\u003e\u003c\/li\u003e\n\u003cli\u003e\u003cspan\u003eEasy to use\u003c\/span\u003e\u003c\/li\u003e\n\u003c\/ul\u003e\n\u003cspan\u003eSuper current\u003c\/span\u003e\u003cbr\u003e\u003cspan\u003e\u003cstrong\u003eComponents introduction\u003c\/strong\u003e\u003c\/span\u003e\n\u003c\/div\u003e\n\u003cdiv\u003e\n\u003cspan\u003e\u003cimg src=\"https:\/\/pg-cdn-a2.datacaciques.com\/00\/NDAy\/20\/11\/13\/sz294t40vfev921j\/f9a597bb1d94110c.png\" width=\"338\" height=\"338\" data-mce-src=\"https:\/\/pg-cdn-a2.datacaciques.com\/00\/NDAy\/20\/11\/13\/sz294t40vfev921j\/f9a597bb1d94110c.png\"\u003e\u003c\/span\u003e\u003cbr\u003e\u003cspan\u003e\u003cstrong\u003eHow to use\u003c\/strong\u003e\u003c\/span\u003e\n\u003c\/div\u003e\n\u003cdiv\u003e\n\u003cspan\u003e\u003cstrong\u003e\u003c\/strong\u003e\u003c\/span\u003e\u003cbr\u003e\n\u003c\/div\u003e\n\u003cdiv\u003e\n\u003ctable border=\"1\" height=\"325\"\u003e\n\u003ctbody\u003e\n\u003ctr\u003e\n\u003ctd\u003ePower on\u003c\/td\u003e\n\u003ctd\u003eClick button 6\u003c\/td\u003e\n\u003c\/tr\u003e\n\u003ctr\u003e\n\u003ctd\u003eShut down\u003c\/td\u003e\n\u003ctd\u003e\n\u003cdiv\u003eDouble-click the button6;\u003c\/div\u003e\n\u003cdiv\u003eAutomatically shut down after three minutes of standby\u003c\/div\u003e\n\u003c\/td\u003e\n\u003c\/tr\u003e\n\u003ctr\u003e\n\u003ctd\u003eGear position adjustment\u003c\/td\u003e\n\u003ctd\u003eButton 7 is gear position adjustment, click to change gears, the cycle is first gear\u0026gt;second gear\u0026gt;third gear\u0026gt;fourth gear\u0026gt;standby\u003c\/td\u003e\n\u003c\/tr\u003e\n\u003ctr\u003e\n\u003ctd\u003eStandby\u003c\/td\u003e\n\u003ctd\u003e\n\u003cdiv\u003eAfter the fourth gear, click to enter the standby state;\u003c\/div\u003e\n\u003cdiv\u003e\u003cstrong\u003eIt enters the standby state without spot welding for more than 30 minutes.\u003c\/strong\u003e\u003c\/div\u003e\n\u003c\/td\u003e\n\u003c\/tr\u003e\n\u003ctr\u003e\n\u003ctd\u003eSpot welding\u003c\/td\u003e\n\u003ctd\u003eAfter turning on the machine, select the required gear and touch the welding object with the welding pen to spot welding.\u003c\/td\u003e\n\u003c\/tr\u003e\n\u003ctr\u003e\n\u003ctd\u003ePrecautions for spot welding\u003c\/td\u003e\n\u003ctd\u003ea. Please fix the spot welding items in the spot welding mode;\u003cbr\u003eb. Please keep the welding objects in a flat state;\u003cbr\u003e3. Keep cooling time about 10S after welding\u003c\/td\u003e\n\u003c\/tr\u003e\n\u003c\/tbody\u003e\n\u003c\/table\u003e\n\u003c\/div\u003e\n\u003cdiv\u003e\n\u003cdiv\u003e\n\u003cstrong\u003eMatters needing attention\u003c\/strong\u003e\u003cbr\u003e\n\u003cul\u003e\n\u003cli\u003eIt can be operated while charging, and it will enter standby mode when charging\u003c\/li\u003e\n\u003cli\u003eIt is recommended to charge it once half a year when it is not used for a long time, and the charge is 75%\u003c\/li\u003e\n\u003cli\u003eContinuous use of the soldering pen will cause hotness, it is recommended to wear gloves to operate\u003c\/li\u003e\n\u003cli\u003eDo not drop, flood, heat and other harmful operations to electronics\u003c\/li\u003e\n\u003cli\u003eThe blackening of the tip of the soldering pen will affect the effect, which can be worn off with sandpaper\u003c\/li\u003e\n\u003cli\u003eIf the spot welding is too long or the shutdown is caused by good contact, just restart it\u003c\/li\u003e\n\u003c\/ul\u003e\n\u003c\/div\u003e\n\u003cdiv\u003e\n\u003cspan\u003e\u003cstrong\u003ePackage Included:\u003c\/strong\u003e\u003c\/span\u003e\u003cbr\u003e\n\u003cul\u003e\n\u003cli\u003e\u003cspan face=\"times new roman, times\"\u003e1PCS*Hand-held desktop mini portable spot welder\u003c\/span\u003e\u003c\/li\u003e\n\u003c\/ul\u003e\n\u003c\/div\u003e\n\u003c\/div\u003e\n\u003c\/div\u003e"}