LCR-T7 Transistor Tester Meter TFT Diode Triode Capacitance NPN PNP MOSFET
LCR-T7 Transistor Tester Meter TFT Diode Triode Capacitance NPN PNP MOSFET
SKU:052064
Regular price
$17.99
guarantee

Quality checked

Special gift cards

Special gift cards

Free return

Within 60 days

Consultancy

86-0755-85201155
Description:
160x128 TFT display

Multi function key

Transistor test area

Zener Diode test area

IR receiver window

Micro USB Charging Interface

Charge indicator LED
Features:
TFT graphic display Multifunction Tester.
Transistor Tester
Automatic detection of zener diode 0.01-30V

Self test with automatic calibration
IR decoder
Support Hitachi IR coding

IR waveform display

Infrared receiving instruction
Other:
Measure results using TFT graphic display (160x128)

a key operation

Automatic shut-off (Settable Timeout)

built-in High-capacity rechargeable Li-Ion battery

Detection of the voltage of the Li-ion-160x128 tft battery

Transistor test area

Zener diode test area

IR receiver window

 Micro USB Charging Interface

LED charge indicator

Chinese and English support
Warning:
Built-in Li-ion Battery, it is strictly prohibited the tester immersed in water, or near a heat source!
Warning:
For your personal safety, please strictly comply with the use of Li-ion Battery specifications and precautions!

 
1.1 Key operational definitions:
Multi-function key has two actions:
l Short press: Press the key and not less than 10 ms, release key within 1.5 seconds
l Long press: Press the key more than 1.5 seconds
1.2 Power on
In the power off state, short press the multifunction key, the tester is turned on and automatically measured.
l Power on & measurement interface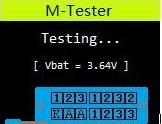 1.3 Detect transistor
In the power off state or the test is completed, put the test element into the transistor test area of test seat, and press the locking handle, short press the multifunction key, the tester automatically measure, graphical display of measurement results when testing is complete.
Warning: Always be sure to DISCHARGE capacitors before connecting them to the tester! The tester may be damaged before you have switched it on!
Warning: We do not recommend using the tester to measure the battery! The battery voltage must be less than 4.5V, otherwise the tester may be damaged!
l Component placement
Test seat are divided into transistors and zener diode test area, detailed in 1.1 Description.
l No, unknown, or damaged part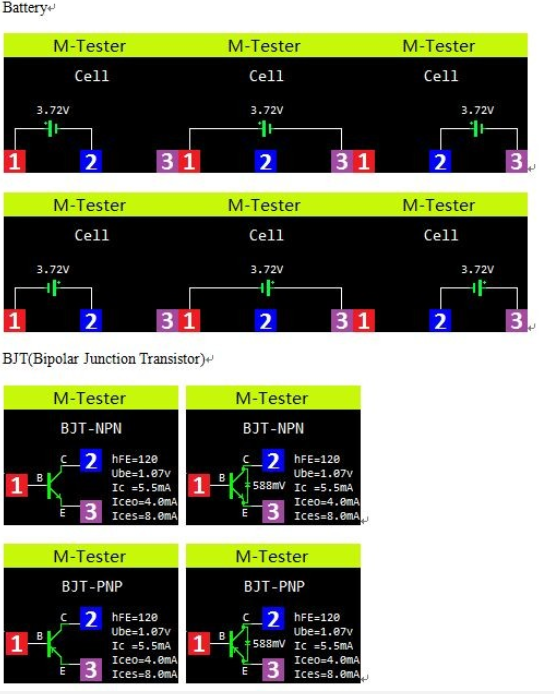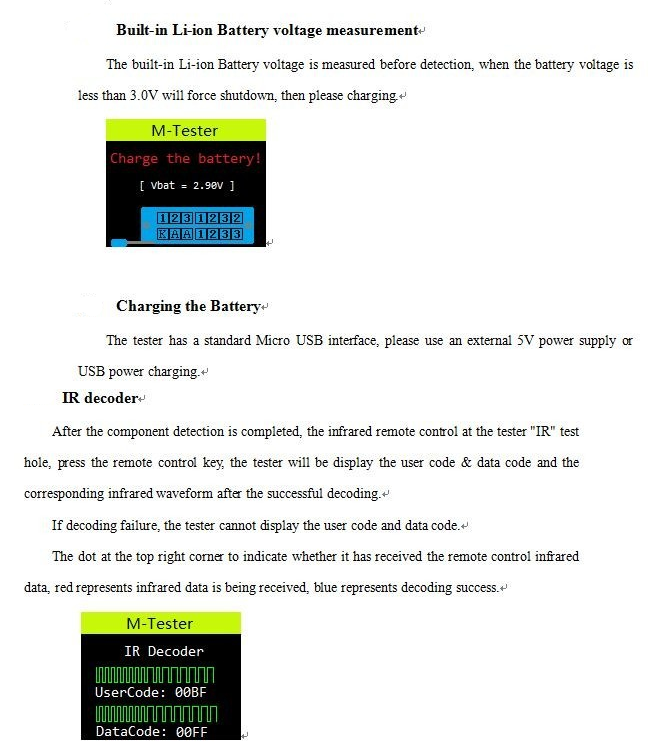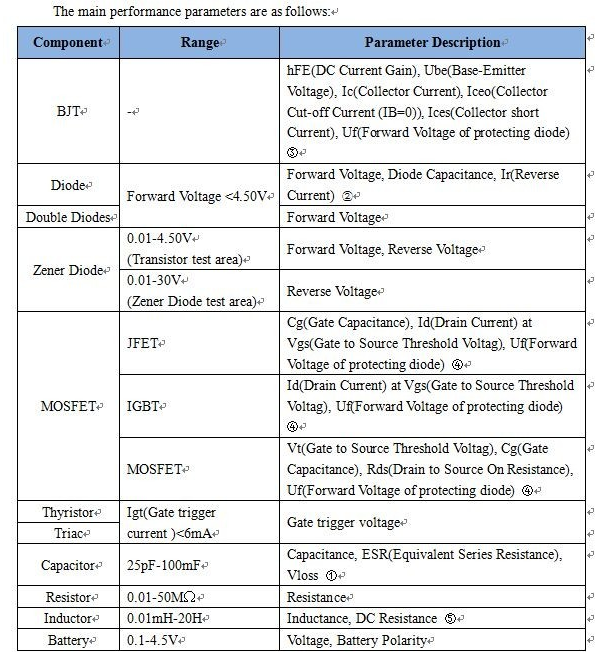 Package Included: 1 set x LCR-T7 TFT Transistor Tester
Purchasing & Delivery
Before you make your purchase, it's helpful to know the measurements of the area you plan to place the furniture. You should also measure any doorways and hallways through which the furniture will pass to get to its final destination.

Picking up at the store
Shopify Shop requires that all products are properly inspected BEFORE you take it home to insure there are no surprises. Our team is happy to open all packages and will assist in the inspection process. We will then reseal packages for safe transport. We encourage all customers to bring furniture pads or blankets to protect the items during transport as well as rope or tie downs. Shopify Shop will not be responsible for damage that occurs after leaving the store or during transit. It is the purchaser's responsibility to make sure the correct items are picked up and in good condition.

Delivery
Customers are able to pick the next available delivery day that best fits their schedule. However, to route stops as efficiently as possible, Shopify Shop will provide the time frame. Customers will not be able to choose a time. You will be notified in advance of your scheduled time frame. Please make sure that a responsible adult (18 years or older) will be home at that time.
In preparation for your delivery, please remove existing furniture, pictures, mirrors, accessories, etc. to prevent damages. Also insure that the area where you would like your furniture placed is clear of any old furniture and any other items that may obstruct the passageway of the delivery team. Shopify Shop will deliver, assemble, and set-up your new furniture purchase and remove all packing materials from your home. Our delivery crews are not permitted to move your existing furniture or other household items. Delivery personnel will attempt to deliver the purchased items in a safe and controlled manner but will not attempt to place furniture if they feel it will result in damage to the product or your home. Delivery personnel are unable to remove doors, hoist furniture or carry furniture up more than 3 flights of stairs. An elevator must be available for deliveries to the 4th floor and above.
Other Customers also buy:
translation missing: en.products.product.regular_price

$5.99

{"id":4894376394823,"title":"LCR-T7 Transistor Tester Meter TFT Diode Triode Capacitance NPN PNP MOSFET","handle":"lcr-t7-transistor-tester-meter-tft-diode-triode-capacitance-npn-pnp-mosfet","description":"\u003cp\u003e\u003cspan\u003e\u003cstrong\u003eDescription:\u003c\/strong\u003e\u003c\/span\u003e\u003c\/p\u003e\n\u003cul\u003e\n\u003cli\u003e\u003cspan\u003e160x128 TFT display\u003c\/span\u003e\u003c\/li\u003e\n\u003cli\u003e\u003cspan\u003eMulti function key\u003c\/span\u003e\u003c\/li\u003e\n\u003cli\u003e\u003cspan\u003eTransistor test area\u003c\/span\u003e\u003c\/li\u003e\n\u003cli\u003e\u003cspan\u003eZener Diode test area\u003c\/span\u003e\u003c\/li\u003e\n\u003cli\u003e\u003cspan\u003eIR receiver window\u003c\/span\u003e\u003c\/li\u003e\n\u003cli\u003e\u003cspan\u003eMicro USB Charging Interface\u003c\/span\u003e\u003c\/li\u003e\n\u003cli\u003e\u003cspan\u003eCharge indicator LED\u003c\/span\u003e\u003c\/li\u003e\n\u003c\/ul\u003e\n\u003cp\u003e\u003cspan\u003e\u003cstrong\u003eFeatures:\u003c\/strong\u003e\u003c\/span\u003e\u003c\/p\u003e\n\u003cul\u003e\n\u003cli\u003e\u003cspan\u003eTFT graphic display Multifunction Tester.\u003c\/span\u003e\u003c\/li\u003e\n\u003c\/ul\u003e\n\u003cp\u003e\u003cspan\u003e\u003cstrong\u003eTransistor Tester\u003c\/strong\u003e\u003c\/span\u003e\u003c\/p\u003e\n\u003cul\u003e\n\u003cli\u003e\u003cspan\u003eAutomatic detection of zener diode 0.01-30V\u003c\/span\u003e\u003c\/li\u003e\n\u003cli\u003e\u003cspan\u003eSelf test with automatic calibration\u003c\/span\u003e\u003c\/li\u003e\n\u003c\/ul\u003e\n\u003cp\u003e\u003cspan\u003e\u003cstrong\u003eIR decoder\u003c\/strong\u003e\u003c\/span\u003e\u003c\/p\u003e\n\u003cul\u003e\n\u003cli\u003e\u003cspan\u003eSupport Hitachi IR coding\u003c\/span\u003e\u003c\/li\u003e\n\u003cli\u003e\u003cspan\u003eIR waveform display\u003c\/span\u003e\u003c\/li\u003e\n\u003cli\u003e\u003cspan\u003eInfrared receiving instruction\u003c\/span\u003e\u003c\/li\u003e\n\u003c\/ul\u003e\n\u003cp\u003e\u003cstrong\u003e\u003cspan\u003eOther:\u003c\/span\u003e\u003c\/strong\u003e\u003cspan\u003e\u003c\/span\u003e\u003cspan\u003e\u003c\/span\u003e\u003c\/p\u003e\n\u003cul\u003e\n\u003cli\u003e\u003cspan\u003eMeasure results using TFT graphic display (160x128)\u003c\/span\u003e\u003c\/li\u003e\n\u003cli\u003e\u003cspan\u003ea key operation\u003c\/span\u003e\u003c\/li\u003e\n\u003cli\u003e\u003cspan\u003eAutomatic shut-off (Settable Timeout)\u003c\/span\u003e\u003c\/li\u003e\n\u003cli\u003e\u003cspan\u003ebuilt-in High-capacity rechargeable Li-Ion battery\u003c\/span\u003e\u003c\/li\u003e\n\u003cli\u003e\u003cspan\u003eDetection of the voltage of the Li-ion-160x128 tft battery\u003c\/span\u003e\u003c\/li\u003e\n\u003cli\u003e\u003cspan\u003eTransistor test area\u003c\/span\u003e\u003c\/li\u003e\n\u003cli\u003e\u003cspan\u003eZener diode test area\u003c\/span\u003e\u003c\/li\u003e\n\u003cli\u003e\u003cspan\u003eIR receiver window\u003c\/span\u003e\u003c\/li\u003e\n\u003cli\u003e\u003cspan\u003e Micro USB Charging Interface\u003c\/span\u003e\u003c\/li\u003e\n\u003cli\u003e\u003cspan\u003eLED charge indicator\u003c\/span\u003e\u003c\/li\u003e\n\u003cli\u003e\u003cspan\u003e\u003cspan lang=\"en\" id=\"result_box\"\u003eChinese and English support\u003c\/span\u003e\u003c\/span\u003e\u003c\/li\u003e\n\u003c\/ul\u003e\n\u003cp\u003e\u003cstrong\u003e\u003cb\u003e\u003cspan\u003eWarning\u003c\/span\u003e\u003c\/b\u003e\u003c\/strong\u003e\u003cspan\u003e: \u003c\/span\u003e\u003c\/p\u003e\n\u003cul\u003e\n\u003cli\u003e\u003cspan\u003eBuilt-in Li-ion Battery, it is strictly prohibited the tester immersed in water, or near a heat source!\u003c\/span\u003e\u003c\/li\u003e\n\u003c\/ul\u003e\n\u003cp\u003e\u003cstrong\u003e\u003cb\u003e\u003cspan\u003eWarning\u003c\/span\u003e\u003c\/b\u003e\u003c\/strong\u003e\u003cspan\u003e:\u003c\/span\u003e\u003c\/p\u003e\n\u003cul\u003e\n\u003cli\u003e\n\u003cspan\u003e For your personal safety, please strictly comply with the use of Li-ion Battery specifications and precautions!\u003c\/span\u003e \u003c\/li\u003e\n\u003c\/ul\u003e\n\u003cp\u003e\u003cstrong\u003e1.1 Key operational definitions:\u003c\/strong\u003e\u003c\/p\u003e\n\u003cul\u003e\n\u003cli\u003eMulti-function key has two actions:\u003c\/li\u003e\n\u003cli\u003el Short press: Press the key and not less than 10 ms, release key within 1.5 seconds\u003c\/li\u003e\n\u003cli\u003el Long press: Press the key more than 1.5 seconds\u003c\/li\u003e\n\u003c\/ul\u003e\n\u003cp\u003e\u003cstrong\u003e1.2 Power on\u003c\/strong\u003e\u003c\/p\u003e\n\u003cul\u003e\n\u003cli\u003eIn the power off state, short press the multifunction key, the tester is turned on and automatically measured.\u003c\/li\u003e\n\u003cli\u003el Power on \u0026amp; measurement interface\u003c\/li\u003e\n\u003c\/ul\u003e\n\u003cp\u003e\u003cspan\u003e\u003cimg height=\"177\" width=\"231\" src=\"https:\/\/pg-cdn-a2.datacaciques.com\/00\/NDAy\/18\/11\/14\/q636xsbriw75j5mo\/af558cb6126c49c0.png\"\u003e\u003c\/span\u003e\u003c\/p\u003e\n\u003cdiv\u003e\u003cstrong\u003e1.3 Detect transistor\u003c\/strong\u003e\u003c\/div\u003e\n\u003cdiv\u003e\n\u003cul\u003e\n\u003cli\u003eIn the power off state or the test is completed, put the test element into the transistor test area of test seat, and press the locking handle, short press the multifunction key, the tester automatically measure, graphical display of measurement results when testing is complete.\u003c\/li\u003e\n\u003cli\u003eWarning: Always be sure to DISCHARGE capacitors before connecting them to the tester! The tester may be damaged before you have switched it on!\u003c\/li\u003e\n\u003cli\u003eWarning: We do not recommend using the tester to measure the battery! The battery voltage must be less than 4.5V, otherwise the tester may be damaged!\u003c\/li\u003e\n\u003cli\u003el Component placement\u003c\/li\u003e\n\u003cli\u003eTest seat are divided into transistors and zener diode test area, detailed in 1.1 Description.\u003c\/li\u003e\n\u003cli\u003el No, unknown, or damaged part\u003c\/li\u003e\n\u003c\/ul\u003e\n\u003c\/div\u003e\n\u003cp\u003e \u003c\/p\u003e\n\u003cp\u003e\u003cspan\u003e\u003cimg src=\"https:\/\/pg-cdn-a2.datacaciques.com\/00\/NDAy\/18\/11\/14\/q636xsbriw75j5mo\/d49fdda7b3d7d99d.png\"\u003e\u003cimg src=\"https:\/\/pg-cdn-a2.datacaciques.com\/00\/NDAy\/18\/11\/14\/q636xsbriw75j5mo\/6f261bd86c399907.png\"\u003e\u003cimg src=\"https:\/\/pg-cdn-a2.datacaciques.com\/00\/NDAy\/18\/11\/14\/q636xsbriw75j5mo\/32078a464eba90fb.png\"\u003e\u003cimg src=\"https:\/\/pg-cdn-a2.datacaciques.com\/00\/NDAy\/18\/11\/14\/q636xsbriw75j5mo\/e13c673323552c77.png\"\u003e\u003c\/span\u003e\u003c\/p\u003e\n\u003cp\u003e\u003cspan\u003e\u003cstrong\u003ePackage Included: \u003c\/strong\u003e\u003c\/span\u003e\u003cspan\u003e1 set x LCR-T7 TFT Transistor Tester\u003c\/span\u003e\u003c\/p\u003e","published_at":"2020-10-26T12:01:26+08:00","created_at":"2020-10-26T12:01:25+08:00","vendor":"DIYMORE","type":"","tags":[],"price":1799,"price_min":1799,"price_max":1799,"available":true,"price_varies":false,"compare_at_price":null,"compare_at_price_min":0,"compare_at_price_max":0,"compare_at_price_varies":false,"variants":[{"id":32639055167559,"title":"Default Title","option1":"Default Title","option2":null,"option3":null,"sku":"052064","requires_shipping":true,"taxable":false,"featured_image":null,"available":true,"name":"LCR-T7 Transistor Tester Meter TFT Diode Triode Capacitance NPN PNP MOSFET","public_title":null,"options":["Default Title"],"price":1799,"weight":0,"compare_at_price":null,"inventory_management":"shopify","barcode":"","requires_selling_plan":false,"selling_plan_allocations":[]}],"images":["\/\/cdn.shopify.com\/s\/files\/1\/0122\/7558\/0986\/products\/052064_1.jpg?v=1603684888","\/\/cdn.shopify.com\/s\/files\/1\/0122\/7558\/0986\/products\/052064_2.jpg?v=1603684888","\/\/cdn.shopify.com\/s\/files\/1\/0122\/7558\/0986\/products\/052064_3.jpg?v=1603684888","\/\/cdn.shopify.com\/s\/files\/1\/0122\/7558\/0986\/products\/052064_4.jpg?v=1603684888","\/\/cdn.shopify.com\/s\/files\/1\/0122\/7558\/0986\/products\/052064_6.jpg?v=1603684888"],"featured_image":"\/\/cdn.shopify.com\/s\/files\/1\/0122\/7558\/0986\/products\/052064_1.jpg?v=1603684888","options":["Title"],"media":[{"alt":null,"id":7642548797511,"position":1,"preview_image":{"aspect_ratio":1.0,"height":1000,"width":1000,"src":"https:\/\/cdn.shopify.com\/s\/files\/1\/0122\/7558\/0986\/products\/052064_1.jpg?v=1603684888"},"aspect_ratio":1.0,"height":1000,"media_type":"image","src":"https:\/\/cdn.shopify.com\/s\/files\/1\/0122\/7558\/0986\/products\/052064_1.jpg?v=1603684888","width":1000},{"alt":null,"id":7642548830279,"position":2,"preview_image":{"aspect_ratio":1.0,"height":1000,"width":1000,"src":"https:\/\/cdn.shopify.com\/s\/files\/1\/0122\/7558\/0986\/products\/052064_2.jpg?v=1603684888"},"aspect_ratio":1.0,"height":1000,"media_type":"image","src":"https:\/\/cdn.shopify.com\/s\/files\/1\/0122\/7558\/0986\/products\/052064_2.jpg?v=1603684888","width":1000},{"alt":null,"id":7642548863047,"position":3,"preview_image":{"aspect_ratio":1.0,"height":1000,"width":1000,"src":"https:\/\/cdn.shopify.com\/s\/files\/1\/0122\/7558\/0986\/products\/052064_3.jpg?v=1603684888"},"aspect_ratio":1.0,"height":1000,"media_type":"image","src":"https:\/\/cdn.shopify.com\/s\/files\/1\/0122\/7558\/0986\/products\/052064_3.jpg?v=1603684888","width":1000},{"alt":null,"id":7642548895815,"position":4,"preview_image":{"aspect_ratio":1.0,"height":1000,"width":1000,"src":"https:\/\/cdn.shopify.com\/s\/files\/1\/0122\/7558\/0986\/products\/052064_4.jpg?v=1603684888"},"aspect_ratio":1.0,"height":1000,"media_type":"image","src":"https:\/\/cdn.shopify.com\/s\/files\/1\/0122\/7558\/0986\/products\/052064_4.jpg?v=1603684888","width":1000},{"alt":null,"id":7642548928583,"position":5,"preview_image":{"aspect_ratio":1.0,"height":1000,"width":1000,"src":"https:\/\/cdn.shopify.com\/s\/files\/1\/0122\/7558\/0986\/products\/052064_6.jpg?v=1603684888"},"aspect_ratio":1.0,"height":1000,"media_type":"image","src":"https:\/\/cdn.shopify.com\/s\/files\/1\/0122\/7558\/0986\/products\/052064_6.jpg?v=1603684888","width":1000}],"requires_selling_plan":false,"selling_plan_groups":[],"content":"\u003cp\u003e\u003cspan\u003e\u003cstrong\u003eDescription:\u003c\/strong\u003e\u003c\/span\u003e\u003c\/p\u003e\n\u003cul\u003e\n\u003cli\u003e\u003cspan\u003e160x128 TFT display\u003c\/span\u003e\u003c\/li\u003e\n\u003cli\u003e\u003cspan\u003eMulti function key\u003c\/span\u003e\u003c\/li\u003e\n\u003cli\u003e\u003cspan\u003eTransistor test area\u003c\/span\u003e\u003c\/li\u003e\n\u003cli\u003e\u003cspan\u003eZener Diode test area\u003c\/span\u003e\u003c\/li\u003e\n\u003cli\u003e\u003cspan\u003eIR receiver window\u003c\/span\u003e\u003c\/li\u003e\n\u003cli\u003e\u003cspan\u003eMicro USB Charging Interface\u003c\/span\u003e\u003c\/li\u003e\n\u003cli\u003e\u003cspan\u003eCharge indicator LED\u003c\/span\u003e\u003c\/li\u003e\n\u003c\/ul\u003e\n\u003cp\u003e\u003cspan\u003e\u003cstrong\u003eFeatures:\u003c\/strong\u003e\u003c\/span\u003e\u003c\/p\u003e\n\u003cul\u003e\n\u003cli\u003e\u003cspan\u003eTFT graphic display Multifunction Tester.\u003c\/span\u003e\u003c\/li\u003e\n\u003c\/ul\u003e\n\u003cp\u003e\u003cspan\u003e\u003cstrong\u003eTransistor Tester\u003c\/strong\u003e\u003c\/span\u003e\u003c\/p\u003e\n\u003cul\u003e\n\u003cli\u003e\u003cspan\u003eAutomatic detection of zener diode 0.01-30V\u003c\/span\u003e\u003c\/li\u003e\n\u003cli\u003e\u003cspan\u003eSelf test with automatic calibration\u003c\/span\u003e\u003c\/li\u003e\n\u003c\/ul\u003e\n\u003cp\u003e\u003cspan\u003e\u003cstrong\u003eIR decoder\u003c\/strong\u003e\u003c\/span\u003e\u003c\/p\u003e\n\u003cul\u003e\n\u003cli\u003e\u003cspan\u003eSupport Hitachi IR coding\u003c\/span\u003e\u003c\/li\u003e\n\u003cli\u003e\u003cspan\u003eIR waveform display\u003c\/span\u003e\u003c\/li\u003e\n\u003cli\u003e\u003cspan\u003eInfrared receiving instruction\u003c\/span\u003e\u003c\/li\u003e\n\u003c\/ul\u003e\n\u003cp\u003e\u003cstrong\u003e\u003cspan\u003eOther:\u003c\/span\u003e\u003c\/strong\u003e\u003cspan\u003e\u003c\/span\u003e\u003cspan\u003e\u003c\/span\u003e\u003c\/p\u003e\n\u003cul\u003e\n\u003cli\u003e\u003cspan\u003eMeasure results using TFT graphic display (160x128)\u003c\/span\u003e\u003c\/li\u003e\n\u003cli\u003e\u003cspan\u003ea key operation\u003c\/span\u003e\u003c\/li\u003e\n\u003cli\u003e\u003cspan\u003eAutomatic shut-off (Settable Timeout)\u003c\/span\u003e\u003c\/li\u003e\n\u003cli\u003e\u003cspan\u003ebuilt-in High-capacity rechargeable Li-Ion battery\u003c\/span\u003e\u003c\/li\u003e\n\u003cli\u003e\u003cspan\u003eDetection of the voltage of the Li-ion-160x128 tft battery\u003c\/span\u003e\u003c\/li\u003e\n\u003cli\u003e\u003cspan\u003eTransistor test area\u003c\/span\u003e\u003c\/li\u003e\n\u003cli\u003e\u003cspan\u003eZener diode test area\u003c\/span\u003e\u003c\/li\u003e\n\u003cli\u003e\u003cspan\u003eIR receiver window\u003c\/span\u003e\u003c\/li\u003e\n\u003cli\u003e\u003cspan\u003e Micro USB Charging Interface\u003c\/span\u003e\u003c\/li\u003e\n\u003cli\u003e\u003cspan\u003eLED charge indicator\u003c\/span\u003e\u003c\/li\u003e\n\u003cli\u003e\u003cspan\u003e\u003cspan lang=\"en\" id=\"result_box\"\u003eChinese and English support\u003c\/span\u003e\u003c\/span\u003e\u003c\/li\u003e\n\u003c\/ul\u003e\n\u003cp\u003e\u003cstrong\u003e\u003cb\u003e\u003cspan\u003eWarning\u003c\/span\u003e\u003c\/b\u003e\u003c\/strong\u003e\u003cspan\u003e: \u003c\/span\u003e\u003c\/p\u003e\n\u003cul\u003e\n\u003cli\u003e\u003cspan\u003eBuilt-in Li-ion Battery, it is strictly prohibited the tester immersed in water, or near a heat source!\u003c\/span\u003e\u003c\/li\u003e\n\u003c\/ul\u003e\n\u003cp\u003e\u003cstrong\u003e\u003cb\u003e\u003cspan\u003eWarning\u003c\/span\u003e\u003c\/b\u003e\u003c\/strong\u003e\u003cspan\u003e:\u003c\/span\u003e\u003c\/p\u003e\n\u003cul\u003e\n\u003cli\u003e\n\u003cspan\u003e For your personal safety, please strictly comply with the use of Li-ion Battery specifications and precautions!\u003c\/span\u003e \u003c\/li\u003e\n\u003c\/ul\u003e\n\u003cp\u003e\u003cstrong\u003e1.1 Key operational definitions:\u003c\/strong\u003e\u003c\/p\u003e\n\u003cul\u003e\n\u003cli\u003eMulti-function key has two actions:\u003c\/li\u003e\n\u003cli\u003el Short press: Press the key and not less than 10 ms, release key within 1.5 seconds\u003c\/li\u003e\n\u003cli\u003el Long press: Press the key more than 1.5 seconds\u003c\/li\u003e\n\u003c\/ul\u003e\n\u003cp\u003e\u003cstrong\u003e1.2 Power on\u003c\/strong\u003e\u003c\/p\u003e\n\u003cul\u003e\n\u003cli\u003eIn the power off state, short press the multifunction key, the tester is turned on and automatically measured.\u003c\/li\u003e\n\u003cli\u003el Power on \u0026amp; measurement interface\u003c\/li\u003e\n\u003c\/ul\u003e\n\u003cp\u003e\u003cspan\u003e\u003cimg height=\"177\" width=\"231\" src=\"https:\/\/pg-cdn-a2.datacaciques.com\/00\/NDAy\/18\/11\/14\/q636xsbriw75j5mo\/af558cb6126c49c0.png\"\u003e\u003c\/span\u003e\u003c\/p\u003e\n\u003cdiv\u003e\u003cstrong\u003e1.3 Detect transistor\u003c\/strong\u003e\u003c\/div\u003e\n\u003cdiv\u003e\n\u003cul\u003e\n\u003cli\u003eIn the power off state or the test is completed, put the test element into the transistor test area of test seat, and press the locking handle, short press the multifunction key, the tester automatically measure, graphical display of measurement results when testing is complete.\u003c\/li\u003e\n\u003cli\u003eWarning: Always be sure to DISCHARGE capacitors before connecting them to the tester! The tester may be damaged before you have switched it on!\u003c\/li\u003e\n\u003cli\u003eWarning: We do not recommend using the tester to measure the battery! The battery voltage must be less than 4.5V, otherwise the tester may be damaged!\u003c\/li\u003e\n\u003cli\u003el Component placement\u003c\/li\u003e\n\u003cli\u003eTest seat are divided into transistors and zener diode test area, detailed in 1.1 Description.\u003c\/li\u003e\n\u003cli\u003el No, unknown, or damaged part\u003c\/li\u003e\n\u003c\/ul\u003e\n\u003c\/div\u003e\n\u003cp\u003e \u003c\/p\u003e\n\u003cp\u003e\u003cspan\u003e\u003cimg src=\"https:\/\/pg-cdn-a2.datacaciques.com\/00\/NDAy\/18\/11\/14\/q636xsbriw75j5mo\/d49fdda7b3d7d99d.png\"\u003e\u003cimg src=\"https:\/\/pg-cdn-a2.datacaciques.com\/00\/NDAy\/18\/11\/14\/q636xsbriw75j5mo\/6f261bd86c399907.png\"\u003e\u003cimg src=\"https:\/\/pg-cdn-a2.datacaciques.com\/00\/NDAy\/18\/11\/14\/q636xsbriw75j5mo\/32078a464eba90fb.png\"\u003e\u003cimg src=\"https:\/\/pg-cdn-a2.datacaciques.com\/00\/NDAy\/18\/11\/14\/q636xsbriw75j5mo\/e13c673323552c77.png\"\u003e\u003c\/span\u003e\u003c\/p\u003e\n\u003cp\u003e\u003cspan\u003e\u003cstrong\u003ePackage Included: \u003c\/strong\u003e\u003c\/span\u003e\u003cspan\u003e1 set x LCR-T7 TFT Transistor Tester\u003c\/span\u003e\u003c\/p\u003e"}

translation missing: en.products.product.regular_price

$23.99

{"id":4894376394823,"title":"LCR-T7 Transistor Tester Meter TFT Diode Triode Capacitance NPN PNP MOSFET","handle":"lcr-t7-transistor-tester-meter-tft-diode-triode-capacitance-npn-pnp-mosfet","description":"\u003cp\u003e\u003cspan\u003e\u003cstrong\u003eDescription:\u003c\/strong\u003e\u003c\/span\u003e\u003c\/p\u003e\n\u003cul\u003e\n\u003cli\u003e\u003cspan\u003e160x128 TFT display\u003c\/span\u003e\u003c\/li\u003e\n\u003cli\u003e\u003cspan\u003eMulti function key\u003c\/span\u003e\u003c\/li\u003e\n\u003cli\u003e\u003cspan\u003eTransistor test area\u003c\/span\u003e\u003c\/li\u003e\n\u003cli\u003e\u003cspan\u003eZener Diode test area\u003c\/span\u003e\u003c\/li\u003e\n\u003cli\u003e\u003cspan\u003eIR receiver window\u003c\/span\u003e\u003c\/li\u003e\n\u003cli\u003e\u003cspan\u003eMicro USB Charging Interface\u003c\/span\u003e\u003c\/li\u003e\n\u003cli\u003e\u003cspan\u003eCharge indicator LED\u003c\/span\u003e\u003c\/li\u003e\n\u003c\/ul\u003e\n\u003cp\u003e\u003cspan\u003e\u003cstrong\u003eFeatures:\u003c\/strong\u003e\u003c\/span\u003e\u003c\/p\u003e\n\u003cul\u003e\n\u003cli\u003e\u003cspan\u003eTFT graphic display Multifunction Tester.\u003c\/span\u003e\u003c\/li\u003e\n\u003c\/ul\u003e\n\u003cp\u003e\u003cspan\u003e\u003cstrong\u003eTransistor Tester\u003c\/strong\u003e\u003c\/span\u003e\u003c\/p\u003e\n\u003cul\u003e\n\u003cli\u003e\u003cspan\u003eAutomatic detection of zener diode 0.01-30V\u003c\/span\u003e\u003c\/li\u003e\n\u003cli\u003e\u003cspan\u003eSelf test with automatic calibration\u003c\/span\u003e\u003c\/li\u003e\n\u003c\/ul\u003e\n\u003cp\u003e\u003cspan\u003e\u003cstrong\u003eIR decoder\u003c\/strong\u003e\u003c\/span\u003e\u003c\/p\u003e\n\u003cul\u003e\n\u003cli\u003e\u003cspan\u003eSupport Hitachi IR coding\u003c\/span\u003e\u003c\/li\u003e\n\u003cli\u003e\u003cspan\u003eIR waveform display\u003c\/span\u003e\u003c\/li\u003e\n\u003cli\u003e\u003cspan\u003eInfrared receiving instruction\u003c\/span\u003e\u003c\/li\u003e\n\u003c\/ul\u003e\n\u003cp\u003e\u003cstrong\u003e\u003cspan\u003eOther:\u003c\/span\u003e\u003c\/strong\u003e\u003cspan\u003e\u003c\/span\u003e\u003cspan\u003e\u003c\/span\u003e\u003c\/p\u003e\n\u003cul\u003e\n\u003cli\u003e\u003cspan\u003eMeasure results using TFT graphic display (160x128)\u003c\/span\u003e\u003c\/li\u003e\n\u003cli\u003e\u003cspan\u003ea key operation\u003c\/span\u003e\u003c\/li\u003e\n\u003cli\u003e\u003cspan\u003eAutomatic shut-off (Settable Timeout)\u003c\/span\u003e\u003c\/li\u003e\n\u003cli\u003e\u003cspan\u003ebuilt-in High-capacity rechargeable Li-Ion battery\u003c\/span\u003e\u003c\/li\u003e\n\u003cli\u003e\u003cspan\u003eDetection of the voltage of the Li-ion-160x128 tft battery\u003c\/span\u003e\u003c\/li\u003e\n\u003cli\u003e\u003cspan\u003eTransistor test area\u003c\/span\u003e\u003c\/li\u003e\n\u003cli\u003e\u003cspan\u003eZener diode test area\u003c\/span\u003e\u003c\/li\u003e\n\u003cli\u003e\u003cspan\u003eIR receiver window\u003c\/span\u003e\u003c\/li\u003e\n\u003cli\u003e\u003cspan\u003e Micro USB Charging Interface\u003c\/span\u003e\u003c\/li\u003e\n\u003cli\u003e\u003cspan\u003eLED charge indicator\u003c\/span\u003e\u003c\/li\u003e\n\u003cli\u003e\u003cspan\u003e\u003cspan lang=\"en\" id=\"result_box\"\u003eChinese and English support\u003c\/span\u003e\u003c\/span\u003e\u003c\/li\u003e\n\u003c\/ul\u003e\n\u003cp\u003e\u003cstrong\u003e\u003cb\u003e\u003cspan\u003eWarning\u003c\/span\u003e\u003c\/b\u003e\u003c\/strong\u003e\u003cspan\u003e: \u003c\/span\u003e\u003c\/p\u003e\n\u003cul\u003e\n\u003cli\u003e\u003cspan\u003eBuilt-in Li-ion Battery, it is strictly prohibited the tester immersed in water, or near a heat source!\u003c\/span\u003e\u003c\/li\u003e\n\u003c\/ul\u003e\n\u003cp\u003e\u003cstrong\u003e\u003cb\u003e\u003cspan\u003eWarning\u003c\/span\u003e\u003c\/b\u003e\u003c\/strong\u003e\u003cspan\u003e:\u003c\/span\u003e\u003c\/p\u003e\n\u003cul\u003e\n\u003cli\u003e\n\u003cspan\u003e For your personal safety, please strictly comply with the use of Li-ion Battery specifications and precautions!\u003c\/span\u003e \u003c\/li\u003e\n\u003c\/ul\u003e\n\u003cp\u003e\u003cstrong\u003e1.1 Key operational definitions:\u003c\/strong\u003e\u003c\/p\u003e\n\u003cul\u003e\n\u003cli\u003eMulti-function key has two actions:\u003c\/li\u003e\n\u003cli\u003el Short press: Press the key and not less than 10 ms, release key within 1.5 seconds\u003c\/li\u003e\n\u003cli\u003el Long press: Press the key more than 1.5 seconds\u003c\/li\u003e\n\u003c\/ul\u003e\n\u003cp\u003e\u003cstrong\u003e1.2 Power on\u003c\/strong\u003e\u003c\/p\u003e\n\u003cul\u003e\n\u003cli\u003eIn the power off state, short press the multifunction key, the tester is turned on and automatically measured.\u003c\/li\u003e\n\u003cli\u003el Power on \u0026amp; measurement interface\u003c\/li\u003e\n\u003c\/ul\u003e\n\u003cp\u003e\u003cspan\u003e\u003cimg height=\"177\" width=\"231\" src=\"https:\/\/pg-cdn-a2.datacaciques.com\/00\/NDAy\/18\/11\/14\/q636xsbriw75j5mo\/af558cb6126c49c0.png\"\u003e\u003c\/span\u003e\u003c\/p\u003e\n\u003cdiv\u003e\u003cstrong\u003e1.3 Detect transistor\u003c\/strong\u003e\u003c\/div\u003e\n\u003cdiv\u003e\n\u003cul\u003e\n\u003cli\u003eIn the power off state or the test is completed, put the test element into the transistor test area of test seat, and press the locking handle, short press the multifunction key, the tester automatically measure, graphical display of measurement results when testing is complete.\u003c\/li\u003e\n\u003cli\u003eWarning: Always be sure to DISCHARGE capacitors before connecting them to the tester! The tester may be damaged before you have switched it on!\u003c\/li\u003e\n\u003cli\u003eWarning: We do not recommend using the tester to measure the battery! The battery voltage must be less than 4.5V, otherwise the tester may be damaged!\u003c\/li\u003e\n\u003cli\u003el Component placement\u003c\/li\u003e\n\u003cli\u003eTest seat are divided into transistors and zener diode test area, detailed in 1.1 Description.\u003c\/li\u003e\n\u003cli\u003el No, unknown, or damaged part\u003c\/li\u003e\n\u003c\/ul\u003e\n\u003c\/div\u003e\n\u003cp\u003e \u003c\/p\u003e\n\u003cp\u003e\u003cspan\u003e\u003cimg src=\"https:\/\/pg-cdn-a2.datacaciques.com\/00\/NDAy\/18\/11\/14\/q636xsbriw75j5mo\/d49fdda7b3d7d99d.png\"\u003e\u003cimg src=\"https:\/\/pg-cdn-a2.datacaciques.com\/00\/NDAy\/18\/11\/14\/q636xsbriw75j5mo\/6f261bd86c399907.png\"\u003e\u003cimg src=\"https:\/\/pg-cdn-a2.datacaciques.com\/00\/NDAy\/18\/11\/14\/q636xsbriw75j5mo\/32078a464eba90fb.png\"\u003e\u003cimg src=\"https:\/\/pg-cdn-a2.datacaciques.com\/00\/NDAy\/18\/11\/14\/q636xsbriw75j5mo\/e13c673323552c77.png\"\u003e\u003c\/span\u003e\u003c\/p\u003e\n\u003cp\u003e\u003cspan\u003e\u003cstrong\u003ePackage Included: \u003c\/strong\u003e\u003c\/span\u003e\u003cspan\u003e1 set x LCR-T7 TFT Transistor Tester\u003c\/span\u003e\u003c\/p\u003e","published_at":"2020-10-26T12:01:26+08:00","created_at":"2020-10-26T12:01:25+08:00","vendor":"DIYMORE","type":"","tags":[],"price":1799,"price_min":1799,"price_max":1799,"available":true,"price_varies":false,"compare_at_price":null,"compare_at_price_min":0,"compare_at_price_max":0,"compare_at_price_varies":false,"variants":[{"id":32639055167559,"title":"Default Title","option1":"Default Title","option2":null,"option3":null,"sku":"052064","requires_shipping":true,"taxable":false,"featured_image":null,"available":true,"name":"LCR-T7 Transistor Tester Meter TFT Diode Triode Capacitance NPN PNP MOSFET","public_title":null,"options":["Default Title"],"price":1799,"weight":0,"compare_at_price":null,"inventory_management":"shopify","barcode":"","requires_selling_plan":false,"selling_plan_allocations":[]}],"images":["\/\/cdn.shopify.com\/s\/files\/1\/0122\/7558\/0986\/products\/052064_1.jpg?v=1603684888","\/\/cdn.shopify.com\/s\/files\/1\/0122\/7558\/0986\/products\/052064_2.jpg?v=1603684888","\/\/cdn.shopify.com\/s\/files\/1\/0122\/7558\/0986\/products\/052064_3.jpg?v=1603684888","\/\/cdn.shopify.com\/s\/files\/1\/0122\/7558\/0986\/products\/052064_4.jpg?v=1603684888","\/\/cdn.shopify.com\/s\/files\/1\/0122\/7558\/0986\/products\/052064_6.jpg?v=1603684888"],"featured_image":"\/\/cdn.shopify.com\/s\/files\/1\/0122\/7558\/0986\/products\/052064_1.jpg?v=1603684888","options":["Title"],"media":[{"alt":null,"id":7642548797511,"position":1,"preview_image":{"aspect_ratio":1.0,"height":1000,"width":1000,"src":"https:\/\/cdn.shopify.com\/s\/files\/1\/0122\/7558\/0986\/products\/052064_1.jpg?v=1603684888"},"aspect_ratio":1.0,"height":1000,"media_type":"image","src":"https:\/\/cdn.shopify.com\/s\/files\/1\/0122\/7558\/0986\/products\/052064_1.jpg?v=1603684888","width":1000},{"alt":null,"id":7642548830279,"position":2,"preview_image":{"aspect_ratio":1.0,"height":1000,"width":1000,"src":"https:\/\/cdn.shopify.com\/s\/files\/1\/0122\/7558\/0986\/products\/052064_2.jpg?v=1603684888"},"aspect_ratio":1.0,"height":1000,"media_type":"image","src":"https:\/\/cdn.shopify.com\/s\/files\/1\/0122\/7558\/0986\/products\/052064_2.jpg?v=1603684888","width":1000},{"alt":null,"id":7642548863047,"position":3,"preview_image":{"aspect_ratio":1.0,"height":1000,"width":1000,"src":"https:\/\/cdn.shopify.com\/s\/files\/1\/0122\/7558\/0986\/products\/052064_3.jpg?v=1603684888"},"aspect_ratio":1.0,"height":1000,"media_type":"image","src":"https:\/\/cdn.shopify.com\/s\/files\/1\/0122\/7558\/0986\/products\/052064_3.jpg?v=1603684888","width":1000},{"alt":null,"id":7642548895815,"position":4,"preview_image":{"aspect_ratio":1.0,"height":1000,"width":1000,"src":"https:\/\/cdn.shopify.com\/s\/files\/1\/0122\/7558\/0986\/products\/052064_4.jpg?v=1603684888"},"aspect_ratio":1.0,"height":1000,"media_type":"image","src":"https:\/\/cdn.shopify.com\/s\/files\/1\/0122\/7558\/0986\/products\/052064_4.jpg?v=1603684888","width":1000},{"alt":null,"id":7642548928583,"position":5,"preview_image":{"aspect_ratio":1.0,"height":1000,"width":1000,"src":"https:\/\/cdn.shopify.com\/s\/files\/1\/0122\/7558\/0986\/products\/052064_6.jpg?v=1603684888"},"aspect_ratio":1.0,"height":1000,"media_type":"image","src":"https:\/\/cdn.shopify.com\/s\/files\/1\/0122\/7558\/0986\/products\/052064_6.jpg?v=1603684888","width":1000}],"requires_selling_plan":false,"selling_plan_groups":[],"content":"\u003cp\u003e\u003cspan\u003e\u003cstrong\u003eDescription:\u003c\/strong\u003e\u003c\/span\u003e\u003c\/p\u003e\n\u003cul\u003e\n\u003cli\u003e\u003cspan\u003e160x128 TFT display\u003c\/span\u003e\u003c\/li\u003e\n\u003cli\u003e\u003cspan\u003eMulti function key\u003c\/span\u003e\u003c\/li\u003e\n\u003cli\u003e\u003cspan\u003eTransistor test area\u003c\/span\u003e\u003c\/li\u003e\n\u003cli\u003e\u003cspan\u003eZener Diode test area\u003c\/span\u003e\u003c\/li\u003e\n\u003cli\u003e\u003cspan\u003eIR receiver window\u003c\/span\u003e\u003c\/li\u003e\n\u003cli\u003e\u003cspan\u003eMicro USB Charging Interface\u003c\/span\u003e\u003c\/li\u003e\n\u003cli\u003e\u003cspan\u003eCharge indicator LED\u003c\/span\u003e\u003c\/li\u003e\n\u003c\/ul\u003e\n\u003cp\u003e\u003cspan\u003e\u003cstrong\u003eFeatures:\u003c\/strong\u003e\u003c\/span\u003e\u003c\/p\u003e\n\u003cul\u003e\n\u003cli\u003e\u003cspan\u003eTFT graphic display Multifunction Tester.\u003c\/span\u003e\u003c\/li\u003e\n\u003c\/ul\u003e\n\u003cp\u003e\u003cspan\u003e\u003cstrong\u003eTransistor Tester\u003c\/strong\u003e\u003c\/span\u003e\u003c\/p\u003e\n\u003cul\u003e\n\u003cli\u003e\u003cspan\u003eAutomatic detection of zener diode 0.01-30V\u003c\/span\u003e\u003c\/li\u003e\n\u003cli\u003e\u003cspan\u003eSelf test with automatic calibration\u003c\/span\u003e\u003c\/li\u003e\n\u003c\/ul\u003e\n\u003cp\u003e\u003cspan\u003e\u003cstrong\u003eIR decoder\u003c\/strong\u003e\u003c\/span\u003e\u003c\/p\u003e\n\u003cul\u003e\n\u003cli\u003e\u003cspan\u003eSupport Hitachi IR coding\u003c\/span\u003e\u003c\/li\u003e\n\u003cli\u003e\u003cspan\u003eIR waveform display\u003c\/span\u003e\u003c\/li\u003e\n\u003cli\u003e\u003cspan\u003eInfrared receiving instruction\u003c\/span\u003e\u003c\/li\u003e\n\u003c\/ul\u003e\n\u003cp\u003e\u003cstrong\u003e\u003cspan\u003eOther:\u003c\/span\u003e\u003c\/strong\u003e\u003cspan\u003e\u003c\/span\u003e\u003cspan\u003e\u003c\/span\u003e\u003c\/p\u003e\n\u003cul\u003e\n\u003cli\u003e\u003cspan\u003eMeasure results using TFT graphic display (160x128)\u003c\/span\u003e\u003c\/li\u003e\n\u003cli\u003e\u003cspan\u003ea key operation\u003c\/span\u003e\u003c\/li\u003e\n\u003cli\u003e\u003cspan\u003eAutomatic shut-off (Settable Timeout)\u003c\/span\u003e\u003c\/li\u003e\n\u003cli\u003e\u003cspan\u003ebuilt-in High-capacity rechargeable Li-Ion battery\u003c\/span\u003e\u003c\/li\u003e\n\u003cli\u003e\u003cspan\u003eDetection of the voltage of the Li-ion-160x128 tft battery\u003c\/span\u003e\u003c\/li\u003e\n\u003cli\u003e\u003cspan\u003eTransistor test area\u003c\/span\u003e\u003c\/li\u003e\n\u003cli\u003e\u003cspan\u003eZener diode test area\u003c\/span\u003e\u003c\/li\u003e\n\u003cli\u003e\u003cspan\u003eIR receiver window\u003c\/span\u003e\u003c\/li\u003e\n\u003cli\u003e\u003cspan\u003e Micro USB Charging Interface\u003c\/span\u003e\u003c\/li\u003e\n\u003cli\u003e\u003cspan\u003eLED charge indicator\u003c\/span\u003e\u003c\/li\u003e\n\u003cli\u003e\u003cspan\u003e\u003cspan lang=\"en\" id=\"result_box\"\u003eChinese and English support\u003c\/span\u003e\u003c\/span\u003e\u003c\/li\u003e\n\u003c\/ul\u003e\n\u003cp\u003e\u003cstrong\u003e\u003cb\u003e\u003cspan\u003eWarning\u003c\/span\u003e\u003c\/b\u003e\u003c\/strong\u003e\u003cspan\u003e: \u003c\/span\u003e\u003c\/p\u003e\n\u003cul\u003e\n\u003cli\u003e\u003cspan\u003eBuilt-in Li-ion Battery, it is strictly prohibited the tester immersed in water, or near a heat source!\u003c\/span\u003e\u003c\/li\u003e\n\u003c\/ul\u003e\n\u003cp\u003e\u003cstrong\u003e\u003cb\u003e\u003cspan\u003eWarning\u003c\/span\u003e\u003c\/b\u003e\u003c\/strong\u003e\u003cspan\u003e:\u003c\/span\u003e\u003c\/p\u003e\n\u003cul\u003e\n\u003cli\u003e\n\u003cspan\u003e For your personal safety, please strictly comply with the use of Li-ion Battery specifications and precautions!\u003c\/span\u003e \u003c\/li\u003e\n\u003c\/ul\u003e\n\u003cp\u003e\u003cstrong\u003e1.1 Key operational definitions:\u003c\/strong\u003e\u003c\/p\u003e\n\u003cul\u003e\n\u003cli\u003eMulti-function key has two actions:\u003c\/li\u003e\n\u003cli\u003el Short press: Press the key and not less than 10 ms, release key within 1.5 seconds\u003c\/li\u003e\n\u003cli\u003el Long press: Press the key more than 1.5 seconds\u003c\/li\u003e\n\u003c\/ul\u003e\n\u003cp\u003e\u003cstrong\u003e1.2 Power on\u003c\/strong\u003e\u003c\/p\u003e\n\u003cul\u003e\n\u003cli\u003eIn the power off state, short press the multifunction key, the tester is turned on and automatically measured.\u003c\/li\u003e\n\u003cli\u003el Power on \u0026amp; measurement interface\u003c\/li\u003e\n\u003c\/ul\u003e\n\u003cp\u003e\u003cspan\u003e\u003cimg height=\"177\" width=\"231\" src=\"https:\/\/pg-cdn-a2.datacaciques.com\/00\/NDAy\/18\/11\/14\/q636xsbriw75j5mo\/af558cb6126c49c0.png\"\u003e\u003c\/span\u003e\u003c\/p\u003e\n\u003cdiv\u003e\u003cstrong\u003e1.3 Detect transistor\u003c\/strong\u003e\u003c\/div\u003e\n\u003cdiv\u003e\n\u003cul\u003e\n\u003cli\u003eIn the power off state or the test is completed, put the test element into the transistor test area of test seat, and press the locking handle, short press the multifunction key, the tester automatically measure, graphical display of measurement results when testing is complete.\u003c\/li\u003e\n\u003cli\u003eWarning: Always be sure to DISCHARGE capacitors before connecting them to the tester! The tester may be damaged before you have switched it on!\u003c\/li\u003e\n\u003cli\u003eWarning: We do not recommend using the tester to measure the battery! The battery voltage must be less than 4.5V, otherwise the tester may be damaged!\u003c\/li\u003e\n\u003cli\u003el Component placement\u003c\/li\u003e\n\u003cli\u003eTest seat are divided into transistors and zener diode test area, detailed in 1.1 Description.\u003c\/li\u003e\n\u003cli\u003el No, unknown, or damaged part\u003c\/li\u003e\n\u003c\/ul\u003e\n\u003c\/div\u003e\n\u003cp\u003e \u003c\/p\u003e\n\u003cp\u003e\u003cspan\u003e\u003cimg src=\"https:\/\/pg-cdn-a2.datacaciques.com\/00\/NDAy\/18\/11\/14\/q636xsbriw75j5mo\/d49fdda7b3d7d99d.png\"\u003e\u003cimg src=\"https:\/\/pg-cdn-a2.datacaciques.com\/00\/NDAy\/18\/11\/14\/q636xsbriw75j5mo\/6f261bd86c399907.png\"\u003e\u003cimg src=\"https:\/\/pg-cdn-a2.datacaciques.com\/00\/NDAy\/18\/11\/14\/q636xsbriw75j5mo\/32078a464eba90fb.png\"\u003e\u003cimg src=\"https:\/\/pg-cdn-a2.datacaciques.com\/00\/NDAy\/18\/11\/14\/q636xsbriw75j5mo\/e13c673323552c77.png\"\u003e\u003c\/span\u003e\u003c\/p\u003e\n\u003cp\u003e\u003cspan\u003e\u003cstrong\u003ePackage Included: \u003c\/strong\u003e\u003c\/span\u003e\u003cspan\u003e1 set x LCR-T7 TFT Transistor Tester\u003c\/span\u003e\u003c\/p\u003e"}

translation missing: en.products.product.regular_price

$5.99

{"id":4894376394823,"title":"LCR-T7 Transistor Tester Meter TFT Diode Triode Capacitance NPN PNP MOSFET","handle":"lcr-t7-transistor-tester-meter-tft-diode-triode-capacitance-npn-pnp-mosfet","description":"\u003cp\u003e\u003cspan\u003e\u003cstrong\u003eDescription:\u003c\/strong\u003e\u003c\/span\u003e\u003c\/p\u003e\n\u003cul\u003e\n\u003cli\u003e\u003cspan\u003e160x128 TFT display\u003c\/span\u003e\u003c\/li\u003e\n\u003cli\u003e\u003cspan\u003eMulti function key\u003c\/span\u003e\u003c\/li\u003e\n\u003cli\u003e\u003cspan\u003eTransistor test area\u003c\/span\u003e\u003c\/li\u003e\n\u003cli\u003e\u003cspan\u003eZener Diode test area\u003c\/span\u003e\u003c\/li\u003e\n\u003cli\u003e\u003cspan\u003eIR receiver window\u003c\/span\u003e\u003c\/li\u003e\n\u003cli\u003e\u003cspan\u003eMicro USB Charging Interface\u003c\/span\u003e\u003c\/li\u003e\n\u003cli\u003e\u003cspan\u003eCharge indicator LED\u003c\/span\u003e\u003c\/li\u003e\n\u003c\/ul\u003e\n\u003cp\u003e\u003cspan\u003e\u003cstrong\u003eFeatures:\u003c\/strong\u003e\u003c\/span\u003e\u003c\/p\u003e\n\u003cul\u003e\n\u003cli\u003e\u003cspan\u003eTFT graphic display Multifunction Tester.\u003c\/span\u003e\u003c\/li\u003e\n\u003c\/ul\u003e\n\u003cp\u003e\u003cspan\u003e\u003cstrong\u003eTransistor Tester\u003c\/strong\u003e\u003c\/span\u003e\u003c\/p\u003e\n\u003cul\u003e\n\u003cli\u003e\u003cspan\u003eAutomatic detection of zener diode 0.01-30V\u003c\/span\u003e\u003c\/li\u003e\n\u003cli\u003e\u003cspan\u003eSelf test with automatic calibration\u003c\/span\u003e\u003c\/li\u003e\n\u003c\/ul\u003e\n\u003cp\u003e\u003cspan\u003e\u003cstrong\u003eIR decoder\u003c\/strong\u003e\u003c\/span\u003e\u003c\/p\u003e\n\u003cul\u003e\n\u003cli\u003e\u003cspan\u003eSupport Hitachi IR coding\u003c\/span\u003e\u003c\/li\u003e\n\u003cli\u003e\u003cspan\u003eIR waveform display\u003c\/span\u003e\u003c\/li\u003e\n\u003cli\u003e\u003cspan\u003eInfrared receiving instruction\u003c\/span\u003e\u003c\/li\u003e\n\u003c\/ul\u003e\n\u003cp\u003e\u003cstrong\u003e\u003cspan\u003eOther:\u003c\/span\u003e\u003c\/strong\u003e\u003cspan\u003e\u003c\/span\u003e\u003cspan\u003e\u003c\/span\u003e\u003c\/p\u003e\n\u003cul\u003e\n\u003cli\u003e\u003cspan\u003eMeasure results using TFT graphic display (160x128)\u003c\/span\u003e\u003c\/li\u003e\n\u003cli\u003e\u003cspan\u003ea key operation\u003c\/span\u003e\u003c\/li\u003e\n\u003cli\u003e\u003cspan\u003eAutomatic shut-off (Settable Timeout)\u003c\/span\u003e\u003c\/li\u003e\n\u003cli\u003e\u003cspan\u003ebuilt-in High-capacity rechargeable Li-Ion battery\u003c\/span\u003e\u003c\/li\u003e\n\u003cli\u003e\u003cspan\u003eDetection of the voltage of the Li-ion-160x128 tft battery\u003c\/span\u003e\u003c\/li\u003e\n\u003cli\u003e\u003cspan\u003eTransistor test area\u003c\/span\u003e\u003c\/li\u003e\n\u003cli\u003e\u003cspan\u003eZener diode test area\u003c\/span\u003e\u003c\/li\u003e\n\u003cli\u003e\u003cspan\u003eIR receiver window\u003c\/span\u003e\u003c\/li\u003e\n\u003cli\u003e\u003cspan\u003e Micro USB Charging Interface\u003c\/span\u003e\u003c\/li\u003e\n\u003cli\u003e\u003cspan\u003eLED charge indicator\u003c\/span\u003e\u003c\/li\u003e\n\u003cli\u003e\u003cspan\u003e\u003cspan lang=\"en\" id=\"result_box\"\u003eChinese and English support\u003c\/span\u003e\u003c\/span\u003e\u003c\/li\u003e\n\u003c\/ul\u003e\n\u003cp\u003e\u003cstrong\u003e\u003cb\u003e\u003cspan\u003eWarning\u003c\/span\u003e\u003c\/b\u003e\u003c\/strong\u003e\u003cspan\u003e: \u003c\/span\u003e\u003c\/p\u003e\n\u003cul\u003e\n\u003cli\u003e\u003cspan\u003eBuilt-in Li-ion Battery, it is strictly prohibited the tester immersed in water, or near a heat source!\u003c\/span\u003e\u003c\/li\u003e\n\u003c\/ul\u003e\n\u003cp\u003e\u003cstrong\u003e\u003cb\u003e\u003cspan\u003eWarning\u003c\/span\u003e\u003c\/b\u003e\u003c\/strong\u003e\u003cspan\u003e:\u003c\/span\u003e\u003c\/p\u003e\n\u003cul\u003e\n\u003cli\u003e\n\u003cspan\u003e For your personal safety, please strictly comply with the use of Li-ion Battery specifications and precautions!\u003c\/span\u003e \u003c\/li\u003e\n\u003c\/ul\u003e\n\u003cp\u003e\u003cstrong\u003e1.1 Key operational definitions:\u003c\/strong\u003e\u003c\/p\u003e\n\u003cul\u003e\n\u003cli\u003eMulti-function key has two actions:\u003c\/li\u003e\n\u003cli\u003el Short press: Press the key and not less than 10 ms, release key within 1.5 seconds\u003c\/li\u003e\n\u003cli\u003el Long press: Press the key more than 1.5 seconds\u003c\/li\u003e\n\u003c\/ul\u003e\n\u003cp\u003e\u003cstrong\u003e1.2 Power on\u003c\/strong\u003e\u003c\/p\u003e\n\u003cul\u003e\n\u003cli\u003eIn the power off state, short press the multifunction key, the tester is turned on and automatically measured.\u003c\/li\u003e\n\u003cli\u003el Power on \u0026amp; measurement interface\u003c\/li\u003e\n\u003c\/ul\u003e\n\u003cp\u003e\u003cspan\u003e\u003cimg height=\"177\" width=\"231\" src=\"https:\/\/pg-cdn-a2.datacaciques.com\/00\/NDAy\/18\/11\/14\/q636xsbriw75j5mo\/af558cb6126c49c0.png\"\u003e\u003c\/span\u003e\u003c\/p\u003e\n\u003cdiv\u003e\u003cstrong\u003e1.3 Detect transistor\u003c\/strong\u003e\u003c\/div\u003e\n\u003cdiv\u003e\n\u003cul\u003e\n\u003cli\u003eIn the power off state or the test is completed, put the test element into the transistor test area of test seat, and press the locking handle, short press the multifunction key, the tester automatically measure, graphical display of measurement results when testing is complete.\u003c\/li\u003e\n\u003cli\u003eWarning: Always be sure to DISCHARGE capacitors before connecting them to the tester! The tester may be damaged before you have switched it on!\u003c\/li\u003e\n\u003cli\u003eWarning: We do not recommend using the tester to measure the battery! The battery voltage must be less than 4.5V, otherwise the tester may be damaged!\u003c\/li\u003e\n\u003cli\u003el Component placement\u003c\/li\u003e\n\u003cli\u003eTest seat are divided into transistors and zener diode test area, detailed in 1.1 Description.\u003c\/li\u003e\n\u003cli\u003el No, unknown, or damaged part\u003c\/li\u003e\n\u003c\/ul\u003e\n\u003c\/div\u003e\n\u003cp\u003e \u003c\/p\u003e\n\u003cp\u003e\u003cspan\u003e\u003cimg src=\"https:\/\/pg-cdn-a2.datacaciques.com\/00\/NDAy\/18\/11\/14\/q636xsbriw75j5mo\/d49fdda7b3d7d99d.png\"\u003e\u003cimg src=\"https:\/\/pg-cdn-a2.datacaciques.com\/00\/NDAy\/18\/11\/14\/q636xsbriw75j5mo\/6f261bd86c399907.png\"\u003e\u003cimg src=\"https:\/\/pg-cdn-a2.datacaciques.com\/00\/NDAy\/18\/11\/14\/q636xsbriw75j5mo\/32078a464eba90fb.png\"\u003e\u003cimg src=\"https:\/\/pg-cdn-a2.datacaciques.com\/00\/NDAy\/18\/11\/14\/q636xsbriw75j5mo\/e13c673323552c77.png\"\u003e\u003c\/span\u003e\u003c\/p\u003e\n\u003cp\u003e\u003cspan\u003e\u003cstrong\u003ePackage Included: \u003c\/strong\u003e\u003c\/span\u003e\u003cspan\u003e1 set x LCR-T7 TFT Transistor Tester\u003c\/span\u003e\u003c\/p\u003e","published_at":"2020-10-26T12:01:26+08:00","created_at":"2020-10-26T12:01:25+08:00","vendor":"DIYMORE","type":"","tags":[],"price":1799,"price_min":1799,"price_max":1799,"available":true,"price_varies":false,"compare_at_price":null,"compare_at_price_min":0,"compare_at_price_max":0,"compare_at_price_varies":false,"variants":[{"id":32639055167559,"title":"Default Title","option1":"Default Title","option2":null,"option3":null,"sku":"052064","requires_shipping":true,"taxable":false,"featured_image":null,"available":true,"name":"LCR-T7 Transistor Tester Meter TFT Diode Triode Capacitance NPN PNP MOSFET","public_title":null,"options":["Default Title"],"price":1799,"weight":0,"compare_at_price":null,"inventory_management":"shopify","barcode":"","requires_selling_plan":false,"selling_plan_allocations":[]}],"images":["\/\/cdn.shopify.com\/s\/files\/1\/0122\/7558\/0986\/products\/052064_1.jpg?v=1603684888","\/\/cdn.shopify.com\/s\/files\/1\/0122\/7558\/0986\/products\/052064_2.jpg?v=1603684888","\/\/cdn.shopify.com\/s\/files\/1\/0122\/7558\/0986\/products\/052064_3.jpg?v=1603684888","\/\/cdn.shopify.com\/s\/files\/1\/0122\/7558\/0986\/products\/052064_4.jpg?v=1603684888","\/\/cdn.shopify.com\/s\/files\/1\/0122\/7558\/0986\/products\/052064_6.jpg?v=1603684888"],"featured_image":"\/\/cdn.shopify.com\/s\/files\/1\/0122\/7558\/0986\/products\/052064_1.jpg?v=1603684888","options":["Title"],"media":[{"alt":null,"id":7642548797511,"position":1,"preview_image":{"aspect_ratio":1.0,"height":1000,"width":1000,"src":"https:\/\/cdn.shopify.com\/s\/files\/1\/0122\/7558\/0986\/products\/052064_1.jpg?v=1603684888"},"aspect_ratio":1.0,"height":1000,"media_type":"image","src":"https:\/\/cdn.shopify.com\/s\/files\/1\/0122\/7558\/0986\/products\/052064_1.jpg?v=1603684888","width":1000},{"alt":null,"id":7642548830279,"position":2,"preview_image":{"aspect_ratio":1.0,"height":1000,"width":1000,"src":"https:\/\/cdn.shopify.com\/s\/files\/1\/0122\/7558\/0986\/products\/052064_2.jpg?v=1603684888"},"aspect_ratio":1.0,"height":1000,"media_type":"image","src":"https:\/\/cdn.shopify.com\/s\/files\/1\/0122\/7558\/0986\/products\/052064_2.jpg?v=1603684888","width":1000},{"alt":null,"id":7642548863047,"position":3,"preview_image":{"aspect_ratio":1.0,"height":1000,"width":1000,"src":"https:\/\/cdn.shopify.com\/s\/files\/1\/0122\/7558\/0986\/products\/052064_3.jpg?v=1603684888"},"aspect_ratio":1.0,"height":1000,"media_type":"image","src":"https:\/\/cdn.shopify.com\/s\/files\/1\/0122\/7558\/0986\/products\/052064_3.jpg?v=1603684888","width":1000},{"alt":null,"id":7642548895815,"position":4,"preview_image":{"aspect_ratio":1.0,"height":1000,"width":1000,"src":"https:\/\/cdn.shopify.com\/s\/files\/1\/0122\/7558\/0986\/products\/052064_4.jpg?v=1603684888"},"aspect_ratio":1.0,"height":1000,"media_type":"image","src":"https:\/\/cdn.shopify.com\/s\/files\/1\/0122\/7558\/0986\/products\/052064_4.jpg?v=1603684888","width":1000},{"alt":null,"id":7642548928583,"position":5,"preview_image":{"aspect_ratio":1.0,"height":1000,"width":1000,"src":"https:\/\/cdn.shopify.com\/s\/files\/1\/0122\/7558\/0986\/products\/052064_6.jpg?v=1603684888"},"aspect_ratio":1.0,"height":1000,"media_type":"image","src":"https:\/\/cdn.shopify.com\/s\/files\/1\/0122\/7558\/0986\/products\/052064_6.jpg?v=1603684888","width":1000}],"requires_selling_plan":false,"selling_plan_groups":[],"content":"\u003cp\u003e\u003cspan\u003e\u003cstrong\u003eDescription:\u003c\/strong\u003e\u003c\/span\u003e\u003c\/p\u003e\n\u003cul\u003e\n\u003cli\u003e\u003cspan\u003e160x128 TFT display\u003c\/span\u003e\u003c\/li\u003e\n\u003cli\u003e\u003cspan\u003eMulti function key\u003c\/span\u003e\u003c\/li\u003e\n\u003cli\u003e\u003cspan\u003eTransistor test area\u003c\/span\u003e\u003c\/li\u003e\n\u003cli\u003e\u003cspan\u003eZener Diode test area\u003c\/span\u003e\u003c\/li\u003e\n\u003cli\u003e\u003cspan\u003eIR receiver window\u003c\/span\u003e\u003c\/li\u003e\n\u003cli\u003e\u003cspan\u003eMicro USB Charging Interface\u003c\/span\u003e\u003c\/li\u003e\n\u003cli\u003e\u003cspan\u003eCharge indicator LED\u003c\/span\u003e\u003c\/li\u003e\n\u003c\/ul\u003e\n\u003cp\u003e\u003cspan\u003e\u003cstrong\u003eFeatures:\u003c\/strong\u003e\u003c\/span\u003e\u003c\/p\u003e\n\u003cul\u003e\n\u003cli\u003e\u003cspan\u003eTFT graphic display Multifunction Tester.\u003c\/span\u003e\u003c\/li\u003e\n\u003c\/ul\u003e\n\u003cp\u003e\u003cspan\u003e\u003cstrong\u003eTransistor Tester\u003c\/strong\u003e\u003c\/span\u003e\u003c\/p\u003e\n\u003cul\u003e\n\u003cli\u003e\u003cspan\u003eAutomatic detection of zener diode 0.01-30V\u003c\/span\u003e\u003c\/li\u003e\n\u003cli\u003e\u003cspan\u003eSelf test with automatic calibration\u003c\/span\u003e\u003c\/li\u003e\n\u003c\/ul\u003e\n\u003cp\u003e\u003cspan\u003e\u003cstrong\u003eIR decoder\u003c\/strong\u003e\u003c\/span\u003e\u003c\/p\u003e\n\u003cul\u003e\n\u003cli\u003e\u003cspan\u003eSupport Hitachi IR coding\u003c\/span\u003e\u003c\/li\u003e\n\u003cli\u003e\u003cspan\u003eIR waveform display\u003c\/span\u003e\u003c\/li\u003e\n\u003cli\u003e\u003cspan\u003eInfrared receiving instruction\u003c\/span\u003e\u003c\/li\u003e\n\u003c\/ul\u003e\n\u003cp\u003e\u003cstrong\u003e\u003cspan\u003eOther:\u003c\/span\u003e\u003c\/strong\u003e\u003cspan\u003e\u003c\/span\u003e\u003cspan\u003e\u003c\/span\u003e\u003c\/p\u003e\n\u003cul\u003e\n\u003cli\u003e\u003cspan\u003eMeasure results using TFT graphic display (160x128)\u003c\/span\u003e\u003c\/li\u003e\n\u003cli\u003e\u003cspan\u003ea key operation\u003c\/span\u003e\u003c\/li\u003e\n\u003cli\u003e\u003cspan\u003eAutomatic shut-off (Settable Timeout)\u003c\/span\u003e\u003c\/li\u003e\n\u003cli\u003e\u003cspan\u003ebuilt-in High-capacity rechargeable Li-Ion battery\u003c\/span\u003e\u003c\/li\u003e\n\u003cli\u003e\u003cspan\u003eDetection of the voltage of the Li-ion-160x128 tft battery\u003c\/span\u003e\u003c\/li\u003e\n\u003cli\u003e\u003cspan\u003eTransistor test area\u003c\/span\u003e\u003c\/li\u003e\n\u003cli\u003e\u003cspan\u003eZener diode test area\u003c\/span\u003e\u003c\/li\u003e\n\u003cli\u003e\u003cspan\u003eIR receiver window\u003c\/span\u003e\u003c\/li\u003e\n\u003cli\u003e\u003cspan\u003e Micro USB Charging Interface\u003c\/span\u003e\u003c\/li\u003e\n\u003cli\u003e\u003cspan\u003eLED charge indicator\u003c\/span\u003e\u003c\/li\u003e\n\u003cli\u003e\u003cspan\u003e\u003cspan lang=\"en\" id=\"result_box\"\u003eChinese and English support\u003c\/span\u003e\u003c\/span\u003e\u003c\/li\u003e\n\u003c\/ul\u003e\n\u003cp\u003e\u003cstrong\u003e\u003cb\u003e\u003cspan\u003eWarning\u003c\/span\u003e\u003c\/b\u003e\u003c\/strong\u003e\u003cspan\u003e: \u003c\/span\u003e\u003c\/p\u003e\n\u003cul\u003e\n\u003cli\u003e\u003cspan\u003eBuilt-in Li-ion Battery, it is strictly prohibited the tester immersed in water, or near a heat source!\u003c\/span\u003e\u003c\/li\u003e\n\u003c\/ul\u003e\n\u003cp\u003e\u003cstrong\u003e\u003cb\u003e\u003cspan\u003eWarning\u003c\/span\u003e\u003c\/b\u003e\u003c\/strong\u003e\u003cspan\u003e:\u003c\/span\u003e\u003c\/p\u003e\n\u003cul\u003e\n\u003cli\u003e\n\u003cspan\u003e For your personal safety, please strictly comply with the use of Li-ion Battery specifications and precautions!\u003c\/span\u003e \u003c\/li\u003e\n\u003c\/ul\u003e\n\u003cp\u003e\u003cstrong\u003e1.1 Key operational definitions:\u003c\/strong\u003e\u003c\/p\u003e\n\u003cul\u003e\n\u003cli\u003eMulti-function key has two actions:\u003c\/li\u003e\n\u003cli\u003el Short press: Press the key and not less than 10 ms, release key within 1.5 seconds\u003c\/li\u003e\n\u003cli\u003el Long press: Press the key more than 1.5 seconds\u003c\/li\u003e\n\u003c\/ul\u003e\n\u003cp\u003e\u003cstrong\u003e1.2 Power on\u003c\/strong\u003e\u003c\/p\u003e\n\u003cul\u003e\n\u003cli\u003eIn the power off state, short press the multifunction key, the tester is turned on and automatically measured.\u003c\/li\u003e\n\u003cli\u003el Power on \u0026amp; measurement interface\u003c\/li\u003e\n\u003c\/ul\u003e\n\u003cp\u003e\u003cspan\u003e\u003cimg height=\"177\" width=\"231\" src=\"https:\/\/pg-cdn-a2.datacaciques.com\/00\/NDAy\/18\/11\/14\/q636xsbriw75j5mo\/af558cb6126c49c0.png\"\u003e\u003c\/span\u003e\u003c\/p\u003e\n\u003cdiv\u003e\u003cstrong\u003e1.3 Detect transistor\u003c\/strong\u003e\u003c\/div\u003e\n\u003cdiv\u003e\n\u003cul\u003e\n\u003cli\u003eIn the power off state or the test is completed, put the test element into the transistor test area of test seat, and press the locking handle, short press the multifunction key, the tester automatically measure, graphical display of measurement results when testing is complete.\u003c\/li\u003e\n\u003cli\u003eWarning: Always be sure to DISCHARGE capacitors before connecting them to the tester! The tester may be damaged before you have switched it on!\u003c\/li\u003e\n\u003cli\u003eWarning: We do not recommend using the tester to measure the battery! The battery voltage must be less than 4.5V, otherwise the tester may be damaged!\u003c\/li\u003e\n\u003cli\u003el Component placement\u003c\/li\u003e\n\u003cli\u003eTest seat are divided into transistors and zener diode test area, detailed in 1.1 Description.\u003c\/li\u003e\n\u003cli\u003el No, unknown, or damaged part\u003c\/li\u003e\n\u003c\/ul\u003e\n\u003c\/div\u003e\n\u003cp\u003e \u003c\/p\u003e\n\u003cp\u003e\u003cspan\u003e\u003cimg src=\"https:\/\/pg-cdn-a2.datacaciques.com\/00\/NDAy\/18\/11\/14\/q636xsbriw75j5mo\/d49fdda7b3d7d99d.png\"\u003e\u003cimg src=\"https:\/\/pg-cdn-a2.datacaciques.com\/00\/NDAy\/18\/11\/14\/q636xsbriw75j5mo\/6f261bd86c399907.png\"\u003e\u003cimg src=\"https:\/\/pg-cdn-a2.datacaciques.com\/00\/NDAy\/18\/11\/14\/q636xsbriw75j5mo\/32078a464eba90fb.png\"\u003e\u003cimg src=\"https:\/\/pg-cdn-a2.datacaciques.com\/00\/NDAy\/18\/11\/14\/q636xsbriw75j5mo\/e13c673323552c77.png\"\u003e\u003c\/span\u003e\u003c\/p\u003e\n\u003cp\u003e\u003cspan\u003e\u003cstrong\u003ePackage Included: \u003c\/strong\u003e\u003c\/span\u003e\u003cspan\u003e1 set x LCR-T7 TFT Transistor Tester\u003c\/span\u003e\u003c\/p\u003e"}

translation missing: en.products.product.regular_price

$7.99

{"id":4894376394823,"title":"LCR-T7 Transistor Tester Meter TFT Diode Triode Capacitance NPN PNP MOSFET","handle":"lcr-t7-transistor-tester-meter-tft-diode-triode-capacitance-npn-pnp-mosfet","description":"\u003cp\u003e\u003cspan\u003e\u003cstrong\u003eDescription:\u003c\/strong\u003e\u003c\/span\u003e\u003c\/p\u003e\n\u003cul\u003e\n\u003cli\u003e\u003cspan\u003e160x128 TFT display\u003c\/span\u003e\u003c\/li\u003e\n\u003cli\u003e\u003cspan\u003eMulti function key\u003c\/span\u003e\u003c\/li\u003e\n\u003cli\u003e\u003cspan\u003eTransistor test area\u003c\/span\u003e\u003c\/li\u003e\n\u003cli\u003e\u003cspan\u003eZener Diode test area\u003c\/span\u003e\u003c\/li\u003e\n\u003cli\u003e\u003cspan\u003eIR receiver window\u003c\/span\u003e\u003c\/li\u003e\n\u003cli\u003e\u003cspan\u003eMicro USB Charging Interface\u003c\/span\u003e\u003c\/li\u003e\n\u003cli\u003e\u003cspan\u003eCharge indicator LED\u003c\/span\u003e\u003c\/li\u003e\n\u003c\/ul\u003e\n\u003cp\u003e\u003cspan\u003e\u003cstrong\u003eFeatures:\u003c\/strong\u003e\u003c\/span\u003e\u003c\/p\u003e\n\u003cul\u003e\n\u003cli\u003e\u003cspan\u003eTFT graphic display Multifunction Tester.\u003c\/span\u003e\u003c\/li\u003e\n\u003c\/ul\u003e\n\u003cp\u003e\u003cspan\u003e\u003cstrong\u003eTransistor Tester\u003c\/strong\u003e\u003c\/span\u003e\u003c\/p\u003e\n\u003cul\u003e\n\u003cli\u003e\u003cspan\u003eAutomatic detection of zener diode 0.01-30V\u003c\/span\u003e\u003c\/li\u003e\n\u003cli\u003e\u003cspan\u003eSelf test with automatic calibration\u003c\/span\u003e\u003c\/li\u003e\n\u003c\/ul\u003e\n\u003cp\u003e\u003cspan\u003e\u003cstrong\u003eIR decoder\u003c\/strong\u003e\u003c\/span\u003e\u003c\/p\u003e\n\u003cul\u003e\n\u003cli\u003e\u003cspan\u003eSupport Hitachi IR coding\u003c\/span\u003e\u003c\/li\u003e\n\u003cli\u003e\u003cspan\u003eIR waveform display\u003c\/span\u003e\u003c\/li\u003e\n\u003cli\u003e\u003cspan\u003eInfrared receiving instruction\u003c\/span\u003e\u003c\/li\u003e\n\u003c\/ul\u003e\n\u003cp\u003e\u003cstrong\u003e\u003cspan\u003eOther:\u003c\/span\u003e\u003c\/strong\u003e\u003cspan\u003e\u003c\/span\u003e\u003cspan\u003e\u003c\/span\u003e\u003c\/p\u003e\n\u003cul\u003e\n\u003cli\u003e\u003cspan\u003eMeasure results using TFT graphic display (160x128)\u003c\/span\u003e\u003c\/li\u003e\n\u003cli\u003e\u003cspan\u003ea key operation\u003c\/span\u003e\u003c\/li\u003e\n\u003cli\u003e\u003cspan\u003eAutomatic shut-off (Settable Timeout)\u003c\/span\u003e\u003c\/li\u003e\n\u003cli\u003e\u003cspan\u003ebuilt-in High-capacity rechargeable Li-Ion battery\u003c\/span\u003e\u003c\/li\u003e\n\u003cli\u003e\u003cspan\u003eDetection of the voltage of the Li-ion-160x128 tft battery\u003c\/span\u003e\u003c\/li\u003e\n\u003cli\u003e\u003cspan\u003eTransistor test area\u003c\/span\u003e\u003c\/li\u003e\n\u003cli\u003e\u003cspan\u003eZener diode test area\u003c\/span\u003e\u003c\/li\u003e\n\u003cli\u003e\u003cspan\u003eIR receiver window\u003c\/span\u003e\u003c\/li\u003e\n\u003cli\u003e\u003cspan\u003e Micro USB Charging Interface\u003c\/span\u003e\u003c\/li\u003e\n\u003cli\u003e\u003cspan\u003eLED charge indicator\u003c\/span\u003e\u003c\/li\u003e\n\u003cli\u003e\u003cspan\u003e\u003cspan lang=\"en\" id=\"result_box\"\u003eChinese and English support\u003c\/span\u003e\u003c\/span\u003e\u003c\/li\u003e\n\u003c\/ul\u003e\n\u003cp\u003e\u003cstrong\u003e\u003cb\u003e\u003cspan\u003eWarning\u003c\/span\u003e\u003c\/b\u003e\u003c\/strong\u003e\u003cspan\u003e: \u003c\/span\u003e\u003c\/p\u003e\n\u003cul\u003e\n\u003cli\u003e\u003cspan\u003eBuilt-in Li-ion Battery, it is strictly prohibited the tester immersed in water, or near a heat source!\u003c\/span\u003e\u003c\/li\u003e\n\u003c\/ul\u003e\n\u003cp\u003e\u003cstrong\u003e\u003cb\u003e\u003cspan\u003eWarning\u003c\/span\u003e\u003c\/b\u003e\u003c\/strong\u003e\u003cspan\u003e:\u003c\/span\u003e\u003c\/p\u003e\n\u003cul\u003e\n\u003cli\u003e\n\u003cspan\u003e For your personal safety, please strictly comply with the use of Li-ion Battery specifications and precautions!\u003c\/span\u003e \u003c\/li\u003e\n\u003c\/ul\u003e\n\u003cp\u003e\u003cstrong\u003e1.1 Key operational definitions:\u003c\/strong\u003e\u003c\/p\u003e\n\u003cul\u003e\n\u003cli\u003eMulti-function key has two actions:\u003c\/li\u003e\n\u003cli\u003el Short press: Press the key and not less than 10 ms, release key within 1.5 seconds\u003c\/li\u003e\n\u003cli\u003el Long press: Press the key more than 1.5 seconds\u003c\/li\u003e\n\u003c\/ul\u003e\n\u003cp\u003e\u003cstrong\u003e1.2 Power on\u003c\/strong\u003e\u003c\/p\u003e\n\u003cul\u003e\n\u003cli\u003eIn the power off state, short press the multifunction key, the tester is turned on and automatically measured.\u003c\/li\u003e\n\u003cli\u003el Power on \u0026amp; measurement interface\u003c\/li\u003e\n\u003c\/ul\u003e\n\u003cp\u003e\u003cspan\u003e\u003cimg height=\"177\" width=\"231\" src=\"https:\/\/pg-cdn-a2.datacaciques.com\/00\/NDAy\/18\/11\/14\/q636xsbriw75j5mo\/af558cb6126c49c0.png\"\u003e\u003c\/span\u003e\u003c\/p\u003e\n\u003cdiv\u003e\u003cstrong\u003e1.3 Detect transistor\u003c\/strong\u003e\u003c\/div\u003e\n\u003cdiv\u003e\n\u003cul\u003e\n\u003cli\u003eIn the power off state or the test is completed, put the test element into the transistor test area of test seat, and press the locking handle, short press the multifunction key, the tester automatically measure, graphical display of measurement results when testing is complete.\u003c\/li\u003e\n\u003cli\u003eWarning: Always be sure to DISCHARGE capacitors before connecting them to the tester! The tester may be damaged before you have switched it on!\u003c\/li\u003e\n\u003cli\u003eWarning: We do not recommend using the tester to measure the battery! The battery voltage must be less than 4.5V, otherwise the tester may be damaged!\u003c\/li\u003e\n\u003cli\u003el Component placement\u003c\/li\u003e\n\u003cli\u003eTest seat are divided into transistors and zener diode test area, detailed in 1.1 Description.\u003c\/li\u003e\n\u003cli\u003el No, unknown, or damaged part\u003c\/li\u003e\n\u003c\/ul\u003e\n\u003c\/div\u003e\n\u003cp\u003e \u003c\/p\u003e\n\u003cp\u003e\u003cspan\u003e\u003cimg src=\"https:\/\/pg-cdn-a2.datacaciques.com\/00\/NDAy\/18\/11\/14\/q636xsbriw75j5mo\/d49fdda7b3d7d99d.png\"\u003e\u003cimg src=\"https:\/\/pg-cdn-a2.datacaciques.com\/00\/NDAy\/18\/11\/14\/q636xsbriw75j5mo\/6f261bd86c399907.png\"\u003e\u003cimg src=\"https:\/\/pg-cdn-a2.datacaciques.com\/00\/NDAy\/18\/11\/14\/q636xsbriw75j5mo\/32078a464eba90fb.png\"\u003e\u003cimg src=\"https:\/\/pg-cdn-a2.datacaciques.com\/00\/NDAy\/18\/11\/14\/q636xsbriw75j5mo\/e13c673323552c77.png\"\u003e\u003c\/span\u003e\u003c\/p\u003e\n\u003cp\u003e\u003cspan\u003e\u003cstrong\u003ePackage Included: \u003c\/strong\u003e\u003c\/span\u003e\u003cspan\u003e1 set x LCR-T7 TFT Transistor Tester\u003c\/span\u003e\u003c\/p\u003e","published_at":"2020-10-26T12:01:26+08:00","created_at":"2020-10-26T12:01:25+08:00","vendor":"DIYMORE","type":"","tags":[],"price":1799,"price_min":1799,"price_max":1799,"available":true,"price_varies":false,"compare_at_price":null,"compare_at_price_min":0,"compare_at_price_max":0,"compare_at_price_varies":false,"variants":[{"id":32639055167559,"title":"Default Title","option1":"Default Title","option2":null,"option3":null,"sku":"052064","requires_shipping":true,"taxable":false,"featured_image":null,"available":true,"name":"LCR-T7 Transistor Tester Meter TFT Diode Triode Capacitance NPN PNP MOSFET","public_title":null,"options":["Default Title"],"price":1799,"weight":0,"compare_at_price":null,"inventory_management":"shopify","barcode":"","requires_selling_plan":false,"selling_plan_allocations":[]}],"images":["\/\/cdn.shopify.com\/s\/files\/1\/0122\/7558\/0986\/products\/052064_1.jpg?v=1603684888","\/\/cdn.shopify.com\/s\/files\/1\/0122\/7558\/0986\/products\/052064_2.jpg?v=1603684888","\/\/cdn.shopify.com\/s\/files\/1\/0122\/7558\/0986\/products\/052064_3.jpg?v=1603684888","\/\/cdn.shopify.com\/s\/files\/1\/0122\/7558\/0986\/products\/052064_4.jpg?v=1603684888","\/\/cdn.shopify.com\/s\/files\/1\/0122\/7558\/0986\/products\/052064_6.jpg?v=1603684888"],"featured_image":"\/\/cdn.shopify.com\/s\/files\/1\/0122\/7558\/0986\/products\/052064_1.jpg?v=1603684888","options":["Title"],"media":[{"alt":null,"id":7642548797511,"position":1,"preview_image":{"aspect_ratio":1.0,"height":1000,"width":1000,"src":"https:\/\/cdn.shopify.com\/s\/files\/1\/0122\/7558\/0986\/products\/052064_1.jpg?v=1603684888"},"aspect_ratio":1.0,"height":1000,"media_type":"image","src":"https:\/\/cdn.shopify.com\/s\/files\/1\/0122\/7558\/0986\/products\/052064_1.jpg?v=1603684888","width":1000},{"alt":null,"id":7642548830279,"position":2,"preview_image":{"aspect_ratio":1.0,"height":1000,"width":1000,"src":"https:\/\/cdn.shopify.com\/s\/files\/1\/0122\/7558\/0986\/products\/052064_2.jpg?v=1603684888"},"aspect_ratio":1.0,"height":1000,"media_type":"image","src":"https:\/\/cdn.shopify.com\/s\/files\/1\/0122\/7558\/0986\/products\/052064_2.jpg?v=1603684888","width":1000},{"alt":null,"id":7642548863047,"position":3,"preview_image":{"aspect_ratio":1.0,"height":1000,"width":1000,"src":"https:\/\/cdn.shopify.com\/s\/files\/1\/0122\/7558\/0986\/products\/052064_3.jpg?v=1603684888"},"aspect_ratio":1.0,"height":1000,"media_type":"image","src":"https:\/\/cdn.shopify.com\/s\/files\/1\/0122\/7558\/0986\/products\/052064_3.jpg?v=1603684888","width":1000},{"alt":null,"id":7642548895815,"position":4,"preview_image":{"aspect_ratio":1.0,"height":1000,"width":1000,"src":"https:\/\/cdn.shopify.com\/s\/files\/1\/0122\/7558\/0986\/products\/052064_4.jpg?v=1603684888"},"aspect_ratio":1.0,"height":1000,"media_type":"image","src":"https:\/\/cdn.shopify.com\/s\/files\/1\/0122\/7558\/0986\/products\/052064_4.jpg?v=1603684888","width":1000},{"alt":null,"id":7642548928583,"position":5,"preview_image":{"aspect_ratio":1.0,"height":1000,"width":1000,"src":"https:\/\/cdn.shopify.com\/s\/files\/1\/0122\/7558\/0986\/products\/052064_6.jpg?v=1603684888"},"aspect_ratio":1.0,"height":1000,"media_type":"image","src":"https:\/\/cdn.shopify.com\/s\/files\/1\/0122\/7558\/0986\/products\/052064_6.jpg?v=1603684888","width":1000}],"requires_selling_plan":false,"selling_plan_groups":[],"content":"\u003cp\u003e\u003cspan\u003e\u003cstrong\u003eDescription:\u003c\/strong\u003e\u003c\/span\u003e\u003c\/p\u003e\n\u003cul\u003e\n\u003cli\u003e\u003cspan\u003e160x128 TFT display\u003c\/span\u003e\u003c\/li\u003e\n\u003cli\u003e\u003cspan\u003eMulti function key\u003c\/span\u003e\u003c\/li\u003e\n\u003cli\u003e\u003cspan\u003eTransistor test area\u003c\/span\u003e\u003c\/li\u003e\n\u003cli\u003e\u003cspan\u003eZener Diode test area\u003c\/span\u003e\u003c\/li\u003e\n\u003cli\u003e\u003cspan\u003eIR receiver window\u003c\/span\u003e\u003c\/li\u003e\n\u003cli\u003e\u003cspan\u003eMicro USB Charging Interface\u003c\/span\u003e\u003c\/li\u003e\n\u003cli\u003e\u003cspan\u003eCharge indicator LED\u003c\/span\u003e\u003c\/li\u003e\n\u003c\/ul\u003e\n\u003cp\u003e\u003cspan\u003e\u003cstrong\u003eFeatures:\u003c\/strong\u003e\u003c\/span\u003e\u003c\/p\u003e\n\u003cul\u003e\n\u003cli\u003e\u003cspan\u003eTFT graphic display Multifunction Tester.\u003c\/span\u003e\u003c\/li\u003e\n\u003c\/ul\u003e\n\u003cp\u003e\u003cspan\u003e\u003cstrong\u003eTransistor Tester\u003c\/strong\u003e\u003c\/span\u003e\u003c\/p\u003e\n\u003cul\u003e\n\u003cli\u003e\u003cspan\u003eAutomatic detection of zener diode 0.01-30V\u003c\/span\u003e\u003c\/li\u003e\n\u003cli\u003e\u003cspan\u003eSelf test with automatic calibration\u003c\/span\u003e\u003c\/li\u003e\n\u003c\/ul\u003e\n\u003cp\u003e\u003cspan\u003e\u003cstrong\u003eIR decoder\u003c\/strong\u003e\u003c\/span\u003e\u003c\/p\u003e\n\u003cul\u003e\n\u003cli\u003e\u003cspan\u003eSupport Hitachi IR coding\u003c\/span\u003e\u003c\/li\u003e\n\u003cli\u003e\u003cspan\u003eIR waveform display\u003c\/span\u003e\u003c\/li\u003e\n\u003cli\u003e\u003cspan\u003eInfrared receiving instruction\u003c\/span\u003e\u003c\/li\u003e\n\u003c\/ul\u003e\n\u003cp\u003e\u003cstrong\u003e\u003cspan\u003eOther:\u003c\/span\u003e\u003c\/strong\u003e\u003cspan\u003e\u003c\/span\u003e\u003cspan\u003e\u003c\/span\u003e\u003c\/p\u003e\n\u003cul\u003e\n\u003cli\u003e\u003cspan\u003eMeasure results using TFT graphic display (160x128)\u003c\/span\u003e\u003c\/li\u003e\n\u003cli\u003e\u003cspan\u003ea key operation\u003c\/span\u003e\u003c\/li\u003e\n\u003cli\u003e\u003cspan\u003eAutomatic shut-off (Settable Timeout)\u003c\/span\u003e\u003c\/li\u003e\n\u003cli\u003e\u003cspan\u003ebuilt-in High-capacity rechargeable Li-Ion battery\u003c\/span\u003e\u003c\/li\u003e\n\u003cli\u003e\u003cspan\u003eDetection of the voltage of the Li-ion-160x128 tft battery\u003c\/span\u003e\u003c\/li\u003e\n\u003cli\u003e\u003cspan\u003eTransistor test area\u003c\/span\u003e\u003c\/li\u003e\n\u003cli\u003e\u003cspan\u003eZener diode test area\u003c\/span\u003e\u003c\/li\u003e\n\u003cli\u003e\u003cspan\u003eIR receiver window\u003c\/span\u003e\u003c\/li\u003e\n\u003cli\u003e\u003cspan\u003e Micro USB Charging Interface\u003c\/span\u003e\u003c\/li\u003e\n\u003cli\u003e\u003cspan\u003eLED charge indicator\u003c\/span\u003e\u003c\/li\u003e\n\u003cli\u003e\u003cspan\u003e\u003cspan lang=\"en\" id=\"result_box\"\u003eChinese and English support\u003c\/span\u003e\u003c\/span\u003e\u003c\/li\u003e\n\u003c\/ul\u003e\n\u003cp\u003e\u003cstrong\u003e\u003cb\u003e\u003cspan\u003eWarning\u003c\/span\u003e\u003c\/b\u003e\u003c\/strong\u003e\u003cspan\u003e: \u003c\/span\u003e\u003c\/p\u003e\n\u003cul\u003e\n\u003cli\u003e\u003cspan\u003eBuilt-in Li-ion Battery, it is strictly prohibited the tester immersed in water, or near a heat source!\u003c\/span\u003e\u003c\/li\u003e\n\u003c\/ul\u003e\n\u003cp\u003e\u003cstrong\u003e\u003cb\u003e\u003cspan\u003eWarning\u003c\/span\u003e\u003c\/b\u003e\u003c\/strong\u003e\u003cspan\u003e:\u003c\/span\u003e\u003c\/p\u003e\n\u003cul\u003e\n\u003cli\u003e\n\u003cspan\u003e For your personal safety, please strictly comply with the use of Li-ion Battery specifications and precautions!\u003c\/span\u003e \u003c\/li\u003e\n\u003c\/ul\u003e\n\u003cp\u003e\u003cstrong\u003e1.1 Key operational definitions:\u003c\/strong\u003e\u003c\/p\u003e\n\u003cul\u003e\n\u003cli\u003eMulti-function key has two actions:\u003c\/li\u003e\n\u003cli\u003el Short press: Press the key and not less than 10 ms, release key within 1.5 seconds\u003c\/li\u003e\n\u003cli\u003el Long press: Press the key more than 1.5 seconds\u003c\/li\u003e\n\u003c\/ul\u003e\n\u003cp\u003e\u003cstrong\u003e1.2 Power on\u003c\/strong\u003e\u003c\/p\u003e\n\u003cul\u003e\n\u003cli\u003eIn the power off state, short press the multifunction key, the tester is turned on and automatically measured.\u003c\/li\u003e\n\u003cli\u003el Power on \u0026amp; measurement interface\u003c\/li\u003e\n\u003c\/ul\u003e\n\u003cp\u003e\u003cspan\u003e\u003cimg height=\"177\" width=\"231\" src=\"https:\/\/pg-cdn-a2.datacaciques.com\/00\/NDAy\/18\/11\/14\/q636xsbriw75j5mo\/af558cb6126c49c0.png\"\u003e\u003c\/span\u003e\u003c\/p\u003e\n\u003cdiv\u003e\u003cstrong\u003e1.3 Detect transistor\u003c\/strong\u003e\u003c\/div\u003e\n\u003cdiv\u003e\n\u003cul\u003e\n\u003cli\u003eIn the power off state or the test is completed, put the test element into the transistor test area of test seat, and press the locking handle, short press the multifunction key, the tester automatically measure, graphical display of measurement results when testing is complete.\u003c\/li\u003e\n\u003cli\u003eWarning: Always be sure to DISCHARGE capacitors before connecting them to the tester! The tester may be damaged before you have switched it on!\u003c\/li\u003e\n\u003cli\u003eWarning: We do not recommend using the tester to measure the battery! The battery voltage must be less than 4.5V, otherwise the tester may be damaged!\u003c\/li\u003e\n\u003cli\u003el Component placement\u003c\/li\u003e\n\u003cli\u003eTest seat are divided into transistors and zener diode test area, detailed in 1.1 Description.\u003c\/li\u003e\n\u003cli\u003el No, unknown, or damaged part\u003c\/li\u003e\n\u003c\/ul\u003e\n\u003c\/div\u003e\n\u003cp\u003e \u003c\/p\u003e\n\u003cp\u003e\u003cspan\u003e\u003cimg src=\"https:\/\/pg-cdn-a2.datacaciques.com\/00\/NDAy\/18\/11\/14\/q636xsbriw75j5mo\/d49fdda7b3d7d99d.png\"\u003e\u003cimg src=\"https:\/\/pg-cdn-a2.datacaciques.com\/00\/NDAy\/18\/11\/14\/q636xsbriw75j5mo\/6f261bd86c399907.png\"\u003e\u003cimg src=\"https:\/\/pg-cdn-a2.datacaciques.com\/00\/NDAy\/18\/11\/14\/q636xsbriw75j5mo\/32078a464eba90fb.png\"\u003e\u003cimg src=\"https:\/\/pg-cdn-a2.datacaciques.com\/00\/NDAy\/18\/11\/14\/q636xsbriw75j5mo\/e13c673323552c77.png\"\u003e\u003c\/span\u003e\u003c\/p\u003e\n\u003cp\u003e\u003cspan\u003e\u003cstrong\u003ePackage Included: \u003c\/strong\u003e\u003c\/span\u003e\u003cspan\u003e1 set x LCR-T7 TFT Transistor Tester\u003c\/span\u003e\u003c\/p\u003e"}

translation missing: en.products.product.regular_price

$5.99

{"id":4894376394823,"title":"LCR-T7 Transistor Tester Meter TFT Diode Triode Capacitance NPN PNP MOSFET","handle":"lcr-t7-transistor-tester-meter-tft-diode-triode-capacitance-npn-pnp-mosfet","description":"\u003cp\u003e\u003cspan\u003e\u003cstrong\u003eDescription:\u003c\/strong\u003e\u003c\/span\u003e\u003c\/p\u003e\n\u003cul\u003e\n\u003cli\u003e\u003cspan\u003e160x128 TFT display\u003c\/span\u003e\u003c\/li\u003e\n\u003cli\u003e\u003cspan\u003eMulti function key\u003c\/span\u003e\u003c\/li\u003e\n\u003cli\u003e\u003cspan\u003eTransistor test area\u003c\/span\u003e\u003c\/li\u003e\n\u003cli\u003e\u003cspan\u003eZener Diode test area\u003c\/span\u003e\u003c\/li\u003e\n\u003cli\u003e\u003cspan\u003eIR receiver window\u003c\/span\u003e\u003c\/li\u003e\n\u003cli\u003e\u003cspan\u003eMicro USB Charging Interface\u003c\/span\u003e\u003c\/li\u003e\n\u003cli\u003e\u003cspan\u003eCharge indicator LED\u003c\/span\u003e\u003c\/li\u003e\n\u003c\/ul\u003e\n\u003cp\u003e\u003cspan\u003e\u003cstrong\u003eFeatures:\u003c\/strong\u003e\u003c\/span\u003e\u003c\/p\u003e\n\u003cul\u003e\n\u003cli\u003e\u003cspan\u003eTFT graphic display Multifunction Tester.\u003c\/span\u003e\u003c\/li\u003e\n\u003c\/ul\u003e\n\u003cp\u003e\u003cspan\u003e\u003cstrong\u003eTransistor Tester\u003c\/strong\u003e\u003c\/span\u003e\u003c\/p\u003e\n\u003cul\u003e\n\u003cli\u003e\u003cspan\u003eAutomatic detection of zener diode 0.01-30V\u003c\/span\u003e\u003c\/li\u003e\n\u003cli\u003e\u003cspan\u003eSelf test with automatic calibration\u003c\/span\u003e\u003c\/li\u003e\n\u003c\/ul\u003e\n\u003cp\u003e\u003cspan\u003e\u003cstrong\u003eIR decoder\u003c\/strong\u003e\u003c\/span\u003e\u003c\/p\u003e\n\u003cul\u003e\n\u003cli\u003e\u003cspan\u003eSupport Hitachi IR coding\u003c\/span\u003e\u003c\/li\u003e\n\u003cli\u003e\u003cspan\u003eIR waveform display\u003c\/span\u003e\u003c\/li\u003e\n\u003cli\u003e\u003cspan\u003eInfrared receiving instruction\u003c\/span\u003e\u003c\/li\u003e\n\u003c\/ul\u003e\n\u003cp\u003e\u003cstrong\u003e\u003cspan\u003eOther:\u003c\/span\u003e\u003c\/strong\u003e\u003cspan\u003e\u003c\/span\u003e\u003cspan\u003e\u003c\/span\u003e\u003c\/p\u003e\n\u003cul\u003e\n\u003cli\u003e\u003cspan\u003eMeasure results using TFT graphic display (160x128)\u003c\/span\u003e\u003c\/li\u003e\n\u003cli\u003e\u003cspan\u003ea key operation\u003c\/span\u003e\u003c\/li\u003e\n\u003cli\u003e\u003cspan\u003eAutomatic shut-off (Settable Timeout)\u003c\/span\u003e\u003c\/li\u003e\n\u003cli\u003e\u003cspan\u003ebuilt-in High-capacity rechargeable Li-Ion battery\u003c\/span\u003e\u003c\/li\u003e\n\u003cli\u003e\u003cspan\u003eDetection of the voltage of the Li-ion-160x128 tft battery\u003c\/span\u003e\u003c\/li\u003e\n\u003cli\u003e\u003cspan\u003eTransistor test area\u003c\/span\u003e\u003c\/li\u003e\n\u003cli\u003e\u003cspan\u003eZener diode test area\u003c\/span\u003e\u003c\/li\u003e\n\u003cli\u003e\u003cspan\u003eIR receiver window\u003c\/span\u003e\u003c\/li\u003e\n\u003cli\u003e\u003cspan\u003e Micro USB Charging Interface\u003c\/span\u003e\u003c\/li\u003e\n\u003cli\u003e\u003cspan\u003eLED charge indicator\u003c\/span\u003e\u003c\/li\u003e\n\u003cli\u003e\u003cspan\u003e\u003cspan lang=\"en\" id=\"result_box\"\u003eChinese and English support\u003c\/span\u003e\u003c\/span\u003e\u003c\/li\u003e\n\u003c\/ul\u003e\n\u003cp\u003e\u003cstrong\u003e\u003cb\u003e\u003cspan\u003eWarning\u003c\/span\u003e\u003c\/b\u003e\u003c\/strong\u003e\u003cspan\u003e: \u003c\/span\u003e\u003c\/p\u003e\n\u003cul\u003e\n\u003cli\u003e\u003cspan\u003eBuilt-in Li-ion Battery, it is strictly prohibited the tester immersed in water, or near a heat source!\u003c\/span\u003e\u003c\/li\u003e\n\u003c\/ul\u003e\n\u003cp\u003e\u003cstrong\u003e\u003cb\u003e\u003cspan\u003eWarning\u003c\/span\u003e\u003c\/b\u003e\u003c\/strong\u003e\u003cspan\u003e:\u003c\/span\u003e\u003c\/p\u003e\n\u003cul\u003e\n\u003cli\u003e\n\u003cspan\u003e For your personal safety, please strictly comply with the use of Li-ion Battery specifications and precautions!\u003c\/span\u003e \u003c\/li\u003e\n\u003c\/ul\u003e\n\u003cp\u003e\u003cstrong\u003e1.1 Key operational definitions:\u003c\/strong\u003e\u003c\/p\u003e\n\u003cul\u003e\n\u003cli\u003eMulti-function key has two actions:\u003c\/li\u003e\n\u003cli\u003el Short press: Press the key and not less than 10 ms, release key within 1.5 seconds\u003c\/li\u003e\n\u003cli\u003el Long press: Press the key more than 1.5 seconds\u003c\/li\u003e\n\u003c\/ul\u003e\n\u003cp\u003e\u003cstrong\u003e1.2 Power on\u003c\/strong\u003e\u003c\/p\u003e\n\u003cul\u003e\n\u003cli\u003eIn the power off state, short press the multifunction key, the tester is turned on and automatically measured.\u003c\/li\u003e\n\u003cli\u003el Power on \u0026amp; measurement interface\u003c\/li\u003e\n\u003c\/ul\u003e\n\u003cp\u003e\u003cspan\u003e\u003cimg height=\"177\" width=\"231\" src=\"https:\/\/pg-cdn-a2.datacaciques.com\/00\/NDAy\/18\/11\/14\/q636xsbriw75j5mo\/af558cb6126c49c0.png\"\u003e\u003c\/span\u003e\u003c\/p\u003e\n\u003cdiv\u003e\u003cstrong\u003e1.3 Detect transistor\u003c\/strong\u003e\u003c\/div\u003e\n\u003cdiv\u003e\n\u003cul\u003e\n\u003cli\u003eIn the power off state or the test is completed, put the test element into the transistor test area of test seat, and press the locking handle, short press the multifunction key, the tester automatically measure, graphical display of measurement results when testing is complete.\u003c\/li\u003e\n\u003cli\u003eWarning: Always be sure to DISCHARGE capacitors before connecting them to the tester! The tester may be damaged before you have switched it on!\u003c\/li\u003e\n\u003cli\u003eWarning: We do not recommend using the tester to measure the battery! The battery voltage must be less than 4.5V, otherwise the tester may be damaged!\u003c\/li\u003e\n\u003cli\u003el Component placement\u003c\/li\u003e\n\u003cli\u003eTest seat are divided into transistors and zener diode test area, detailed in 1.1 Description.\u003c\/li\u003e\n\u003cli\u003el No, unknown, or damaged part\u003c\/li\u003e\n\u003c\/ul\u003e\n\u003c\/div\u003e\n\u003cp\u003e \u003c\/p\u003e\n\u003cp\u003e\u003cspan\u003e\u003cimg src=\"https:\/\/pg-cdn-a2.datacaciques.com\/00\/NDAy\/18\/11\/14\/q636xsbriw75j5mo\/d49fdda7b3d7d99d.png\"\u003e\u003cimg src=\"https:\/\/pg-cdn-a2.datacaciques.com\/00\/NDAy\/18\/11\/14\/q636xsbriw75j5mo\/6f261bd86c399907.png\"\u003e\u003cimg src=\"https:\/\/pg-cdn-a2.datacaciques.com\/00\/NDAy\/18\/11\/14\/q636xsbriw75j5mo\/32078a464eba90fb.png\"\u003e\u003cimg src=\"https:\/\/pg-cdn-a2.datacaciques.com\/00\/NDAy\/18\/11\/14\/q636xsbriw75j5mo\/e13c673323552c77.png\"\u003e\u003c\/span\u003e\u003c\/p\u003e\n\u003cp\u003e\u003cspan\u003e\u003cstrong\u003ePackage Included: \u003c\/strong\u003e\u003c\/span\u003e\u003cspan\u003e1 set x LCR-T7 TFT Transistor Tester\u003c\/span\u003e\u003c\/p\u003e","published_at":"2020-10-26T12:01:26+08:00","created_at":"2020-10-26T12:01:25+08:00","vendor":"DIYMORE","type":"","tags":[],"price":1799,"price_min":1799,"price_max":1799,"available":true,"price_varies":false,"compare_at_price":null,"compare_at_price_min":0,"compare_at_price_max":0,"compare_at_price_varies":false,"variants":[{"id":32639055167559,"title":"Default Title","option1":"Default Title","option2":null,"option3":null,"sku":"052064","requires_shipping":true,"taxable":false,"featured_image":null,"available":true,"name":"LCR-T7 Transistor Tester Meter TFT Diode Triode Capacitance NPN PNP MOSFET","public_title":null,"options":["Default Title"],"price":1799,"weight":0,"compare_at_price":null,"inventory_management":"shopify","barcode":"","requires_selling_plan":false,"selling_plan_allocations":[]}],"images":["\/\/cdn.shopify.com\/s\/files\/1\/0122\/7558\/0986\/products\/052064_1.jpg?v=1603684888","\/\/cdn.shopify.com\/s\/files\/1\/0122\/7558\/0986\/products\/052064_2.jpg?v=1603684888","\/\/cdn.shopify.com\/s\/files\/1\/0122\/7558\/0986\/products\/052064_3.jpg?v=1603684888","\/\/cdn.shopify.com\/s\/files\/1\/0122\/7558\/0986\/products\/052064_4.jpg?v=1603684888","\/\/cdn.shopify.com\/s\/files\/1\/0122\/7558\/0986\/products\/052064_6.jpg?v=1603684888"],"featured_image":"\/\/cdn.shopify.com\/s\/files\/1\/0122\/7558\/0986\/products\/052064_1.jpg?v=1603684888","options":["Title"],"media":[{"alt":null,"id":7642548797511,"position":1,"preview_image":{"aspect_ratio":1.0,"height":1000,"width":1000,"src":"https:\/\/cdn.shopify.com\/s\/files\/1\/0122\/7558\/0986\/products\/052064_1.jpg?v=1603684888"},"aspect_ratio":1.0,"height":1000,"media_type":"image","src":"https:\/\/cdn.shopify.com\/s\/files\/1\/0122\/7558\/0986\/products\/052064_1.jpg?v=1603684888","width":1000},{"alt":null,"id":7642548830279,"position":2,"preview_image":{"aspect_ratio":1.0,"height":1000,"width":1000,"src":"https:\/\/cdn.shopify.com\/s\/files\/1\/0122\/7558\/0986\/products\/052064_2.jpg?v=1603684888"},"aspect_ratio":1.0,"height":1000,"media_type":"image","src":"https:\/\/cdn.shopify.com\/s\/files\/1\/0122\/7558\/0986\/products\/052064_2.jpg?v=1603684888","width":1000},{"alt":null,"id":7642548863047,"position":3,"preview_image":{"aspect_ratio":1.0,"height":1000,"width":1000,"src":"https:\/\/cdn.shopify.com\/s\/files\/1\/0122\/7558\/0986\/products\/052064_3.jpg?v=1603684888"},"aspect_ratio":1.0,"height":1000,"media_type":"image","src":"https:\/\/cdn.shopify.com\/s\/files\/1\/0122\/7558\/0986\/products\/052064_3.jpg?v=1603684888","width":1000},{"alt":null,"id":7642548895815,"position":4,"preview_image":{"aspect_ratio":1.0,"height":1000,"width":1000,"src":"https:\/\/cdn.shopify.com\/s\/files\/1\/0122\/7558\/0986\/products\/052064_4.jpg?v=1603684888"},"aspect_ratio":1.0,"height":1000,"media_type":"image","src":"https:\/\/cdn.shopify.com\/s\/files\/1\/0122\/7558\/0986\/products\/052064_4.jpg?v=1603684888","width":1000},{"alt":null,"id":7642548928583,"position":5,"preview_image":{"aspect_ratio":1.0,"height":1000,"width":1000,"src":"https:\/\/cdn.shopify.com\/s\/files\/1\/0122\/7558\/0986\/products\/052064_6.jpg?v=1603684888"},"aspect_ratio":1.0,"height":1000,"media_type":"image","src":"https:\/\/cdn.shopify.com\/s\/files\/1\/0122\/7558\/0986\/products\/052064_6.jpg?v=1603684888","width":1000}],"requires_selling_plan":false,"selling_plan_groups":[],"content":"\u003cp\u003e\u003cspan\u003e\u003cstrong\u003eDescription:\u003c\/strong\u003e\u003c\/span\u003e\u003c\/p\u003e\n\u003cul\u003e\n\u003cli\u003e\u003cspan\u003e160x128 TFT display\u003c\/span\u003e\u003c\/li\u003e\n\u003cli\u003e\u003cspan\u003eMulti function key\u003c\/span\u003e\u003c\/li\u003e\n\u003cli\u003e\u003cspan\u003eTransistor test area\u003c\/span\u003e\u003c\/li\u003e\n\u003cli\u003e\u003cspan\u003eZener Diode test area\u003c\/span\u003e\u003c\/li\u003e\n\u003cli\u003e\u003cspan\u003eIR receiver window\u003c\/span\u003e\u003c\/li\u003e\n\u003cli\u003e\u003cspan\u003eMicro USB Charging Interface\u003c\/span\u003e\u003c\/li\u003e\n\u003cli\u003e\u003cspan\u003eCharge indicator LED\u003c\/span\u003e\u003c\/li\u003e\n\u003c\/ul\u003e\n\u003cp\u003e\u003cspan\u003e\u003cstrong\u003eFeatures:\u003c\/strong\u003e\u003c\/span\u003e\u003c\/p\u003e\n\u003cul\u003e\n\u003cli\u003e\u003cspan\u003eTFT graphic display Multifunction Tester.\u003c\/span\u003e\u003c\/li\u003e\n\u003c\/ul\u003e\n\u003cp\u003e\u003cspan\u003e\u003cstrong\u003eTransistor Tester\u003c\/strong\u003e\u003c\/span\u003e\u003c\/p\u003e\n\u003cul\u003e\n\u003cli\u003e\u003cspan\u003eAutomatic detection of zener diode 0.01-30V\u003c\/span\u003e\u003c\/li\u003e\n\u003cli\u003e\u003cspan\u003eSelf test with automatic calibration\u003c\/span\u003e\u003c\/li\u003e\n\u003c\/ul\u003e\n\u003cp\u003e\u003cspan\u003e\u003cstrong\u003eIR decoder\u003c\/strong\u003e\u003c\/span\u003e\u003c\/p\u003e\n\u003cul\u003e\n\u003cli\u003e\u003cspan\u003eSupport Hitachi IR coding\u003c\/span\u003e\u003c\/li\u003e\n\u003cli\u003e\u003cspan\u003eIR waveform display\u003c\/span\u003e\u003c\/li\u003e\n\u003cli\u003e\u003cspan\u003eInfrared receiving instruction\u003c\/span\u003e\u003c\/li\u003e\n\u003c\/ul\u003e\n\u003cp\u003e\u003cstrong\u003e\u003cspan\u003eOther:\u003c\/span\u003e\u003c\/strong\u003e\u003cspan\u003e\u003c\/span\u003e\u003cspan\u003e\u003c\/span\u003e\u003c\/p\u003e\n\u003cul\u003e\n\u003cli\u003e\u003cspan\u003eMeasure results using TFT graphic display (160x128)\u003c\/span\u003e\u003c\/li\u003e\n\u003cli\u003e\u003cspan\u003ea key operation\u003c\/span\u003e\u003c\/li\u003e\n\u003cli\u003e\u003cspan\u003eAutomatic shut-off (Settable Timeout)\u003c\/span\u003e\u003c\/li\u003e\n\u003cli\u003e\u003cspan\u003ebuilt-in High-capacity rechargeable Li-Ion battery\u003c\/span\u003e\u003c\/li\u003e\n\u003cli\u003e\u003cspan\u003eDetection of the voltage of the Li-ion-160x128 tft battery\u003c\/span\u003e\u003c\/li\u003e\n\u003cli\u003e\u003cspan\u003eTransistor test area\u003c\/span\u003e\u003c\/li\u003e\n\u003cli\u003e\u003cspan\u003eZener diode test area\u003c\/span\u003e\u003c\/li\u003e\n\u003cli\u003e\u003cspan\u003eIR receiver window\u003c\/span\u003e\u003c\/li\u003e\n\u003cli\u003e\u003cspan\u003e Micro USB Charging Interface\u003c\/span\u003e\u003c\/li\u003e\n\u003cli\u003e\u003cspan\u003eLED charge indicator\u003c\/span\u003e\u003c\/li\u003e\n\u003cli\u003e\u003cspan\u003e\u003cspan lang=\"en\" id=\"result_box\"\u003eChinese and English support\u003c\/span\u003e\u003c\/span\u003e\u003c\/li\u003e\n\u003c\/ul\u003e\n\u003cp\u003e\u003cstrong\u003e\u003cb\u003e\u003cspan\u003eWarning\u003c\/span\u003e\u003c\/b\u003e\u003c\/strong\u003e\u003cspan\u003e: \u003c\/span\u003e\u003c\/p\u003e\n\u003cul\u003e\n\u003cli\u003e\u003cspan\u003eBuilt-in Li-ion Battery, it is strictly prohibited the tester immersed in water, or near a heat source!\u003c\/span\u003e\u003c\/li\u003e\n\u003c\/ul\u003e\n\u003cp\u003e\u003cstrong\u003e\u003cb\u003e\u003cspan\u003eWarning\u003c\/span\u003e\u003c\/b\u003e\u003c\/strong\u003e\u003cspan\u003e:\u003c\/span\u003e\u003c\/p\u003e\n\u003cul\u003e\n\u003cli\u003e\n\u003cspan\u003e For your personal safety, please strictly comply with the use of Li-ion Battery specifications and precautions!\u003c\/span\u003e \u003c\/li\u003e\n\u003c\/ul\u003e\n\u003cp\u003e\u003cstrong\u003e1.1 Key operational definitions:\u003c\/strong\u003e\u003c\/p\u003e\n\u003cul\u003e\n\u003cli\u003eMulti-function key has two actions:\u003c\/li\u003e\n\u003cli\u003el Short press: Press the key and not less than 10 ms, release key within 1.5 seconds\u003c\/li\u003e\n\u003cli\u003el Long press: Press the key more than 1.5 seconds\u003c\/li\u003e\n\u003c\/ul\u003e\n\u003cp\u003e\u003cstrong\u003e1.2 Power on\u003c\/strong\u003e\u003c\/p\u003e\n\u003cul\u003e\n\u003cli\u003eIn the power off state, short press the multifunction key, the tester is turned on and automatically measured.\u003c\/li\u003e\n\u003cli\u003el Power on \u0026amp; measurement interface\u003c\/li\u003e\n\u003c\/ul\u003e\n\u003cp\u003e\u003cspan\u003e\u003cimg height=\"177\" width=\"231\" src=\"https:\/\/pg-cdn-a2.datacaciques.com\/00\/NDAy\/18\/11\/14\/q636xsbriw75j5mo\/af558cb6126c49c0.png\"\u003e\u003c\/span\u003e\u003c\/p\u003e\n\u003cdiv\u003e\u003cstrong\u003e1.3 Detect transistor\u003c\/strong\u003e\u003c\/div\u003e\n\u003cdiv\u003e\n\u003cul\u003e\n\u003cli\u003eIn the power off state or the test is completed, put the test element into the transistor test area of test seat, and press the locking handle, short press the multifunction key, the tester automatically measure, graphical display of measurement results when testing is complete.\u003c\/li\u003e\n\u003cli\u003eWarning: Always be sure to DISCHARGE capacitors before connecting them to the tester! The tester may be damaged before you have switched it on!\u003c\/li\u003e\n\u003cli\u003eWarning: We do not recommend using the tester to measure the battery! The battery voltage must be less than 4.5V, otherwise the tester may be damaged!\u003c\/li\u003e\n\u003cli\u003el Component placement\u003c\/li\u003e\n\u003cli\u003eTest seat are divided into transistors and zener diode test area, detailed in 1.1 Description.\u003c\/li\u003e\n\u003cli\u003el No, unknown, or damaged part\u003c\/li\u003e\n\u003c\/ul\u003e\n\u003c\/div\u003e\n\u003cp\u003e \u003c\/p\u003e\n\u003cp\u003e\u003cspan\u003e\u003cimg src=\"https:\/\/pg-cdn-a2.datacaciques.com\/00\/NDAy\/18\/11\/14\/q636xsbriw75j5mo\/d49fdda7b3d7d99d.png\"\u003e\u003cimg src=\"https:\/\/pg-cdn-a2.datacaciques.com\/00\/NDAy\/18\/11\/14\/q636xsbriw75j5mo\/6f261bd86c399907.png\"\u003e\u003cimg src=\"https:\/\/pg-cdn-a2.datacaciques.com\/00\/NDAy\/18\/11\/14\/q636xsbriw75j5mo\/32078a464eba90fb.png\"\u003e\u003cimg src=\"https:\/\/pg-cdn-a2.datacaciques.com\/00\/NDAy\/18\/11\/14\/q636xsbriw75j5mo\/e13c673323552c77.png\"\u003e\u003c\/span\u003e\u003c\/p\u003e\n\u003cp\u003e\u003cspan\u003e\u003cstrong\u003ePackage Included: \u003c\/strong\u003e\u003c\/span\u003e\u003cspan\u003e1 set x LCR-T7 TFT Transistor Tester\u003c\/span\u003e\u003c\/p\u003e"}

translation missing: en.products.product.regular_price

$9.99

{"id":4894376394823,"title":"LCR-T7 Transistor Tester Meter TFT Diode Triode Capacitance NPN PNP MOSFET","handle":"lcr-t7-transistor-tester-meter-tft-diode-triode-capacitance-npn-pnp-mosfet","description":"\u003cp\u003e\u003cspan\u003e\u003cstrong\u003eDescription:\u003c\/strong\u003e\u003c\/span\u003e\u003c\/p\u003e\n\u003cul\u003e\n\u003cli\u003e\u003cspan\u003e160x128 TFT display\u003c\/span\u003e\u003c\/li\u003e\n\u003cli\u003e\u003cspan\u003eMulti function key\u003c\/span\u003e\u003c\/li\u003e\n\u003cli\u003e\u003cspan\u003eTransistor test area\u003c\/span\u003e\u003c\/li\u003e\n\u003cli\u003e\u003cspan\u003eZener Diode test area\u003c\/span\u003e\u003c\/li\u003e\n\u003cli\u003e\u003cspan\u003eIR receiver window\u003c\/span\u003e\u003c\/li\u003e\n\u003cli\u003e\u003cspan\u003eMicro USB Charging Interface\u003c\/span\u003e\u003c\/li\u003e\n\u003cli\u003e\u003cspan\u003eCharge indicator LED\u003c\/span\u003e\u003c\/li\u003e\n\u003c\/ul\u003e\n\u003cp\u003e\u003cspan\u003e\u003cstrong\u003eFeatures:\u003c\/strong\u003e\u003c\/span\u003e\u003c\/p\u003e\n\u003cul\u003e\n\u003cli\u003e\u003cspan\u003eTFT graphic display Multifunction Tester.\u003c\/span\u003e\u003c\/li\u003e\n\u003c\/ul\u003e\n\u003cp\u003e\u003cspan\u003e\u003cstrong\u003eTransistor Tester\u003c\/strong\u003e\u003c\/span\u003e\u003c\/p\u003e\n\u003cul\u003e\n\u003cli\u003e\u003cspan\u003eAutomatic detection of zener diode 0.01-30V\u003c\/span\u003e\u003c\/li\u003e\n\u003cli\u003e\u003cspan\u003eSelf test with automatic calibration\u003c\/span\u003e\u003c\/li\u003e\n\u003c\/ul\u003e\n\u003cp\u003e\u003cspan\u003e\u003cstrong\u003eIR decoder\u003c\/strong\u003e\u003c\/span\u003e\u003c\/p\u003e\n\u003cul\u003e\n\u003cli\u003e\u003cspan\u003eSupport Hitachi IR coding\u003c\/span\u003e\u003c\/li\u003e\n\u003cli\u003e\u003cspan\u003eIR waveform display\u003c\/span\u003e\u003c\/li\u003e\n\u003cli\u003e\u003cspan\u003eInfrared receiving instruction\u003c\/span\u003e\u003c\/li\u003e\n\u003c\/ul\u003e\n\u003cp\u003e\u003cstrong\u003e\u003cspan\u003eOther:\u003c\/span\u003e\u003c\/strong\u003e\u003cspan\u003e\u003c\/span\u003e\u003cspan\u003e\u003c\/span\u003e\u003c\/p\u003e\n\u003cul\u003e\n\u003cli\u003e\u003cspan\u003eMeasure results using TFT graphic display (160x128)\u003c\/span\u003e\u003c\/li\u003e\n\u003cli\u003e\u003cspan\u003ea key operation\u003c\/span\u003e\u003c\/li\u003e\n\u003cli\u003e\u003cspan\u003eAutomatic shut-off (Settable Timeout)\u003c\/span\u003e\u003c\/li\u003e\n\u003cli\u003e\u003cspan\u003ebuilt-in High-capacity rechargeable Li-Ion battery\u003c\/span\u003e\u003c\/li\u003e\n\u003cli\u003e\u003cspan\u003eDetection of the voltage of the Li-ion-160x128 tft battery\u003c\/span\u003e\u003c\/li\u003e\n\u003cli\u003e\u003cspan\u003eTransistor test area\u003c\/span\u003e\u003c\/li\u003e\n\u003cli\u003e\u003cspan\u003eZener diode test area\u003c\/span\u003e\u003c\/li\u003e\n\u003cli\u003e\u003cspan\u003eIR receiver window\u003c\/span\u003e\u003c\/li\u003e\n\u003cli\u003e\u003cspan\u003e Micro USB Charging Interface\u003c\/span\u003e\u003c\/li\u003e\n\u003cli\u003e\u003cspan\u003eLED charge indicator\u003c\/span\u003e\u003c\/li\u003e\n\u003cli\u003e\u003cspan\u003e\u003cspan lang=\"en\" id=\"result_box\"\u003eChinese and English support\u003c\/span\u003e\u003c\/span\u003e\u003c\/li\u003e\n\u003c\/ul\u003e\n\u003cp\u003e\u003cstrong\u003e\u003cb\u003e\u003cspan\u003eWarning\u003c\/span\u003e\u003c\/b\u003e\u003c\/strong\u003e\u003cspan\u003e: \u003c\/span\u003e\u003c\/p\u003e\n\u003cul\u003e\n\u003cli\u003e\u003cspan\u003eBuilt-in Li-ion Battery, it is strictly prohibited the tester immersed in water, or near a heat source!\u003c\/span\u003e\u003c\/li\u003e\n\u003c\/ul\u003e\n\u003cp\u003e\u003cstrong\u003e\u003cb\u003e\u003cspan\u003eWarning\u003c\/span\u003e\u003c\/b\u003e\u003c\/strong\u003e\u003cspan\u003e:\u003c\/span\u003e\u003c\/p\u003e\n\u003cul\u003e\n\u003cli\u003e\n\u003cspan\u003e For your personal safety, please strictly comply with the use of Li-ion Battery specifications and precautions!\u003c\/span\u003e \u003c\/li\u003e\n\u003c\/ul\u003e\n\u003cp\u003e\u003cstrong\u003e1.1 Key operational definitions:\u003c\/strong\u003e\u003c\/p\u003e\n\u003cul\u003e\n\u003cli\u003eMulti-function key has two actions:\u003c\/li\u003e\n\u003cli\u003el Short press: Press the key and not less than 10 ms, release key within 1.5 seconds\u003c\/li\u003e\n\u003cli\u003el Long press: Press the key more than 1.5 seconds\u003c\/li\u003e\n\u003c\/ul\u003e\n\u003cp\u003e\u003cstrong\u003e1.2 Power on\u003c\/strong\u003e\u003c\/p\u003e\n\u003cul\u003e\n\u003cli\u003eIn the power off state, short press the multifunction key, the tester is turned on and automatically measured.\u003c\/li\u003e\n\u003cli\u003el Power on \u0026amp; measurement interface\u003c\/li\u003e\n\u003c\/ul\u003e\n\u003cp\u003e\u003cspan\u003e\u003cimg height=\"177\" width=\"231\" src=\"https:\/\/pg-cdn-a2.datacaciques.com\/00\/NDAy\/18\/11\/14\/q636xsbriw75j5mo\/af558cb6126c49c0.png\"\u003e\u003c\/span\u003e\u003c\/p\u003e\n\u003cdiv\u003e\u003cstrong\u003e1.3 Detect transistor\u003c\/strong\u003e\u003c\/div\u003e\n\u003cdiv\u003e\n\u003cul\u003e\n\u003cli\u003eIn the power off state or the test is completed, put the test element into the transistor test area of test seat, and press the locking handle, short press the multifunction key, the tester automatically measure, graphical display of measurement results when testing is complete.\u003c\/li\u003e\n\u003cli\u003eWarning: Always be sure to DISCHARGE capacitors before connecting them to the tester! The tester may be damaged before you have switched it on!\u003c\/li\u003e\n\u003cli\u003eWarning: We do not recommend using the tester to measure the battery! The battery voltage must be less than 4.5V, otherwise the tester may be damaged!\u003c\/li\u003e\n\u003cli\u003el Component placement\u003c\/li\u003e\n\u003cli\u003eTest seat are divided into transistors and zener diode test area, detailed in 1.1 Description.\u003c\/li\u003e\n\u003cli\u003el No, unknown, or damaged part\u003c\/li\u003e\n\u003c\/ul\u003e\n\u003c\/div\u003e\n\u003cp\u003e \u003c\/p\u003e\n\u003cp\u003e\u003cspan\u003e\u003cimg src=\"https:\/\/pg-cdn-a2.datacaciques.com\/00\/NDAy\/18\/11\/14\/q636xsbriw75j5mo\/d49fdda7b3d7d99d.png\"\u003e\u003cimg src=\"https:\/\/pg-cdn-a2.datacaciques.com\/00\/NDAy\/18\/11\/14\/q636xsbriw75j5mo\/6f261bd86c399907.png\"\u003e\u003cimg src=\"https:\/\/pg-cdn-a2.datacaciques.com\/00\/NDAy\/18\/11\/14\/q636xsbriw75j5mo\/32078a464eba90fb.png\"\u003e\u003cimg src=\"https:\/\/pg-cdn-a2.datacaciques.com\/00\/NDAy\/18\/11\/14\/q636xsbriw75j5mo\/e13c673323552c77.png\"\u003e\u003c\/span\u003e\u003c\/p\u003e\n\u003cp\u003e\u003cspan\u003e\u003cstrong\u003ePackage Included: \u003c\/strong\u003e\u003c\/span\u003e\u003cspan\u003e1 set x LCR-T7 TFT Transistor Tester\u003c\/span\u003e\u003c\/p\u003e","published_at":"2020-10-26T12:01:26+08:00","created_at":"2020-10-26T12:01:25+08:00","vendor":"DIYMORE","type":"","tags":[],"price":1799,"price_min":1799,"price_max":1799,"available":true,"price_varies":false,"compare_at_price":null,"compare_at_price_min":0,"compare_at_price_max":0,"compare_at_price_varies":false,"variants":[{"id":32639055167559,"title":"Default Title","option1":"Default Title","option2":null,"option3":null,"sku":"052064","requires_shipping":true,"taxable":false,"featured_image":null,"available":true,"name":"LCR-T7 Transistor Tester Meter TFT Diode Triode Capacitance NPN PNP MOSFET","public_title":null,"options":["Default Title"],"price":1799,"weight":0,"compare_at_price":null,"inventory_management":"shopify","barcode":"","requires_selling_plan":false,"selling_plan_allocations":[]}],"images":["\/\/cdn.shopify.com\/s\/files\/1\/0122\/7558\/0986\/products\/052064_1.jpg?v=1603684888","\/\/cdn.shopify.com\/s\/files\/1\/0122\/7558\/0986\/products\/052064_2.jpg?v=1603684888","\/\/cdn.shopify.com\/s\/files\/1\/0122\/7558\/0986\/products\/052064_3.jpg?v=1603684888","\/\/cdn.shopify.com\/s\/files\/1\/0122\/7558\/0986\/products\/052064_4.jpg?v=1603684888","\/\/cdn.shopify.com\/s\/files\/1\/0122\/7558\/0986\/products\/052064_6.jpg?v=1603684888"],"featured_image":"\/\/cdn.shopify.com\/s\/files\/1\/0122\/7558\/0986\/products\/052064_1.jpg?v=1603684888","options":["Title"],"media":[{"alt":null,"id":7642548797511,"position":1,"preview_image":{"aspect_ratio":1.0,"height":1000,"width":1000,"src":"https:\/\/cdn.shopify.com\/s\/files\/1\/0122\/7558\/0986\/products\/052064_1.jpg?v=1603684888"},"aspect_ratio":1.0,"height":1000,"media_type":"image","src":"https:\/\/cdn.shopify.com\/s\/files\/1\/0122\/7558\/0986\/products\/052064_1.jpg?v=1603684888","width":1000},{"alt":null,"id":7642548830279,"position":2,"preview_image":{"aspect_ratio":1.0,"height":1000,"width":1000,"src":"https:\/\/cdn.shopify.com\/s\/files\/1\/0122\/7558\/0986\/products\/052064_2.jpg?v=1603684888"},"aspect_ratio":1.0,"height":1000,"media_type":"image","src":"https:\/\/cdn.shopify.com\/s\/files\/1\/0122\/7558\/0986\/products\/052064_2.jpg?v=1603684888","width":1000},{"alt":null,"id":7642548863047,"position":3,"preview_image":{"aspect_ratio":1.0,"height":1000,"width":1000,"src":"https:\/\/cdn.shopify.com\/s\/files\/1\/0122\/7558\/0986\/products\/052064_3.jpg?v=1603684888"},"aspect_ratio":1.0,"height":1000,"media_type":"image","src":"https:\/\/cdn.shopify.com\/s\/files\/1\/0122\/7558\/0986\/products\/052064_3.jpg?v=1603684888","width":1000},{"alt":null,"id":7642548895815,"position":4,"preview_image":{"aspect_ratio":1.0,"height":1000,"width":1000,"src":"https:\/\/cdn.shopify.com\/s\/files\/1\/0122\/7558\/0986\/products\/052064_4.jpg?v=1603684888"},"aspect_ratio":1.0,"height":1000,"media_type":"image","src":"https:\/\/cdn.shopify.com\/s\/files\/1\/0122\/7558\/0986\/products\/052064_4.jpg?v=1603684888","width":1000},{"alt":null,"id":7642548928583,"position":5,"preview_image":{"aspect_ratio":1.0,"height":1000,"width":1000,"src":"https:\/\/cdn.shopify.com\/s\/files\/1\/0122\/7558\/0986\/products\/052064_6.jpg?v=1603684888"},"aspect_ratio":1.0,"height":1000,"media_type":"image","src":"https:\/\/cdn.shopify.com\/s\/files\/1\/0122\/7558\/0986\/products\/052064_6.jpg?v=1603684888","width":1000}],"requires_selling_plan":false,"selling_plan_groups":[],"content":"\u003cp\u003e\u003cspan\u003e\u003cstrong\u003eDescription:\u003c\/strong\u003e\u003c\/span\u003e\u003c\/p\u003e\n\u003cul\u003e\n\u003cli\u003e\u003cspan\u003e160x128 TFT display\u003c\/span\u003e\u003c\/li\u003e\n\u003cli\u003e\u003cspan\u003eMulti function key\u003c\/span\u003e\u003c\/li\u003e\n\u003cli\u003e\u003cspan\u003eTransistor test area\u003c\/span\u003e\u003c\/li\u003e\n\u003cli\u003e\u003cspan\u003eZener Diode test area\u003c\/span\u003e\u003c\/li\u003e\n\u003cli\u003e\u003cspan\u003eIR receiver window\u003c\/span\u003e\u003c\/li\u003e\n\u003cli\u003e\u003cspan\u003eMicro USB Charging Interface\u003c\/span\u003e\u003c\/li\u003e\n\u003cli\u003e\u003cspan\u003eCharge indicator LED\u003c\/span\u003e\u003c\/li\u003e\n\u003c\/ul\u003e\n\u003cp\u003e\u003cspan\u003e\u003cstrong\u003eFeatures:\u003c\/strong\u003e\u003c\/span\u003e\u003c\/p\u003e\n\u003cul\u003e\n\u003cli\u003e\u003cspan\u003eTFT graphic display Multifunction Tester.\u003c\/span\u003e\u003c\/li\u003e\n\u003c\/ul\u003e\n\u003cp\u003e\u003cspan\u003e\u003cstrong\u003eTransistor Tester\u003c\/strong\u003e\u003c\/span\u003e\u003c\/p\u003e\n\u003cul\u003e\n\u003cli\u003e\u003cspan\u003eAutomatic detection of zener diode 0.01-30V\u003c\/span\u003e\u003c\/li\u003e\n\u003cli\u003e\u003cspan\u003eSelf test with automatic calibration\u003c\/span\u003e\u003c\/li\u003e\n\u003c\/ul\u003e\n\u003cp\u003e\u003cspan\u003e\u003cstrong\u003eIR decoder\u003c\/strong\u003e\u003c\/span\u003e\u003c\/p\u003e\n\u003cul\u003e\n\u003cli\u003e\u003cspan\u003eSupport Hitachi IR coding\u003c\/span\u003e\u003c\/li\u003e\n\u003cli\u003e\u003cspan\u003eIR waveform display\u003c\/span\u003e\u003c\/li\u003e\n\u003cli\u003e\u003cspan\u003eInfrared receiving instruction\u003c\/span\u003e\u003c\/li\u003e\n\u003c\/ul\u003e\n\u003cp\u003e\u003cstrong\u003e\u003cspan\u003eOther:\u003c\/span\u003e\u003c\/strong\u003e\u003cspan\u003e\u003c\/span\u003e\u003cspan\u003e\u003c\/span\u003e\u003c\/p\u003e\n\u003cul\u003e\n\u003cli\u003e\u003cspan\u003eMeasure results using TFT graphic display (160x128)\u003c\/span\u003e\u003c\/li\u003e\n\u003cli\u003e\u003cspan\u003ea key operation\u003c\/span\u003e\u003c\/li\u003e\n\u003cli\u003e\u003cspan\u003eAutomatic shut-off (Settable Timeout)\u003c\/span\u003e\u003c\/li\u003e\n\u003cli\u003e\u003cspan\u003ebuilt-in High-capacity rechargeable Li-Ion battery\u003c\/span\u003e\u003c\/li\u003e\n\u003cli\u003e\u003cspan\u003eDetection of the voltage of the Li-ion-160x128 tft battery\u003c\/span\u003e\u003c\/li\u003e\n\u003cli\u003e\u003cspan\u003eTransistor test area\u003c\/span\u003e\u003c\/li\u003e\n\u003cli\u003e\u003cspan\u003eZener diode test area\u003c\/span\u003e\u003c\/li\u003e\n\u003cli\u003e\u003cspan\u003eIR receiver window\u003c\/span\u003e\u003c\/li\u003e\n\u003cli\u003e\u003cspan\u003e Micro USB Charging Interface\u003c\/span\u003e\u003c\/li\u003e\n\u003cli\u003e\u003cspan\u003eLED charge indicator\u003c\/span\u003e\u003c\/li\u003e\n\u003cli\u003e\u003cspan\u003e\u003cspan lang=\"en\" id=\"result_box\"\u003eChinese and English support\u003c\/span\u003e\u003c\/span\u003e\u003c\/li\u003e\n\u003c\/ul\u003e\n\u003cp\u003e\u003cstrong\u003e\u003cb\u003e\u003cspan\u003eWarning\u003c\/span\u003e\u003c\/b\u003e\u003c\/strong\u003e\u003cspan\u003e: \u003c\/span\u003e\u003c\/p\u003e\n\u003cul\u003e\n\u003cli\u003e\u003cspan\u003eBuilt-in Li-ion Battery, it is strictly prohibited the tester immersed in water, or near a heat source!\u003c\/span\u003e\u003c\/li\u003e\n\u003c\/ul\u003e\n\u003cp\u003e\u003cstrong\u003e\u003cb\u003e\u003cspan\u003eWarning\u003c\/span\u003e\u003c\/b\u003e\u003c\/strong\u003e\u003cspan\u003e:\u003c\/span\u003e\u003c\/p\u003e\n\u003cul\u003e\n\u003cli\u003e\n\u003cspan\u003e For your personal safety, please strictly comply with the use of Li-ion Battery specifications and precautions!\u003c\/span\u003e \u003c\/li\u003e\n\u003c\/ul\u003e\n\u003cp\u003e\u003cstrong\u003e1.1 Key operational definitions:\u003c\/strong\u003e\u003c\/p\u003e\n\u003cul\u003e\n\u003cli\u003eMulti-function key has two actions:\u003c\/li\u003e\n\u003cli\u003el Short press: Press the key and not less than 10 ms, release key within 1.5 seconds\u003c\/li\u003e\n\u003cli\u003el Long press: Press the key more than 1.5 seconds\u003c\/li\u003e\n\u003c\/ul\u003e\n\u003cp\u003e\u003cstrong\u003e1.2 Power on\u003c\/strong\u003e\u003c\/p\u003e\n\u003cul\u003e\n\u003cli\u003eIn the power off state, short press the multifunction key, the tester is turned on and automatically measured.\u003c\/li\u003e\n\u003cli\u003el Power on \u0026amp; measurement interface\u003c\/li\u003e\n\u003c\/ul\u003e\n\u003cp\u003e\u003cspan\u003e\u003cimg height=\"177\" width=\"231\" src=\"https:\/\/pg-cdn-a2.datacaciques.com\/00\/NDAy\/18\/11\/14\/q636xsbriw75j5mo\/af558cb6126c49c0.png\"\u003e\u003c\/span\u003e\u003c\/p\u003e\n\u003cdiv\u003e\u003cstrong\u003e1.3 Detect transistor\u003c\/strong\u003e\u003c\/div\u003e\n\u003cdiv\u003e\n\u003cul\u003e\n\u003cli\u003eIn the power off state or the test is completed, put the test element into the transistor test area of test seat, and press the locking handle, short press the multifunction key, the tester automatically measure, graphical display of measurement results when testing is complete.\u003c\/li\u003e\n\u003cli\u003eWarning: Always be sure to DISCHARGE capacitors before connecting them to the tester! The tester may be damaged before you have switched it on!\u003c\/li\u003e\n\u003cli\u003eWarning: We do not recommend using the tester to measure the battery! The battery voltage must be less than 4.5V, otherwise the tester may be damaged!\u003c\/li\u003e\n\u003cli\u003el Component placement\u003c\/li\u003e\n\u003cli\u003eTest seat are divided into transistors and zener diode test area, detailed in 1.1 Description.\u003c\/li\u003e\n\u003cli\u003el No, unknown, or damaged part\u003c\/li\u003e\n\u003c\/ul\u003e\n\u003c\/div\u003e\n\u003cp\u003e \u003c\/p\u003e\n\u003cp\u003e\u003cspan\u003e\u003cimg src=\"https:\/\/pg-cdn-a2.datacaciques.com\/00\/NDAy\/18\/11\/14\/q636xsbriw75j5mo\/d49fdda7b3d7d99d.png\"\u003e\u003cimg src=\"https:\/\/pg-cdn-a2.datacaciques.com\/00\/NDAy\/18\/11\/14\/q636xsbriw75j5mo\/6f261bd86c399907.png\"\u003e\u003cimg src=\"https:\/\/pg-cdn-a2.datacaciques.com\/00\/NDAy\/18\/11\/14\/q636xsbriw75j5mo\/32078a464eba90fb.png\"\u003e\u003cimg src=\"https:\/\/pg-cdn-a2.datacaciques.com\/00\/NDAy\/18\/11\/14\/q636xsbriw75j5mo\/e13c673323552c77.png\"\u003e\u003c\/span\u003e\u003c\/p\u003e\n\u003cp\u003e\u003cspan\u003e\u003cstrong\u003ePackage Included: \u003c\/strong\u003e\u003c\/span\u003e\u003cspan\u003e1 set x LCR-T7 TFT Transistor Tester\u003c\/span\u003e\u003c\/p\u003e"}