Type-C PD Quick Charge Trigger Module DC Digital Display Voltage Current Meter
Type-C PD Quick Charge Trigger Module DC Digital Display Voltage Current Meter
SKU:XJ0030
Regular price
$8.99
guarantee

Quality checked

Special gift cards

Special gift cards

Free return

Within 60 days

Consultancy

86-0755-85201155
Description:
100% brand new and high quality
Feature:
Display the type of PD protocol on each power up, Support PD 2.0/PD 3.0 protocol.

This product has power-off memory function. Remember the voltage gear and PD mode before power-off next time.

This product can trigger the voltage of different gears in the PD charging head to supply power to external equipment, such as router, optical cat, set-top box or notebook computer (the adapter should be replaced when the power of the PD charging head meets the requirements).

It can be used as test and aging of PD charging head.

How to switch display content:

In the operation interface, short press key K1 to switch the display voltage / current / display in turn; long press key K1 for 5 seconds to turn off the display of digital tube and indicator light, and any key will wake up.
How to adjust the voltage range:
In the operation interface, short press the K2 key to enter the voltage regulation interface, and the voltage will flash after the current gear is displayed on the nixie tube;

At this time, short press the K2 / K1 key to modify (K2 for upshift and K1 for downshift),When shifting gears, "P7-1" (P7: supports 7 voltage gears in total, - 1: indicates the serial number of the current voltage gear), and then displays the voltage value of the current gear;If the current voltage gear supports PPS step voltage regulation, the step gear indicator (20mV 100mV 1V) will be fully on;

In 5S, there is no key operation or long press K1 key 2s to return to the operation interface automatically;

Note: the last gear "L" of "P7-l" is triggered in turn. When the L gear is selected and returned to the operation interface, all supported gears (5V / 9V / 12V / 15V / 20V / PPS mode) will be triggered in turn. In this mode, the step voltage indicator light of the operation interface will be indicated by the running lamp mode. This function can be used for batch testing by the manufacturer of the charging head.

Note: the charging head of PD 2.0 generally supports 4-5 gear voltage regulation modes, and will display "P4-1" or "P5-1" format. The charging head of PD 3.0 generally supports 6-7 gear voltage regulation modes, and will display "P6-1" or "P7-1" format.
How to adjust the voltage in PPS step-by-step mode:
First, ensure that PPS step gear indicator (20mV 100mV 1V) is fully on / on one of them;

Long press K2 key to enter PPS voltage regulation, the voltage value of nixie tube flickers, first activate 1V step gear voltage regulation;

Press and hold K2 again to change step gear;

After selecting the corresponding step gear, modify the voltage by briefly pressing the K1 / K2 key; when the step gear indicator is fully on, press the K1 / K2 key briefly to exit the PPS voltage regulation mode and select other voltage gears;

5 seconds without any key operation or long press K1 key 2s to return to the operation interface automatically.
Specifications:
Item Type: Quick charge trigger module

Material: electronic components

Size: 50mm/1.97in(as shown)

Color: As shown

Optional Type: A: female head, B: male head

Quantity: 1 Set

Note:

Transition: 1cm=10mm=0.39inch

Please allow 0-1cm error due to manual measurement. pls make sure you do not mind before you bid.

Due to the difference between different monitors, the picture may not reflect the actual color of the item. Thank you!
Package Includes:
1 x Quick charge trigger module

1 x Type-c female/male adapter cable

(other accessories demo in the picture are not included!)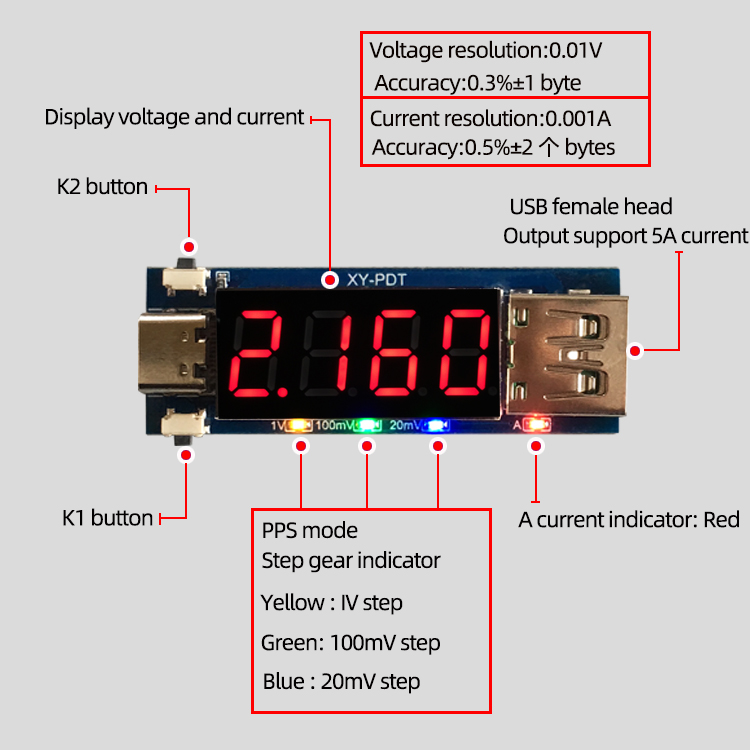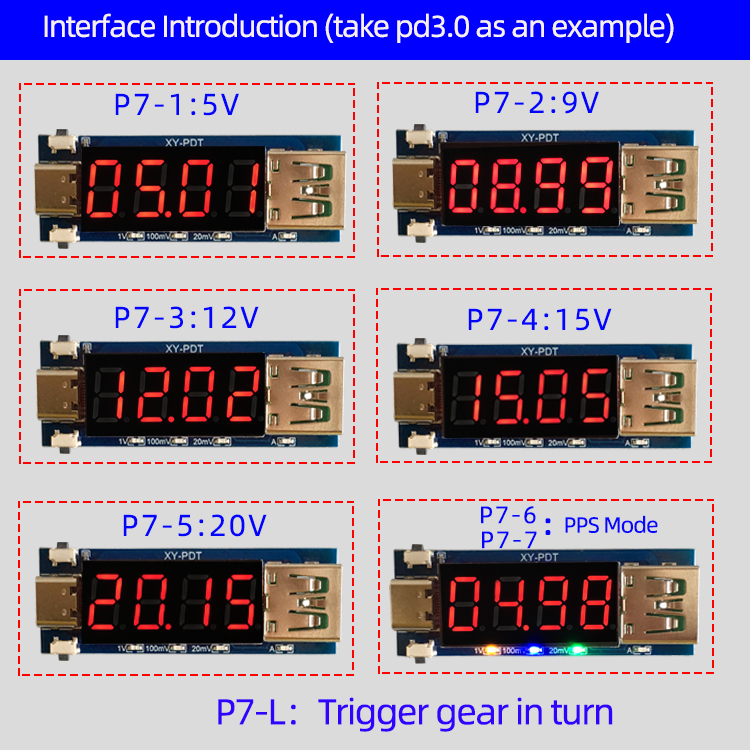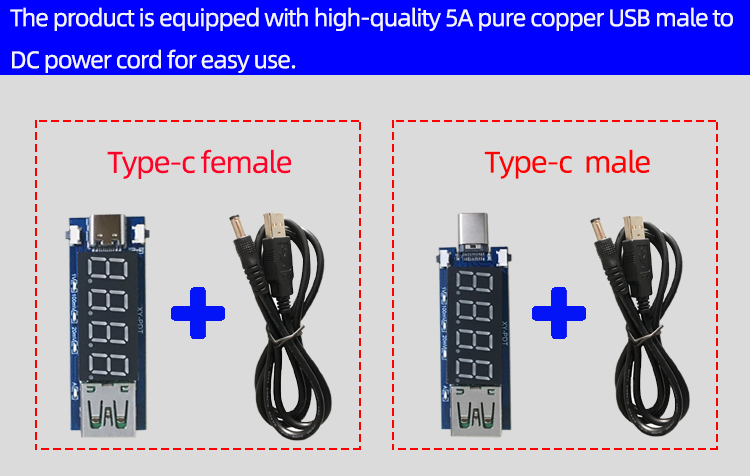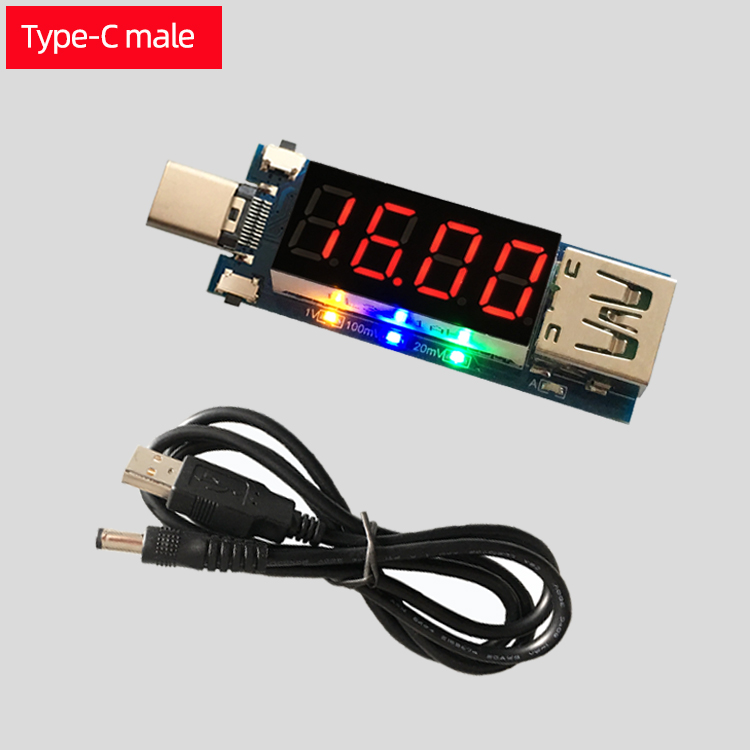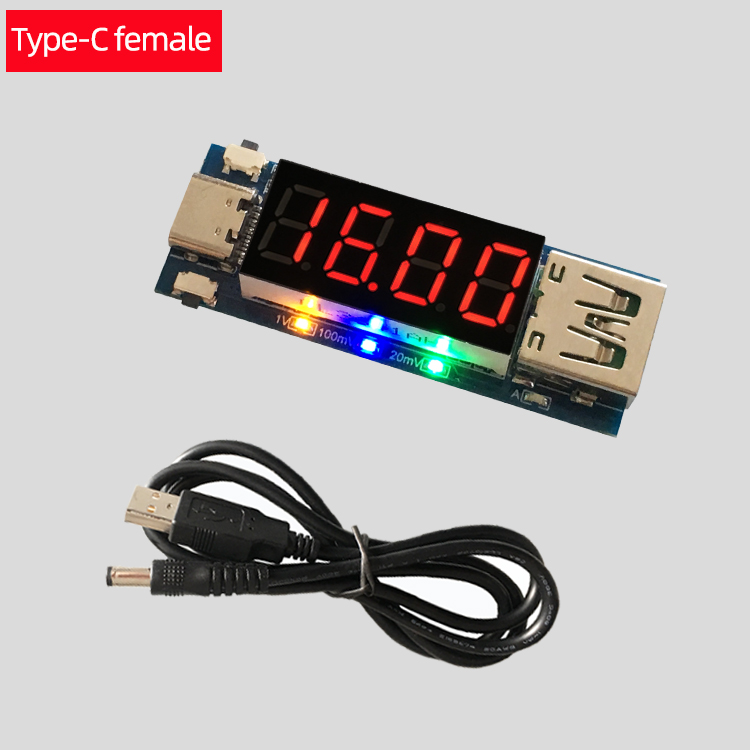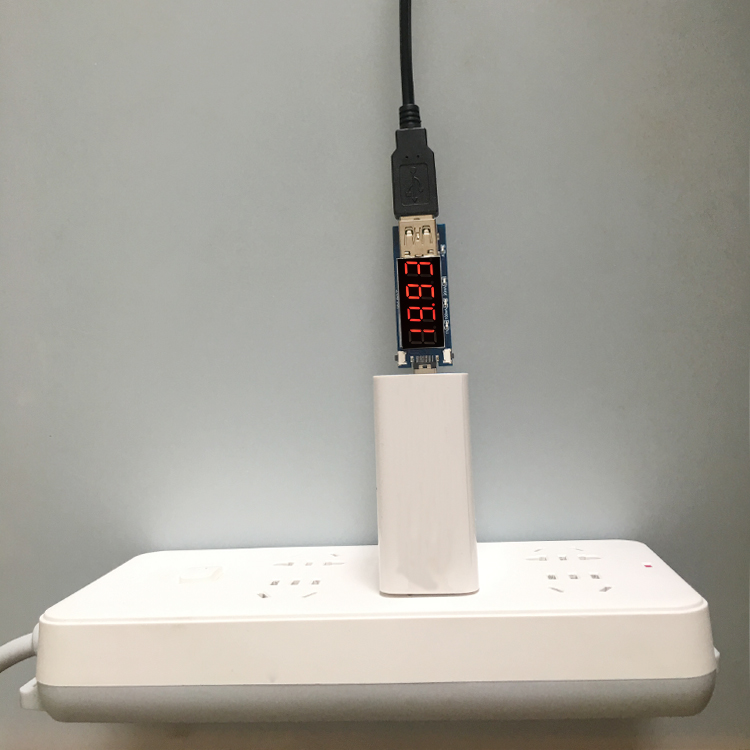 Purchasing & Delivery
Before you make your purchase, it's helpful to know the measurements of the area you plan to place the furniture. You should also measure any doorways and hallways through which the furniture will pass to get to its final destination.

Picking up at the store
Shopify Shop requires that all products are properly inspected BEFORE you take it home to insure there are no surprises. Our team is happy to open all packages and will assist in the inspection process. We will then reseal packages for safe transport. We encourage all customers to bring furniture pads or blankets to protect the items during transport as well as rope or tie downs. Shopify Shop will not be responsible for damage that occurs after leaving the store or during transit. It is the purchaser's responsibility to make sure the correct items are picked up and in good condition.

Delivery
Customers are able to pick the next available delivery day that best fits their schedule. However, to route stops as efficiently as possible, Shopify Shop will provide the time frame. Customers will not be able to choose a time. You will be notified in advance of your scheduled time frame. Please make sure that a responsible adult (18 years or older) will be home at that time.
In preparation for your delivery, please remove existing furniture, pictures, mirrors, accessories, etc. to prevent damages. Also insure that the area where you would like your furniture placed is clear of any old furniture and any other items that may obstruct the passageway of the delivery team. Shopify Shop will deliver, assemble, and set-up your new furniture purchase and remove all packing materials from your home. Our delivery crews are not permitted to move your existing furniture or other household items. Delivery personnel will attempt to deliver the purchased items in a safe and controlled manner but will not attempt to place furniture if they feel it will result in damage to the product or your home. Delivery personnel are unable to remove doors, hoist furniture or carry furniture up more than 3 flights of stairs. An elevator must be available for deliveries to the 4th floor and above.
Other Customers also buy:
translation missing: en.products.product.regular_price

$5.99

{"id":4881041883207,"title":"Type-C PD Quick Charge Trigger Module DC Digital Display Voltage Current Meter","handle":"type-c-pd-quick-charge-trigger-module-dc-digital-display-voltage-current-meter","description":"\u003cdiv data-mce-fragment=\"1\"\u003e\n\u003cspan data-mce-fragment=\"1\"\u003e\u003cstrong data-mce-fragment=\"1\"\u003eDescription:\u003c\/strong\u003e\u003c\/span\u003e\u003cbr data-mce-fragment=\"1\"\u003e\n\u003cul\u003e\n\u003cli\u003e\u003cspan data-mce-fragment=\"1\"\u003e100% brand new and high quality\u003c\/span\u003e\u003c\/li\u003e\n\u003c\/ul\u003e\n\u003cspan data-mce-fragment=\"1\"\u003e\u003cstrong data-mce-fragment=\"1\"\u003eFeature:\u003c\/strong\u003e\u003c\/span\u003e\u003cbr data-mce-fragment=\"1\"\u003e\n\u003cul\u003e\n\u003cli\u003e\u003cspan data-mce-fragment=\"1\"\u003eDisplay the type of PD protocol on each power up, Support PD 2.0\/PD 3.0 protocol.\u003c\/span\u003e\u003c\/li\u003e\n\u003cli\u003e\u003cspan data-mce-fragment=\"1\"\u003eThis product has power-off memory function. Remember the voltage gear and PD mode before power-off next time.\u003c\/span\u003e\u003c\/li\u003e\n\u003cli\u003e\u003cspan data-mce-fragment=\"1\"\u003eThis product can trigger the voltage of different gears in the PD charging head to supply power to external equipment, such as router, optical cat, set-top box or notebook computer (the adapter should be replaced when the power of the PD charging head meets the requirements).\u003c\/span\u003e\u003c\/li\u003e\n\u003cli\u003e\u003cspan data-mce-fragment=\"1\"\u003eIt can be used as test and aging of PD charging head.\u003c\/span\u003e\u003c\/li\u003e\n\u003cli\u003e\u003cspan data-mce-fragment=\"1\"\u003eHow to switch display content:\u003c\/span\u003e\u003c\/li\u003e\n\u003cli\u003e\u003cspan data-mce-fragment=\"1\"\u003eIn the operation interface, short press key K1 to switch the display voltage \/ current \/ display in turn; long press key K1 for 5 seconds to turn off the display of digital tube and indicator light, and any key will wake up.\u003c\/span\u003e\u003c\/li\u003e\n\u003c\/ul\u003e\n\u003c\/div\u003e\n\u003cdiv data-mce-fragment=\"1\"\u003e\n\u003cstrong\u003eHow to adjust the voltage range:\u003c\/strong\u003e\u003cbr data-mce-fragment=\"1\"\u003e\n\u003cul\u003e\n\u003cli\u003e\u003cspan data-mce-fragment=\"1\"\u003eIn the operation interface, short press the K2 key to enter the voltage regulation interface, and the voltage will flash after the current gear is displayed on the nixie tube;\u003c\/span\u003e\u003c\/li\u003e\n\u003cli\u003e\u003cspan data-mce-fragment=\"1\"\u003eAt this time, short press the K2 \/ K1 key to modify (K2 for upshift and K1 for downshift),When shifting gears, \"P7-1\" (P7: supports 7 voltage gears in total, - 1: indicates the serial number of the current voltage gear), and then displays the voltage value of the current gear;If the current voltage gear supports PPS step voltage regulation, the step gear indicator (20mV 100mV 1V) will be fully on;\u003c\/span\u003e\u003c\/li\u003e\n\u003cli\u003e\u003cspan data-mce-fragment=\"1\"\u003eIn 5S, there is no key operation or long press K1 key 2s to return to the operation interface automatically;\u003c\/span\u003e\u003c\/li\u003e\n\u003cli\u003e\u003cspan data-mce-fragment=\"1\"\u003eNote: the last gear \"L\" of \"P7-l\" is triggered in turn. When the L gear is selected and returned to the operation interface, all supported gears (5V \/ 9V \/ 12V \/ 15V \/ 20V \/ PPS mode) will be triggered in turn. In this mode, the step voltage indicator light of the operation interface will be indicated by the running lamp mode. This function can be used for batch testing by the manufacturer of the charging head.\u003c\/span\u003e\u003c\/li\u003e\n\u003cli\u003e\u003cspan data-mce-fragment=\"1\"\u003eNote: the charging head of PD 2.0 generally supports 4-5 gear voltage regulation modes, and will display \"P4-1\" or \"P5-1\" format. The charging head of PD 3.0 generally supports 6-7 gear voltage regulation modes, and will display \"P6-1\" or \"P7-1\" format.\u003c\/span\u003e\u003c\/li\u003e\n\u003c\/ul\u003e\n\u003c\/div\u003e\n\u003cdiv data-mce-fragment=\"1\"\u003e\n\u003cstrong\u003eHow to adjust the voltage in PPS step-by-step mode:\u003c\/strong\u003e\u003cbr data-mce-fragment=\"1\"\u003e\n\u003cul\u003e\n\u003cli\u003e\u003cspan data-mce-fragment=\"1\"\u003eFirst, ensure that PPS step gear indicator (20mV 100mV 1V) is fully on \/ on one of them;\u003c\/span\u003e\u003c\/li\u003e\n\u003cli\u003e\u003cspan data-mce-fragment=\"1\"\u003eLong press K2 key to enter PPS voltage regulation, the voltage value of nixie tube flickers, first activate 1V step gear voltage regulation;\u003c\/span\u003e\u003c\/li\u003e\n\u003cli\u003e\u003cspan data-mce-fragment=\"1\"\u003ePress and hold K2 again to change step gear;\u003c\/span\u003e\u003c\/li\u003e\n\u003cli\u003e\u003cspan data-mce-fragment=\"1\"\u003eAfter selecting the corresponding step gear, modify the voltage by briefly pressing the K1 \/ K2 key; when the step gear indicator is fully on, press the K1 \/ K2 key briefly to exit the PPS voltage regulation mode and select other voltage gears;\u003c\/span\u003e\u003c\/li\u003e\n\u003cli\u003e\u003cspan data-mce-fragment=\"1\"\u003e5 seconds without any key operation or long press K1 key 2s to return to the operation interface automatically.\u003c\/span\u003e\u003c\/li\u003e\n\u003c\/ul\u003e\n\u003c\/div\u003e\n\u003cdiv data-mce-fragment=\"1\"\u003e\n\u003cspan data-mce-fragment=\"1\"\u003e\u003cstrong data-mce-fragment=\"1\"\u003eSpecifications:\u003c\/strong\u003e\u003c\/span\u003e\u003cbr data-mce-fragment=\"1\"\u003e\n\u003cul\u003e\n\u003cli\u003e\u003cspan data-mce-fragment=\"1\"\u003eItem Type: Quick charge trigger module\u003c\/span\u003e\u003c\/li\u003e\n\u003cli\u003e\u003cspan data-mce-fragment=\"1\"\u003eMaterial: electronic components\u003c\/span\u003e\u003c\/li\u003e\n\u003cli\u003e\u003cspan data-mce-fragment=\"1\"\u003eSize: 50mm\/1.97in(as shown)\u003c\/span\u003e\u003c\/li\u003e\n\u003cli\u003e\u003cspan data-mce-fragment=\"1\"\u003eColor: As shown\u003c\/span\u003e\u003c\/li\u003e\n\u003cli\u003e\u003cspan data-mce-fragment=\"1\"\u003eOptional Type: A: female head, B: male head\u003c\/span\u003e\u003c\/li\u003e\n\u003cli\u003e\u003cspan data-mce-fragment=\"1\"\u003eQuantity: 1 Set\u003c\/span\u003e\u003c\/li\u003e\n\u003cli\u003e\u003cspan data-mce-fragment=\"1\"\u003eNote:\u003c\/span\u003e\u003c\/li\u003e\n\u003cli\u003e\u003cspan data-mce-fragment=\"1\"\u003eTransition: 1cm=10mm=0.39inch\u003c\/span\u003e\u003c\/li\u003e\n\u003cli\u003e\u003cspan data-mce-fragment=\"1\"\u003ePlease allow 0-1cm error due to manual measurement. pls make sure you do not mind before you bid.\u003c\/span\u003e\u003c\/li\u003e\n\u003cli\u003e\u003cspan data-mce-fragment=\"1\"\u003eDue to the difference between different monitors, the picture may not reflect the actual color of the item. Thank you!\u003c\/span\u003e\u003c\/li\u003e\n\u003c\/ul\u003e\n\u003c\/div\u003e\n\u003cdiv data-mce-fragment=\"1\"\u003e\n\u003cspan data-mce-fragment=\"1\"\u003e\u003cstrong data-mce-fragment=\"1\"\u003ePackage Includes:\u003c\/strong\u003e\u003c\/span\u003e\u003cbr data-mce-fragment=\"1\"\u003e\n\u003cul\u003e\n\u003cli\u003e\u003cspan data-mce-fragment=\"1\"\u003e1 x Quick charge trigger module\u003c\/span\u003e\u003c\/li\u003e\n\u003cli\u003e\u003cspan data-mce-fragment=\"1\"\u003e1 x Type-c female\/male adapter cable\u003c\/span\u003e\u003c\/li\u003e\n\u003cli\u003e\u003cspan data-mce-fragment=\"1\"\u003e(other accessories demo in the picture are not included!)\u003c\/span\u003e\u003c\/li\u003e\n\u003c\/ul\u003e\n\u003c\/div\u003e\n\u003cdiv data-mce-fragment=\"1\"\u003e\u003cspan data-mce-fragment=\"1\"\u003e\u003cimg src=\"https:\/\/pg-cdn-a2.datacaciques.com\/00\/NDAy\/20\/10\/12\/0afnm13hd136664x\/42ceafc5e43d3d92.jpg\" data-mce-fragment=\"1\" data-mce-src=\"https:\/\/pg-cdn-a2.datacaciques.com\/00\/NDAy\/20\/10\/12\/0afnm13hd136664x\/42ceafc5e43d3d92.jpg\"\u003e\u003cimg src=\"https:\/\/pg-cdn-a2.datacaciques.com\/00\/NDAy\/20\/10\/12\/0afnm13hd136664x\/48579302a78c797a.jpg\" data-mce-fragment=\"1\" data-mce-src=\"https:\/\/pg-cdn-a2.datacaciques.com\/00\/NDAy\/20\/10\/12\/0afnm13hd136664x\/48579302a78c797a.jpg\"\u003e\u003cimg src=\"https:\/\/pg-cdn-a2.datacaciques.com\/00\/NDAy\/20\/10\/12\/0afnm13hd136664x\/668400de7b73fc82.jpg\" data-mce-fragment=\"1\" data-mce-src=\"https:\/\/pg-cdn-a2.datacaciques.com\/00\/NDAy\/20\/10\/12\/0afnm13hd136664x\/668400de7b73fc82.jpg\"\u003e\u003cimg src=\"https:\/\/pg-cdn-a2.datacaciques.com\/00\/NDAy\/20\/10\/12\/0afnm13hd136664x\/111a69479405792d.jpg\" data-mce-fragment=\"1\" data-mce-src=\"https:\/\/pg-cdn-a2.datacaciques.com\/00\/NDAy\/20\/10\/12\/0afnm13hd136664x\/111a69479405792d.jpg\"\u003e\u003cimg src=\"https:\/\/pg-cdn-a2.datacaciques.com\/00\/NDAy\/20\/10\/12\/0afnm13hd136664x\/28382f2a32958004.jpg\" data-mce-fragment=\"1\" data-mce-src=\"https:\/\/pg-cdn-a2.datacaciques.com\/00\/NDAy\/20\/10\/12\/0afnm13hd136664x\/28382f2a32958004.jpg\"\u003e\u003cimg src=\"https:\/\/pg-cdn-a2.datacaciques.com\/00\/NDAy\/20\/10\/12\/0afnm13hd136664x\/e09529e6f5ef8dd4.jpg\" data-mce-fragment=\"1\" data-mce-src=\"https:\/\/pg-cdn-a2.datacaciques.com\/00\/NDAy\/20\/10\/12\/0afnm13hd136664x\/e09529e6f5ef8dd4.jpg\"\u003e\u003cimg src=\"https:\/\/pg-cdn-a2.datacaciques.com\/00\/NDAy\/20\/10\/12\/0afnm13hd136664x\/2d1045e8362549e7.jpg\" data-mce-fragment=\"1\" data-mce-src=\"https:\/\/pg-cdn-a2.datacaciques.com\/00\/NDAy\/20\/10\/12\/0afnm13hd136664x\/2d1045e8362549e7.jpg\"\u003e\u003c\/span\u003e\u003c\/div\u003e","published_at":"2020-10-15T16:35:38+08:00","created_at":"2020-10-15T16:35:36+08:00","vendor":"DIYMORE","type":"","tags":[],"price":899,"price_min":899,"price_max":899,"available":true,"price_varies":false,"compare_at_price":null,"compare_at_price_min":0,"compare_at_price_max":0,"compare_at_price_varies":false,"variants":[{"id":32617015476295,"title":"Female Head","option1":"Female Head","option2":null,"option3":null,"sku":"XJ0030","requires_shipping":true,"taxable":false,"featured_image":{"id":15420431433799,"product_id":4881041883207,"position":1,"created_at":"2020-10-15T16:35:39+08:00","updated_at":"2020-10-15T16:38:33+08:00","alt":null,"width":1000,"height":1000,"src":"https:\/\/cdn.shopify.com\/s\/files\/1\/0122\/7558\/0986\/products\/a008e7c0c0108b07e80e32aa65b10b0d.jpg?v=1602751113","variant_ids":[32617015476295]},"available":true,"name":"Type-C PD Quick Charge Trigger Module DC Digital Display Voltage Current Meter - Female Head","public_title":"Female Head","options":["Female Head"],"price":899,"weight":0,"compare_at_price":null,"inventory_management":"shopify","barcode":"","featured_media":{"alt":null,"id":7594001891399,"position":1,"preview_image":{"aspect_ratio":1.0,"height":1000,"width":1000,"src":"https:\/\/cdn.shopify.com\/s\/files\/1\/0122\/7558\/0986\/products\/a008e7c0c0108b07e80e32aa65b10b0d.jpg?v=1602751113"}},"requires_selling_plan":false,"selling_plan_allocations":[],"quantity_rule":{"min":1,"max":null,"increment":1}},{"id":32617015509063,"title":"Male Head","option1":"Male Head","option2":null,"option3":null,"sku":"XJ0029","requires_shipping":true,"taxable":false,"featured_image":{"id":15420437528647,"product_id":4881041883207,"position":4,"created_at":"2020-10-15T16:36:31+08:00","updated_at":"2020-10-15T16:38:33+08:00","alt":null,"width":1000,"height":1000,"src":"https:\/\/cdn.shopify.com\/s\/files\/1\/0122\/7558\/0986\/products\/1602750975237_5E4F7420-9220-4aa7-9186-2168699D310D.png?v=1602751113","variant_ids":[32617015509063]},"available":true,"name":"Type-C PD Quick Charge Trigger Module DC Digital Display Voltage Current Meter - Male Head","public_title":"Male Head","options":["Male Head"],"price":899,"weight":0,"compare_at_price":null,"inventory_management":"shopify","barcode":"","featured_media":{"alt":null,"id":7594008281159,"position":4,"preview_image":{"aspect_ratio":1.0,"height":1000,"width":1000,"src":"https:\/\/cdn.shopify.com\/s\/files\/1\/0122\/7558\/0986\/products\/1602750975237_5E4F7420-9220-4aa7-9186-2168699D310D.png?v=1602751113"}},"requires_selling_plan":false,"selling_plan_allocations":[],"quantity_rule":{"min":1,"max":null,"increment":1}}],"images":["\/\/cdn.shopify.com\/s\/files\/1\/0122\/7558\/0986\/products\/a008e7c0c0108b07e80e32aa65b10b0d.jpg?v=1602751113","\/\/cdn.shopify.com\/s\/files\/1\/0122\/7558\/0986\/products\/9700582e5641af61ac34b1a25b477247.jpg?v=1602751113","\/\/cdn.shopify.com\/s\/files\/1\/0122\/7558\/0986\/products\/1_0746d68c-c3f9-4cc7-b9ff-2cbc27a200e3.jpg?v=1602751113","\/\/cdn.shopify.com\/s\/files\/1\/0122\/7558\/0986\/products\/1602750975237_5E4F7420-9220-4aa7-9186-2168699D310D.png?v=1602751113"],"featured_image":"\/\/cdn.shopify.com\/s\/files\/1\/0122\/7558\/0986\/products\/a008e7c0c0108b07e80e32aa65b10b0d.jpg?v=1602751113","options":["Style"],"media":[{"alt":null,"id":7594001891399,"position":1,"preview_image":{"aspect_ratio":1.0,"height":1000,"width":1000,"src":"https:\/\/cdn.shopify.com\/s\/files\/1\/0122\/7558\/0986\/products\/a008e7c0c0108b07e80e32aa65b10b0d.jpg?v=1602751113"},"aspect_ratio":1.0,"height":1000,"media_type":"image","src":"https:\/\/cdn.shopify.com\/s\/files\/1\/0122\/7558\/0986\/products\/a008e7c0c0108b07e80e32aa65b10b0d.jpg?v=1602751113","width":1000},{"alt":null,"id":7594001989703,"position":2,"preview_image":{"aspect_ratio":1.0,"height":750,"width":750,"src":"https:\/\/cdn.shopify.com\/s\/files\/1\/0122\/7558\/0986\/products\/9700582e5641af61ac34b1a25b477247.jpg?v=1602751113"},"aspect_ratio":1.0,"height":750,"media_type":"image","src":"https:\/\/cdn.shopify.com\/s\/files\/1\/0122\/7558\/0986\/products\/9700582e5641af61ac34b1a25b477247.jpg?v=1602751113","width":750},{"alt":null,"id":7594002022471,"position":3,"preview_image":{"aspect_ratio":1.0,"height":750,"width":750,"src":"https:\/\/cdn.shopify.com\/s\/files\/1\/0122\/7558\/0986\/products\/1_0746d68c-c3f9-4cc7-b9ff-2cbc27a200e3.jpg?v=1602751113"},"aspect_ratio":1.0,"height":750,"media_type":"image","src":"https:\/\/cdn.shopify.com\/s\/files\/1\/0122\/7558\/0986\/products\/1_0746d68c-c3f9-4cc7-b9ff-2cbc27a200e3.jpg?v=1602751113","width":750},{"alt":null,"id":7594008281159,"position":4,"preview_image":{"aspect_ratio":1.0,"height":1000,"width":1000,"src":"https:\/\/cdn.shopify.com\/s\/files\/1\/0122\/7558\/0986\/products\/1602750975237_5E4F7420-9220-4aa7-9186-2168699D310D.png?v=1602751113"},"aspect_ratio":1.0,"height":1000,"media_type":"image","src":"https:\/\/cdn.shopify.com\/s\/files\/1\/0122\/7558\/0986\/products\/1602750975237_5E4F7420-9220-4aa7-9186-2168699D310D.png?v=1602751113","width":1000}],"requires_selling_plan":false,"selling_plan_groups":[],"content":"\u003cdiv data-mce-fragment=\"1\"\u003e\n\u003cspan data-mce-fragment=\"1\"\u003e\u003cstrong data-mce-fragment=\"1\"\u003eDescription:\u003c\/strong\u003e\u003c\/span\u003e\u003cbr data-mce-fragment=\"1\"\u003e\n\u003cul\u003e\n\u003cli\u003e\u003cspan data-mce-fragment=\"1\"\u003e100% brand new and high quality\u003c\/span\u003e\u003c\/li\u003e\n\u003c\/ul\u003e\n\u003cspan data-mce-fragment=\"1\"\u003e\u003cstrong data-mce-fragment=\"1\"\u003eFeature:\u003c\/strong\u003e\u003c\/span\u003e\u003cbr data-mce-fragment=\"1\"\u003e\n\u003cul\u003e\n\u003cli\u003e\u003cspan data-mce-fragment=\"1\"\u003eDisplay the type of PD protocol on each power up, Support PD 2.0\/PD 3.0 protocol.\u003c\/span\u003e\u003c\/li\u003e\n\u003cli\u003e\u003cspan data-mce-fragment=\"1\"\u003eThis product has power-off memory function. Remember the voltage gear and PD mode before power-off next time.\u003c\/span\u003e\u003c\/li\u003e\n\u003cli\u003e\u003cspan data-mce-fragment=\"1\"\u003eThis product can trigger the voltage of different gears in the PD charging head to supply power to external equipment, such as router, optical cat, set-top box or notebook computer (the adapter should be replaced when the power of the PD charging head meets the requirements).\u003c\/span\u003e\u003c\/li\u003e\n\u003cli\u003e\u003cspan data-mce-fragment=\"1\"\u003eIt can be used as test and aging of PD charging head.\u003c\/span\u003e\u003c\/li\u003e\n\u003cli\u003e\u003cspan data-mce-fragment=\"1\"\u003eHow to switch display content:\u003c\/span\u003e\u003c\/li\u003e\n\u003cli\u003e\u003cspan data-mce-fragment=\"1\"\u003eIn the operation interface, short press key K1 to switch the display voltage \/ current \/ display in turn; long press key K1 for 5 seconds to turn off the display of digital tube and indicator light, and any key will wake up.\u003c\/span\u003e\u003c\/li\u003e\n\u003c\/ul\u003e\n\u003c\/div\u003e\n\u003cdiv data-mce-fragment=\"1\"\u003e\n\u003cstrong\u003eHow to adjust the voltage range:\u003c\/strong\u003e\u003cbr data-mce-fragment=\"1\"\u003e\n\u003cul\u003e\n\u003cli\u003e\u003cspan data-mce-fragment=\"1\"\u003eIn the operation interface, short press the K2 key to enter the voltage regulation interface, and the voltage will flash after the current gear is displayed on the nixie tube;\u003c\/span\u003e\u003c\/li\u003e\n\u003cli\u003e\u003cspan data-mce-fragment=\"1\"\u003eAt this time, short press the K2 \/ K1 key to modify (K2 for upshift and K1 for downshift),When shifting gears, \"P7-1\" (P7: supports 7 voltage gears in total, - 1: indicates the serial number of the current voltage gear), and then displays the voltage value of the current gear;If the current voltage gear supports PPS step voltage regulation, the step gear indicator (20mV 100mV 1V) will be fully on;\u003c\/span\u003e\u003c\/li\u003e\n\u003cli\u003e\u003cspan data-mce-fragment=\"1\"\u003eIn 5S, there is no key operation or long press K1 key 2s to return to the operation interface automatically;\u003c\/span\u003e\u003c\/li\u003e\n\u003cli\u003e\u003cspan data-mce-fragment=\"1\"\u003eNote: the last gear \"L\" of \"P7-l\" is triggered in turn. When the L gear is selected and returned to the operation interface, all supported gears (5V \/ 9V \/ 12V \/ 15V \/ 20V \/ PPS mode) will be triggered in turn. In this mode, the step voltage indicator light of the operation interface will be indicated by the running lamp mode. This function can be used for batch testing by the manufacturer of the charging head.\u003c\/span\u003e\u003c\/li\u003e\n\u003cli\u003e\u003cspan data-mce-fragment=\"1\"\u003eNote: the charging head of PD 2.0 generally supports 4-5 gear voltage regulation modes, and will display \"P4-1\" or \"P5-1\" format. The charging head of PD 3.0 generally supports 6-7 gear voltage regulation modes, and will display \"P6-1\" or \"P7-1\" format.\u003c\/span\u003e\u003c\/li\u003e\n\u003c\/ul\u003e\n\u003c\/div\u003e\n\u003cdiv data-mce-fragment=\"1\"\u003e\n\u003cstrong\u003eHow to adjust the voltage in PPS step-by-step mode:\u003c\/strong\u003e\u003cbr data-mce-fragment=\"1\"\u003e\n\u003cul\u003e\n\u003cli\u003e\u003cspan data-mce-fragment=\"1\"\u003eFirst, ensure that PPS step gear indicator (20mV 100mV 1V) is fully on \/ on one of them;\u003c\/span\u003e\u003c\/li\u003e\n\u003cli\u003e\u003cspan data-mce-fragment=\"1\"\u003eLong press K2 key to enter PPS voltage regulation, the voltage value of nixie tube flickers, first activate 1V step gear voltage regulation;\u003c\/span\u003e\u003c\/li\u003e\n\u003cli\u003e\u003cspan data-mce-fragment=\"1\"\u003ePress and hold K2 again to change step gear;\u003c\/span\u003e\u003c\/li\u003e\n\u003cli\u003e\u003cspan data-mce-fragment=\"1\"\u003eAfter selecting the corresponding step gear, modify the voltage by briefly pressing the K1 \/ K2 key; when the step gear indicator is fully on, press the K1 \/ K2 key briefly to exit the PPS voltage regulation mode and select other voltage gears;\u003c\/span\u003e\u003c\/li\u003e\n\u003cli\u003e\u003cspan data-mce-fragment=\"1\"\u003e5 seconds without any key operation or long press K1 key 2s to return to the operation interface automatically.\u003c\/span\u003e\u003c\/li\u003e\n\u003c\/ul\u003e\n\u003c\/div\u003e\n\u003cdiv data-mce-fragment=\"1\"\u003e\n\u003cspan data-mce-fragment=\"1\"\u003e\u003cstrong data-mce-fragment=\"1\"\u003eSpecifications:\u003c\/strong\u003e\u003c\/span\u003e\u003cbr data-mce-fragment=\"1\"\u003e\n\u003cul\u003e\n\u003cli\u003e\u003cspan data-mce-fragment=\"1\"\u003eItem Type: Quick charge trigger module\u003c\/span\u003e\u003c\/li\u003e\n\u003cli\u003e\u003cspan data-mce-fragment=\"1\"\u003eMaterial: electronic components\u003c\/span\u003e\u003c\/li\u003e\n\u003cli\u003e\u003cspan data-mce-fragment=\"1\"\u003eSize: 50mm\/1.97in(as shown)\u003c\/span\u003e\u003c\/li\u003e\n\u003cli\u003e\u003cspan data-mce-fragment=\"1\"\u003eColor: As shown\u003c\/span\u003e\u003c\/li\u003e\n\u003cli\u003e\u003cspan data-mce-fragment=\"1\"\u003eOptional Type: A: female head, B: male head\u003c\/span\u003e\u003c\/li\u003e\n\u003cli\u003e\u003cspan data-mce-fragment=\"1\"\u003eQuantity: 1 Set\u003c\/span\u003e\u003c\/li\u003e\n\u003cli\u003e\u003cspan data-mce-fragment=\"1\"\u003eNote:\u003c\/span\u003e\u003c\/li\u003e\n\u003cli\u003e\u003cspan data-mce-fragment=\"1\"\u003eTransition: 1cm=10mm=0.39inch\u003c\/span\u003e\u003c\/li\u003e\n\u003cli\u003e\u003cspan data-mce-fragment=\"1\"\u003ePlease allow 0-1cm error due to manual measurement. pls make sure you do not mind before you bid.\u003c\/span\u003e\u003c\/li\u003e\n\u003cli\u003e\u003cspan data-mce-fragment=\"1\"\u003eDue to the difference between different monitors, the picture may not reflect the actual color of the item. Thank you!\u003c\/span\u003e\u003c\/li\u003e\n\u003c\/ul\u003e\n\u003c\/div\u003e\n\u003cdiv data-mce-fragment=\"1\"\u003e\n\u003cspan data-mce-fragment=\"1\"\u003e\u003cstrong data-mce-fragment=\"1\"\u003ePackage Includes:\u003c\/strong\u003e\u003c\/span\u003e\u003cbr data-mce-fragment=\"1\"\u003e\n\u003cul\u003e\n\u003cli\u003e\u003cspan data-mce-fragment=\"1\"\u003e1 x Quick charge trigger module\u003c\/span\u003e\u003c\/li\u003e\n\u003cli\u003e\u003cspan data-mce-fragment=\"1\"\u003e1 x Type-c female\/male adapter cable\u003c\/span\u003e\u003c\/li\u003e\n\u003cli\u003e\u003cspan data-mce-fragment=\"1\"\u003e(other accessories demo in the picture are not included!)\u003c\/span\u003e\u003c\/li\u003e\n\u003c\/ul\u003e\n\u003c\/div\u003e\n\u003cdiv data-mce-fragment=\"1\"\u003e\u003cspan data-mce-fragment=\"1\"\u003e\u003cimg src=\"https:\/\/pg-cdn-a2.datacaciques.com\/00\/NDAy\/20\/10\/12\/0afnm13hd136664x\/42ceafc5e43d3d92.jpg\" data-mce-fragment=\"1\" data-mce-src=\"https:\/\/pg-cdn-a2.datacaciques.com\/00\/NDAy\/20\/10\/12\/0afnm13hd136664x\/42ceafc5e43d3d92.jpg\"\u003e\u003cimg src=\"https:\/\/pg-cdn-a2.datacaciques.com\/00\/NDAy\/20\/10\/12\/0afnm13hd136664x\/48579302a78c797a.jpg\" data-mce-fragment=\"1\" data-mce-src=\"https:\/\/pg-cdn-a2.datacaciques.com\/00\/NDAy\/20\/10\/12\/0afnm13hd136664x\/48579302a78c797a.jpg\"\u003e\u003cimg src=\"https:\/\/pg-cdn-a2.datacaciques.com\/00\/NDAy\/20\/10\/12\/0afnm13hd136664x\/668400de7b73fc82.jpg\" data-mce-fragment=\"1\" data-mce-src=\"https:\/\/pg-cdn-a2.datacaciques.com\/00\/NDAy\/20\/10\/12\/0afnm13hd136664x\/668400de7b73fc82.jpg\"\u003e\u003cimg src=\"https:\/\/pg-cdn-a2.datacaciques.com\/00\/NDAy\/20\/10\/12\/0afnm13hd136664x\/111a69479405792d.jpg\" data-mce-fragment=\"1\" data-mce-src=\"https:\/\/pg-cdn-a2.datacaciques.com\/00\/NDAy\/20\/10\/12\/0afnm13hd136664x\/111a69479405792d.jpg\"\u003e\u003cimg src=\"https:\/\/pg-cdn-a2.datacaciques.com\/00\/NDAy\/20\/10\/12\/0afnm13hd136664x\/28382f2a32958004.jpg\" data-mce-fragment=\"1\" data-mce-src=\"https:\/\/pg-cdn-a2.datacaciques.com\/00\/NDAy\/20\/10\/12\/0afnm13hd136664x\/28382f2a32958004.jpg\"\u003e\u003cimg src=\"https:\/\/pg-cdn-a2.datacaciques.com\/00\/NDAy\/20\/10\/12\/0afnm13hd136664x\/e09529e6f5ef8dd4.jpg\" data-mce-fragment=\"1\" data-mce-src=\"https:\/\/pg-cdn-a2.datacaciques.com\/00\/NDAy\/20\/10\/12\/0afnm13hd136664x\/e09529e6f5ef8dd4.jpg\"\u003e\u003cimg src=\"https:\/\/pg-cdn-a2.datacaciques.com\/00\/NDAy\/20\/10\/12\/0afnm13hd136664x\/2d1045e8362549e7.jpg\" data-mce-fragment=\"1\" data-mce-src=\"https:\/\/pg-cdn-a2.datacaciques.com\/00\/NDAy\/20\/10\/12\/0afnm13hd136664x\/2d1045e8362549e7.jpg\"\u003e\u003c\/span\u003e\u003c\/div\u003e"}

translation missing: en.products.product.regular_price

$5.99

{"id":4881041883207,"title":"Type-C PD Quick Charge Trigger Module DC Digital Display Voltage Current Meter","handle":"type-c-pd-quick-charge-trigger-module-dc-digital-display-voltage-current-meter","description":"\u003cdiv data-mce-fragment=\"1\"\u003e\n\u003cspan data-mce-fragment=\"1\"\u003e\u003cstrong data-mce-fragment=\"1\"\u003eDescription:\u003c\/strong\u003e\u003c\/span\u003e\u003cbr data-mce-fragment=\"1\"\u003e\n\u003cul\u003e\n\u003cli\u003e\u003cspan data-mce-fragment=\"1\"\u003e100% brand new and high quality\u003c\/span\u003e\u003c\/li\u003e\n\u003c\/ul\u003e\n\u003cspan data-mce-fragment=\"1\"\u003e\u003cstrong data-mce-fragment=\"1\"\u003eFeature:\u003c\/strong\u003e\u003c\/span\u003e\u003cbr data-mce-fragment=\"1\"\u003e\n\u003cul\u003e\n\u003cli\u003e\u003cspan data-mce-fragment=\"1\"\u003eDisplay the type of PD protocol on each power up, Support PD 2.0\/PD 3.0 protocol.\u003c\/span\u003e\u003c\/li\u003e\n\u003cli\u003e\u003cspan data-mce-fragment=\"1\"\u003eThis product has power-off memory function. Remember the voltage gear and PD mode before power-off next time.\u003c\/span\u003e\u003c\/li\u003e\n\u003cli\u003e\u003cspan data-mce-fragment=\"1\"\u003eThis product can trigger the voltage of different gears in the PD charging head to supply power to external equipment, such as router, optical cat, set-top box or notebook computer (the adapter should be replaced when the power of the PD charging head meets the requirements).\u003c\/span\u003e\u003c\/li\u003e\n\u003cli\u003e\u003cspan data-mce-fragment=\"1\"\u003eIt can be used as test and aging of PD charging head.\u003c\/span\u003e\u003c\/li\u003e\n\u003cli\u003e\u003cspan data-mce-fragment=\"1\"\u003eHow to switch display content:\u003c\/span\u003e\u003c\/li\u003e\n\u003cli\u003e\u003cspan data-mce-fragment=\"1\"\u003eIn the operation interface, short press key K1 to switch the display voltage \/ current \/ display in turn; long press key K1 for 5 seconds to turn off the display of digital tube and indicator light, and any key will wake up.\u003c\/span\u003e\u003c\/li\u003e\n\u003c\/ul\u003e\n\u003c\/div\u003e\n\u003cdiv data-mce-fragment=\"1\"\u003e\n\u003cstrong\u003eHow to adjust the voltage range:\u003c\/strong\u003e\u003cbr data-mce-fragment=\"1\"\u003e\n\u003cul\u003e\n\u003cli\u003e\u003cspan data-mce-fragment=\"1\"\u003eIn the operation interface, short press the K2 key to enter the voltage regulation interface, and the voltage will flash after the current gear is displayed on the nixie tube;\u003c\/span\u003e\u003c\/li\u003e\n\u003cli\u003e\u003cspan data-mce-fragment=\"1\"\u003eAt this time, short press the K2 \/ K1 key to modify (K2 for upshift and K1 for downshift),When shifting gears, \"P7-1\" (P7: supports 7 voltage gears in total, - 1: indicates the serial number of the current voltage gear), and then displays the voltage value of the current gear;If the current voltage gear supports PPS step voltage regulation, the step gear indicator (20mV 100mV 1V) will be fully on;\u003c\/span\u003e\u003c\/li\u003e\n\u003cli\u003e\u003cspan data-mce-fragment=\"1\"\u003eIn 5S, there is no key operation or long press K1 key 2s to return to the operation interface automatically;\u003c\/span\u003e\u003c\/li\u003e\n\u003cli\u003e\u003cspan data-mce-fragment=\"1\"\u003eNote: the last gear \"L\" of \"P7-l\" is triggered in turn. When the L gear is selected and returned to the operation interface, all supported gears (5V \/ 9V \/ 12V \/ 15V \/ 20V \/ PPS mode) will be triggered in turn. In this mode, the step voltage indicator light of the operation interface will be indicated by the running lamp mode. This function can be used for batch testing by the manufacturer of the charging head.\u003c\/span\u003e\u003c\/li\u003e\n\u003cli\u003e\u003cspan data-mce-fragment=\"1\"\u003eNote: the charging head of PD 2.0 generally supports 4-5 gear voltage regulation modes, and will display \"P4-1\" or \"P5-1\" format. The charging head of PD 3.0 generally supports 6-7 gear voltage regulation modes, and will display \"P6-1\" or \"P7-1\" format.\u003c\/span\u003e\u003c\/li\u003e\n\u003c\/ul\u003e\n\u003c\/div\u003e\n\u003cdiv data-mce-fragment=\"1\"\u003e\n\u003cstrong\u003eHow to adjust the voltage in PPS step-by-step mode:\u003c\/strong\u003e\u003cbr data-mce-fragment=\"1\"\u003e\n\u003cul\u003e\n\u003cli\u003e\u003cspan data-mce-fragment=\"1\"\u003eFirst, ensure that PPS step gear indicator (20mV 100mV 1V) is fully on \/ on one of them;\u003c\/span\u003e\u003c\/li\u003e\n\u003cli\u003e\u003cspan data-mce-fragment=\"1\"\u003eLong press K2 key to enter PPS voltage regulation, the voltage value of nixie tube flickers, first activate 1V step gear voltage regulation;\u003c\/span\u003e\u003c\/li\u003e\n\u003cli\u003e\u003cspan data-mce-fragment=\"1\"\u003ePress and hold K2 again to change step gear;\u003c\/span\u003e\u003c\/li\u003e\n\u003cli\u003e\u003cspan data-mce-fragment=\"1\"\u003eAfter selecting the corresponding step gear, modify the voltage by briefly pressing the K1 \/ K2 key; when the step gear indicator is fully on, press the K1 \/ K2 key briefly to exit the PPS voltage regulation mode and select other voltage gears;\u003c\/span\u003e\u003c\/li\u003e\n\u003cli\u003e\u003cspan data-mce-fragment=\"1\"\u003e5 seconds without any key operation or long press K1 key 2s to return to the operation interface automatically.\u003c\/span\u003e\u003c\/li\u003e\n\u003c\/ul\u003e\n\u003c\/div\u003e\n\u003cdiv data-mce-fragment=\"1\"\u003e\n\u003cspan data-mce-fragment=\"1\"\u003e\u003cstrong data-mce-fragment=\"1\"\u003eSpecifications:\u003c\/strong\u003e\u003c\/span\u003e\u003cbr data-mce-fragment=\"1\"\u003e\n\u003cul\u003e\n\u003cli\u003e\u003cspan data-mce-fragment=\"1\"\u003eItem Type: Quick charge trigger module\u003c\/span\u003e\u003c\/li\u003e\n\u003cli\u003e\u003cspan data-mce-fragment=\"1\"\u003eMaterial: electronic components\u003c\/span\u003e\u003c\/li\u003e\n\u003cli\u003e\u003cspan data-mce-fragment=\"1\"\u003eSize: 50mm\/1.97in(as shown)\u003c\/span\u003e\u003c\/li\u003e\n\u003cli\u003e\u003cspan data-mce-fragment=\"1\"\u003eColor: As shown\u003c\/span\u003e\u003c\/li\u003e\n\u003cli\u003e\u003cspan data-mce-fragment=\"1\"\u003eOptional Type: A: female head, B: male head\u003c\/span\u003e\u003c\/li\u003e\n\u003cli\u003e\u003cspan data-mce-fragment=\"1\"\u003eQuantity: 1 Set\u003c\/span\u003e\u003c\/li\u003e\n\u003cli\u003e\u003cspan data-mce-fragment=\"1\"\u003eNote:\u003c\/span\u003e\u003c\/li\u003e\n\u003cli\u003e\u003cspan data-mce-fragment=\"1\"\u003eTransition: 1cm=10mm=0.39inch\u003c\/span\u003e\u003c\/li\u003e\n\u003cli\u003e\u003cspan data-mce-fragment=\"1\"\u003ePlease allow 0-1cm error due to manual measurement. pls make sure you do not mind before you bid.\u003c\/span\u003e\u003c\/li\u003e\n\u003cli\u003e\u003cspan data-mce-fragment=\"1\"\u003eDue to the difference between different monitors, the picture may not reflect the actual color of the item. Thank you!\u003c\/span\u003e\u003c\/li\u003e\n\u003c\/ul\u003e\n\u003c\/div\u003e\n\u003cdiv data-mce-fragment=\"1\"\u003e\n\u003cspan data-mce-fragment=\"1\"\u003e\u003cstrong data-mce-fragment=\"1\"\u003ePackage Includes:\u003c\/strong\u003e\u003c\/span\u003e\u003cbr data-mce-fragment=\"1\"\u003e\n\u003cul\u003e\n\u003cli\u003e\u003cspan data-mce-fragment=\"1\"\u003e1 x Quick charge trigger module\u003c\/span\u003e\u003c\/li\u003e\n\u003cli\u003e\u003cspan data-mce-fragment=\"1\"\u003e1 x Type-c female\/male adapter cable\u003c\/span\u003e\u003c\/li\u003e\n\u003cli\u003e\u003cspan data-mce-fragment=\"1\"\u003e(other accessories demo in the picture are not included!)\u003c\/span\u003e\u003c\/li\u003e\n\u003c\/ul\u003e\n\u003c\/div\u003e\n\u003cdiv data-mce-fragment=\"1\"\u003e\u003cspan data-mce-fragment=\"1\"\u003e\u003cimg src=\"https:\/\/pg-cdn-a2.datacaciques.com\/00\/NDAy\/20\/10\/12\/0afnm13hd136664x\/42ceafc5e43d3d92.jpg\" data-mce-fragment=\"1\" data-mce-src=\"https:\/\/pg-cdn-a2.datacaciques.com\/00\/NDAy\/20\/10\/12\/0afnm13hd136664x\/42ceafc5e43d3d92.jpg\"\u003e\u003cimg src=\"https:\/\/pg-cdn-a2.datacaciques.com\/00\/NDAy\/20\/10\/12\/0afnm13hd136664x\/48579302a78c797a.jpg\" data-mce-fragment=\"1\" data-mce-src=\"https:\/\/pg-cdn-a2.datacaciques.com\/00\/NDAy\/20\/10\/12\/0afnm13hd136664x\/48579302a78c797a.jpg\"\u003e\u003cimg src=\"https:\/\/pg-cdn-a2.datacaciques.com\/00\/NDAy\/20\/10\/12\/0afnm13hd136664x\/668400de7b73fc82.jpg\" data-mce-fragment=\"1\" data-mce-src=\"https:\/\/pg-cdn-a2.datacaciques.com\/00\/NDAy\/20\/10\/12\/0afnm13hd136664x\/668400de7b73fc82.jpg\"\u003e\u003cimg src=\"https:\/\/pg-cdn-a2.datacaciques.com\/00\/NDAy\/20\/10\/12\/0afnm13hd136664x\/111a69479405792d.jpg\" data-mce-fragment=\"1\" data-mce-src=\"https:\/\/pg-cdn-a2.datacaciques.com\/00\/NDAy\/20\/10\/12\/0afnm13hd136664x\/111a69479405792d.jpg\"\u003e\u003cimg src=\"https:\/\/pg-cdn-a2.datacaciques.com\/00\/NDAy\/20\/10\/12\/0afnm13hd136664x\/28382f2a32958004.jpg\" data-mce-fragment=\"1\" data-mce-src=\"https:\/\/pg-cdn-a2.datacaciques.com\/00\/NDAy\/20\/10\/12\/0afnm13hd136664x\/28382f2a32958004.jpg\"\u003e\u003cimg src=\"https:\/\/pg-cdn-a2.datacaciques.com\/00\/NDAy\/20\/10\/12\/0afnm13hd136664x\/e09529e6f5ef8dd4.jpg\" data-mce-fragment=\"1\" data-mce-src=\"https:\/\/pg-cdn-a2.datacaciques.com\/00\/NDAy\/20\/10\/12\/0afnm13hd136664x\/e09529e6f5ef8dd4.jpg\"\u003e\u003cimg src=\"https:\/\/pg-cdn-a2.datacaciques.com\/00\/NDAy\/20\/10\/12\/0afnm13hd136664x\/2d1045e8362549e7.jpg\" data-mce-fragment=\"1\" data-mce-src=\"https:\/\/pg-cdn-a2.datacaciques.com\/00\/NDAy\/20\/10\/12\/0afnm13hd136664x\/2d1045e8362549e7.jpg\"\u003e\u003c\/span\u003e\u003c\/div\u003e","published_at":"2020-10-15T16:35:38+08:00","created_at":"2020-10-15T16:35:36+08:00","vendor":"DIYMORE","type":"","tags":[],"price":899,"price_min":899,"price_max":899,"available":true,"price_varies":false,"compare_at_price":null,"compare_at_price_min":0,"compare_at_price_max":0,"compare_at_price_varies":false,"variants":[{"id":32617015476295,"title":"Female Head","option1":"Female Head","option2":null,"option3":null,"sku":"XJ0030","requires_shipping":true,"taxable":false,"featured_image":{"id":15420431433799,"product_id":4881041883207,"position":1,"created_at":"2020-10-15T16:35:39+08:00","updated_at":"2020-10-15T16:38:33+08:00","alt":null,"width":1000,"height":1000,"src":"https:\/\/cdn.shopify.com\/s\/files\/1\/0122\/7558\/0986\/products\/a008e7c0c0108b07e80e32aa65b10b0d.jpg?v=1602751113","variant_ids":[32617015476295]},"available":true,"name":"Type-C PD Quick Charge Trigger Module DC Digital Display Voltage Current Meter - Female Head","public_title":"Female Head","options":["Female Head"],"price":899,"weight":0,"compare_at_price":null,"inventory_management":"shopify","barcode":"","featured_media":{"alt":null,"id":7594001891399,"position":1,"preview_image":{"aspect_ratio":1.0,"height":1000,"width":1000,"src":"https:\/\/cdn.shopify.com\/s\/files\/1\/0122\/7558\/0986\/products\/a008e7c0c0108b07e80e32aa65b10b0d.jpg?v=1602751113"}},"requires_selling_plan":false,"selling_plan_allocations":[],"quantity_rule":{"min":1,"max":null,"increment":1}},{"id":32617015509063,"title":"Male Head","option1":"Male Head","option2":null,"option3":null,"sku":"XJ0029","requires_shipping":true,"taxable":false,"featured_image":{"id":15420437528647,"product_id":4881041883207,"position":4,"created_at":"2020-10-15T16:36:31+08:00","updated_at":"2020-10-15T16:38:33+08:00","alt":null,"width":1000,"height":1000,"src":"https:\/\/cdn.shopify.com\/s\/files\/1\/0122\/7558\/0986\/products\/1602750975237_5E4F7420-9220-4aa7-9186-2168699D310D.png?v=1602751113","variant_ids":[32617015509063]},"available":true,"name":"Type-C PD Quick Charge Trigger Module DC Digital Display Voltage Current Meter - Male Head","public_title":"Male Head","options":["Male Head"],"price":899,"weight":0,"compare_at_price":null,"inventory_management":"shopify","barcode":"","featured_media":{"alt":null,"id":7594008281159,"position":4,"preview_image":{"aspect_ratio":1.0,"height":1000,"width":1000,"src":"https:\/\/cdn.shopify.com\/s\/files\/1\/0122\/7558\/0986\/products\/1602750975237_5E4F7420-9220-4aa7-9186-2168699D310D.png?v=1602751113"}},"requires_selling_plan":false,"selling_plan_allocations":[],"quantity_rule":{"min":1,"max":null,"increment":1}}],"images":["\/\/cdn.shopify.com\/s\/files\/1\/0122\/7558\/0986\/products\/a008e7c0c0108b07e80e32aa65b10b0d.jpg?v=1602751113","\/\/cdn.shopify.com\/s\/files\/1\/0122\/7558\/0986\/products\/9700582e5641af61ac34b1a25b477247.jpg?v=1602751113","\/\/cdn.shopify.com\/s\/files\/1\/0122\/7558\/0986\/products\/1_0746d68c-c3f9-4cc7-b9ff-2cbc27a200e3.jpg?v=1602751113","\/\/cdn.shopify.com\/s\/files\/1\/0122\/7558\/0986\/products\/1602750975237_5E4F7420-9220-4aa7-9186-2168699D310D.png?v=1602751113"],"featured_image":"\/\/cdn.shopify.com\/s\/files\/1\/0122\/7558\/0986\/products\/a008e7c0c0108b07e80e32aa65b10b0d.jpg?v=1602751113","options":["Style"],"media":[{"alt":null,"id":7594001891399,"position":1,"preview_image":{"aspect_ratio":1.0,"height":1000,"width":1000,"src":"https:\/\/cdn.shopify.com\/s\/files\/1\/0122\/7558\/0986\/products\/a008e7c0c0108b07e80e32aa65b10b0d.jpg?v=1602751113"},"aspect_ratio":1.0,"height":1000,"media_type":"image","src":"https:\/\/cdn.shopify.com\/s\/files\/1\/0122\/7558\/0986\/products\/a008e7c0c0108b07e80e32aa65b10b0d.jpg?v=1602751113","width":1000},{"alt":null,"id":7594001989703,"position":2,"preview_image":{"aspect_ratio":1.0,"height":750,"width":750,"src":"https:\/\/cdn.shopify.com\/s\/files\/1\/0122\/7558\/0986\/products\/9700582e5641af61ac34b1a25b477247.jpg?v=1602751113"},"aspect_ratio":1.0,"height":750,"media_type":"image","src":"https:\/\/cdn.shopify.com\/s\/files\/1\/0122\/7558\/0986\/products\/9700582e5641af61ac34b1a25b477247.jpg?v=1602751113","width":750},{"alt":null,"id":7594002022471,"position":3,"preview_image":{"aspect_ratio":1.0,"height":750,"width":750,"src":"https:\/\/cdn.shopify.com\/s\/files\/1\/0122\/7558\/0986\/products\/1_0746d68c-c3f9-4cc7-b9ff-2cbc27a200e3.jpg?v=1602751113"},"aspect_ratio":1.0,"height":750,"media_type":"image","src":"https:\/\/cdn.shopify.com\/s\/files\/1\/0122\/7558\/0986\/products\/1_0746d68c-c3f9-4cc7-b9ff-2cbc27a200e3.jpg?v=1602751113","width":750},{"alt":null,"id":7594008281159,"position":4,"preview_image":{"aspect_ratio":1.0,"height":1000,"width":1000,"src":"https:\/\/cdn.shopify.com\/s\/files\/1\/0122\/7558\/0986\/products\/1602750975237_5E4F7420-9220-4aa7-9186-2168699D310D.png?v=1602751113"},"aspect_ratio":1.0,"height":1000,"media_type":"image","src":"https:\/\/cdn.shopify.com\/s\/files\/1\/0122\/7558\/0986\/products\/1602750975237_5E4F7420-9220-4aa7-9186-2168699D310D.png?v=1602751113","width":1000}],"requires_selling_plan":false,"selling_plan_groups":[],"content":"\u003cdiv data-mce-fragment=\"1\"\u003e\n\u003cspan data-mce-fragment=\"1\"\u003e\u003cstrong data-mce-fragment=\"1\"\u003eDescription:\u003c\/strong\u003e\u003c\/span\u003e\u003cbr data-mce-fragment=\"1\"\u003e\n\u003cul\u003e\n\u003cli\u003e\u003cspan data-mce-fragment=\"1\"\u003e100% brand new and high quality\u003c\/span\u003e\u003c\/li\u003e\n\u003c\/ul\u003e\n\u003cspan data-mce-fragment=\"1\"\u003e\u003cstrong data-mce-fragment=\"1\"\u003eFeature:\u003c\/strong\u003e\u003c\/span\u003e\u003cbr data-mce-fragment=\"1\"\u003e\n\u003cul\u003e\n\u003cli\u003e\u003cspan data-mce-fragment=\"1\"\u003eDisplay the type of PD protocol on each power up, Support PD 2.0\/PD 3.0 protocol.\u003c\/span\u003e\u003c\/li\u003e\n\u003cli\u003e\u003cspan data-mce-fragment=\"1\"\u003eThis product has power-off memory function. Remember the voltage gear and PD mode before power-off next time.\u003c\/span\u003e\u003c\/li\u003e\n\u003cli\u003e\u003cspan data-mce-fragment=\"1\"\u003eThis product can trigger the voltage of different gears in the PD charging head to supply power to external equipment, such as router, optical cat, set-top box or notebook computer (the adapter should be replaced when the power of the PD charging head meets the requirements).\u003c\/span\u003e\u003c\/li\u003e\n\u003cli\u003e\u003cspan data-mce-fragment=\"1\"\u003eIt can be used as test and aging of PD charging head.\u003c\/span\u003e\u003c\/li\u003e\n\u003cli\u003e\u003cspan data-mce-fragment=\"1\"\u003eHow to switch display content:\u003c\/span\u003e\u003c\/li\u003e\n\u003cli\u003e\u003cspan data-mce-fragment=\"1\"\u003eIn the operation interface, short press key K1 to switch the display voltage \/ current \/ display in turn; long press key K1 for 5 seconds to turn off the display of digital tube and indicator light, and any key will wake up.\u003c\/span\u003e\u003c\/li\u003e\n\u003c\/ul\u003e\n\u003c\/div\u003e\n\u003cdiv data-mce-fragment=\"1\"\u003e\n\u003cstrong\u003eHow to adjust the voltage range:\u003c\/strong\u003e\u003cbr data-mce-fragment=\"1\"\u003e\n\u003cul\u003e\n\u003cli\u003e\u003cspan data-mce-fragment=\"1\"\u003eIn the operation interface, short press the K2 key to enter the voltage regulation interface, and the voltage will flash after the current gear is displayed on the nixie tube;\u003c\/span\u003e\u003c\/li\u003e\n\u003cli\u003e\u003cspan data-mce-fragment=\"1\"\u003eAt this time, short press the K2 \/ K1 key to modify (K2 for upshift and K1 for downshift),When shifting gears, \"P7-1\" (P7: supports 7 voltage gears in total, - 1: indicates the serial number of the current voltage gear), and then displays the voltage value of the current gear;If the current voltage gear supports PPS step voltage regulation, the step gear indicator (20mV 100mV 1V) will be fully on;\u003c\/span\u003e\u003c\/li\u003e\n\u003cli\u003e\u003cspan data-mce-fragment=\"1\"\u003eIn 5S, there is no key operation or long press K1 key 2s to return to the operation interface automatically;\u003c\/span\u003e\u003c\/li\u003e\n\u003cli\u003e\u003cspan data-mce-fragment=\"1\"\u003eNote: the last gear \"L\" of \"P7-l\" is triggered in turn. When the L gear is selected and returned to the operation interface, all supported gears (5V \/ 9V \/ 12V \/ 15V \/ 20V \/ PPS mode) will be triggered in turn. In this mode, the step voltage indicator light of the operation interface will be indicated by the running lamp mode. This function can be used for batch testing by the manufacturer of the charging head.\u003c\/span\u003e\u003c\/li\u003e\n\u003cli\u003e\u003cspan data-mce-fragment=\"1\"\u003eNote: the charging head of PD 2.0 generally supports 4-5 gear voltage regulation modes, and will display \"P4-1\" or \"P5-1\" format. The charging head of PD 3.0 generally supports 6-7 gear voltage regulation modes, and will display \"P6-1\" or \"P7-1\" format.\u003c\/span\u003e\u003c\/li\u003e\n\u003c\/ul\u003e\n\u003c\/div\u003e\n\u003cdiv data-mce-fragment=\"1\"\u003e\n\u003cstrong\u003eHow to adjust the voltage in PPS step-by-step mode:\u003c\/strong\u003e\u003cbr data-mce-fragment=\"1\"\u003e\n\u003cul\u003e\n\u003cli\u003e\u003cspan data-mce-fragment=\"1\"\u003eFirst, ensure that PPS step gear indicator (20mV 100mV 1V) is fully on \/ on one of them;\u003c\/span\u003e\u003c\/li\u003e\n\u003cli\u003e\u003cspan data-mce-fragment=\"1\"\u003eLong press K2 key to enter PPS voltage regulation, the voltage value of nixie tube flickers, first activate 1V step gear voltage regulation;\u003c\/span\u003e\u003c\/li\u003e\n\u003cli\u003e\u003cspan data-mce-fragment=\"1\"\u003ePress and hold K2 again to change step gear;\u003c\/span\u003e\u003c\/li\u003e\n\u003cli\u003e\u003cspan data-mce-fragment=\"1\"\u003eAfter selecting the corresponding step gear, modify the voltage by briefly pressing the K1 \/ K2 key; when the step gear indicator is fully on, press the K1 \/ K2 key briefly to exit the PPS voltage regulation mode and select other voltage gears;\u003c\/span\u003e\u003c\/li\u003e\n\u003cli\u003e\u003cspan data-mce-fragment=\"1\"\u003e5 seconds without any key operation or long press K1 key 2s to return to the operation interface automatically.\u003c\/span\u003e\u003c\/li\u003e\n\u003c\/ul\u003e\n\u003c\/div\u003e\n\u003cdiv data-mce-fragment=\"1\"\u003e\n\u003cspan data-mce-fragment=\"1\"\u003e\u003cstrong data-mce-fragment=\"1\"\u003eSpecifications:\u003c\/strong\u003e\u003c\/span\u003e\u003cbr data-mce-fragment=\"1\"\u003e\n\u003cul\u003e\n\u003cli\u003e\u003cspan data-mce-fragment=\"1\"\u003eItem Type: Quick charge trigger module\u003c\/span\u003e\u003c\/li\u003e\n\u003cli\u003e\u003cspan data-mce-fragment=\"1\"\u003eMaterial: electronic components\u003c\/span\u003e\u003c\/li\u003e\n\u003cli\u003e\u003cspan data-mce-fragment=\"1\"\u003eSize: 50mm\/1.97in(as shown)\u003c\/span\u003e\u003c\/li\u003e\n\u003cli\u003e\u003cspan data-mce-fragment=\"1\"\u003eColor: As shown\u003c\/span\u003e\u003c\/li\u003e\n\u003cli\u003e\u003cspan data-mce-fragment=\"1\"\u003eOptional Type: A: female head, B: male head\u003c\/span\u003e\u003c\/li\u003e\n\u003cli\u003e\u003cspan data-mce-fragment=\"1\"\u003eQuantity: 1 Set\u003c\/span\u003e\u003c\/li\u003e\n\u003cli\u003e\u003cspan data-mce-fragment=\"1\"\u003eNote:\u003c\/span\u003e\u003c\/li\u003e\n\u003cli\u003e\u003cspan data-mce-fragment=\"1\"\u003eTransition: 1cm=10mm=0.39inch\u003c\/span\u003e\u003c\/li\u003e\n\u003cli\u003e\u003cspan data-mce-fragment=\"1\"\u003ePlease allow 0-1cm error due to manual measurement. pls make sure you do not mind before you bid.\u003c\/span\u003e\u003c\/li\u003e\n\u003cli\u003e\u003cspan data-mce-fragment=\"1\"\u003eDue to the difference between different monitors, the picture may not reflect the actual color of the item. Thank you!\u003c\/span\u003e\u003c\/li\u003e\n\u003c\/ul\u003e\n\u003c\/div\u003e\n\u003cdiv data-mce-fragment=\"1\"\u003e\n\u003cspan data-mce-fragment=\"1\"\u003e\u003cstrong data-mce-fragment=\"1\"\u003ePackage Includes:\u003c\/strong\u003e\u003c\/span\u003e\u003cbr data-mce-fragment=\"1\"\u003e\n\u003cul\u003e\n\u003cli\u003e\u003cspan data-mce-fragment=\"1\"\u003e1 x Quick charge trigger module\u003c\/span\u003e\u003c\/li\u003e\n\u003cli\u003e\u003cspan data-mce-fragment=\"1\"\u003e1 x Type-c female\/male adapter cable\u003c\/span\u003e\u003c\/li\u003e\n\u003cli\u003e\u003cspan data-mce-fragment=\"1\"\u003e(other accessories demo in the picture are not included!)\u003c\/span\u003e\u003c\/li\u003e\n\u003c\/ul\u003e\n\u003c\/div\u003e\n\u003cdiv data-mce-fragment=\"1\"\u003e\u003cspan data-mce-fragment=\"1\"\u003e\u003cimg src=\"https:\/\/pg-cdn-a2.datacaciques.com\/00\/NDAy\/20\/10\/12\/0afnm13hd136664x\/42ceafc5e43d3d92.jpg\" data-mce-fragment=\"1\" data-mce-src=\"https:\/\/pg-cdn-a2.datacaciques.com\/00\/NDAy\/20\/10\/12\/0afnm13hd136664x\/42ceafc5e43d3d92.jpg\"\u003e\u003cimg src=\"https:\/\/pg-cdn-a2.datacaciques.com\/00\/NDAy\/20\/10\/12\/0afnm13hd136664x\/48579302a78c797a.jpg\" data-mce-fragment=\"1\" data-mce-src=\"https:\/\/pg-cdn-a2.datacaciques.com\/00\/NDAy\/20\/10\/12\/0afnm13hd136664x\/48579302a78c797a.jpg\"\u003e\u003cimg src=\"https:\/\/pg-cdn-a2.datacaciques.com\/00\/NDAy\/20\/10\/12\/0afnm13hd136664x\/668400de7b73fc82.jpg\" data-mce-fragment=\"1\" data-mce-src=\"https:\/\/pg-cdn-a2.datacaciques.com\/00\/NDAy\/20\/10\/12\/0afnm13hd136664x\/668400de7b73fc82.jpg\"\u003e\u003cimg src=\"https:\/\/pg-cdn-a2.datacaciques.com\/00\/NDAy\/20\/10\/12\/0afnm13hd136664x\/111a69479405792d.jpg\" data-mce-fragment=\"1\" data-mce-src=\"https:\/\/pg-cdn-a2.datacaciques.com\/00\/NDAy\/20\/10\/12\/0afnm13hd136664x\/111a69479405792d.jpg\"\u003e\u003cimg src=\"https:\/\/pg-cdn-a2.datacaciques.com\/00\/NDAy\/20\/10\/12\/0afnm13hd136664x\/28382f2a32958004.jpg\" data-mce-fragment=\"1\" data-mce-src=\"https:\/\/pg-cdn-a2.datacaciques.com\/00\/NDAy\/20\/10\/12\/0afnm13hd136664x\/28382f2a32958004.jpg\"\u003e\u003cimg src=\"https:\/\/pg-cdn-a2.datacaciques.com\/00\/NDAy\/20\/10\/12\/0afnm13hd136664x\/e09529e6f5ef8dd4.jpg\" data-mce-fragment=\"1\" data-mce-src=\"https:\/\/pg-cdn-a2.datacaciques.com\/00\/NDAy\/20\/10\/12\/0afnm13hd136664x\/e09529e6f5ef8dd4.jpg\"\u003e\u003cimg src=\"https:\/\/pg-cdn-a2.datacaciques.com\/00\/NDAy\/20\/10\/12\/0afnm13hd136664x\/2d1045e8362549e7.jpg\" data-mce-fragment=\"1\" data-mce-src=\"https:\/\/pg-cdn-a2.datacaciques.com\/00\/NDAy\/20\/10\/12\/0afnm13hd136664x\/2d1045e8362549e7.jpg\"\u003e\u003c\/span\u003e\u003c\/div\u003e"}

translation missing: en.products.product.regular_price

$7.99

{"id":4881041883207,"title":"Type-C PD Quick Charge Trigger Module DC Digital Display Voltage Current Meter","handle":"type-c-pd-quick-charge-trigger-module-dc-digital-display-voltage-current-meter","description":"\u003cdiv data-mce-fragment=\"1\"\u003e\n\u003cspan data-mce-fragment=\"1\"\u003e\u003cstrong data-mce-fragment=\"1\"\u003eDescription:\u003c\/strong\u003e\u003c\/span\u003e\u003cbr data-mce-fragment=\"1\"\u003e\n\u003cul\u003e\n\u003cli\u003e\u003cspan data-mce-fragment=\"1\"\u003e100% brand new and high quality\u003c\/span\u003e\u003c\/li\u003e\n\u003c\/ul\u003e\n\u003cspan data-mce-fragment=\"1\"\u003e\u003cstrong data-mce-fragment=\"1\"\u003eFeature:\u003c\/strong\u003e\u003c\/span\u003e\u003cbr data-mce-fragment=\"1\"\u003e\n\u003cul\u003e\n\u003cli\u003e\u003cspan data-mce-fragment=\"1\"\u003eDisplay the type of PD protocol on each power up, Support PD 2.0\/PD 3.0 protocol.\u003c\/span\u003e\u003c\/li\u003e\n\u003cli\u003e\u003cspan data-mce-fragment=\"1\"\u003eThis product has power-off memory function. Remember the voltage gear and PD mode before power-off next time.\u003c\/span\u003e\u003c\/li\u003e\n\u003cli\u003e\u003cspan data-mce-fragment=\"1\"\u003eThis product can trigger the voltage of different gears in the PD charging head to supply power to external equipment, such as router, optical cat, set-top box or notebook computer (the adapter should be replaced when the power of the PD charging head meets the requirements).\u003c\/span\u003e\u003c\/li\u003e\n\u003cli\u003e\u003cspan data-mce-fragment=\"1\"\u003eIt can be used as test and aging of PD charging head.\u003c\/span\u003e\u003c\/li\u003e\n\u003cli\u003e\u003cspan data-mce-fragment=\"1\"\u003eHow to switch display content:\u003c\/span\u003e\u003c\/li\u003e\n\u003cli\u003e\u003cspan data-mce-fragment=\"1\"\u003eIn the operation interface, short press key K1 to switch the display voltage \/ current \/ display in turn; long press key K1 for 5 seconds to turn off the display of digital tube and indicator light, and any key will wake up.\u003c\/span\u003e\u003c\/li\u003e\n\u003c\/ul\u003e\n\u003c\/div\u003e\n\u003cdiv data-mce-fragment=\"1\"\u003e\n\u003cstrong\u003eHow to adjust the voltage range:\u003c\/strong\u003e\u003cbr data-mce-fragment=\"1\"\u003e\n\u003cul\u003e\n\u003cli\u003e\u003cspan data-mce-fragment=\"1\"\u003eIn the operation interface, short press the K2 key to enter the voltage regulation interface, and the voltage will flash after the current gear is displayed on the nixie tube;\u003c\/span\u003e\u003c\/li\u003e\n\u003cli\u003e\u003cspan data-mce-fragment=\"1\"\u003eAt this time, short press the K2 \/ K1 key to modify (K2 for upshift and K1 for downshift),When shifting gears, \"P7-1\" (P7: supports 7 voltage gears in total, - 1: indicates the serial number of the current voltage gear), and then displays the voltage value of the current gear;If the current voltage gear supports PPS step voltage regulation, the step gear indicator (20mV 100mV 1V) will be fully on;\u003c\/span\u003e\u003c\/li\u003e\n\u003cli\u003e\u003cspan data-mce-fragment=\"1\"\u003eIn 5S, there is no key operation or long press K1 key 2s to return to the operation interface automatically;\u003c\/span\u003e\u003c\/li\u003e\n\u003cli\u003e\u003cspan data-mce-fragment=\"1\"\u003eNote: the last gear \"L\" of \"P7-l\" is triggered in turn. When the L gear is selected and returned to the operation interface, all supported gears (5V \/ 9V \/ 12V \/ 15V \/ 20V \/ PPS mode) will be triggered in turn. In this mode, the step voltage indicator light of the operation interface will be indicated by the running lamp mode. This function can be used for batch testing by the manufacturer of the charging head.\u003c\/span\u003e\u003c\/li\u003e\n\u003cli\u003e\u003cspan data-mce-fragment=\"1\"\u003eNote: the charging head of PD 2.0 generally supports 4-5 gear voltage regulation modes, and will display \"P4-1\" or \"P5-1\" format. The charging head of PD 3.0 generally supports 6-7 gear voltage regulation modes, and will display \"P6-1\" or \"P7-1\" format.\u003c\/span\u003e\u003c\/li\u003e\n\u003c\/ul\u003e\n\u003c\/div\u003e\n\u003cdiv data-mce-fragment=\"1\"\u003e\n\u003cstrong\u003eHow to adjust the voltage in PPS step-by-step mode:\u003c\/strong\u003e\u003cbr data-mce-fragment=\"1\"\u003e\n\u003cul\u003e\n\u003cli\u003e\u003cspan data-mce-fragment=\"1\"\u003eFirst, ensure that PPS step gear indicator (20mV 100mV 1V) is fully on \/ on one of them;\u003c\/span\u003e\u003c\/li\u003e\n\u003cli\u003e\u003cspan data-mce-fragment=\"1\"\u003eLong press K2 key to enter PPS voltage regulation, the voltage value of nixie tube flickers, first activate 1V step gear voltage regulation;\u003c\/span\u003e\u003c\/li\u003e\n\u003cli\u003e\u003cspan data-mce-fragment=\"1\"\u003ePress and hold K2 again to change step gear;\u003c\/span\u003e\u003c\/li\u003e\n\u003cli\u003e\u003cspan data-mce-fragment=\"1\"\u003eAfter selecting the corresponding step gear, modify the voltage by briefly pressing the K1 \/ K2 key; when the step gear indicator is fully on, press the K1 \/ K2 key briefly to exit the PPS voltage regulation mode and select other voltage gears;\u003c\/span\u003e\u003c\/li\u003e\n\u003cli\u003e\u003cspan data-mce-fragment=\"1\"\u003e5 seconds without any key operation or long press K1 key 2s to return to the operation interface automatically.\u003c\/span\u003e\u003c\/li\u003e\n\u003c\/ul\u003e\n\u003c\/div\u003e\n\u003cdiv data-mce-fragment=\"1\"\u003e\n\u003cspan data-mce-fragment=\"1\"\u003e\u003cstrong data-mce-fragment=\"1\"\u003eSpecifications:\u003c\/strong\u003e\u003c\/span\u003e\u003cbr data-mce-fragment=\"1\"\u003e\n\u003cul\u003e\n\u003cli\u003e\u003cspan data-mce-fragment=\"1\"\u003eItem Type: Quick charge trigger module\u003c\/span\u003e\u003c\/li\u003e\n\u003cli\u003e\u003cspan data-mce-fragment=\"1\"\u003eMaterial: electronic components\u003c\/span\u003e\u003c\/li\u003e\n\u003cli\u003e\u003cspan data-mce-fragment=\"1\"\u003eSize: 50mm\/1.97in(as shown)\u003c\/span\u003e\u003c\/li\u003e\n\u003cli\u003e\u003cspan data-mce-fragment=\"1\"\u003eColor: As shown\u003c\/span\u003e\u003c\/li\u003e\n\u003cli\u003e\u003cspan data-mce-fragment=\"1\"\u003eOptional Type: A: female head, B: male head\u003c\/span\u003e\u003c\/li\u003e\n\u003cli\u003e\u003cspan data-mce-fragment=\"1\"\u003eQuantity: 1 Set\u003c\/span\u003e\u003c\/li\u003e\n\u003cli\u003e\u003cspan data-mce-fragment=\"1\"\u003eNote:\u003c\/span\u003e\u003c\/li\u003e\n\u003cli\u003e\u003cspan data-mce-fragment=\"1\"\u003eTransition: 1cm=10mm=0.39inch\u003c\/span\u003e\u003c\/li\u003e\n\u003cli\u003e\u003cspan data-mce-fragment=\"1\"\u003ePlease allow 0-1cm error due to manual measurement. pls make sure you do not mind before you bid.\u003c\/span\u003e\u003c\/li\u003e\n\u003cli\u003e\u003cspan data-mce-fragment=\"1\"\u003eDue to the difference between different monitors, the picture may not reflect the actual color of the item. Thank you!\u003c\/span\u003e\u003c\/li\u003e\n\u003c\/ul\u003e\n\u003c\/div\u003e\n\u003cdiv data-mce-fragment=\"1\"\u003e\n\u003cspan data-mce-fragment=\"1\"\u003e\u003cstrong data-mce-fragment=\"1\"\u003ePackage Includes:\u003c\/strong\u003e\u003c\/span\u003e\u003cbr data-mce-fragment=\"1\"\u003e\n\u003cul\u003e\n\u003cli\u003e\u003cspan data-mce-fragment=\"1\"\u003e1 x Quick charge trigger module\u003c\/span\u003e\u003c\/li\u003e\n\u003cli\u003e\u003cspan data-mce-fragment=\"1\"\u003e1 x Type-c female\/male adapter cable\u003c\/span\u003e\u003c\/li\u003e\n\u003cli\u003e\u003cspan data-mce-fragment=\"1\"\u003e(other accessories demo in the picture are not included!)\u003c\/span\u003e\u003c\/li\u003e\n\u003c\/ul\u003e\n\u003c\/div\u003e\n\u003cdiv data-mce-fragment=\"1\"\u003e\u003cspan data-mce-fragment=\"1\"\u003e\u003cimg src=\"https:\/\/pg-cdn-a2.datacaciques.com\/00\/NDAy\/20\/10\/12\/0afnm13hd136664x\/42ceafc5e43d3d92.jpg\" data-mce-fragment=\"1\" data-mce-src=\"https:\/\/pg-cdn-a2.datacaciques.com\/00\/NDAy\/20\/10\/12\/0afnm13hd136664x\/42ceafc5e43d3d92.jpg\"\u003e\u003cimg src=\"https:\/\/pg-cdn-a2.datacaciques.com\/00\/NDAy\/20\/10\/12\/0afnm13hd136664x\/48579302a78c797a.jpg\" data-mce-fragment=\"1\" data-mce-src=\"https:\/\/pg-cdn-a2.datacaciques.com\/00\/NDAy\/20\/10\/12\/0afnm13hd136664x\/48579302a78c797a.jpg\"\u003e\u003cimg src=\"https:\/\/pg-cdn-a2.datacaciques.com\/00\/NDAy\/20\/10\/12\/0afnm13hd136664x\/668400de7b73fc82.jpg\" data-mce-fragment=\"1\" data-mce-src=\"https:\/\/pg-cdn-a2.datacaciques.com\/00\/NDAy\/20\/10\/12\/0afnm13hd136664x\/668400de7b73fc82.jpg\"\u003e\u003cimg src=\"https:\/\/pg-cdn-a2.datacaciques.com\/00\/NDAy\/20\/10\/12\/0afnm13hd136664x\/111a69479405792d.jpg\" data-mce-fragment=\"1\" data-mce-src=\"https:\/\/pg-cdn-a2.datacaciques.com\/00\/NDAy\/20\/10\/12\/0afnm13hd136664x\/111a69479405792d.jpg\"\u003e\u003cimg src=\"https:\/\/pg-cdn-a2.datacaciques.com\/00\/NDAy\/20\/10\/12\/0afnm13hd136664x\/28382f2a32958004.jpg\" data-mce-fragment=\"1\" data-mce-src=\"https:\/\/pg-cdn-a2.datacaciques.com\/00\/NDAy\/20\/10\/12\/0afnm13hd136664x\/28382f2a32958004.jpg\"\u003e\u003cimg src=\"https:\/\/pg-cdn-a2.datacaciques.com\/00\/NDAy\/20\/10\/12\/0afnm13hd136664x\/e09529e6f5ef8dd4.jpg\" data-mce-fragment=\"1\" data-mce-src=\"https:\/\/pg-cdn-a2.datacaciques.com\/00\/NDAy\/20\/10\/12\/0afnm13hd136664x\/e09529e6f5ef8dd4.jpg\"\u003e\u003cimg src=\"https:\/\/pg-cdn-a2.datacaciques.com\/00\/NDAy\/20\/10\/12\/0afnm13hd136664x\/2d1045e8362549e7.jpg\" data-mce-fragment=\"1\" data-mce-src=\"https:\/\/pg-cdn-a2.datacaciques.com\/00\/NDAy\/20\/10\/12\/0afnm13hd136664x\/2d1045e8362549e7.jpg\"\u003e\u003c\/span\u003e\u003c\/div\u003e","published_at":"2020-10-15T16:35:38+08:00","created_at":"2020-10-15T16:35:36+08:00","vendor":"DIYMORE","type":"","tags":[],"price":899,"price_min":899,"price_max":899,"available":true,"price_varies":false,"compare_at_price":null,"compare_at_price_min":0,"compare_at_price_max":0,"compare_at_price_varies":false,"variants":[{"id":32617015476295,"title":"Female Head","option1":"Female Head","option2":null,"option3":null,"sku":"XJ0030","requires_shipping":true,"taxable":false,"featured_image":{"id":15420431433799,"product_id":4881041883207,"position":1,"created_at":"2020-10-15T16:35:39+08:00","updated_at":"2020-10-15T16:38:33+08:00","alt":null,"width":1000,"height":1000,"src":"https:\/\/cdn.shopify.com\/s\/files\/1\/0122\/7558\/0986\/products\/a008e7c0c0108b07e80e32aa65b10b0d.jpg?v=1602751113","variant_ids":[32617015476295]},"available":true,"name":"Type-C PD Quick Charge Trigger Module DC Digital Display Voltage Current Meter - Female Head","public_title":"Female Head","options":["Female Head"],"price":899,"weight":0,"compare_at_price":null,"inventory_management":"shopify","barcode":"","featured_media":{"alt":null,"id":7594001891399,"position":1,"preview_image":{"aspect_ratio":1.0,"height":1000,"width":1000,"src":"https:\/\/cdn.shopify.com\/s\/files\/1\/0122\/7558\/0986\/products\/a008e7c0c0108b07e80e32aa65b10b0d.jpg?v=1602751113"}},"requires_selling_plan":false,"selling_plan_allocations":[],"quantity_rule":{"min":1,"max":null,"increment":1}},{"id":32617015509063,"title":"Male Head","option1":"Male Head","option2":null,"option3":null,"sku":"XJ0029","requires_shipping":true,"taxable":false,"featured_image":{"id":15420437528647,"product_id":4881041883207,"position":4,"created_at":"2020-10-15T16:36:31+08:00","updated_at":"2020-10-15T16:38:33+08:00","alt":null,"width":1000,"height":1000,"src":"https:\/\/cdn.shopify.com\/s\/files\/1\/0122\/7558\/0986\/products\/1602750975237_5E4F7420-9220-4aa7-9186-2168699D310D.png?v=1602751113","variant_ids":[32617015509063]},"available":true,"name":"Type-C PD Quick Charge Trigger Module DC Digital Display Voltage Current Meter - Male Head","public_title":"Male Head","options":["Male Head"],"price":899,"weight":0,"compare_at_price":null,"inventory_management":"shopify","barcode":"","featured_media":{"alt":null,"id":7594008281159,"position":4,"preview_image":{"aspect_ratio":1.0,"height":1000,"width":1000,"src":"https:\/\/cdn.shopify.com\/s\/files\/1\/0122\/7558\/0986\/products\/1602750975237_5E4F7420-9220-4aa7-9186-2168699D310D.png?v=1602751113"}},"requires_selling_plan":false,"selling_plan_allocations":[],"quantity_rule":{"min":1,"max":null,"increment":1}}],"images":["\/\/cdn.shopify.com\/s\/files\/1\/0122\/7558\/0986\/products\/a008e7c0c0108b07e80e32aa65b10b0d.jpg?v=1602751113","\/\/cdn.shopify.com\/s\/files\/1\/0122\/7558\/0986\/products\/9700582e5641af61ac34b1a25b477247.jpg?v=1602751113","\/\/cdn.shopify.com\/s\/files\/1\/0122\/7558\/0986\/products\/1_0746d68c-c3f9-4cc7-b9ff-2cbc27a200e3.jpg?v=1602751113","\/\/cdn.shopify.com\/s\/files\/1\/0122\/7558\/0986\/products\/1602750975237_5E4F7420-9220-4aa7-9186-2168699D310D.png?v=1602751113"],"featured_image":"\/\/cdn.shopify.com\/s\/files\/1\/0122\/7558\/0986\/products\/a008e7c0c0108b07e80e32aa65b10b0d.jpg?v=1602751113","options":["Style"],"media":[{"alt":null,"id":7594001891399,"position":1,"preview_image":{"aspect_ratio":1.0,"height":1000,"width":1000,"src":"https:\/\/cdn.shopify.com\/s\/files\/1\/0122\/7558\/0986\/products\/a008e7c0c0108b07e80e32aa65b10b0d.jpg?v=1602751113"},"aspect_ratio":1.0,"height":1000,"media_type":"image","src":"https:\/\/cdn.shopify.com\/s\/files\/1\/0122\/7558\/0986\/products\/a008e7c0c0108b07e80e32aa65b10b0d.jpg?v=1602751113","width":1000},{"alt":null,"id":7594001989703,"position":2,"preview_image":{"aspect_ratio":1.0,"height":750,"width":750,"src":"https:\/\/cdn.shopify.com\/s\/files\/1\/0122\/7558\/0986\/products\/9700582e5641af61ac34b1a25b477247.jpg?v=1602751113"},"aspect_ratio":1.0,"height":750,"media_type":"image","src":"https:\/\/cdn.shopify.com\/s\/files\/1\/0122\/7558\/0986\/products\/9700582e5641af61ac34b1a25b477247.jpg?v=1602751113","width":750},{"alt":null,"id":7594002022471,"position":3,"preview_image":{"aspect_ratio":1.0,"height":750,"width":750,"src":"https:\/\/cdn.shopify.com\/s\/files\/1\/0122\/7558\/0986\/products\/1_0746d68c-c3f9-4cc7-b9ff-2cbc27a200e3.jpg?v=1602751113"},"aspect_ratio":1.0,"height":750,"media_type":"image","src":"https:\/\/cdn.shopify.com\/s\/files\/1\/0122\/7558\/0986\/products\/1_0746d68c-c3f9-4cc7-b9ff-2cbc27a200e3.jpg?v=1602751113","width":750},{"alt":null,"id":7594008281159,"position":4,"preview_image":{"aspect_ratio":1.0,"height":1000,"width":1000,"src":"https:\/\/cdn.shopify.com\/s\/files\/1\/0122\/7558\/0986\/products\/1602750975237_5E4F7420-9220-4aa7-9186-2168699D310D.png?v=1602751113"},"aspect_ratio":1.0,"height":1000,"media_type":"image","src":"https:\/\/cdn.shopify.com\/s\/files\/1\/0122\/7558\/0986\/products\/1602750975237_5E4F7420-9220-4aa7-9186-2168699D310D.png?v=1602751113","width":1000}],"requires_selling_plan":false,"selling_plan_groups":[],"content":"\u003cdiv data-mce-fragment=\"1\"\u003e\n\u003cspan data-mce-fragment=\"1\"\u003e\u003cstrong data-mce-fragment=\"1\"\u003eDescription:\u003c\/strong\u003e\u003c\/span\u003e\u003cbr data-mce-fragment=\"1\"\u003e\n\u003cul\u003e\n\u003cli\u003e\u003cspan data-mce-fragment=\"1\"\u003e100% brand new and high quality\u003c\/span\u003e\u003c\/li\u003e\n\u003c\/ul\u003e\n\u003cspan data-mce-fragment=\"1\"\u003e\u003cstrong data-mce-fragment=\"1\"\u003eFeature:\u003c\/strong\u003e\u003c\/span\u003e\u003cbr data-mce-fragment=\"1\"\u003e\n\u003cul\u003e\n\u003cli\u003e\u003cspan data-mce-fragment=\"1\"\u003eDisplay the type of PD protocol on each power up, Support PD 2.0\/PD 3.0 protocol.\u003c\/span\u003e\u003c\/li\u003e\n\u003cli\u003e\u003cspan data-mce-fragment=\"1\"\u003eThis product has power-off memory function. Remember the voltage gear and PD mode before power-off next time.\u003c\/span\u003e\u003c\/li\u003e\n\u003cli\u003e\u003cspan data-mce-fragment=\"1\"\u003eThis product can trigger the voltage of different gears in the PD charging head to supply power to external equipment, such as router, optical cat, set-top box or notebook computer (the adapter should be replaced when the power of the PD charging head meets the requirements).\u003c\/span\u003e\u003c\/li\u003e\n\u003cli\u003e\u003cspan data-mce-fragment=\"1\"\u003eIt can be used as test and aging of PD charging head.\u003c\/span\u003e\u003c\/li\u003e\n\u003cli\u003e\u003cspan data-mce-fragment=\"1\"\u003eHow to switch display content:\u003c\/span\u003e\u003c\/li\u003e\n\u003cli\u003e\u003cspan data-mce-fragment=\"1\"\u003eIn the operation interface, short press key K1 to switch the display voltage \/ current \/ display in turn; long press key K1 for 5 seconds to turn off the display of digital tube and indicator light, and any key will wake up.\u003c\/span\u003e\u003c\/li\u003e\n\u003c\/ul\u003e\n\u003c\/div\u003e\n\u003cdiv data-mce-fragment=\"1\"\u003e\n\u003cstrong\u003eHow to adjust the voltage range:\u003c\/strong\u003e\u003cbr data-mce-fragment=\"1\"\u003e\n\u003cul\u003e\n\u003cli\u003e\u003cspan data-mce-fragment=\"1\"\u003eIn the operation interface, short press the K2 key to enter the voltage regulation interface, and the voltage will flash after the current gear is displayed on the nixie tube;\u003c\/span\u003e\u003c\/li\u003e\n\u003cli\u003e\u003cspan data-mce-fragment=\"1\"\u003eAt this time, short press the K2 \/ K1 key to modify (K2 for upshift and K1 for downshift),When shifting gears, \"P7-1\" (P7: supports 7 voltage gears in total, - 1: indicates the serial number of the current voltage gear), and then displays the voltage value of the current gear;If the current voltage gear supports PPS step voltage regulation, the step gear indicator (20mV 100mV 1V) will be fully on;\u003c\/span\u003e\u003c\/li\u003e\n\u003cli\u003e\u003cspan data-mce-fragment=\"1\"\u003eIn 5S, there is no key operation or long press K1 key 2s to return to the operation interface automatically;\u003c\/span\u003e\u003c\/li\u003e\n\u003cli\u003e\u003cspan data-mce-fragment=\"1\"\u003eNote: the last gear \"L\" of \"P7-l\" is triggered in turn. When the L gear is selected and returned to the operation interface, all supported gears (5V \/ 9V \/ 12V \/ 15V \/ 20V \/ PPS mode) will be triggered in turn. In this mode, the step voltage indicator light of the operation interface will be indicated by the running lamp mode. This function can be used for batch testing by the manufacturer of the charging head.\u003c\/span\u003e\u003c\/li\u003e\n\u003cli\u003e\u003cspan data-mce-fragment=\"1\"\u003eNote: the charging head of PD 2.0 generally supports 4-5 gear voltage regulation modes, and will display \"P4-1\" or \"P5-1\" format. The charging head of PD 3.0 generally supports 6-7 gear voltage regulation modes, and will display \"P6-1\" or \"P7-1\" format.\u003c\/span\u003e\u003c\/li\u003e\n\u003c\/ul\u003e\n\u003c\/div\u003e\n\u003cdiv data-mce-fragment=\"1\"\u003e\n\u003cstrong\u003eHow to adjust the voltage in PPS step-by-step mode:\u003c\/strong\u003e\u003cbr data-mce-fragment=\"1\"\u003e\n\u003cul\u003e\n\u003cli\u003e\u003cspan data-mce-fragment=\"1\"\u003eFirst, ensure that PPS step gear indicator (20mV 100mV 1V) is fully on \/ on one of them;\u003c\/span\u003e\u003c\/li\u003e\n\u003cli\u003e\u003cspan data-mce-fragment=\"1\"\u003eLong press K2 key to enter PPS voltage regulation, the voltage value of nixie tube flickers, first activate 1V step gear voltage regulation;\u003c\/span\u003e\u003c\/li\u003e\n\u003cli\u003e\u003cspan data-mce-fragment=\"1\"\u003ePress and hold K2 again to change step gear;\u003c\/span\u003e\u003c\/li\u003e\n\u003cli\u003e\u003cspan data-mce-fragment=\"1\"\u003eAfter selecting the corresponding step gear, modify the voltage by briefly pressing the K1 \/ K2 key; when the step gear indicator is fully on, press the K1 \/ K2 key briefly to exit the PPS voltage regulation mode and select other voltage gears;\u003c\/span\u003e\u003c\/li\u003e\n\u003cli\u003e\u003cspan data-mce-fragment=\"1\"\u003e5 seconds without any key operation or long press K1 key 2s to return to the operation interface automatically.\u003c\/span\u003e\u003c\/li\u003e\n\u003c\/ul\u003e\n\u003c\/div\u003e\n\u003cdiv data-mce-fragment=\"1\"\u003e\n\u003cspan data-mce-fragment=\"1\"\u003e\u003cstrong data-mce-fragment=\"1\"\u003eSpecifications:\u003c\/strong\u003e\u003c\/span\u003e\u003cbr data-mce-fragment=\"1\"\u003e\n\u003cul\u003e\n\u003cli\u003e\u003cspan data-mce-fragment=\"1\"\u003eItem Type: Quick charge trigger module\u003c\/span\u003e\u003c\/li\u003e\n\u003cli\u003e\u003cspan data-mce-fragment=\"1\"\u003eMaterial: electronic components\u003c\/span\u003e\u003c\/li\u003e\n\u003cli\u003e\u003cspan data-mce-fragment=\"1\"\u003eSize: 50mm\/1.97in(as shown)\u003c\/span\u003e\u003c\/li\u003e\n\u003cli\u003e\u003cspan data-mce-fragment=\"1\"\u003eColor: As shown\u003c\/span\u003e\u003c\/li\u003e\n\u003cli\u003e\u003cspan data-mce-fragment=\"1\"\u003eOptional Type: A: female head, B: male head\u003c\/span\u003e\u003c\/li\u003e\n\u003cli\u003e\u003cspan data-mce-fragment=\"1\"\u003eQuantity: 1 Set\u003c\/span\u003e\u003c\/li\u003e\n\u003cli\u003e\u003cspan data-mce-fragment=\"1\"\u003eNote:\u003c\/span\u003e\u003c\/li\u003e\n\u003cli\u003e\u003cspan data-mce-fragment=\"1\"\u003eTransition: 1cm=10mm=0.39inch\u003c\/span\u003e\u003c\/li\u003e\n\u003cli\u003e\u003cspan data-mce-fragment=\"1\"\u003ePlease allow 0-1cm error due to manual measurement. pls make sure you do not mind before you bid.\u003c\/span\u003e\u003c\/li\u003e\n\u003cli\u003e\u003cspan data-mce-fragment=\"1\"\u003eDue to the difference between different monitors, the picture may not reflect the actual color of the item. Thank you!\u003c\/span\u003e\u003c\/li\u003e\n\u003c\/ul\u003e\n\u003c\/div\u003e\n\u003cdiv data-mce-fragment=\"1\"\u003e\n\u003cspan data-mce-fragment=\"1\"\u003e\u003cstrong data-mce-fragment=\"1\"\u003ePackage Includes:\u003c\/strong\u003e\u003c\/span\u003e\u003cbr data-mce-fragment=\"1\"\u003e\n\u003cul\u003e\n\u003cli\u003e\u003cspan data-mce-fragment=\"1\"\u003e1 x Quick charge trigger module\u003c\/span\u003e\u003c\/li\u003e\n\u003cli\u003e\u003cspan data-mce-fragment=\"1\"\u003e1 x Type-c female\/male adapter cable\u003c\/span\u003e\u003c\/li\u003e\n\u003cli\u003e\u003cspan data-mce-fragment=\"1\"\u003e(other accessories demo in the picture are not included!)\u003c\/span\u003e\u003c\/li\u003e\n\u003c\/ul\u003e\n\u003c\/div\u003e\n\u003cdiv data-mce-fragment=\"1\"\u003e\u003cspan data-mce-fragment=\"1\"\u003e\u003cimg src=\"https:\/\/pg-cdn-a2.datacaciques.com\/00\/NDAy\/20\/10\/12\/0afnm13hd136664x\/42ceafc5e43d3d92.jpg\" data-mce-fragment=\"1\" data-mce-src=\"https:\/\/pg-cdn-a2.datacaciques.com\/00\/NDAy\/20\/10\/12\/0afnm13hd136664x\/42ceafc5e43d3d92.jpg\"\u003e\u003cimg src=\"https:\/\/pg-cdn-a2.datacaciques.com\/00\/NDAy\/20\/10\/12\/0afnm13hd136664x\/48579302a78c797a.jpg\" data-mce-fragment=\"1\" data-mce-src=\"https:\/\/pg-cdn-a2.datacaciques.com\/00\/NDAy\/20\/10\/12\/0afnm13hd136664x\/48579302a78c797a.jpg\"\u003e\u003cimg src=\"https:\/\/pg-cdn-a2.datacaciques.com\/00\/NDAy\/20\/10\/12\/0afnm13hd136664x\/668400de7b73fc82.jpg\" data-mce-fragment=\"1\" data-mce-src=\"https:\/\/pg-cdn-a2.datacaciques.com\/00\/NDAy\/20\/10\/12\/0afnm13hd136664x\/668400de7b73fc82.jpg\"\u003e\u003cimg src=\"https:\/\/pg-cdn-a2.datacaciques.com\/00\/NDAy\/20\/10\/12\/0afnm13hd136664x\/111a69479405792d.jpg\" data-mce-fragment=\"1\" data-mce-src=\"https:\/\/pg-cdn-a2.datacaciques.com\/00\/NDAy\/20\/10\/12\/0afnm13hd136664x\/111a69479405792d.jpg\"\u003e\u003cimg src=\"https:\/\/pg-cdn-a2.datacaciques.com\/00\/NDAy\/20\/10\/12\/0afnm13hd136664x\/28382f2a32958004.jpg\" data-mce-fragment=\"1\" data-mce-src=\"https:\/\/pg-cdn-a2.datacaciques.com\/00\/NDAy\/20\/10\/12\/0afnm13hd136664x\/28382f2a32958004.jpg\"\u003e\u003cimg src=\"https:\/\/pg-cdn-a2.datacaciques.com\/00\/NDAy\/20\/10\/12\/0afnm13hd136664x\/e09529e6f5ef8dd4.jpg\" data-mce-fragment=\"1\" data-mce-src=\"https:\/\/pg-cdn-a2.datacaciques.com\/00\/NDAy\/20\/10\/12\/0afnm13hd136664x\/e09529e6f5ef8dd4.jpg\"\u003e\u003cimg src=\"https:\/\/pg-cdn-a2.datacaciques.com\/00\/NDAy\/20\/10\/12\/0afnm13hd136664x\/2d1045e8362549e7.jpg\" data-mce-fragment=\"1\" data-mce-src=\"https:\/\/pg-cdn-a2.datacaciques.com\/00\/NDAy\/20\/10\/12\/0afnm13hd136664x\/2d1045e8362549e7.jpg\"\u003e\u003c\/span\u003e\u003c\/div\u003e"}

translation missing: en.products.product.regular_price

$5.99

{"id":4881041883207,"title":"Type-C PD Quick Charge Trigger Module DC Digital Display Voltage Current Meter","handle":"type-c-pd-quick-charge-trigger-module-dc-digital-display-voltage-current-meter","description":"\u003cdiv data-mce-fragment=\"1\"\u003e\n\u003cspan data-mce-fragment=\"1\"\u003e\u003cstrong data-mce-fragment=\"1\"\u003eDescription:\u003c\/strong\u003e\u003c\/span\u003e\u003cbr data-mce-fragment=\"1\"\u003e\n\u003cul\u003e\n\u003cli\u003e\u003cspan data-mce-fragment=\"1\"\u003e100% brand new and high quality\u003c\/span\u003e\u003c\/li\u003e\n\u003c\/ul\u003e\n\u003cspan data-mce-fragment=\"1\"\u003e\u003cstrong data-mce-fragment=\"1\"\u003eFeature:\u003c\/strong\u003e\u003c\/span\u003e\u003cbr data-mce-fragment=\"1\"\u003e\n\u003cul\u003e\n\u003cli\u003e\u003cspan data-mce-fragment=\"1\"\u003eDisplay the type of PD protocol on each power up, Support PD 2.0\/PD 3.0 protocol.\u003c\/span\u003e\u003c\/li\u003e\n\u003cli\u003e\u003cspan data-mce-fragment=\"1\"\u003eThis product has power-off memory function. Remember the voltage gear and PD mode before power-off next time.\u003c\/span\u003e\u003c\/li\u003e\n\u003cli\u003e\u003cspan data-mce-fragment=\"1\"\u003eThis product can trigger the voltage of different gears in the PD charging head to supply power to external equipment, such as router, optical cat, set-top box or notebook computer (the adapter should be replaced when the power of the PD charging head meets the requirements).\u003c\/span\u003e\u003c\/li\u003e\n\u003cli\u003e\u003cspan data-mce-fragment=\"1\"\u003eIt can be used as test and aging of PD charging head.\u003c\/span\u003e\u003c\/li\u003e\n\u003cli\u003e\u003cspan data-mce-fragment=\"1\"\u003eHow to switch display content:\u003c\/span\u003e\u003c\/li\u003e\n\u003cli\u003e\u003cspan data-mce-fragment=\"1\"\u003eIn the operation interface, short press key K1 to switch the display voltage \/ current \/ display in turn; long press key K1 for 5 seconds to turn off the display of digital tube and indicator light, and any key will wake up.\u003c\/span\u003e\u003c\/li\u003e\n\u003c\/ul\u003e\n\u003c\/div\u003e\n\u003cdiv data-mce-fragment=\"1\"\u003e\n\u003cstrong\u003eHow to adjust the voltage range:\u003c\/strong\u003e\u003cbr data-mce-fragment=\"1\"\u003e\n\u003cul\u003e\n\u003cli\u003e\u003cspan data-mce-fragment=\"1\"\u003eIn the operation interface, short press the K2 key to enter the voltage regulation interface, and the voltage will flash after the current gear is displayed on the nixie tube;\u003c\/span\u003e\u003c\/li\u003e\n\u003cli\u003e\u003cspan data-mce-fragment=\"1\"\u003eAt this time, short press the K2 \/ K1 key to modify (K2 for upshift and K1 for downshift),When shifting gears, \"P7-1\" (P7: supports 7 voltage gears in total, - 1: indicates the serial number of the current voltage gear), and then displays the voltage value of the current gear;If the current voltage gear supports PPS step voltage regulation, the step gear indicator (20mV 100mV 1V) will be fully on;\u003c\/span\u003e\u003c\/li\u003e\n\u003cli\u003e\u003cspan data-mce-fragment=\"1\"\u003eIn 5S, there is no key operation or long press K1 key 2s to return to the operation interface automatically;\u003c\/span\u003e\u003c\/li\u003e\n\u003cli\u003e\u003cspan data-mce-fragment=\"1\"\u003eNote: the last gear \"L\" of \"P7-l\" is triggered in turn. When the L gear is selected and returned to the operation interface, all supported gears (5V \/ 9V \/ 12V \/ 15V \/ 20V \/ PPS mode) will be triggered in turn. In this mode, the step voltage indicator light of the operation interface will be indicated by the running lamp mode. This function can be used for batch testing by the manufacturer of the charging head.\u003c\/span\u003e\u003c\/li\u003e\n\u003cli\u003e\u003cspan data-mce-fragment=\"1\"\u003eNote: the charging head of PD 2.0 generally supports 4-5 gear voltage regulation modes, and will display \"P4-1\" or \"P5-1\" format. The charging head of PD 3.0 generally supports 6-7 gear voltage regulation modes, and will display \"P6-1\" or \"P7-1\" format.\u003c\/span\u003e\u003c\/li\u003e\n\u003c\/ul\u003e\n\u003c\/div\u003e\n\u003cdiv data-mce-fragment=\"1\"\u003e\n\u003cstrong\u003eHow to adjust the voltage in PPS step-by-step mode:\u003c\/strong\u003e\u003cbr data-mce-fragment=\"1\"\u003e\n\u003cul\u003e\n\u003cli\u003e\u003cspan data-mce-fragment=\"1\"\u003eFirst, ensure that PPS step gear indicator (20mV 100mV 1V) is fully on \/ on one of them;\u003c\/span\u003e\u003c\/li\u003e\n\u003cli\u003e\u003cspan data-mce-fragment=\"1\"\u003eLong press K2 key to enter PPS voltage regulation, the voltage value of nixie tube flickers, first activate 1V step gear voltage regulation;\u003c\/span\u003e\u003c\/li\u003e\n\u003cli\u003e\u003cspan data-mce-fragment=\"1\"\u003ePress and hold K2 again to change step gear;\u003c\/span\u003e\u003c\/li\u003e\n\u003cli\u003e\u003cspan data-mce-fragment=\"1\"\u003eAfter selecting the corresponding step gear, modify the voltage by briefly pressing the K1 \/ K2 key; when the step gear indicator is fully on, press the K1 \/ K2 key briefly to exit the PPS voltage regulation mode and select other voltage gears;\u003c\/span\u003e\u003c\/li\u003e\n\u003cli\u003e\u003cspan data-mce-fragment=\"1\"\u003e5 seconds without any key operation or long press K1 key 2s to return to the operation interface automatically.\u003c\/span\u003e\u003c\/li\u003e\n\u003c\/ul\u003e\n\u003c\/div\u003e\n\u003cdiv data-mce-fragment=\"1\"\u003e\n\u003cspan data-mce-fragment=\"1\"\u003e\u003cstrong data-mce-fragment=\"1\"\u003eSpecifications:\u003c\/strong\u003e\u003c\/span\u003e\u003cbr data-mce-fragment=\"1\"\u003e\n\u003cul\u003e\n\u003cli\u003e\u003cspan data-mce-fragment=\"1\"\u003eItem Type: Quick charge trigger module\u003c\/span\u003e\u003c\/li\u003e\n\u003cli\u003e\u003cspan data-mce-fragment=\"1\"\u003eMaterial: electronic components\u003c\/span\u003e\u003c\/li\u003e\n\u003cli\u003e\u003cspan data-mce-fragment=\"1\"\u003eSize: 50mm\/1.97in(as shown)\u003c\/span\u003e\u003c\/li\u003e\n\u003cli\u003e\u003cspan data-mce-fragment=\"1\"\u003eColor: As shown\u003c\/span\u003e\u003c\/li\u003e\n\u003cli\u003e\u003cspan data-mce-fragment=\"1\"\u003eOptional Type: A: female head, B: male head\u003c\/span\u003e\u003c\/li\u003e\n\u003cli\u003e\u003cspan data-mce-fragment=\"1\"\u003eQuantity: 1 Set\u003c\/span\u003e\u003c\/li\u003e\n\u003cli\u003e\u003cspan data-mce-fragment=\"1\"\u003eNote:\u003c\/span\u003e\u003c\/li\u003e\n\u003cli\u003e\u003cspan data-mce-fragment=\"1\"\u003eTransition: 1cm=10mm=0.39inch\u003c\/span\u003e\u003c\/li\u003e\n\u003cli\u003e\u003cspan data-mce-fragment=\"1\"\u003ePlease allow 0-1cm error due to manual measurement. pls make sure you do not mind before you bid.\u003c\/span\u003e\u003c\/li\u003e\n\u003cli\u003e\u003cspan data-mce-fragment=\"1\"\u003eDue to the difference between different monitors, the picture may not reflect the actual color of the item. Thank you!\u003c\/span\u003e\u003c\/li\u003e\n\u003c\/ul\u003e\n\u003c\/div\u003e\n\u003cdiv data-mce-fragment=\"1\"\u003e\n\u003cspan data-mce-fragment=\"1\"\u003e\u003cstrong data-mce-fragment=\"1\"\u003ePackage Includes:\u003c\/strong\u003e\u003c\/span\u003e\u003cbr data-mce-fragment=\"1\"\u003e\n\u003cul\u003e\n\u003cli\u003e\u003cspan data-mce-fragment=\"1\"\u003e1 x Quick charge trigger module\u003c\/span\u003e\u003c\/li\u003e\n\u003cli\u003e\u003cspan data-mce-fragment=\"1\"\u003e1 x Type-c female\/male adapter cable\u003c\/span\u003e\u003c\/li\u003e\n\u003cli\u003e\u003cspan data-mce-fragment=\"1\"\u003e(other accessories demo in the picture are not included!)\u003c\/span\u003e\u003c\/li\u003e\n\u003c\/ul\u003e\n\u003c\/div\u003e\n\u003cdiv data-mce-fragment=\"1\"\u003e\u003cspan data-mce-fragment=\"1\"\u003e\u003cimg src=\"https:\/\/pg-cdn-a2.datacaciques.com\/00\/NDAy\/20\/10\/12\/0afnm13hd136664x\/42ceafc5e43d3d92.jpg\" data-mce-fragment=\"1\" data-mce-src=\"https:\/\/pg-cdn-a2.datacaciques.com\/00\/NDAy\/20\/10\/12\/0afnm13hd136664x\/42ceafc5e43d3d92.jpg\"\u003e\u003cimg src=\"https:\/\/pg-cdn-a2.datacaciques.com\/00\/NDAy\/20\/10\/12\/0afnm13hd136664x\/48579302a78c797a.jpg\" data-mce-fragment=\"1\" data-mce-src=\"https:\/\/pg-cdn-a2.datacaciques.com\/00\/NDAy\/20\/10\/12\/0afnm13hd136664x\/48579302a78c797a.jpg\"\u003e\u003cimg src=\"https:\/\/pg-cdn-a2.datacaciques.com\/00\/NDAy\/20\/10\/12\/0afnm13hd136664x\/668400de7b73fc82.jpg\" data-mce-fragment=\"1\" data-mce-src=\"https:\/\/pg-cdn-a2.datacaciques.com\/00\/NDAy\/20\/10\/12\/0afnm13hd136664x\/668400de7b73fc82.jpg\"\u003e\u003cimg src=\"https:\/\/pg-cdn-a2.datacaciques.com\/00\/NDAy\/20\/10\/12\/0afnm13hd136664x\/111a69479405792d.jpg\" data-mce-fragment=\"1\" data-mce-src=\"https:\/\/pg-cdn-a2.datacaciques.com\/00\/NDAy\/20\/10\/12\/0afnm13hd136664x\/111a69479405792d.jpg\"\u003e\u003cimg src=\"https:\/\/pg-cdn-a2.datacaciques.com\/00\/NDAy\/20\/10\/12\/0afnm13hd136664x\/28382f2a32958004.jpg\" data-mce-fragment=\"1\" data-mce-src=\"https:\/\/pg-cdn-a2.datacaciques.com\/00\/NDAy\/20\/10\/12\/0afnm13hd136664x\/28382f2a32958004.jpg\"\u003e\u003cimg src=\"https:\/\/pg-cdn-a2.datacaciques.com\/00\/NDAy\/20\/10\/12\/0afnm13hd136664x\/e09529e6f5ef8dd4.jpg\" data-mce-fragment=\"1\" data-mce-src=\"https:\/\/pg-cdn-a2.datacaciques.com\/00\/NDAy\/20\/10\/12\/0afnm13hd136664x\/e09529e6f5ef8dd4.jpg\"\u003e\u003cimg src=\"https:\/\/pg-cdn-a2.datacaciques.com\/00\/NDAy\/20\/10\/12\/0afnm13hd136664x\/2d1045e8362549e7.jpg\" data-mce-fragment=\"1\" data-mce-src=\"https:\/\/pg-cdn-a2.datacaciques.com\/00\/NDAy\/20\/10\/12\/0afnm13hd136664x\/2d1045e8362549e7.jpg\"\u003e\u003c\/span\u003e\u003c\/div\u003e","published_at":"2020-10-15T16:35:38+08:00","created_at":"2020-10-15T16:35:36+08:00","vendor":"DIYMORE","type":"","tags":[],"price":899,"price_min":899,"price_max":899,"available":true,"price_varies":false,"compare_at_price":null,"compare_at_price_min":0,"compare_at_price_max":0,"compare_at_price_varies":false,"variants":[{"id":32617015476295,"title":"Female Head","option1":"Female Head","option2":null,"option3":null,"sku":"XJ0030","requires_shipping":true,"taxable":false,"featured_image":{"id":15420431433799,"product_id":4881041883207,"position":1,"created_at":"2020-10-15T16:35:39+08:00","updated_at":"2020-10-15T16:38:33+08:00","alt":null,"width":1000,"height":1000,"src":"https:\/\/cdn.shopify.com\/s\/files\/1\/0122\/7558\/0986\/products\/a008e7c0c0108b07e80e32aa65b10b0d.jpg?v=1602751113","variant_ids":[32617015476295]},"available":true,"name":"Type-C PD Quick Charge Trigger Module DC Digital Display Voltage Current Meter - Female Head","public_title":"Female Head","options":["Female Head"],"price":899,"weight":0,"compare_at_price":null,"inventory_management":"shopify","barcode":"","featured_media":{"alt":null,"id":7594001891399,"position":1,"preview_image":{"aspect_ratio":1.0,"height":1000,"width":1000,"src":"https:\/\/cdn.shopify.com\/s\/files\/1\/0122\/7558\/0986\/products\/a008e7c0c0108b07e80e32aa65b10b0d.jpg?v=1602751113"}},"requires_selling_plan":false,"selling_plan_allocations":[],"quantity_rule":{"min":1,"max":null,"increment":1}},{"id":32617015509063,"title":"Male Head","option1":"Male Head","option2":null,"option3":null,"sku":"XJ0029","requires_shipping":true,"taxable":false,"featured_image":{"id":15420437528647,"product_id":4881041883207,"position":4,"created_at":"2020-10-15T16:36:31+08:00","updated_at":"2020-10-15T16:38:33+08:00","alt":null,"width":1000,"height":1000,"src":"https:\/\/cdn.shopify.com\/s\/files\/1\/0122\/7558\/0986\/products\/1602750975237_5E4F7420-9220-4aa7-9186-2168699D310D.png?v=1602751113","variant_ids":[32617015509063]},"available":true,"name":"Type-C PD Quick Charge Trigger Module DC Digital Display Voltage Current Meter - Male Head","public_title":"Male Head","options":["Male Head"],"price":899,"weight":0,"compare_at_price":null,"inventory_management":"shopify","barcode":"","featured_media":{"alt":null,"id":7594008281159,"position":4,"preview_image":{"aspect_ratio":1.0,"height":1000,"width":1000,"src":"https:\/\/cdn.shopify.com\/s\/files\/1\/0122\/7558\/0986\/products\/1602750975237_5E4F7420-9220-4aa7-9186-2168699D310D.png?v=1602751113"}},"requires_selling_plan":false,"selling_plan_allocations":[],"quantity_rule":{"min":1,"max":null,"increment":1}}],"images":["\/\/cdn.shopify.com\/s\/files\/1\/0122\/7558\/0986\/products\/a008e7c0c0108b07e80e32aa65b10b0d.jpg?v=1602751113","\/\/cdn.shopify.com\/s\/files\/1\/0122\/7558\/0986\/products\/9700582e5641af61ac34b1a25b477247.jpg?v=1602751113","\/\/cdn.shopify.com\/s\/files\/1\/0122\/7558\/0986\/products\/1_0746d68c-c3f9-4cc7-b9ff-2cbc27a200e3.jpg?v=1602751113","\/\/cdn.shopify.com\/s\/files\/1\/0122\/7558\/0986\/products\/1602750975237_5E4F7420-9220-4aa7-9186-2168699D310D.png?v=1602751113"],"featured_image":"\/\/cdn.shopify.com\/s\/files\/1\/0122\/7558\/0986\/products\/a008e7c0c0108b07e80e32aa65b10b0d.jpg?v=1602751113","options":["Style"],"media":[{"alt":null,"id":7594001891399,"position":1,"preview_image":{"aspect_ratio":1.0,"height":1000,"width":1000,"src":"https:\/\/cdn.shopify.com\/s\/files\/1\/0122\/7558\/0986\/products\/a008e7c0c0108b07e80e32aa65b10b0d.jpg?v=1602751113"},"aspect_ratio":1.0,"height":1000,"media_type":"image","src":"https:\/\/cdn.shopify.com\/s\/files\/1\/0122\/7558\/0986\/products\/a008e7c0c0108b07e80e32aa65b10b0d.jpg?v=1602751113","width":1000},{"alt":null,"id":7594001989703,"position":2,"preview_image":{"aspect_ratio":1.0,"height":750,"width":750,"src":"https:\/\/cdn.shopify.com\/s\/files\/1\/0122\/7558\/0986\/products\/9700582e5641af61ac34b1a25b477247.jpg?v=1602751113"},"aspect_ratio":1.0,"height":750,"media_type":"image","src":"https:\/\/cdn.shopify.com\/s\/files\/1\/0122\/7558\/0986\/products\/9700582e5641af61ac34b1a25b477247.jpg?v=1602751113","width":750},{"alt":null,"id":7594002022471,"position":3,"preview_image":{"aspect_ratio":1.0,"height":750,"width":750,"src":"https:\/\/cdn.shopify.com\/s\/files\/1\/0122\/7558\/0986\/products\/1_0746d68c-c3f9-4cc7-b9ff-2cbc27a200e3.jpg?v=1602751113"},"aspect_ratio":1.0,"height":750,"media_type":"image","src":"https:\/\/cdn.shopify.com\/s\/files\/1\/0122\/7558\/0986\/products\/1_0746d68c-c3f9-4cc7-b9ff-2cbc27a200e3.jpg?v=1602751113","width":750},{"alt":null,"id":7594008281159,"position":4,"preview_image":{"aspect_ratio":1.0,"height":1000,"width":1000,"src":"https:\/\/cdn.shopify.com\/s\/files\/1\/0122\/7558\/0986\/products\/1602750975237_5E4F7420-9220-4aa7-9186-2168699D310D.png?v=1602751113"},"aspect_ratio":1.0,"height":1000,"media_type":"image","src":"https:\/\/cdn.shopify.com\/s\/files\/1\/0122\/7558\/0986\/products\/1602750975237_5E4F7420-9220-4aa7-9186-2168699D310D.png?v=1602751113","width":1000}],"requires_selling_plan":false,"selling_plan_groups":[],"content":"\u003cdiv data-mce-fragment=\"1\"\u003e\n\u003cspan data-mce-fragment=\"1\"\u003e\u003cstrong data-mce-fragment=\"1\"\u003eDescription:\u003c\/strong\u003e\u003c\/span\u003e\u003cbr data-mce-fragment=\"1\"\u003e\n\u003cul\u003e\n\u003cli\u003e\u003cspan data-mce-fragment=\"1\"\u003e100% brand new and high quality\u003c\/span\u003e\u003c\/li\u003e\n\u003c\/ul\u003e\n\u003cspan data-mce-fragment=\"1\"\u003e\u003cstrong data-mce-fragment=\"1\"\u003eFeature:\u003c\/strong\u003e\u003c\/span\u003e\u003cbr data-mce-fragment=\"1\"\u003e\n\u003cul\u003e\n\u003cli\u003e\u003cspan data-mce-fragment=\"1\"\u003eDisplay the type of PD protocol on each power up, Support PD 2.0\/PD 3.0 protocol.\u003c\/span\u003e\u003c\/li\u003e\n\u003cli\u003e\u003cspan data-mce-fragment=\"1\"\u003eThis product has power-off memory function. Remember the voltage gear and PD mode before power-off next time.\u003c\/span\u003e\u003c\/li\u003e\n\u003cli\u003e\u003cspan data-mce-fragment=\"1\"\u003eThis product can trigger the voltage of different gears in the PD charging head to supply power to external equipment, such as router, optical cat, set-top box or notebook computer (the adapter should be replaced when the power of the PD charging head meets the requirements).\u003c\/span\u003e\u003c\/li\u003e\n\u003cli\u003e\u003cspan data-mce-fragment=\"1\"\u003eIt can be used as test and aging of PD charging head.\u003c\/span\u003e\u003c\/li\u003e\n\u003cli\u003e\u003cspan data-mce-fragment=\"1\"\u003eHow to switch display content:\u003c\/span\u003e\u003c\/li\u003e\n\u003cli\u003e\u003cspan data-mce-fragment=\"1\"\u003eIn the operation interface, short press key K1 to switch the display voltage \/ current \/ display in turn; long press key K1 for 5 seconds to turn off the display of digital tube and indicator light, and any key will wake up.\u003c\/span\u003e\u003c\/li\u003e\n\u003c\/ul\u003e\n\u003c\/div\u003e\n\u003cdiv data-mce-fragment=\"1\"\u003e\n\u003cstrong\u003eHow to adjust the voltage range:\u003c\/strong\u003e\u003cbr data-mce-fragment=\"1\"\u003e\n\u003cul\u003e\n\u003cli\u003e\u003cspan data-mce-fragment=\"1\"\u003eIn the operation interface, short press the K2 key to enter the voltage regulation interface, and the voltage will flash after the current gear is displayed on the nixie tube;\u003c\/span\u003e\u003c\/li\u003e\n\u003cli\u003e\u003cspan data-mce-fragment=\"1\"\u003eAt this time, short press the K2 \/ K1 key to modify (K2 for upshift and K1 for downshift),When shifting gears, \"P7-1\" (P7: supports 7 voltage gears in total, - 1: indicates the serial number of the current voltage gear), and then displays the voltage value of the current gear;If the current voltage gear supports PPS step voltage regulation, the step gear indicator (20mV 100mV 1V) will be fully on;\u003c\/span\u003e\u003c\/li\u003e\n\u003cli\u003e\u003cspan data-mce-fragment=\"1\"\u003eIn 5S, there is no key operation or long press K1 key 2s to return to the operation interface automatically;\u003c\/span\u003e\u003c\/li\u003e\n\u003cli\u003e\u003cspan data-mce-fragment=\"1\"\u003eNote: the last gear \"L\" of \"P7-l\" is triggered in turn. When the L gear is selected and returned to the operation interface, all supported gears (5V \/ 9V \/ 12V \/ 15V \/ 20V \/ PPS mode) will be triggered in turn. In this mode, the step voltage indicator light of the operation interface will be indicated by the running lamp mode. This function can be used for batch testing by the manufacturer of the charging head.\u003c\/span\u003e\u003c\/li\u003e\n\u003cli\u003e\u003cspan data-mce-fragment=\"1\"\u003eNote: the charging head of PD 2.0 generally supports 4-5 gear voltage regulation modes, and will display \"P4-1\" or \"P5-1\" format. The charging head of PD 3.0 generally supports 6-7 gear voltage regulation modes, and will display \"P6-1\" or \"P7-1\" format.\u003c\/span\u003e\u003c\/li\u003e\n\u003c\/ul\u003e\n\u003c\/div\u003e\n\u003cdiv data-mce-fragment=\"1\"\u003e\n\u003cstrong\u003eHow to adjust the voltage in PPS step-by-step mode:\u003c\/strong\u003e\u003cbr data-mce-fragment=\"1\"\u003e\n\u003cul\u003e\n\u003cli\u003e\u003cspan data-mce-fragment=\"1\"\u003eFirst, ensure that PPS step gear indicator (20mV 100mV 1V) is fully on \/ on one of them;\u003c\/span\u003e\u003c\/li\u003e\n\u003cli\u003e\u003cspan data-mce-fragment=\"1\"\u003eLong press K2 key to enter PPS voltage regulation, the voltage value of nixie tube flickers, first activate 1V step gear voltage regulation;\u003c\/span\u003e\u003c\/li\u003e\n\u003cli\u003e\u003cspan data-mce-fragment=\"1\"\u003ePress and hold K2 again to change step gear;\u003c\/span\u003e\u003c\/li\u003e\n\u003cli\u003e\u003cspan data-mce-fragment=\"1\"\u003eAfter selecting the corresponding step gear, modify the voltage by briefly pressing the K1 \/ K2 key; when the step gear indicator is fully on, press the K1 \/ K2 key briefly to exit the PPS voltage regulation mode and select other voltage gears;\u003c\/span\u003e\u003c\/li\u003e\n\u003cli\u003e\u003cspan data-mce-fragment=\"1\"\u003e5 seconds without any key operation or long press K1 key 2s to return to the operation interface automatically.\u003c\/span\u003e\u003c\/li\u003e\n\u003c\/ul\u003e\n\u003c\/div\u003e\n\u003cdiv data-mce-fragment=\"1\"\u003e\n\u003cspan data-mce-fragment=\"1\"\u003e\u003cstrong data-mce-fragment=\"1\"\u003eSpecifications:\u003c\/strong\u003e\u003c\/span\u003e\u003cbr data-mce-fragment=\"1\"\u003e\n\u003cul\u003e\n\u003cli\u003e\u003cspan data-mce-fragment=\"1\"\u003eItem Type: Quick charge trigger module\u003c\/span\u003e\u003c\/li\u003e\n\u003cli\u003e\u003cspan data-mce-fragment=\"1\"\u003eMaterial: electronic components\u003c\/span\u003e\u003c\/li\u003e\n\u003cli\u003e\u003cspan data-mce-fragment=\"1\"\u003eSize: 50mm\/1.97in(as shown)\u003c\/span\u003e\u003c\/li\u003e\n\u003cli\u003e\u003cspan data-mce-fragment=\"1\"\u003eColor: As shown\u003c\/span\u003e\u003c\/li\u003e\n\u003cli\u003e\u003cspan data-mce-fragment=\"1\"\u003eOptional Type: A: female head, B: male head\u003c\/span\u003e\u003c\/li\u003e\n\u003cli\u003e\u003cspan data-mce-fragment=\"1\"\u003eQuantity: 1 Set\u003c\/span\u003e\u003c\/li\u003e\n\u003cli\u003e\u003cspan data-mce-fragment=\"1\"\u003eNote:\u003c\/span\u003e\u003c\/li\u003e\n\u003cli\u003e\u003cspan data-mce-fragment=\"1\"\u003eTransition: 1cm=10mm=0.39inch\u003c\/span\u003e\u003c\/li\u003e\n\u003cli\u003e\u003cspan data-mce-fragment=\"1\"\u003ePlease allow 0-1cm error due to manual measurement. pls make sure you do not mind before you bid.\u003c\/span\u003e\u003c\/li\u003e\n\u003cli\u003e\u003cspan data-mce-fragment=\"1\"\u003eDue to the difference between different monitors, the picture may not reflect the actual color of the item. Thank you!\u003c\/span\u003e\u003c\/li\u003e\n\u003c\/ul\u003e\n\u003c\/div\u003e\n\u003cdiv data-mce-fragment=\"1\"\u003e\n\u003cspan data-mce-fragment=\"1\"\u003e\u003cstrong data-mce-fragment=\"1\"\u003ePackage Includes:\u003c\/strong\u003e\u003c\/span\u003e\u003cbr data-mce-fragment=\"1\"\u003e\n\u003cul\u003e\n\u003cli\u003e\u003cspan data-mce-fragment=\"1\"\u003e1 x Quick charge trigger module\u003c\/span\u003e\u003c\/li\u003e\n\u003cli\u003e\u003cspan data-mce-fragment=\"1\"\u003e1 x Type-c female\/male adapter cable\u003c\/span\u003e\u003c\/li\u003e\n\u003cli\u003e\u003cspan data-mce-fragment=\"1\"\u003e(other accessories demo in the picture are not included!)\u003c\/span\u003e\u003c\/li\u003e\n\u003c\/ul\u003e\n\u003c\/div\u003e\n\u003cdiv data-mce-fragment=\"1\"\u003e\u003cspan data-mce-fragment=\"1\"\u003e\u003cimg src=\"https:\/\/pg-cdn-a2.datacaciques.com\/00\/NDAy\/20\/10\/12\/0afnm13hd136664x\/42ceafc5e43d3d92.jpg\" data-mce-fragment=\"1\" data-mce-src=\"https:\/\/pg-cdn-a2.datacaciques.com\/00\/NDAy\/20\/10\/12\/0afnm13hd136664x\/42ceafc5e43d3d92.jpg\"\u003e\u003cimg src=\"https:\/\/pg-cdn-a2.datacaciques.com\/00\/NDAy\/20\/10\/12\/0afnm13hd136664x\/48579302a78c797a.jpg\" data-mce-fragment=\"1\" data-mce-src=\"https:\/\/pg-cdn-a2.datacaciques.com\/00\/NDAy\/20\/10\/12\/0afnm13hd136664x\/48579302a78c797a.jpg\"\u003e\u003cimg src=\"https:\/\/pg-cdn-a2.datacaciques.com\/00\/NDAy\/20\/10\/12\/0afnm13hd136664x\/668400de7b73fc82.jpg\" data-mce-fragment=\"1\" data-mce-src=\"https:\/\/pg-cdn-a2.datacaciques.com\/00\/NDAy\/20\/10\/12\/0afnm13hd136664x\/668400de7b73fc82.jpg\"\u003e\u003cimg src=\"https:\/\/pg-cdn-a2.datacaciques.com\/00\/NDAy\/20\/10\/12\/0afnm13hd136664x\/111a69479405792d.jpg\" data-mce-fragment=\"1\" data-mce-src=\"https:\/\/pg-cdn-a2.datacaciques.com\/00\/NDAy\/20\/10\/12\/0afnm13hd136664x\/111a69479405792d.jpg\"\u003e\u003cimg src=\"https:\/\/pg-cdn-a2.datacaciques.com\/00\/NDAy\/20\/10\/12\/0afnm13hd136664x\/28382f2a32958004.jpg\" data-mce-fragment=\"1\" data-mce-src=\"https:\/\/pg-cdn-a2.datacaciques.com\/00\/NDAy\/20\/10\/12\/0afnm13hd136664x\/28382f2a32958004.jpg\"\u003e\u003cimg src=\"https:\/\/pg-cdn-a2.datacaciques.com\/00\/NDAy\/20\/10\/12\/0afnm13hd136664x\/e09529e6f5ef8dd4.jpg\" data-mce-fragment=\"1\" data-mce-src=\"https:\/\/pg-cdn-a2.datacaciques.com\/00\/NDAy\/20\/10\/12\/0afnm13hd136664x\/e09529e6f5ef8dd4.jpg\"\u003e\u003cimg src=\"https:\/\/pg-cdn-a2.datacaciques.com\/00\/NDAy\/20\/10\/12\/0afnm13hd136664x\/2d1045e8362549e7.jpg\" data-mce-fragment=\"1\" data-mce-src=\"https:\/\/pg-cdn-a2.datacaciques.com\/00\/NDAy\/20\/10\/12\/0afnm13hd136664x\/2d1045e8362549e7.jpg\"\u003e\u003c\/span\u003e\u003c\/div\u003e"}

translation missing: en.products.product.regular_price

$9.99

{"id":4881041883207,"title":"Type-C PD Quick Charge Trigger Module DC Digital Display Voltage Current Meter","handle":"type-c-pd-quick-charge-trigger-module-dc-digital-display-voltage-current-meter","description":"\u003cdiv data-mce-fragment=\"1\"\u003e\n\u003cspan data-mce-fragment=\"1\"\u003e\u003cstrong data-mce-fragment=\"1\"\u003eDescription:\u003c\/strong\u003e\u003c\/span\u003e\u003cbr data-mce-fragment=\"1\"\u003e\n\u003cul\u003e\n\u003cli\u003e\u003cspan data-mce-fragment=\"1\"\u003e100% brand new and high quality\u003c\/span\u003e\u003c\/li\u003e\n\u003c\/ul\u003e\n\u003cspan data-mce-fragment=\"1\"\u003e\u003cstrong data-mce-fragment=\"1\"\u003eFeature:\u003c\/strong\u003e\u003c\/span\u003e\u003cbr data-mce-fragment=\"1\"\u003e\n\u003cul\u003e\n\u003cli\u003e\u003cspan data-mce-fragment=\"1\"\u003eDisplay the type of PD protocol on each power up, Support PD 2.0\/PD 3.0 protocol.\u003c\/span\u003e\u003c\/li\u003e\n\u003cli\u003e\u003cspan data-mce-fragment=\"1\"\u003eThis product has power-off memory function. Remember the voltage gear and PD mode before power-off next time.\u003c\/span\u003e\u003c\/li\u003e\n\u003cli\u003e\u003cspan data-mce-fragment=\"1\"\u003eThis product can trigger the voltage of different gears in the PD charging head to supply power to external equipment, such as router, optical cat, set-top box or notebook computer (the adapter should be replaced when the power of the PD charging head meets the requirements).\u003c\/span\u003e\u003c\/li\u003e\n\u003cli\u003e\u003cspan data-mce-fragment=\"1\"\u003eIt can be used as test and aging of PD charging head.\u003c\/span\u003e\u003c\/li\u003e\n\u003cli\u003e\u003cspan data-mce-fragment=\"1\"\u003eHow to switch display content:\u003c\/span\u003e\u003c\/li\u003e\n\u003cli\u003e\u003cspan data-mce-fragment=\"1\"\u003eIn the operation interface, short press key K1 to switch the display voltage \/ current \/ display in turn; long press key K1 for 5 seconds to turn off the display of digital tube and indicator light, and any key will wake up.\u003c\/span\u003e\u003c\/li\u003e\n\u003c\/ul\u003e\n\u003c\/div\u003e\n\u003cdiv data-mce-fragment=\"1\"\u003e\n\u003cstrong\u003eHow to adjust the voltage range:\u003c\/strong\u003e\u003cbr data-mce-fragment=\"1\"\u003e\n\u003cul\u003e\n\u003cli\u003e\u003cspan data-mce-fragment=\"1\"\u003eIn the operation interface, short press the K2 key to enter the voltage regulation interface, and the voltage will flash after the current gear is displayed on the nixie tube;\u003c\/span\u003e\u003c\/li\u003e\n\u003cli\u003e\u003cspan data-mce-fragment=\"1\"\u003eAt this time, short press the K2 \/ K1 key to modify (K2 for upshift and K1 for downshift),When shifting gears, \"P7-1\" (P7: supports 7 voltage gears in total, - 1: indicates the serial number of the current voltage gear), and then displays the voltage value of the current gear;If the current voltage gear supports PPS step voltage regulation, the step gear indicator (20mV 100mV 1V) will be fully on;\u003c\/span\u003e\u003c\/li\u003e\n\u003cli\u003e\u003cspan data-mce-fragment=\"1\"\u003eIn 5S, there is no key operation or long press K1 key 2s to return to the operation interface automatically;\u003c\/span\u003e\u003c\/li\u003e\n\u003cli\u003e\u003cspan data-mce-fragment=\"1\"\u003eNote: the last gear \"L\" of \"P7-l\" is triggered in turn. When the L gear is selected and returned to the operation interface, all supported gears (5V \/ 9V \/ 12V \/ 15V \/ 20V \/ PPS mode) will be triggered in turn. In this mode, the step voltage indicator light of the operation interface will be indicated by the running lamp mode. This function can be used for batch testing by the manufacturer of the charging head.\u003c\/span\u003e\u003c\/li\u003e\n\u003cli\u003e\u003cspan data-mce-fragment=\"1\"\u003eNote: the charging head of PD 2.0 generally supports 4-5 gear voltage regulation modes, and will display \"P4-1\" or \"P5-1\" format. The charging head of PD 3.0 generally supports 6-7 gear voltage regulation modes, and will display \"P6-1\" or \"P7-1\" format.\u003c\/span\u003e\u003c\/li\u003e\n\u003c\/ul\u003e\n\u003c\/div\u003e\n\u003cdiv data-mce-fragment=\"1\"\u003e\n\u003cstrong\u003eHow to adjust the voltage in PPS step-by-step mode:\u003c\/strong\u003e\u003cbr data-mce-fragment=\"1\"\u003e\n\u003cul\u003e\n\u003cli\u003e\u003cspan data-mce-fragment=\"1\"\u003eFirst, ensure that PPS step gear indicator (20mV 100mV 1V) is fully on \/ on one of them;\u003c\/span\u003e\u003c\/li\u003e\n\u003cli\u003e\u003cspan data-mce-fragment=\"1\"\u003eLong press K2 key to enter PPS voltage regulation, the voltage value of nixie tube flickers, first activate 1V step gear voltage regulation;\u003c\/span\u003e\u003c\/li\u003e\n\u003cli\u003e\u003cspan data-mce-fragment=\"1\"\u003ePress and hold K2 again to change step gear;\u003c\/span\u003e\u003c\/li\u003e\n\u003cli\u003e\u003cspan data-mce-fragment=\"1\"\u003eAfter selecting the corresponding step gear, modify the voltage by briefly pressing the K1 \/ K2 key; when the step gear indicator is fully on, press the K1 \/ K2 key briefly to exit the PPS voltage regulation mode and select other voltage gears;\u003c\/span\u003e\u003c\/li\u003e\n\u003cli\u003e\u003cspan data-mce-fragment=\"1\"\u003e5 seconds without any key operation or long press K1 key 2s to return to the operation interface automatically.\u003c\/span\u003e\u003c\/li\u003e\n\u003c\/ul\u003e\n\u003c\/div\u003e\n\u003cdiv data-mce-fragment=\"1\"\u003e\n\u003cspan data-mce-fragment=\"1\"\u003e\u003cstrong data-mce-fragment=\"1\"\u003eSpecifications:\u003c\/strong\u003e\u003c\/span\u003e\u003cbr data-mce-fragment=\"1\"\u003e\n\u003cul\u003e\n\u003cli\u003e\u003cspan data-mce-fragment=\"1\"\u003eItem Type: Quick charge trigger module\u003c\/span\u003e\u003c\/li\u003e\n\u003cli\u003e\u003cspan data-mce-fragment=\"1\"\u003eMaterial: electronic components\u003c\/span\u003e\u003c\/li\u003e\n\u003cli\u003e\u003cspan data-mce-fragment=\"1\"\u003eSize: 50mm\/1.97in(as shown)\u003c\/span\u003e\u003c\/li\u003e\n\u003cli\u003e\u003cspan data-mce-fragment=\"1\"\u003eColor: As shown\u003c\/span\u003e\u003c\/li\u003e\n\u003cli\u003e\u003cspan data-mce-fragment=\"1\"\u003eOptional Type: A: female head, B: male head\u003c\/span\u003e\u003c\/li\u003e\n\u003cli\u003e\u003cspan data-mce-fragment=\"1\"\u003eQuantity: 1 Set\u003c\/span\u003e\u003c\/li\u003e\n\u003cli\u003e\u003cspan data-mce-fragment=\"1\"\u003eNote:\u003c\/span\u003e\u003c\/li\u003e\n\u003cli\u003e\u003cspan data-mce-fragment=\"1\"\u003eTransition: 1cm=10mm=0.39inch\u003c\/span\u003e\u003c\/li\u003e\n\u003cli\u003e\u003cspan data-mce-fragment=\"1\"\u003ePlease allow 0-1cm error due to manual measurement. pls make sure you do not mind before you bid.\u003c\/span\u003e\u003c\/li\u003e\n\u003cli\u003e\u003cspan data-mce-fragment=\"1\"\u003eDue to the difference between different monitors, the picture may not reflect the actual color of the item. Thank you!\u003c\/span\u003e\u003c\/li\u003e\n\u003c\/ul\u003e\n\u003c\/div\u003e\n\u003cdiv data-mce-fragment=\"1\"\u003e\n\u003cspan data-mce-fragment=\"1\"\u003e\u003cstrong data-mce-fragment=\"1\"\u003ePackage Includes:\u003c\/strong\u003e\u003c\/span\u003e\u003cbr data-mce-fragment=\"1\"\u003e\n\u003cul\u003e\n\u003cli\u003e\u003cspan data-mce-fragment=\"1\"\u003e1 x Quick charge trigger module\u003c\/span\u003e\u003c\/li\u003e\n\u003cli\u003e\u003cspan data-mce-fragment=\"1\"\u003e1 x Type-c female\/male adapter cable\u003c\/span\u003e\u003c\/li\u003e\n\u003cli\u003e\u003cspan data-mce-fragment=\"1\"\u003e(other accessories demo in the picture are not included!)\u003c\/span\u003e\u003c\/li\u003e\n\u003c\/ul\u003e\n\u003c\/div\u003e\n\u003cdiv data-mce-fragment=\"1\"\u003e\u003cspan data-mce-fragment=\"1\"\u003e\u003cimg src=\"https:\/\/pg-cdn-a2.datacaciques.com\/00\/NDAy\/20\/10\/12\/0afnm13hd136664x\/42ceafc5e43d3d92.jpg\" data-mce-fragment=\"1\" data-mce-src=\"https:\/\/pg-cdn-a2.datacaciques.com\/00\/NDAy\/20\/10\/12\/0afnm13hd136664x\/42ceafc5e43d3d92.jpg\"\u003e\u003cimg src=\"https:\/\/pg-cdn-a2.datacaciques.com\/00\/NDAy\/20\/10\/12\/0afnm13hd136664x\/48579302a78c797a.jpg\" data-mce-fragment=\"1\" data-mce-src=\"https:\/\/pg-cdn-a2.datacaciques.com\/00\/NDAy\/20\/10\/12\/0afnm13hd136664x\/48579302a78c797a.jpg\"\u003e\u003cimg src=\"https:\/\/pg-cdn-a2.datacaciques.com\/00\/NDAy\/20\/10\/12\/0afnm13hd136664x\/668400de7b73fc82.jpg\" data-mce-fragment=\"1\" data-mce-src=\"https:\/\/pg-cdn-a2.datacaciques.com\/00\/NDAy\/20\/10\/12\/0afnm13hd136664x\/668400de7b73fc82.jpg\"\u003e\u003cimg src=\"https:\/\/pg-cdn-a2.datacaciques.com\/00\/NDAy\/20\/10\/12\/0afnm13hd136664x\/111a69479405792d.jpg\" data-mce-fragment=\"1\" data-mce-src=\"https:\/\/pg-cdn-a2.datacaciques.com\/00\/NDAy\/20\/10\/12\/0afnm13hd136664x\/111a69479405792d.jpg\"\u003e\u003cimg src=\"https:\/\/pg-cdn-a2.datacaciques.com\/00\/NDAy\/20\/10\/12\/0afnm13hd136664x\/28382f2a32958004.jpg\" data-mce-fragment=\"1\" data-mce-src=\"https:\/\/pg-cdn-a2.datacaciques.com\/00\/NDAy\/20\/10\/12\/0afnm13hd136664x\/28382f2a32958004.jpg\"\u003e\u003cimg src=\"https:\/\/pg-cdn-a2.datacaciques.com\/00\/NDAy\/20\/10\/12\/0afnm13hd136664x\/e09529e6f5ef8dd4.jpg\" data-mce-fragment=\"1\" data-mce-src=\"https:\/\/pg-cdn-a2.datacaciques.com\/00\/NDAy\/20\/10\/12\/0afnm13hd136664x\/e09529e6f5ef8dd4.jpg\"\u003e\u003cimg src=\"https:\/\/pg-cdn-a2.datacaciques.com\/00\/NDAy\/20\/10\/12\/0afnm13hd136664x\/2d1045e8362549e7.jpg\" data-mce-fragment=\"1\" data-mce-src=\"https:\/\/pg-cdn-a2.datacaciques.com\/00\/NDAy\/20\/10\/12\/0afnm13hd136664x\/2d1045e8362549e7.jpg\"\u003e\u003c\/span\u003e\u003c\/div\u003e","published_at":"2020-10-15T16:35:38+08:00","created_at":"2020-10-15T16:35:36+08:00","vendor":"DIYMORE","type":"","tags":[],"price":899,"price_min":899,"price_max":899,"available":true,"price_varies":false,"compare_at_price":null,"compare_at_price_min":0,"compare_at_price_max":0,"compare_at_price_varies":false,"variants":[{"id":32617015476295,"title":"Female Head","option1":"Female Head","option2":null,"option3":null,"sku":"XJ0030","requires_shipping":true,"taxable":false,"featured_image":{"id":15420431433799,"product_id":4881041883207,"position":1,"created_at":"2020-10-15T16:35:39+08:00","updated_at":"2020-10-15T16:38:33+08:00","alt":null,"width":1000,"height":1000,"src":"https:\/\/cdn.shopify.com\/s\/files\/1\/0122\/7558\/0986\/products\/a008e7c0c0108b07e80e32aa65b10b0d.jpg?v=1602751113","variant_ids":[32617015476295]},"available":true,"name":"Type-C PD Quick Charge Trigger Module DC Digital Display Voltage Current Meter - Female Head","public_title":"Female Head","options":["Female Head"],"price":899,"weight":0,"compare_at_price":null,"inventory_management":"shopify","barcode":"","featured_media":{"alt":null,"id":7594001891399,"position":1,"preview_image":{"aspect_ratio":1.0,"height":1000,"width":1000,"src":"https:\/\/cdn.shopify.com\/s\/files\/1\/0122\/7558\/0986\/products\/a008e7c0c0108b07e80e32aa65b10b0d.jpg?v=1602751113"}},"requires_selling_plan":false,"selling_plan_allocations":[],"quantity_rule":{"min":1,"max":null,"increment":1}},{"id":32617015509063,"title":"Male Head","option1":"Male Head","option2":null,"option3":null,"sku":"XJ0029","requires_shipping":true,"taxable":false,"featured_image":{"id":15420437528647,"product_id":4881041883207,"position":4,"created_at":"2020-10-15T16:36:31+08:00","updated_at":"2020-10-15T16:38:33+08:00","alt":null,"width":1000,"height":1000,"src":"https:\/\/cdn.shopify.com\/s\/files\/1\/0122\/7558\/0986\/products\/1602750975237_5E4F7420-9220-4aa7-9186-2168699D310D.png?v=1602751113","variant_ids":[32617015509063]},"available":true,"name":"Type-C PD Quick Charge Trigger Module DC Digital Display Voltage Current Meter - Male Head","public_title":"Male Head","options":["Male Head"],"price":899,"weight":0,"compare_at_price":null,"inventory_management":"shopify","barcode":"","featured_media":{"alt":null,"id":7594008281159,"position":4,"preview_image":{"aspect_ratio":1.0,"height":1000,"width":1000,"src":"https:\/\/cdn.shopify.com\/s\/files\/1\/0122\/7558\/0986\/products\/1602750975237_5E4F7420-9220-4aa7-9186-2168699D310D.png?v=1602751113"}},"requires_selling_plan":false,"selling_plan_allocations":[],"quantity_rule":{"min":1,"max":null,"increment":1}}],"images":["\/\/cdn.shopify.com\/s\/files\/1\/0122\/7558\/0986\/products\/a008e7c0c0108b07e80e32aa65b10b0d.jpg?v=1602751113","\/\/cdn.shopify.com\/s\/files\/1\/0122\/7558\/0986\/products\/9700582e5641af61ac34b1a25b477247.jpg?v=1602751113","\/\/cdn.shopify.com\/s\/files\/1\/0122\/7558\/0986\/products\/1_0746d68c-c3f9-4cc7-b9ff-2cbc27a200e3.jpg?v=1602751113","\/\/cdn.shopify.com\/s\/files\/1\/0122\/7558\/0986\/products\/1602750975237_5E4F7420-9220-4aa7-9186-2168699D310D.png?v=1602751113"],"featured_image":"\/\/cdn.shopify.com\/s\/files\/1\/0122\/7558\/0986\/products\/a008e7c0c0108b07e80e32aa65b10b0d.jpg?v=1602751113","options":["Style"],"media":[{"alt":null,"id":7594001891399,"position":1,"preview_image":{"aspect_ratio":1.0,"height":1000,"width":1000,"src":"https:\/\/cdn.shopify.com\/s\/files\/1\/0122\/7558\/0986\/products\/a008e7c0c0108b07e80e32aa65b10b0d.jpg?v=1602751113"},"aspect_ratio":1.0,"height":1000,"media_type":"image","src":"https:\/\/cdn.shopify.com\/s\/files\/1\/0122\/7558\/0986\/products\/a008e7c0c0108b07e80e32aa65b10b0d.jpg?v=1602751113","width":1000},{"alt":null,"id":7594001989703,"position":2,"preview_image":{"aspect_ratio":1.0,"height":750,"width":750,"src":"https:\/\/cdn.shopify.com\/s\/files\/1\/0122\/7558\/0986\/products\/9700582e5641af61ac34b1a25b477247.jpg?v=1602751113"},"aspect_ratio":1.0,"height":750,"media_type":"image","src":"https:\/\/cdn.shopify.com\/s\/files\/1\/0122\/7558\/0986\/products\/9700582e5641af61ac34b1a25b477247.jpg?v=1602751113","width":750},{"alt":null,"id":7594002022471,"position":3,"preview_image":{"aspect_ratio":1.0,"height":750,"width":750,"src":"https:\/\/cdn.shopify.com\/s\/files\/1\/0122\/7558\/0986\/products\/1_0746d68c-c3f9-4cc7-b9ff-2cbc27a200e3.jpg?v=1602751113"},"aspect_ratio":1.0,"height":750,"media_type":"image","src":"https:\/\/cdn.shopify.com\/s\/files\/1\/0122\/7558\/0986\/products\/1_0746d68c-c3f9-4cc7-b9ff-2cbc27a200e3.jpg?v=1602751113","width":750},{"alt":null,"id":7594008281159,"position":4,"preview_image":{"aspect_ratio":1.0,"height":1000,"width":1000,"src":"https:\/\/cdn.shopify.com\/s\/files\/1\/0122\/7558\/0986\/products\/1602750975237_5E4F7420-9220-4aa7-9186-2168699D310D.png?v=1602751113"},"aspect_ratio":1.0,"height":1000,"media_type":"image","src":"https:\/\/cdn.shopify.com\/s\/files\/1\/0122\/7558\/0986\/products\/1602750975237_5E4F7420-9220-4aa7-9186-2168699D310D.png?v=1602751113","width":1000}],"requires_selling_plan":false,"selling_plan_groups":[],"content":"\u003cdiv data-mce-fragment=\"1\"\u003e\n\u003cspan data-mce-fragment=\"1\"\u003e\u003cstrong data-mce-fragment=\"1\"\u003eDescription:\u003c\/strong\u003e\u003c\/span\u003e\u003cbr data-mce-fragment=\"1\"\u003e\n\u003cul\u003e\n\u003cli\u003e\u003cspan data-mce-fragment=\"1\"\u003e100% brand new and high quality\u003c\/span\u003e\u003c\/li\u003e\n\u003c\/ul\u003e\n\u003cspan data-mce-fragment=\"1\"\u003e\u003cstrong data-mce-fragment=\"1\"\u003eFeature:\u003c\/strong\u003e\u003c\/span\u003e\u003cbr data-mce-fragment=\"1\"\u003e\n\u003cul\u003e\n\u003cli\u003e\u003cspan data-mce-fragment=\"1\"\u003eDisplay the type of PD protocol on each power up, Support PD 2.0\/PD 3.0 protocol.\u003c\/span\u003e\u003c\/li\u003e\n\u003cli\u003e\u003cspan data-mce-fragment=\"1\"\u003eThis product has power-off memory function. Remember the voltage gear and PD mode before power-off next time.\u003c\/span\u003e\u003c\/li\u003e\n\u003cli\u003e\u003cspan data-mce-fragment=\"1\"\u003eThis product can trigger the voltage of different gears in the PD charging head to supply power to external equipment, such as router, optical cat, set-top box or notebook computer (the adapter should be replaced when the power of the PD charging head meets the requirements).\u003c\/span\u003e\u003c\/li\u003e\n\u003cli\u003e\u003cspan data-mce-fragment=\"1\"\u003eIt can be used as test and aging of PD charging head.\u003c\/span\u003e\u003c\/li\u003e\n\u003cli\u003e\u003cspan data-mce-fragment=\"1\"\u003eHow to switch display content:\u003c\/span\u003e\u003c\/li\u003e\n\u003cli\u003e\u003cspan data-mce-fragment=\"1\"\u003eIn the operation interface, short press key K1 to switch the display voltage \/ current \/ display in turn; long press key K1 for 5 seconds to turn off the display of digital tube and indicator light, and any key will wake up.\u003c\/span\u003e\u003c\/li\u003e\n\u003c\/ul\u003e\n\u003c\/div\u003e\n\u003cdiv data-mce-fragment=\"1\"\u003e\n\u003cstrong\u003eHow to adjust the voltage range:\u003c\/strong\u003e\u003cbr data-mce-fragment=\"1\"\u003e\n\u003cul\u003e\n\u003cli\u003e\u003cspan data-mce-fragment=\"1\"\u003eIn the operation interface, short press the K2 key to enter the voltage regulation interface, and the voltage will flash after the current gear is displayed on the nixie tube;\u003c\/span\u003e\u003c\/li\u003e\n\u003cli\u003e\u003cspan data-mce-fragment=\"1\"\u003eAt this time, short press the K2 \/ K1 key to modify (K2 for upshift and K1 for downshift),When shifting gears, \"P7-1\" (P7: supports 7 voltage gears in total, - 1: indicates the serial number of the current voltage gear), and then displays the voltage value of the current gear;If the current voltage gear supports PPS step voltage regulation, the step gear indicator (20mV 100mV 1V) will be fully on;\u003c\/span\u003e\u003c\/li\u003e\n\u003cli\u003e\u003cspan data-mce-fragment=\"1\"\u003eIn 5S, there is no key operation or long press K1 key 2s to return to the operation interface automatically;\u003c\/span\u003e\u003c\/li\u003e\n\u003cli\u003e\u003cspan data-mce-fragment=\"1\"\u003eNote: the last gear \"L\" of \"P7-l\" is triggered in turn. When the L gear is selected and returned to the operation interface, all supported gears (5V \/ 9V \/ 12V \/ 15V \/ 20V \/ PPS mode) will be triggered in turn. In this mode, the step voltage indicator light of the operation interface will be indicated by the running lamp mode. This function can be used for batch testing by the manufacturer of the charging head.\u003c\/span\u003e\u003c\/li\u003e\n\u003cli\u003e\u003cspan data-mce-fragment=\"1\"\u003eNote: the charging head of PD 2.0 generally supports 4-5 gear voltage regulation modes, and will display \"P4-1\" or \"P5-1\" format. The charging head of PD 3.0 generally supports 6-7 gear voltage regulation modes, and will display \"P6-1\" or \"P7-1\" format.\u003c\/span\u003e\u003c\/li\u003e\n\u003c\/ul\u003e\n\u003c\/div\u003e\n\u003cdiv data-mce-fragment=\"1\"\u003e\n\u003cstrong\u003eHow to adjust the voltage in PPS step-by-step mode:\u003c\/strong\u003e\u003cbr data-mce-fragment=\"1\"\u003e\n\u003cul\u003e\n\u003cli\u003e\u003cspan data-mce-fragment=\"1\"\u003eFirst, ensure that PPS step gear indicator (20mV 100mV 1V) is fully on \/ on one of them;\u003c\/span\u003e\u003c\/li\u003e\n\u003cli\u003e\u003cspan data-mce-fragment=\"1\"\u003eLong press K2 key to enter PPS voltage regulation, the voltage value of nixie tube flickers, first activate 1V step gear voltage regulation;\u003c\/span\u003e\u003c\/li\u003e\n\u003cli\u003e\u003cspan data-mce-fragment=\"1\"\u003ePress and hold K2 again to change step gear;\u003c\/span\u003e\u003c\/li\u003e\n\u003cli\u003e\u003cspan data-mce-fragment=\"1\"\u003eAfter selecting the corresponding step gear, modify the voltage by briefly pressing the K1 \/ K2 key; when the step gear indicator is fully on, press the K1 \/ K2 key briefly to exit the PPS voltage regulation mode and select other voltage gears;\u003c\/span\u003e\u003c\/li\u003e\n\u003cli\u003e\u003cspan data-mce-fragment=\"1\"\u003e5 seconds without any key operation or long press K1 key 2s to return to the operation interface automatically.\u003c\/span\u003e\u003c\/li\u003e\n\u003c\/ul\u003e\n\u003c\/div\u003e\n\u003cdiv data-mce-fragment=\"1\"\u003e\n\u003cspan data-mce-fragment=\"1\"\u003e\u003cstrong data-mce-fragment=\"1\"\u003eSpecifications:\u003c\/strong\u003e\u003c\/span\u003e\u003cbr data-mce-fragment=\"1\"\u003e\n\u003cul\u003e\n\u003cli\u003e\u003cspan data-mce-fragment=\"1\"\u003eItem Type: Quick charge trigger module\u003c\/span\u003e\u003c\/li\u003e\n\u003cli\u003e\u003cspan data-mce-fragment=\"1\"\u003eMaterial: electronic components\u003c\/span\u003e\u003c\/li\u003e\n\u003cli\u003e\u003cspan data-mce-fragment=\"1\"\u003eSize: 50mm\/1.97in(as shown)\u003c\/span\u003e\u003c\/li\u003e\n\u003cli\u003e\u003cspan data-mce-fragment=\"1\"\u003eColor: As shown\u003c\/span\u003e\u003c\/li\u003e\n\u003cli\u003e\u003cspan data-mce-fragment=\"1\"\u003eOptional Type: A: female head, B: male head\u003c\/span\u003e\u003c\/li\u003e\n\u003cli\u003e\u003cspan data-mce-fragment=\"1\"\u003eQuantity: 1 Set\u003c\/span\u003e\u003c\/li\u003e\n\u003cli\u003e\u003cspan data-mce-fragment=\"1\"\u003eNote:\u003c\/span\u003e\u003c\/li\u003e\n\u003cli\u003e\u003cspan data-mce-fragment=\"1\"\u003eTransition: 1cm=10mm=0.39inch\u003c\/span\u003e\u003c\/li\u003e\n\u003cli\u003e\u003cspan data-mce-fragment=\"1\"\u003ePlease allow 0-1cm error due to manual measurement. pls make sure you do not mind before you bid.\u003c\/span\u003e\u003c\/li\u003e\n\u003cli\u003e\u003cspan data-mce-fragment=\"1\"\u003eDue to the difference between different monitors, the picture may not reflect the actual color of the item. Thank you!\u003c\/span\u003e\u003c\/li\u003e\n\u003c\/ul\u003e\n\u003c\/div\u003e\n\u003cdiv data-mce-fragment=\"1\"\u003e\n\u003cspan data-mce-fragment=\"1\"\u003e\u003cstrong data-mce-fragment=\"1\"\u003ePackage Includes:\u003c\/strong\u003e\u003c\/span\u003e\u003cbr data-mce-fragment=\"1\"\u003e\n\u003cul\u003e\n\u003cli\u003e\u003cspan data-mce-fragment=\"1\"\u003e1 x Quick charge trigger module\u003c\/span\u003e\u003c\/li\u003e\n\u003cli\u003e\u003cspan data-mce-fragment=\"1\"\u003e1 x Type-c female\/male adapter cable\u003c\/span\u003e\u003c\/li\u003e\n\u003cli\u003e\u003cspan data-mce-fragment=\"1\"\u003e(other accessories demo in the picture are not included!)\u003c\/span\u003e\u003c\/li\u003e\n\u003c\/ul\u003e\n\u003c\/div\u003e\n\u003cdiv data-mce-fragment=\"1\"\u003e\u003cspan data-mce-fragment=\"1\"\u003e\u003cimg src=\"https:\/\/pg-cdn-a2.datacaciques.com\/00\/NDAy\/20\/10\/12\/0afnm13hd136664x\/42ceafc5e43d3d92.jpg\" data-mce-fragment=\"1\" data-mce-src=\"https:\/\/pg-cdn-a2.datacaciques.com\/00\/NDAy\/20\/10\/12\/0afnm13hd136664x\/42ceafc5e43d3d92.jpg\"\u003e\u003cimg src=\"https:\/\/pg-cdn-a2.datacaciques.com\/00\/NDAy\/20\/10\/12\/0afnm13hd136664x\/48579302a78c797a.jpg\" data-mce-fragment=\"1\" data-mce-src=\"https:\/\/pg-cdn-a2.datacaciques.com\/00\/NDAy\/20\/10\/12\/0afnm13hd136664x\/48579302a78c797a.jpg\"\u003e\u003cimg src=\"https:\/\/pg-cdn-a2.datacaciques.com\/00\/NDAy\/20\/10\/12\/0afnm13hd136664x\/668400de7b73fc82.jpg\" data-mce-fragment=\"1\" data-mce-src=\"https:\/\/pg-cdn-a2.datacaciques.com\/00\/NDAy\/20\/10\/12\/0afnm13hd136664x\/668400de7b73fc82.jpg\"\u003e\u003cimg src=\"https:\/\/pg-cdn-a2.datacaciques.com\/00\/NDAy\/20\/10\/12\/0afnm13hd136664x\/111a69479405792d.jpg\" data-mce-fragment=\"1\" data-mce-src=\"https:\/\/pg-cdn-a2.datacaciques.com\/00\/NDAy\/20\/10\/12\/0afnm13hd136664x\/111a69479405792d.jpg\"\u003e\u003cimg src=\"https:\/\/pg-cdn-a2.datacaciques.com\/00\/NDAy\/20\/10\/12\/0afnm13hd136664x\/28382f2a32958004.jpg\" data-mce-fragment=\"1\" data-mce-src=\"https:\/\/pg-cdn-a2.datacaciques.com\/00\/NDAy\/20\/10\/12\/0afnm13hd136664x\/28382f2a32958004.jpg\"\u003e\u003cimg src=\"https:\/\/pg-cdn-a2.datacaciques.com\/00\/NDAy\/20\/10\/12\/0afnm13hd136664x\/e09529e6f5ef8dd4.jpg\" data-mce-fragment=\"1\" data-mce-src=\"https:\/\/pg-cdn-a2.datacaciques.com\/00\/NDAy\/20\/10\/12\/0afnm13hd136664x\/e09529e6f5ef8dd4.jpg\"\u003e\u003cimg src=\"https:\/\/pg-cdn-a2.datacaciques.com\/00\/NDAy\/20\/10\/12\/0afnm13hd136664x\/2d1045e8362549e7.jpg\" data-mce-fragment=\"1\" data-mce-src=\"https:\/\/pg-cdn-a2.datacaciques.com\/00\/NDAy\/20\/10\/12\/0afnm13hd136664x\/2d1045e8362549e7.jpg\"\u003e\u003c\/span\u003e\u003c\/div\u003e"}

translation missing: en.products.product.regular_price

$8.99

{"id":4881041883207,"title":"Type-C PD Quick Charge Trigger Module DC Digital Display Voltage Current Meter","handle":"type-c-pd-quick-charge-trigger-module-dc-digital-display-voltage-current-meter","description":"\u003cdiv data-mce-fragment=\"1\"\u003e\n\u003cspan data-mce-fragment=\"1\"\u003e\u003cstrong data-mce-fragment=\"1\"\u003eDescription:\u003c\/strong\u003e\u003c\/span\u003e\u003cbr data-mce-fragment=\"1\"\u003e\n\u003cul\u003e\n\u003cli\u003e\u003cspan data-mce-fragment=\"1\"\u003e100% brand new and high quality\u003c\/span\u003e\u003c\/li\u003e\n\u003c\/ul\u003e\n\u003cspan data-mce-fragment=\"1\"\u003e\u003cstrong data-mce-fragment=\"1\"\u003eFeature:\u003c\/strong\u003e\u003c\/span\u003e\u003cbr data-mce-fragment=\"1\"\u003e\n\u003cul\u003e\n\u003cli\u003e\u003cspan data-mce-fragment=\"1\"\u003eDisplay the type of PD protocol on each power up, Support PD 2.0\/PD 3.0 protocol.\u003c\/span\u003e\u003c\/li\u003e\n\u003cli\u003e\u003cspan data-mce-fragment=\"1\"\u003eThis product has power-off memory function. Remember the voltage gear and PD mode before power-off next time.\u003c\/span\u003e\u003c\/li\u003e\n\u003cli\u003e\u003cspan data-mce-fragment=\"1\"\u003eThis product can trigger the voltage of different gears in the PD charging head to supply power to external equipment, such as router, optical cat, set-top box or notebook computer (the adapter should be replaced when the power of the PD charging head meets the requirements).\u003c\/span\u003e\u003c\/li\u003e\n\u003cli\u003e\u003cspan data-mce-fragment=\"1\"\u003eIt can be used as test and aging of PD charging head.\u003c\/span\u003e\u003c\/li\u003e\n\u003cli\u003e\u003cspan data-mce-fragment=\"1\"\u003eHow to switch display content:\u003c\/span\u003e\u003c\/li\u003e\n\u003cli\u003e\u003cspan data-mce-fragment=\"1\"\u003eIn the operation interface, short press key K1 to switch the display voltage \/ current \/ display in turn; long press key K1 for 5 seconds to turn off the display of digital tube and indicator light, and any key will wake up.\u003c\/span\u003e\u003c\/li\u003e\n\u003c\/ul\u003e\n\u003c\/div\u003e\n\u003cdiv data-mce-fragment=\"1\"\u003e\n\u003cstrong\u003eHow to adjust the voltage range:\u003c\/strong\u003e\u003cbr data-mce-fragment=\"1\"\u003e\n\u003cul\u003e\n\u003cli\u003e\u003cspan data-mce-fragment=\"1\"\u003eIn the operation interface, short press the K2 key to enter the voltage regulation interface, and the voltage will flash after the current gear is displayed on the nixie tube;\u003c\/span\u003e\u003c\/li\u003e\n\u003cli\u003e\u003cspan data-mce-fragment=\"1\"\u003eAt this time, short press the K2 \/ K1 key to modify (K2 for upshift and K1 for downshift),When shifting gears, \"P7-1\" (P7: supports 7 voltage gears in total, - 1: indicates the serial number of the current voltage gear), and then displays the voltage value of the current gear;If the current voltage gear supports PPS step voltage regulation, the step gear indicator (20mV 100mV 1V) will be fully on;\u003c\/span\u003e\u003c\/li\u003e\n\u003cli\u003e\u003cspan data-mce-fragment=\"1\"\u003eIn 5S, there is no key operation or long press K1 key 2s to return to the operation interface automatically;\u003c\/span\u003e\u003c\/li\u003e\n\u003cli\u003e\u003cspan data-mce-fragment=\"1\"\u003eNote: the last gear \"L\" of \"P7-l\" is triggered in turn. When the L gear is selected and returned to the operation interface, all supported gears (5V \/ 9V \/ 12V \/ 15V \/ 20V \/ PPS mode) will be triggered in turn. In this mode, the step voltage indicator light of the operation interface will be indicated by the running lamp mode. This function can be used for batch testing by the manufacturer of the charging head.\u003c\/span\u003e\u003c\/li\u003e\n\u003cli\u003e\u003cspan data-mce-fragment=\"1\"\u003eNote: the charging head of PD 2.0 generally supports 4-5 gear voltage regulation modes, and will display \"P4-1\" or \"P5-1\" format. The charging head of PD 3.0 generally supports 6-7 gear voltage regulation modes, and will display \"P6-1\" or \"P7-1\" format.\u003c\/span\u003e\u003c\/li\u003e\n\u003c\/ul\u003e\n\u003c\/div\u003e\n\u003cdiv data-mce-fragment=\"1\"\u003e\n\u003cstrong\u003eHow to adjust the voltage in PPS step-by-step mode:\u003c\/strong\u003e\u003cbr data-mce-fragment=\"1\"\u003e\n\u003cul\u003e\n\u003cli\u003e\u003cspan data-mce-fragment=\"1\"\u003eFirst, ensure that PPS step gear indicator (20mV 100mV 1V) is fully on \/ on one of them;\u003c\/span\u003e\u003c\/li\u003e\n\u003cli\u003e\u003cspan data-mce-fragment=\"1\"\u003eLong press K2 key to enter PPS voltage regulation, the voltage value of nixie tube flickers, first activate 1V step gear voltage regulation;\u003c\/span\u003e\u003c\/li\u003e\n\u003cli\u003e\u003cspan data-mce-fragment=\"1\"\u003ePress and hold K2 again to change step gear;\u003c\/span\u003e\u003c\/li\u003e\n\u003cli\u003e\u003cspan data-mce-fragment=\"1\"\u003eAfter selecting the corresponding step gear, modify the voltage by briefly pressing the K1 \/ K2 key; when the step gear indicator is fully on, press the K1 \/ K2 key briefly to exit the PPS voltage regulation mode and select other voltage gears;\u003c\/span\u003e\u003c\/li\u003e\n\u003cli\u003e\u003cspan data-mce-fragment=\"1\"\u003e5 seconds without any key operation or long press K1 key 2s to return to the operation interface automatically.\u003c\/span\u003e\u003c\/li\u003e\n\u003c\/ul\u003e\n\u003c\/div\u003e\n\u003cdiv data-mce-fragment=\"1\"\u003e\n\u003cspan data-mce-fragment=\"1\"\u003e\u003cstrong data-mce-fragment=\"1\"\u003eSpecifications:\u003c\/strong\u003e\u003c\/span\u003e\u003cbr data-mce-fragment=\"1\"\u003e\n\u003cul\u003e\n\u003cli\u003e\u003cspan data-mce-fragment=\"1\"\u003eItem Type: Quick charge trigger module\u003c\/span\u003e\u003c\/li\u003e\n\u003cli\u003e\u003cspan data-mce-fragment=\"1\"\u003eMaterial: electronic components\u003c\/span\u003e\u003c\/li\u003e\n\u003cli\u003e\u003cspan data-mce-fragment=\"1\"\u003eSize: 50mm\/1.97in(as shown)\u003c\/span\u003e\u003c\/li\u003e\n\u003cli\u003e\u003cspan data-mce-fragment=\"1\"\u003eColor: As shown\u003c\/span\u003e\u003c\/li\u003e\n\u003cli\u003e\u003cspan data-mce-fragment=\"1\"\u003eOptional Type: A: female head, B: male head\u003c\/span\u003e\u003c\/li\u003e\n\u003cli\u003e\u003cspan data-mce-fragment=\"1\"\u003eQuantity: 1 Set\u003c\/span\u003e\u003c\/li\u003e\n\u003cli\u003e\u003cspan data-mce-fragment=\"1\"\u003eNote:\u003c\/span\u003e\u003c\/li\u003e\n\u003cli\u003e\u003cspan data-mce-fragment=\"1\"\u003eTransition: 1cm=10mm=0.39inch\u003c\/span\u003e\u003c\/li\u003e\n\u003cli\u003e\u003cspan data-mce-fragment=\"1\"\u003ePlease allow 0-1cm error due to manual measurement. pls make sure you do not mind before you bid.\u003c\/span\u003e\u003c\/li\u003e\n\u003cli\u003e\u003cspan data-mce-fragment=\"1\"\u003eDue to the difference between different monitors, the picture may not reflect the actual color of the item. Thank you!\u003c\/span\u003e\u003c\/li\u003e\n\u003c\/ul\u003e\n\u003c\/div\u003e\n\u003cdiv data-mce-fragment=\"1\"\u003e\n\u003cspan data-mce-fragment=\"1\"\u003e\u003cstrong data-mce-fragment=\"1\"\u003ePackage Includes:\u003c\/strong\u003e\u003c\/span\u003e\u003cbr data-mce-fragment=\"1\"\u003e\n\u003cul\u003e\n\u003cli\u003e\u003cspan data-mce-fragment=\"1\"\u003e1 x Quick charge trigger module\u003c\/span\u003e\u003c\/li\u003e\n\u003cli\u003e\u003cspan data-mce-fragment=\"1\"\u003e1 x Type-c female\/male adapter cable\u003c\/span\u003e\u003c\/li\u003e\n\u003cli\u003e\u003cspan data-mce-fragment=\"1\"\u003e(other accessories demo in the picture are not included!)\u003c\/span\u003e\u003c\/li\u003e\n\u003c\/ul\u003e\n\u003c\/div\u003e\n\u003cdiv data-mce-fragment=\"1\"\u003e\u003cspan data-mce-fragment=\"1\"\u003e\u003cimg src=\"https:\/\/pg-cdn-a2.datacaciques.com\/00\/NDAy\/20\/10\/12\/0afnm13hd136664x\/42ceafc5e43d3d92.jpg\" data-mce-fragment=\"1\" data-mce-src=\"https:\/\/pg-cdn-a2.datacaciques.com\/00\/NDAy\/20\/10\/12\/0afnm13hd136664x\/42ceafc5e43d3d92.jpg\"\u003e\u003cimg src=\"https:\/\/pg-cdn-a2.datacaciques.com\/00\/NDAy\/20\/10\/12\/0afnm13hd136664x\/48579302a78c797a.jpg\" data-mce-fragment=\"1\" data-mce-src=\"https:\/\/pg-cdn-a2.datacaciques.com\/00\/NDAy\/20\/10\/12\/0afnm13hd136664x\/48579302a78c797a.jpg\"\u003e\u003cimg src=\"https:\/\/pg-cdn-a2.datacaciques.com\/00\/NDAy\/20\/10\/12\/0afnm13hd136664x\/668400de7b73fc82.jpg\" data-mce-fragment=\"1\" data-mce-src=\"https:\/\/pg-cdn-a2.datacaciques.com\/00\/NDAy\/20\/10\/12\/0afnm13hd136664x\/668400de7b73fc82.jpg\"\u003e\u003cimg src=\"https:\/\/pg-cdn-a2.datacaciques.com\/00\/NDAy\/20\/10\/12\/0afnm13hd136664x\/111a69479405792d.jpg\" data-mce-fragment=\"1\" data-mce-src=\"https:\/\/pg-cdn-a2.datacaciques.com\/00\/NDAy\/20\/10\/12\/0afnm13hd136664x\/111a69479405792d.jpg\"\u003e\u003cimg src=\"https:\/\/pg-cdn-a2.datacaciques.com\/00\/NDAy\/20\/10\/12\/0afnm13hd136664x\/28382f2a32958004.jpg\" data-mce-fragment=\"1\" data-mce-src=\"https:\/\/pg-cdn-a2.datacaciques.com\/00\/NDAy\/20\/10\/12\/0afnm13hd136664x\/28382f2a32958004.jpg\"\u003e\u003cimg src=\"https:\/\/pg-cdn-a2.datacaciques.com\/00\/NDAy\/20\/10\/12\/0afnm13hd136664x\/e09529e6f5ef8dd4.jpg\" data-mce-fragment=\"1\" data-mce-src=\"https:\/\/pg-cdn-a2.datacaciques.com\/00\/NDAy\/20\/10\/12\/0afnm13hd136664x\/e09529e6f5ef8dd4.jpg\"\u003e\u003cimg src=\"https:\/\/pg-cdn-a2.datacaciques.com\/00\/NDAy\/20\/10\/12\/0afnm13hd136664x\/2d1045e8362549e7.jpg\" data-mce-fragment=\"1\" data-mce-src=\"https:\/\/pg-cdn-a2.datacaciques.com\/00\/NDAy\/20\/10\/12\/0afnm13hd136664x\/2d1045e8362549e7.jpg\"\u003e\u003c\/span\u003e\u003c\/div\u003e","published_at":"2020-10-15T16:35:38+08:00","created_at":"2020-10-15T16:35:36+08:00","vendor":"DIYMORE","type":"","tags":[],"price":899,"price_min":899,"price_max":899,"available":true,"price_varies":false,"compare_at_price":null,"compare_at_price_min":0,"compare_at_price_max":0,"compare_at_price_varies":false,"variants":[{"id":32617015476295,"title":"Female Head","option1":"Female Head","option2":null,"option3":null,"sku":"XJ0030","requires_shipping":true,"taxable":false,"featured_image":{"id":15420431433799,"product_id":4881041883207,"position":1,"created_at":"2020-10-15T16:35:39+08:00","updated_at":"2020-10-15T16:38:33+08:00","alt":null,"width":1000,"height":1000,"src":"https:\/\/cdn.shopify.com\/s\/files\/1\/0122\/7558\/0986\/products\/a008e7c0c0108b07e80e32aa65b10b0d.jpg?v=1602751113","variant_ids":[32617015476295]},"available":true,"name":"Type-C PD Quick Charge Trigger Module DC Digital Display Voltage Current Meter - Female Head","public_title":"Female Head","options":["Female Head"],"price":899,"weight":0,"compare_at_price":null,"inventory_management":"shopify","barcode":"","featured_media":{"alt":null,"id":7594001891399,"position":1,"preview_image":{"aspect_ratio":1.0,"height":1000,"width":1000,"src":"https:\/\/cdn.shopify.com\/s\/files\/1\/0122\/7558\/0986\/products\/a008e7c0c0108b07e80e32aa65b10b0d.jpg?v=1602751113"}},"requires_selling_plan":false,"selling_plan_allocations":[],"quantity_rule":{"min":1,"max":null,"increment":1}},{"id":32617015509063,"title":"Male Head","option1":"Male Head","option2":null,"option3":null,"sku":"XJ0029","requires_shipping":true,"taxable":false,"featured_image":{"id":15420437528647,"product_id":4881041883207,"position":4,"created_at":"2020-10-15T16:36:31+08:00","updated_at":"2020-10-15T16:38:33+08:00","alt":null,"width":1000,"height":1000,"src":"https:\/\/cdn.shopify.com\/s\/files\/1\/0122\/7558\/0986\/products\/1602750975237_5E4F7420-9220-4aa7-9186-2168699D310D.png?v=1602751113","variant_ids":[32617015509063]},"available":true,"name":"Type-C PD Quick Charge Trigger Module DC Digital Display Voltage Current Meter - Male Head","public_title":"Male Head","options":["Male Head"],"price":899,"weight":0,"compare_at_price":null,"inventory_management":"shopify","barcode":"","featured_media":{"alt":null,"id":7594008281159,"position":4,"preview_image":{"aspect_ratio":1.0,"height":1000,"width":1000,"src":"https:\/\/cdn.shopify.com\/s\/files\/1\/0122\/7558\/0986\/products\/1602750975237_5E4F7420-9220-4aa7-9186-2168699D310D.png?v=1602751113"}},"requires_selling_plan":false,"selling_plan_allocations":[],"quantity_rule":{"min":1,"max":null,"increment":1}}],"images":["\/\/cdn.shopify.com\/s\/files\/1\/0122\/7558\/0986\/products\/a008e7c0c0108b07e80e32aa65b10b0d.jpg?v=1602751113","\/\/cdn.shopify.com\/s\/files\/1\/0122\/7558\/0986\/products\/9700582e5641af61ac34b1a25b477247.jpg?v=1602751113","\/\/cdn.shopify.com\/s\/files\/1\/0122\/7558\/0986\/products\/1_0746d68c-c3f9-4cc7-b9ff-2cbc27a200e3.jpg?v=1602751113","\/\/cdn.shopify.com\/s\/files\/1\/0122\/7558\/0986\/products\/1602750975237_5E4F7420-9220-4aa7-9186-2168699D310D.png?v=1602751113"],"featured_image":"\/\/cdn.shopify.com\/s\/files\/1\/0122\/7558\/0986\/products\/a008e7c0c0108b07e80e32aa65b10b0d.jpg?v=1602751113","options":["Style"],"media":[{"alt":null,"id":7594001891399,"position":1,"preview_image":{"aspect_ratio":1.0,"height":1000,"width":1000,"src":"https:\/\/cdn.shopify.com\/s\/files\/1\/0122\/7558\/0986\/products\/a008e7c0c0108b07e80e32aa65b10b0d.jpg?v=1602751113"},"aspect_ratio":1.0,"height":1000,"media_type":"image","src":"https:\/\/cdn.shopify.com\/s\/files\/1\/0122\/7558\/0986\/products\/a008e7c0c0108b07e80e32aa65b10b0d.jpg?v=1602751113","width":1000},{"alt":null,"id":7594001989703,"position":2,"preview_image":{"aspect_ratio":1.0,"height":750,"width":750,"src":"https:\/\/cdn.shopify.com\/s\/files\/1\/0122\/7558\/0986\/products\/9700582e5641af61ac34b1a25b477247.jpg?v=1602751113"},"aspect_ratio":1.0,"height":750,"media_type":"image","src":"https:\/\/cdn.shopify.com\/s\/files\/1\/0122\/7558\/0986\/products\/9700582e5641af61ac34b1a25b477247.jpg?v=1602751113","width":750},{"alt":null,"id":7594002022471,"position":3,"preview_image":{"aspect_ratio":1.0,"height":750,"width":750,"src":"https:\/\/cdn.shopify.com\/s\/files\/1\/0122\/7558\/0986\/products\/1_0746d68c-c3f9-4cc7-b9ff-2cbc27a200e3.jpg?v=1602751113"},"aspect_ratio":1.0,"height":750,"media_type":"image","src":"https:\/\/cdn.shopify.com\/s\/files\/1\/0122\/7558\/0986\/products\/1_0746d68c-c3f9-4cc7-b9ff-2cbc27a200e3.jpg?v=1602751113","width":750},{"alt":null,"id":7594008281159,"position":4,"preview_image":{"aspect_ratio":1.0,"height":1000,"width":1000,"src":"https:\/\/cdn.shopify.com\/s\/files\/1\/0122\/7558\/0986\/products\/1602750975237_5E4F7420-9220-4aa7-9186-2168699D310D.png?v=1602751113"},"aspect_ratio":1.0,"height":1000,"media_type":"image","src":"https:\/\/cdn.shopify.com\/s\/files\/1\/0122\/7558\/0986\/products\/1602750975237_5E4F7420-9220-4aa7-9186-2168699D310D.png?v=1602751113","width":1000}],"requires_selling_plan":false,"selling_plan_groups":[],"content":"\u003cdiv data-mce-fragment=\"1\"\u003e\n\u003cspan data-mce-fragment=\"1\"\u003e\u003cstrong data-mce-fragment=\"1\"\u003eDescription:\u003c\/strong\u003e\u003c\/span\u003e\u003cbr data-mce-fragment=\"1\"\u003e\n\u003cul\u003e\n\u003cli\u003e\u003cspan data-mce-fragment=\"1\"\u003e100% brand new and high quality\u003c\/span\u003e\u003c\/li\u003e\n\u003c\/ul\u003e\n\u003cspan data-mce-fragment=\"1\"\u003e\u003cstrong data-mce-fragment=\"1\"\u003eFeature:\u003c\/strong\u003e\u003c\/span\u003e\u003cbr data-mce-fragment=\"1\"\u003e\n\u003cul\u003e\n\u003cli\u003e\u003cspan data-mce-fragment=\"1\"\u003eDisplay the type of PD protocol on each power up, Support PD 2.0\/PD 3.0 protocol.\u003c\/span\u003e\u003c\/li\u003e\n\u003cli\u003e\u003cspan data-mce-fragment=\"1\"\u003eThis product has power-off memory function. Remember the voltage gear and PD mode before power-off next time.\u003c\/span\u003e\u003c\/li\u003e\n\u003cli\u003e\u003cspan data-mce-fragment=\"1\"\u003eThis product can trigger the voltage of different gears in the PD charging head to supply power to external equipment, such as router, optical cat, set-top box or notebook computer (the adapter should be replaced when the power of the PD charging head meets the requirements).\u003c\/span\u003e\u003c\/li\u003e\n\u003cli\u003e\u003cspan data-mce-fragment=\"1\"\u003eIt can be used as test and aging of PD charging head.\u003c\/span\u003e\u003c\/li\u003e\n\u003cli\u003e\u003cspan data-mce-fragment=\"1\"\u003eHow to switch display content:\u003c\/span\u003e\u003c\/li\u003e\n\u003cli\u003e\u003cspan data-mce-fragment=\"1\"\u003eIn the operation interface, short press key K1 to switch the display voltage \/ current \/ display in turn; long press key K1 for 5 seconds to turn off the display of digital tube and indicator light, and any key will wake up.\u003c\/span\u003e\u003c\/li\u003e\n\u003c\/ul\u003e\n\u003c\/div\u003e\n\u003cdiv data-mce-fragment=\"1\"\u003e\n\u003cstrong\u003eHow to adjust the voltage range:\u003c\/strong\u003e\u003cbr data-mce-fragment=\"1\"\u003e\n\u003cul\u003e\n\u003cli\u003e\u003cspan data-mce-fragment=\"1\"\u003eIn the operation interface, short press the K2 key to enter the voltage regulation interface, and the voltage will flash after the current gear is displayed on the nixie tube;\u003c\/span\u003e\u003c\/li\u003e\n\u003cli\u003e\u003cspan data-mce-fragment=\"1\"\u003eAt this time, short press the K2 \/ K1 key to modify (K2 for upshift and K1 for downshift),When shifting gears, \"P7-1\" (P7: supports 7 voltage gears in total, - 1: indicates the serial number of the current voltage gear), and then displays the voltage value of the current gear;If the current voltage gear supports PPS step voltage regulation, the step gear indicator (20mV 100mV 1V) will be fully on;\u003c\/span\u003e\u003c\/li\u003e\n\u003cli\u003e\u003cspan data-mce-fragment=\"1\"\u003eIn 5S, there is no key operation or long press K1 key 2s to return to the operation interface automatically;\u003c\/span\u003e\u003c\/li\u003e\n\u003cli\u003e\u003cspan data-mce-fragment=\"1\"\u003eNote: the last gear \"L\" of \"P7-l\" is triggered in turn. When the L gear is selected and returned to the operation interface, all supported gears (5V \/ 9V \/ 12V \/ 15V \/ 20V \/ PPS mode) will be triggered in turn. In this mode, the step voltage indicator light of the operation interface will be indicated by the running lamp mode. This function can be used for batch testing by the manufacturer of the charging head.\u003c\/span\u003e\u003c\/li\u003e\n\u003cli\u003e\u003cspan data-mce-fragment=\"1\"\u003eNote: the charging head of PD 2.0 generally supports 4-5 gear voltage regulation modes, and will display \"P4-1\" or \"P5-1\" format. The charging head of PD 3.0 generally supports 6-7 gear voltage regulation modes, and will display \"P6-1\" or \"P7-1\" format.\u003c\/span\u003e\u003c\/li\u003e\n\u003c\/ul\u003e\n\u003c\/div\u003e\n\u003cdiv data-mce-fragment=\"1\"\u003e\n\u003cstrong\u003eHow to adjust the voltage in PPS step-by-step mode:\u003c\/strong\u003e\u003cbr data-mce-fragment=\"1\"\u003e\n\u003cul\u003e\n\u003cli\u003e\u003cspan data-mce-fragment=\"1\"\u003eFirst, ensure that PPS step gear indicator (20mV 100mV 1V) is fully on \/ on one of them;\u003c\/span\u003e\u003c\/li\u003e\n\u003cli\u003e\u003cspan data-mce-fragment=\"1\"\u003eLong press K2 key to enter PPS voltage regulation, the voltage value of nixie tube flickers, first activate 1V step gear voltage regulation;\u003c\/span\u003e\u003c\/li\u003e\n\u003cli\u003e\u003cspan data-mce-fragment=\"1\"\u003ePress and hold K2 again to change step gear;\u003c\/span\u003e\u003c\/li\u003e\n\u003cli\u003e\u003cspan data-mce-fragment=\"1\"\u003eAfter selecting the corresponding step gear, modify the voltage by briefly pressing the K1 \/ K2 key; when the step gear indicator is fully on, press the K1 \/ K2 key briefly to exit the PPS voltage regulation mode and select other voltage gears;\u003c\/span\u003e\u003c\/li\u003e\n\u003cli\u003e\u003cspan data-mce-fragment=\"1\"\u003e5 seconds without any key operation or long press K1 key 2s to return to the operation interface automatically.\u003c\/span\u003e\u003c\/li\u003e\n\u003c\/ul\u003e\n\u003c\/div\u003e\n\u003cdiv data-mce-fragment=\"1\"\u003e\n\u003cspan data-mce-fragment=\"1\"\u003e\u003cstrong data-mce-fragment=\"1\"\u003eSpecifications:\u003c\/strong\u003e\u003c\/span\u003e\u003cbr data-mce-fragment=\"1\"\u003e\n\u003cul\u003e\n\u003cli\u003e\u003cspan data-mce-fragment=\"1\"\u003eItem Type: Quick charge trigger module\u003c\/span\u003e\u003c\/li\u003e\n\u003cli\u003e\u003cspan data-mce-fragment=\"1\"\u003eMaterial: electronic components\u003c\/span\u003e\u003c\/li\u003e\n\u003cli\u003e\u003cspan data-mce-fragment=\"1\"\u003eSize: 50mm\/1.97in(as shown)\u003c\/span\u003e\u003c\/li\u003e\n\u003cli\u003e\u003cspan data-mce-fragment=\"1\"\u003eColor: As shown\u003c\/span\u003e\u003c\/li\u003e\n\u003cli\u003e\u003cspan data-mce-fragment=\"1\"\u003eOptional Type: A: female head, B: male head\u003c\/span\u003e\u003c\/li\u003e\n\u003cli\u003e\u003cspan data-mce-fragment=\"1\"\u003eQuantity: 1 Set\u003c\/span\u003e\u003c\/li\u003e\n\u003cli\u003e\u003cspan data-mce-fragment=\"1\"\u003eNote:\u003c\/span\u003e\u003c\/li\u003e\n\u003cli\u003e\u003cspan data-mce-fragment=\"1\"\u003eTransition: 1cm=10mm=0.39inch\u003c\/span\u003e\u003c\/li\u003e\n\u003cli\u003e\u003cspan data-mce-fragment=\"1\"\u003ePlease allow 0-1cm error due to manual measurement. pls make sure you do not mind before you bid.\u003c\/span\u003e\u003c\/li\u003e\n\u003cli\u003e\u003cspan data-mce-fragment=\"1\"\u003eDue to the difference between different monitors, the picture may not reflect the actual color of the item. Thank you!\u003c\/span\u003e\u003c\/li\u003e\n\u003c\/ul\u003e\n\u003c\/div\u003e\n\u003cdiv data-mce-fragment=\"1\"\u003e\n\u003cspan data-mce-fragment=\"1\"\u003e\u003cstrong data-mce-fragment=\"1\"\u003ePackage Includes:\u003c\/strong\u003e\u003c\/span\u003e\u003cbr data-mce-fragment=\"1\"\u003e\n\u003cul\u003e\n\u003cli\u003e\u003cspan data-mce-fragment=\"1\"\u003e1 x Quick charge trigger module\u003c\/span\u003e\u003c\/li\u003e\n\u003cli\u003e\u003cspan data-mce-fragment=\"1\"\u003e1 x Type-c female\/male adapter cable\u003c\/span\u003e\u003c\/li\u003e\n\u003cli\u003e\u003cspan data-mce-fragment=\"1\"\u003e(other accessories demo in the picture are not included!)\u003c\/span\u003e\u003c\/li\u003e\n\u003c\/ul\u003e\n\u003c\/div\u003e\n\u003cdiv data-mce-fragment=\"1\"\u003e\u003cspan data-mce-fragment=\"1\"\u003e\u003cimg src=\"https:\/\/pg-cdn-a2.datacaciques.com\/00\/NDAy\/20\/10\/12\/0afnm13hd136664x\/42ceafc5e43d3d92.jpg\" data-mce-fragment=\"1\" data-mce-src=\"https:\/\/pg-cdn-a2.datacaciques.com\/00\/NDAy\/20\/10\/12\/0afnm13hd136664x\/42ceafc5e43d3d92.jpg\"\u003e\u003cimg src=\"https:\/\/pg-cdn-a2.datacaciques.com\/00\/NDAy\/20\/10\/12\/0afnm13hd136664x\/48579302a78c797a.jpg\" data-mce-fragment=\"1\" data-mce-src=\"https:\/\/pg-cdn-a2.datacaciques.com\/00\/NDAy\/20\/10\/12\/0afnm13hd136664x\/48579302a78c797a.jpg\"\u003e\u003cimg src=\"https:\/\/pg-cdn-a2.datacaciques.com\/00\/NDAy\/20\/10\/12\/0afnm13hd136664x\/668400de7b73fc82.jpg\" data-mce-fragment=\"1\" data-mce-src=\"https:\/\/pg-cdn-a2.datacaciques.com\/00\/NDAy\/20\/10\/12\/0afnm13hd136664x\/668400de7b73fc82.jpg\"\u003e\u003cimg src=\"https:\/\/pg-cdn-a2.datacaciques.com\/00\/NDAy\/20\/10\/12\/0afnm13hd136664x\/111a69479405792d.jpg\" data-mce-fragment=\"1\" data-mce-src=\"https:\/\/pg-cdn-a2.datacaciques.com\/00\/NDAy\/20\/10\/12\/0afnm13hd136664x\/111a69479405792d.jpg\"\u003e\u003cimg src=\"https:\/\/pg-cdn-a2.datacaciques.com\/00\/NDAy\/20\/10\/12\/0afnm13hd136664x\/28382f2a32958004.jpg\" data-mce-fragment=\"1\" data-mce-src=\"https:\/\/pg-cdn-a2.datacaciques.com\/00\/NDAy\/20\/10\/12\/0afnm13hd136664x\/28382f2a32958004.jpg\"\u003e\u003cimg src=\"https:\/\/pg-cdn-a2.datacaciques.com\/00\/NDAy\/20\/10\/12\/0afnm13hd136664x\/e09529e6f5ef8dd4.jpg\" data-mce-fragment=\"1\" data-mce-src=\"https:\/\/pg-cdn-a2.datacaciques.com\/00\/NDAy\/20\/10\/12\/0afnm13hd136664x\/e09529e6f5ef8dd4.jpg\"\u003e\u003cimg src=\"https:\/\/pg-cdn-a2.datacaciques.com\/00\/NDAy\/20\/10\/12\/0afnm13hd136664x\/2d1045e8362549e7.jpg\" data-mce-fragment=\"1\" data-mce-src=\"https:\/\/pg-cdn-a2.datacaciques.com\/00\/NDAy\/20\/10\/12\/0afnm13hd136664x\/2d1045e8362549e7.jpg\"\u003e\u003c\/span\u003e\u003c\/div\u003e"}